Given its size, you won't be surprised to hear that are plenty of unusual places to visit in Australia. No matter what part of the country you visit, you're guaranteed to come across places that will leave you baffled.
Devil's Marbles, Blue Lake and Coober Pedy are some of the most unique places to visit in Australia for a variety of reasons. They're places you'll come across almost anywhere else, and in the case of the underground town, Coober Pedy, they're just odd.
Seeing the usual places such as Sydney, Melbourne and Brisbane is a must, but checking out some of the weird places in Australia is a must. You're more likely to remember these places long after you've visited them due to their unique character.
While you might not be able to visit all eleven of these strange places in Australia, if you can make it to a few you'll be amazed and stupefied by what you find!
Table of Contents
11 Unusual Places To Visit in Australia
Blue Lake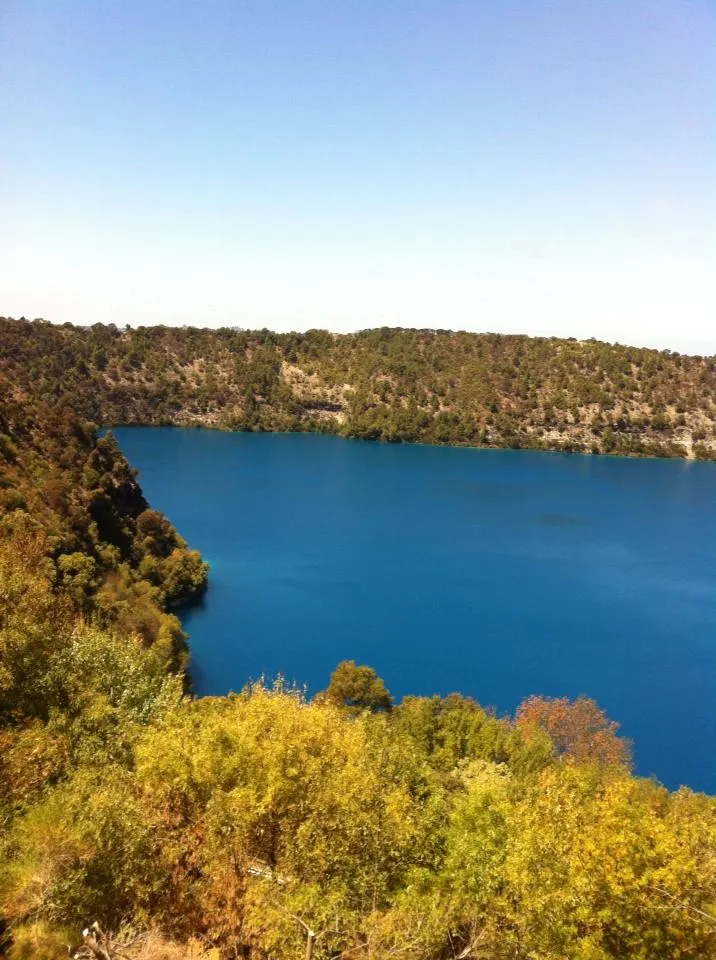 Here's the thing:
Blue Lake may not sound like a strange place to visit in Australia, but there is more to this lake than meets the eye!
Located in Mount Gambier, South Australia, it is a lake that formed in an ancient meteorite crater. Not that strange so far you say! Well, the odd thing about Blue Lake is depending on the time of the year, the colour of the lake changes!
If you visit from December to March, the lake has a blue colour. However, if you visit from April to November, the lake has a grey colour! There is no definitive explanation for this phenomenon, but it is thought to be something to do with the warming of the surface layers of the lake during the summer months.
It is an interesting place to visit, and as well as viewing the lake, there are numerous walking trails as well. So, you can get a better perspective on this gigantic lake!
This is one of the more interesting and underrated places to visit in South Australia, and it is a great place to stop if you are travelling from Adelaide to Melbourne!
Coober Pedy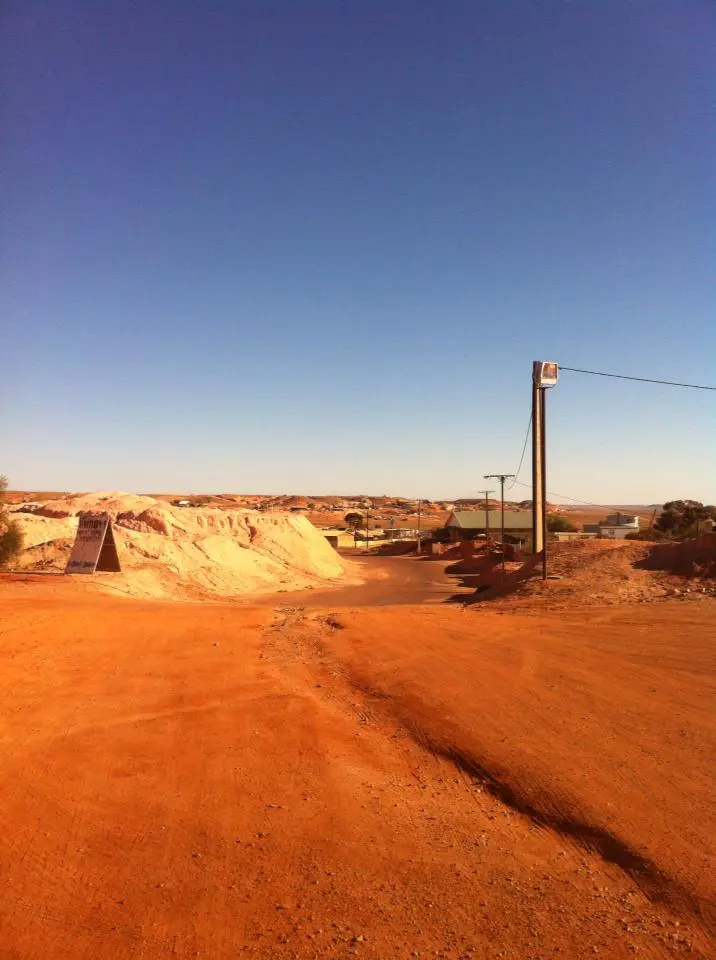 Of all the places in Australia that I visited, Coober Pedy is perhaps the strangest!
Driving into the town it feels like you are stumbling across the last remnants of mankind. This is due to how far away from civilisation it is.
From the nearest town of Port Augusta, it takes roughly 6-8 hours to reach Coober Pedy, with little or nothing in the way of towns in between that! Unsurprisingly, it's one of the lesser-known spots in Australia.
Coober Pedy sits above the world's biggest opal mine in the middle of the Australian outback. As it's blisteringly hot, most houses are located underground, to protect the inhabitants from the searing heat.
Coober Pedy reminded me of Tatooine from the Star Wars films when I visited! A comparison that only added to the weirdness!
To add to the strangeness, there's a golf course in the town, which has no grass and can only be played at night. There is a sole tree made entirely from scrap metal, that overlooks the town atop a hill.
While there is also a 'house' that is adorned with women's underwear! Coober Pedy might just be one of the most unusual places in the world! But it's still one of the best places to visit in Australia regardless!
Daly Waters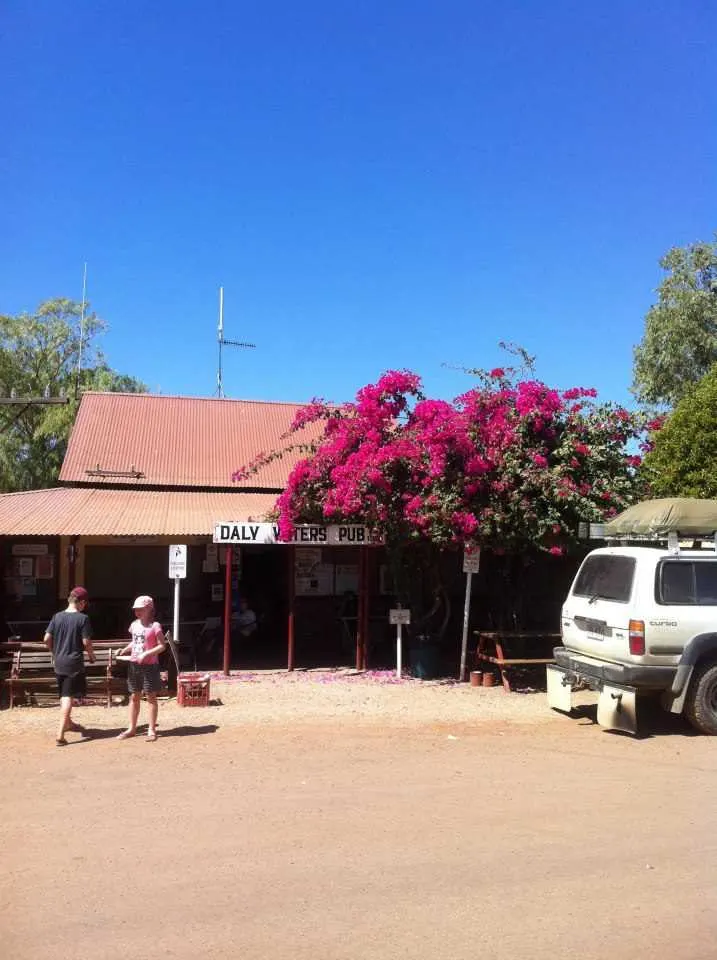 Daly Waters is without a doubt one of the unique places to see in Australia! Located in the Northern Territory, it is a popular stop-off point on an Adelaide to Darwin road trip.
There is a similar feel to Coober Pedy, although not as wacky, as there are no underground houses here!
What is wacky, however, is the pub that shares the same name as the town! Adorning the walls are various shirts that visitors have left as a memento. There is also a giant helicopter opposite the pub, which does not seem to have any sort of specific relevance!
Daly Waters itself is an interesting place, not far from the town is an airfield that served as the original base for Qantas. Maybe that explains the helicopter!?
There is also the Stuart Tree, which is a tree that the explorer John MacDoull Stuart marked during his expedition from Adelaide to Darwin! It's worth a look to work out whether the mark is an S or not!
Although not as unusual as Coober Pedy, Daly Waters is certainly one of the more interesting places to visit in Australia. It is certainly quirky enough to warrant a place on the list!
Devil's Marbles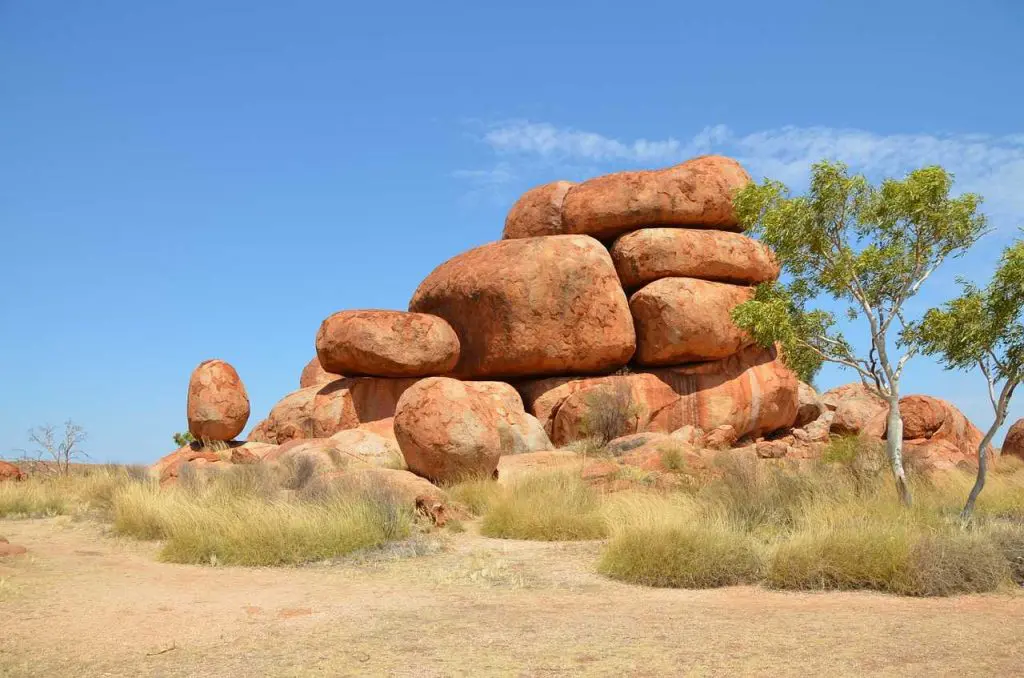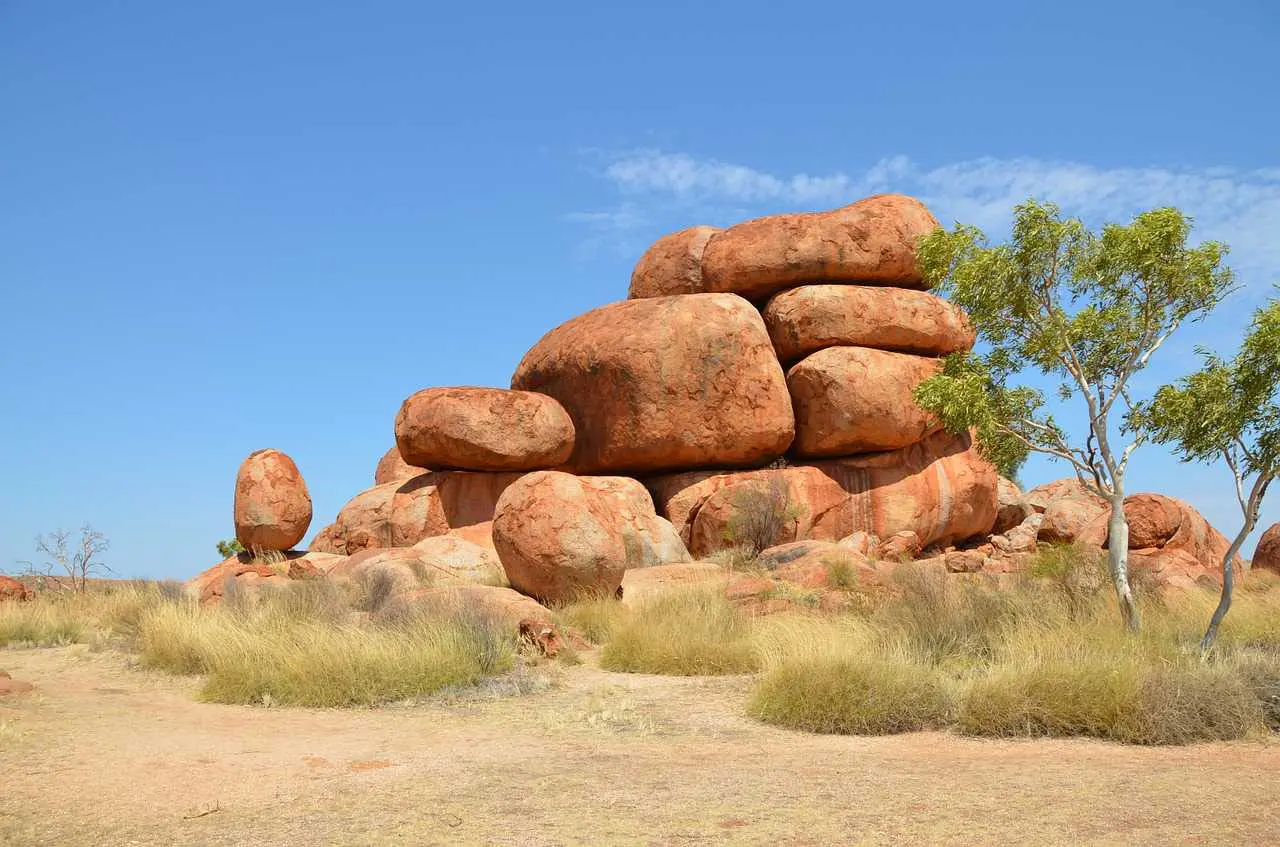 Checking out the Devil's Marbles sums up some of the best reasons to visit Australia. The scenery is incredible, and sometimes, bizarre. Just the name itself, makes the place sound strange and weird. Despite the name, the marbles have nothing to do with the devil.
In fact, they were formed after millions of years of erosion, which gave them their round shape.
The unusual thing about the Devil's Marbles is that they are big round boulders balanced atop one another, in the middle of the desert. They look completely out of place, and certainly not like a natural phenomenon!
Obviously, this is why the formation was given the name Devil's Marbles, as they do not look like they were formed naturally!
If you are travelling from Adelaide to Darwin or even Alice Springs to Darwin, then is a must-stop! I don't think I've ever seen anything quite like the Devil's Marbles, and stopping here for an hour breaks up the monotony of sitting in a car all day as well!!
It's definitely one of the stranger places to visit in the Northern Territory!
Hahndorf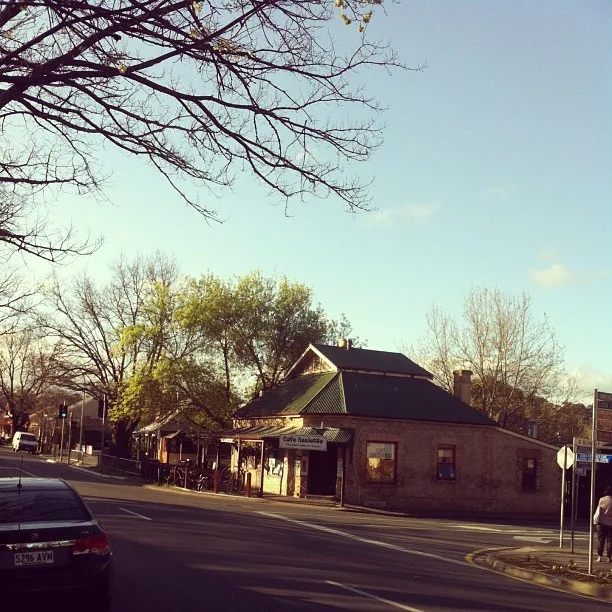 I'm sure you'll agree:
Hahndorf doesn't sound like one of the strangest places to travel to in Australia, well that is where you are wrong!
You may have initially thought that Hahndorf sounded German, and you would have been right! Hahndorf is a small town in the Adelaide Hills that was founded by German immigrants.
Hahndorf has retained its German character to this day. The architecture reminds you of a Bavarian village, while there are plenty of German cafes and shops lining the main street.
The cafes are very good and I would recommend visiting Hahndorf just to sample some German cuisine!
Visiting Hahndorf is one of the best things you can do while travelling in South Australia. At times you really do feel like you are in Germany, such is the resemblance to the villages back in Germany.
---
You might also like:
---
Horizontal Waterfalls in Talbot Bay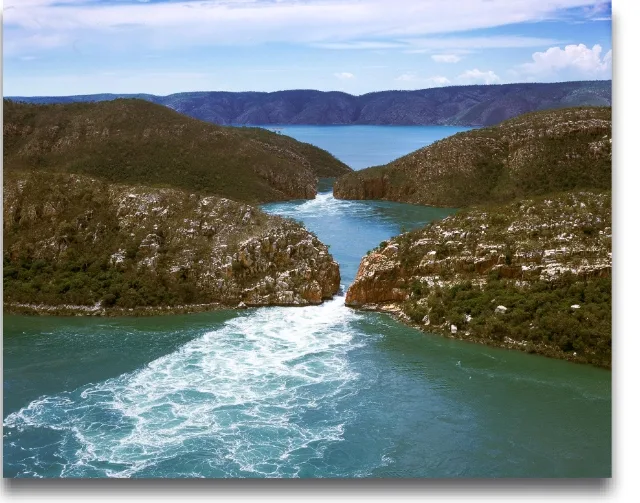 I'm going to be the first to admit that I did not visit the Horizontal waterfall. However, I had to include it on the list, as it is without a doubt, one of the most unique places in Australia!
I've heard of lots of vertical waterfalls, but I wasn't even aware horizontal waterfalls existed!
The Horizontal Falls are located in the Kimberley region of Western Australia.
They are formed by a break in between the McLarty Ranges. The waterfalls flow horizontally as opposed to vertically because seawater builds up faster on one than the other.
If you are in the Kimberley region, then this is definitely worth checking out.
Horizontal Falls Adventure operates tours in the area, and they are worth doing if you want to get up close to this natural phenomenon!
Squeaky Beach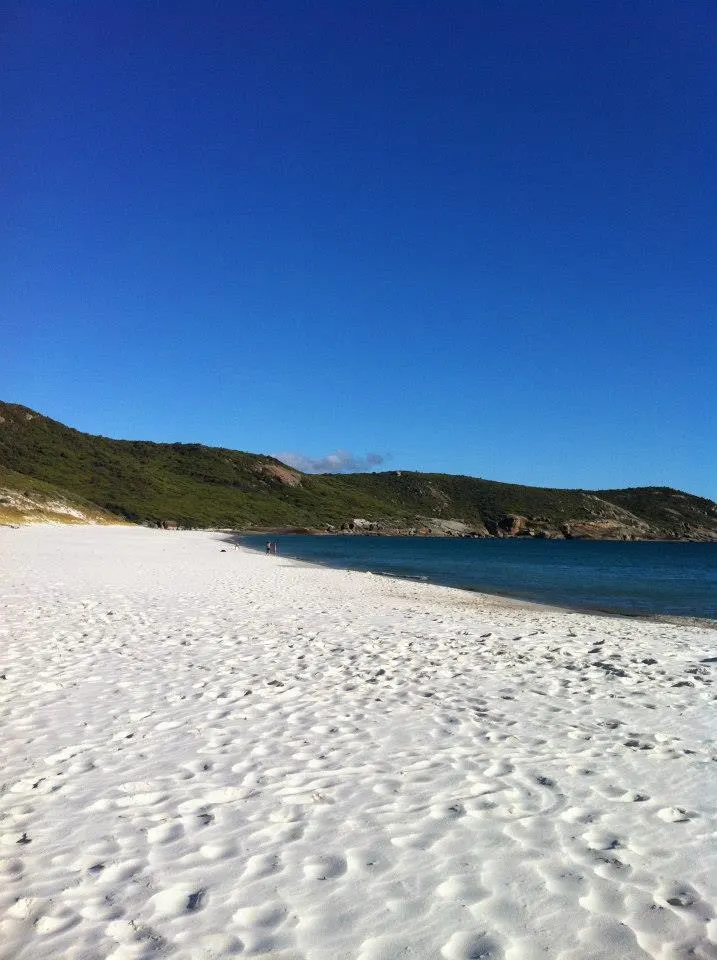 As you can probably tell by the name, Squeaky beach is not your ordinary beach!
The beach consists of rounded grains of quartz in the sand. This results in a squeaking sound when you step on the beach. Hence the name Squeaky beach!
This is certainly the only beach I've been to, that exhibits this strange phenomenon.
Despite the strange squeaking noises, Squeaky beach is a great destination. Located in Wilson's Promontory National Park in Victoria, the beach is in a stunning location. There are giant granite boulders on either side of the beach, which are fantastic for climbing if you need some stimulation!
Apart from the squeaking, the beach doesn't really class as one of the weirder places to visit in Australia. However, this is a unique experience and one that you are unlikely to repeat.
If you are travelling in Victoria, you absolutely have to visit Squeaky beach. You won't regret it!
The Pinnacles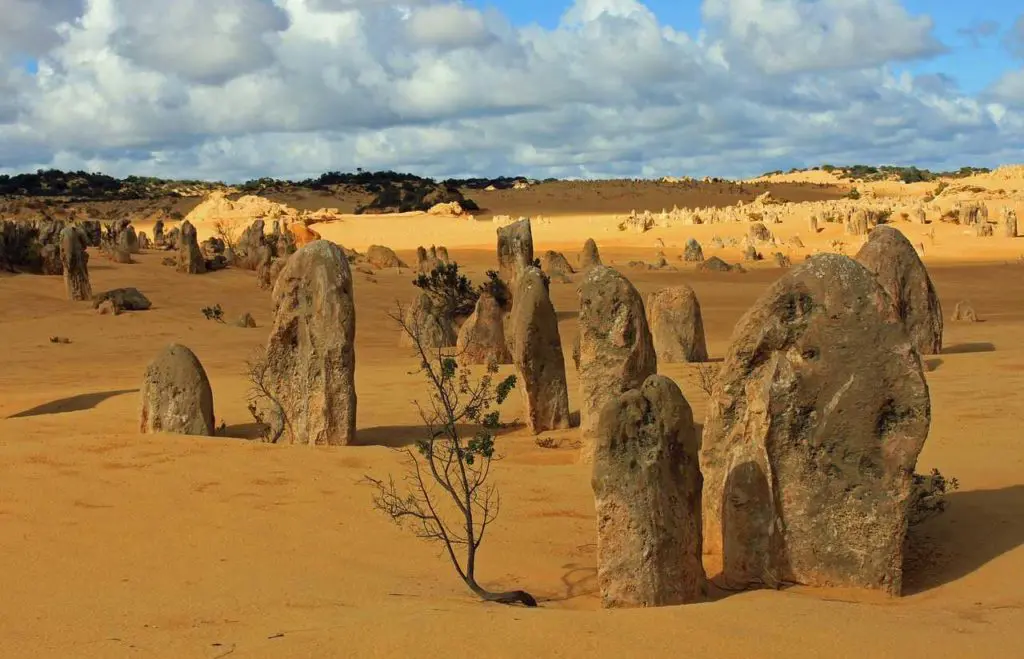 In the Western Australian desert, lies one of the weirdest places you can visit in Australia. You will find thousands of weathered limestone pillars, otherwise known as The Pinnacles.
The raw material for the pillars came from seashells when the area was rich in marine life. However, there is a debate about how they were formed.
Incredibly, the area was unknown to most Australians until 1967 when it was gazetted as a reserve! That is certainly not the case anymore!
The pillars are a unique feature that I haven't seen anywhere else. Take some time to explore the area when arrive, soaking in your surroundings as you make your way around the various pillars.
It's without a doubt, one of the quirkier places to see in Australia!
Uluru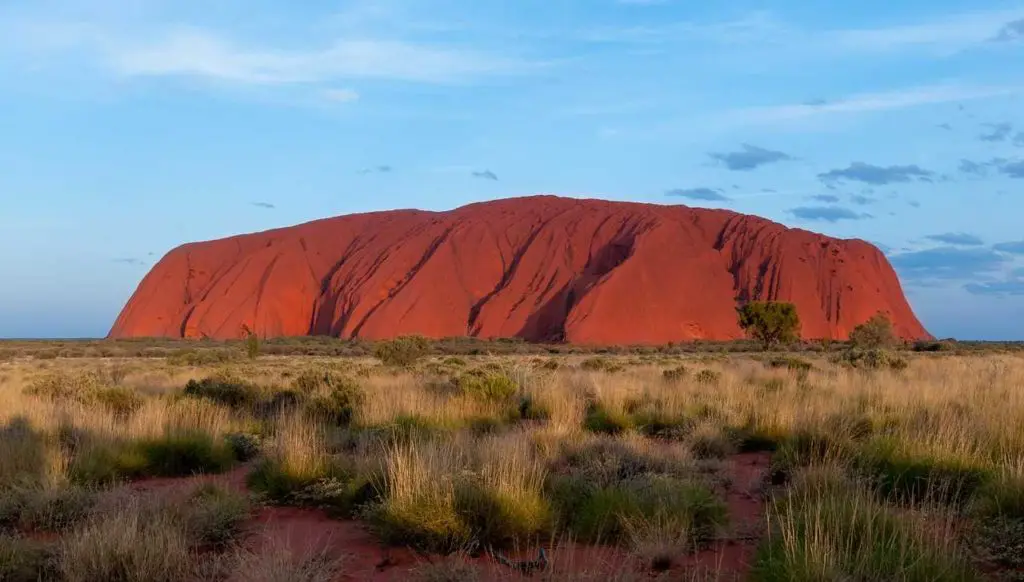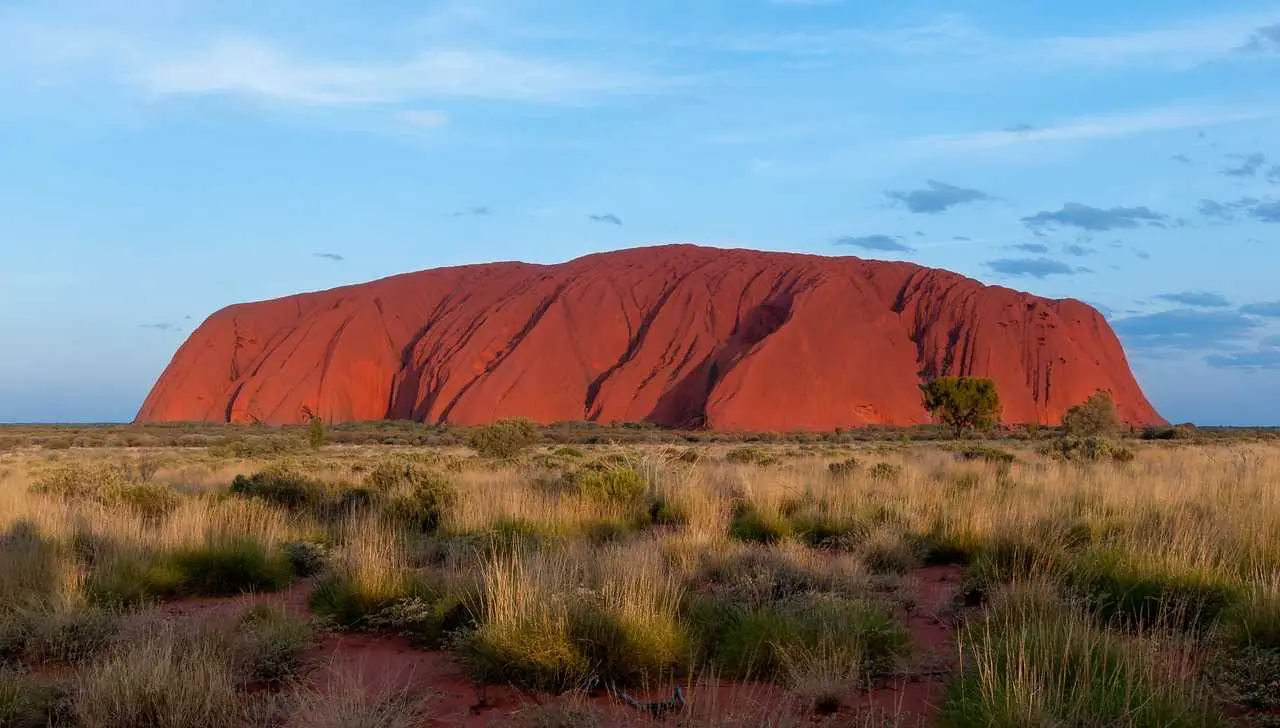 You may be wondering why I have included Uluru on a list of the most unusual places to visit in Australia. Well, I guess you would have a point.
Uluru certainly won't strike most people as an unusual destination, however after you have visited it, that perception will change!
For a start, let's call Uluru for what it is; a big rock in the middle of the desert. This is a rather blunt description, but it is strikingly true. For all its beauty and grandeur, Uluru really does look out of place in the desert.
It's as if it has just been placed in the middle of nowhere, even close up, it doesn't look especially lifelike.
Uluru is an amazing place to visit, and if you don't visit, then you are missing out on one of the best things to do in Australia! Uluru may not be an unusual place to visit for every traveller, but it is certainly an incredible one!
Wave Rock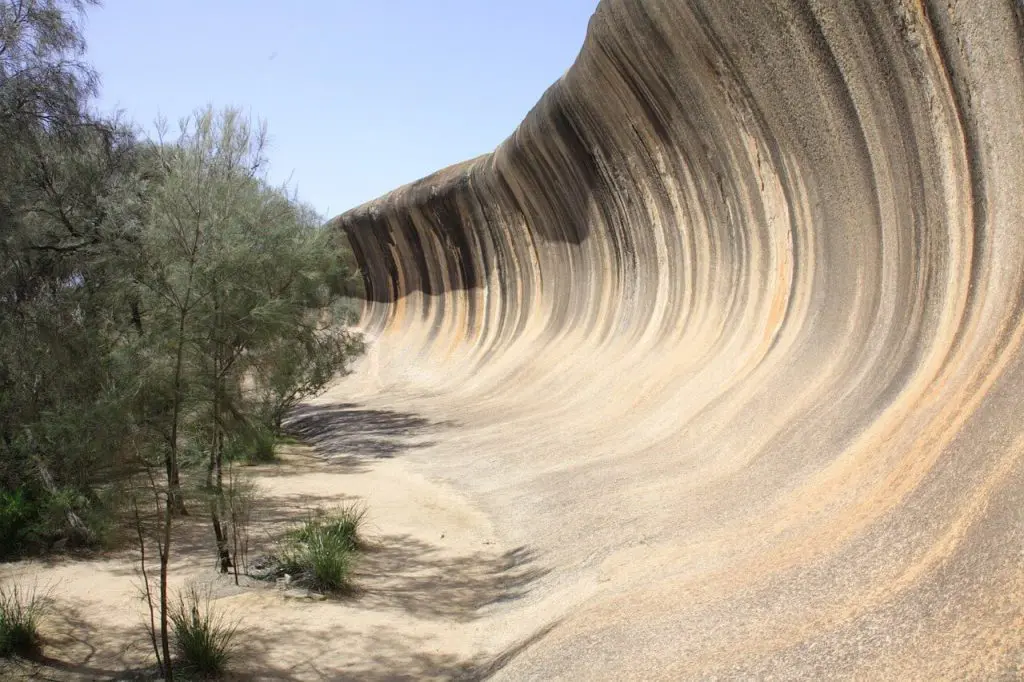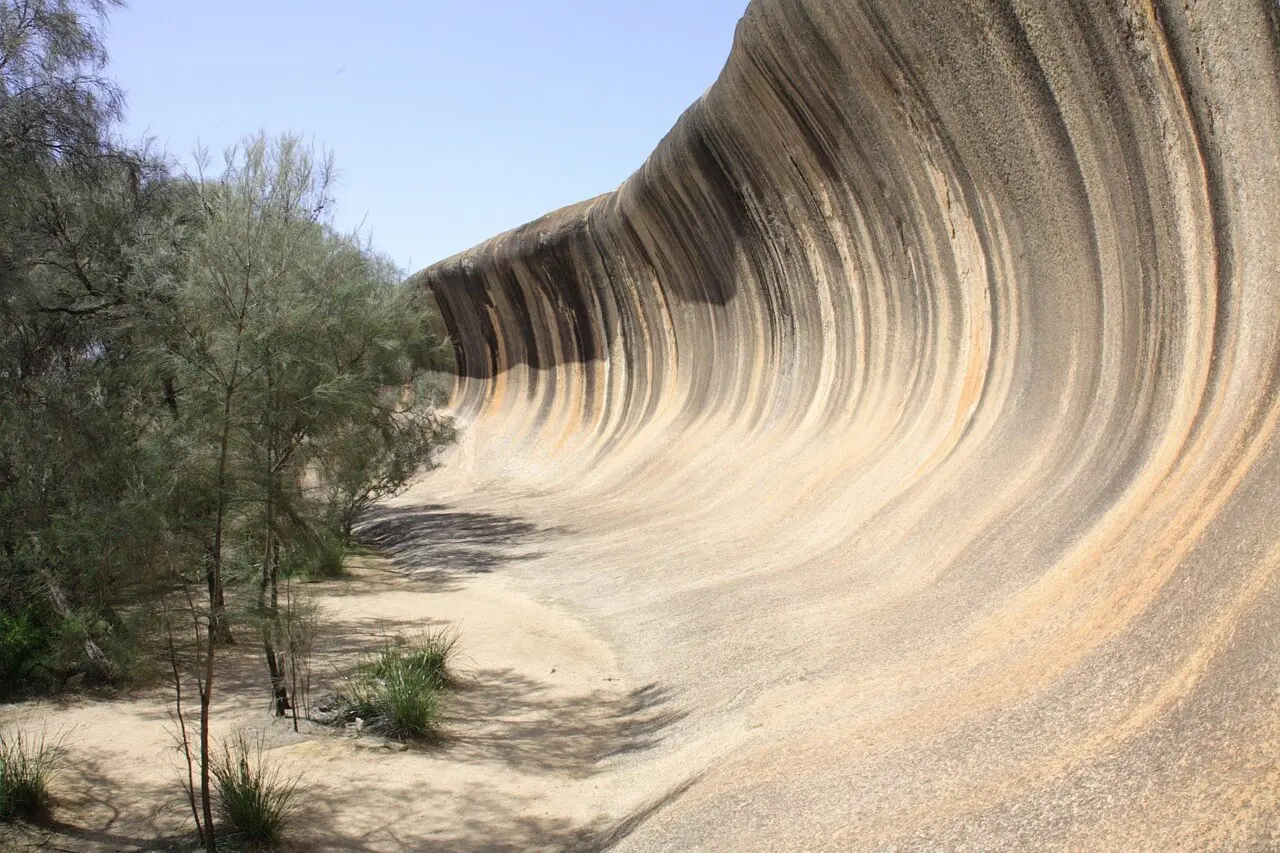 Wave Rock is a unique and strange rock formation located 184 miles (296km) east-southeast of Perth in Western Australia. Like Uluru, it is a natural rock formation.
However, where it differs from Uluru is that it has the appearance of a breaking wave, hence the name Wave Rock!
Wave Rock is also known as Hyden Rock, due to its proximity to the small town of Hyden. The rock is certainly a unique spectacle, much like Uluru, it appears as if it is not natural at all.
It really does look as if it has been carved by someone as opposed to being the result of millions of years of erosion!
Wave Rock is one of the most popular sights to visit for people travelling in Western Australia. Doing a tour of the area is definitely worth it, as this is one of the stranger things you can see in Australia!
Wycliffe Well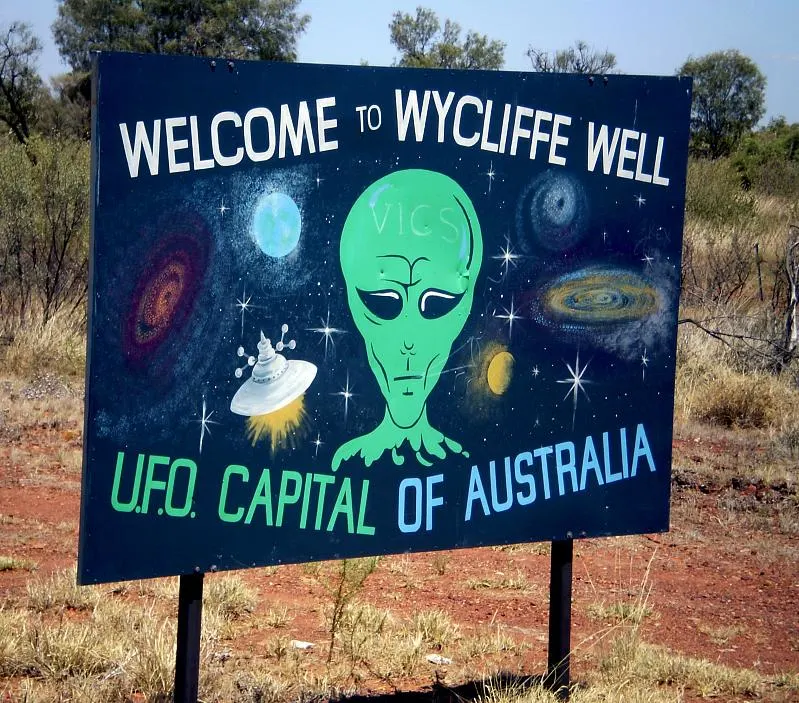 Last but not least, Wycliffe Well, is definitely one of Australia's tourist attractions that are a little bit strange! Known as the UFO capital of Australia, it is located near Tennant Creek in the Northern Territory.
If you're a fan of all things extraterrestrial, then Wycliffe Well may be worth a visit!
Wycliffe Well is one of the top 5 places in the world for reported UFO sightings, the keyword here being 'reported!' The phenomenon started during World War II when servicemen reported seeing strange lights in the sky.
Sightings continue to be reported, although it is hard to say whether any of them are accurate or not!
If you are travelling along the Stuart Highway to Adelaide or Darwin, then this is an interesting place to stop. It also makes for a photo opportunity with all the little green men that can be found here!
Concluding Thoughts
Australia is a great country to visit, and there are certainly many interesting places to visit. However, if you want to see something out of the ordinary, hopefully, this list has shown you some of the more unusual places to visit in Australia.
If you agree or disagree with my selections, or if you have one that is not listed here, I would love to hear from you in the comments below!
Looking For More?
Here are some more articles on Australia and beyond you might enjoy!
Need Travel Insurance?
SafetyWing offers coverage that will give you peace of mind while you're on the road. If you want to protect yourself while you're on the road, then click the image to take a look at the options available to you.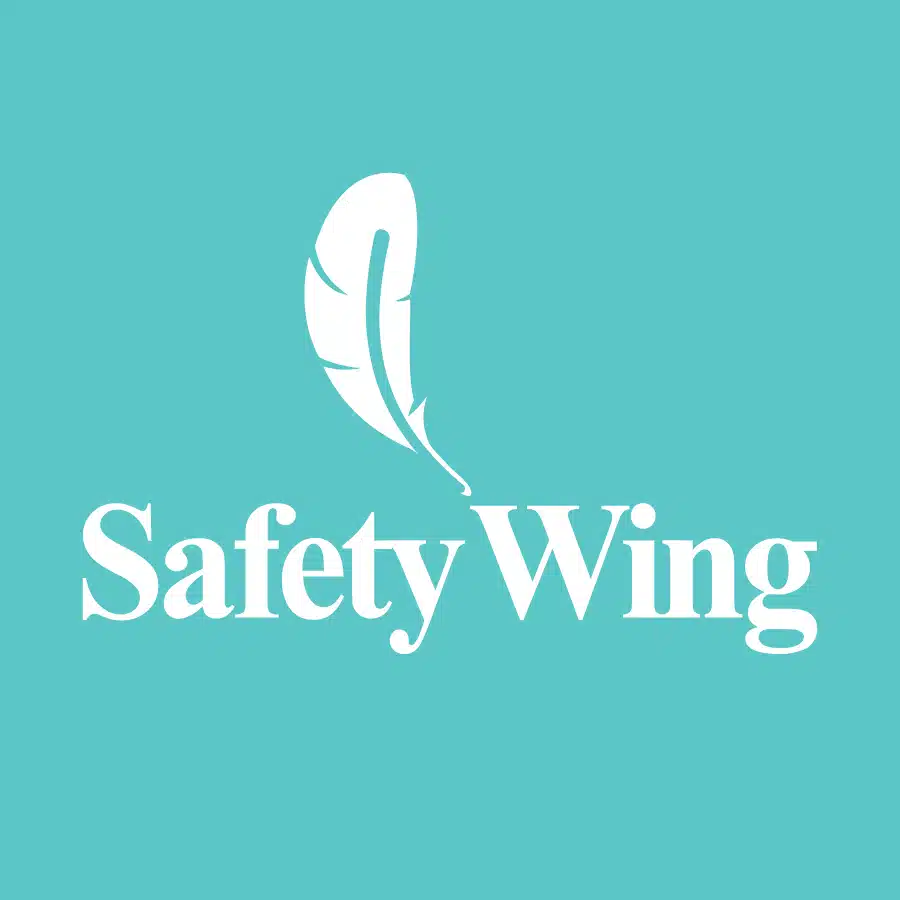 Tom is a travel addict who first left England to spend a year Down Under. Not satisfied with this, he then went to New Zealand, about as far away from home as he could get. He is now planning his next adventures in Europe and Canada while maintaining this blog. Check out the about me page to learn more!