My path to writing this Darwin travel guide began at the end of my Adelaide to Darwin road trip. I wasn't sure what to expect from the city.
I hadn't heard a great deal about travelling in Darwin, nor did I have an idea about what there was to do in the city.
Well, it was safe to say that I was pleasantly surprised when I started exploring the city. Yes, it may not be on the same scale as Sydney, Melbourne or even Adelaide, but there are still lots of points of interest in Darwin!
The marina is one of my favourite spots in all of Australia and the nightlife in Darwin rivals that of any other city in Australia! Litchfield and Kakadu national parks are located close by and are definitely worth a visit.
That said there are a few caveats such as the tropical climate, but for the most part, Darwin is a place you simply have to visit while backpacking Australia!
Disclosure: This article may contain affiliate/compensated links. For full information, please see our full disclosure policy.
Darwin Travel Guide
General info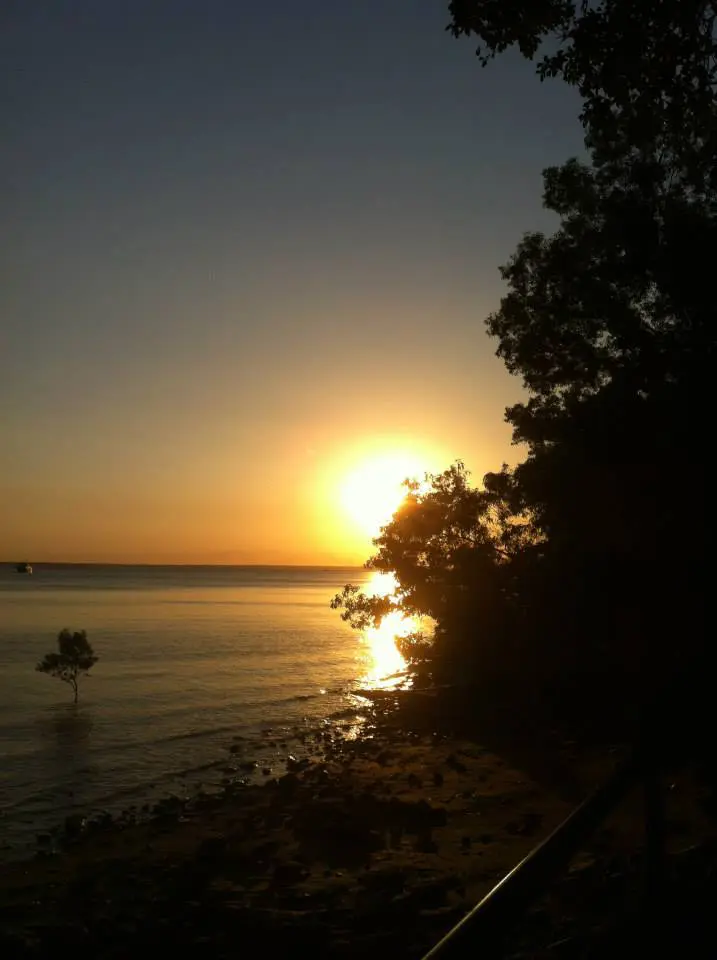 Darwin is the capital of the Northern Territory and the largest city in the region known as the Top End. If you're thinking the name looks familiar, that is because the city is named after Charles Darwin!
His ship the HMS Beagle sailed into the harbour in 1839, the region was named Port Darwin in his honour. In 1911, the city was officially named Darwin.
Darwin's location close to the equator means that it has a tropical climate. This means that for part of the year (November-April), there is a wet season, which is characterised by high rainfall, storms and not a lot of sunshine!
The flipside is that for the rest of the year, you are virtually guaranteed sunny weather around the 30-degree mark!
Best Time to Visit Darwin
If you're wondering when to go to Darwin, you're not alone. It's a legitimate question considering the tropical climate.
There are two distinct seasons in Darwin, wet and dry. Luckily, my trip occurred during the dry season. However, I've been to a few places in Australia during the wet season, and it's not fun.
The rain is constant and torrential. Some days, you're lucky to have a 1-hour stretch without any rain.
If you can, you want to visit Darwin during the dry season. This will allow you to get the most out of your time in the city. There aren't an awful lot of things to do in Darwin during the wet season.
The dry season runs from May to October, with warm temperatures ranging from 21 to 30 degrees. The wet season lasts from November until April, temperatures actually increase during this period from 25 to 33 degrees.
But, you also have 80% humidity and monsoon rainfall to contend with!
My advice would be to visit Darwin, during the dry season. Otherwise, you'll be spending most of your time indoors!
Why I Loved Darwin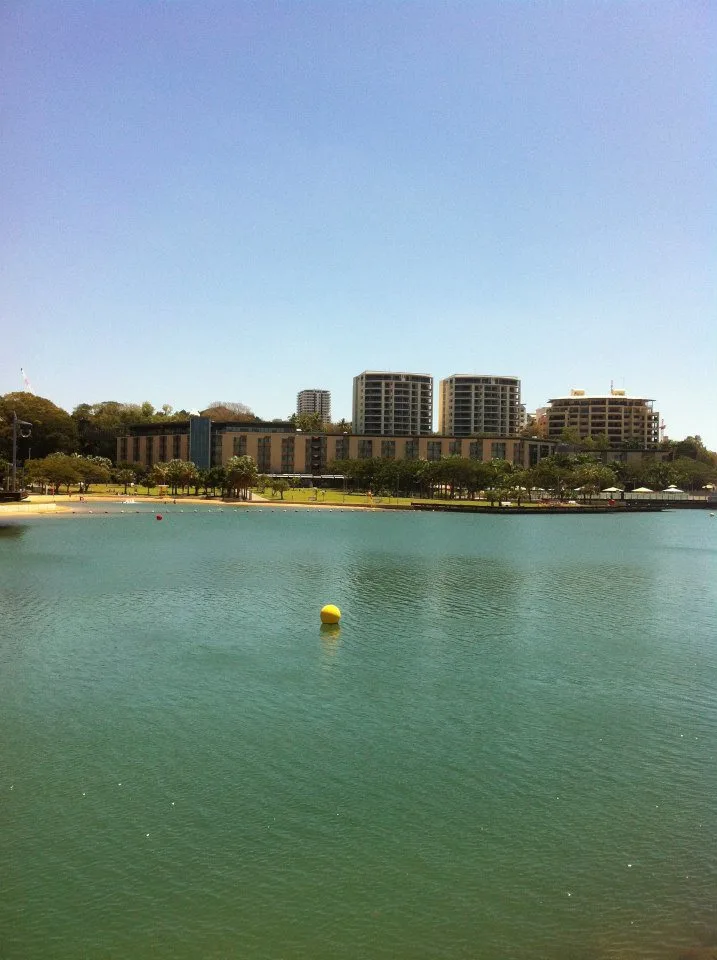 Is Darwin worth visiting? This question I hear a lot and one I was asking myself before I went there!
The answer is simple! Yes!
The end of my road trip from Adelaide to Darwin was when I first arrived in this city! With little knowledge of the city, I wasn't sure what to expect.
Although most of the backpackers that I had met, that have been to Darwin said it was great, I was still unsure. I didn't know if there were a lot of things to do in Darwin and I would get a good feel for the city.
Well, it turns out that I shouldn't have worried too much because Darwin is a lively city with lots of different things to do and see.
Granted, the city is on the small side, but that doesn't detract from its charm and actually means that getting about is straightforward, enabling you to see a lot in a day if you want to!
My favourite place in Darwin was definitely the waterfront at Cullen Bay Marina. In fact, it is one of my favourite places in Australia, I loved it that much.
You can relax on the makeshift beach in the sun and read a book, or hop into the wave pool next door and enjoy yourself in the sun! Both options work for me, and I came here every day to unwind and do a bit of reading!
The nightlife in Darwin is fantastic. This owes much to the backpacker scene in the city, with most of the hostels and bars located on Mitchell Street.
If you're not much of a party animal, then it may be best to avoid Mitchell Street and some hostels that are considered party hostels. Otherwise, Mitchell Street is the place to head for an enjoyable night in Darwin!
Getting to Darwin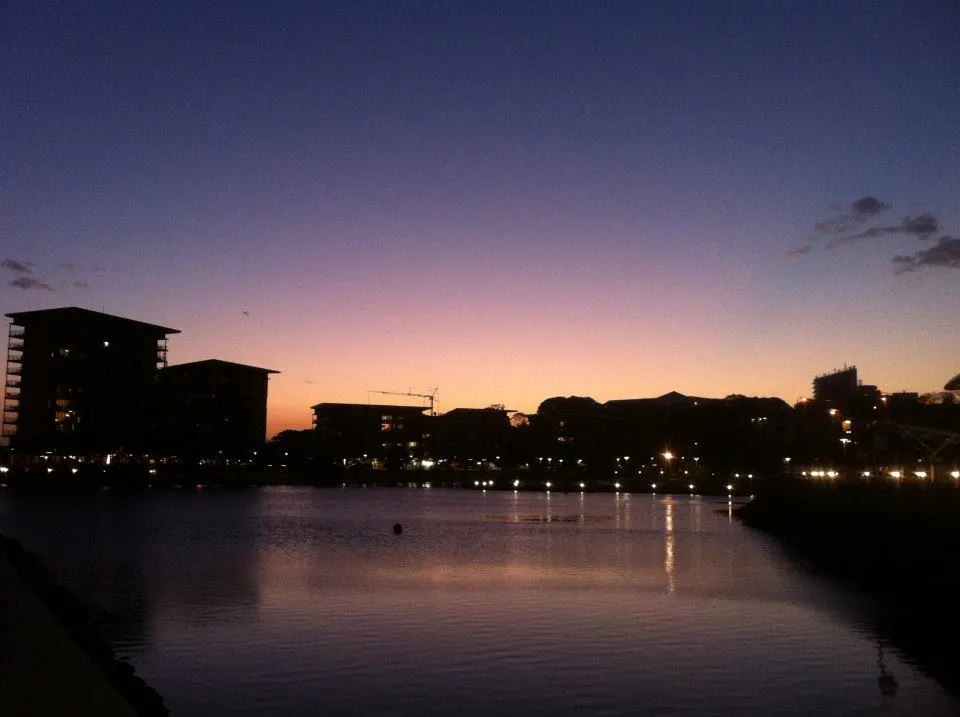 Like all of the main cities in Australia, Darwin is serviced by an international airport. That said, the airport is not the biggest and international flights into the city, are generally from places like Indonesia, which is actually closer to Darwin than most Australian cities!
This Darwin travel guide recommends flying to somewhere like Bali first, then onto Darwin if you plan on visiting Darwin first. Flights to Sydney, Melbourne and other cities such as Adelaide and Perth are also available, although it will be a long flight!
My flight from Darwin to Adelaide took nearly 4 hours and this was without any in-flight entertainment, so be prepared and take action to avoid boredom!
Getting to Darwin is not as easy to reach by road, although it is a great place to end an Australian road trip. It is at least a 3 day-trip from the nearest city, Alice Springs, with stops included along the way.
You can also drive to Darwin from Cairns, but this is a little bit more tricky, as some of the roads are not sealed, and during the wet season, some roads become impassable, so take extra care, if you plan on driving this route!
Where to stay in Darwin
There is no shortage of hostels in Darwin and choosing one to stay in can be daunting! I stayed in Youth Shack during my time in Darwin, and although it was a decent hostel, it felt too much like a party hostel to me.
I'm all for partying, but when I want to sleep, I want to sleep! I would only stay there if you are ok with potentially being woken up at night!
The YHA is a good option if you want a quieter hostel, as they tend to be more relaxed in general. Another hostel that people had good words for is Melaleuca on Mitchell, which is a mix of a quiet and lively hostel. The Majority of the hostels are located on Mitchell Street, which is essentially backpacker central in Darwin!
As always, these are only my recommendations and my opinion may differ from others, my advice would be to check out reviews on Hostelworld and compare prices there.
One important thing to note when staying in Darwin is that hostels are more expensive during the dry season than during the wet season.
This is for obvious reasons. If you fancy braving the monsoon rain and stay in Darwin for cheaper, go for it. You never know you might get one or two days of decent weather as well!
Backpacker Jobs in Darwin
If you are in Darwin on your Australian working holiday visa, then it can be a good place to work. There are a number of jobs in Darwin for backpackers. Even though I didn't work there myself, I know a number of people that did and they all agreed there are enough jobs in Darwin for backpackers!
Darwin is small compared to the other capital cities of Australia's states. Naturally, this means there will be fewer jobs. On the flip side, its remote location compared to the rest of the country means there will always be a few jobs for backpackers in Darwin.
The dry season sees an influx of backpackers into the city, which means jobs, especially those in hospitality, can be harder to get. If you really want to work in Darwin, then it may be worth getting there before or right at the start of the dry season, to have the best chance of getting a job.
The opposite effect happens in the wet season, with fewer backpackers, so if you can handle monsoon rains and tropical storms, then this may be something worth looking into! Construction is a big employer in Darwin, and like most of Australia, pays very well, so if you have a white card, I would recommend this industry!
Otherwise, hospitality and retail jobs are the way to go. There are many job boards in the numerous backpackers in the city and it is worth going and checking if there are any jobs. There are also a number of recruitment agencies and they can help you find part or full-time work in the city.
Things To Do in Darwin
No Darwin travel guide would be complete without a few things to do in the city. Despite its small size, there's quite a bit to see. It's one of the best places to see in the Northern Territory for a reason!
If you're wondering what to do in Darwin, check out these activities and places that I really enjoyed during my time in the city!
Darwin Waterfront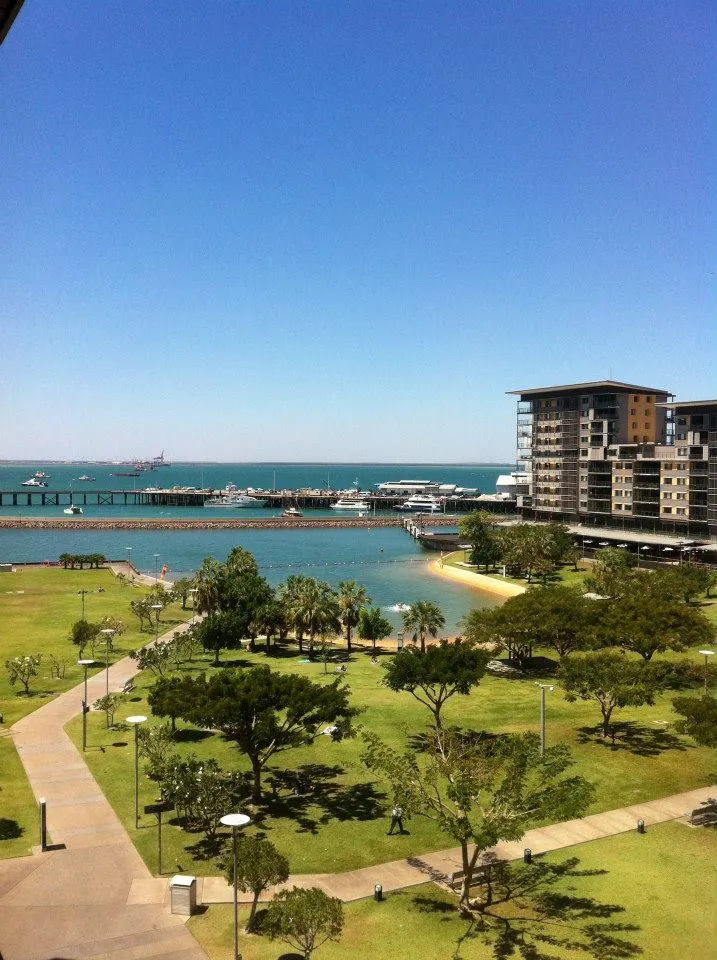 The waterfront was my favourite place in Darwin, and one of my favourites in all of Australia! There are numerous reasons for this, it's a great location to relax on a sunny day.
If you want to go for a swim you can in the Recreation Lagoon. If you fancy something a bit more exciting, then you head across the way to the Wave pool next door!
There are also a number of shops, restaurants and bars in the Waterfront precinct. It's easy to spend a whole day here, just relaxing in the sun, which is what I did most days!
The waterfront is also a good spot to get a photo of the sunset in Darwin, which is often spectacular!
Mindil Beach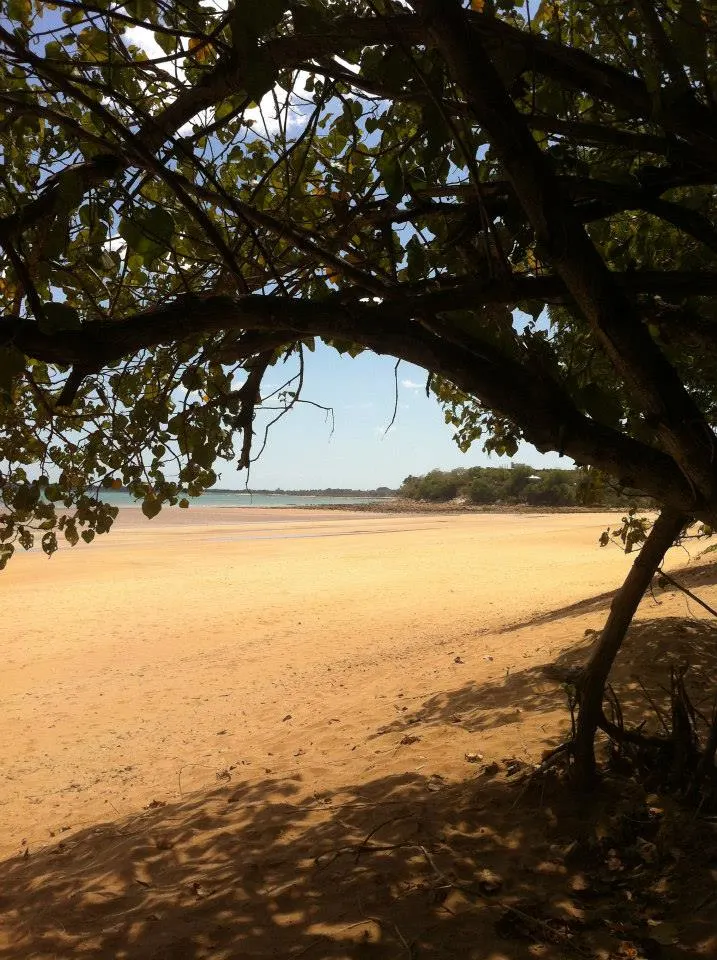 Mindil Beach is definitely one of the top things to do in Darwin. Although it is a bit of a walk from the centre of the city, it is definitely worth it.
Mindil is perhaps the best beach in Darwin and has great views of the Timor Sea. It is also a fantastic spot to see a spectacular sunset, due to Darwin's proximity to the equator!
However, the best bit about the beach is the Mindil Beach night market; held there every Thursday, from the last Thursday in April to the last Thursday in October, coinciding with the dry season.
There are numerous stalls at Mindil Beach market, which sell everything from arts and crafts to different delicacies of food. It is definitely worth checking out while in Darwin!
Northern Territory Museum
I wasn't really expecting much when I went to this museum. The plan wasn't to go there, I was just walking around and happened to come across it. I decided to go inside, which was definitely a good decision.
Well, I was pleasantly surprised by the place! The museum has some of the more interesting exhibits I've seen!
As you walk in and up the ramp, the first thing you encounter is a giant crocodile, called Sweetheart. It terrorised boats in the area between 1974 and 1979!
There are lots of exhibits related to Cyclone Tracey, which decimated the city in 1979. A hurricane simulator gives you an idea of the sheer terror the residents of Darwin must have felt!
National Parks
Darwin is the main hub for travelling to the nearby Kakadu and Litchfield national parks. I didn't go to either, during my stay and I really regret it.
Everyone I spoke to, was glowing in their praise of the parks. Kakadu is the bigger of the two, covering an area the size of Slovenia! Litchfield is smaller but is also worth a visit.
A number of tour operators offer 3/4 day tours to both parks. You can see Aboriginal rock art, the numerous waterfalls in both parks and if you're lucky you might get up and close and personal with a croc too!
Military Museum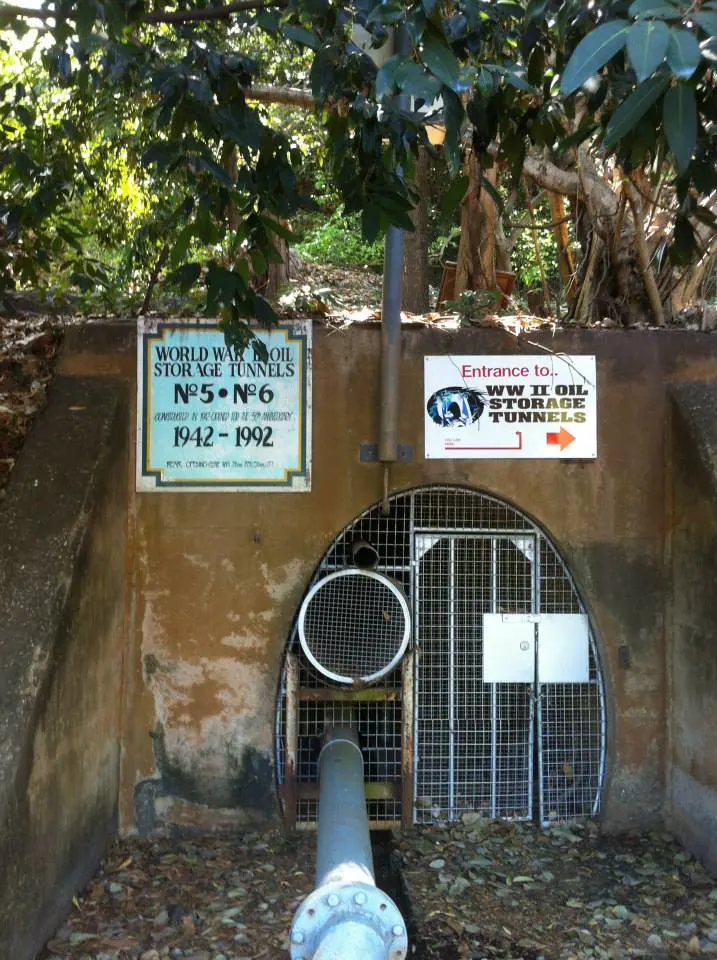 Even if you're not a history buff like myself, I still recommend going to the military museum and exploring the numerous World War II sights around the city.
Darwin had played a big part in the Pacific theatre during the war and during a Japanese raid on 19 February 1942. More bombs were dropped on Darwin than were dropped on Pearl Harbour!
The museum provides an interesting insight into the Second World War's impact on Darwin and the role it played in the war. It's pricey at $18, so if you are not that interested in war and history, then I would give it a miss.
Otherwise, I highly recommend visiting to learn more about this little-known part of Australian history!
How Much Does It Cost to Travel in Darwin?
When it comes to travelling to Darwin and how much you could end up spending, it's a bit of a strange place. That's because the prices vary a lot between the wet and dry seasons! In short, the dry season is the tourist season and more expensive than the wet season, which is not.
I decide to visit Darwin towards the end of the dry season in September and paid $34 for a bed in a four-person dorm. If you booked the same room during the wet season, you could potentially get it for about $25.
It's worth bearing this in mind before you visit Darwin. It's cheaper in the wet season, but the constant rain will make Darwin less enjoyable!
One thing that stays the same cost-wise in this Darwin travel guide is the price of food. It hardly changes during either season. Cafes and restaurants might charge a little less during the wet season, but there's little variation if any!
Darwin can be expensive at times, especially if you're there during the dry season. Most hostels charge extra for wifi. To get around this you can visit the library or places such as McDonald's and Hungry Jack's!
Concluding Thoughts
If you plan on travelling to Australia, then it would be a waste if you didn't visit Darwin. I have mentioned before that a lot of backpackers tend to stick to the East Coast and ignore amazing places like Uluru, Coober Pedy and Darwin itself!
The temptation to go to the East Coast is obvious, with great weather, big cities and plentiful beaches. However, seeing a different side to Australia, was something I'm glad I did!
Hopefully, my Darwin travel guide will have convinced you to visit. It may be small, but there are plenty of things to do in Darwin and some great weather. Provided you go during the dry season of course!
Need Travel Insurance?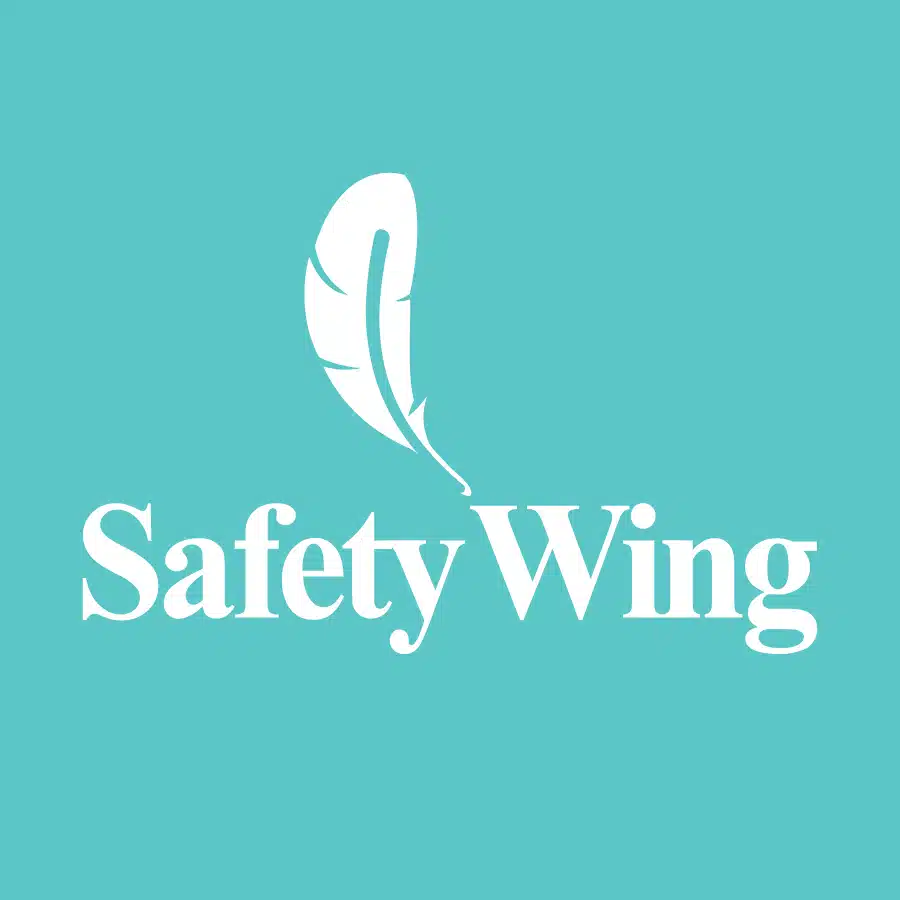 SafetyWing offers coverage that will give you peace of mind while you're on the road. If you want to protect yourself while you're on the road, then click the image to take a look at the options available to you.
Tom is a travel addict who first left England to spend a year Down Under. Not satisfied with this, he then went to New Zealand, about as far away from home as he could get. He is now planning his next adventures in Europe and Canada while maintaining this blog. Check out the about me page to learn more!