Backpacking Norway isn't cheap, but the country is full of amazing places and sights!
Norway has some of the most spectacular scenery in the world from incredible hikes such as Preikestolen and Trolltunga to amazing cities such as Bergen and Oslo.
There are numerous things to do in Norway such as go hiking, explore fjords and check out the Northern lights in the north of the country.
It is an expensive country, but you can't put a price on the sights you will see. Plus, if you're clever you can backpack Norway on the cheap!
A trip to Norway will live on in your memory for a long time, and if you can't see all the country has to offer on your first trip, you should come back to see more!
So without further ado, let's get into my Norway travel guide!
Disclosure: This article may contain affiliate/compensated links. For full information, please see our full disclosure policy.
Table of Contents
Backpacking Norway
Practical information for backpacking Norway
Capital – Oslo
Population – 5,258,00 (estimate)
Currency – Norwegian krone (NOK)
International dialling code – +47
Time zone – CET, UTC +1
Best time to visit Norway – April to September
Plug type – Type C Get your International Travel Power Adapter here!

Main languages – Norwegian; English is widely spoken
Average daily spend in Norway – 150NOK
Why You Should Visit Norway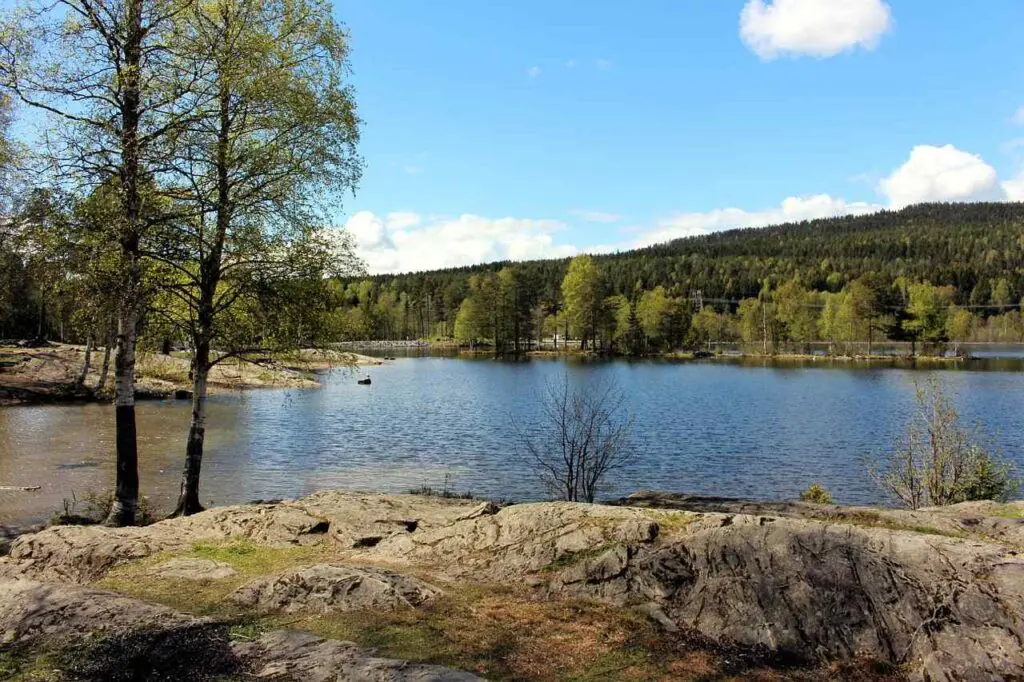 The primary reason to visit Norway as far as I'm concerned is to see the incredible scenery in the country.
Similar to when I was backpacking around New Zealand, Norway is blessed with some of the most beautiful sights in the world!
From the fjords that dot the coastline on the west of the country, to mountains and the Northern lights in the north of the country, Norway is a beautiful country.
If you love being outdoors, then Norway is somewhere you have to visit. There is so much to see and do while you're in the country, it would take a long time to see everything.
Norway is a highly developed country, so getting around is not an issue. It's a bigger place than it looks, but if you have a car, this will not be an issue.
One of the downsides of visiting Norway is that there is so much to see. This makes it near impossible to see it all in one trip.
Factor in the high costs you will accrue in Norway and this becomes even clearer.
While this is an issue if you want to do the trip in one go, you would need deep pockets to be able to do so, it does mean you can keep heading back to Norway.
In essence, that is one of the best reasons to visit Norway. No matter how many times you visit, there will always be something new for you to discover!
If that's not a great reason to visit Norway, I don't know what is!
Where to Stay in Norway
One of the downsides of backpacking around Norway is that outside of the big cities, there aren't a lot of hostels.
Finding cheap places to stay in Norway isn't the easiest task. This isn't helped by the strong Norwegian krone either!
However, there are several hostels dotted throughout the country. Plus, there are a few cheap hotels as well if you're willing to look for them.
Travelling to a country as expensive as Norway, I would recommend you try and stay in hostels where possible.
You will save a lot more money this way, which will allow your finances to stretch further!
Below are a few hostels in Norway I recommend staying at during your time in the country.
Backpacking Routes in Norway
A Norway road trip is a fantastic way to see views that are among some of the best in the world. The views along the way are incredible and the roads themselves are of top quality.
Eighteen roads around the country have been as National Scenic Routes. They are considered to be the most beautiful drives that Norway has to offer.
These roads have received a lot of investment to ensure the facilities along the way are in top condition and that there are numerous viewing points too
The only downside is that some of them are spread out and not that long. It can be hard to plan a road trip including all of them as a result.
However, there are a few of these routes you should do while you're in Norway. Here are a few of my suggestions.
Helgelandskysten
This 433 km (269 miles) route takes you past the Arctic Circle at 66 degrees northern latitude.
There are a lot of interesting places to see along the way on this road trip. They include Saltstraumen, which is the world's largest tidal maelstrom and Svartisen, which is the second-largest glacier in Norway.
The further north you go, the more the landscape changes. From the south, there are more fjords, while islands such as the UNESCO world heritage Vega Islands are common as you head north.
Helgelandskysten is a scenic road trip and one you will thoroughly during your time in Norway!
Lofoten
Lofoten is another road trip in the north of Norway that you shouldn't miss out on!
This 230 km (142 miles) drive has some incredible scenery along the way from tiny fishing villages to white beaches.
Lofoten is one of the best places to see the Northern lights during the Arctic winter, although there will be minimal sunlight at this time of the year!
There are many small beaches dotted along the drive and they make perfect places to stop for a while and soak in your surroundings.
A drive around Lofoten is highly advised if you want to see some of the best scenery Norway has to offer.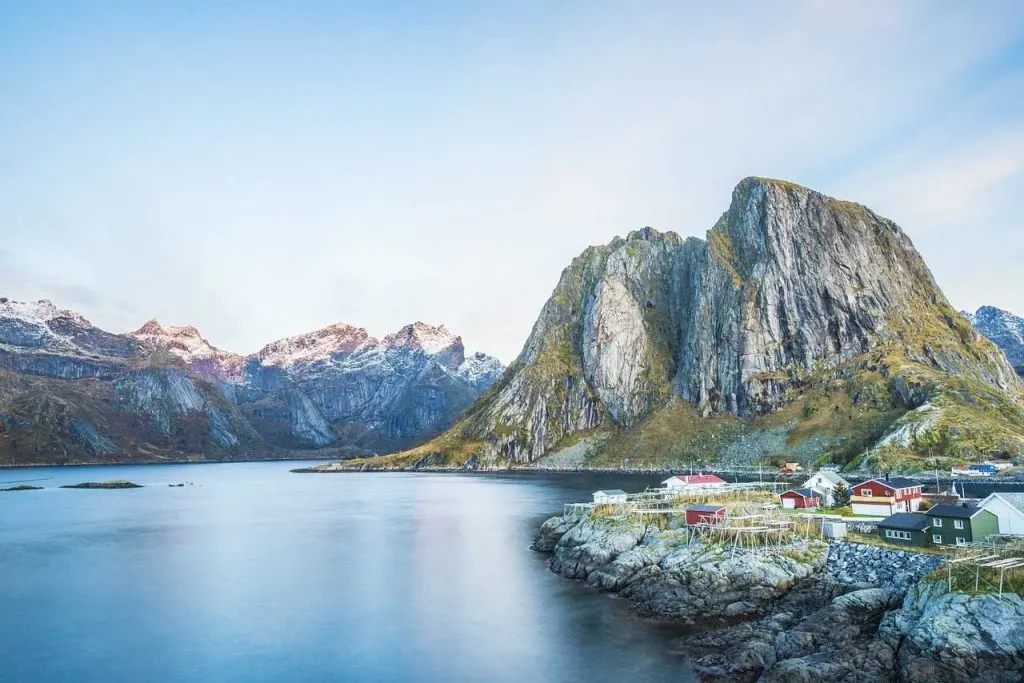 Oslo to Stavanger
Driving from Oslo to Stavanger is no easy task. This is a long drive that you will need to do over a few days, but it's worth it for the scenery along the way.
There are two ways you can do the drive. You can go via the coastal route passing through places such as Kristiansand, or you go via Ryfylke and Telemark.
The coastal route is longer, so it may be better to go inland. If you do, you will be able to do some great hikes such as Kjeragbolten and Preikestolen, which provide incredible views!
You can also extend the trip onwards to Bergen if you wish!
Places to visit in Norway
You won't be short of incredible places to visit in Norway. The country is one of the most scenic places I have been to.
The scenery reminded me a lot of when I was backpacking around New Zealand. The fjords, hills and picturesque lakes are very similar.
If you've been to New Zealand, you will love Norway! The scenery is out of this world! You could easily spend a month in Norway and not see all the country has to offer!
Below are a few places I recommend checking out while you're backpacking in Norway!
Bergen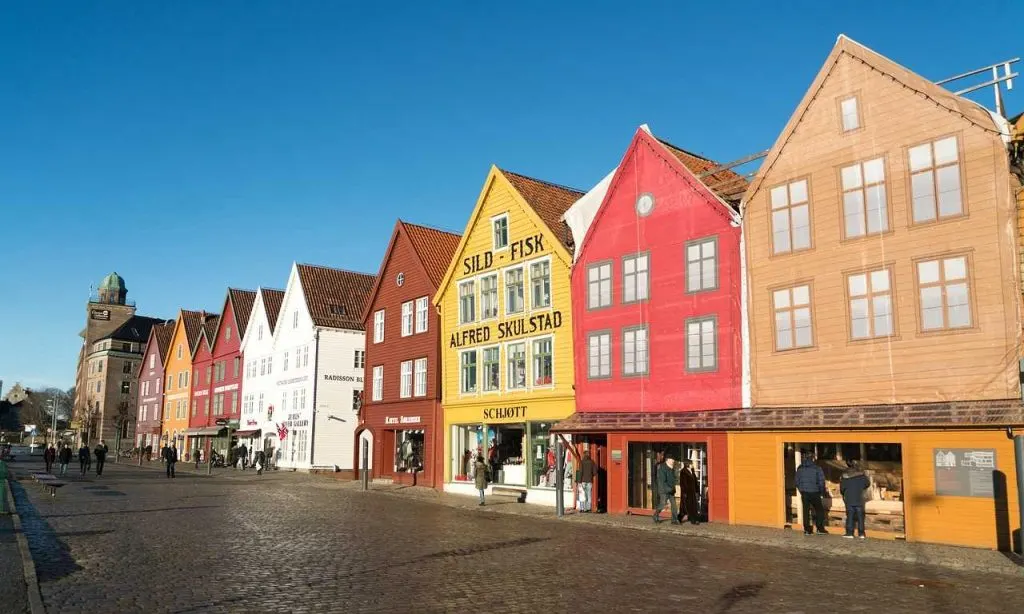 If you're looking to explore Norway's fjords, Bergen is a city you should visit.
It is surrounded by mountains and fjords, with the longest fjord in the country, Sognefjord, close by.
Bergen also has some beautiful sights. There are the colourful Wooden houses on the old wharf and you can take the Fløibanen Funicular to the top of Fløyen Mountain for some incredible panoramic views!
Bergen is the second biggest city in Norway and it is one you should visit! There is so much to see and do, it would be a shame to visit Norway without going there!
Oslo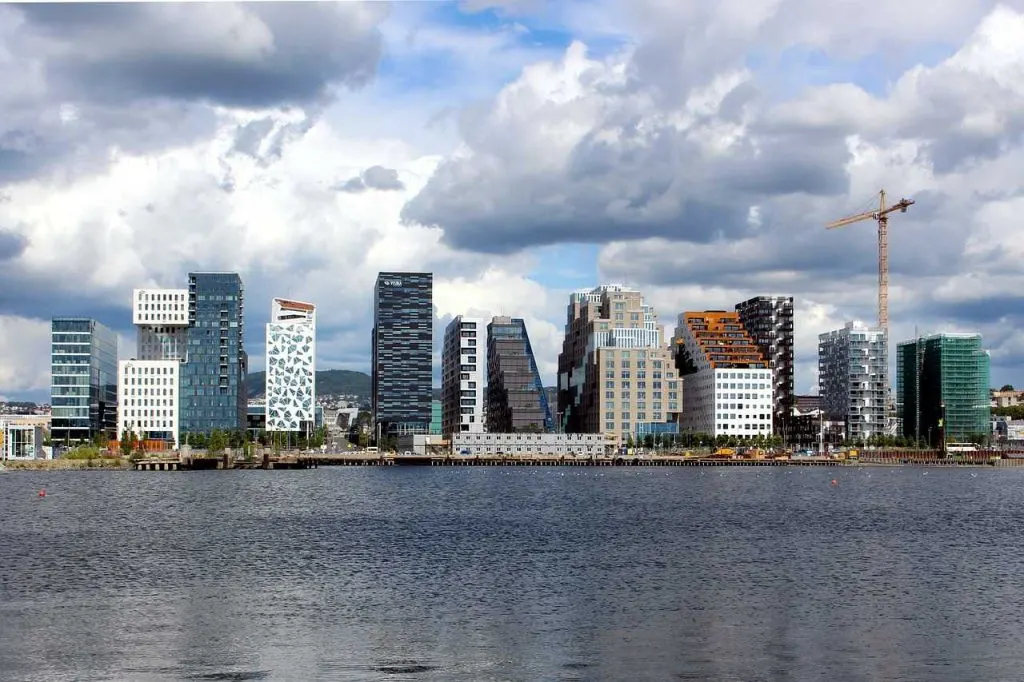 As the capital of Norway, Oslo is a city most people will visit when they are backpacking around Norway.
It's an interesting city and there are a lot of things to do in Oslo as you'd imagine. A stroll down Karl Johan Street is one such thing.
You will find numerous bars, restaurants and entertainment, while you come to the Norwegian Palace once you reach the end of the street.
There are also several intriguing parks and museums that you should check out while you're in the city.
Oslo is an interesting city and one that should be a part of any Norway itinerary.
For more information, check out my 3 days in Oslo guide!
Preikestolen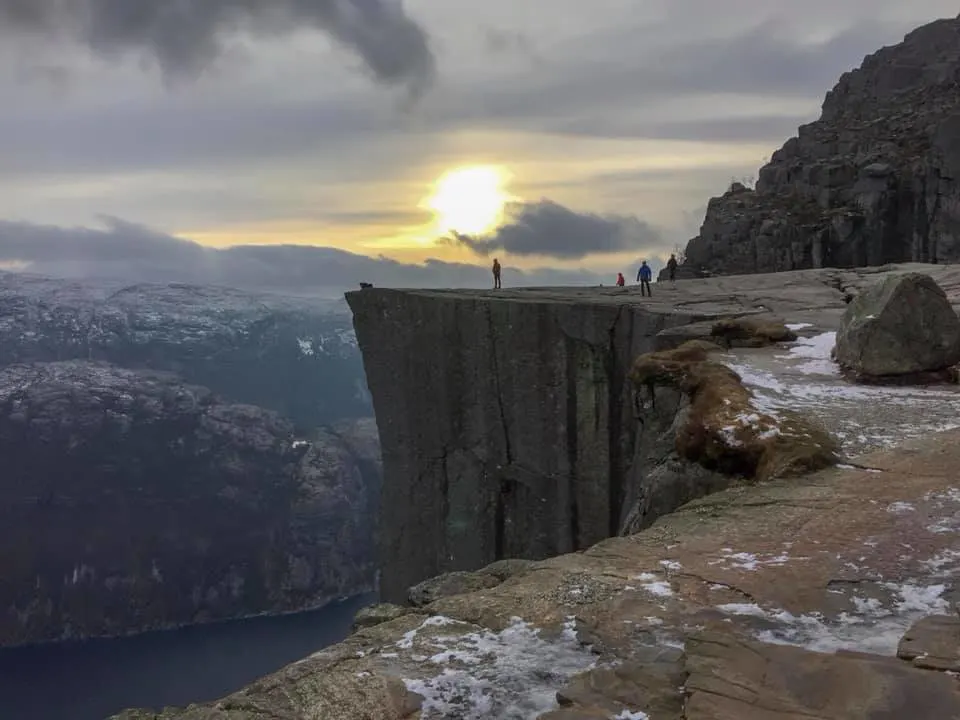 Preikestolen is one of the most spectacular places I have ever visited during my travels.
The views from the top overlooking the fjord below are incredible. Despite the piercing cold, it was a hike that was well worth it.
If you visit during the summer you won't have to deal with the cold, but you will have to deal with much more people on the hike and at the top.
Still, it's a place with visiting as the hike and the views you will see are out of this world!
Preikestolen is one of the best hikes I have done in recent years and I can't recommend doing it enough!
For more information, check out my Hiking Preikestolen guide
Svalbard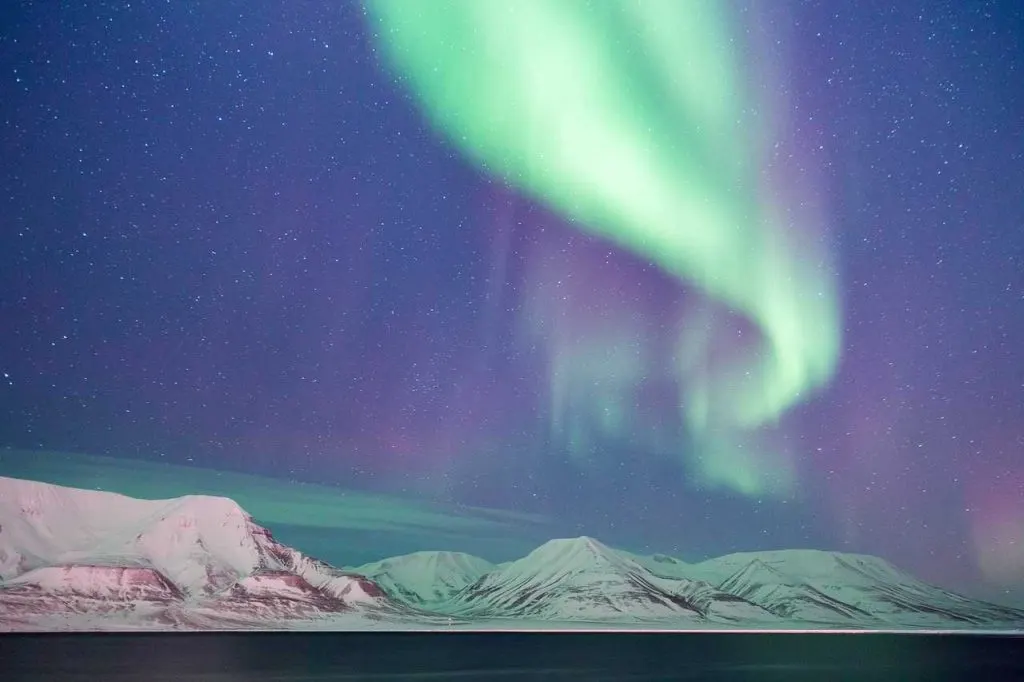 Svalbard isn't the easiest place to get to if you're travelling in Norway, but if you go, you will be visiting a place unlike you have previously visited.
Svalbard is a Norwegian archipelago located between the Norwegian mainland and the North Pole.
Due to the proximity to the North Pole, Svalbard is a cold place, but the views are stunning, with mountains and glaciers close by.
It is also home to the Svalbard Seed Vault, which keeps a wide variety of plant seeds secure in the event of a global crisis.
Svalbard is also a fantastic place to see the Northern Lights and witness the "Midnight Sun". 24 Hours days which occurs during summer.
It may be out of the way, but Svalbard is a magical place if you endeavour to get there.
Trolltunga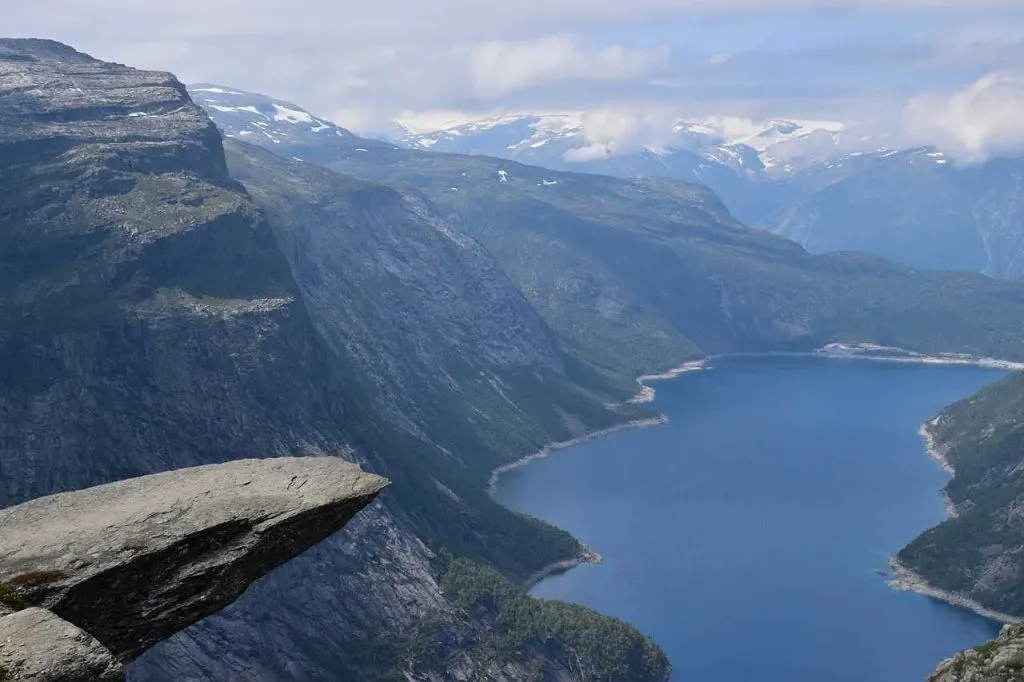 Like Preikestolen, Trolltunga is one of the best hikes in Norway you can do.
It is a cliff that juts out horizontally from the mountain overlooking Lake Ringedalsvatnet. The name Trolltunga translates to Troll's tongue, it is so named because the cliff looks like a tongue!
Unlike Preikestolen, the hike to the top of Trolltunga is much longer. It takes 10 to 12 hours and is a demanding hike.
If your fitness isn't great, you will struggle on this hike and it may be best to avoid doing it!
If you decide to do the hike, you will be rewarded with amazing views on your way up and down. Plus, spectacular views once you reach the top!
What's Not So Great About Norway
While I thoroughly enjoyed my time in Norway, there were a few things that weren't so great.
This is not to put a dampener on Norway, but there is a downside to every country no matter how beautiful!
I always feel it's better to present a well-rounded picture of somewhere, rather than glossing over the bad points.
Below are a few things that were annoying while I was backpacking Norway.
Expensive
There's no getting away from it, Norway is an expensive country.
Whether it is food, beer or somewhere to stay, it costs a lot in Norway. It's worth bearing this in mind before you go and budgeting accordingly.
You certainly can't go out on wild nights and drink a lot of alcohol. You will quickly be out of pocket.
Even bottles of water are expensive at nearly £3 a bottle!
Norway is a beautiful place, but it sure as hell costs a lot while you're there!
Weather
This applies more to travelling Norway in the winter than it does during the summer.
It can get cold in Norway during winter. The further north you go, the colder it will get, especially if you head to Tromso and even further to Svalbard!
If the cold isn't your thing, I would advise against visiting Norway in the winter. However, if you do brave it you will be rewarded with beautiful views and fewer people blocking them.
The snow does add another dimension to Norway's scenery. If you can brave the cold weather, Norway is a great place to visit. But, bear in mind, it does get cold, very cold!
Norway Travel Tips
Norway Travel Visa
If you're travelling to Norway from a European country, you will be pleased to know most of these countries have visa-free access to Norway.
Norway isn't a part of the European Union (EU), but it is a part of the European Economic Area (EEA), which means citizens in the area can work and live in EU countries.
As well as countries from Europe, Norway has visa-free agreements with a wide range of other countries. A full list can be found here.
If your country is not on this list, you will need to obtain a visitor's visa before you can enter Norway. This will allow you to visit for up to 90 days over a period of 180 days.
Before you start your trip to Norway, ensure you get travel insurance! To put it simply, if you can't afford travel insurance you shouldn't be travelling.
Take it from someone who's had a few incidents abroad you need it! I use World Nomads and recommend that you do too!
How Much Does It Cost to Travel in Norway?
As I have hinted at above, Norway is an expensive country. Due to the wealth of the country and the high salaries, people earn here, prices are above what you would expect in most countries.
Unfortunately, this means that you will pay more on a day-to-day basis than you would in other countries.
You will need to take this into account while you're there. From food and drink to accommodation and tours, everything costs a little extra in Norway.
It's impossible to splurge in Norway due to the high cost of living, so you will need to watch what you spend at all times.
Staying at places where you can cook your food is almost a necessity. This will allow you to keep costs down considerably.
If you plan on driving around Norway, you will more than likely have to pay for parking. This is especially true in big cities, where there is a lack of free parking spaces.
Paying these fees will slowly eat into your budget. It's a good idea to do some research beforehand and see if you can find places where you can park your car for free.
Norway isn't a cheap country to travel around, but if you are smart, you can reduce your outgoings. Have a budget and stick to it, cook as much as food as possible, and don't go crazy n tours and beer and you will be fine!
Tips for Saving Money While Travelling in Norway
If you're from the UK, consider opening an account with Monzo. Most UK banks charge a conversion fee when you use your card abroad, Monzo allows you to use your card abroad and incur no costs for doing so.
Eating out is expensive in Norway, try and stay at places where you can cook your food. This will allow you to eat for cheaper and save you a lot of money in the process.
Bring a water bottle with you when you travel. This will reduce plastic waste, but it will also save you from buying bottled water which costs a lot in Norway!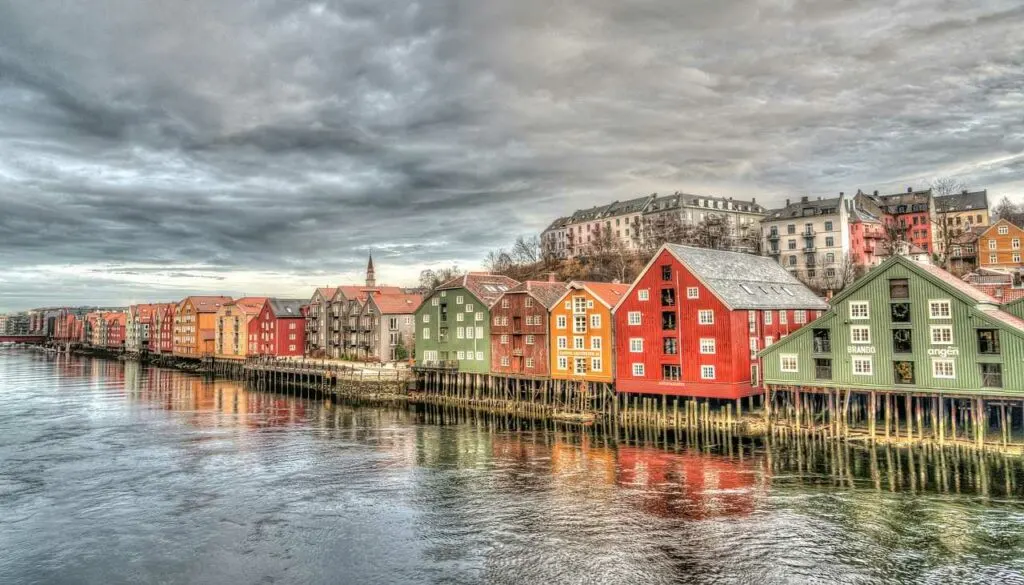 Getting to Norway
If you're travelling from Europe, Norway is easy to get to.
Most countries fly into Norway, with Oslo being the most popular destination. The proximity of the UK to Norway means you can fly into more cities such as Bergen and Stavanger directly.
It may be the case that your flight is rerouted through the UK if you're flying to one of these cities from various parts of Europe that aren't as well connected.
If you're going to Norway from further afield, you may be able to get a direct flight to Oslo but that will depend on where you are flying from.
More than likely, you will have to transfer to an airport in Europe before you continue to Norway.
Despite this, Norway is an easy country to get to and well-connected with the rest of the globe.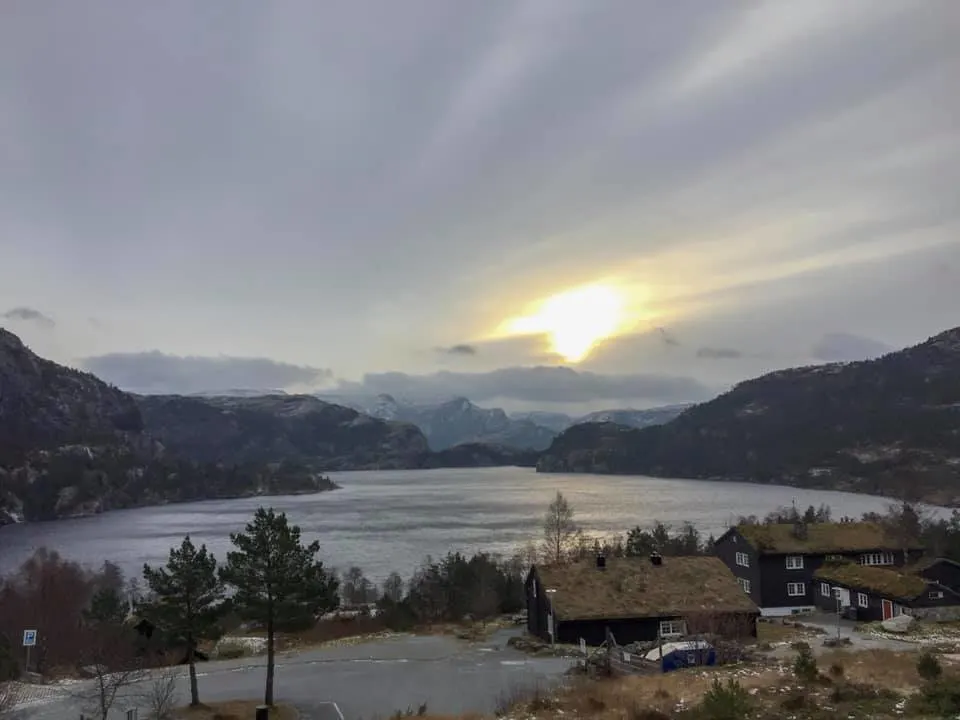 How to Travel Around Norway
Norway may not look very big on the map, but it is deceptively large. Travelling around isn't the easiest task if you don't have a car.
Two of the biggest cities in southern Norway, Oslo and Stavanger are separated by a 9-hour drive! They don't even look that far apart on the map.
This illustrates just how big Norway is and the task of getting around.
I would recommend renting a car if you plan on visiting Norway. This way you can get around at your leisure and visit the numerous beautiful spots around the country.
Rentalcars.com is the company I recommend using. They compare prices from all the major rental companies to ensure you get the best possible deal.
You may also get a nice upgrade when you arrive as we did!
There are numerous bus services across the country, but you have to rely on their timetables and they don't offer the freedom that having your car does.
If you're on a budget, it may be a good idea to skip renting a car, but you will be at the mercy of the bus companies. Plus, you won't have the freedom to go where you please.
Best Time to Visit Norway?
If you want good weather, then the best time to travel to Norway is definitely during the summer months.
It will be much warmer than during the winter and you will be able to explore the country without worrying about the cold.
However, warmer weather means more tourists. You will have to contend with this no matter where you go.
I visited Norway in December and it was cold, but there was a clear lack of tourists.
While I wouldn't recommend visiting Norway during the winter for too long, it does mean you will have fewer people to contend with at popular sights such as Preikestolen and Trolltunga.
If you want something in between, it may be a good idea to visit Norway during the shoulder seasons of April to May and September to October.
Autumn in Norway is a good time to visit, likewise with spring. You won't have the crowds you get during the summer and you will get decent weather too!
While I would say the summer is the best time to go to Norway, it does depend on what you are doing and where you are going.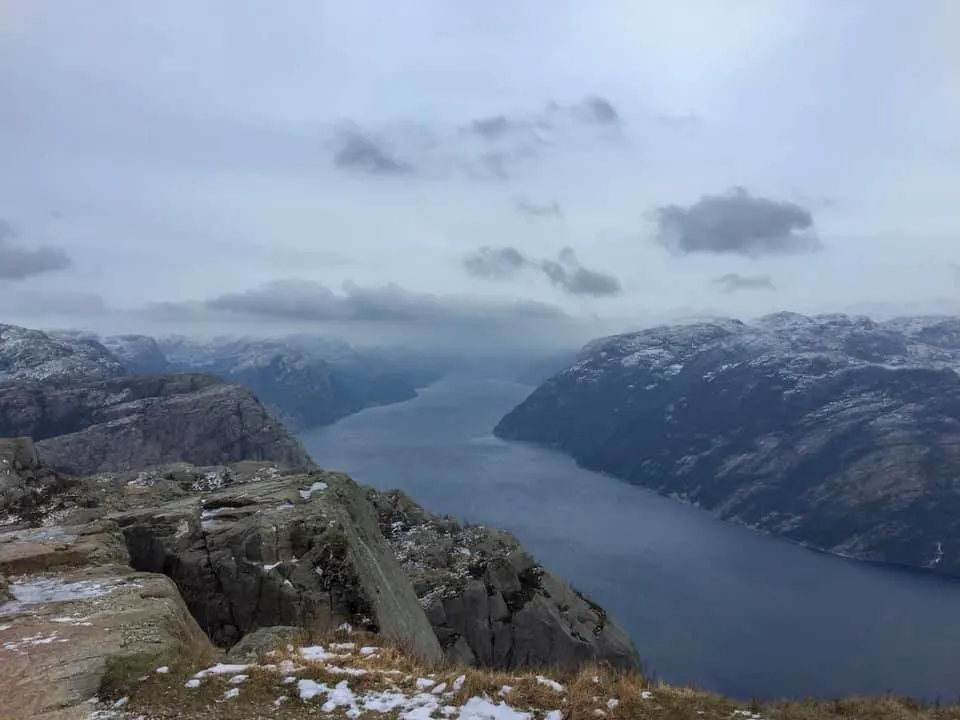 Is Norway safe?
Norway is considered to be one of the safest countries in the world.
According to the Global Peace Index, Norway is ranked as the 14th safest country in the world.
If you're going to Norway, the odds of you being involved in crime are very low. But that doesn't mean you shouldn't take any precautions.
No matter where you go, you should always take precautions. Doing the same things you would do in any other country, will ensure you have no issues while you're in Norway.
The danger in Norway comes from the elements, which becomes when you start travelling around Norway.
It will get cold and depending on where you are, it can get dark very early!
If you plan on going hiking or outdoors, make sure you have all the right clothing and that you don't take any unnecessary risks.
If you do all of the above you will have no issues and can enjoy your time in Norway to the fullest!
Concluding Thoughts
Norway is one of the most beautiful countries I have visited. The scenery across the country is simply beautiful!
It may be an expensive place, but that shouldn't deter you from visiting. You can't put a price on the views and experiences you will have if you visit the country.
Backpacking Norway will leave you open-mouthed as you make your way around the stunning fjords and mountains up and down the country!
Have you been to Norway before? Do you agree or disagree with my guide? Leave me a comment below and let me know your thoughts on visiting this beautiful country!
Pin For Later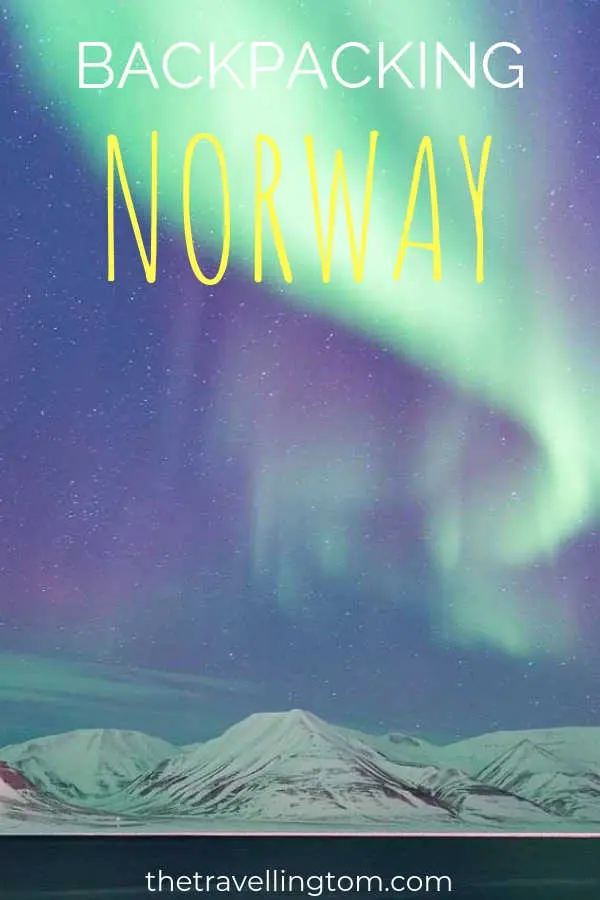 Tom is a travel addict who first left England to spend a year Down Under. Not satisfied with this, he then went to New Zealand, about as far away from home as he could get. He is now planning his next adventures in Europe and Canada while maintaining this blog. Check out the about me page to learn more!