These famous landmarks in South Australia are some of the best places you have to check out while you're in one of the most interesting states in Australia.
South Australia is an underrated destination with a wide variety of places to see. You can check out fantastic cities like Adelaide, relax on beautiful beaches at Glenelg and see one of the weirdest places you'll ever visit in the underground town of Coober Pedy.
Landmarks in South Australia, such as the Remarkable Rocks are sights to behold and make travelling in the state essential. No matter where you go in the state there's always something wonderful to discover.
These South Australia landmarks cover a range of natural and man-made landmarks that should be part of your itinerary as you make your way across the state.
Table of Contents
Famous Landmarks in South Australia
Adelaide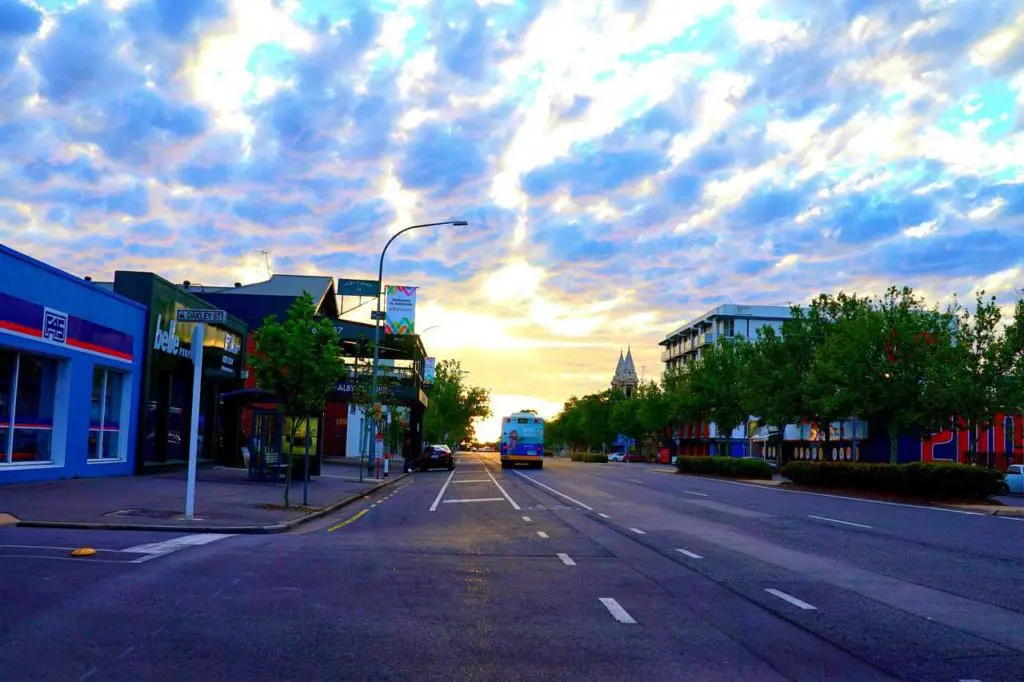 Adelaide is one of the most underrated cities in Australia and a landmark in South Australia you have to check out.
I spent four months in the city during my Australian working holiday visa. I had a great time and loved every minute of my time there.
Despite not being as big as Melbourne or Sydney, there are still plenty of things to do in Adelaide. You can head to the beach at Henley or Glenelg, visit the incredible Adelaide market, or browse through over 1,000 shops at Rundle Mall.
You can also relax at what I think is the best botanic garden in the country and see pandas at Adelaide Zoo. Far from being a backwater, Adelaide is a brilliant place to visit with lots going on!
If you want more info about the city, check out my Adelaide Travel Guide.
Coober Pedy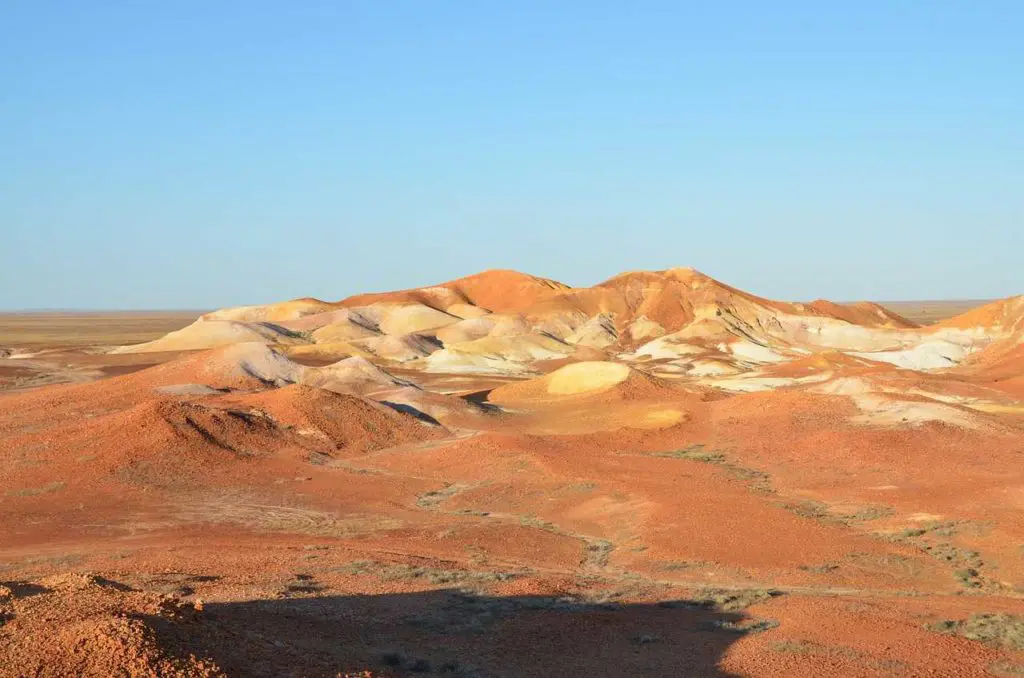 Coober Pedy is one of the most famous landmarks in South Australia and for good reason.
I've visited a lot of interesting places on my travels but never anywhere quite like Coober Pedy. It's a small mining town that's located in the middle of the Outback. It's no exaggeration to say it's in the middle of nowhere because it literally is.
If you're on an Adelaide to Darwin road trip, Coober Pedy is one of the first places you'll come to after you leave civilisation behind at Port Augusta. Once you get there, you'll be treated to a bizarre sight of what feels like a settlement on the moon.
The town exists because of the precious opals buried underground. Such is the heat in Coober Pedy, that houses are also underground. You'll also find underground churches, a golf course with no grass and plenty of other bizarre sights that make Coober Pedy a must-visit in South Australia.
If you want more details, check out my Coober Pedy guide.
Blue Lake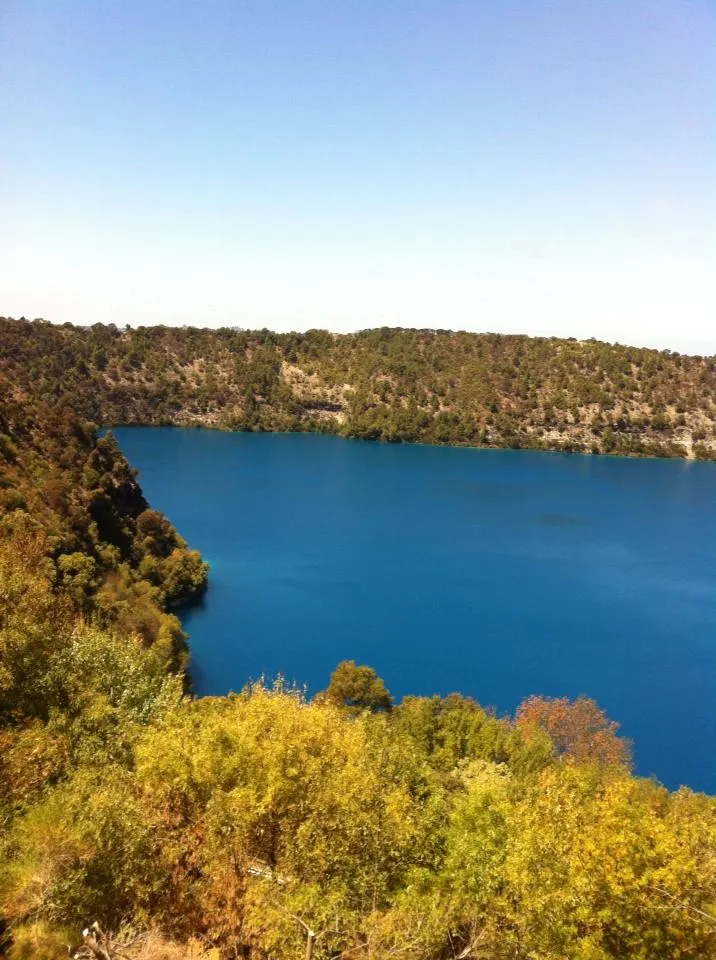 If you're doing an Adelaide to Melbourne road trip, then one of the spots you have to stop at along the way is Blue Lake.
The lake is huge It's hard to describe just how big it is until you get there. The lake is set in an extinct volcano with a depth measured 72 m (236 ft) and a crater rim of 1,200 by 824 m (3,937 by 2,703 ft). This gives you an idea of the scale of the lake.
One of the most intriguing things about the lake is that depending on the time of the year, the colour of the water changes. If you visit from December to March, as I did, it's a bright blue colour, while it's a steely grey colour during the rest of the year.
It's not fully known what causes this phenomenon but it's a cool fact and makes Blue Lake a great place to check out if you're near Mount Gambier.
---
You might also like:
---
Mount Lofty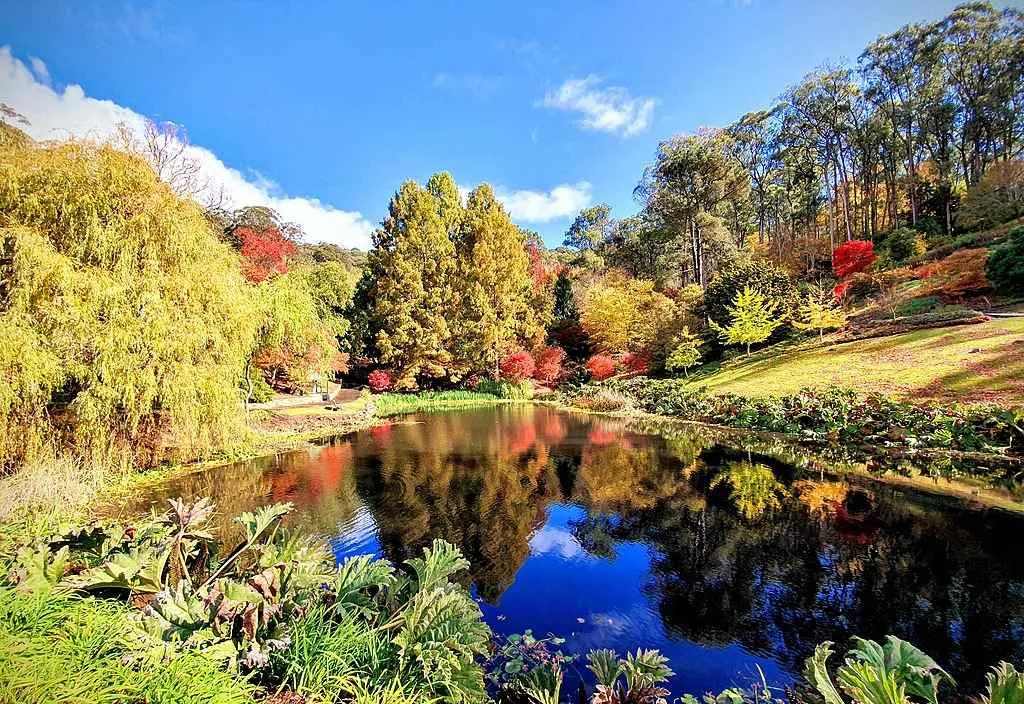 Mount Lofty is one of the nicest landmarks in South Australia and is only a short distance from the centre of Adelaide.
The mount is 727 m (2,385 ft) at its highest and provides you with a spectacular view of the surrounding area. If you have access to a car, you can drive up via the Mount Lofty Scenic Route, which is indeed, very scenic.
However, a better way to see Mount Lofty and appreciate its beauty is to hike up from Waterfall Gully. It's a 4 km uphill hike that is incredible and offers some amazing views. If you're lucky, you might spot some wild kangaroos out and about too.
Mount Lofty also has a botanic garden that shouldn't be missed either. It might not be as impressive as the one in Adelaide city centre but it's still beautiful nonetheless.
Flinders Ranges

Flinders Ranges is the largest mountain range in South Australia and a spectacular place you'll come across if you're driving up to visit Darwin.
The ranges are located 200 km (125 mi) north of Adelaide and stretch for almost double that distance across the state. While you might not be able to see all of it, even seeing some of it will blow you away.
It's home to one of the most impressive natural landmarks in South Australia, Ikara, also known as Wilpena Pound. It's a large natural amphitheatre that's shaped like a sickle and covers 80 km2 (31 sq mi).
You'll also find Mount Remarkable National Park in the ranges, while there are numerous tracks and trails that you can explore such as the Heysen Trail and Mawson Trail.
Port Elliot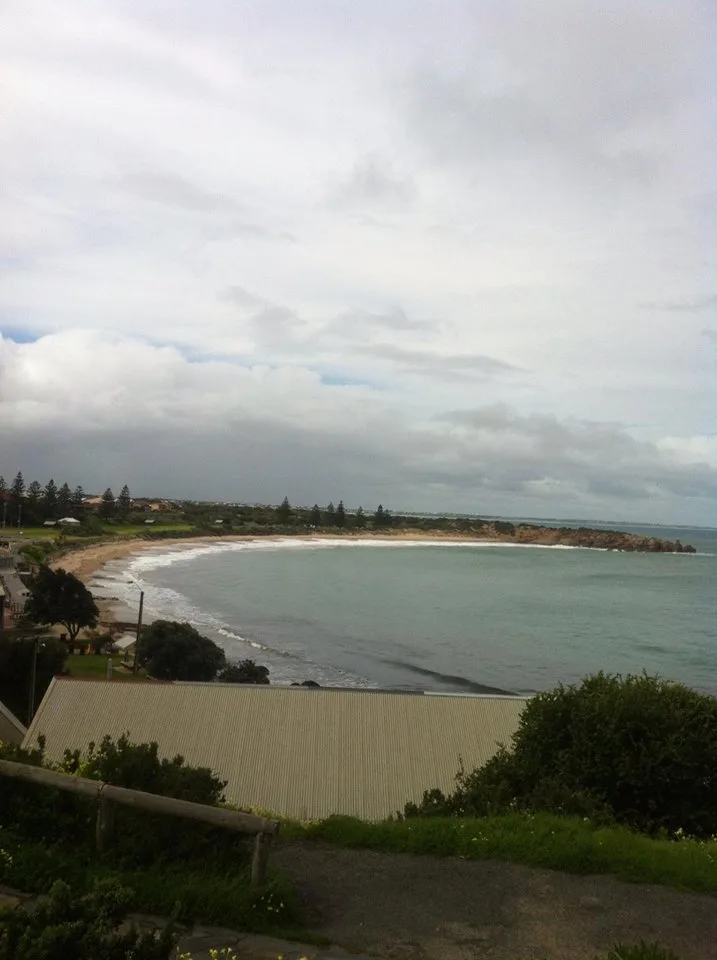 One of the SA landmarks I enjoyed the most during my time in the state was Port Elliot.
This small town located on the Fleurieu Peninsula is beautiful and one of the most underrated places to visit in South Australia.
Horseshoe Bay is the main place to check out in Port Eliott. It's beautiful and an ideal place to go in the summer if you want to get away from Adelaide and relax at the beach or go surfing.
You can visit during winter, which is when I visited. While it will be colder, and not exactly beach weather, you will be able to go whale watching, which is an incredible experience!
Port Lincoln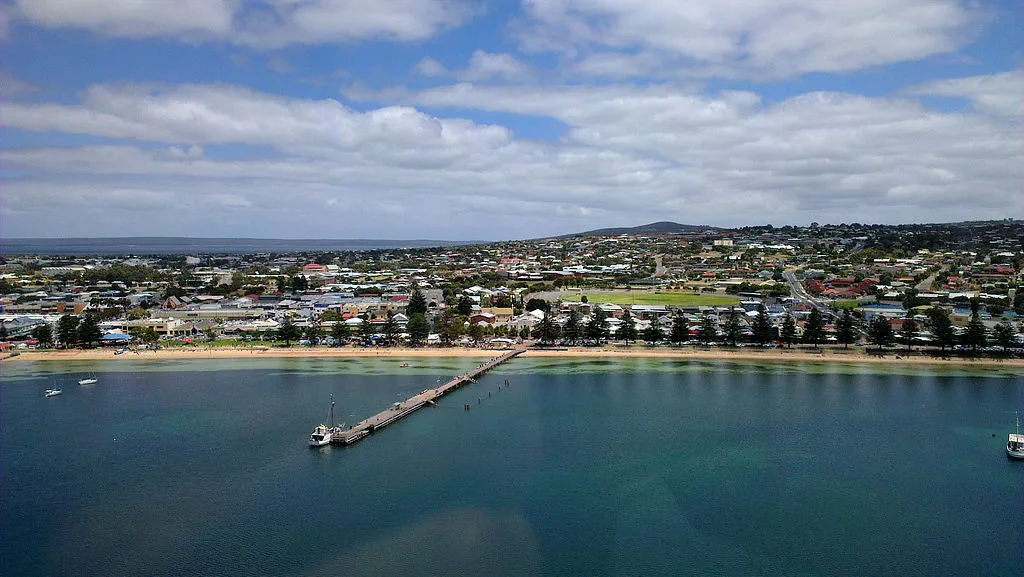 One of the most interesting natural landmarks in South Australia is Port Lincoln. It's regarded as the seafood capital of the state and it's not hard to see why when you get there.
The town is located on the Eyre Peninsula and is famous for its connection to the sea.
If you want to do something that will get your heart rate jumping, then you jump in a cage and go diving with sharks! This isn't for the fainthearted but if you want an experience that you'll never forget that's Port Lincoln is somewhere you have to visit.
As well as this, you can relax at the beach, stroll around the town and do several hikes that will allow you to take in the beautiful scenery of the area.
Hahndorf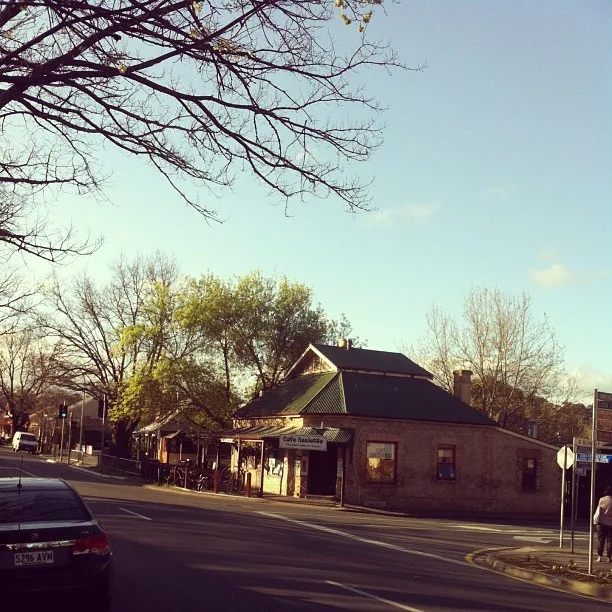 If you want to visit one of the most unusual places in Australia, then you have to check out the small town of Hahndorf.
What's so unusual about Hahndorf I hear you say?
Well, the clue is in the name. It's the oldest surviving German settlement in Australia and still retains an authentic feel. The buildings resemble those you might find in Bavaria and there are a lot of German-style shops and cuisine too.
Hahndorf is easy to reach from Adelaide, it's just 30 minutes from the centre by bus. It's a journey worth making as it's one of the best lesser-known attractions in South Australia.
Morialta Conservation Park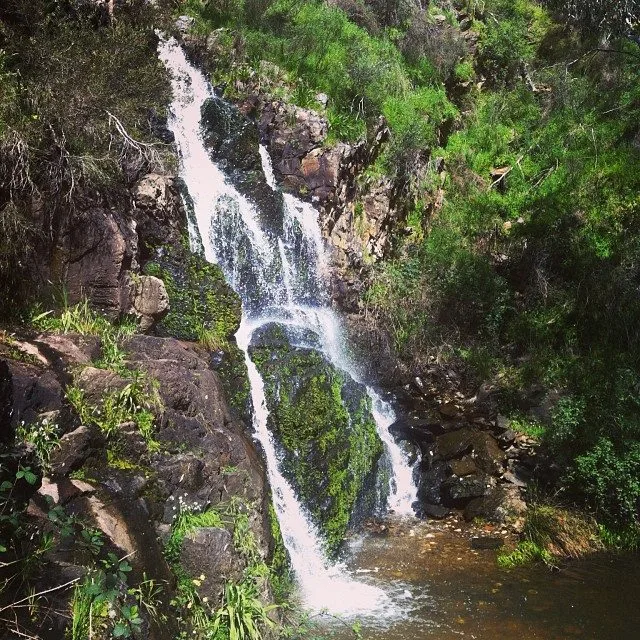 If you're looking for somewhere to go that's not too far from Adelaide, then Morialta Conservation Park is a good spot.
Morialta is only 10 km from the centre of Adelaide and easy to reach by bus. If you want to get out of the centre and see some nature it's an ideal place to go.
It's a beautiful place with spectacular gorges, three waterfalls and steep cliffs. There are a few trails you can follow, but the best one is the waterfall trail which takes you to all three of the amazing waterfalls.
You can also go rock climbing, birdwatching, bushwalking and have a picnic at the park if you wish! Such is the range of things to do here, you have to include it on your itinerary when you visit South Australia!
Glenelg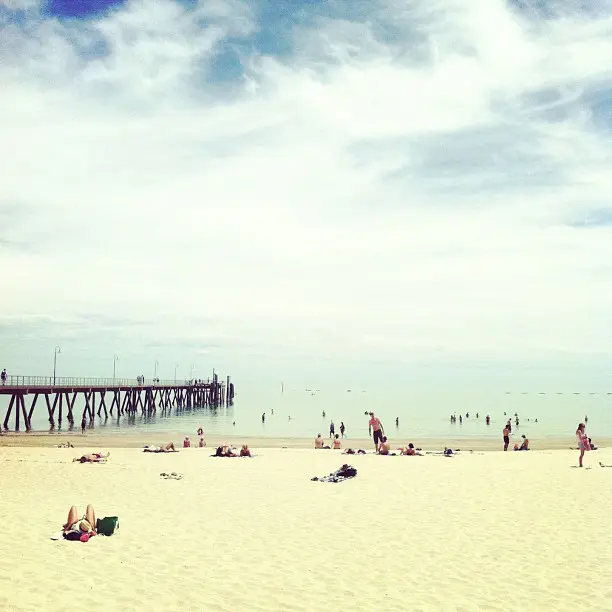 Glenelg is a beach suburb in Adelaide that's located about 20 minutes outside the city centre. You can easily get there on the tram which terminates at Glenelg.
As it's so accessible from the city centre, Glenelg is the perfect place to go on a sunny day, especially as it's one of the best beaches in South Australia. It's a huge beach with a pier that's perfect for jumping off so you can cool off in the water.
The area is also lively with plenty of bars and restaurants around. If you want a change of pace from Adelaide or just to try something different, then a night in Glenelg is a good idea. The tram makes it easy to get back to the centre too.
You can also walk along the promenade and enjoy the view of the coast. There's also a waterpark just behind the beach that you can visit if you want some adrenaline!
Naracoorte Caves National Park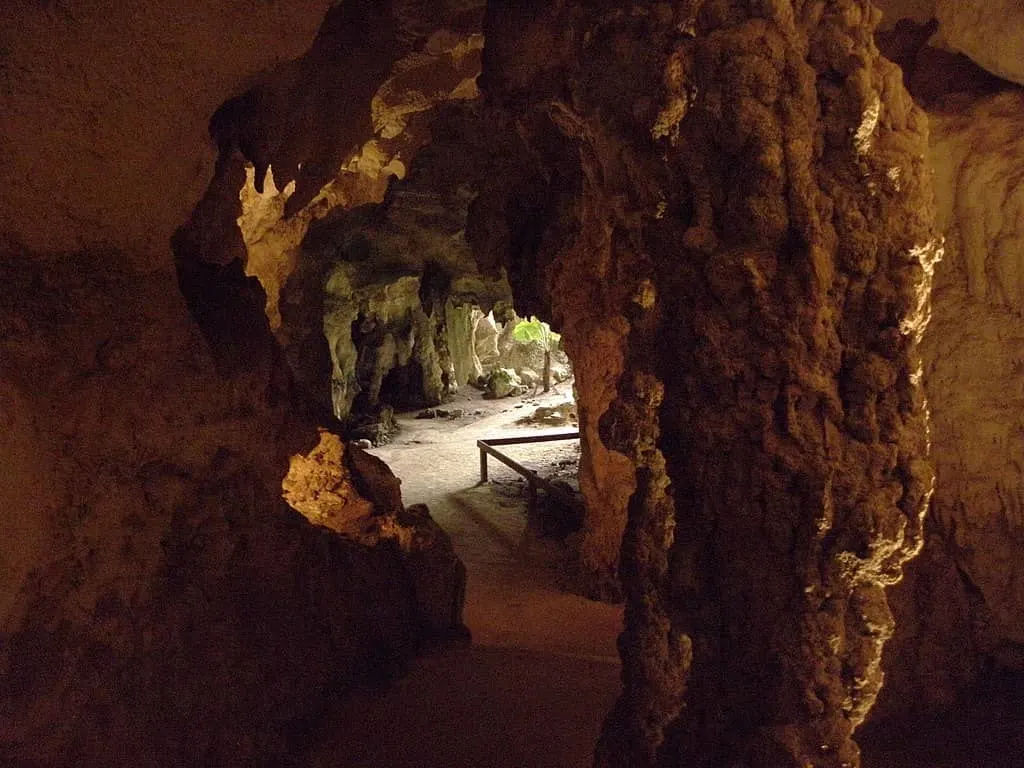 One of the best landmarks in South Australia that's not so well-known is Naracoorte Caves National Park.
It's located in the southeast of the state in the Limestone Coast region that's not far from the border with Victoria.
The primary attraction is that the caves are home to a multitude of fossils such as mammals and some of the Australian megafauna that are now extinct.
You can take a look around several show caves with guides who detail how the caves formed and the fossils came to be. You can also see some of the fossils that have been collected over the years in the Wonambi Fossil Centre.
Cleland Conservation Park
One of the most underrated South Australia landmarks is Cleland Conservation Park.
The park is an excellent place to visit if you're based in Adelaide, as it's not far from Mount Lofty and only a short distance from the city centre.
When you get there, you'll find a whole range of animals from kangaroos, koalas, dingoes and emus! The great thing about the park is that you can walk freely among most of the animals.
The kangaroos are tame and happily let you get up close and even touch them if you're lucky. If you haven't seen any of the creatures that make Australia famous yet, then a trip to Cleland will rectify that!
Remarkable Rocks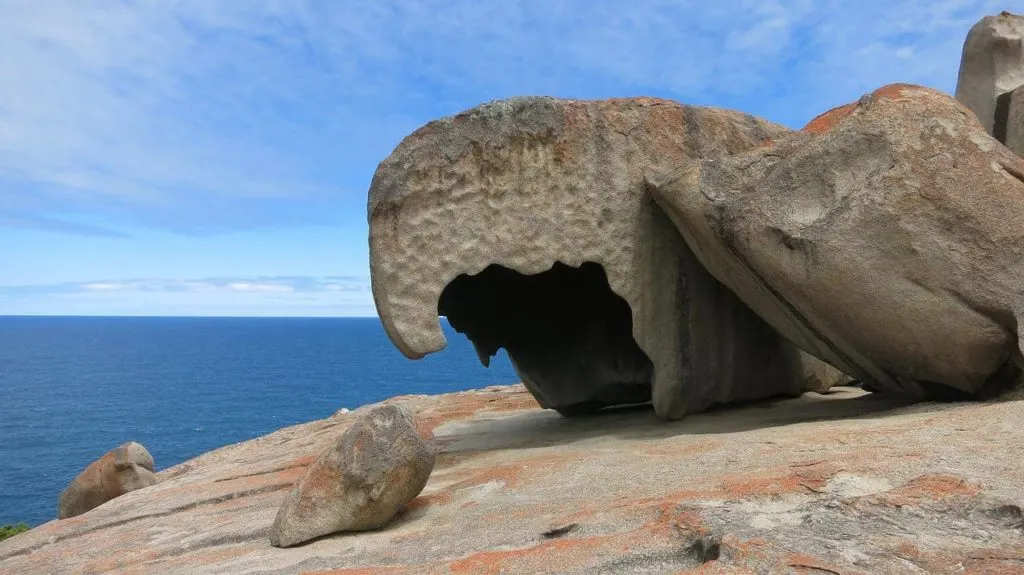 The Remarkable rocks are located in the Flinders Chase National Park which is on Kangaroo Island and are one of the South Australia landmarks that will leave you speechless.
The island is a great destination in its own right but the rocks are the standout attraction.
The rocks are naturally formed from millions of years of erosion that sit atop a granite outcrop. They do look like they've been sculpted by hand rather than natural forces.
Located right on the coast, not only are the rocks themselves spectacular they look even more incredible with the ocean as the backdrop!
Barossa Valley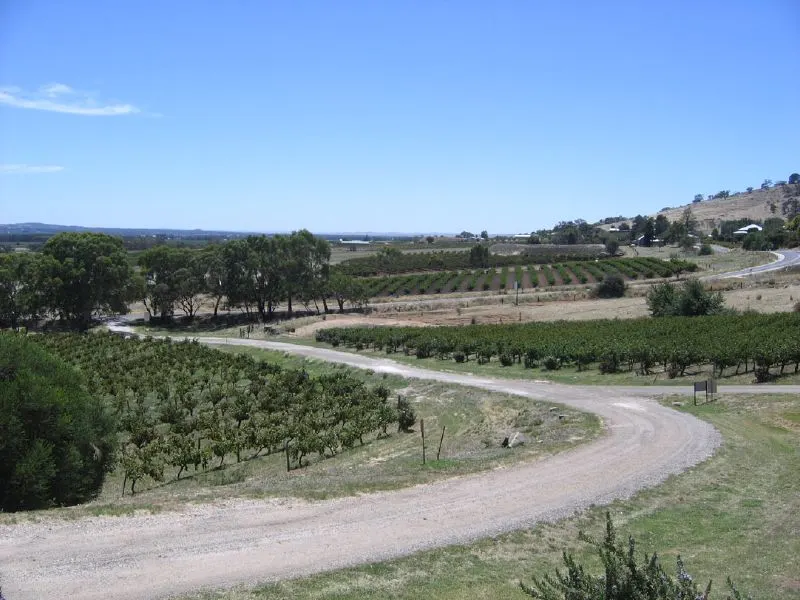 South Australia is famous as a wine-producing region and the Barossa Valley is the place to go if you want to check it out for yourself.
If you're a wine aficionado then you're going to want to visit the Barossa Valley. Not only is it a beautiful place but you go on a wine tour which is well worth doing.
There are multiple vineyards in the area and you can spend half a day or a day here visiting a vineyard, learning all about wine and tasting some too.
The Barossa Valley is one of the best day trips from Adelaide as it's just an hour north of the city and easy to get to.
Need Travel Insurance?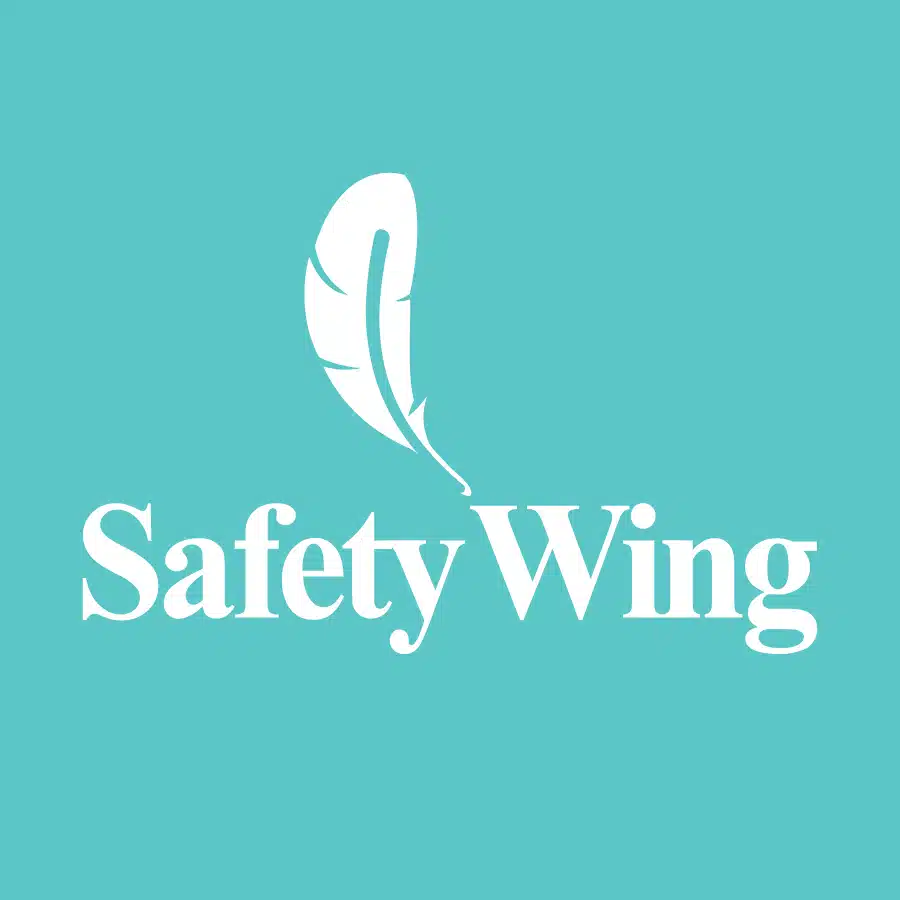 SafetyWing offers coverage that will give you peace of mind while you're on the road. If you want to protect yourself while you're on the road, then click the image to take a look at the options available to you.
Tom is a travel addict who first left England to spend a year Down Under. Not satisfied with this, he then went to New Zealand, about as far away from home as he could get. He is now planning his next adventures in Europe and Canada while maintaining this blog. Check out the about me page to learn more!