An Adelaide to Darwin Road trip or vice versa is one of the best road trips you can do while travelling around Australia!
You get to see a different side of the country than you would if you stay on the East Coast. As the trip cuts through the heart of the Outback, it's almost like travelling through a different country!
Driving from Adelaide to Darwin takes you through the heart of Australia, which isn't an easy undertaking, but it's most definitely worth it.
The Adelaide to Darwin drive takes in some of the most interesting and lesser-known locations in Australia, such as Coober Pedy, Uluru and the Devil's Marbles.
The East Coast is the main calling point for backpackers in Australia, but the opportunity to explore the unique scenery of the outback shouldn't be missed!
Disclosure: This article may contain affiliate/compensated links. For full information, please see our full disclosure policy.
Table of Contents
Adelaide to Darwin Road Trip
Quick Adelaide to Darwin Drive Itinerary
Distance – 3,887.5 km (2,415 miles)
Time – 7 to 10 days
Day 1 – Adelaide to Flinders Ranges 451.2 km (280.3 mi)
Day 2 – Flinders Ranges to Coober Pedy 712km (442 mi)
Day 3 – Coober Pedy to Uluru 755.3 km (469.3 mi)
Day 4 – Uluru
Day 5 – Uluru to Alice Springs 468 km (290 mi)
Day 6 – Alice Springs to Banka Banka Cattle Station 610 km (379 mi)
Day 7 – Banka Banka to Katherine 573km (356 mi)
Day 8 – Katherine to Darwin 318km (197 mi)
Before doing an Adelaide to Darwin drive, it's worth considering whether you want to do the road trip as part of a tour or in a camper van. The distance covered in this road trip is 3,887.5 km (2,415 miles), which makes it one of the longest road trips you can do in Australia!
I did my trip with two companies. From Adelaide to Alice Springs I went with Groovy Grape, and for the trip up to Darwin, I was with wayoutbacksafari. Altogether the trip cost me about $1,000, which included all food and accommodation throughout the trip, which I booked through Peterpans.
I highly recommend going with a tour operator, both trips were thoroughly enjoyable and I met a lot of great people. Going with a tour operator offers more peace of mind, as everything is taken care of for you. If you prefer to have the trip mapped out for you, this is the option to choose from!
The other option is to rent a campervan and do it yourself with a group of friends. The benefit is that you can stop as you please and take as long as you want. If there are a few of you in the van, the cost per person should be cheaper than what I paid.
Before setting off
It is important to have everything in order before starting an Australian road trip. One thing you need to do is get a vehicle, otherwise, there won't be a road trip! Planning a trip to Darwin from Adelaide is much easier once you have this sorted!
Depending on your numbers and where you plan on sleeping, you have two options.
You can either rent a car or a campervan. If you're planning on staying in hostels or camping, then a car is the best bet. Whereas, if you want to sleep in your vehicle then you should go in a campervan.
You can book these direct with companies such as Jucy and Wicked, but my advice would be to check deals online.
Important info
Driving throughout Australia is a challenge because of the distances involved. This is exacerbated when the journeys involve covering large areas where there's little in the way of civilisation. The main concern is running out of fuel in the middle of nowhere.
That's why it's important to stop at a petrol station when you see it even if your tank is quite full. You never know how long you could go without seeing the next one!
One tip that I picked up while driving in the country was to take note of signs. When you are in the outback and less populated areas, there are little green signs every 5 km to let you know how far you are from the next town.
These can be invaluable during your trip, as you can gauge when to stop for a rest and refuel. It's important to have a lot of food on hand during a long road trip such as this. My road trip food tips, such as packing a camping stove and taking a lot of nuts with you will help keep you well-fed while you're on the road!
Another thing to remember is to stop regularly, especially when you're feeling tired. Driving across Australia always involves long distances and it can be tempting to try and get to your destination as quickly as possible.
However, it's best not to risk an accident by driving when tired, so try and stop every 4 hours for a short break! Obviously, doing a road trip in Australia you should be stopping a lot anyway to check out the great scenery!
Before doing any road trip in Australia, ensure that you have proper travel insurance! I use World Nomads to keep me safe on the road, it's designed for backpackers and adventurous travellers.
You never know what can happen on the road, so keep yourself protected against all eventualities! Click here to get a quote now!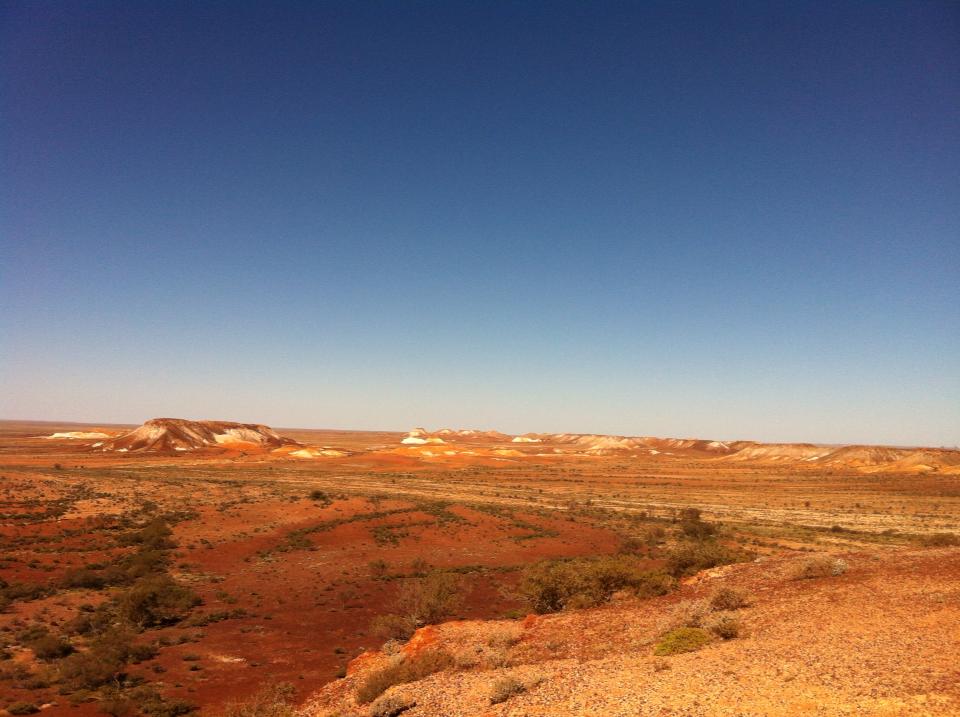 Where to stay between Adelaide and Darwin
Although I recommend that you do this road trip in a campervan, if you don't you'll need to find places to sleep. There are a lot of hostels in Australia, so you shouldn't be short of places to stay.
Despite the majority of the route taking in the outback, there are a few places to stay between Adelaide and Darwin!
Almost all of the main tourist destinations on this route have hostels and hotels, so you won't be short of a choice. There are options for every type of budget driving from Adelaide to Darwin!
| | | | |
| --- | --- | --- | --- |
| Adelaide Central YHA | Adelaide | A great hostel that I believe is one of the best in Australia! Excellent location, spacious rooms and social common room make it a must stay! | Book Now |
| Haven Backpackers | Alice Springs | A nice little hostel. The facilities are great and there is an outdoor pool to cool off in during the desert heat | Book Now |
| Melaleuca on Mitchell YHA | Darwin | One of the best hostels in Darwin right in the centre of the city in Mitchell Street. Great facilities and friendly staff! | Book Now |
| Desert Cave Hotel | Coober Pedy | An underground hotel in Coober Pedy. Need I say more, the experience of a lifetime sleeping underground! | Book Now |
If you don't fancy staying in a campervan during your Adelaide to Darwin road trip, check out the latest deals on Booking.com here for South Australia and the Northern Territory!
Places to visit on an Adelaide to Darwin road trip!
As one of the biggest road trips in Australia, there's plenty to see travelling from Adelaide to Darwin. For that reason, I won't include Adelaide and Darwin as they are the start and endpoint of the trip.
It's really what's in between that makes the route one of the best to drive while backpacking in Australia!
If you want to know what to see between Adelaide and Darwin, then check out a few of the places that I really enjoyed during my trip below!
Coober Pedy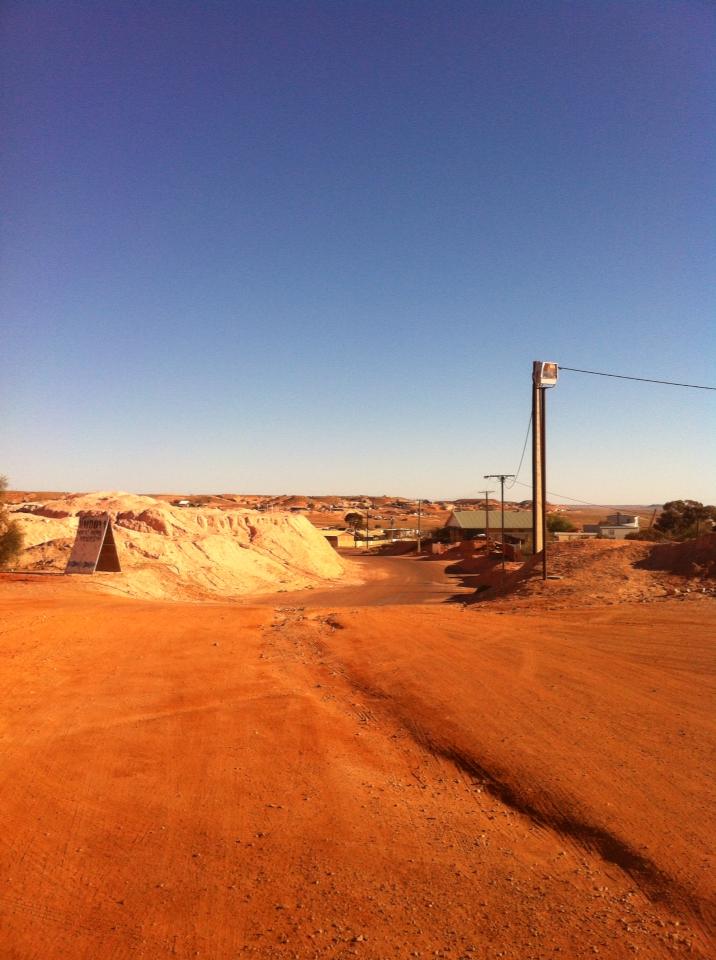 Travelling to Coober Pedy is quite possibly one of the strangest experiences I've ever had. We arrived there on our first day after a gruelling 9-hour drive.
Approaching as the sun was setting was a surreal experience, as this mining town in the desert appeared like something out of an apocalyptic movie! It's one of the more interesting places to see in South Australia!
Coober Pedy is full of weird stuff. Underground homes because the temperatures can exceed 50 degrees during the summer. A golf course, which can only be used at night because of the intense heat.
There is nowhere else like it in Australia or probably the world for that matter. A must-visit during any Adelaide to Darwin road trip!
Devil's Marbles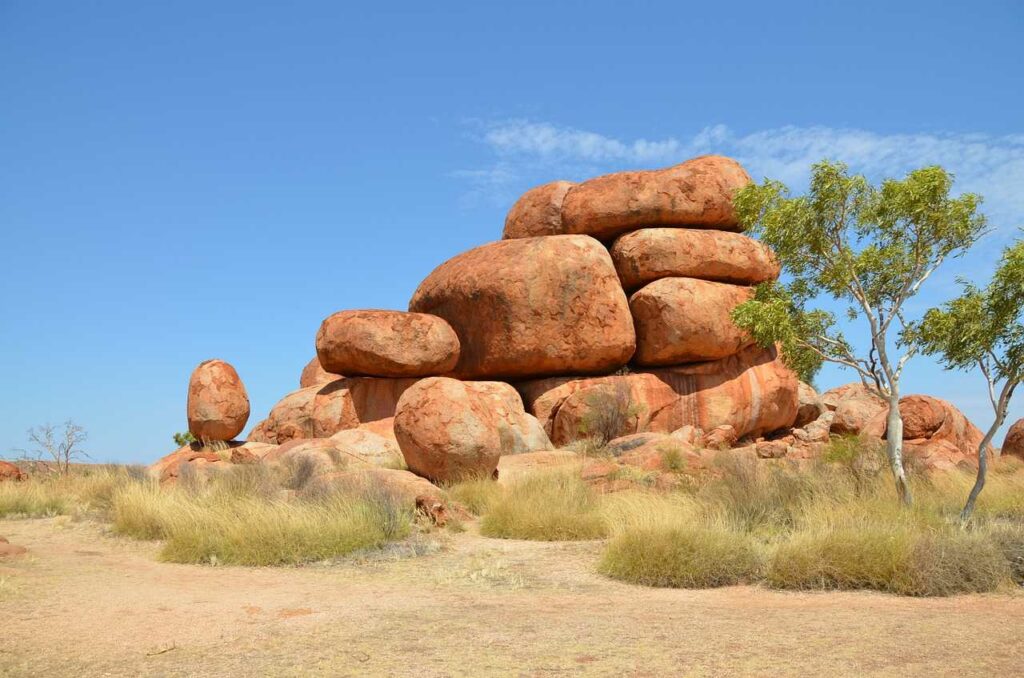 The Devil's Marbles are another strange spot you have to visit driving from Adelaide to Darwin. These giant rocks in the middle of the outback really do look like they have been the work of a creator and not nature.
Hence the reference to the Devil!
The Devil's Marbles is a great place to stop for a bit and relax after leaving Alice Springs. As some of the marbles are massive, you can spend a lot of time climbing up them!
Just for the wackiness of seeing giant boulders in the desert, you have to stop at the Devil's Marbles to see one of the most famous landmarks in Northern Territory!
Kata-Tjuta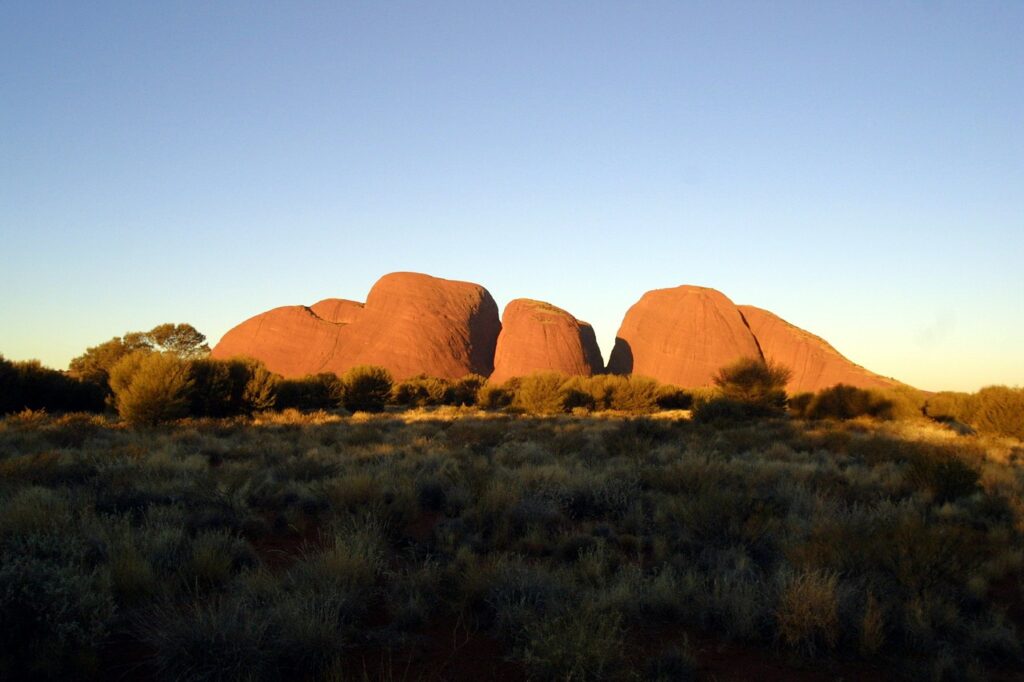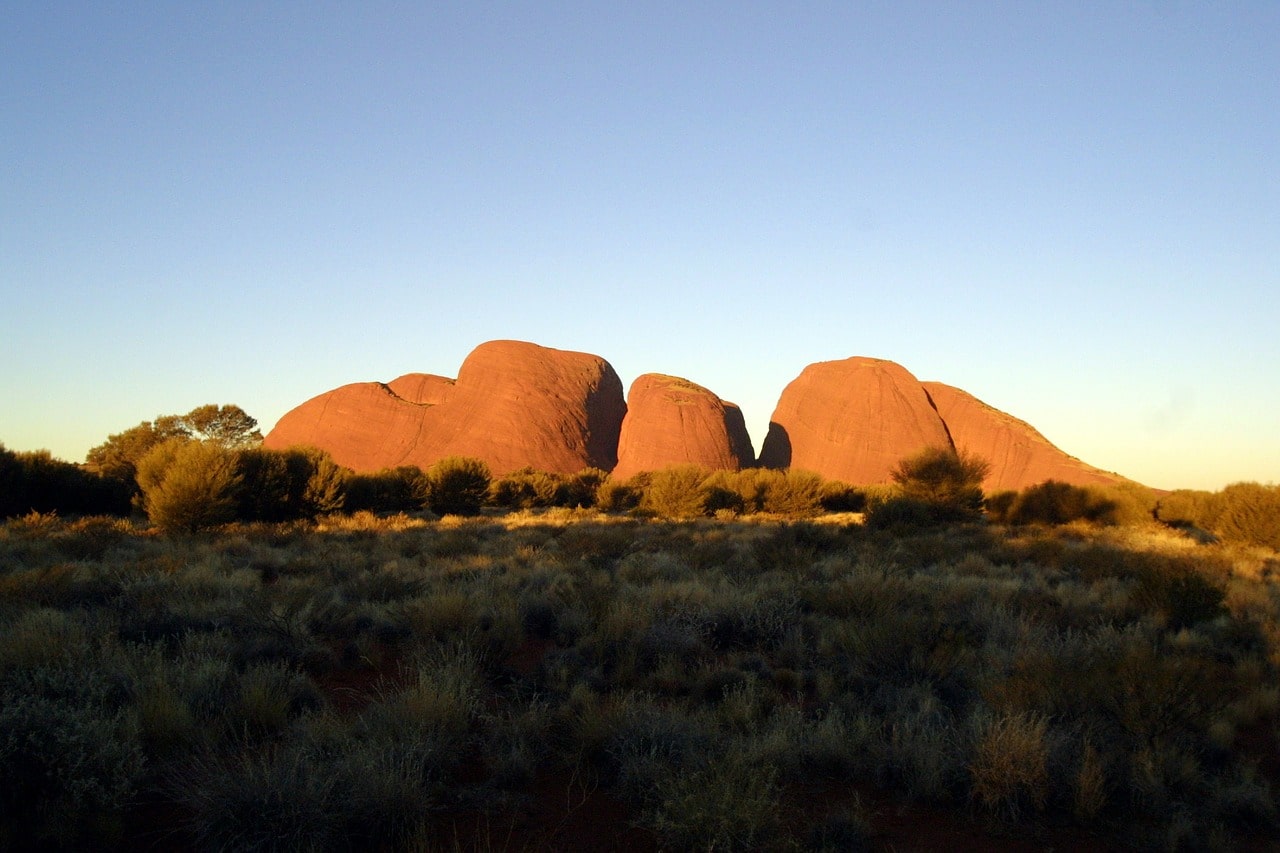 Kata-Tjuta is located in the same national park as Uluru but isn't as well known. This is a shame as it's just as spectacular, if not more so than Uluru!
The formation of the rocks allows you to walk through the Valley of the Winds trail!
I thought Kata-Tjuta was actually better than Uluru for this reason. You really get to appreciate the scale of the rock formation as you walk through it.
If you love hiking, then you'll definitely want to check Kata-Tjuta out on your Adelaide to Darwin Road trip!
Mataranka Thermal Pools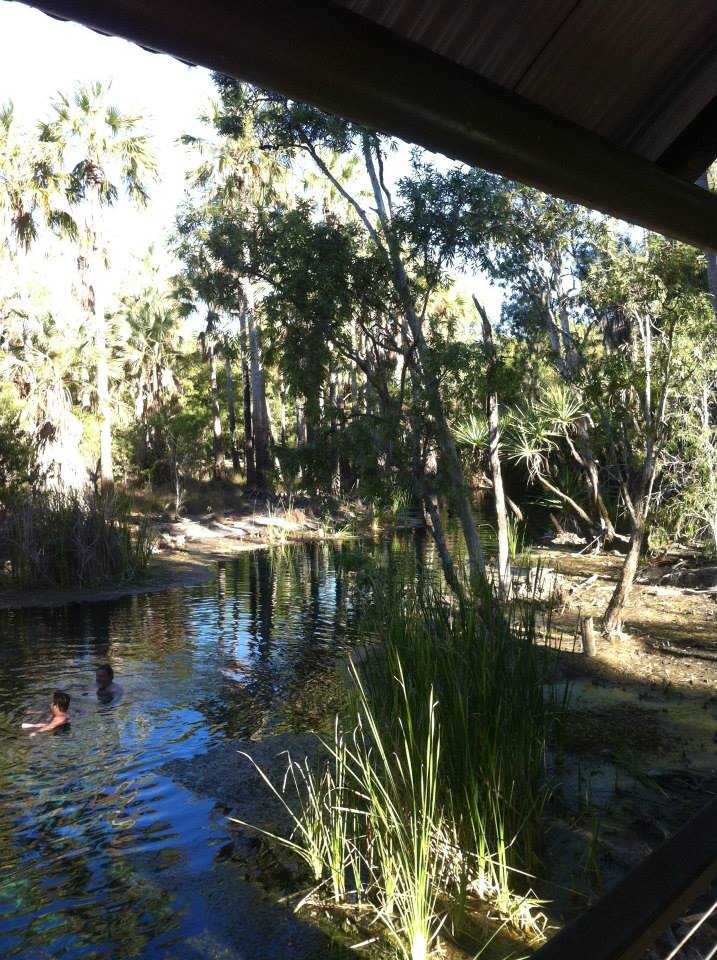 I'd never heard of the Mataranka Thermal Pools before I did this road trip. They were a great surprise when we pulled up to stop for a bit. The pools are located south of Katherine and 107 km (66 mi) from Darwin.
The pools are a great place to relax if you've been driving all day. The pools were nice and warm and they weren't too crowded either.
I didn't think there was much to see between Alice Springs and Darwin. Finding the Mataranka Thermal Pools was a nice surprise during the trip!
Uluru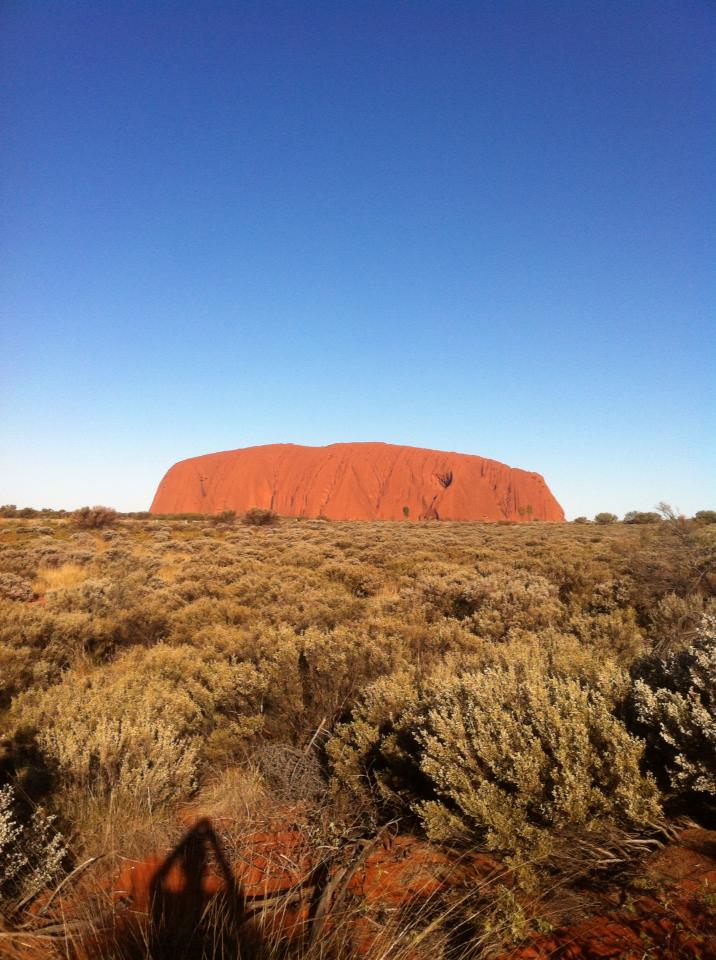 When you think of Australia, Uluru, also known as Ayers Rock, is one of the iconic images that come to mind.
This is simply one place that you absolutely have to visit during an Adelaide to Darwin road trip.
Uluru really doesn't disappoint either, despite simply being a giant rock in the middle of the desert, it's spectacular. It looks exactly like it does in the postcards!
If you're doing the Adelaide to Darwin route, you simply have to visit Uluru! It really is a magical place!
Example Adelaide to Darwin Road trip itinerary
Naturally, the trip will either start from Adelaide or Darwin. As I started my trip in Adelaide, I will detail the route setting off from there. If you're starting in Darwin, just apply this guide in reverse!
This itinerary is not set in stone. It should be used as a guide to base your trip. You can skip or visit different places if you wish, it's entirely up to you!
This itinerary lasts eight days.
If you wish to extend or shorten the road trip, go for it!
Day 1: Adelaide to Flinders Ranges

Distance
451.2 km (280.3 miles)

Time without stops
5 hours 27 minutes
My advice would be to set off as early as you can because the first leg of the trip is the hard part. Depending on whether you stop overnight in the Flinders Ranges, Woomera or Coober Pedy, you could be driving for a long time!
Port Augusta should be your first stop as once you're past this point you have left civilisation. The stops from here on are infrequent and mainly roadhouses. Make sure you fill up on petrol, stock up on food and water etc before you leave!
Once you leave Port Augusta and set off on the Stuart Highway, the landscape quickly becomes barren, resembling Mars, as you head into the outback! There really isn't much to see at all between here and the Flinders Ranges, apart from the odd burnt-out car along the way!
Our tour was supposed to stop overnight in the Flinders Ranges, but the campsites we were going to use had flooded, so we drove straight to Coober Pedy. My advice would be to check out the Flinders Ranges instead of heading straight to Coober Pedy.
The Ranges are renowned for being spectacular and I was gutted not to see them. They are one of the best reasons to visit South Australia. Plus you save yourself a 526 miles (827 km) drive on the first day!
Day 2: Flinders Ranges to Coober Pedy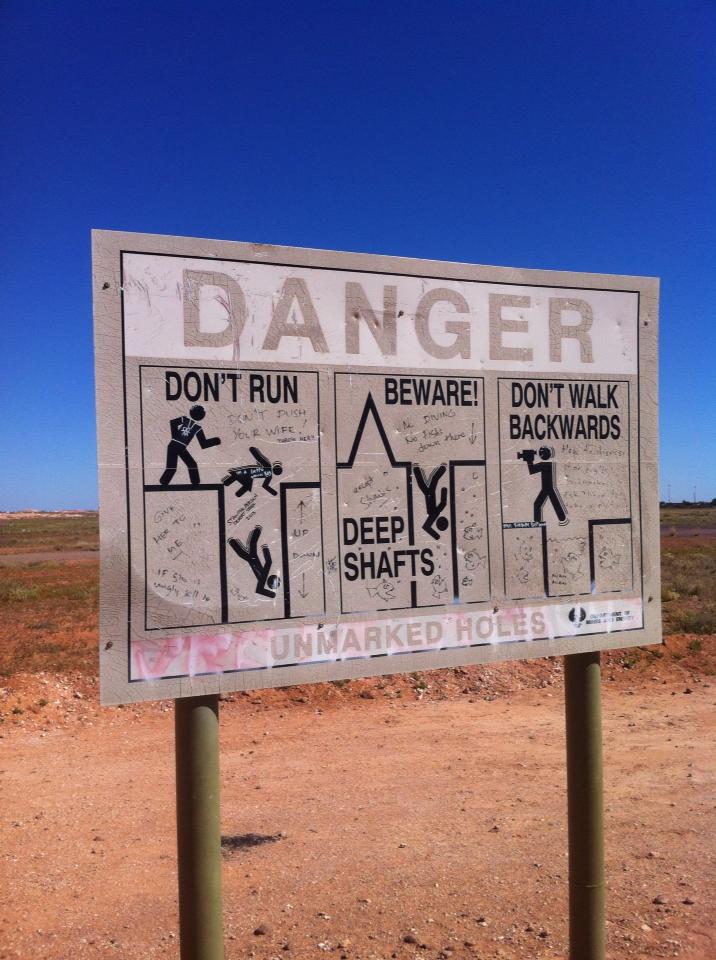 Distance
712 km (442 miles)

Time without stops
7 hours 46 minutes
From the Flinders Range, it's a 338 miles (547 km) drive to Coober Pedy, which is more manageable! There is a good chance you'll see lots of wildlife along the way as kangaroos and emus roam the landscape.
There are also a lot of burned-out cars along the way, which serves as a warning to every intrepid traveller!
On the way to Coober Pedy, there are two places you can stop, Pimba and Glendambo. I'd recommend stopping at one, especially as the 164 miles (265 km) drive from Glendambo to Coober Pedy doesn't have any roadside stops along the way!
Coober Pedy is definitely worth an overnight stay, so you can explore the Opal capital of the world and one of the most famous landmarks in South Australia. There are many things to do in Coober Pedy, considering it's a mining town in the middle of the outback!
It's one of the most surreal places I've been and was definitely a highlight of my Adelaide to Darwin drive!
Day 3: Coober Pedy to Uluru

Distance
755.3 km (469.3 miles)

Time without stops
8 hours 16 minutes
From Coober Pedy, you head towards the Northern Territory and Uluru. You can choose to head straight to Alice Springs if you wish, but in my opinion, that would be a huge mistake. Uluru is one of the best places you can visit in Australia!
There's not much to see at the South Australia-Northern Territory border, but it's a handy pit stop to get some fresh air and take a picture at the welcome to the Northern Territory sign.
Be prepared to be attacked by flies when you step out of your vehicle, they are everywhere and relentless!
From the border, it is about 235 miles (379 km) to Uluru. To get there, you turn off from the Stuart Highway onto the Lasseter Highway. It's a long drive, but it's definitely worth it, as this is one of the best reasons to visit Australia!
On the approach to Uluru don't be fooled by Mt. Connor on the way. It's referred to as 'Fuluru' because most travellers mistake it for Uluru! I certainly did!
Depending on what time you set off, you may make it to Uluru in time for sunset. This is a magical experience and a great photo opportunity.
Day 4: Uluru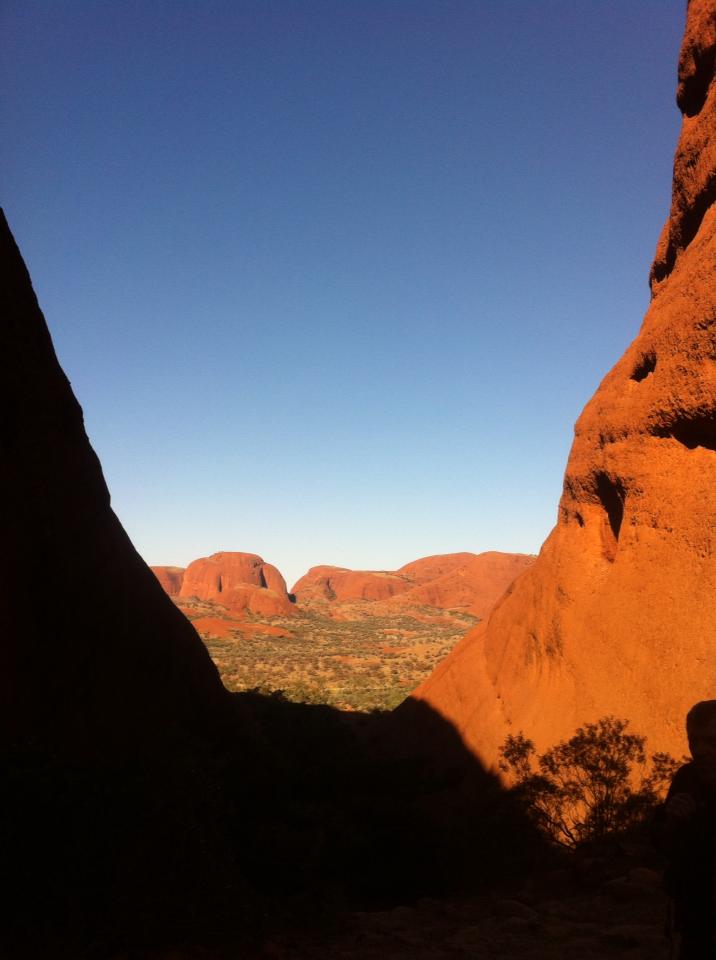 Travelling to Uluru was a highlight of the Adelaide to Darwin road trip for me. However, there's not only Uluru that you can see in this area.
There's also Kata Tjuta and King's Canyon, each equally spectacular in their own way. I'd recommend spending a day or two exploring these landmarks before heading off.
Kata-Tjuta is lesser-known than Uluru, but it's arguably more spectacular. You can walk through the rock formation, as opposed to just around Uluru. You really get a scale of its size and grandeur. The valley of the Winds walk is an absolute must!
King's Canyon is even less well-known than both Uluru and Kata-Tjuta, but again it's definitely worth a visit. The trek around the canyon is one of the best walks you can do here. The sights are incredible and quite varied.
There are amazing views of the canyon from up high, while you sin down to ground level and check out a Billabong along the way!
If you visit the Uluru-Kata-Tjuta National Park, without visiting these places then you're not making the most of the trip!
Day 5: Uluru to Alice Springs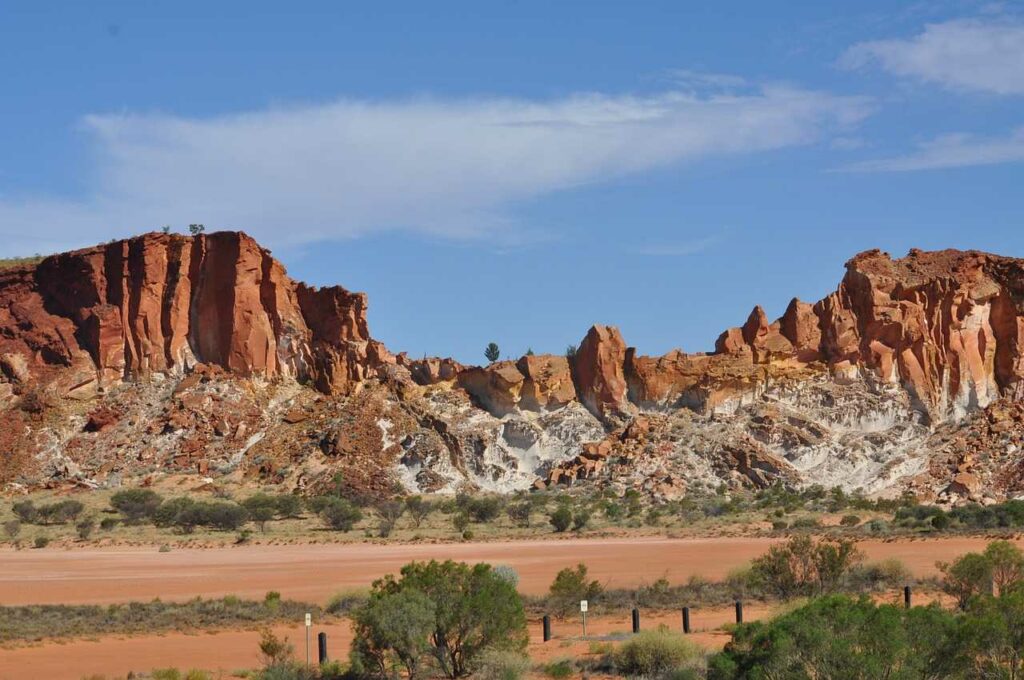 Distance
468 km (290 miles)

Time without stops
5 hours 40 minutes
Once you have explored the Uluru-Kata-Tjuta National Park, the next port of call is Alice Springs. There isn't a lot to see, so I would recommend staying there overnight and then setting off the next day.
Alice Springs has a reputation for trouble, so it's best to be vigilant while there, especially at night when most of the trouble occurs!
Of the things to do in Alice Springs, ANZAC Hill is one of the best. From here, you get a great view of Alice Springs and the MacDonell Ranges in the background. Other than this, there's the Larapinta Trail and the Alice Springs Desert Park.
Alice Springs is a small place and in my opinion, not very exciting. A night here is more than enough, as there are better places up the road towards Darwin!
Day 6: Alice Springs to Banka Banka Cattle Station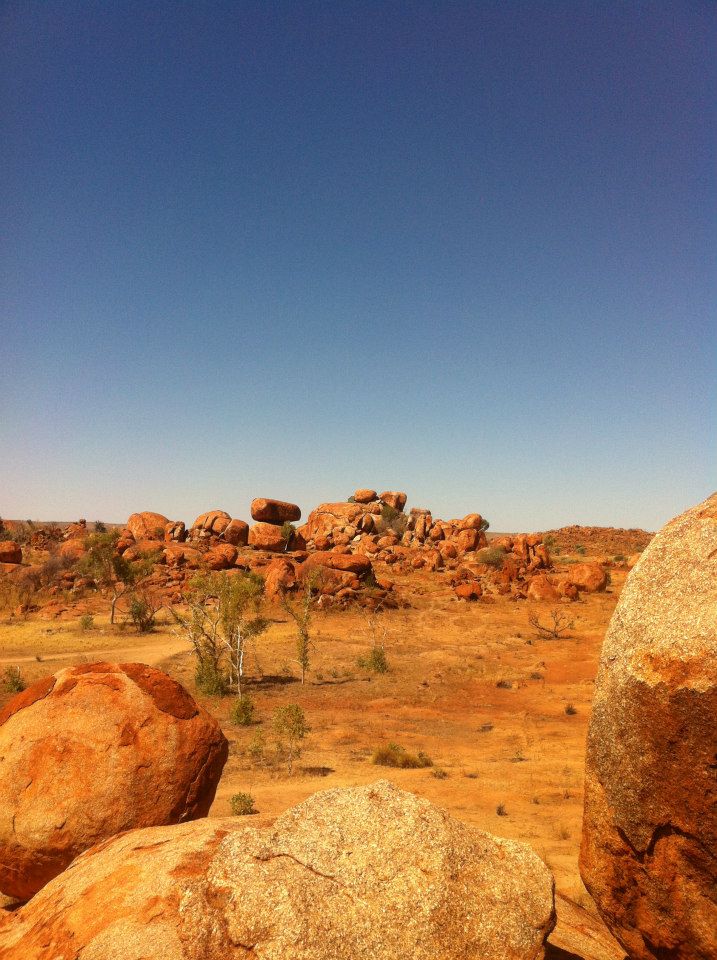 Distance
610 km (379 miles)

Time without stops
6 hours 40 minutes
Your first stop as you leave Alice Springs should be the Tropic of Capricorn. Other than a great photo opportunity, it marks the start of the journey into the tropical North.
The landscape really does start to change as you go past the Tropic of Capricorn, with termite mounds starting to line the road!
The Devil's Marbles should be your next stop along the Stuart Highway. The Marbles are giant granite boulders that are balanced on top of one another.
They are an intriguing sight and the fact that you can climb on the boulders is a great bonus! You get a view of the desert landscape and the scale of the area!
Once you've left the Devil's Marbles behind, Tennant's Creek is the next major stop. Before here you can stop at Wycliffe, which is one of the more unusual places to visit in Australia! It's the UFO capital of Australia, as numerous sightings have been reported here!
After Tennant's Creek, it's 100 km (62 mi) to Banka Banka Cattle Station. This is basically a campground and is a handy stop for the night.
Day 7: Banka Banka to Katherine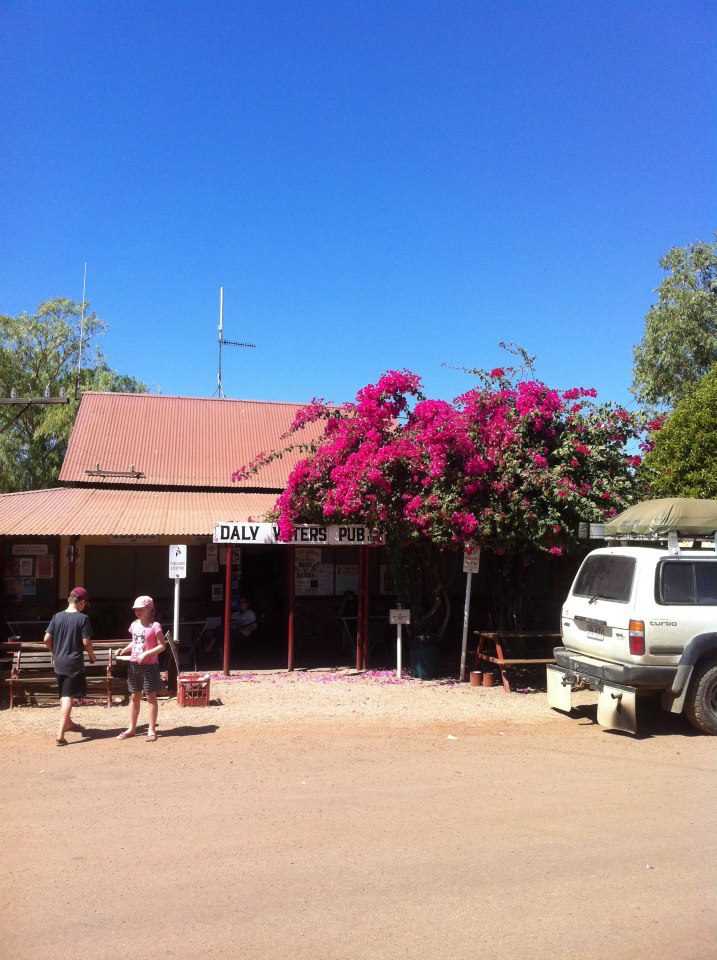 Distance
573 km (356 miles)

Time without stops
6 hours 33 minutes
The journey from Banka Banka to Katherine is another long one, but there are a few decent places to stop along the way!
There's not much to see until you get to Daly Waters, which is about halfway to Katherine. Here you have the Daly Waters pub, the oldest in the Northern Territory. This is a great place to stop and have lunch, especially as the pub has a pool at the rear!
Located here is the Stuart tree, which is a tree marked blazed with the initials of explorer John McDouall Stuart.
There's some debate as to whether the tree actually is the one Stuart marked on his third attempt to cross Australia from South to North, but it's an interesting sight nonetheless.
There's also the Daly Waters airfield nearby. This was Australia's first international airfield and was regularly used by QANTAS as an early hub for flight regional and international flights.
Up the road from Daly Waters are the Mataranka Thermal Pools, which are a must-visit on an Adelaide to Darwin drive. The pools are very relaxing and it's a good place to chill for a while and take a break from the road!
This was one of my favourite places on the trip, it was such a good feeling to be able to relax in the warm pools after being stuck in the van for ages!
Day 8: Katherine to Darwin

Distance
318 km (197 miles)

Time without stops
3 hours 19 minutes
The last part of driving from Adelaide to Darwin is short compared to the rest of it, as you head to Darwin. You have a few options here regarding what you see and do.
You can opt to visit Kakadu and Litchfield National Parks over the next few days or head on to Darwin.
It's really up to what you do. I didn't visit Kakadu or Litchfield and slightly regret it. So, maybe it's worth doing this. The alternative is to do it via a tour or another after you've reached Darwin.
If you stick to this route the next stop on the road is Nitmiluk National Park, which is not far from Katherine.
There are several things to do here, but at the top of the list should be walking one of the many trails around the spectacular Katherine Gorge!
You can take a helicopter ride around the gorge or go on a boat ride, but they are quite pricey and not exactly within a backpacker's budget!
You can swim in the river here as well, signs are warning about crocs, but the waters are largely safe for a paddle around the shore! There are many good spots to have lunch and the park offers a chance to relax before the final leg to Darwin!
From here it's onward to Darwin, there's not much to see unless you stop at Litchfield for a bit! However, there's certainly plenty to do when you visit Darwin!
How much does an Adelaide to Darwin road trip cost?
How much an Adelaide to Darwin road trip costs is entirely dependent upon how you do it. The price will be higher if you stay in hostels as opposed to sleeping in a tent or campervan.
Petrol is an unavoidable cost of any road trip, unfortunately, and will account for a fair chunk of your expenditure!
One good thing to note is that driving from Adelaide to Darwin is one of the longer road trips in Australia. At 3,027 km (1,881 miles), it's anything but short! That said, the distance just makes this road more epic and you really do get a sense of accomplishment once you've finished it!
Here's a link to a fuel cost calculator, which should come in handy for your trip. Using the fuel price data from a Google search for "petrol prices Australia", input the figure into the calculator and you're set.
I got a quote of $1.30, this worked out as a quote of $546 for the whole trip. This might look like a lot, but if there are 3/6 of you, then it becomes a lot more manageable! A campervan can cost about $49 a day, including food and extras, and then the overall trip is about $996 give or take.
Split between 3 to 6 people, that's reasonable for a long trip like this!
That could work out at about $200 each if there are 5/6 of you! Just goes to show driving from Adelaide to Darwin can be reasonably priced despite the distance!
Concluding thoughts
This post is to provide you with an idea of what the Adelaide to Darwin road trip entails. You can then take this knowledge and apply it to your trip.
You can do the trip quicker or take a little bit longer, it's up to you! That's the beauty of a road trip!
Road trips are one of the best reasons to go travelling, so be sure to do this one if you're visiting Australia!
Looking For More Road Trips?
Adelaide to Melbourne Road Trip – Take in this scenic road trip from South Australia to Victoria.
Perth to Darwin Road Trip – An alternative route to Darwin from the west coast.
Adelaide to Perth Road Trip – A trip along some of the most intriguing landscapes in Australia.
Brisbane to Cairns Road Trip – Travel up the east coast on this epic drive!
Melbourne to Sydney Road Trip – A road trip between Australia's two biggest cities!
Pin for later