I decided to visit Uluru long before I ever went backpacking Australia.
I remember flicking through the pages of an encyclopedia when I was little and being transfixed by the image of this gigantic rock. That might have been the moment my obsession with going to Australia manifested itself in my young brain.
To put it simply, you must go to Uluru while you are in Australia. The outback is unlike anything I have ever seen before! The journey to Uluru was like driving through a Mad Max film. Traversing through the wilderness after wilderness.
Uluru itself is an incredible sight. It looks completely out of place in the middle of the outback. It's as if someone has just placed it there as a bit of fun! The likeness to the images on pictures was that uncanny, I wanted to walk around the back to check it wasn't some kind of illusion!
Yes, it looks so incredible, that I doubted it was actually real!
Without further ado, let's get into my Uluru travel guide!
Disclosure: This article may contain affiliate/compensated links. For full information, please see our full disclosure policy.
Table of Contents
Visit Uluru
General info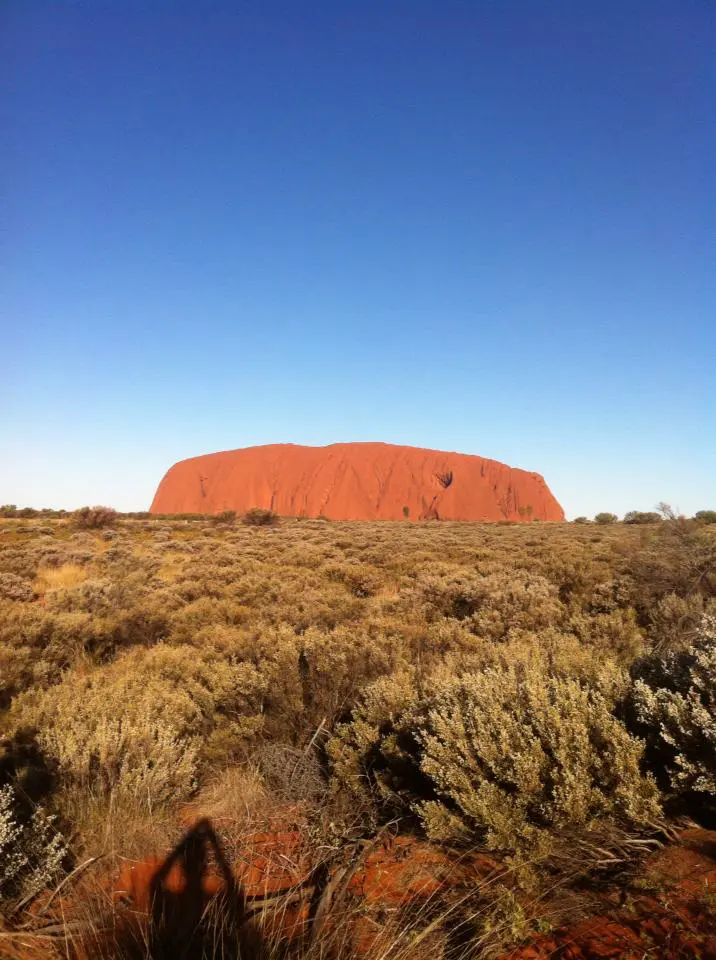 You may be more familiar with Uluru through its other name, Ayers Rock. It is a large sandstone rock formation that is part of the Uluru Kata-Tjuta National Park. Uluru is sacred to the local Aboriginal people, the Pitjantjatjara Anangu.
The name Ayers Rock was assigned to Uluru in 1873 after surveyor William Gosse came across it. He named it after the then Chief Secretary of South Australia, Sir Henry Ayers. This was the recognised name until 1993 when a dual naming policy was enforced.
Uluru is arguably the most famous landmark in Australia along with the Sydney Harbour Bridge and Opera House. It's also notable for appearing to change colour depending on the time of the day. It glows red at dawn and it changes from orange to red and back to orange as you progress towards sunset.
Getting to Uluru
As with anything in Australia, there is a lot of distance involved in getting places. I mistakenly thought that Uluru wouldn't be that far from Alice Springs. I was very, very wrong. It is 280 miles (450km) away and the nearest town is 208 miles (335km) away!
If you are coming from Adelaide via the Stuart highway, stay on the Highway until you come to a turn-off onto the Lasseter Highway.
If you're visiting as part of an Australian road trip in either a camper van or car, then it's the same journey. Just make sure you stick to sealed roads and don't venture onto dirt tracks and you will be fine. Everything is signposted very well and the turn-off cannot be missed.
One thing to note on the drive down the Lasseter Highway to Uluru is the presence of Mt Connor or as our tour guide JP called it, 'Fuluru'. This is a rock formation, which from a distance looks like Uluru, but it isn't hence the name.
If you're driving down the highway and think you've come across Uluru after a while you haven't. You have to go through the park entrance to get to Uluru!
Best Time to Visit Uluru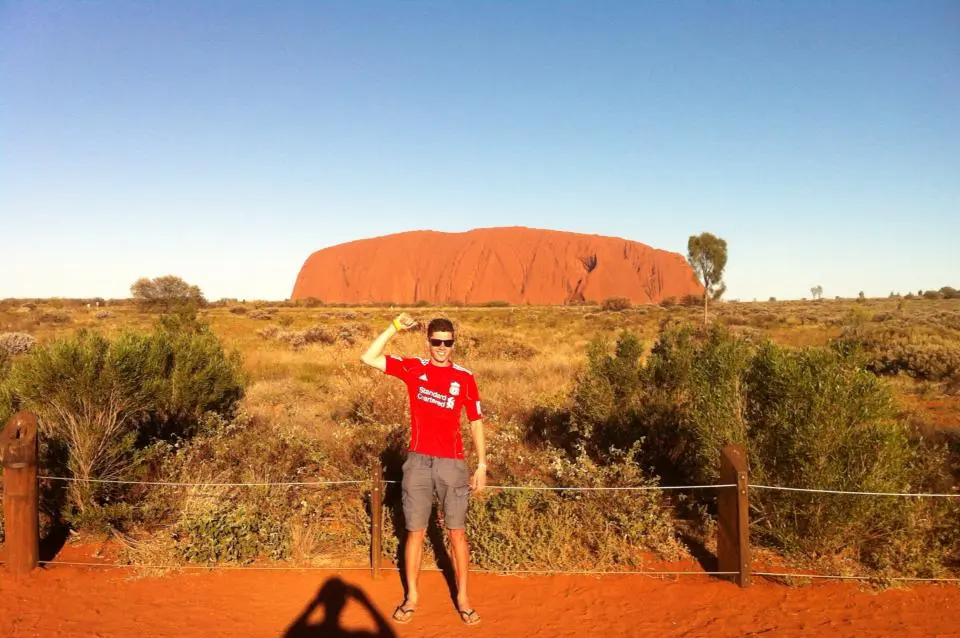 This is an easy question to answer in terms of the weather.
Between May and September is the best time to visit Uluru. Simply because it's cooler during those months. It was still when I visited in the middle of August, but I would not like visiting during the summer with temperatures regularly going over 40 degrees!
A good idea might be to go to Uluru during one of the shoulder seasons. Visiting in April/May or September/October would mean you would avoid the searing heat.
An added bonus is that you won't pay as much during the shoulder seasons. Prices are routinely increased during the busy May to September period.
Uluru Accommodation
It can be a bit confusing knowing where to stay in Uluru, however, there are a lot of options in the area. The majority of them are centred based in the village of Yulara, which is about 10 miles from Uluru.
There isn't the dearth of accommodation that there is in other tourist hotspots in Australia for obvious reasons. However, if you're looking for cheap hotels in Uluru, then there are a few to be found.
Alternatives to staying in a hotel would be to visit Uluru as part of an Adelaide to Darwin road trip and sleep in a campervan. You could sleep in a tent or a swag as well and sleep under the stars in the outback!
If none of those options jumps out at you, then here are a few hotels in Uluru to check out!
Sails in the Desert – 5-star Hotel in Yulara. If you want to stay in luxury during your trip to Uluru, this is the place.
Desert Gardens Hotel – A beautiful hotel in the Ayers Rock Resort. Ideal if you're visiting Uluru for a short trip.
Why You Should Visit Uluru
I was worried about visiting Uluru.
Worried that it wouldn't match up to my expectations. Worried that I would be wasting my time to go and see this giant rock in the middle of the outback.
When it boils down to it, that is the literal description of Uluru. A gigantic rock in the middle of nowhere!
To put it simply, I was off the mark. By a long way!
My trip to Uluru was one of the best experiences of my Australian working holiday, if not the best. It is a truly magical place, that I'm sure I can describe in words, but I will try my best!
Perhaps the best reason to visit Uluru is to lay your eyes upon one of the most iconic and majestic geographical features known to man! Uluru looks incredible in photos, it's even more awe-inspiring in person!
The scale of Uluru is incredible, I was not prepared for the sheer size of it. I really don't know what I was expecting, but I was blown away by the experience.
One of the strangest things about Uluru was not to do with the rock itself. Our tour guide told us that before the land was handed back over to the aboriginal people in 1976, the land surrounding the rock was home to a golf course and numerous hotels.
This was something that I found hard to believe. Firstly, why would anyone want to ruin such a beautiful and culturally significant area, secondly, looking around at that landscape I just could not imagine there ever being a time when it looked so different.
The tourism industry was shifted to the new town of Yulara in 1984 and this is where you would most likely stay.
Once you arrive at the Uluru-Kata Tjuta National Park, you must pay the entrance fee to the park. It is $25.00 for a 3-day pass, if you come with a tour this should be included in the price. Children under 16 can enter the park for free.
One of the more striking things regarding the landscape is the abundance of vegetation. This being the outback, you assume desert, but the park is surrounded by green vegetation as you can see in the pictures. It was certainly a shock to me, especially after coming from Coober Pedy, and proved that assumptions are rarely correct.
Another striking feature of Uluru is the composition of the rock. Erosion has worked away at the rock and it looks vastly different up close than from afar. Again, this was a bit of a surprise, but interesting nonetheless.
Black stains are noticeable as you walk around and these are from rainwater. Only about 1/2% of the visitors to Uluru will see rain when it is raining and it is supposed to be some sight, as rain cascades from the rock!
You may just think Uluru is a big rock in the middle of the desert, but there is a lot more to it than that. It's simply one of the best places to visit in the Northern Territory!
To Climb or Not to Climb Uluru!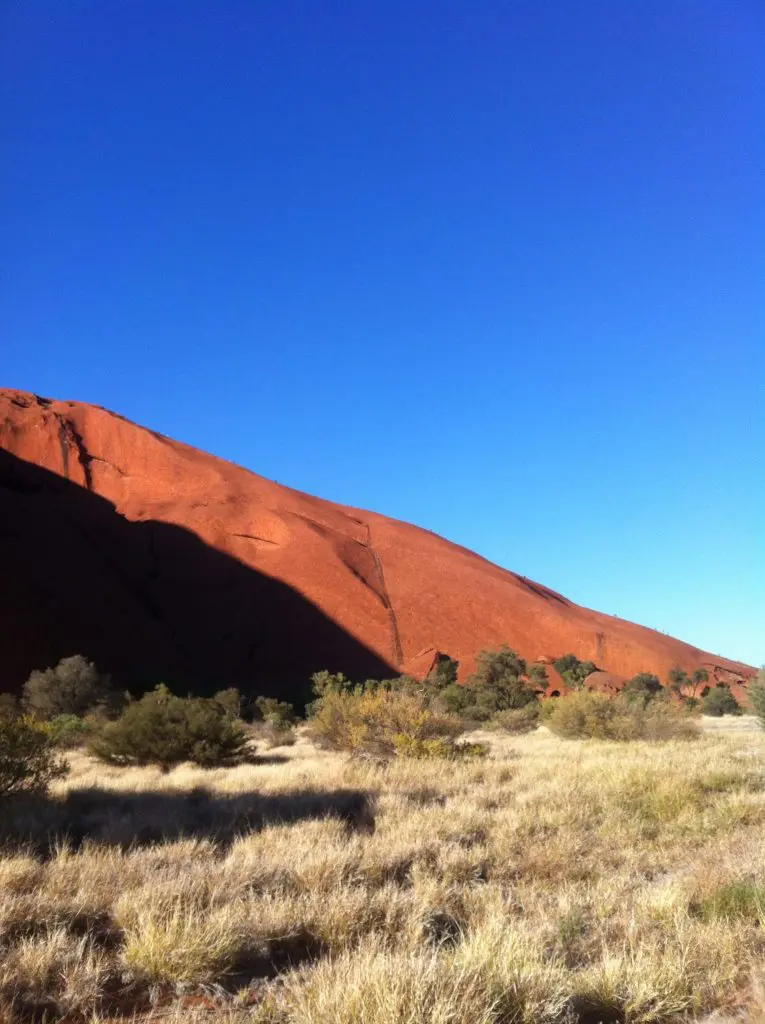 One controversial activity at Uluru is that of climbing the rock. The climb is open (providing the weather is ok), but the local people, the Anangu, request visitors do not climb due to its cultural significance.
The rock is so scared to them that they do not climb it. WakingUp Wild has an interesting post regards climbing Uluru if you want to know more!
It is very much up to you whether you climb it or not, but if you do, you should note that the climb is very steep and is dangerous.
Despite there being a handrail along the climb, there have been 35 deaths from climbing Uluru since the instances were recorded.
Things To Do at Uluru
There are a lot of things to do at Uluru, especially when you consider that it's a rock in the middle of the outback! Uluru is not the only rock formation in the area, with Kata Tjuta close by and well worth a visit.
There is also King's Canyon further down the road, which is full of incredible scenery. Visiting the Cultural Centre is a good idea to get a better idea of the importance of the area to the local aboriginal people, the Pitjantjatjara Anangu.
Cultural Centre
Visiting the Uluru-Kata Tjuta National Park Cultural Centre is a must if you want to know about the history of Uluru and the local aboriginal people. Uluru and Kata Tjuta are sacred to the Pitjantjatjara Anangu people.
There are a lot of stories related to the rock and the role it plays in the local culture which is simply fascinating. It's easy to dismiss this as mythological nonsense, but there is a special feel about Uluru which is hard to explain.
Kata Tjuta
It's often forgotten that there isn't just Uluru here. I didn't realise until I started this trip that there was another rock formation close by. Kata Tjuta is a fantastic sight in its own right and arguably more impressive than Uluru.
The simple reason is that you can walk through Kata Tjuta. The Valley of the Winds walk is as spectacular as the name suggests. The ochre rocks tower above you as you traverse up, through and down.
I still find it amazing that Kata Tjuta isn't more widely known considering the views!
King's Canyon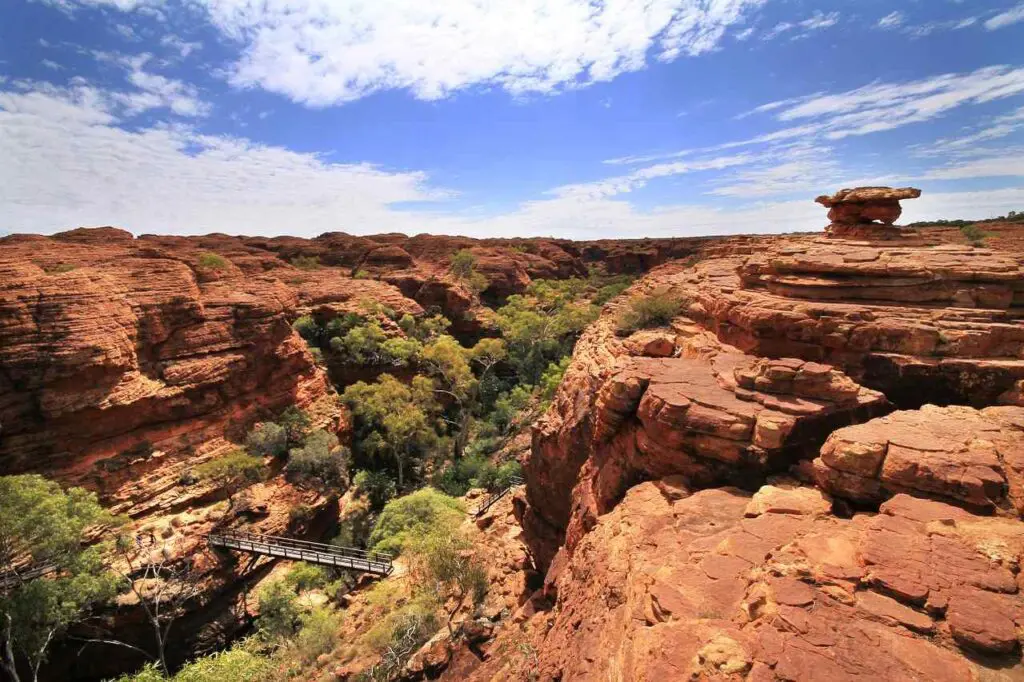 If Kata Tjuta is the neglected sibling, then King's Canyon is the forgotten cousin! I was unaware of its existence until our tour guide mentioned we were visiting before we headed off to Alice Springs.
King's Canyon certainly deserves to be more widely known. It's a mini Grand Canyon in a way, with steep cliffs and valleys below. The King's Canyon Rim Walk takes 3-4 hours, but it's well worth it to the beautiful landscape of the Watarrka National Park.
Uluru Base Walk
This is definitely the best way to get a feel for the scale and size of Uluru. The base walk takes you the full 360 degrees around the giant rock, allowing you to see it up close and from different angles.
Uluru looks a lot different up close than it does from a distance. Black marks streaking down the side of the rock are a common sight. They are created when there is heavy rainfall in the area.
If you're lucky you might see a few wild kangaroos jumping around. We were very fortunate to witness a few lively roos, enjoying themselves on the rock!
Uluru sunrise
Witnessing Uluru at sunrise is something that you simply have to do. It really is an incredible experience as light dawns and spreads across the horizon. The colours of the rock change vividly from dark brown to an orange colour.
There are plenty of spaces where you can park and get a good view of Uluru. Waking up a good 30 minutes before sunrise is advisable so you're not rushing around to see the sunrise. This is one time it's absolutely worth getting up in the morning!
Tours and activities at Uluru
The above are a few of the things that you can do at Uluru While you can do them yourself, one thing that's missing is expert knowledge about your surroundings. I found this very helpful and illuminating when I visited the area.
Our tour guide was very knowledgeable and was able to explain all sorts of things to us. From the importance of the area in the local culture to the geographical processes that helped to form Uluru, Kata Tjuta and King's Canyon, he was on the ball. Below are a few suggestions for tours that you can do in the area, to give you more of an insight into its history.
Concluding Thoughts
You have to visit Uluru while you're travelling in Australia! It's a breathtaking place and the experience of seeing Uluru for the first time will stay with you forever. The Sydney Harbour Bridge and Opera House are spectacular in their own right, but Uluru is truly incredible.
It is a unique and wondrous place, that offers an insight into Australia's culture and past. A lot of tourists stick to the East Coast route, but this is something to stray off the track for!
Need Travel Insurance?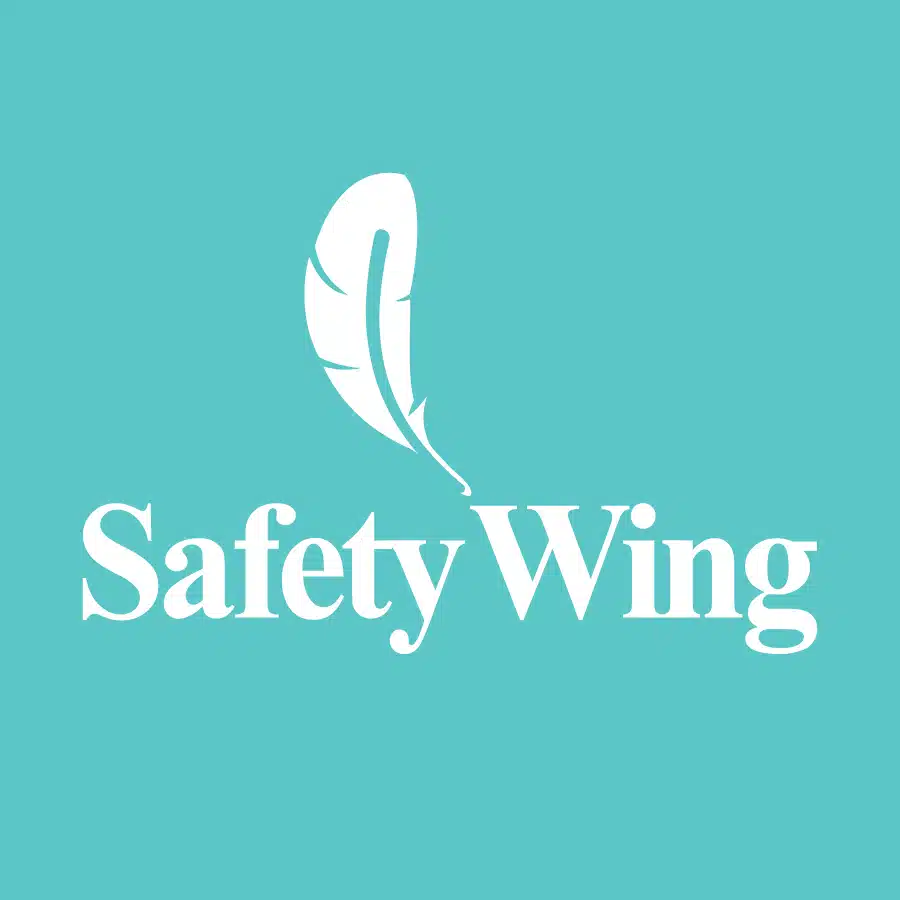 SafetyWing offers coverage that will give you peace of mind while you're on the road. If you want to protect yourself while you're on the road, then click the image to take a look at the options available to you.
Tom is a travel addict who first left England to spend a year Down Under. Not satisfied with this, he then went to New Zealand, about as far away from home as he could get. He is now planning his next adventures in Europe and Canada while maintaining this blog. Check out the about me page to learn more!