These famous landmarks in Queensland are the places you need to add to your itinerary while you're in this fascinating Australian state.
Queensland is one of the biggest and most interesting parts of Australia. Notable Queensland landmarks include the Story Bridge in Brisbane, the Glass House Mountains and, of course, the Great Barrier Reef.
These landmarks in Queensland are indicative of what you'll find in the state. Add the stunning Whitsundays and the cool vibes of Surfers Paradise, and you'll find there are lots of great places to go in Queensland.
If you're looking to explore the state, then including some of these famous Queensland landmarks on your itinerary is a must!
Disclosure: This article may contain affiliate/compensated links. For more information, please see our full disclosure policy.
Table of Contents
Famous Landmarks in Queensland
Brisbane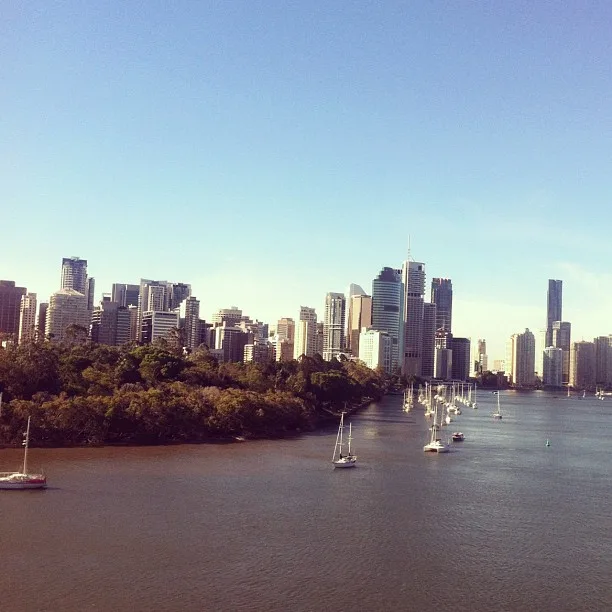 Brisbane is the biggest city in Queensland and somewhere you have to visit when you're in the state.
As you might expect, there are plenty of things to do in Brisbane. One of my favourite places, while I was in the city, was the Southbank, which is close to the river. You'll find lots of little shops, a makeshift 'beach' and be rewarded with some great views of the Brisbane skyline.
Another place you have to check out is Kangaroo Point, which isn't far from the Southbank. While there aren't any kangaroos, you'll be able to get a fantastic view of the whole city from up here and the walk up there is nice too.
Brisbane has a reputation as a lively city, which is reflected in its Bris Vegas nickname. The centre is full of bars, cafes and restaurants, and it also has a lively nightlife scene too. One thing's for sure, you'll have lots of fun in Brisbane!
For more information, check out my Brisbane travel guide!
Cairns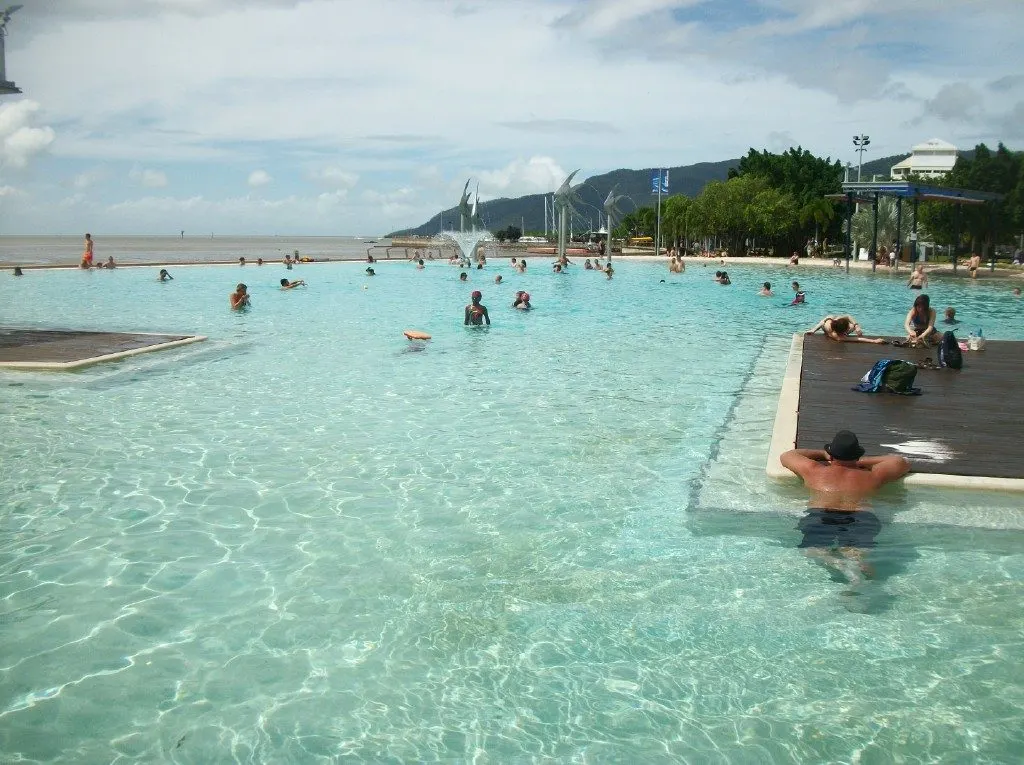 Cairns is the main city in the far north of Queensland and a fascinating place to visit.
While it's not the biggest place, there are a lot of things you can do here. The Great Barrier Reef is one of them, which I mention below, but you can also relax at the Esplanade next to the shore, which is a great place to go on a warm day.
The Botanic Gardens in Cairns is another brilliant place to check out. Its northerly location means there are lots of tropical plants and at times, it feels like you're walking through a rainforest such is the scenery in the gardens.
One thing to note about Cairns is that, although it's one of the most popular landmarks in Queensland, if you visit during the wet season it will rain a lot. As I found out to my cost as it rained for the majority of the time I was there. If you do visit, try and ensure it's during the dry season so you can enjoy Cairns as much as possible!
For more information, check out my Backpacking Cairns guide!
Story Bridge
The Story Bridge is one of the most famous landmarks in Queensland. While it's not as impressive as the Sydney Harbour Bridge, it's still an amazing sight.
The Bridge connects Kangaroo Point to Fortitude Valley in Brisbane. You can walk across it, which allows you to do a whole loop of the city centre on foot.
If you feel brave, you can book a ticket to climb the Story Bridge. This is done in a group and will give you an even more impressive view of the city than you would get by simply walking across the bridge.
You might even be lucky enough to drive across the bridge if you're doing a Sydney to Brisbane road trip, for example. However you come to see it or make your way across it, there's no doubt it's one of the most impressive sights in Brisbane!
---
You might also like:
---
Surfer's Paradise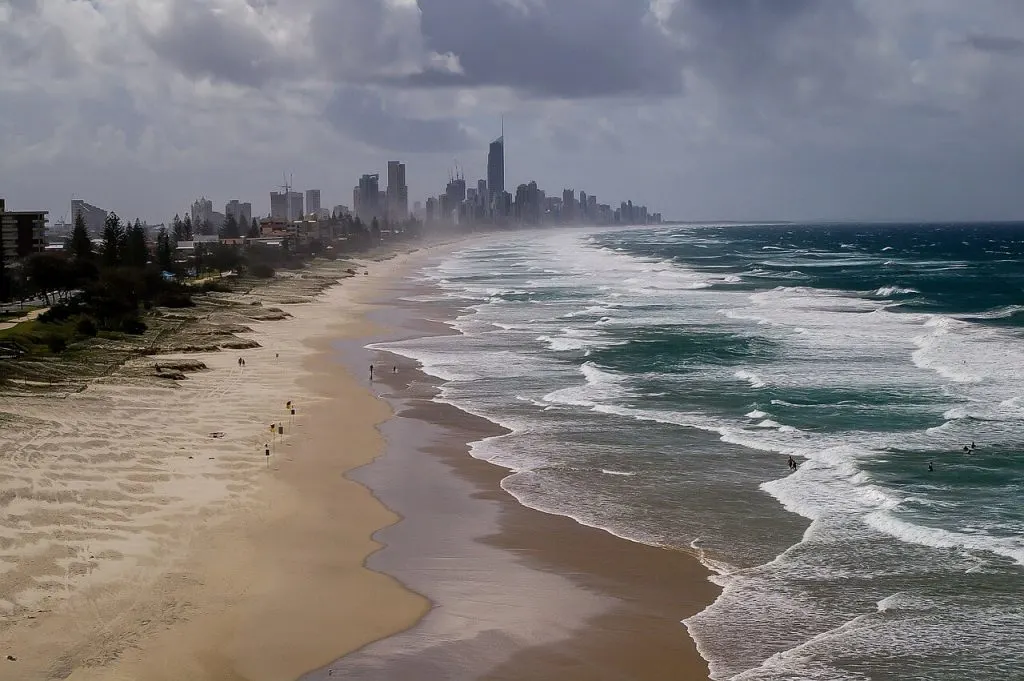 Surfer's Paradise is one of the most popular Queensland landmarks and the name kinda explains why.
When you get here, you'll see an endless expanse of beaches and the ocean. This was my first stop in Australia and I was entranced by what I saw as the bus from the airport made its way towards Surfer's Paradise.
If you plan to visit the Gold Coast, then Surfer's is one spot you'll come across as it's right in the middle. The beach here goes on for ages and the backdrop of skyscrapers makes it all the more spectacular. You can relax on the beach, go for a swim, or take a surfing lesson.
The area is also renowned for its nightlife, so this is a great place to come and party if that's what you're into. If not, then there are more tranquil spots a short walk down the coast such as Southport that are also good places to visit and stay.
Burleigh Heads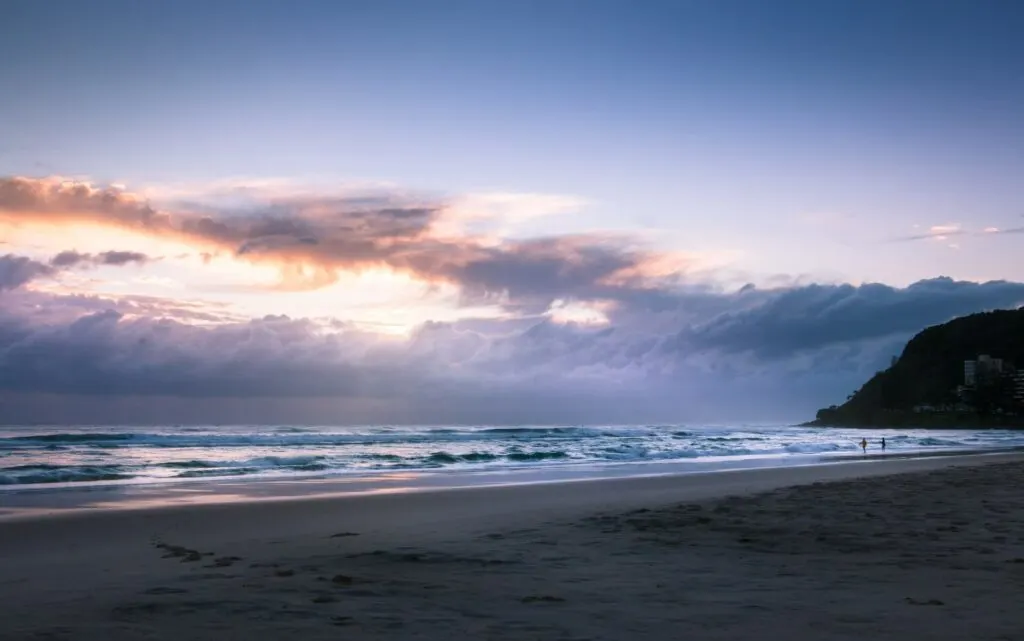 Burleigh Heads is located on the Gold Coast and is one of the most underrated places to visit in Queensland in my opinion.
With Surfer's in the middle of the coast, Burleigh Heads is back towards the border with New South Wales and is about an hour's walk from Surfer's. It's a nice walk, but a long one as I found out when I did it!
Once you get to Burleigh Heads, you can do several things. One of them is to relax at one of the beaches here which are fantastic. I thought they were some of the nicest beaches in Australia I saw during my time in the country.
You can also make your way up to Burleigh Head, which is the prominent landmark here. It's a nice walk through some lush scenery and presents a great view of the surrounding area once you're at the top!
Noosa
Noosa is another one of the beautiful spots in Queensland you have to visit while you're in the state and a must-stop if you're doing a Brisbane to Cairns road trip.
It's not far from Brisbane, which makes it a good place to visit if you're looking for a weekend getaway from the city. Once you're at Noosa you will find plenty of things to do such as relaxing at the beach and hiking.
The National Park at Noosa is stunning and is full of trails you can walk along that allows you to see the area in all of its beauty. Some of the best beach quotes are applicable to Noosa as the beaches here are beautiful!
If you're lucky, you might see koalas at Tea Tree Bay and dolphins out to sea while you're relaxing at the beach!
Great Barrier Reef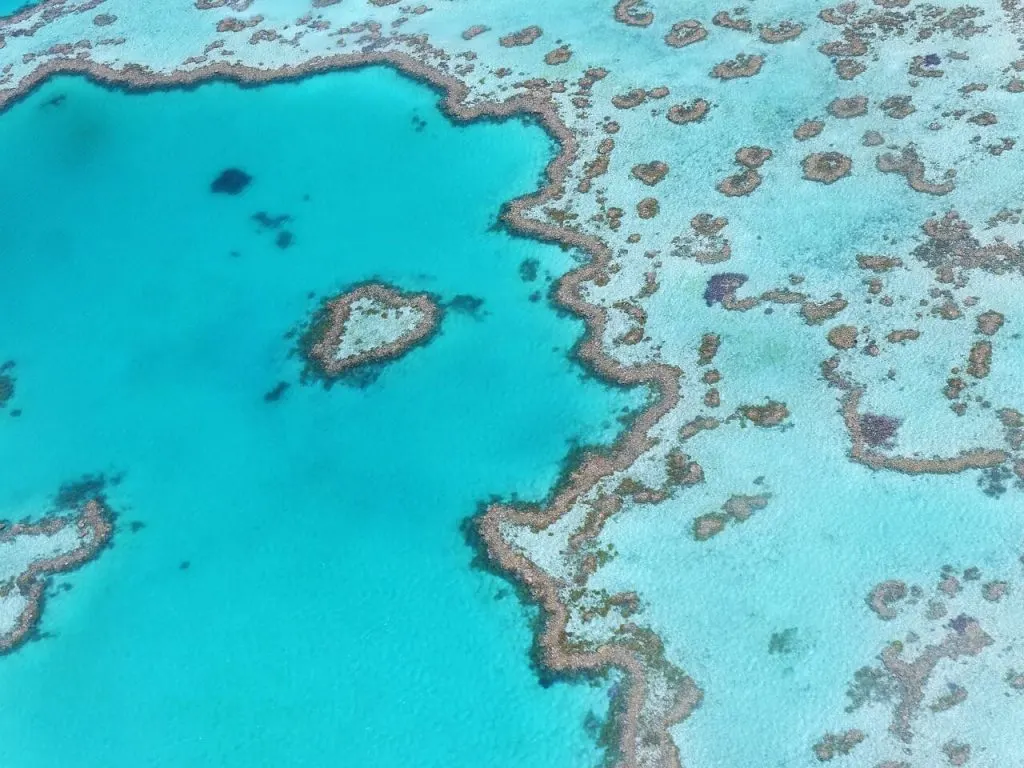 The Great Barrier Reef is probably the most famous landmark in Queensland. If you had to ask someone to give a reason to visit Queensland, the reef would be at the top of the list nine times out of ten.
It's the biggest coral reef system in the world that contains over 400 species of coral as well as numerous marine animals such as shares, dolphins and turtles. There are multiple reasons to visit Australia but seeing the Great Barrier Reef is high on that list.
The reef is one of the seven natural wonders of the world and stretches over 2,300 kilometres. If you want to see it while you're in Queensland, then you'll need to jump on a boat.
The best way to do this is as part of a tour. You can find tours in Cairns, Port Douglas and Townsville that will take you up to the reef and a few may even allow you to go snorkelling amongst the reef too!
Whitsundays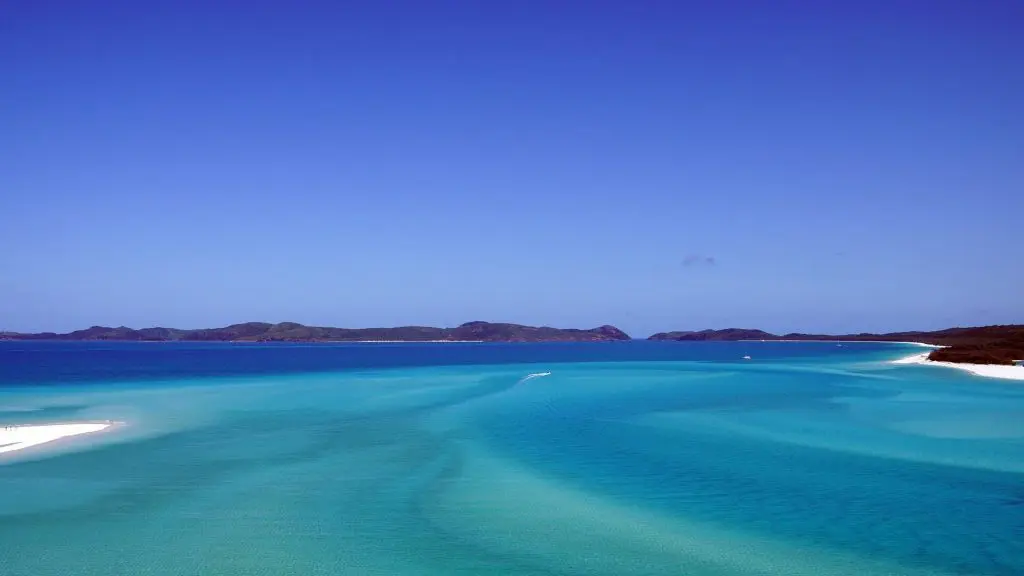 One of Queensland's landmarks that are most well-known is the Whitsundays.
They are a collection of 74 islands located in North Queensland not far from Cairns. However, if you want to get to the Whitsundays you'll need to book a tour to access the islands.
The main attraction of the Whitsundays is the beautiful beaches such as Whitehaven that have to be seen to be believed. The sand at Whitehaven is made from quartz which gives its stunning appearance and together with the turquoise waters makes the Whitsundays a beautiful place.
The Whitsundays is a stunning place and one you have to check out when you visit Queensland.
Fraser Island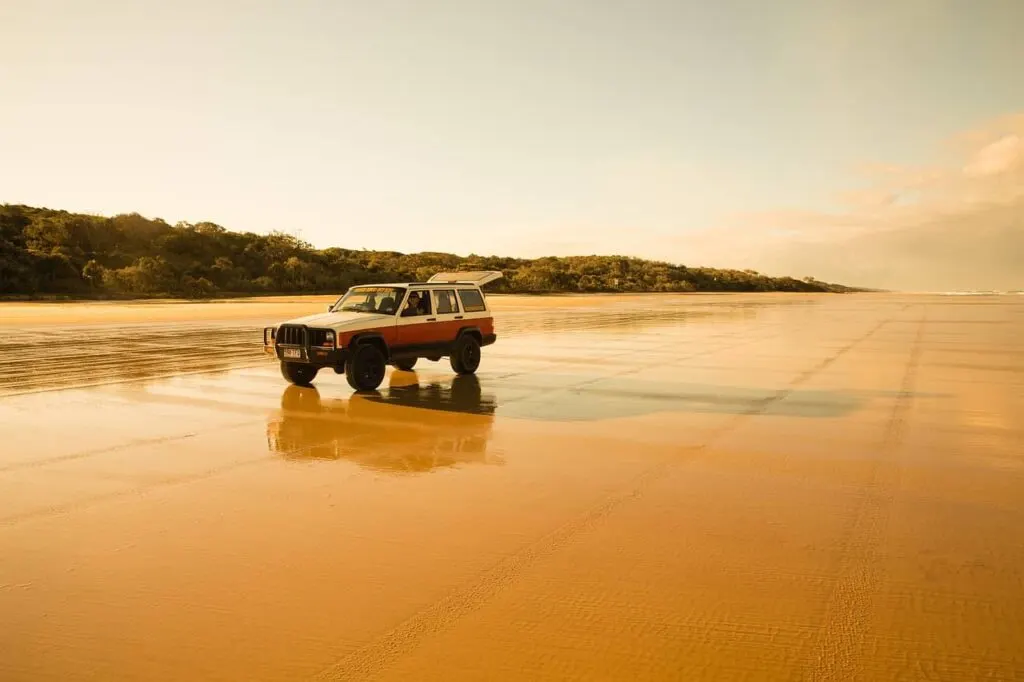 Fraser Island is one of the most popular landmarks in Queensland to visit.
It's the largest sandbar island in the world and a fantastic place to explore. Fraser Island is located close to Hervey Bay, so that's a good place to base yourself if you want to check it out.
On the island, you'll find rainforests, mangroves and even wild dingoes! You'll need to use a 4×4 to get around the island as it's mostly sand but you can rent one or book a tour and see the island that way instead.
You'll get to see the shipwreck of the S.S. Maheno, which I mention below as well as a range of other things such as angling, camping and hiking!
Daintree National Park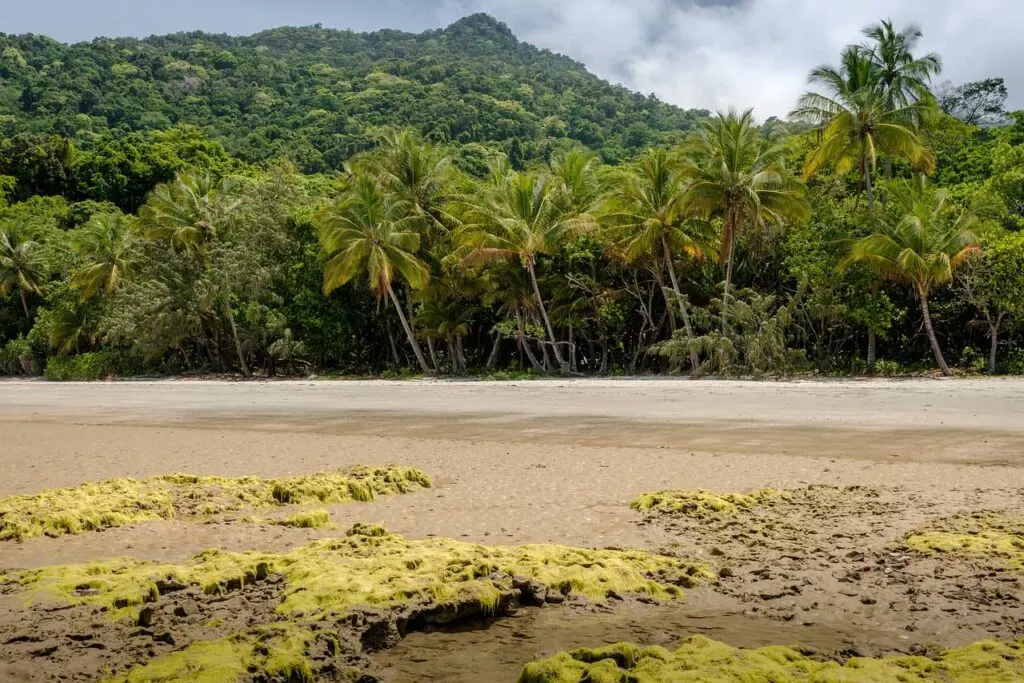 The Daintree National Park is located in the far north of Queensland 100 km (62 mi) northwest of Cairns.
The park at Daintree is primarily a rainforest and is home to a variety of flora and fauna that you won't see in other parts of the country.
If you're a nature lover then you'll love visiting Daintree. You'll see all sorts of animals you won't see elsewhere such as marsupial cats. While you can also go on a river cruise and get up close and personal with the numerous crocodiles in the Daintree River.
Daintree is a 2-hour drive from Cairns and a great place to visit if you want to experience the wonders of nature in Australia!
Mt Coot-Tha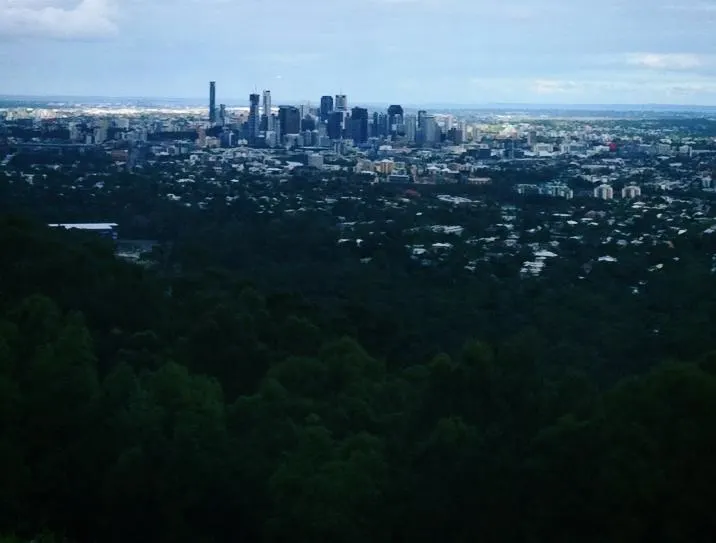 As the name suggests, Mt Coot-Tha is a mountain located not far from the centre of Brisbane.
Making your way up to the top is one of the best things to do in Brisbane. The view you get from the top of the lookout is spectacular and you can not only see the whole of Brisbane but far beyond it too. There's also a cafe and restaurant at the top if you're feeling peckish after getting up there.
It's a long slog from the centre of Brisbane. As I'm a glutton for punishment, I walked all the way there and back. There are buses you can get there and back if you don't fancy walking, or you want to walk one way and relax on the way back.
You can also find the Brisbane Botanic Gardens at Mt Coot-Tha, which are worth checking out as it's a beautiful place. The Japanese Gardens, in particular, are stunning and worth the journey alone!
Big Red Sand Dune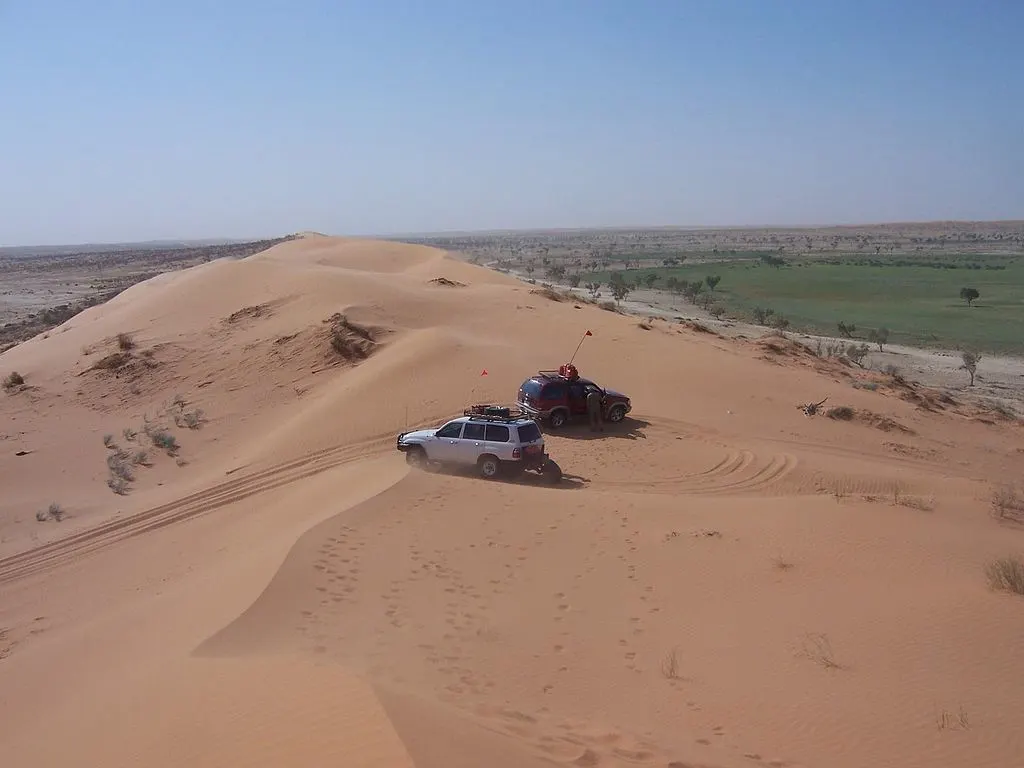 The Big Red Sand Dune is a natural landmark in Queensland you might not have heard of.
The sand dune is located in the Simpson Desert in Central Queensland. It's far away from the coast and close to the Northern Territory, but if you get the chance to get out there then you should as the dune is an impressive sight.
The Simpson Desert is home to many sand dunes and Big Red is the biggest and most impressive of them all standing at 40m tall. There are estimated to be 1,140 sand dunes and to get to the dunes you'll need to be in a 4×4, which means going on a tour is the best option.
Barron Falls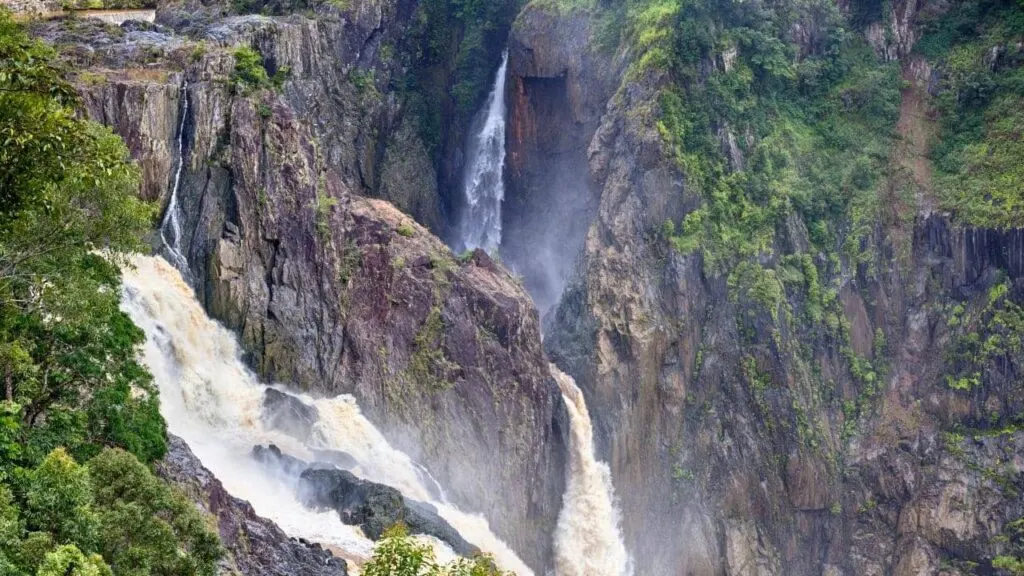 The Barron Gorge National Park is a beautiful spot and it's home to an impressive waterfall known as Barron Falls.
Checking out the national park is reason enough to visit on its own, but Barron Falls is the cherry on top and the primary reason to visit the park.
Barron Falls is located near Cairns and as the city is a tropical one, there is a lot of rain during the wet season. This means that the waterfall is particularly impressive during the wet season as the water cascades down.
Glass House Mountains National Park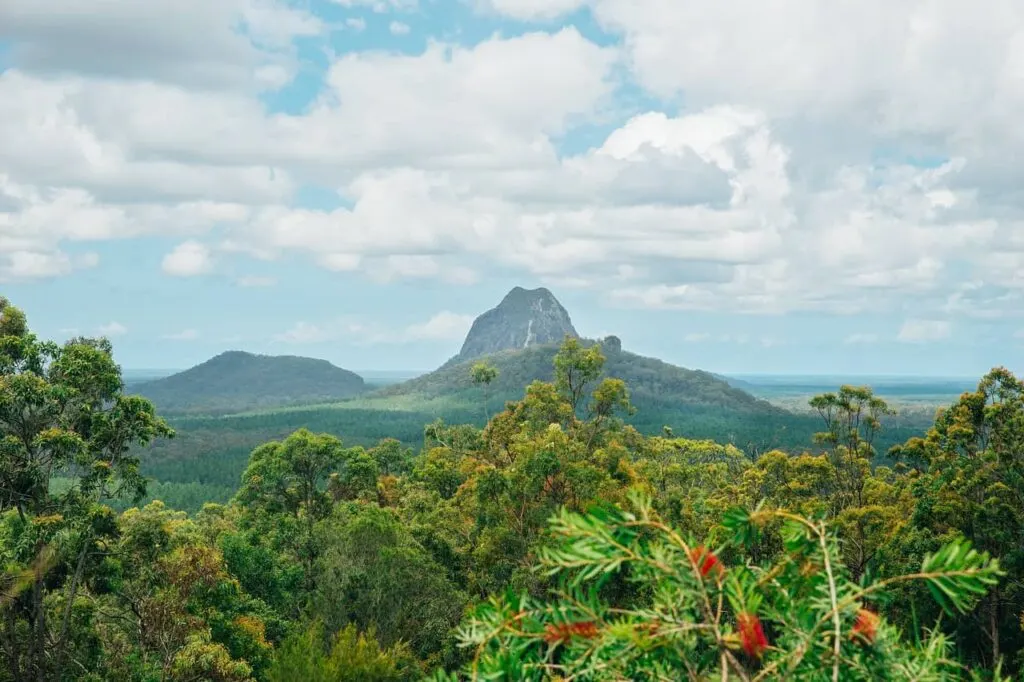 If you're to go on one of the best day trips from Brisbane, then a trip to the Glass House Mountains National Park is a must.
The mountains are one of the most prominent landmarks in Queensland just an hour north of Brisbane.
Located on the Sunshine Coast, the mountains are the remnants of extinct volcanoes that date back 27 million to 26 million years. The shape of the mountains means they are recognisable from afar.
Hiking around the national park is easy with many trails to follow, while you can also go abseiling and rock climbing if you're feeling adventurous.
S.S. Maheno
The S.S. Maheno is one of the primary reasons to visit Fraser Island and is one of the most intriguing man-made landmarks in Queensland.
As I mentioned before, the shipwreck can be found on one of the beaches on the island and is an arresting sight among all the sand.
It's an interesting story as to how the ship came to its final resting place. In 1935, the former World War I ship was caught in a cyclone and eventually ran aground on Fraser Island where it has remained ever since.
As you can see from the image above, the S.S. Maheno is slowly corroding and is a shell of its former shelf. But it's an incredible sight you won't forget in a hurry!
Need Travel Insurance?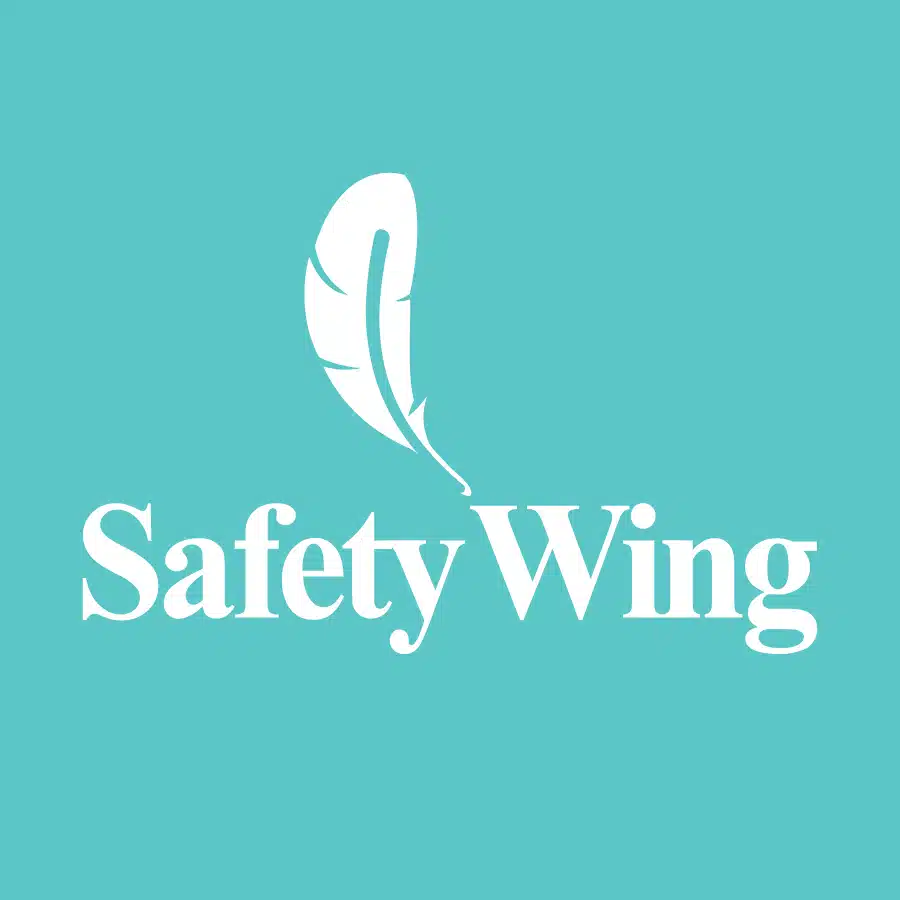 SafetyWing offers coverage that will give you peace of mind while you're on the road. If you want to protect yourself while you're on the road, then click the image to take a look at the options available to you.
Tom is a travel addict who first left England to spend a year Down Under. Not satisfied with this, he then went to New Zealand, about as far away from home as he could get. He is now planning his next adventures in Europe and Canada while maintaining this blog. Check out the about me page to learn more!