Backpacking the Philippines is often forgotten when it comes to travelling around South East Asia.
With Thailand, Vietnam and Laos easily accessible from one another, the Philippines is often left out of South East Asia backpacking itineraries.
This is a travesty, as it is a hidden gem and there are actually a lot of great things to see and do in the Philippines.
I can see why many people miss out on going to the Philippines, as it's geographically isolated from the rest of South-East Asia.
However, I think any backpacker in the region should seriously consider visiting. The Philippines has a rich culture, history, and amazing scenery!
The Philippines is very distinct from the rest of South East Asia, this is due to the influence of its colonial past. Reminders of the days of Spanish and American rule are still clear today.
Cheap internal flights to the islands and a diverse range of activities make this a must for anyone backpacking South East Asia!
Disclosure: This article may contain affiliate/compensated links. For full information, please see our full disclosure policy.
Table of Contents
Backpacking The Philippines
Basics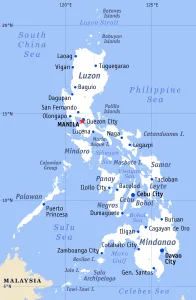 Philippines Travel Visa
Here's the good news:
Citizens of most countries (including ASEAN and EEA countries) receive a 30-day upon arrival in the Philippines.
If you are a national of Brazil or Israel then you receive a 59-day visa upon entry. You can extend your stay for two months at a cost of US$30 in most major cities and resorts such as Manila, Cebu and Boracay. The visas that countries are entitled to can be found here.
I learnt one important thing before my one-month backpacking the Philippines even started. You need to have a flight out of the country booked beforehand!
Some airlines will not let you board your flight into the Philippines if you don't. This happened to me when I was travelling from Australia and I had to book a flight to Thailand quickly before I was allowed to board.
The stupid thing is that most customs officials do not bother to check this, but it's best to be on the safe side.
You will be required to fill out a disembarkation form and customs form upon arriving in the Philippines. During your stay, you may notice a booth with 'Terminal Fees' written on it.
When leaving the country, visitors are usually required to pay a departure fee, however, this is usually included in the price of your plane ticket.
Foreign nationals staying in the Philippines are exempt from this fee, so don't worry about paying it if you see these booths!
Don't leave without travel insurance! Accidents can and will happen! As a wise man once said, if you can't afford travel insurance, you can't afford to travel!
I use SafetyWing, as they are tailored towards backpackers, and I highly recommend them!
Culture and Language in the Philippines
The influence of the Philippines' colonial past is evident throughout the country. It is an anomaly in South East Asia, as it is the only majority-Christian country in the region, with over 80% of the population practising Roman Catholics.
Religion is central to Filipino life and it is not uncommon for the country to grind to a halt during religious periods such as Easter and Christmas, so be aware if you are travelling around this time.
The region of Mindanao is home to the majority of the Philippines' practising Muslims, whose militias have been warring against the government for some time, so take care if you travel here.
There are a few cultural oddities in the Philippines, or at least, they are oddities to the average backpacker. Despite being a nation of relatively small people, the national sport is basketball!
The American influence is obvious here. Walking around in my NBA jerseys, I would often get people coming up to me to talk about basketball, how they love this team, that player and if they could take my jersey!
If you're a basketball fan, like me, then you will love it, you can also watch the majority of the games on TV! Playing basketball is another thing you can do if you can find a court while you're in the country. You certainly be short of people willing to lay with you!
Karaoke is also huge in the Philippines, you are bound to come across a bar with a karaoke session in progress, in virtually every island in the country! Karaoke is taken very seriously here, so don't criticise or laugh at any performances, that is definitely a faux pas!
English is widely spoken and considered an official language. It is a compulsory subject in school and if you are in a big city, then you will have no problem getting around. This is one of the benefits of travelling the country and it certainly makes things easier for backpackers.
Outside of the main cities and tourist hotspots, you may struggle to find locals who speak English. Tagalog is the predominant language, get this Tagalog phrasebook to help you interact with the locals
. It will certainly make your life easier and give the locals a laugh at least!
Travelling Around the Philippines
Getting around the Philippines isn't too difficult even for those of you who have little sense of direction!
As an island archipelago, there are a few options for travelling around the country. Depending on where you're going and how far you have to travel, some are better options than others. However, there is no doubt you will more than likely use all of these options at one point or another!
If you're backpacking in the Philippines alone, then don't worry. It's easy to get around by yourself, especially, as most people speak English. I never saw any trouble while I was in the country and always felt safe.
Bus
Travelling around the Philippines by bus is relatively straightforward. There is an extensive bus network throughout the country and you get to most destinations via bus.
You can purchase tickets in advance or just show up at a bus station and purchase a ticket there and then.
Bear in mind that these journeys can be quite long. Our journey from Puerto Princesa to El Nido took 5 hours over some very bumpy roads. You will get the occasional stop where you'll be able to grab some food and use the toilet.
Make the most of these opportunities, as there normally isn't a toilet on board buses!
Ferry
Ferries or bangkas, as they are known in the Philippines are a good option for travelling around the country. In some cases, they are essential for getting to places such as Boracay or Bohol.
The bangkas are normally used for island hopping trips, such as the ones offered in El Nido. They are a cheap way to see some beautiful places, as it normally costs between PHP750-1000 for one of these trips.
Be sure to bring suncream though, as you'll be exposed to the sun for a long period of time.
Travelling long distances is probably not the best idea unless you really want to save money or get off the beaten track. Travelling between Philippine islands by boat can take days and this can eat into your time in the country.
Jeepney
The jeepneys are one of the icons of the Philippines. Converted jeeps that were left by the Americans after WWII, are a familiar sight in big cities such as Manila and Cebu.
They are a great way to travel around big cities and offer a cheaper alternative to taxis. You're also less likely to get ripped off using a jeepney than a taxi.
They don't have a fixed schedule and you need to hail them down to hop on. The route is listed on the side of the jeepney, if you have a specific destination in mind, the driver or passengers will be able to tell you if it's on the route.
Travelling in a jeepney is very cheap and costs as little as PHP7 for short journeys and about PHP50, if you're travelling between towns.
Plane
Travelling by plane is definitely the easiest way to get around the Philippines, especially if you're travelling between the various islands.
With that said, it's not always the cheapest option, which is definitely true if you don't book your flights in advance. We failed to do this numerous times and ended up paying more than we should have done!
If you're backpacking the Philippines on a budget, then flying will eat into that. However, it is essential to get to certain destinations such as Palawan. You can find flights for between PHP500-1000 if you book in advance.
It's the most convenient option, but you'll also have to go through Cebu and Manila to get to many places.
Taxi
Taxis are everywhere in the Philippines and they are a great way to get around. They can be less useful in big cities due to the insane traffic in places like Cebu and Manila.
Whenever you get in a taxi, make sure the driver has a metre and that it is on. Don't get in the taxi if there is no metre, as you could end up getting ripped off.
It is also advisable to have small notes, such as 100PHP notes.
This happened to us once when we went to pay, the driver said he had no change, after a few minutes of persuasion. He eventually pulled out the biggest wad of cash I've ever seen and gave us change!
The drivers usually do this to try and get a bigger tip, if this happens to you, don't be fooled, be persistent and they will eventually cave in!
There are a number of taxis that travel between cities as well. You can haggle a price beforehand to get a good deal. The only problem is that you'll be sitting around for a while. They won't leave until the taxi is full!
Some of these taxis can be small and cramped, but others can be good. We got one from Puerto Princesa to El Nido, with more than enough room and an onboard DVD player! Score!
Best Time to Visit The Philippines
The best time to travel to the Philippines is something you should seriously consider.
As the Philippines is a tropical nation, the weather can vary depending on what time of the year you visit. March to May, during summer, are the hottest months, with the rainy season starting in June and continuing until October. Typhoons are common during this period and can be devastating. Typhoon Haiyan, which hit the Philippines in 2013,
Typhoon Haiyan, which hit the Philippines in 2013, was one of the strongest recorded cyclones and killed at least 6,300 people. The effects of which are still being felt today, as the rebuilding effort continues.
If you want to avoid the likelihood of being caught in a typhoon, it's best to avoid visiting during the wet season from June to September.
Perhaps the best time to visit the Philippines is during either October or May, which are shoulder seasons.
During this time there are fewer tourists and you will find it easier getting around and may even get cheaper prices as a result.
The summer months from November to April are still good times to visit, but it will be busier and potentially more expensive.
Another thing to consider is that the Philippines often experiences droughts during the summer months, which can have knock-on effects.
As most of the Philippines' power is generated by hydroelectric power plants and the need for air conditioning is high during this time, it is common for there to be blackouts.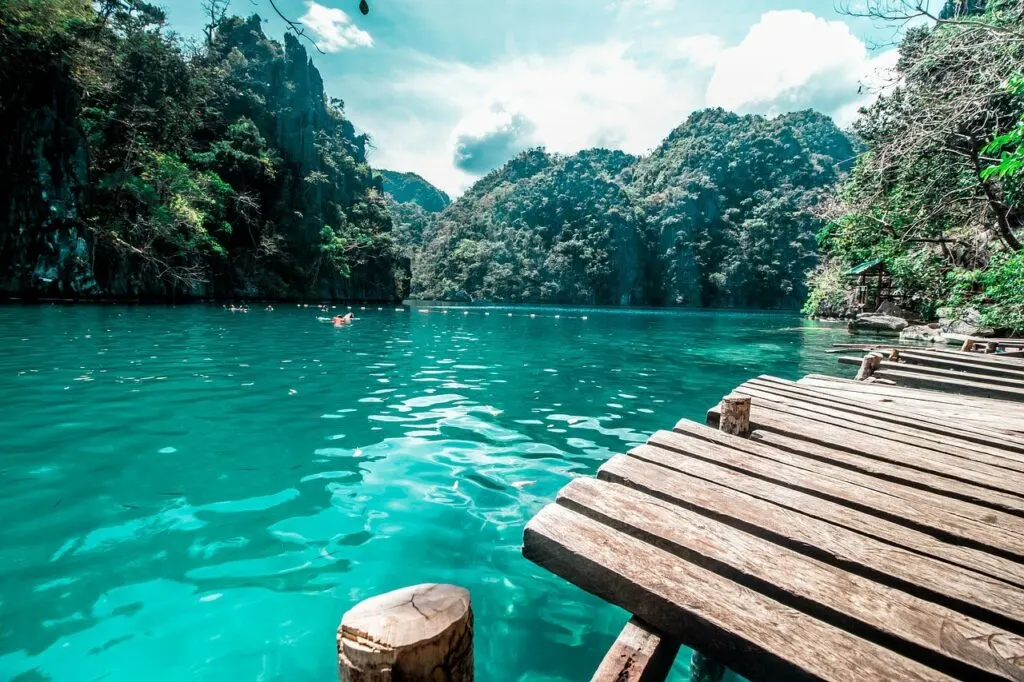 Is The Philippines Safe?
On the whole, I would say the Philippines is safe for tourists, although this doesn't mean there aren't threats.
There is a lot of poverty in the Philippines. As a tourist, and if you're white in particular, you really do stick out in a crowd.
You will most likely be taller and dressed differently from everyone else. Inevitably, this can make you a target for petty crime.
I had my headphones pickpocketed while I was backpacking around the Philippines, so the threat is real.
The Philippines is ranked as the 127th safest country in the world on the Global Peace Index.
This is not helped by the recent crackdown on drugs by President Duterte and the ongoing conflict in Mindanao.
When visiting the Philippines it's best to exercise your usual caution and not wander off alone.
If you stray away from tourist spots and go into the outskirts of the districts in major cities, you may run into trouble.
With that said, we rarely encountered any issues during our time in the Philippines and found the majority of Filipinos to be friendly and helpful!
Essential Items to Pack For The Philippines
Knowing what to pack for the Philippines can make your life a lot easier while you're there.
Getting around the country isn't the easiest due to the number of islands that make up the Philippines.
That means you're going to be carrying your backpack around a lot!
You don't want to take too much stuff, but you don't want to leave certain items off your list either!
Where to Stay in The Philippines
You won't be short of accommodation backpacking the Philippines. There are a wealth of options for backpackers throughout the country. There are a number of great hostels in the Philippines, especially in backpacker-centred areas such as Boracay and El Nido.
You also have a number of cheap hotels in the Philippines. Thanks to companies such as Agoda, you can get great deals on hotels!
A number of guesthouses are also scattered throughout these destinations. You can get a room for php500 in places.
This is a good option if you turn up at a place without booking accommodation beforehand! We had to do this a lot, as we had the organisational skills of slugs!
Obviously, if you have a decent budget, then you can splurge big on fancy-pants hotels.
Otherwise, for those budget backpackers amongst us, cheap accommodation in the Philippines is available across the country!
Below are a few of my recommendations for hostels in the Philippines you should stay at!
| Accommodation | Location | Description | Link |
| --- | --- | --- | --- |
| Z Hostel | Manila | Great hostel that has a rooftop bar and outstanding views of the city. Great place to meet fellow travellers. | Book Now |
| Mad Monkey Cebu City | Cebu | Nice little hostel near the centre of Cebu city. Social hostel that's great to meet fellow travellers | Book Now |
| Frendz Hostel | El Nido | A nice centrally located hostel not far from the beach in El Nido. A cheap and sociable hostel that's one of the best in the Philippines! | Book Now |
| B & R Hostel and Bar | Puerto Princesa | A hostel located near Nagtabon Beach, which is the perfect place to relax | Book Now |
| Mad Monkey Hostel Siargao | Siargio | Great hostel close to the beach. Tiki-themed bar and pool make it a great to meet other backpackers | Book Now |
| Frendz Resort Boracay | Boracay | Great hostel close to White Beach. The bar is a great place to meet fellow travellers and socialise | Book Now |
| Fable Hostel | Siquijor | Beautiful beachside accommodation. The resort has scooters for hire and can organise tours for you. | Book Now |
If you're not too keen on staying in hostels, then there are a lot of cheap hotels in the Philippines to choose from.
Booking through a site such as Agoda can result in you making some great savings! We used it a lot during our time in the country and found some great deals all over the Philippines.
Below are a few of my recommendations for hotels in the Philippines.
Want more choices? Click here to find the best deals on Philippine hotels!
Why You Should Visit The Philippines
Backpacking through the Philippines is great, as the country is quite diverse in its landscapes and scenery! There are so many places to visit in the Philippines that it would take you at least a year to see them all!
Below are a few of the best reasons to visit the Philippines!
Amazing Beaches and Stunning Scenery
The beaches in the Philippines are some of the best in South East Asia, if not the world. Boracay beaches are regularly ranked as some of the world's top beaches and there are plenty more, in particular on the island of Palawan.
There are lots of great mountains, hills and waterfalls in the Philippines. In particular, the Kawasan Falls, which is not far from Cebu is one place worth checking out to see some spectacular nature in the Philippines!
The scenery is also incredible and varied from island to island. From the Chocolate Hills in Bohol to the towering limestone cliffs of El Nido and the subterranean river near Puerto Princesa there is a diverse range of scenery.
Friendly Locals
The locals are extremely inviting and can not help you enough. We never once had any trouble during our stay and the fact that the majority of Filipinos speak English is a great help and makes getting around easier.
Considering that a large part of the population lives in poverty, Filipinos are very happy people. I actually felt this was a bit of a wake-up call for me.
It made me realise that happiness from within and not external factors such as wealth or possessions. This was one of the best takeaways of backpacking the Philippines for me!
Varied History
Due to the fact that the Philippines was once a Spanish and then a US colony, there is a mix of Spanish-style cathedrals, modern skyscrapers and malls in the big cities.
For the keen historian, there are a number of interesting sites to see such as Magellan's Cross in Cebu and Intramuros in Manila. Along with Second World War memorials and sites, there is a range of things to see in the Philippines.
I found this fascinating as I was travelling around the country. The various influences create a cultural and historical melting pot, which makes the Philippines an intriguing place to travel.
Loads To Do
With the amazing scenery and landscape of the different 7101 islands that make up the Philippines, there are lots of different activities to choose from.
From world-class scuba diving sites to mountain trekking or simply taking in the sights and relaxing at a beach, a trip to the Philippines offers it all!
Before my trip to the Philippines, I wasn't sure about what the country would have to offer. Most of my assumptions were based on images of white beaches and turquoise waters.
Well, it turns out there are a lot of things to do in the Philippines!
From world-class scuba diving sites to mountain trekking or simply taking in the sights and relaxing at a beach, the Philippines has it all! You'll find the Philippines full of things to do and you won't be short of places to visit either!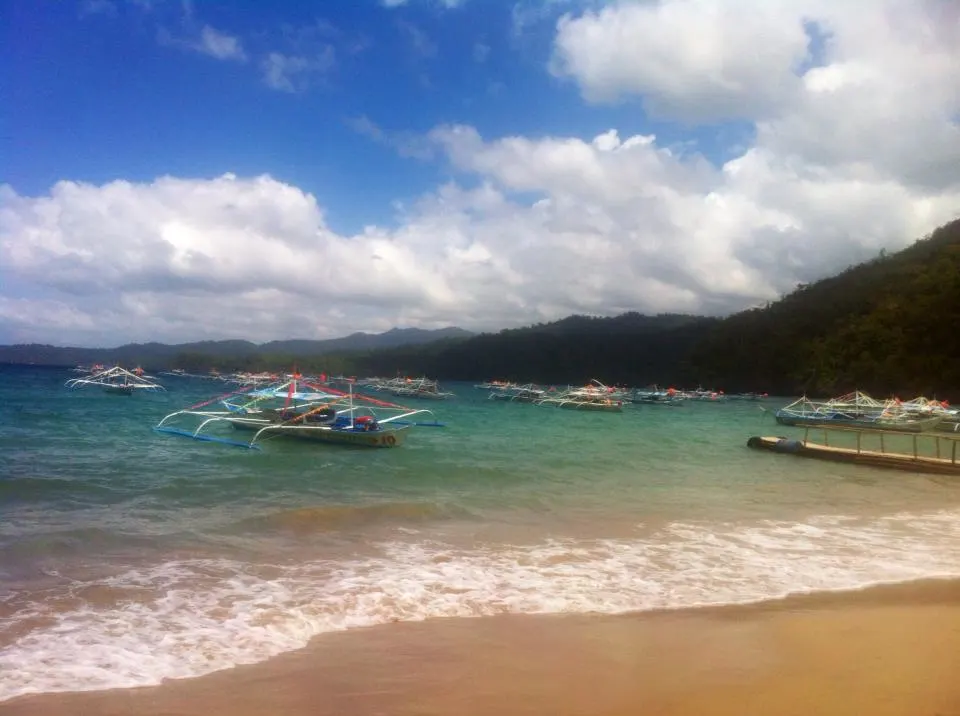 Places to Visit in The Philippines
As there are a lot of places to visit in the Philippines, it can be hard to decide where to go even if you have a bit of time to explore.
The big cities can be a little overwhelming at times, but travelling to Cebu City is definitely worth it. It's smaller than Manila and a lot more enjoyable as far as I'm concerned.
Below are my top 5 must-see places that should be a part of every Philippines itinerary!
El Nido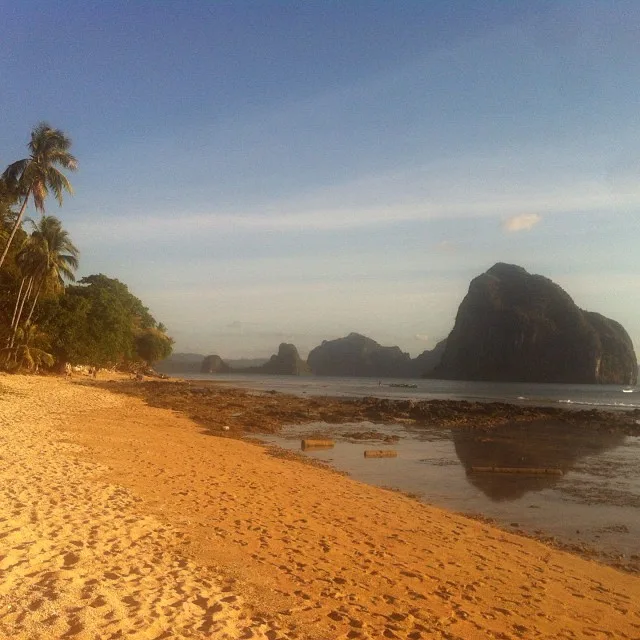 As far as I'm concerned if you don't go to El Nido then you have wasted your trip. It's definitely one of the top destinations in the Philippines!
The scenery was just out of this world and I left wishing that I had spent more time there! Going on an island-hopping tour is a must in El Nido. You'll get to see some incredible places all for PHP1000, which is an absolute bargain!
El Nido has some of the best beaches in the Philippines, such as Las Cabanas and Nacpan. The best thing is that the beaches aren't crowded and it can feel like you have your own private beach at times.
This is one place you can't miss while you're in the Philippines!
Read more: El Nido Travel Guide – The Final Frontier
Palawan
El Nido is a great place and it's just part of the incredible beauty that is on the island of Palawan. There are so many places to visit in Palawan that you have to include the island as part of your Philippines itinerary!
The island is probably the best out of all of the ones that make up the Philippines!
Here's why:
The amount of natural beauty is just insane. You have El Nido, then the amazing islands of Coron, as well as one of the new seven wonders of the world, the Puerto Princesa Subterranean River!
There are lots of activities to do in Palawan, such as rock climbing, island hopping and scuba diving. You could also just spend your time relaxing on the beaches and admiring the beauty around you!
Palawan has something for everyone!
Boracay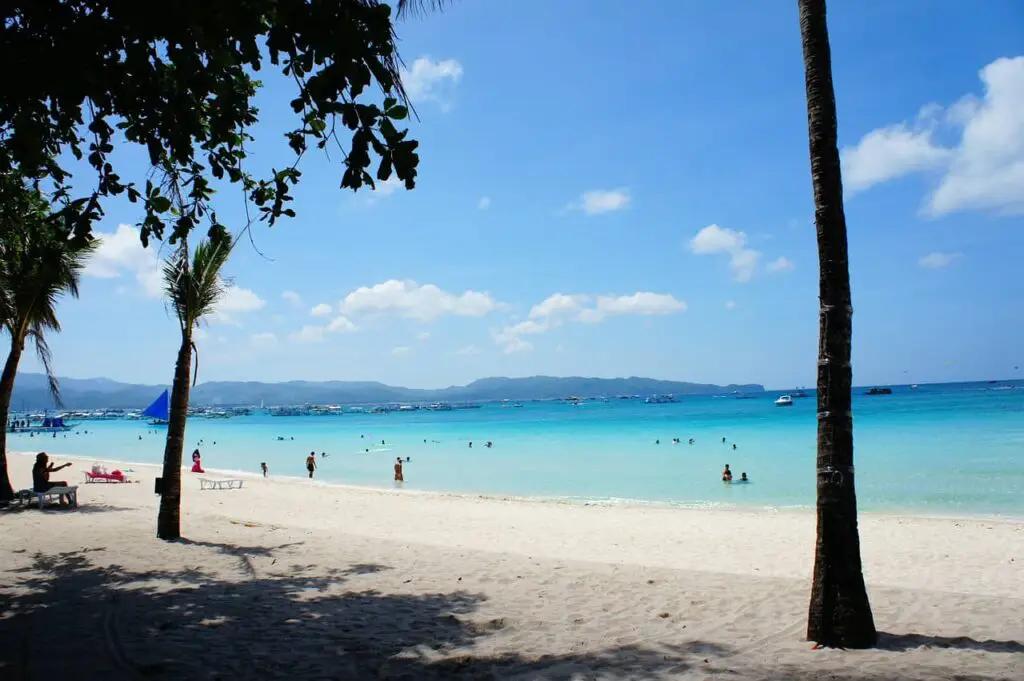 Although not as good as El Nido in my opinion, Boracay is still a great destination.
Boracay is somewhere you'll definitely end up on your time in the Philippines, and it's a great place to meet fellow backpackers.
The main attraction in Boracay is White Beach, which is a beautiful beach and a great place to relax. There are a number of bars along the beach and the nightlife in Boracay is fantastic, with lots of bars to choose from!
One place you must visit in Boracay is Ariel's Point. This is a great place to spend the day, where you can do cliff jumping and go snorkelling or simply relax if you so wish!
Read more: Boracay Travel Guide
Bohol
The island of Bohol is home to diverse wildlife and topography. The Chocolate Hills are a strange sight, as is the Tarsier monkey, which is indigenous to the island and the world's smallest primate.
Bohol is a good place to do some island hopping. There are a number of uninhabited islands close by, such as Virgin Island. Here you can relax on the white sands and bask in the sunshine!
The island is ideal for exploring on a scooter with a number of interesting sights to see in the heart of the island. You can rent one for about PHP400 in the main city of Tagbilaran.
There are a lot of scenic roads in the interior of the island and it's a good way to get a sense of local life and culture on the island!
Banaue Rice Terraces
The Banaue Rice Terraces are representative of what can be achieved when we work with nature, instead of against it!
The terraces in the Ifugao region of the Philippines are an incredible sight. They were designated UNESCO world heritage status in 1995 and after being abandoned by locals, they have recently been revived as farmers have returned to work on them.
The terraces are located in Northern Luzon and you can take a bus from Manila or one of the major towns in the region to get there.
It's worth a visit to see what is known as the "eighth wonder of the world!"
Not So Great
Like everywhere there are a few places that do not show the best of a country. This Philippines backpacking blog lists a few things that weren't overly amazing during my time in the country.
One of these was definitely the big cities, such as Manila. It was a concrete jungle and not a lot of fun for the most part!
Here are a few of my personal downsides to my time in the Philippines.
Manila
Here's the thing:
Manila may be the capital of the Philippines, but it's a hard place to love. Despite the time I spent there, I just couldn't get a feel for the place!
The capital is one big sprawling mess of a city and apart from Intramuros, there is not an awful lot to see. Getting around can be an absolute nightmare due to the ridiculous traffic.
I think to truly enjoy Manila, you would need the help of a local to show the hidden secrets of the city!
My advice would be to spend as little time as possible in big cities such as Manila. You don't visit the Philippines to spend time in a smoggy city.
Read more: Manila Travel Guide
Angeles City
Unfortunately, our trip included a visit to Angeles City, a two-hour drive north of Manila. Sex tourism is the main driving point for this place and it wasn't to my tastes.
The whole city was set up for sex tourism. The main street was full of scantily clad women beckoning us into the various bars that were dotted about.
The vibe in the place was just downright strange and I still don't know why we bothered going there!
Unless this appeals to you, I would avoid this place altogether. Your time could be better spent elsewhere, such as going to visit Palawan.
Traffic
Getting around in the major cities is a task in itself. The traffic in Manila and to a lesser extent Cebu is horrendous.
A trip to the airport can take a lot longer than it should and we almost missed a number of flights because of this, which added unnecessary stress.
Give yourself a bit more time than normal to avoid missing any flights.
The traffic is mainly an issue in the big cities, if you're in smaller cities and towns, then you shouldn't notice any problems!
Getting Around
As the Philippines is an island archipelago nation, getting around entails lots of flights. This can become tiresome and eats into your time in the country.
Flights can be expensive, especially if you don't book them till the last minute!
Where possible, I would book flights a few days in advance. This will save you the hassle of having to arrange travel between islands and put your mind at ease.
The journey is normally part of the fun of travelling around a country. However, it can be stressful in the Philippines, due to all the islands.
Having a rough plan of where you want to go beforehand can help a lot!
Food
Apart from a dish known as sisig, Filipino food leaves a lot to be desired. You can find some great street food, but it is in short supply. Compared to Thailand for example, the food is lacking.
There is also a wealth of American fast-food outlets, so finding healthy non-Filipino food can be a struggle. The huge malls in the big cities have a plethora of choices and some have fantastic restaurants!
That said, I actually found Filipino Street Food to be quite good. You have more choices in the big cities, but in general, I would say that the street food I ate was better than that in cafes or restaurants! Just avoid the Quail's eggs!
How Much Does It Cost to Travel in The Philippines?
Depending on where you go in the Philippines, it can either be cheap or expensive.
Boracay is the prime example, expect to pay more here for just about everything as it's one of the most popular places to visit in the Philippines.
Whereas, somewhere like Bohol will be cheaper as it's less frequented by tourists.
Backpacking the Philippines on a budget is entirely possible, as it's a cheap country. However, if you're not careful, you can end up spending a lot of money!
Below are a few of my Philippines travel tips to save money!
Food and Drink
Food is generally inexpensive in the Philippines, there are a wealth of markets and street food stalls in most locations.
Fast food is popular in the Philippines and there are a lot of outlets in all locations if you don't fancy the local food.
The average cost of a meal is about 140PHP, which can go up to 200/300PHP if you eat in a more established restaurant.
Alcohol is very cheap in the Philippines and a bottle of San Miguel will set you back 100PHP. If you prefer spirits, then rum is the way to go, Filipino Rum is ridiculously cheap!
It can be as cheap or even cheaper than beer in some bars and you can buy a bottle of it in most shops for about 200PHP!
Accommodation
The price of accommodation in the Philippines can vary due to a number of factors.
Expect to pay more in the more touristy areas such as Boracay, while staying in shared accommodation is generally cheaper than a private room in a hotel.
Hostels don't really seem to have taken off yet in the Philippines. We struggled to find many during our time in the country.
There are a number of hostels out there, but they are short on the ground.
I used Agoda a lot in the Philippines to book accommodation and highly recommend it.
You will find great deals here, which can see you getting a room in a decent hotel for 50 or even 70% cheaper than normal!
Travelling Around
The biggest expenditure backpacking around the Philippines is moving between the 7,000 islands that make up the Philippines.
As I mentioned above, there are a lot of cheap airlines operating in the Philippines and provided you book in advance, you can get a good deal. We often booked flights a few days, or in some cases, on the day of the flight.
If you want to save money don't do this, the price quickly rises the closer to the flight you get, booking early will save you a lot of money.
An average flight from Manila to Cebu, for instance, should cost around 2000PHP. Flying to most of the main hubs in the Philippines, such as Boracay and Puerto Princesa, will cost a similar price.
However, you will pay a bit more if you are going to a location a bit more off the beaten track such as El Nido or Coron.
Concluding Thoughts
The Philippines is a great country with lots to do, but the above is only scratching the surface, with more time there is a lot more to see and do.
A minimum of a month is what I recommend for travelling the Philippines. Basically, the more time the better. As the country's tourism board states: It's more fun in the Philippines!
I hope you enjoyed reading my Philippines travel blog. Have you been to the Philippines?
Do you agree or disagree with my Philippines travel guide? Let me know what you think, by leaving a comment below!
For more information on backpacking in the Philippines, check out the Lonely Planet guide to the Philippines!
Need Travel Insurance?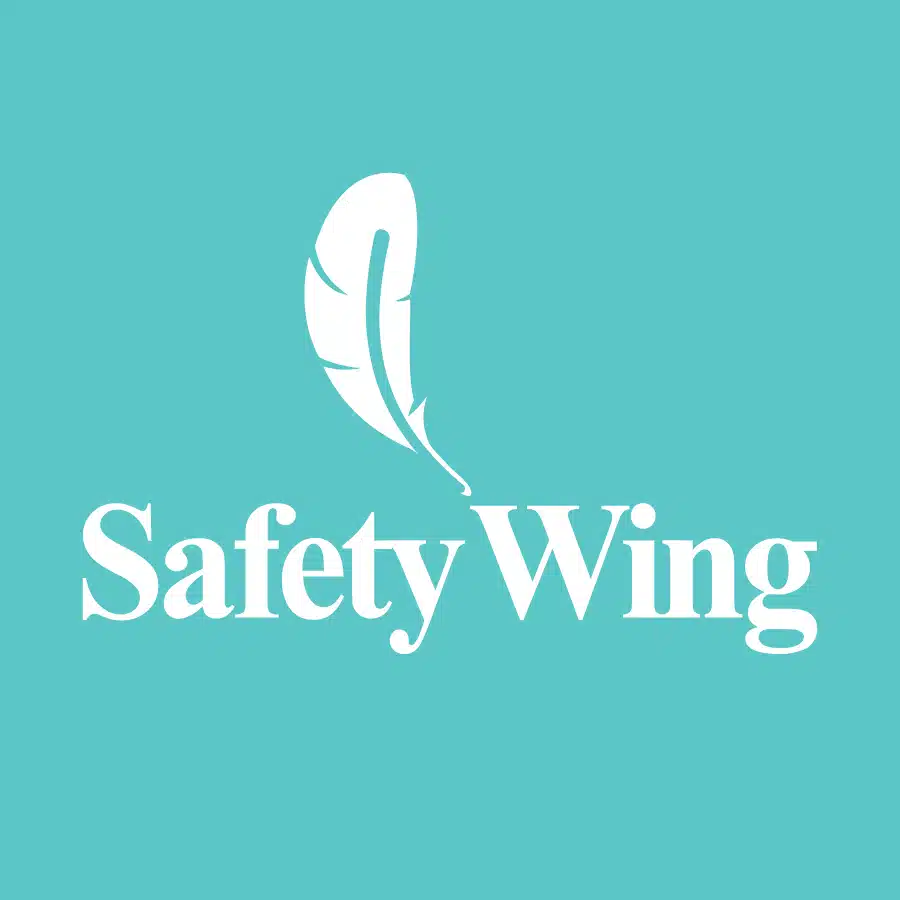 SafetyWing offers coverage that will give you peace of mind while you're on the road. If you want to protect yourself while you're on the road, then click the image to take a look at the options available to you.
Pin For Later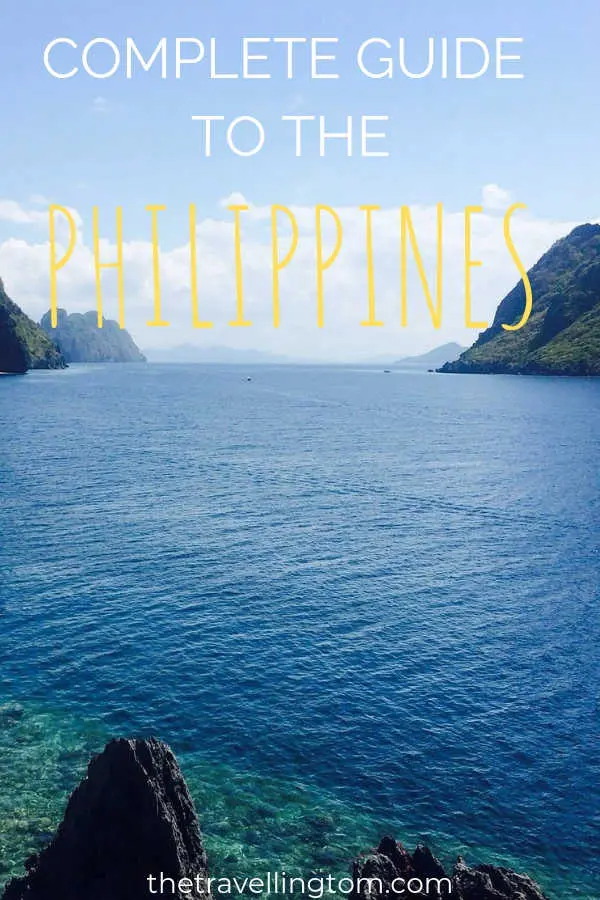 Tom is a travel addict who first left England to spend a year Down Under. Not satisfied with this, he then went to New Zealand, about as far away from home as he could get. He is now planning his next adventures in Europe and Canada while maintaining this blog. Check out the about me page to learn more!