This list of famous landmarks in Northern Territory will provide you with lots of inspiration for exploring this fascinating part of Australia!
The Northern Territory is the least populated part of Australia, but it's one of the most fascinating and beautiful. There are a lot of landmarks in the Northern Territory that reflect the region's beauty and diversity.
From Uluru and Kata Tjuta in the Red Centre, Darwin and Arnhem Land in the Top End and lesser-known NT landmarks like the Mataranka thermal pools, there are plenty of places to see while you're there.
This part of Australia can often get overlooked, but it really shouldn't because there's a wealth of places to visit here. Whichever Northern Territory landmarks you check out from the list below, you will be treated to some spectacular sights!
Table of Contents
Famous Landmarks in Northern Territory
Devil's Marbles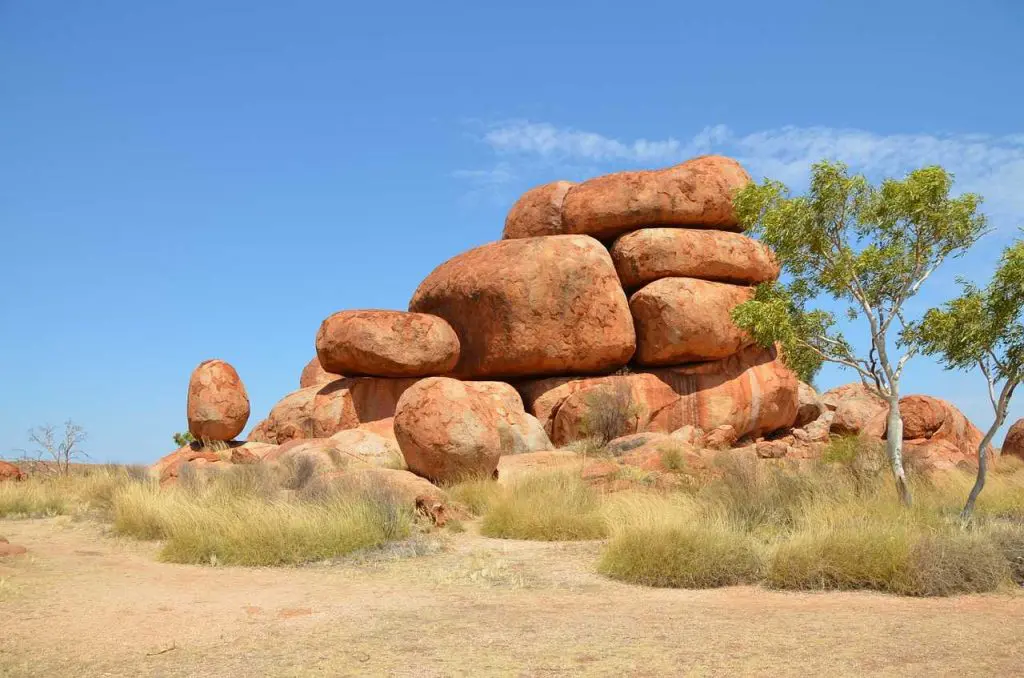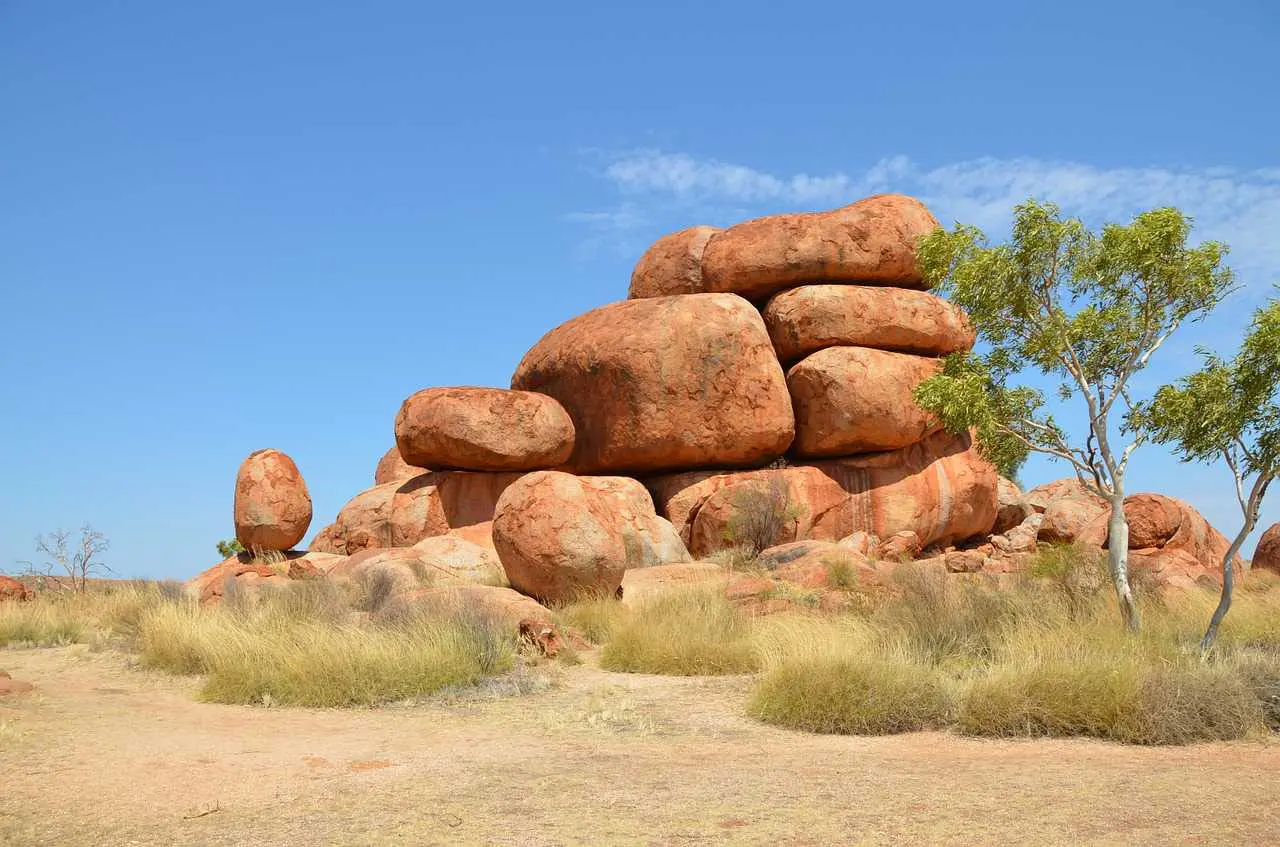 The Devil's Marbles are one of the most incredible natural landmarks in the Northern Territory. The main reason is that when you first get there, it looks like they've been placed by hand rather than the result of natural forces.
This is why they have the popular name Devil's Marbles, as opposed to their indigenous name, Karlu Karlu.
The reality of the marbles is that they're the result of millions of years of erosion. They were one of my favourite things I saw while backpacking in Australia due to their unique nature and the fact you can walk around and on them.
You have to check them out while you're in the Northern Territory, and you'll probably leave wondering how they were created by erosion and not human intervention!
Uluru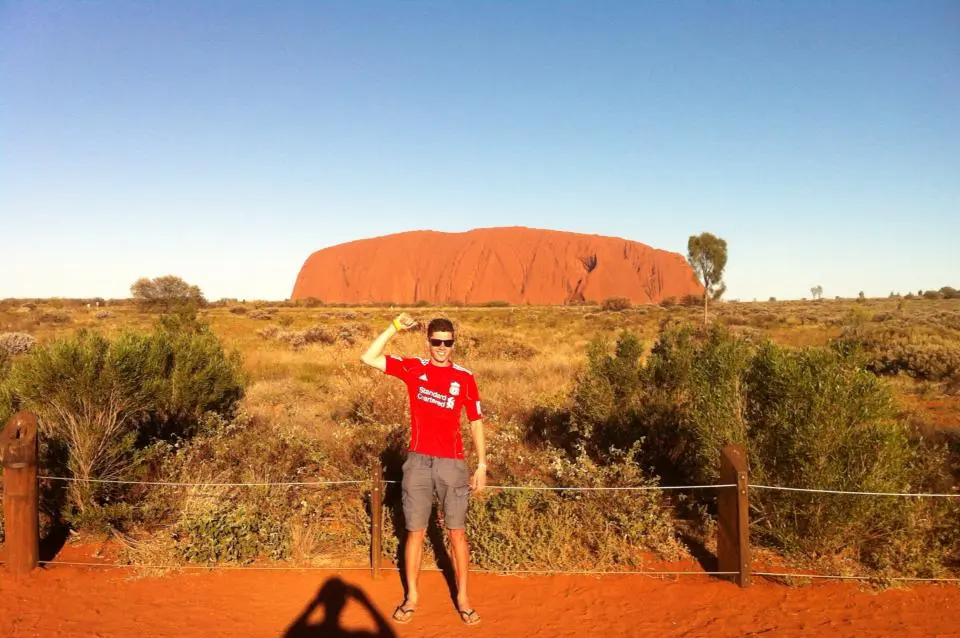 Uluru, also known as Ayers Rock, is one of the most incredible sights you'll see in the whole of Australia. It's an icon of the country and has to be visited while you're there.
I was blown away when I was able to visit Uluru. It looks exactly like it does in photos, so much so that it's almost like a giant cardboard cut-out. It's hard to describe how incredible it is until you see it in person.
It's worth getting up early to see it as the sun rises and sets. The reason is that Uluru changes colour throughout the day, its red at dawn and dusk and orange during the remainder of the day.
You can't climb up Uluru, as the local Aboriginies consider it a sacred rock, but you can walk around the base to get a sense of how big it is. If you're lucky enough to visit when it's wet, you'll also be able to rain cascading down Uluru, a phenomenon that only 1% of visitors see!
Kata Tjuta
Kata Tjuta, also known as The Olgas, is the lesser-known part of the Uluru-Kata Tjuta National Park. It's another rock formation that doesn't get the attention of Uluru but is arguably just as good, if not better.
The reason for this is that you can walk through Kata Tjuta and appreciate just how big and grand the structure is.
Kata Tjuta is higher than Uluru, which is incredible considering the size of Uluru. When you get there, you have two choices about the track you can take, as not all of Kata Tjuta is open to public access.
You can take the Valley of the Winds path, which takes about 3 to 4 hours or the Walpa Gorge walk, which is about two hours. Both take you through the domes and allow you to see how amazing this natural rock formation is.
It's hard to put into just how spectacular Kata Tjuta is. If you're on a road trip from Adelaide to Darwin, you have to stop. You won't regret it!
King's Canyon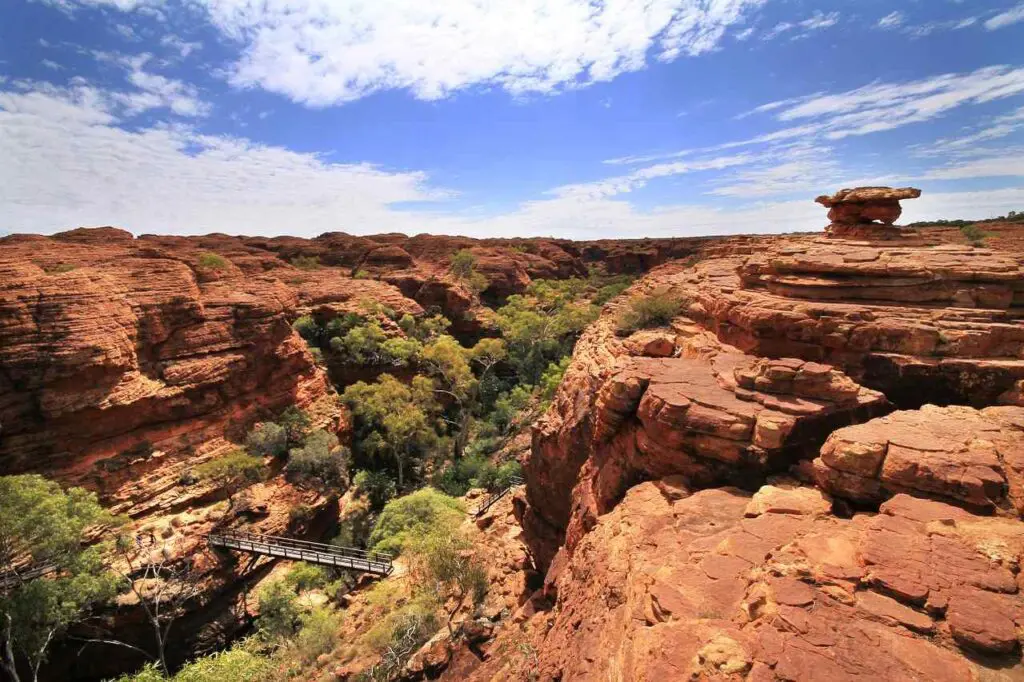 If you thought Kata Tjuta was a poor relation to Uluru, then King's Canyon is an even poorer relation to them.
It's located just outside of the Uluru-Kata Tjuta National Park and is a spectacular sight in its own right. It's one of the lesser-known landmarks in Northern Territory but one of the best.
You have three walks to choose from at Kings Canyon. You can take the 2 km Kings Creek Walk, the 6 km loop of the Kings Canyon Rim Walk or, if you're feeling adventurous, the 22 km Giles Track.
I did the Kings Canyon Rim Walk, which allows you to see a large part of the canyon and take in the stunning views!
---
You might also like:
---
Arnhem Land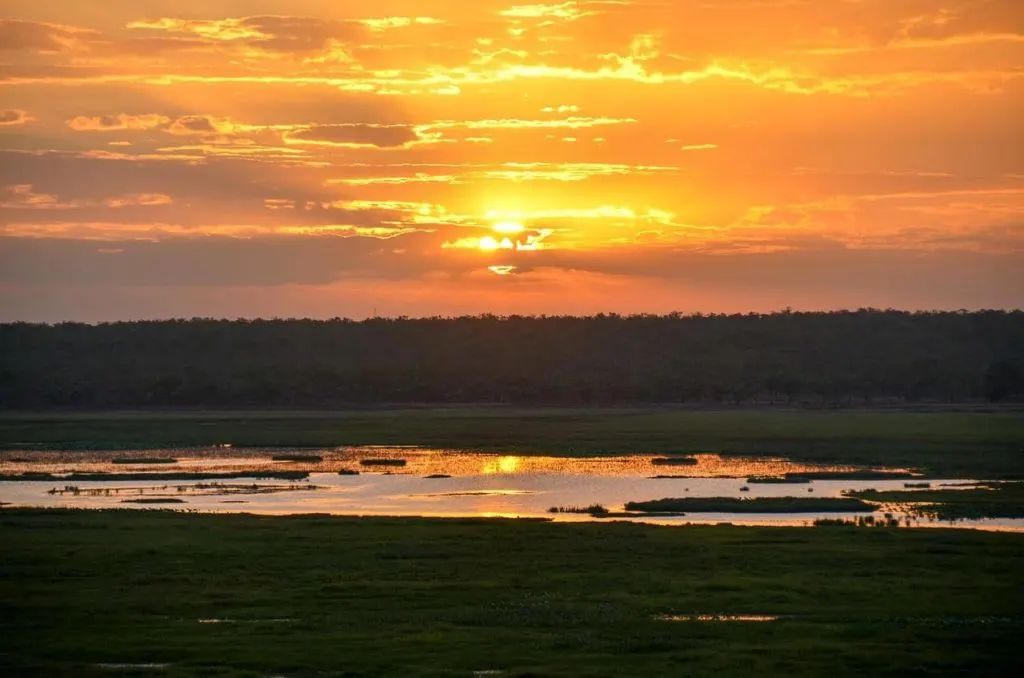 If you want to get out into the wild in the Northern Territory, then a trip to Arnhem Land is for you.
Arnhem Land is part of the Top End of the Northern Territory and is one of the least populated parts of the region. It's also home to a large Aborigine population.
Due to its isolation from not just the rest of the Territory, but Australia, it's not as commercialised as the rest of the region. This is good and bad, good because you get a more authentic experience, bad because it can feel like you're out in the wild west at times.
However, if you decide to visit, you'll find plenty of beauty spots. Macassan Beach and Nhulunbuy are two, and you'll also encounter lots of remarkable scenery and maybe the odd croc too!
Litchfield National Park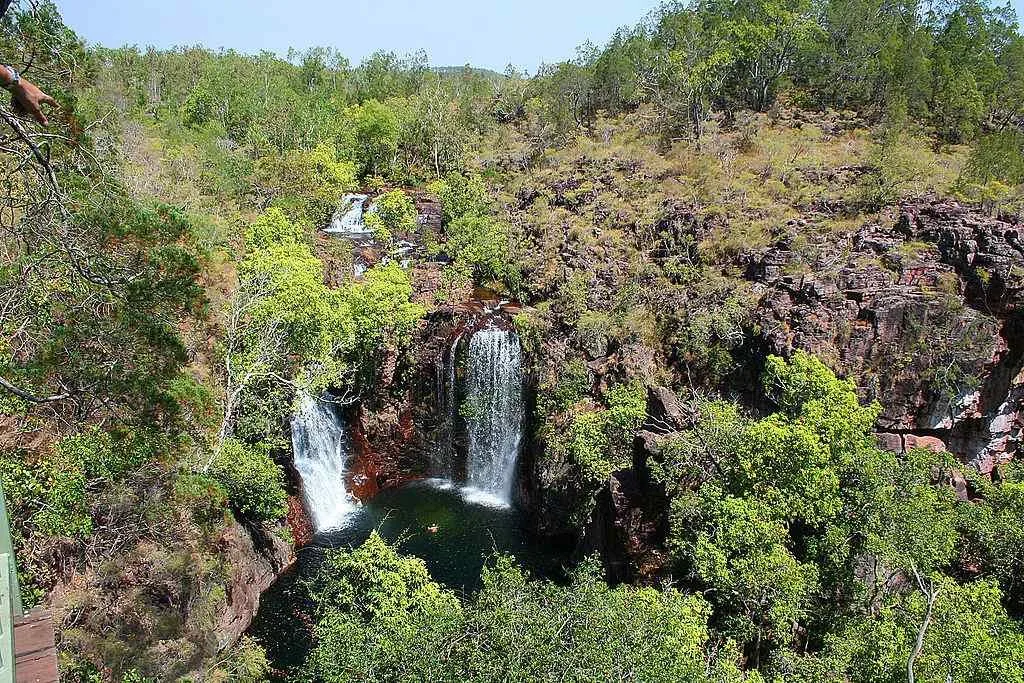 Litchfield National Park is one of two national parks, along with Kakadu which are part of the Northern Territory's Top End.
While not as big as Kakadu, Litchfield is still one of the best places to visit in the Northern Territory due to its beauty and because it's easier to see more of it than Kakadu.
The best thing about visiting Litchfield is the sheer number of waterfalls that are in the park. You're split for choice, but I recommend Florence Falls, as it's spectacular, and the deep pool at the bottom is perfect for swimming.
You can also walk one of the many tracks in the park that will give you a sense of what makes Litchfield so special. The 8 km Greenant track is perfect to see the park and its many sights, including giant termite mounds and various rock formations.
Mataranka Thermal Pools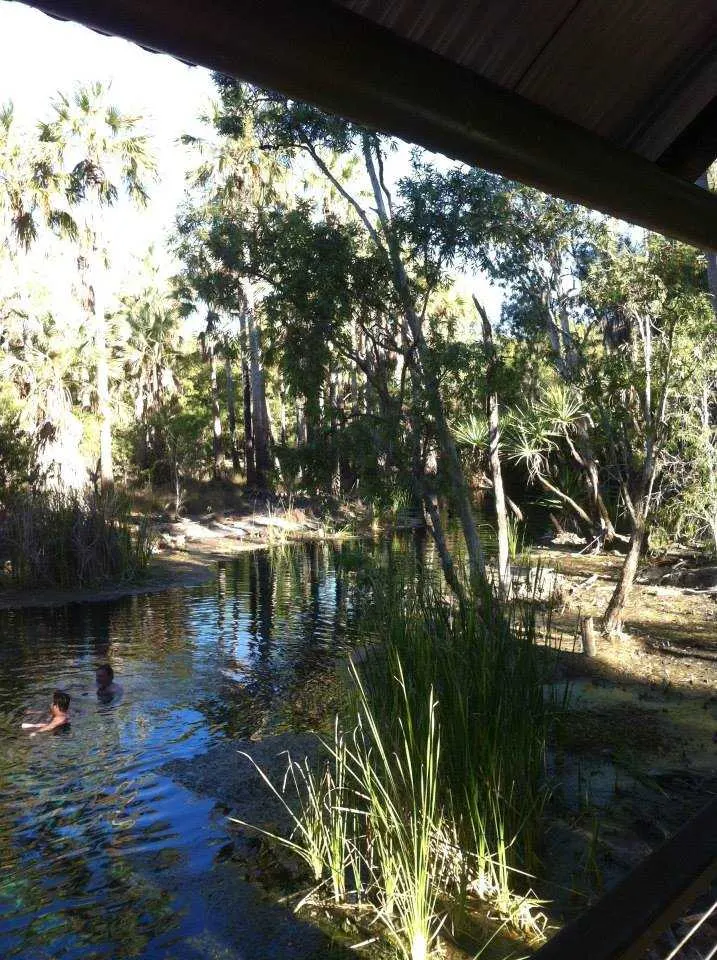 If you're looking for something a bit different to do in the Northern Territory, then visiting Mataranka Thermal Pools is a good idea.
The pools are a natural phenomenon that occurs due to 30.5 megalitres of 30-degree hot water coming from nearby Rainbow Springs. If you're doing a Perth to Darwin road trip, it's a perfect place to stop and take an hour or two to relax.
I can't describe how good it felt to get out of the car and relax in the hot water. It felt luxurious. A word of warning, don't dip your head beneath the water. Nasty bacteria can get up your nose and cause you all sorts of problems.
You're also likely to see a lot of crowds there, as it's a popular spot. But if you get there early or a bit later in the day, you might find it quieter than usual.
Nitmulik National Park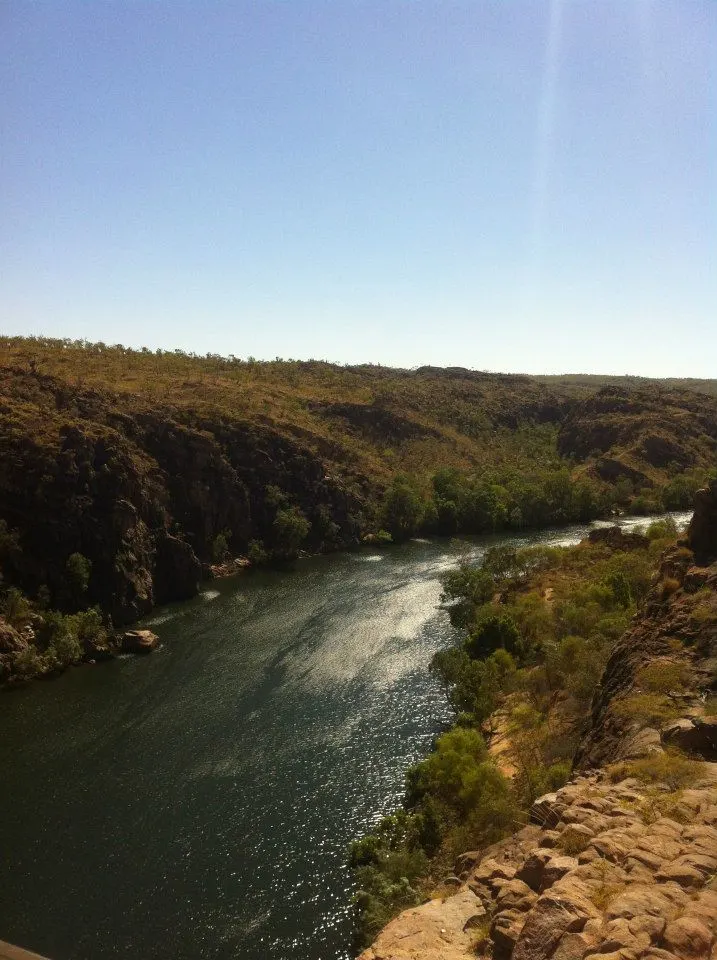 Nitmulik National Park is a fantastic place you have to check out while you're in the Northern Territory.
It's not the most well-known national park, but it's not far from Darwin and is a perfect spot to visit if you're driving up there or looking for a day trip.
The main attraction is Katherin Gorge, which is spectacular. The great thing about Nitmulik is that you can enjoy the gorge from the top and bottom. You can jump in the water at the bottom, although beware, there are crocs about.
While you can hike to the top and get an idea of the scale and size of the gorge. You'll also get a fantastic view of the surrounding area that's worth the trip alone!
Kakadu National Park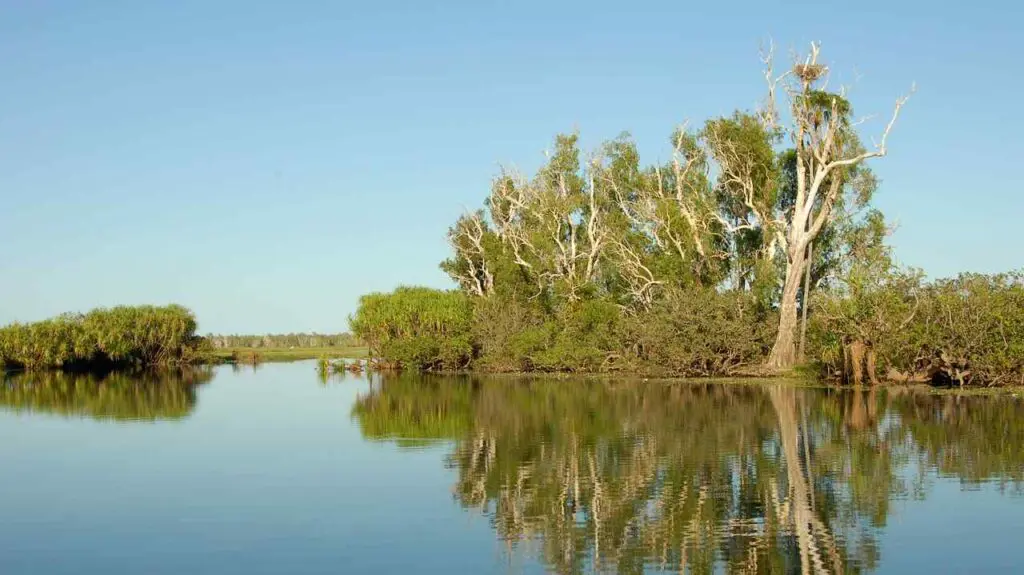 Kakadu National Park is one of the biggest national parks in Australia. It's so big that it covers a similar area to Wales at 19,804 km2 (7,646 sq mi), which is insane!
As you can imagine, you'll struggle to see all of Kakadu. You'd need a good couple of months to do that. However, you can see a lot in two to three days, which is probably the right amount of time to see the park.
You'll see plenty of rock formations and landscapes that will blow you away. You'll also see lots of aboriginal sites such as Ubirr and Nourlangie that have paintings that date back thousands of years, in one case 20,000 years!
An important thing to note is that it's better to visit during the dry season, which runs from May to October, as a lot of the sites are shut during the wet season.
Tropic of Capricorn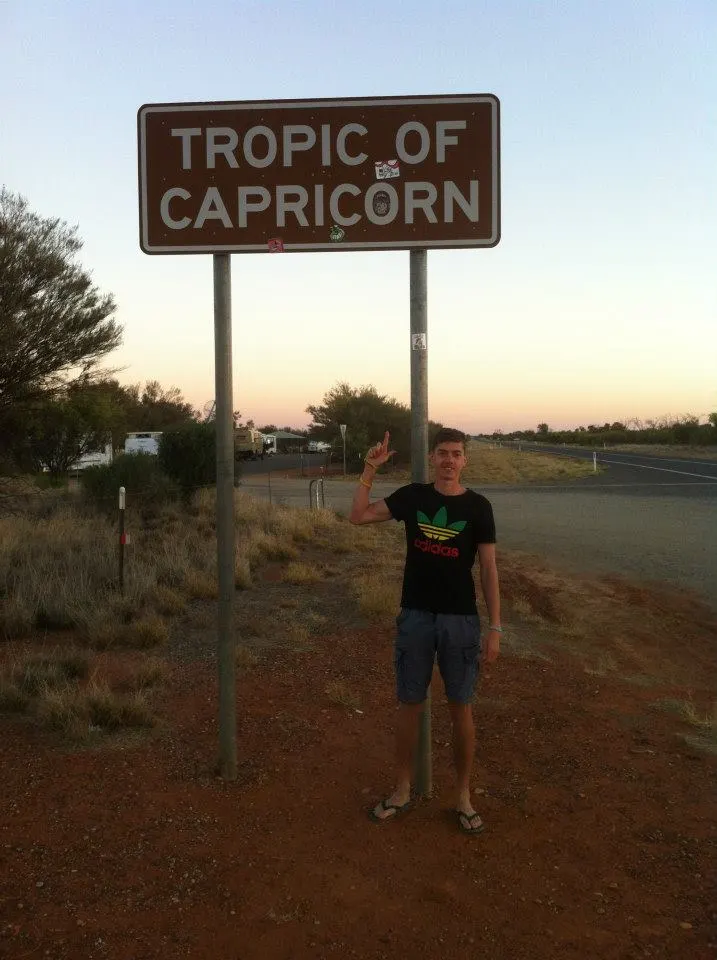 The Tropic of Capricorn runs right through the Northern Territory, and that is why you'll find the air becoming more humid and the landscape starting to change as you head north.
One of the coolest landmarks in Northern Territory is the marker that locates where the Tropic of Capricorn is.
It's just north of Alice Springs and is a good photo opportunity. There are also a few signs detailing what happened to some of the early explorers of Australia, who went 'Troppo' due to the intense heat and humidity of the region.
Darwin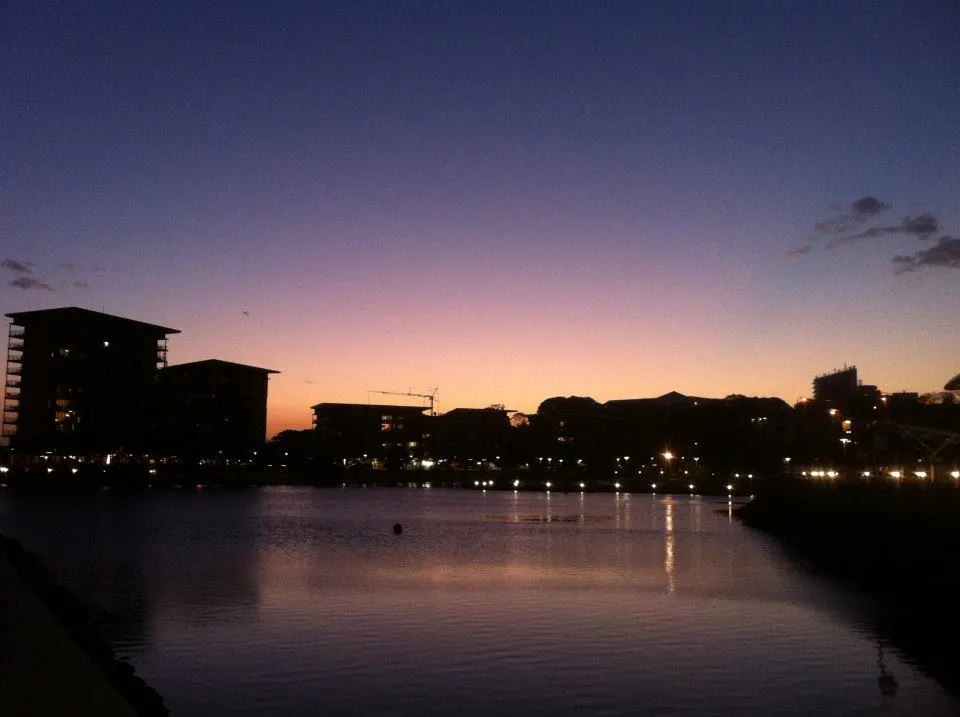 Darwin is the biggest city in the Northern Territory and is located right at the top of the Top End.
When I went to visit Darwin, I didn't know what to expect but I was pleasantly surprised. By the standards of cities in Australia, it's not the biggest but there's still lots of stuff to do.
One of my favourite things to do in Darwin was to go to the marina and relax by the pool and read a book. This part of the city is fantastic and there's a wave pool nearby too if you feel like having a bit more fun.
The city has a lively nightlife scene too, and if you visit during the dry season, you won't need to go far to find a party! The only downside to Darwin is the changing seasons. As it's a tropical city, it has distinct seasons, and if you're there during the wet season be prepared for a lot of rain!
Mindil Beach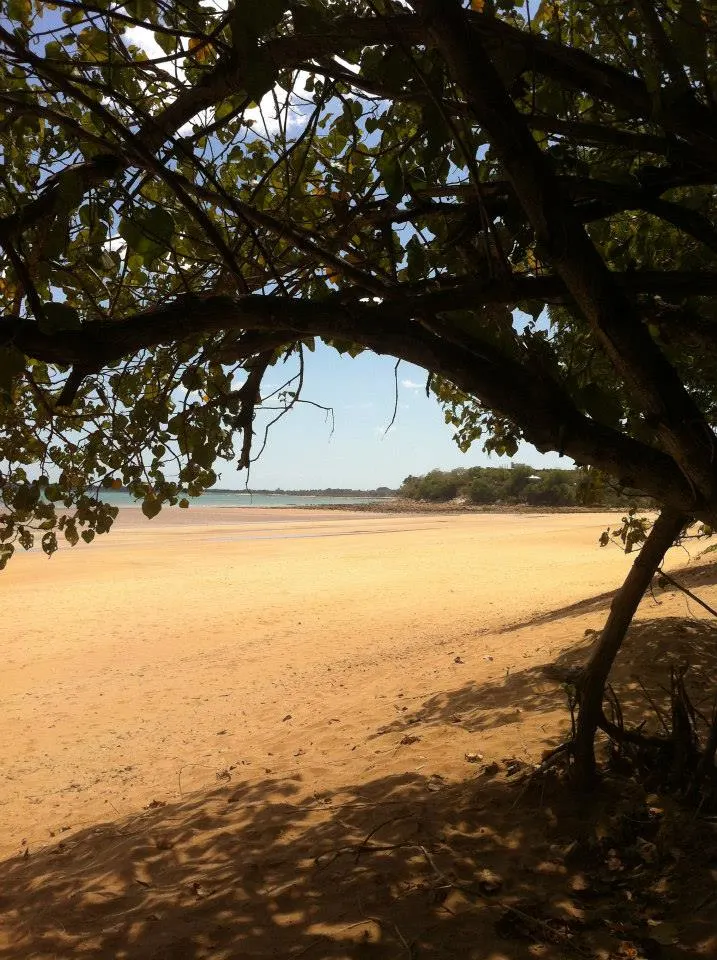 I felt I had to separately include Mindil Beach in this list, as it's such a good place.
While Darwin has a few beaches, none are better than Mindil Beach as far as I'm concerned. It's a landmark in the Northern Territory you have to visit for a variety of reasons.
One is that it's a beautiful place. Coming here on a warm day is a great way to spend the day. Another is the market that operates here in the evening during the dry season. There are a lot of different stalls where you can buy a variety of stuff and a lot of food too.
But perhaps the best thing about Mindil Beach is watching the sunset. As you're closer to the equator in Darwin, you get a much more dramatic sunset, and there aren't many better spots in Australia to witness a sunset!
Alice Springs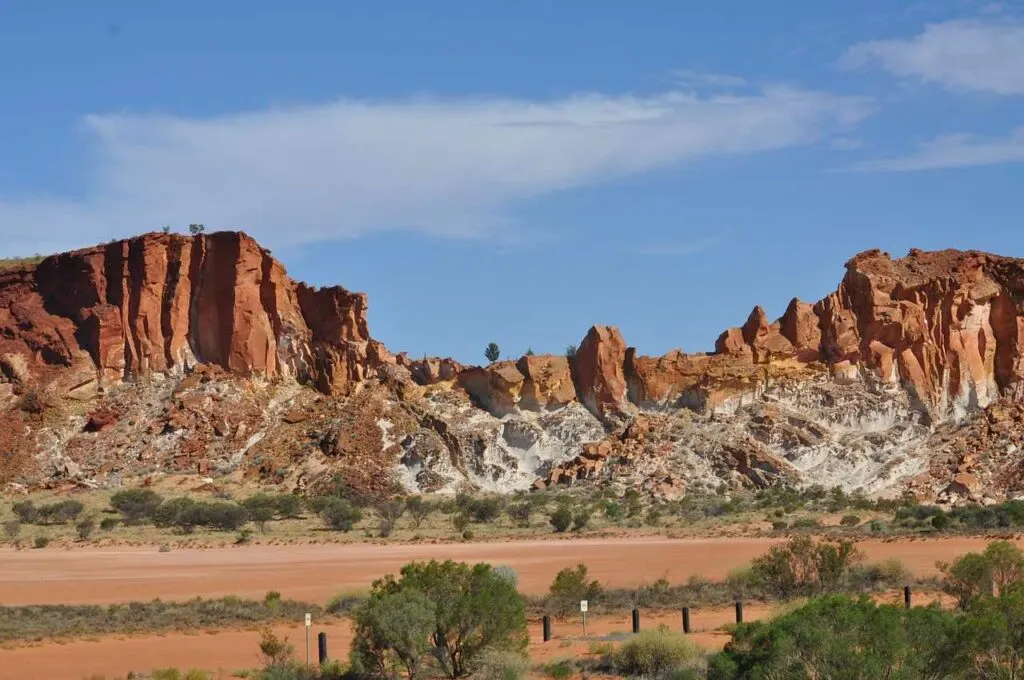 Alice Springs is the biggest settlement in the south of the Northern Territory, and somewhere you'll stop off after visiting Uluru.
The town isn't the biggest but it's still an interesting place to visit and has a frontier feel to it due to its location in the Red Centre, as this part of Australia is known.
One of the spots you should check out in Alice Springs is Anzac Hill. You'll get a good view of the town and the surrounding area from up there. You'll also find a lot of aboriginal art galleries in the centre too.
Alice Springs is a great place to visit and one you shouldn't miss while you're in NT.
Daly Waters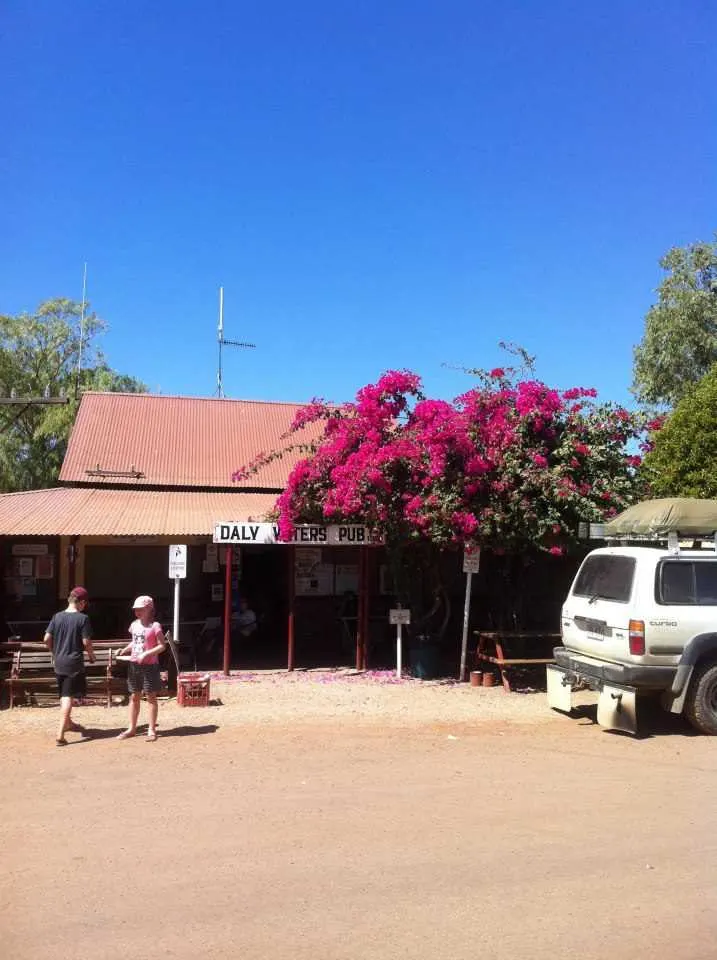 Daly Waters is a small settlement that you'll find on the Stuart Highway if you're driving up to Darwin.
While there isn't much there, what is there is very interesting. You have the Daly Waters Pub, which is the perfect place to stop, take a break and get something to eat before you head back on the road.
There are also all sorts of vehicles and machines outside too, which makes it one of the most interesting man-made landmarks in the Northern Territory.
The Stuart Tree, which was supposedly marked by John McDouall Stuart as he made his way from Alice Springs, is close to the airfield in the town. It was also the site of the first QANTAS flights in Australia. The original hangar is still there and houses pieces of equipment from the early days of the enterprise.
Chambers Pillar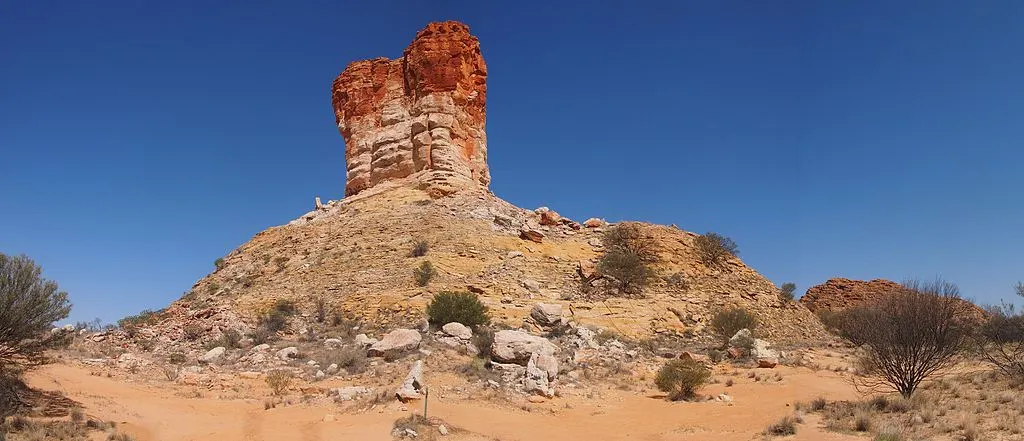 Chambers Pillar is a solitary column that towers into the sky 50 m above the Simpson Desert.
The pillar is located 160 km from Alice Springs, so it's a fair drive to get there but it's worth it as it's a striking sight.
Just like the Devil's Marbles, Chambers Pillar is the result of millions of years of erosion, in this case, 350 million. The sandstone was worn down over that time until the pillar was exposed.
You can follow walking tracks that will take you around the pillar, and a viewing platform where you can get a picture of one of the most striking landmarks in NT!
Need Travel Insurance?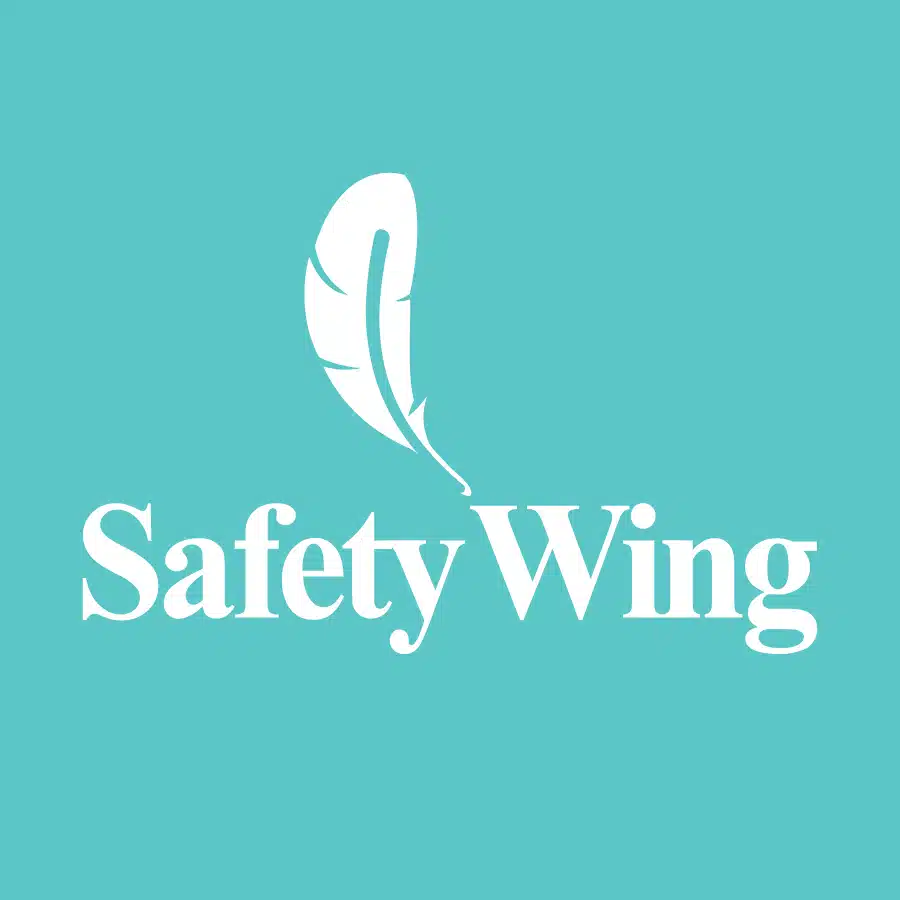 SafetyWing offers coverage that will give you peace of mind while you're on the road. If you want to protect yourself while you're on the road, then click the image to take a look at the options available to you.
Tom is a travel addict who first left England to spend a year Down Under. Not satisfied with this, he then went to New Zealand, about as far away from home as he could get. He is now planning his next adventures in Europe and Canada while maintaining this blog. Check out the about me page to learn more!