There are plenty of famous landmarks in New South Wales you have to check out while you're in the state.
The most well-known are those in Sydney, the Harbour Bridge, Opera House and Bondi Beach, you can't visit Australia without seeing these NSW landmarks.
However, there are plenty of other places that are worthy of attention too. The outback mining town of Broken Hill, far-flung Lord Howe Island and the amazing Grand Pacific Drive.
All of these prominent landmarks in NSW are places you should have on any itinerary that involves the state. New South Wales is a beautiful place and below are some of its must-see attractions!
Disclosure: This article may contain affiliate/compensated links. For more information, please see our full disclosure policy.
Table of Contents
Famous Landmarks in New South Wales
Sydney Opera House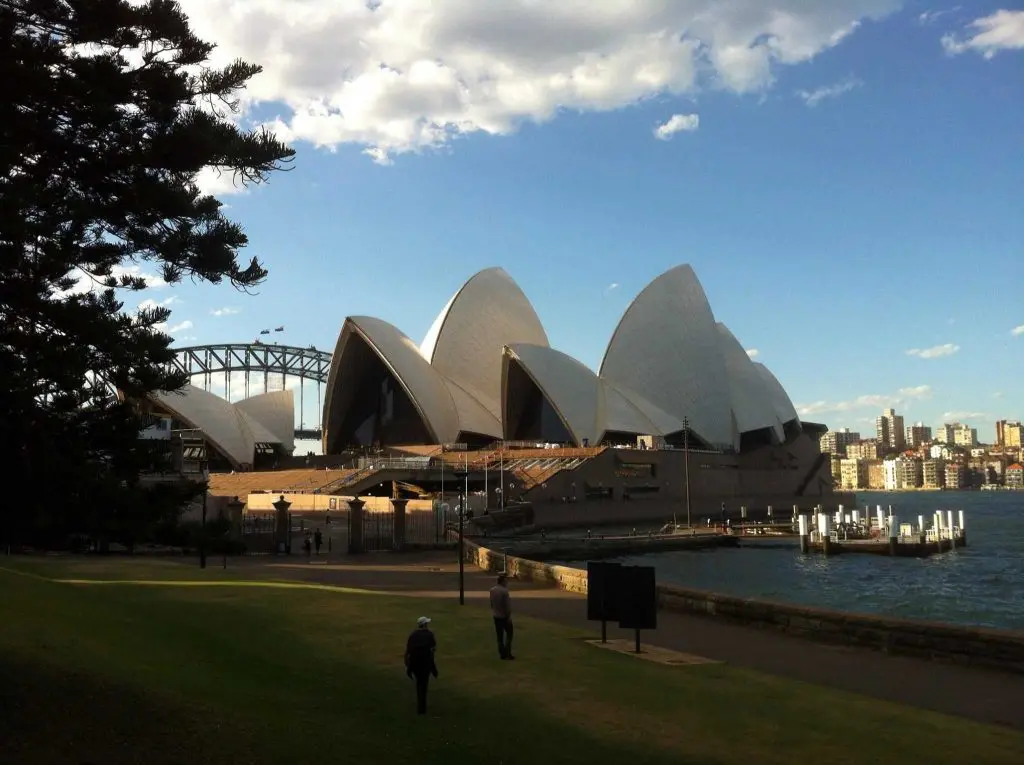 The Sydney Opera House is undoubtedly one of the most famous landmarks in New south wales.
The building is recognisable by almost everyone and is one of the icons of the country. It forms part of the magnificent Darling Harbour area, which has to be visited whether you spend 3 days in Sydney or longer.
Opened in 1973, it's an incredible building that takes your breath away when you get up close to it. As impressive as it is from a distance, it's even more so up close. The Opera House is home to Opera Australia, the Sydney Theatre Company and the Sydney Symphony Orchestra if you want to take in a show while you're there.
If not, you can book a tour of the Opera House to see it from the inside and learn more about its history and widely renowned design.
Sydney Harbour Bridge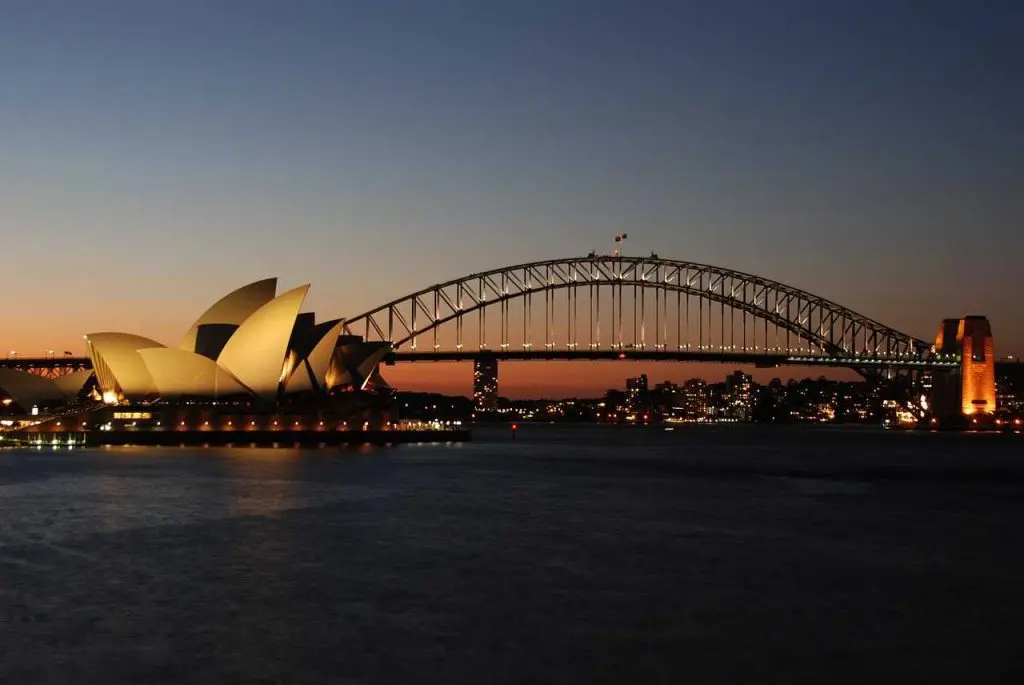 Alongside the Opera House, the Sydney Harbour Bridge is another of Sydney's landmarks that's famous worldwide.
While it's kind of pointless to debate which one is better, I did find the bridge more impressive. But then that's because I love bridges! Even for me, the Harbour Bridge was an incredible sight and blew me away.
The first time you glimpse the bridge is likely to be in between buildings as you make your way to the harbour. It peeks out and teases you before you're able to view it in all its glory.
Once you get there, you'll be blown away. It's even more impressive in person than in photos. You can buy a ticket to climb to the top, but also make sure you walk across the bridge so you can fully appreciate its size and scale. You can also get some fantastic shots of the harbour and the surrounding area this way too!
Blue Mountains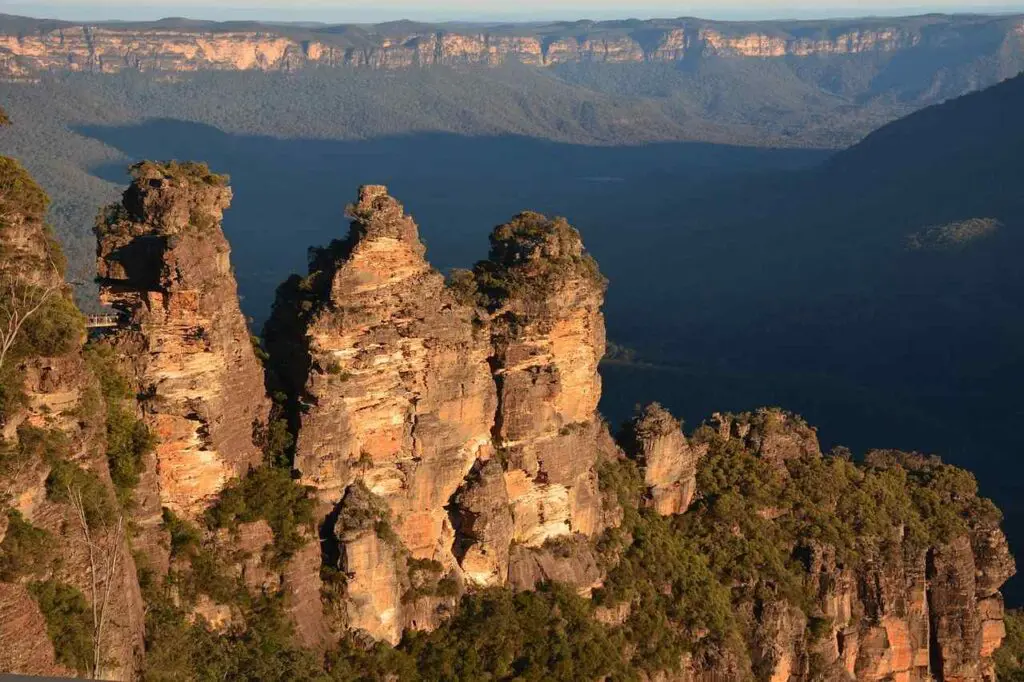 Heading outside of Sydney now to the Blue Mountains!
When I say outside, I mean 50 kilometres (31 mi) outside, as the mountains aren't that far from the centre of the city making it an ideal place to go on a day trip from Sydney.
You'll find fantastic scenery and lots of trails and hikes to do in the Blue Mountains National Park once you get there. The primary attraction is the Three Sisters, which is a sandstone rock formation with three rocks protruding into the sky.
If you're lucky, you'll be able to spot the blue haze in the Jameson Valley behind the Three Sisters which typically occurs in the area and makes for spectacular photos!
Byron Bay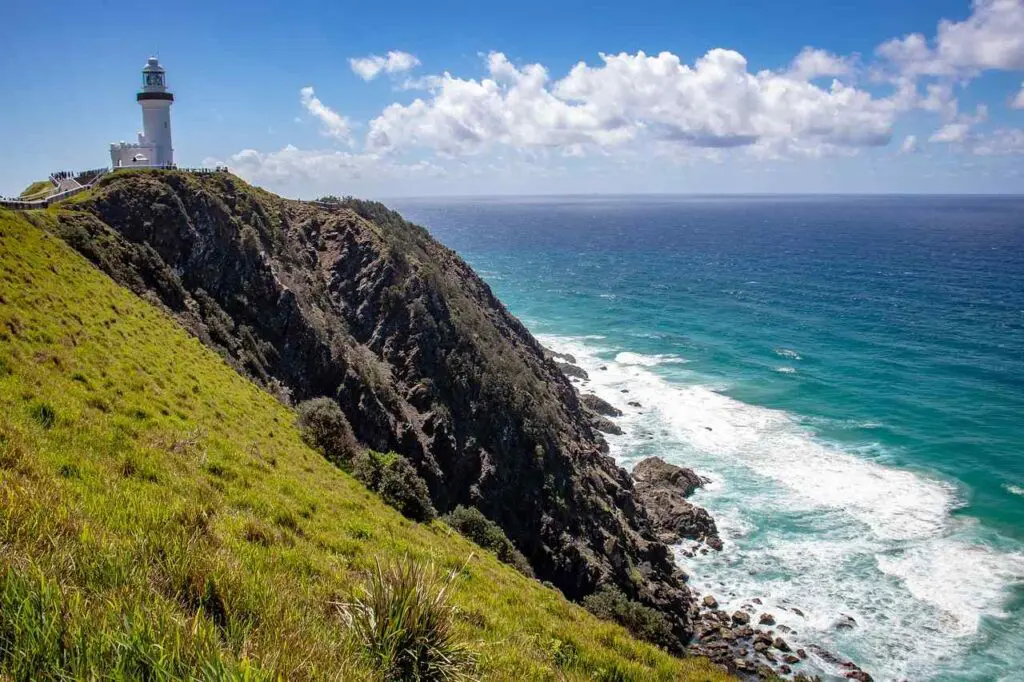 Byron Bay is one of the best places to visit in New South Wales for a multitude of reasons.
One of the main ones is that the vibe here is so cool. It's a very laidback town and is a sharp contrast to the hustle and bustle of Sydney for example, even a smaller place like Newcastle.
Another is the scenery. Byron Bay with some incredible sights, none more so than Cape Byron which looks out towards the Pacific Ocean and is the easternmost point in mainland Australia.
You have to make the trek out there to see the lighthouse and the views you get as they truly are spectacular!
Bondi Beach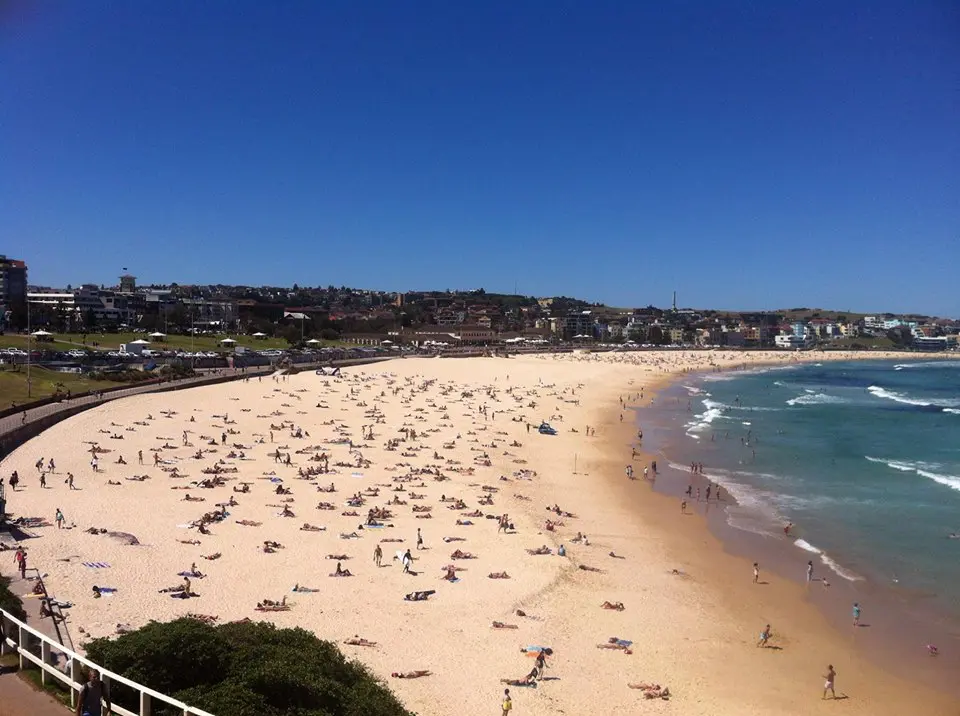 Bondi Beach is another landmark in New South Wales that is known around the world.
If you have asked anyone to name one of the beaches in Australia, most of the time Bondi would be the answer. It has that reputation for a reason and when you get there for the first time you'll see why.
The beach is huge and a natural meeting place, it's also visually stunning and a hive of activity. This can put people off, as it can become too busy sometimes, but it's somewhere you have to when you're in Australia.
There's plenty to do in the surrounding area as well as relax at the beach. You can walk down the pavilion, have lunch at one of the numerous cafes and restaurants, as well as walk the Bondi to Bronte path, which is stunning and takes you to two more beaches too!
---
You might also like:
---
Yamba
One of the best places to stop if you're doing a Sydney to Brisbane road trip is Yamba.
It's a small town that's located between Coffs Harbour and Byron Bay and is an underrated destination in New South Wales. The beaches here are some of the best you'll find in the state and are much quieter than other spots.
The great thing about Yamba is that there are five beaches to choose from such as Main Beach, Pippi Beach and the brilliantly named Spooky Beach! If you were there for a week you could spend a day at each one!
The Angourie Blue and Green Pools is another spot you have to check out. They're spectacular swimming pools, although you will have to check whether you can swim in them depending on the time of year, they are just outside the centre of town. Scenic and stunning, they make a great change from spending a day at the beach!
Coffs Harbour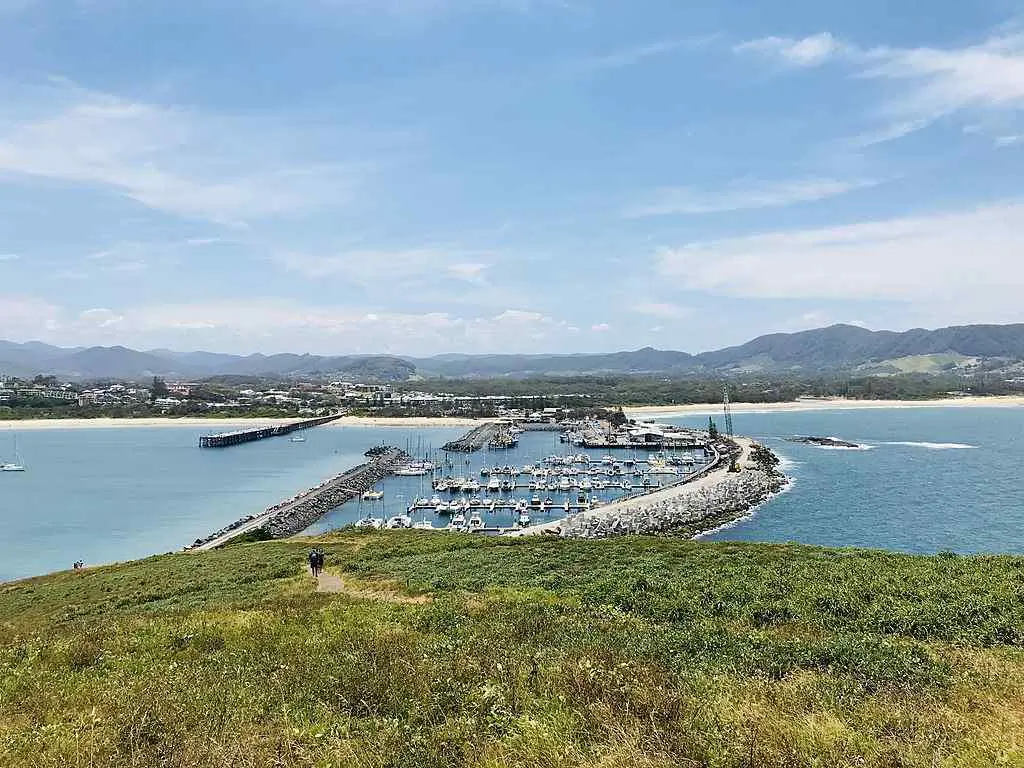 Beachside destinations are one of the best reasons to visit Australia and that's what makes Coffs Harbour such a good place to check out while you're in New South Wales.
As with most places along the coast in New South Wales, there are plenty of things to do. You can relax at the beach, swim, surf or go kayaking and cycling. If you're an outdoors person, then Coffs Harbour is a great place to visit!
One of the stranger sights in Coffs Harbour is the big banana, which is one of the many big things in Australia that are commonplace in towns and cities. It's a cool sight and presents a great photo opportunity too!
The Muttonbird Island Nature Reserve is another spot you have to check out while you're in Coffs Harbour. There's lots of great wildlife to see here and it makes a nice contrast to spending a day at the beach.
Kangaroo Valley
Kangaroo Valley is one of the lesser-known landmarks in New South Wales but it's one you should still check out regardless.
It's located 160 km (99 mi) south of Sydney and is a good place to go for the day if you want to explore some of the more rural and wild parts of New South Wales.
When you get there, you'll be surrounded by beautiful green landscapes and towering escarpments that give the valley its distinctive look. One place you have to check out while you're there is Hampden Bridge, which takes you across the Kangaroo river and is the sole remaining wooden suspension bridge in Australia.
With so many things to do in Kangaroo Valley such as hiking, cycling and just ambling around and admiring the beauty, Kangaroo Valley is a must-visit in New South Wales!
Jervis Bay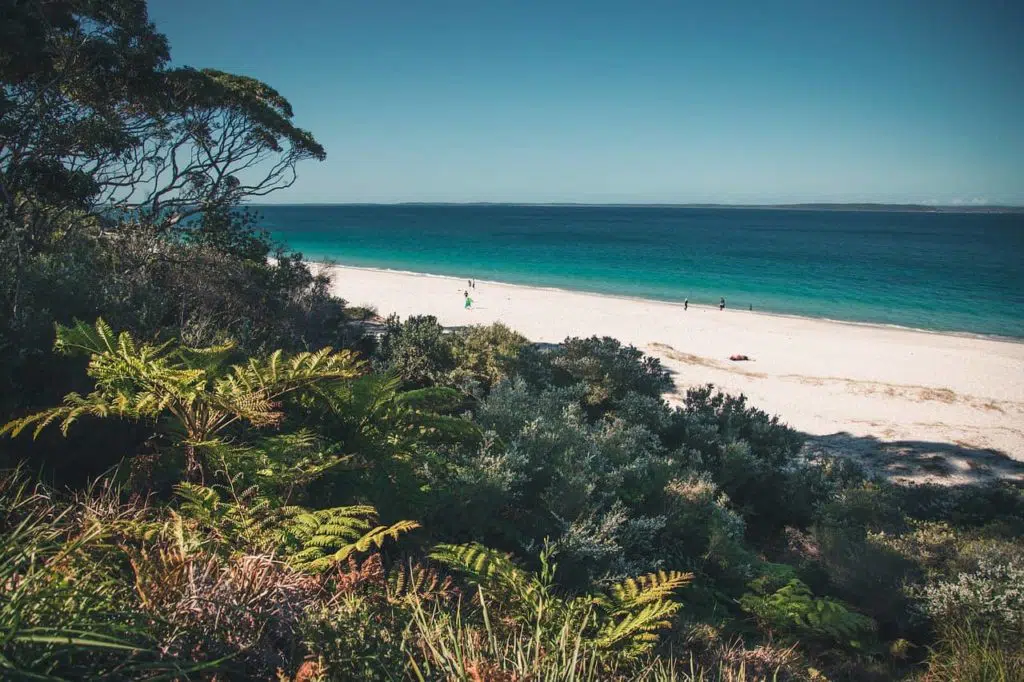 New South Wales isn't short of beach towns, and Jervis Bay is one of the best that you'll find dotted along the coast.
If you're doing a Melbourne to Sydney road trip, then it's somewhere you have to stop. The beach here is fantastic and the scenery is incredible too!
Jervis Bay is actually a collection of small towns that centre around the bay. There's not just one beach, but many and if you're in the area for a while, you can check out the majority of them.
The Booderee National Park is also worth checking out where you'll fantastic beaches such as Cave Beach, stunning cliffs and lots of beautiful flora and wildlife!
Grand Pacific Drive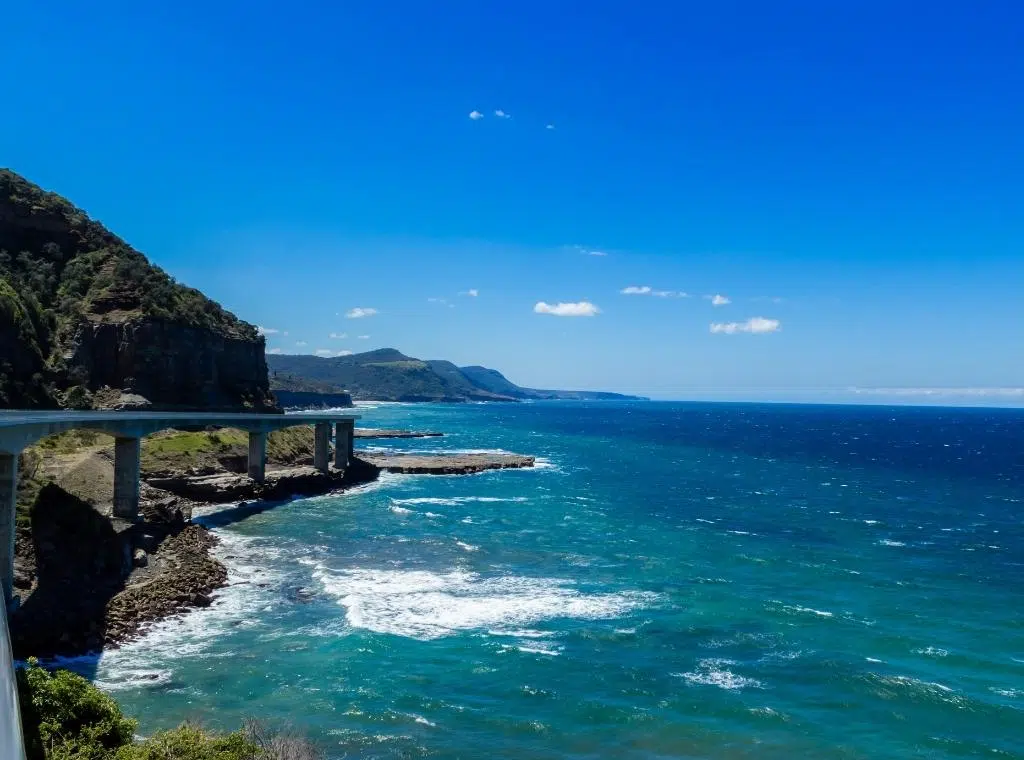 The Grand Pacific Drive is a fantastic drive and one of the best road trips in Australia.
Jervis Bay is on this road and there are many other great spots to see along the way too. The road is south of Sydney and takes you from the Royal National Park through Wollongong, Kiama ad all the way down to the Sapphire Coast, which is halfway between Melbourne and Sydney.
Kiama is one spot you have to stop at. The famous blowholes have to be seen to be believed, while the beaches here rival any you'll find along the coast.
The Grand Pacific Drive is 140 km (87 miles) long, which means you can drive it in a day if you want. But it's probably best to do it in a few days so you can take in some of the nicest natural landmarks in New South Wales.
Snowy Mountains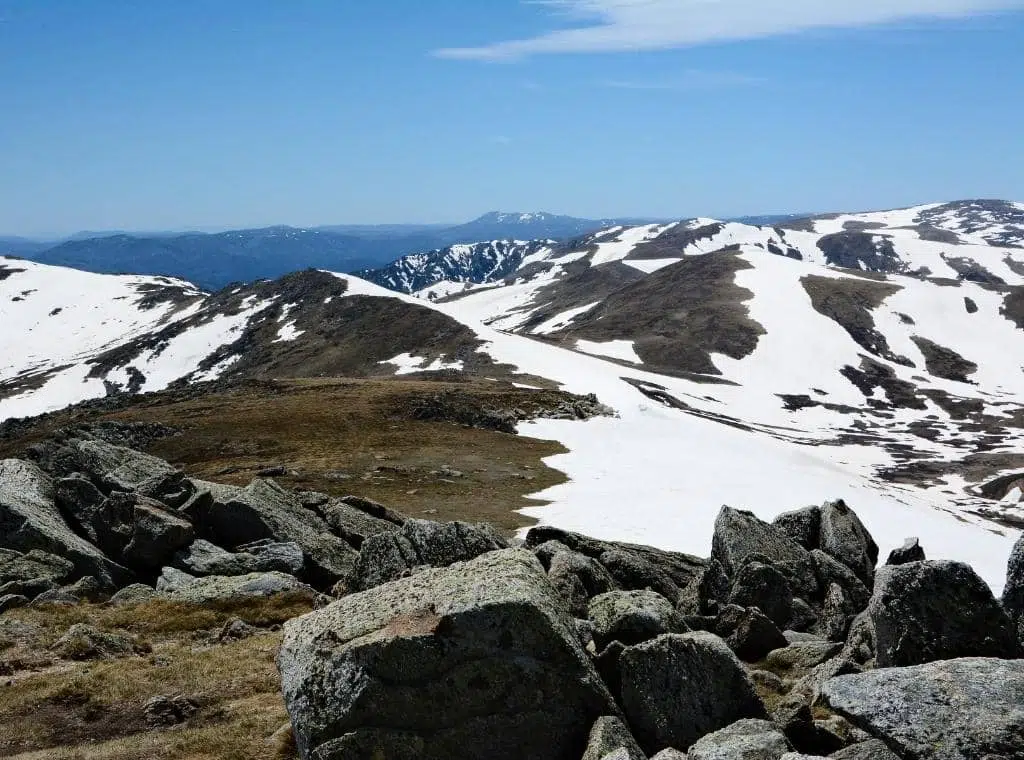 It might be hard to believe that there are mountains in Australia where you'll find snow. As hot as it gets, there are parts of New South Wales that see some snowfall during the winter.
The Snowy Mountains is this place and it's worth checking out if you want to see a different side of Australia or take part in some winter sports.
You can go skiing or snowboarding here and while the slopes might not be as good as those you'll find in other places, they're still reasonably good.
The most prominent New South Wales landmark in the Snowy Mountains is Mount Kosciuszko, which is the highest peak in Australia. If you're thinking of completing the seven summits, the highest peaks on each continent, then Mount Kosciuszko is one you'll need to tick off your list!
Wollongong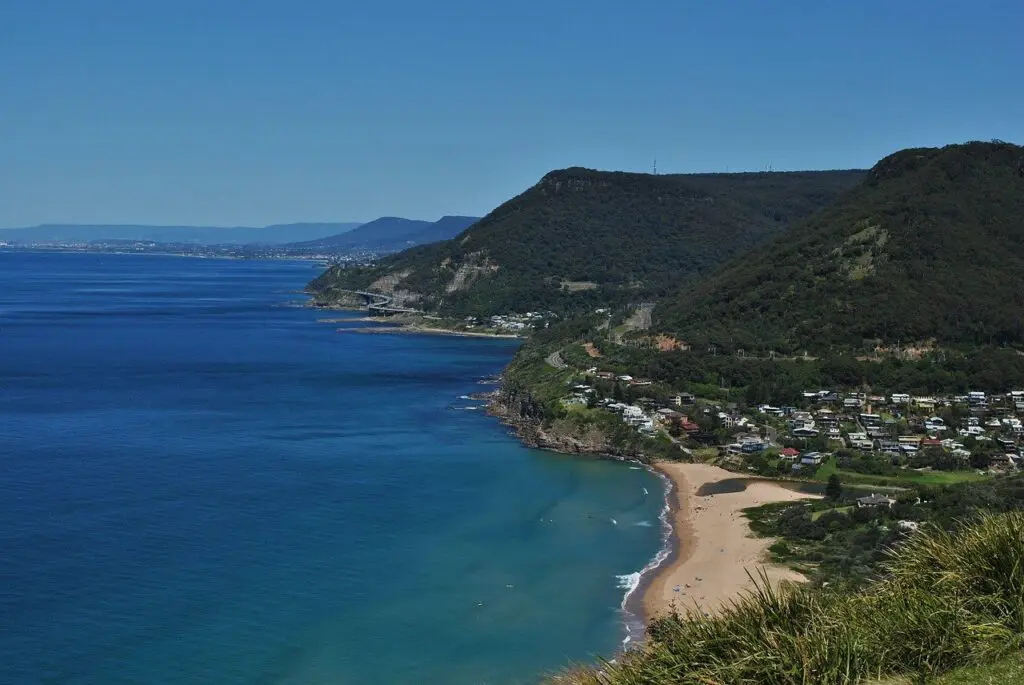 If you want to spend some time in a less crowded and busy city than Sydney, then Wollongong is a good place to visit.
Wollongong is located 80 km south of Sydney and has some of the best beaches in New South Wales rivalling its more well-known counterpart. They might not have the glamour of Bondi or Tamarama but they are just as beautiful and striking.
If you've had enough of the beach or want something else to do, then you head to the Illawarra Escarpment at Mount Keira and Mount Kembla where you'll find a temperate rainforest. There are several tracks you can walk along that will allow you to take in the breathtaking scenery.
A quirky thing you might not know about Wollongong is that it's home to the largest Buddhist temple in the southern hemisphere, the Nan Tien Temple. It's worth checking out if you're religious or just intrigued.
Newcastle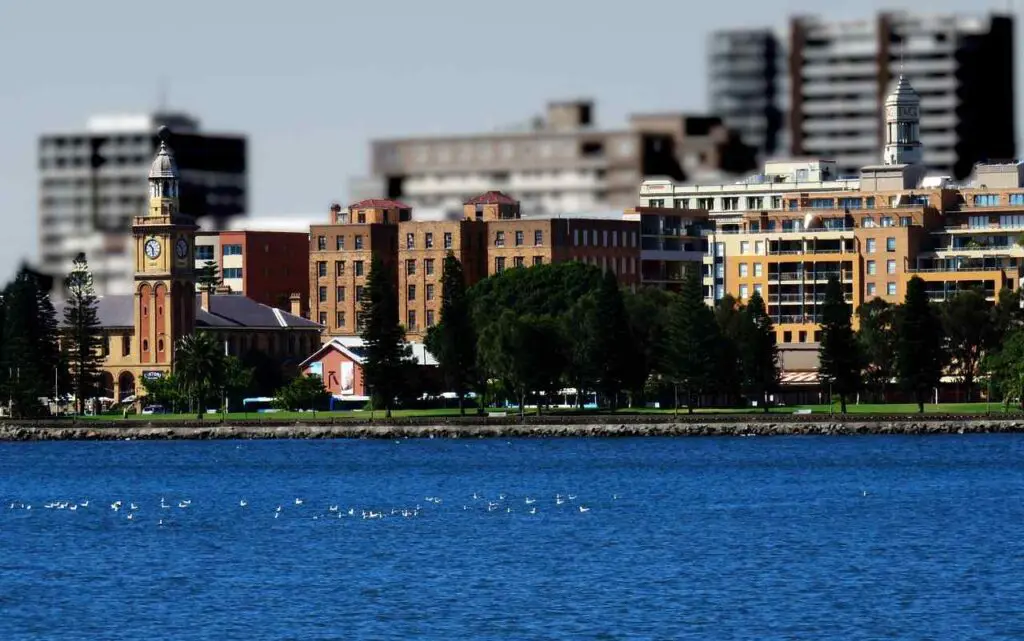 Newcastle is the second most populated city in New South Wales and one of the NSW landmarks you should visit while you're in the state.
It may not have the glamour of Sydney, but there are still plenty of things you can do in Newcastle. One of them is to head to the coastline and take a walk along it, as it's a stunning spot and very scenic.
The beaches in Newcastle are great too, with a few to choose from, including Merewether and Nobbys Head. You can also take a dip in the Bogey Hole, which is a naturally formed ocean bath!
If you've had enough of the beach, then you can head inland to Blackbutt Reserve. You'll find all sorts of animals here, including many of Australia's most famous animals. Plus, you can feed the emus here, which is reason alone to visit!
Port Stephens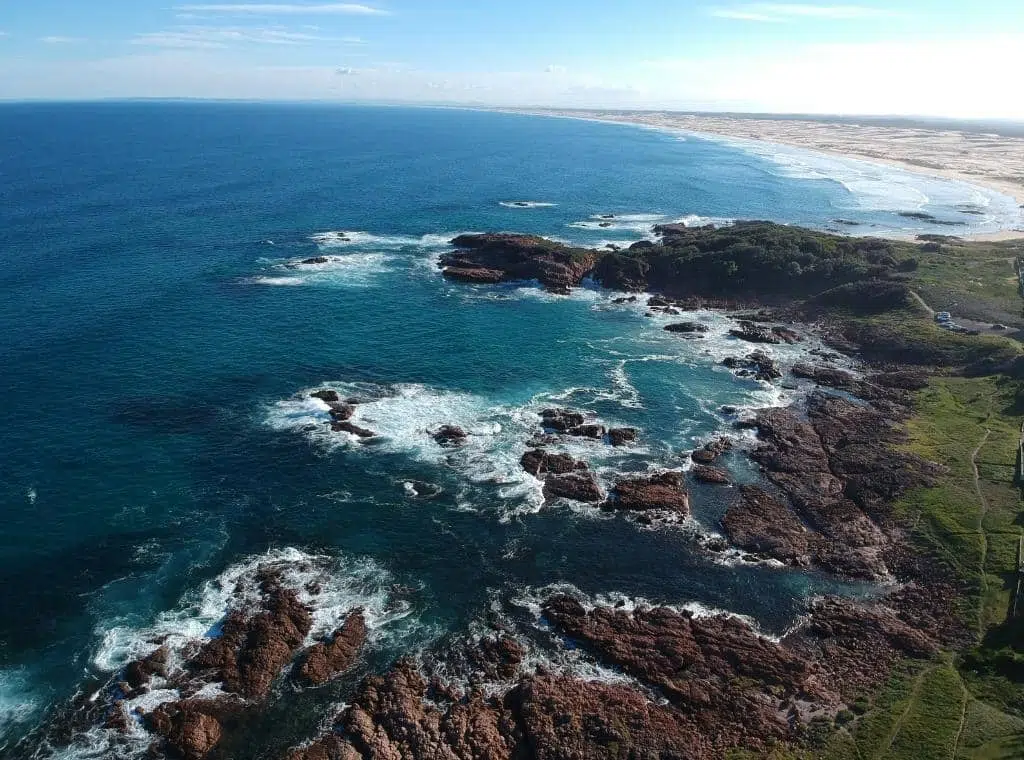 Port Stephens is a great spot to visit if you're looking to get away from Sydney for the day.
It's 2.5 hours from Sydney and once you get there you'll find plenty of things to do, such as relaxing at the beach, hiking or surfing.
One of the more interesting things to do is to go and see Stockton Bight Sand Dunes in the Worimi Conservation Lands. The dunes are incredible and you can explore them with a 4×4 and go sliding down them on a sandboard too if you book a tour.
Shoal Bay and Nelson Bay are the picks of the beaches, with both being especially picturesque. If you're lucky you might spot some bottlenose dolphins, while you can go whale watching if you visit from May to November.
Broken Hill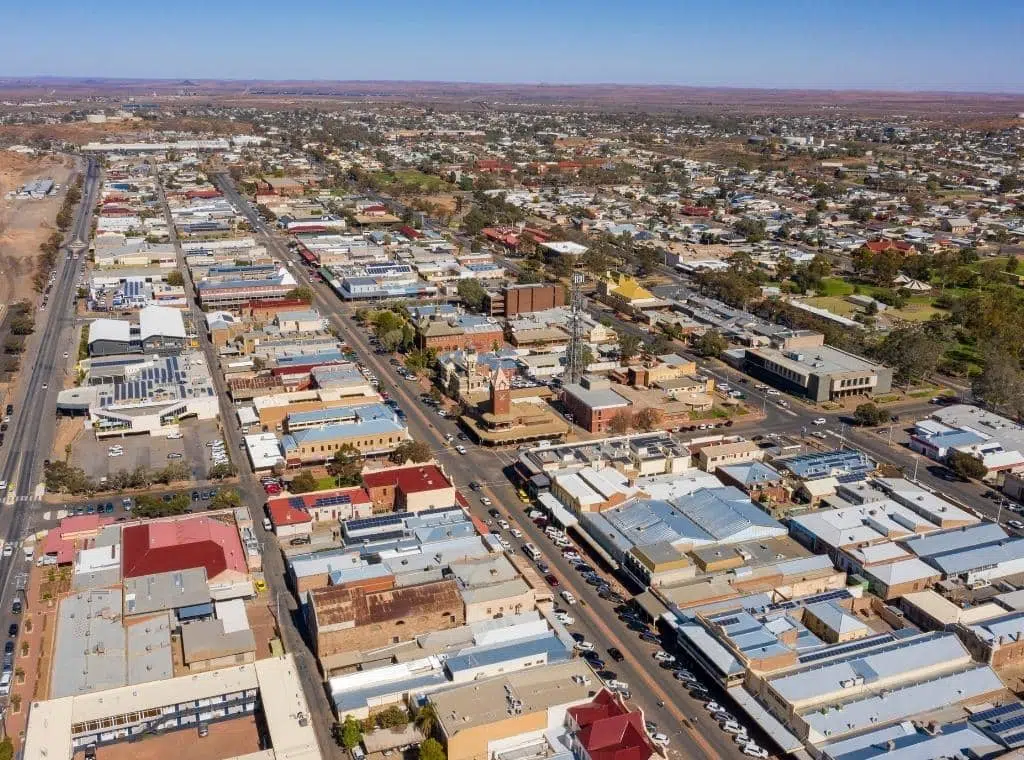 One of the most intriguing man-made landmarks in New South Wales is the outback mining town of Broken Hill.
Getting to Broken Hill isn't easy as it's closer to South Australia than it is to most of New South Wales. It may be worth a Sydney to Broken Hill road trip to get out there, such is the distance from Sydney at over 1,000 km.
Broken Hill is the oldest mining town in Australia dating back to the 1880s. As such, there are lots of museums that detail the history of the town such as the Albert Kersten Mining and Mineral Museum.
The Heritage Walk is also worth doing in Broken Hill, as you'll get to see most of the town, while there are some wacky sculptures and art installations you can check out too.
Lord Howe Island
Lord Howe Island is in New South Wales but it's not on the mainland. If you're feeling adventurous then it's a great place to visit.
The island is 780 km (420 miles) northeast of Sydney and is a rich and diverse place that will blow you away. Getting there is tricky, as flights aren't cheap and as there are only fewer than 800 people on the island at any one time, you might have to book in advance to ensure you can visit.
Once you do get there, you'll find lots to see and do. You can go check out some of the stunning beaches that stretch along the coast with incredible views of the ocean. While you can go birdwatching and fishing.
Hiking is another great activity to do, with lots of trails on the head that will highlight the beauty of the subtropical forests and coastal ridges of Lord Howe Island!
Canberra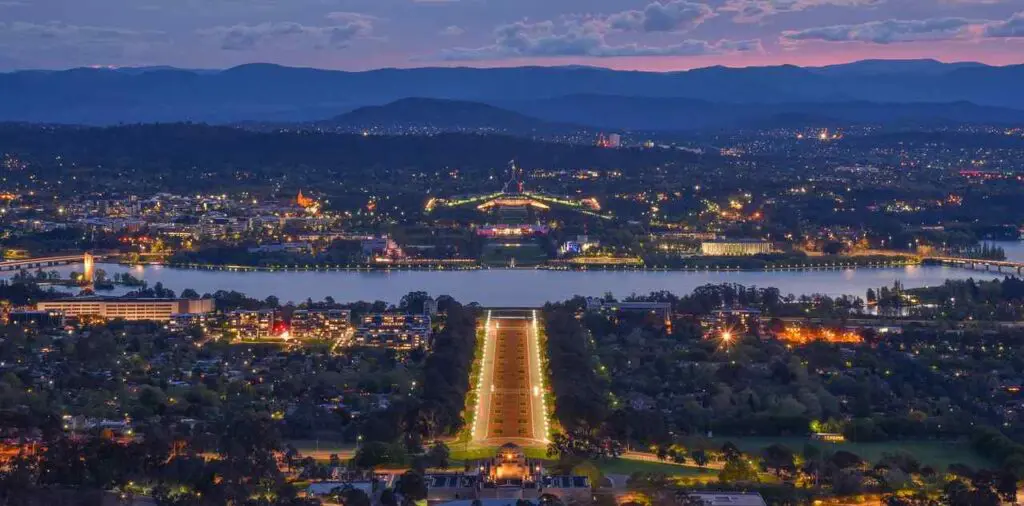 Ok, so Canberra isn't technically in New South Wales as it's part of the Australian Capital Territory (ACT) but as the city is within the boundaries of New South Wales, I've included it here.
The main reason to visit Canberra is that it's the capital, and as such an interesting place to visit. It's home to several prestigious museums such as the National Museum of Australia, the National Library of Australia and the fantastic National Dinosaur Museum.
You can also check out Australia's parliament, which is worth doing if you're interested in politics or just curious. Book a tour and take a look inside to find out what goes on and why Canberra was chosen as the capital and not Sydney or Melbourne.
Need Travel Insurance?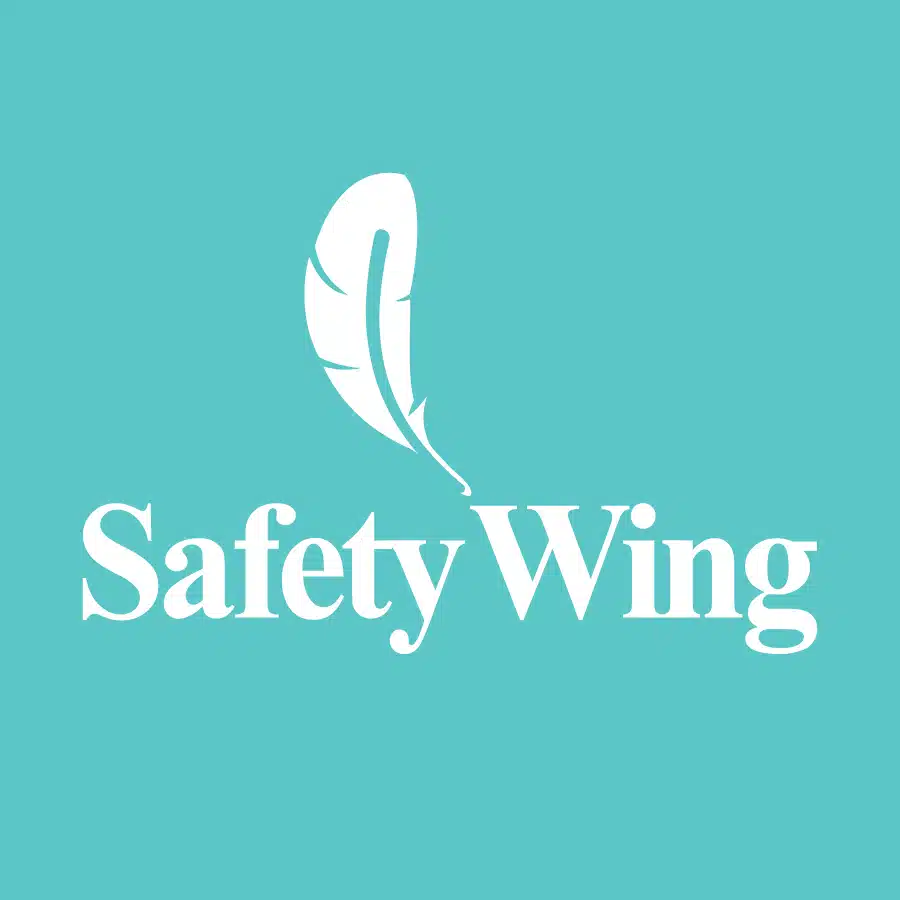 SafetyWing offers coverage that will give you peace of mind while you're on the road. If you want to protect yourself while you're on the road, then click the image to take a look at the options available to you.
Tom is a travel addict who first left England to spend a year Down Under. Not satisfied with this, he then went to New Zealand, about as far away from home as he could get. He is now planning his next adventures in Europe and Canada while maintaining this blog. Check out the about me page to learn more!