Reasons to visit Australia.
There are lots to choose from! Australia is one of my favourite places and you have no shortage of things to do and enjoy when you're in the country.
When I'm asked, 'why visit Australia?', one of the reasons I give is the scenery and wildlife. Australia is a beautiful country and no matter where you go, you're going to come across something magical. Seeing kangaroos and koalas is another big motivating factor to visit!
The best things about Australia are its climate, scenery, wildlife and cities. Not forgetting the beautiful beaches, food and the wide range of sports. From Melbourne to Uluru, there are many reasons to go to Australia, and these are a few of the amazing places to see in this gigantic country.
But, there are also several hidden gems that you definitely shouldn't miss out on when you visit Australia!
Table of Contents
50 Reasons to Visit Australia
50. Weather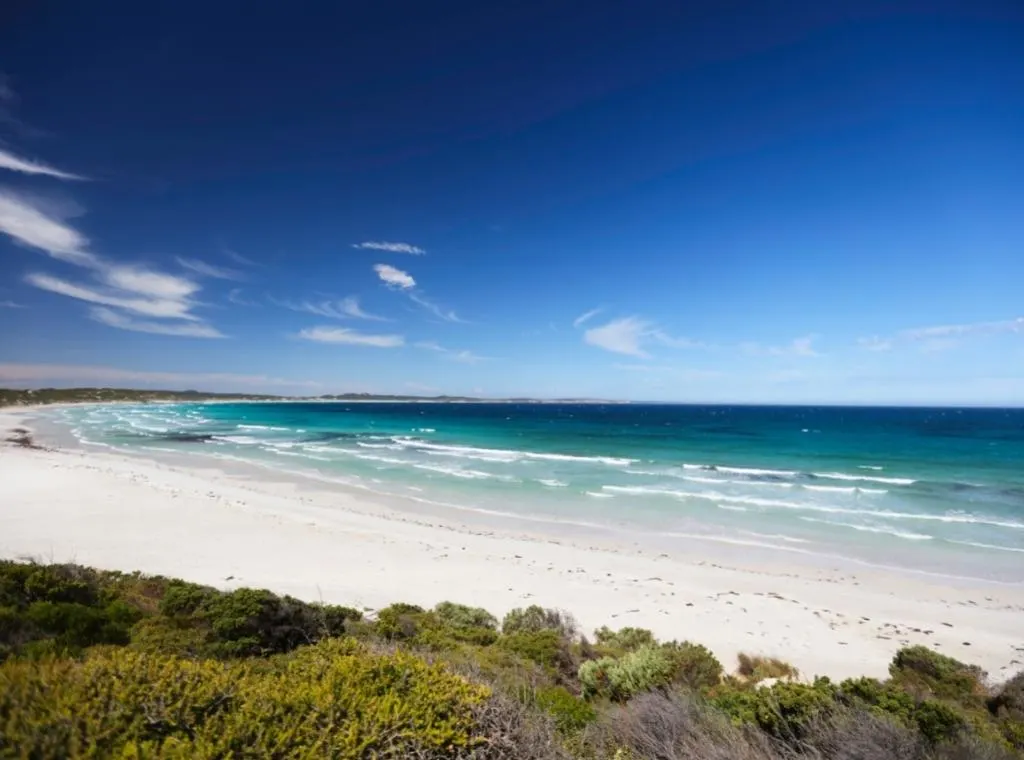 Coming from England, this was high on the list of factors that influenced my decision to travel to Australia! There is no getting away from it, the weather in Australia is fantastic!
Finding the best time to visit Australia is useful. It can get ridiculously hot, and yes the wet season is poo, and yes, Melbourne's weather does defy logic!
However, it's better than being at home right?
49. Beaches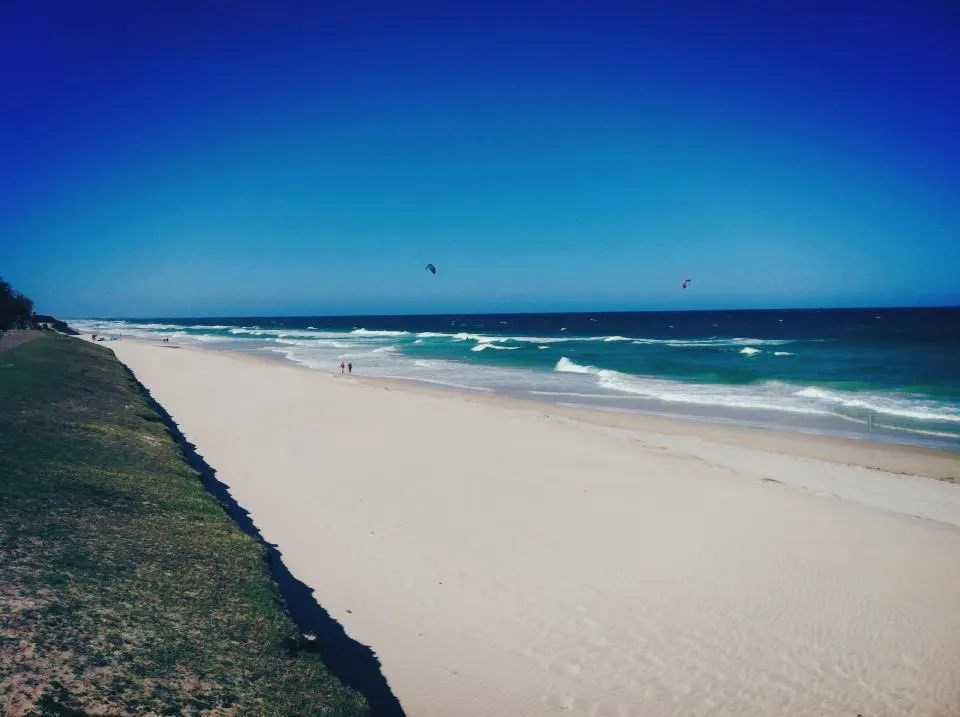 The beaches in Australia are fantastic! Golden sand and clear blue ocean, what's not to love! They are one of the best answers to the question, 'why to go to Australia?'
This applies to virtually all the beaches as well! Picking the best beaches in Australia is a fool's game, which is probably why I tried to do just that here!
The beach is a central part of life in Australia, and it's not hard to see why, when they're so beautiful!
Visiting the beach is an essential part of any Australian bucket list!
48. People
Aussies might have somewhat of a dodgy reputation, but then which country doesn't?
Aussies are great people, really friendly and welcoming, plus they like to have a laugh, which as an Englishman is always a plus!
The Bogans do get some bad press, but they're a good bunch!
47. Wildlife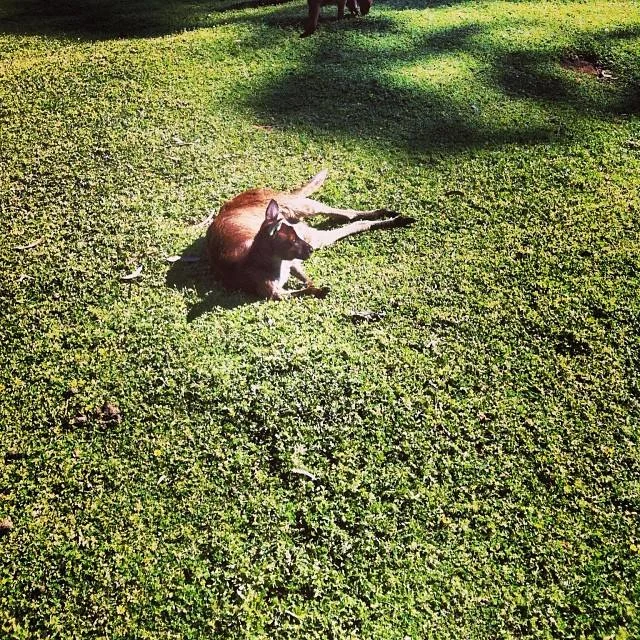 Australia is home to some of the most diverse and strangest wildlife on the planet!
Kangaroos, Koalas and Crocs, there are all here on this crazy continent!
There are even over a million camels in the outback, which I would never have imagined. There might be a lot of deadly animals here, but that just adds to the fun!
If you're wondering: 'is Australia worth visiting?' Then just one look at the above picture should give you the answer!
46. Melbourne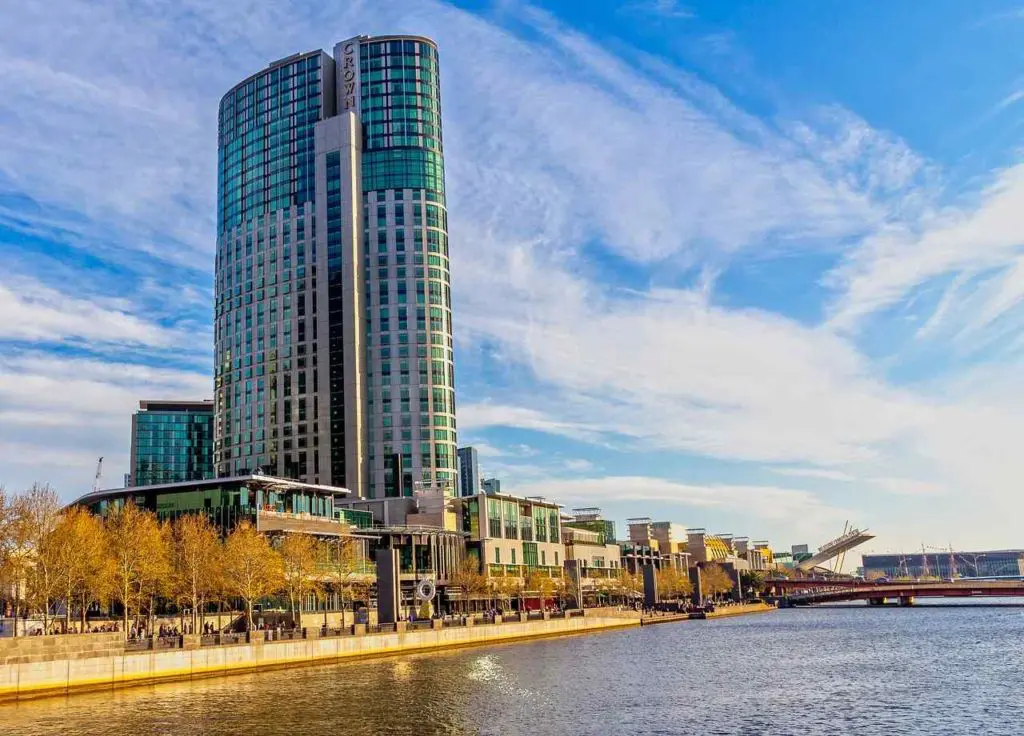 Consistently ranked the world's most liveable city, Melbourne was my favourite city in Australia!
There is so much to see and do in this great city, and there is always something happening!
The architecture is a mix of classical and bold modern design, highlighted by Flinders Street Station and Federation Square.
There are so many things to do in Melbourne, you could spend a week there and not get bored.
The weather can be very volatile, but it's all part of the charm of Melbourne!
45. Wilson's Promontory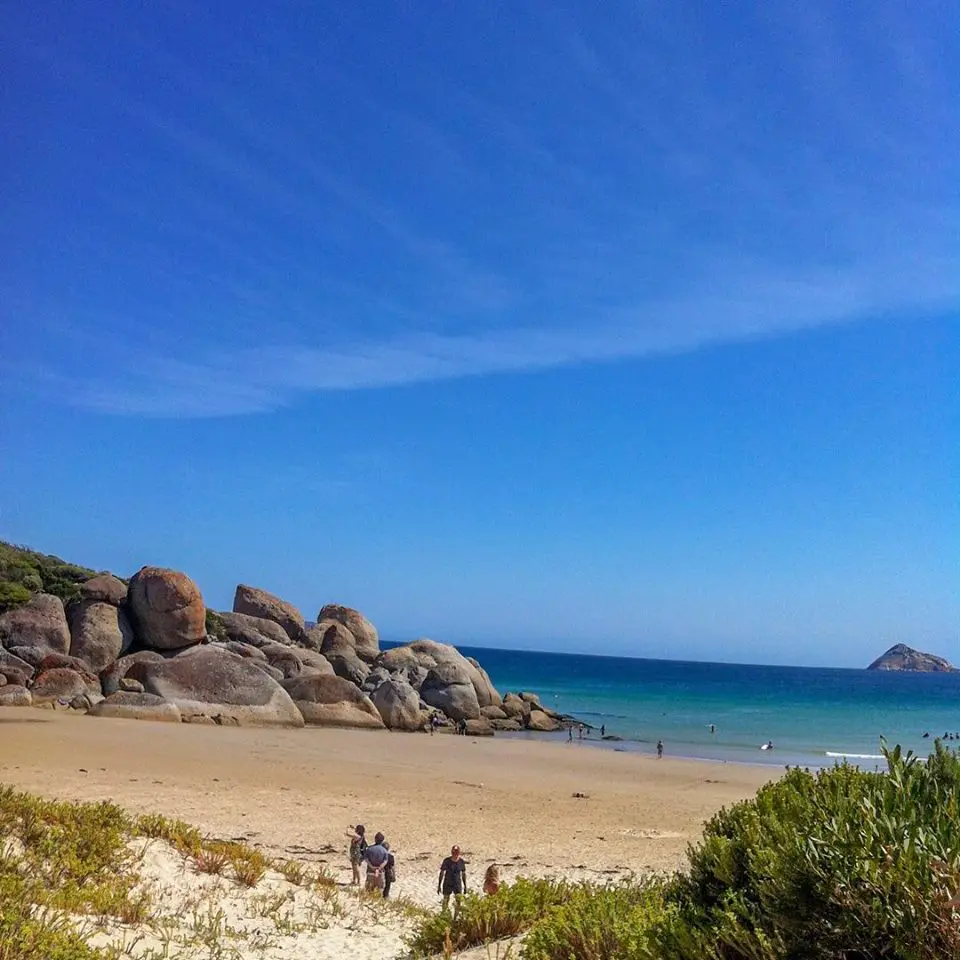 Visiting Wilson's Promontory was one of the highlights of my time in Australia!
Considering I had never heard of the place beforehand, I was blown away by how beautiful it was.
The scenery here is incredible and the trip south from Melbourne is worth it alone to visit Squeaky beach!
Yes, the sand does squeak when you walk on it!
44. Road trips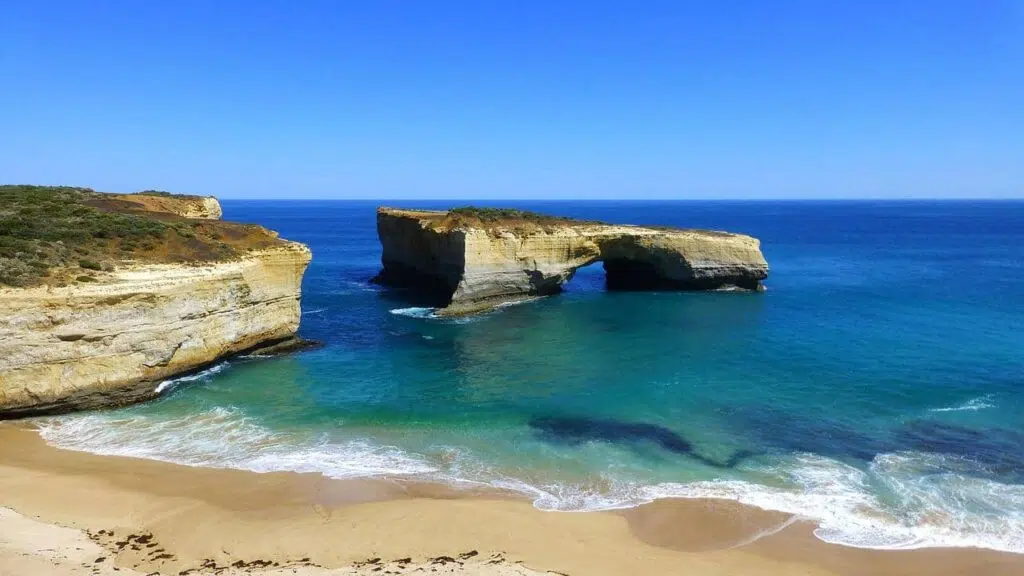 Road trips in Australia are perhaps the best way to see Australia, and there are plenty to choose from!
My Adelaide to Darwin road trip was a particular highlight, as the change in landscape and scenery from bottom to top was incredible!
The distances may be big between the cities, but it's what is in between that makes it worthwhile!
There are some hidden gems to be discovered during a road trip in Australia!
43. Nature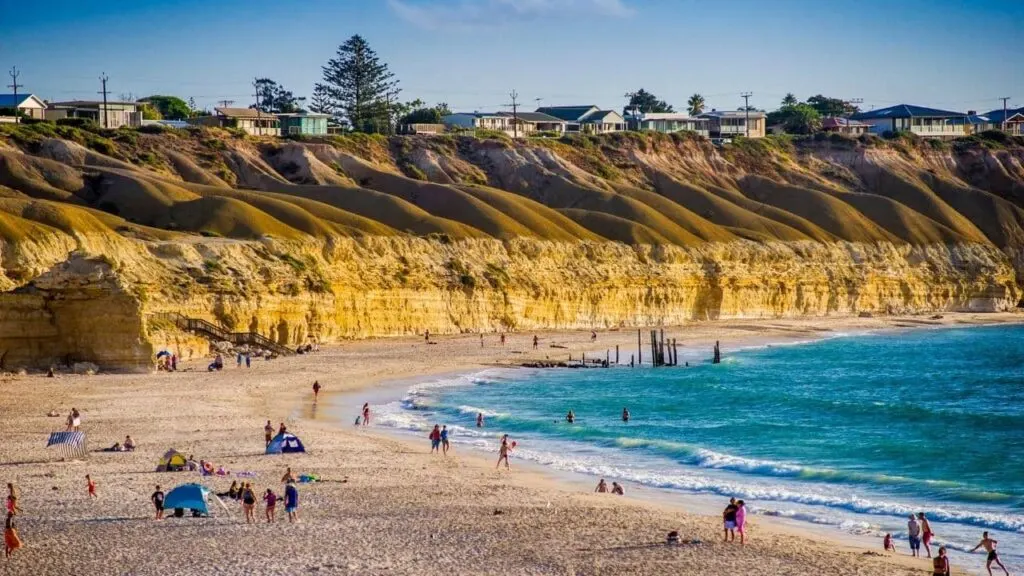 What is Australia known for? As well as amazing wildlife and their fun cities, it has to be the nature and scenery you'll find in the country!
Australia is a continent of contrasting scenery and landscapes. You have the arid desert of the outback and the lush tropical rainforest of Northern Queensland, while in the south there is a Mediterranean climate.
As a lot of the country is uninhabited, this means that these places are often unspoiled and are all the better for it!
This is one of the best reasons to visit Australia, as you have virtually the whole place to yourself!
42. Sport
It's no secret that Australians love their sport, no matter what part of the country you are in, sport is everywhere. As a sports fan, this was fantastic for me.
I was able to go to numerous world-class events such as the Formula 1 in Melbourne and the British and Irish Lions Tour.
The national sport is Australian Rules and it is worth checking out during your time here!
41. Sydney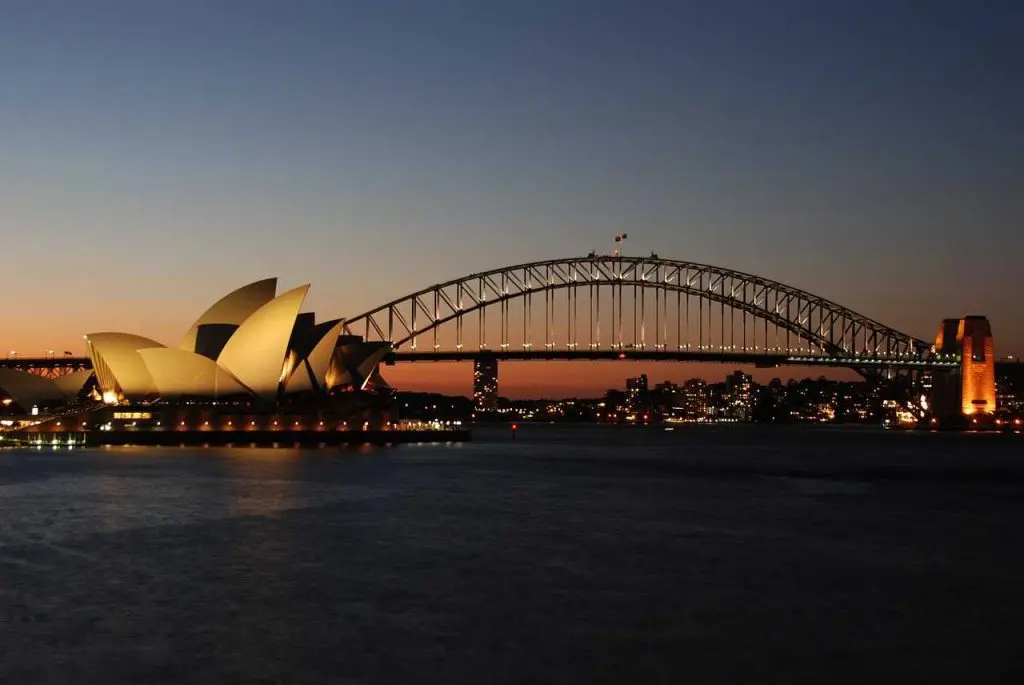 Although I wasn't the biggest fan of Sydney, if you only spend 3 days in Sydney, it's still a great place!
The harbour area is fantastic and seeing the opera house up close is incredible. It is a wonder of architectural design!
The Harbour Bridge is simply breathtaking. The first time you see it is quite special, as it pops into view walking around the city!
The numerous cafes and bars dotted around the city are also worth checking out!
Despite not being the biggest fan of the city, there are plenty of interesting things to do in Sydney regardless!
40. South Australia

South Australia was arguably my favourite state in Australia, all the more so because I wasn't expecting it to be so great when I first visited!
Adelaide is a great city, with much to do, and the nearby Fleurieu Peninsula is also worth checking out!
Further north, there is the weird town of Coober Pedy in the middle of the outback, which has to be seen to be believed!
There are plenty of great places to visit in South Australia, and it's a must-visit for any trip to Australia!
39. Western Australia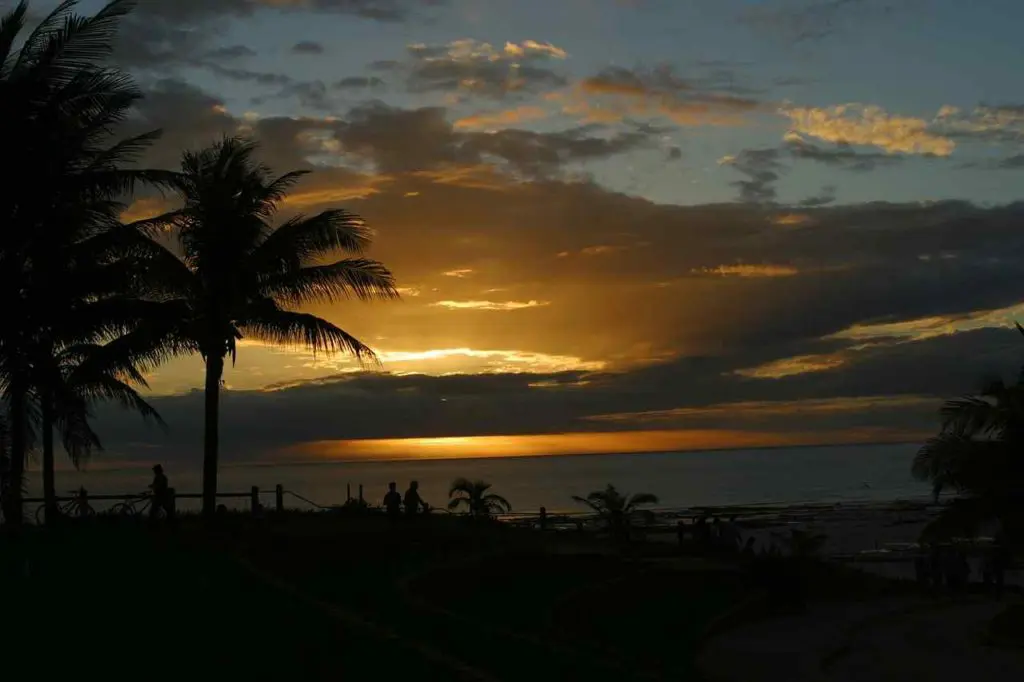 Western Australia is one of the most beautiful places in Australia!
As there are fewer people on the West Coast than the East, the scenery is more untouched and you don't have the crowds that are commonplace on the East Coast.
Broome, Rottnest Island and the Ningaloo Reef are places that I regret not seeing!
A good way to see this scenic part of Australia is by driving from Perth to Darwin. It's a trip you won't forget!
38. Outback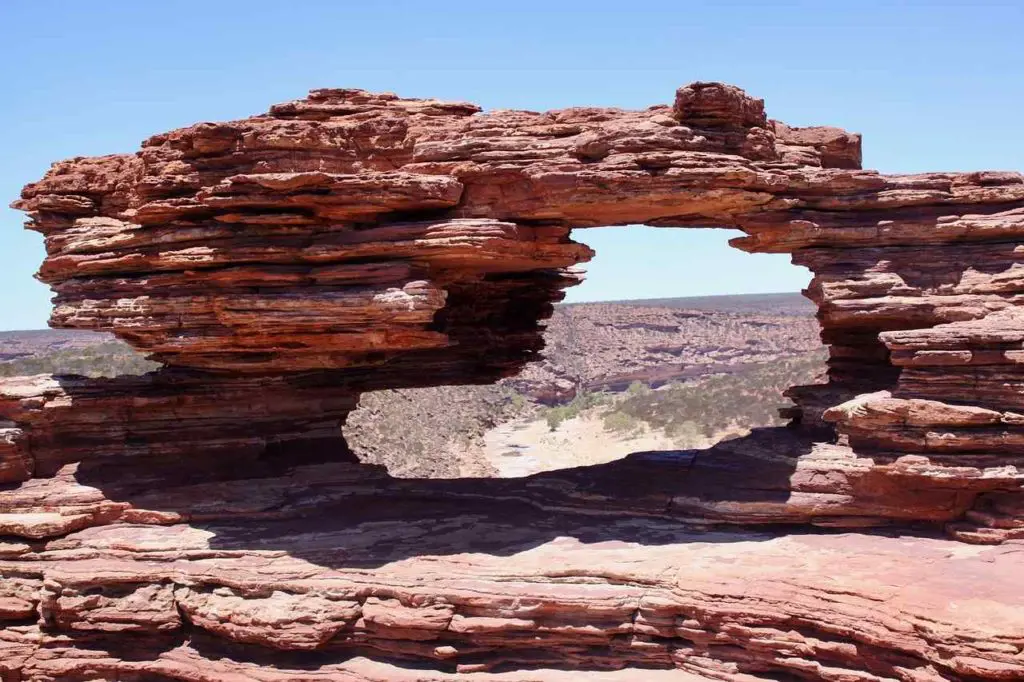 The Outback is a central part of Australian culture and is something that almost all foreigners who have heard of Australia are familiar with.
Yes, for the most part, the outback is a barren desert, but there are still some intriguing places, such as Coober Pedy.
You get the feeling that you are travelling across another world while you are here, such is the complete lack of civilisation!
---
You might also like:
---
37. Uluru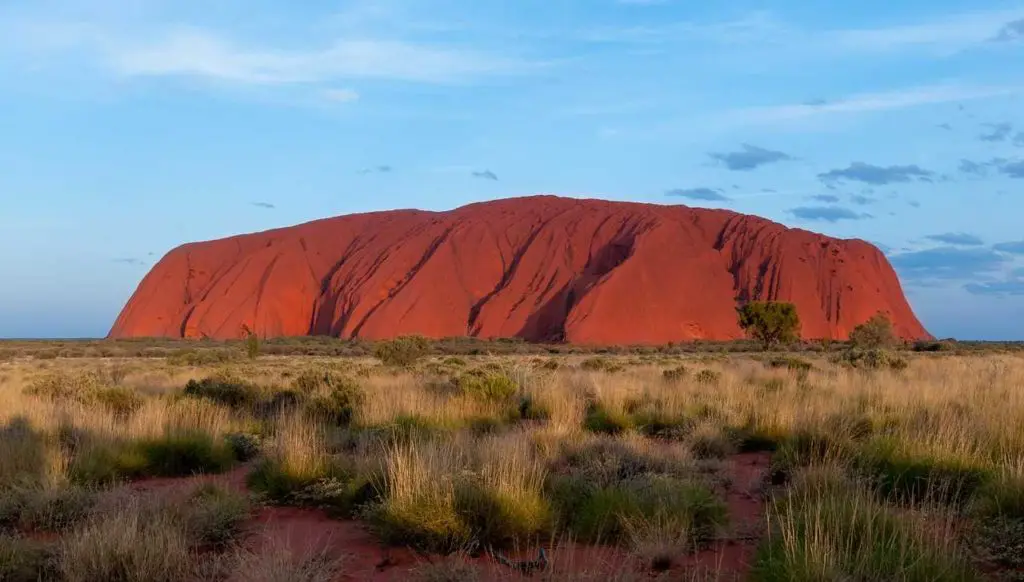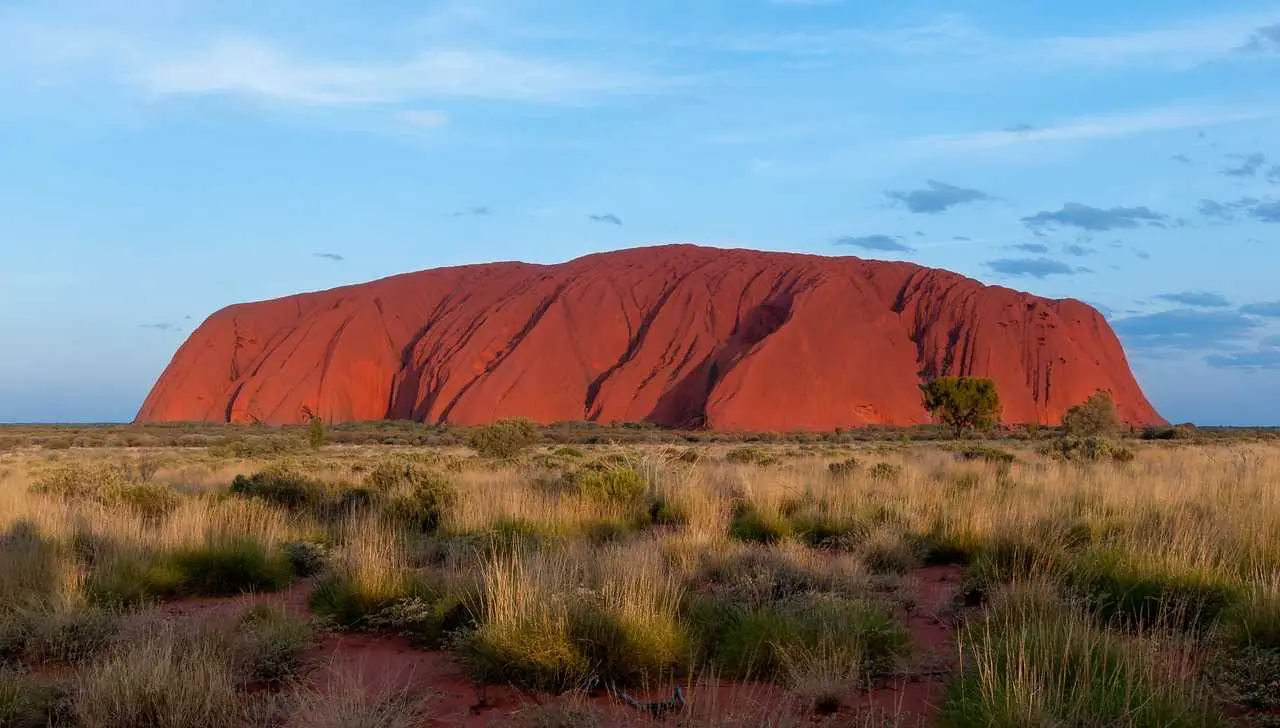 Also known as Ayers Rock, Uluru is one of the iconic images of Australia, and it is an image that is just as beautiful in real life.
I actually couldn't believe that it looked the same in real life as it does in the photos when I visited.
This is one of the best places to visit in Australia, and if you don't visit you are missing out big time!
36. Adelaide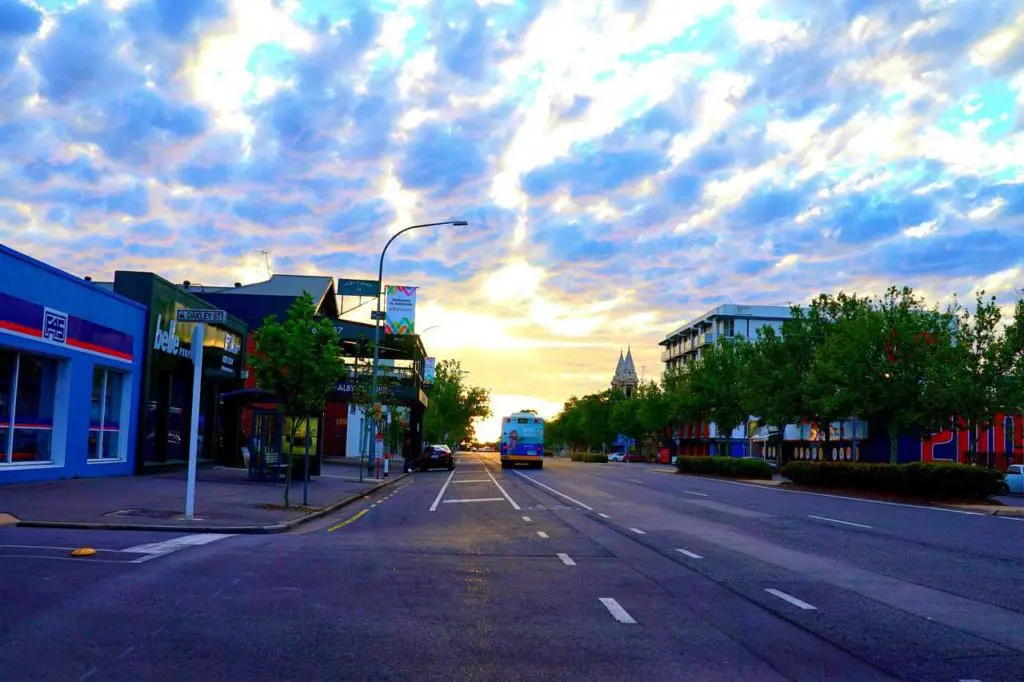 As far as I'm concerned, Adelaide is one of the best cities in Australia.
For some reason, it has the reputation of being a bit of a backwater, which could not be further from the truth!
There are lots of things to do in Adelaide, such as visiting some great museums, checking out Rundle Mall or heading to the great Glenelg or Henley beaches!
35. Queensland
Queensland is one of the most diverse states in Australia, with tropical rainforests in the far north, outback to the west, and the Gold and Sunshine Coast in the South.
Chances are you will visit Queensland while backpacking Australia, as it is part of the popular East Coast route.
With great places to visit such as Noosa, Hervey Bay, and the Whitsundays, it's not hard to see why it's so popular!
34. Brisbane
Brisbane is the biggest city in Queensland and one of the most intriguing, as it is one of the only cities in Australia not to have a beach!
However, there are still many great things to do in Brisbane, such as kayaking along the river, or climbing the Storey Bridge.
The Southbank is one of the best spots in Australia and offers some great views of the city across the river!
33. Towns with weird names
For some reason, Australia has a lot of towns with strange names!
Mooloolaba, Moe and Tom Price were a few of my favourites while I was backpacking through Australia.
I have no idea, why there are so many towns with strange names, but it certainly makes travelling around more fun, as you stare in disbelief at the road signs!
32. Darwin
Darwin may only be a small city, but it is one of the best in Australia.
That said, if you went during the wet season, you probably wouldn't have that opinion, so it is better to visit Darwin during the dry season, to see its true beauty!
The marina here is one of my favourite spots in the country, and the nearby Kakadu and Litchfield National Parks are must-visits as well!
31. Cairns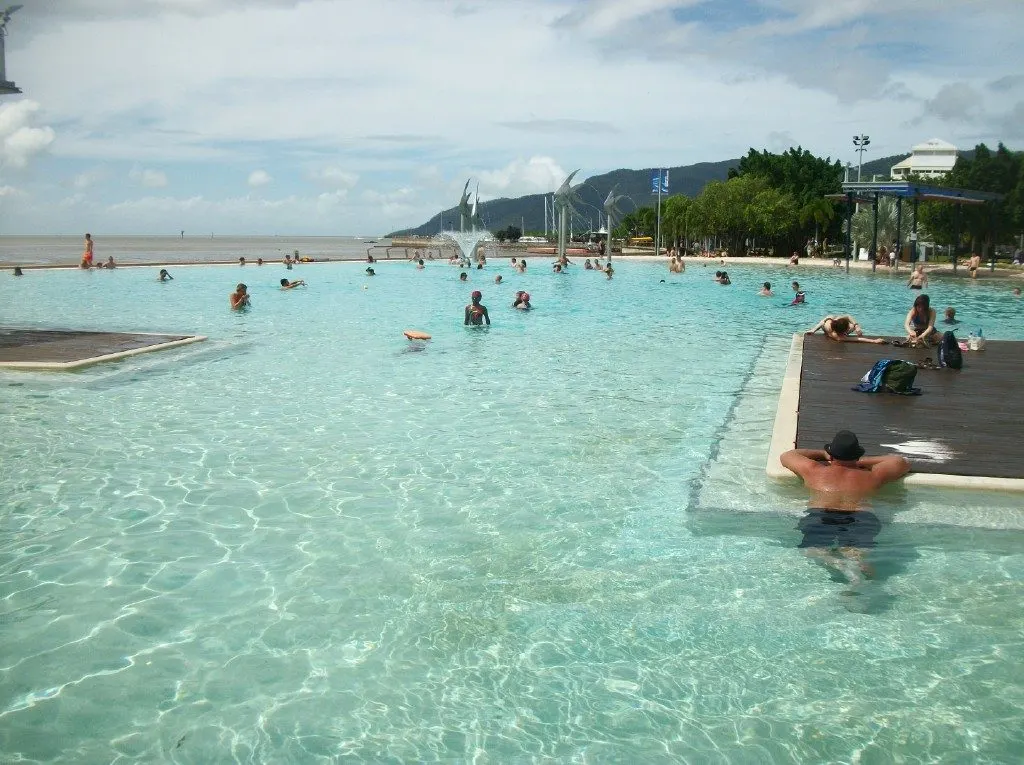 During my trip to Cairns, I found it similar to Darwin in many respects, and that wasn't just because both cities experience a wet season!
The constant rain did dampen my time in Cairns a bit, but it is still an interesting place with a lot to see.
Especially the Botanical Gardens, which give you an idea of what the tropical Far North of Queensland is like!
30. Hervey Bay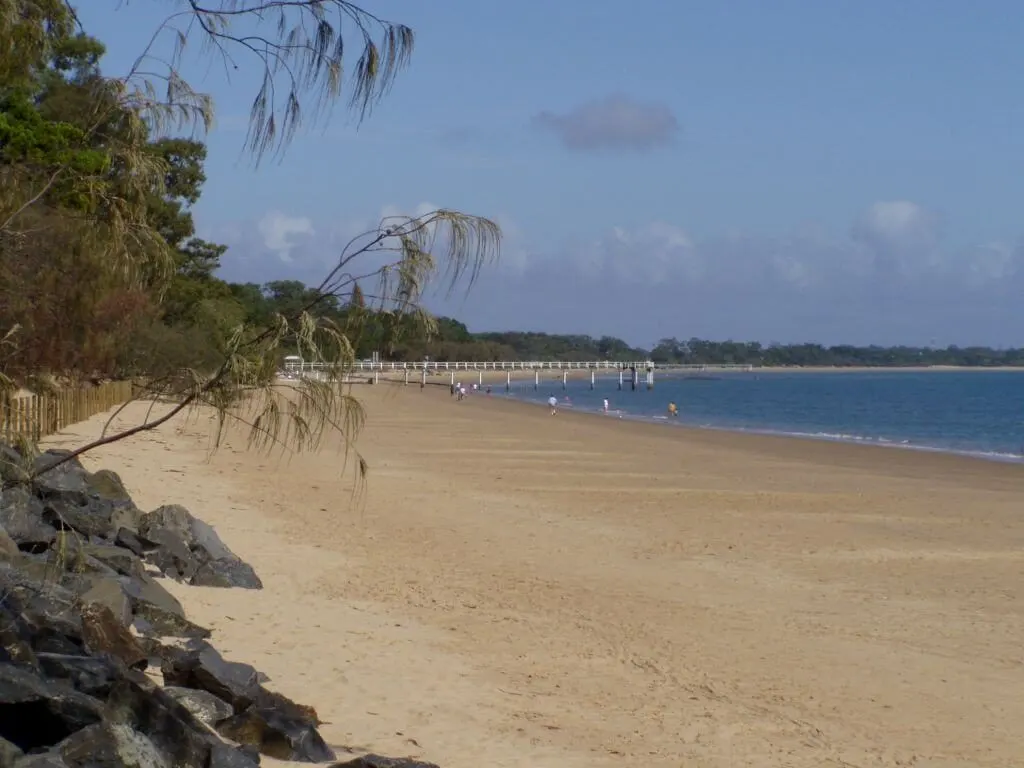 This was one of the places that surprised me the most in Australia.
I wasn't expecting much from Hervey Bay and in fairness, there isn't an awful lot to do here.
However, I like the vibe in Hervey Bay, it was relaxed and the beach was a great place to chill for a few hours.
This is a great place to stop along the East Coast!
29. Coober Pedy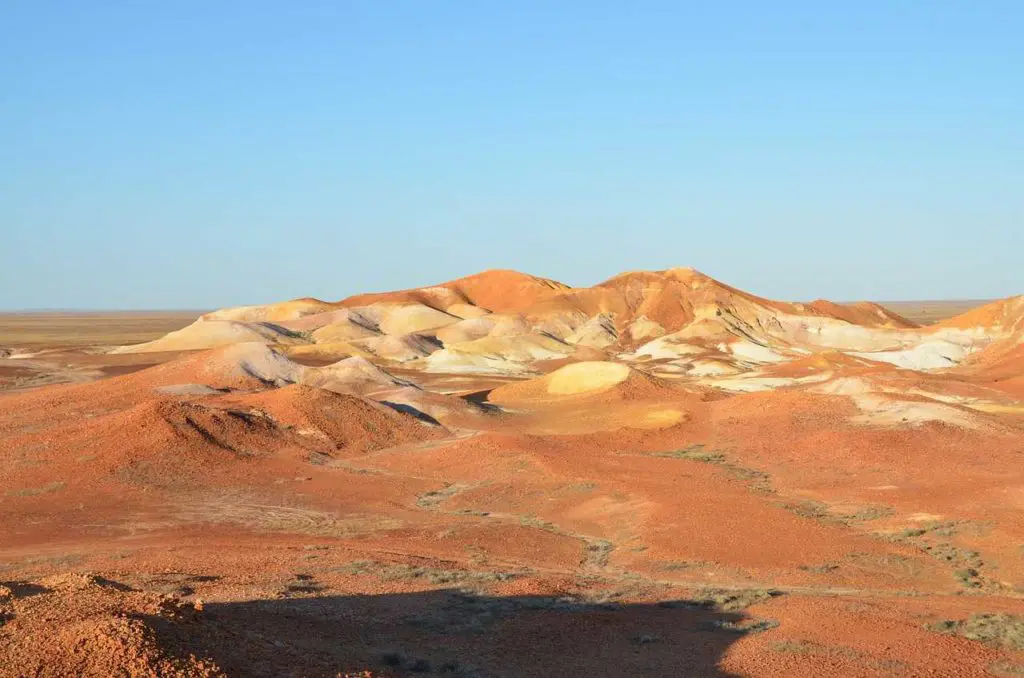 Without a doubt, Coober Pedy is one of the strangest places that I have ever visited, never mind just in Australia.
The town in the outback only exists because the biggest opal mine in the world is below.
Travelling here really is an experience, as it takes a good 8-10 hours from Adelaide, and it feels like you have come across the last remnants of mankind when you arrive!
28. Great Barrier Reef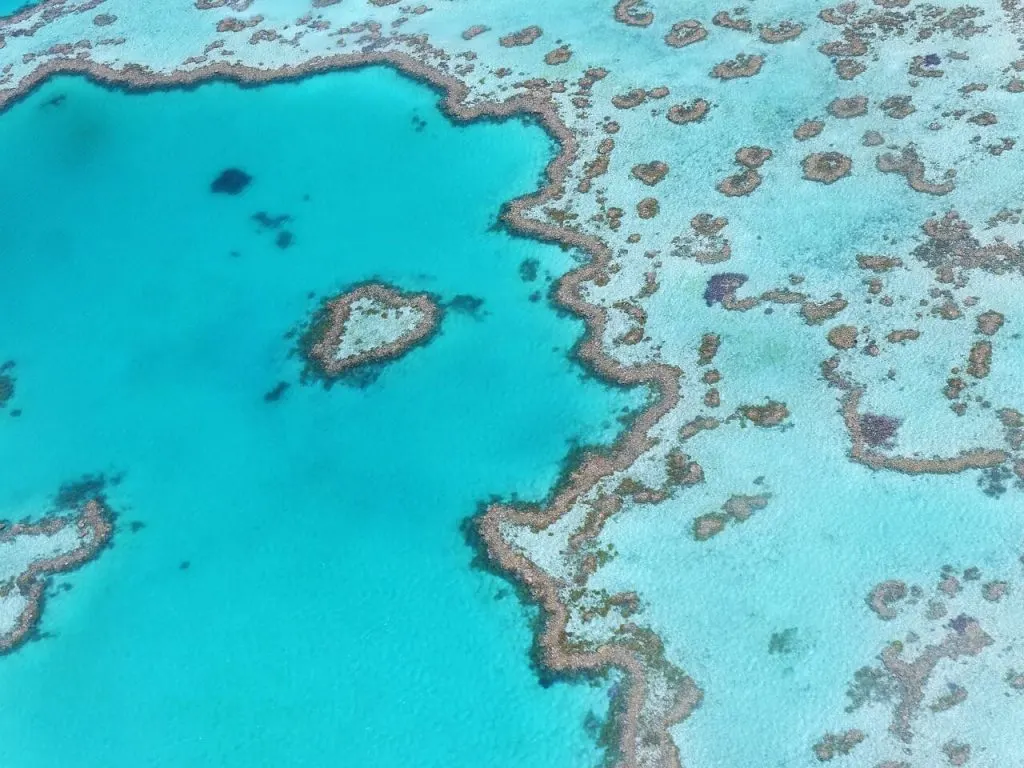 One of the many famous places in Australia, the Great Barrier Reef is the world's largest coral reef.
I didn't visit here, but I regret it, as it was one of the main reasons to visit Australia for me!
From what I have seen, it looks incredible! Scuba diving or snorkelling here would be worthwhile!
27. Gold Coast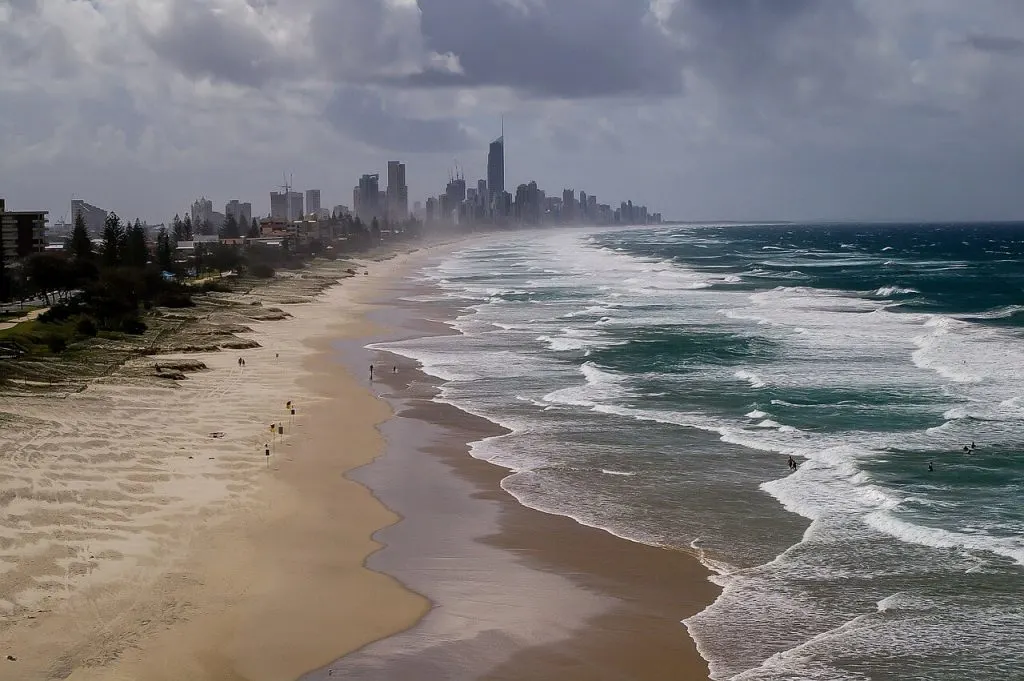 The Gold Coast was high on my list of reasons to visit Australia! This was probably the reason I decided to go there first!
When I was researching Australia, it fit my idea of the country perfectly, and it didn't disappoint when I arrived.
Although it's a bit small, there are a lot of things to do on the Gold Coast, and it is a must-visit if you're travelling along the East Coast!
26. The Grampians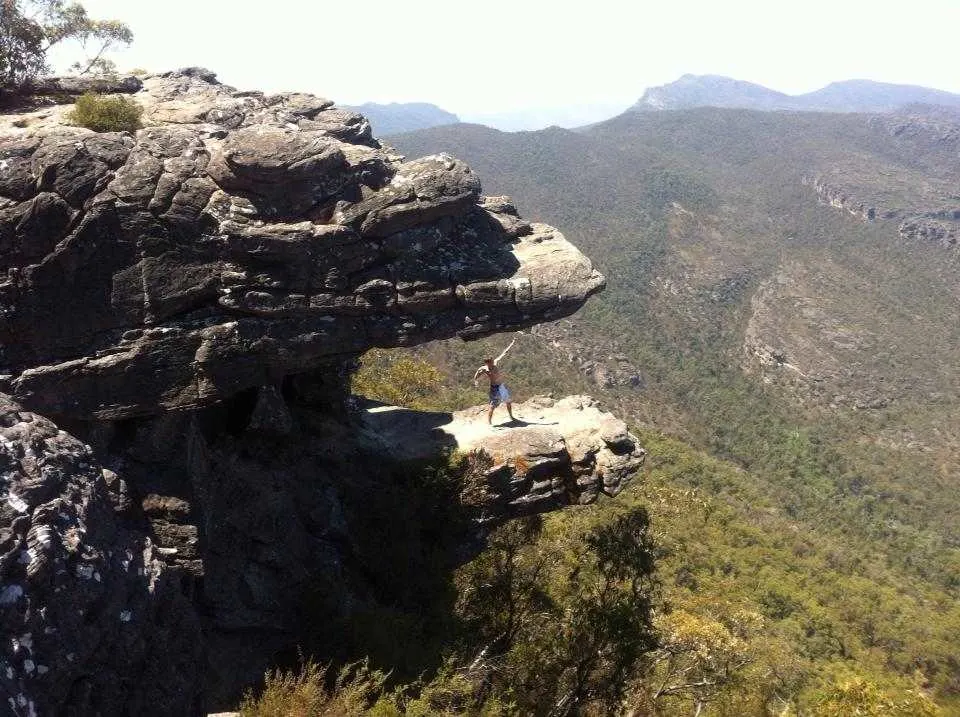 The Grampians are located in Victoria, close to the border with South Australia, and are another hidden gem in Australia!
The national park is very big and there are some great hikes to be had, and some spectacular views as well.
The area is teaming with wildlife, so it's a great place to get a sight of some wallabies and kangaroos, just don't get too close!
25. Nitmiluk National Park
This national park located near Katherine in the Northern Territory is one of the most underrated in Australia!
It is home to the spectacular Katherine Gorge and has numerous trails for you to wander around and explore the great scenery.
This is a must-visit if you are travelling to or from Darwin!
24. Daly Waters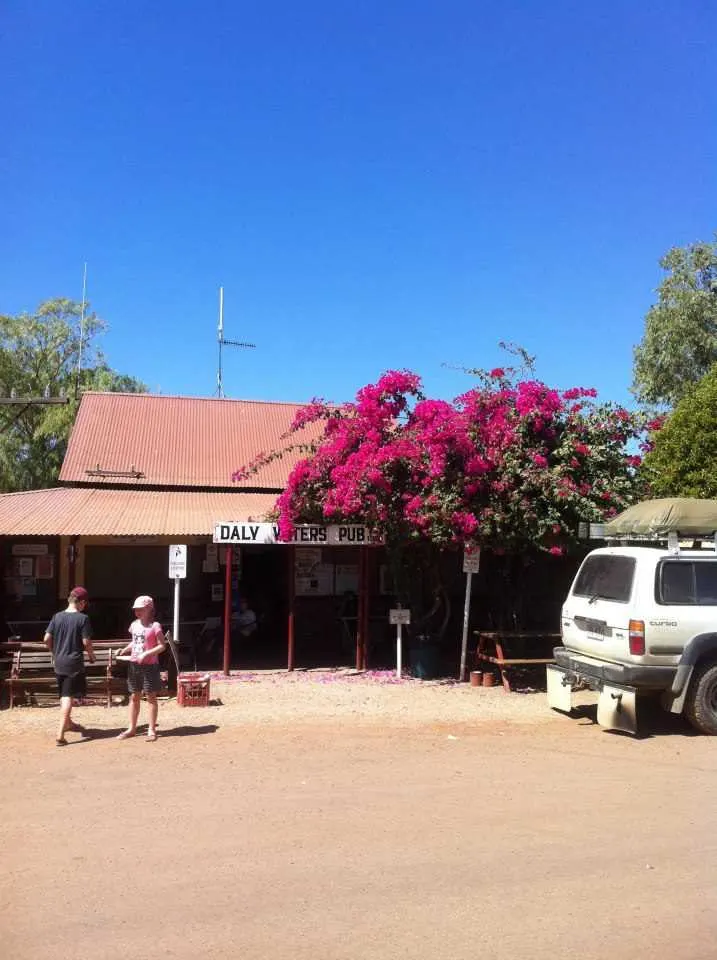 Along with Coober Pedy, Daly Waters is one of the weirdest and wackiest places I have visited.
It is essentially a roadhouse stop along the Stuart Highway in the Northern Territory, but it is the old vehicles and planes that give the place its quirky feel.
As well as the Daly Waters Pub, the Stuart Tree and the original HQ of Qantas are nearby and worth visiting!
23. Ningaloo Reef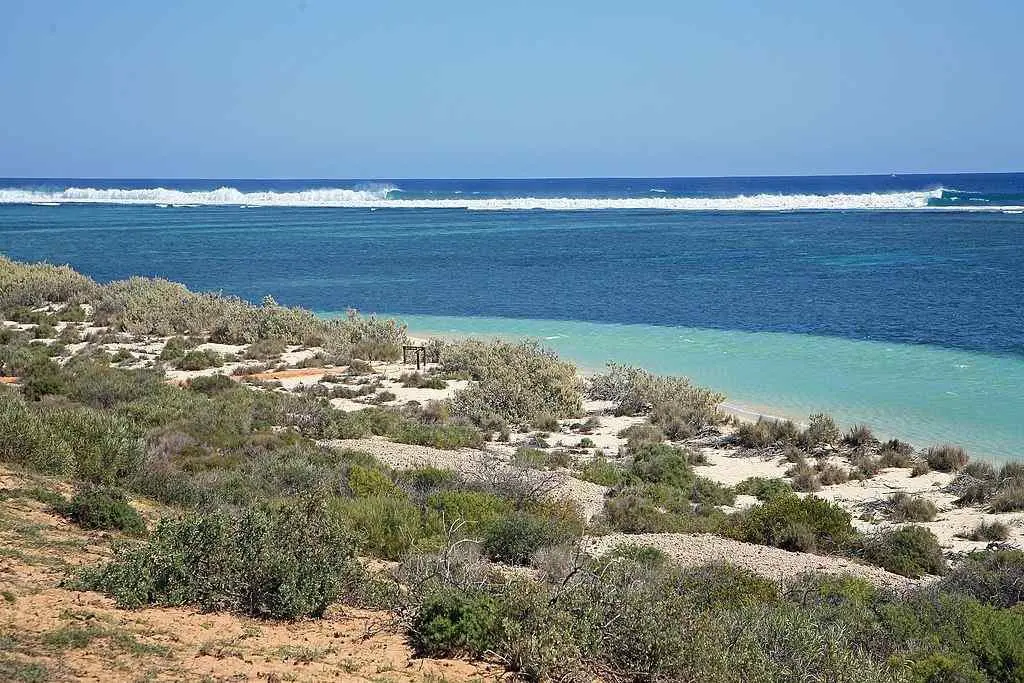 The Ningaloo Reef is one of the top places to visit in Western Australia.
It may not be as well known as the Great Barrier Reef, but that does not mean it is not as great! As there are fewer people on the West Coast, the reef is less spoilt and easier to access!
The reef is a must-visit if you visit Western Australia and gives you the chance to swim with a variety of marine life.
22. Broome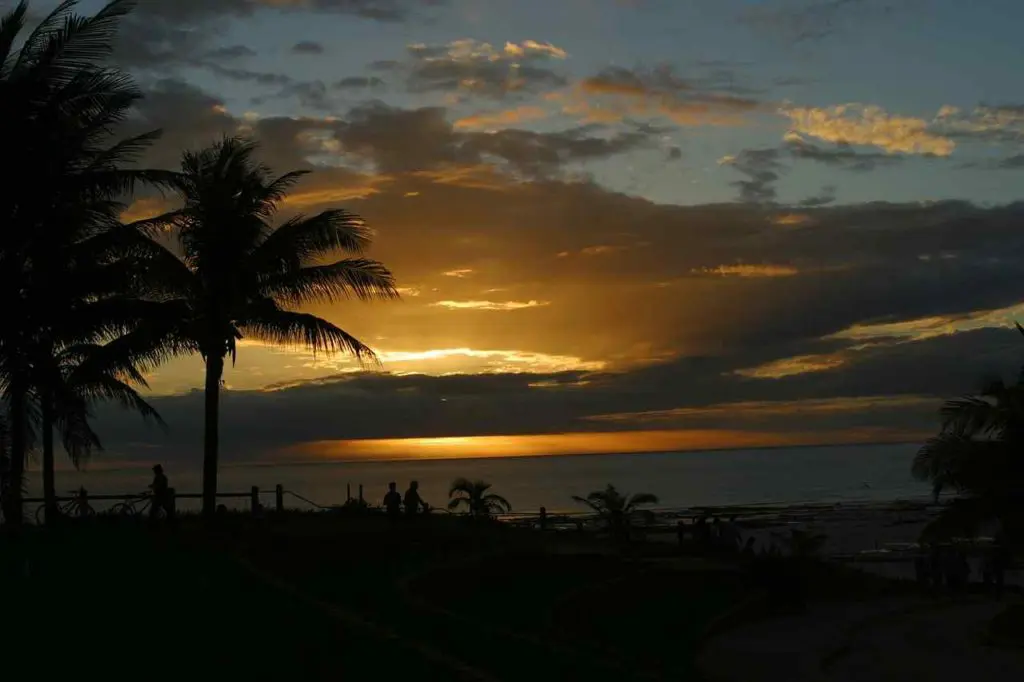 Broome is another great place to visit in Western Australia.
Like much of Western Australia, Broome doesn't have a lot of inhabitants, which means that most of the surrounding area is untouched and more natural.
Broome has a wet and dry season, so it would probably be best to visit when it is not monsoon season, to properly appreciate its beauty!
21. Glenelg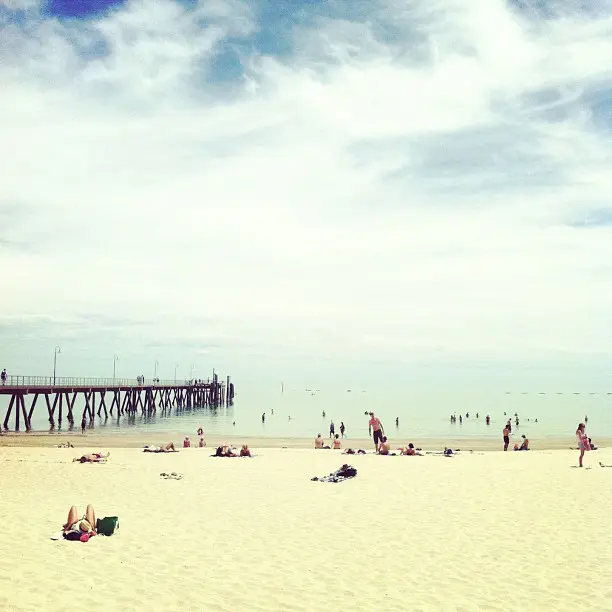 I love Glenelg!
It is one of the best beachside towns in Australia, and one of the best places to visit in South Australia!
The beach is great, and it is not too crowded, even during summer! There are also some great cafes nearby, should you get peckish during your trip!
20. Surfing
Surfing is another image that crops up when you think of Australia!
The image that a lot of people have is that Australians all have long blonde hair and are beach bums.
While this is not entirely true, surfing is still very popular here and you should try it during your stay!
19. BBQ
Another quintessential Aussie activity is the barbeque!
Shrimps on the barbie, might not be as true as is commonly thought, but a good barbie is a big part of Australian culture!
Nearly every park and beach will have several barbeque stations, so there is no excuse not to indulge in this famous Australian pastime!
18. Devil's Marbles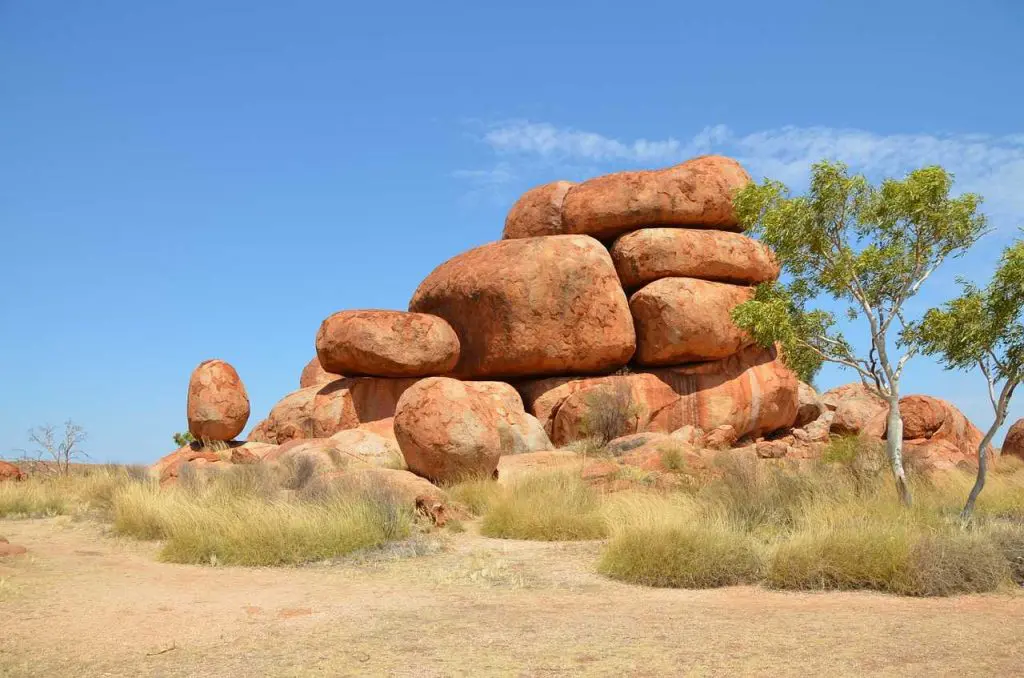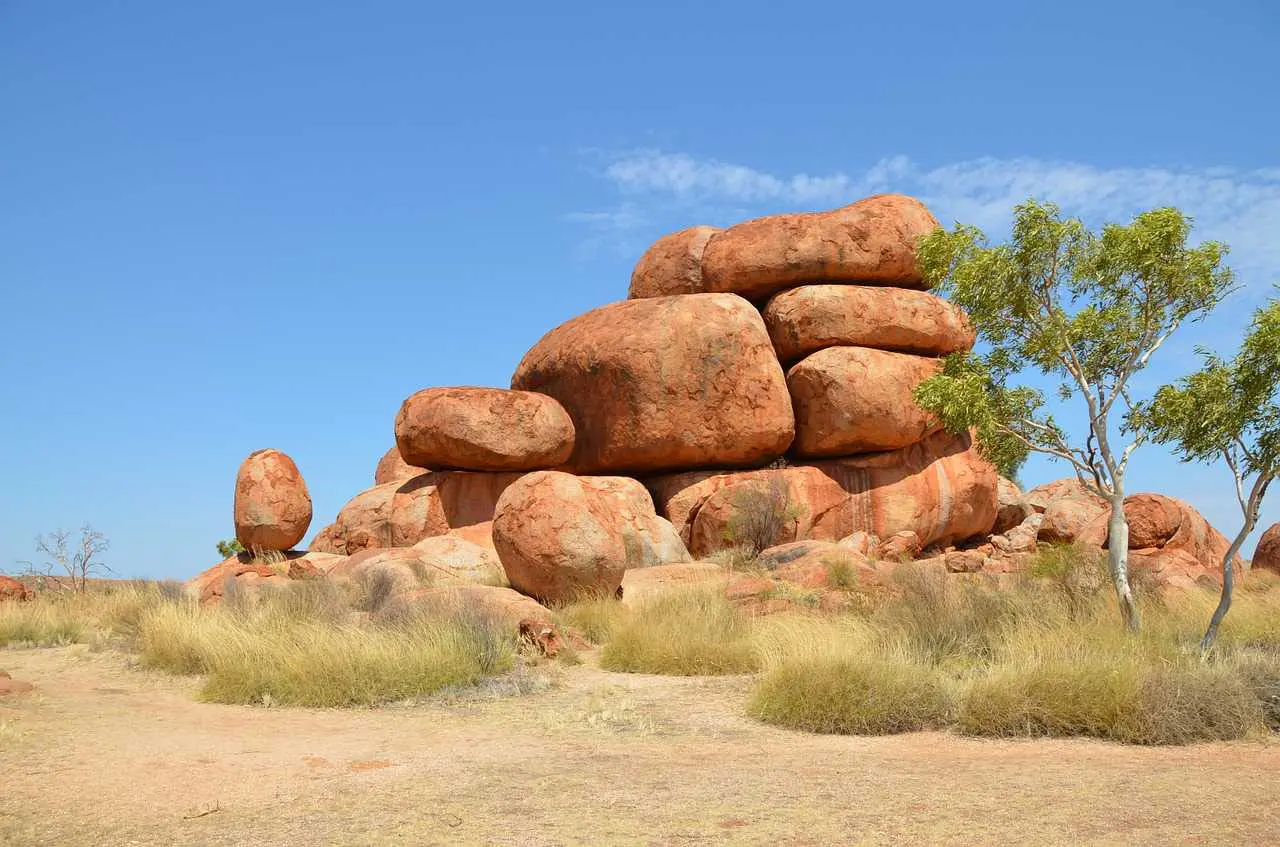 Again, this is another place that I knew next to nothing about before I visited!
Admittedly, there isn't an awful lot to do at the Devil's Marbles, but it is the sight of giant round boulders in the middle of the desert, that is incredible.
They look as if they have no place being here! This is a must-visit location if you are in the Northern Territory!
17. Tasmania
Although I didn't visit Tasmania, it looked amazing from the pictures that I saw from friends who had visited there!
It reminded me a lot of New Zealand, with similar landscapes and scenery and would appeal to those who have an adventurous side to them!
Again, this is a different side to the Australia of the East Coast and well worth a visit!
16. Kakadu National Park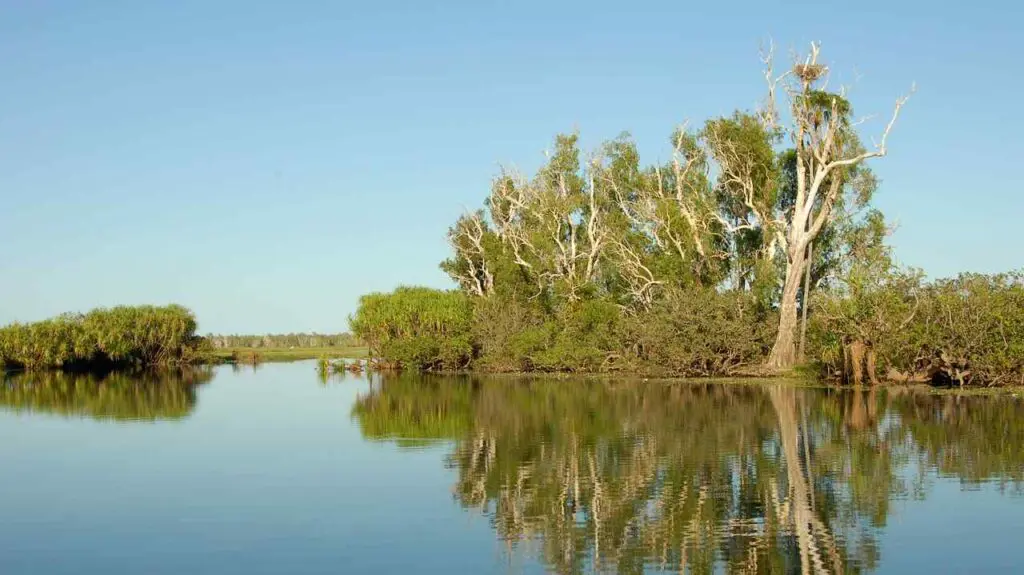 Kakadu National Park is huge, it's the same size as Slovenia!
It's nearly impossible to see all of it, but there are some great spots to see here.
It is home to some of the oldest Aboriginal sites in Australia and also plenty of crocs, so keep your eyes peeled during your visit!
15. Bondi beach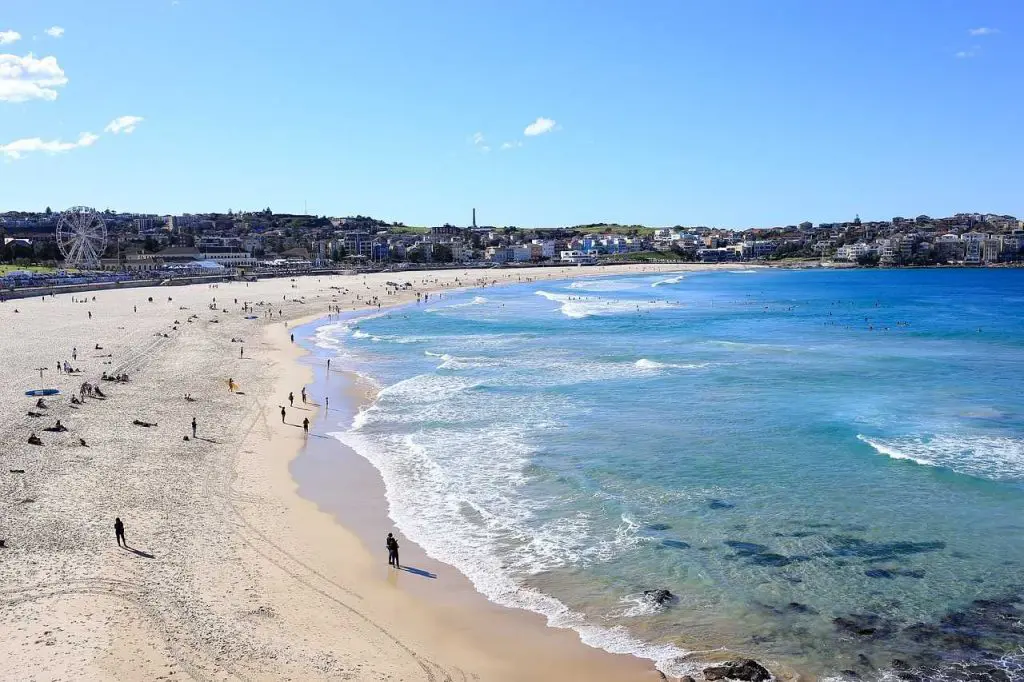 Bondi Beach is without a doubt, the most famous beach in Australia, so it would be daft to not visit while you are in Australia!
I'll be honest, I didn't think it was all that great and I preferred nearby Tamarama and Bronte, but as an icon of Australia, it has to be visited.
Plus, the coastal walk from Bondi to Coogee is incredible and is a must-do!
14. Sydney Harbour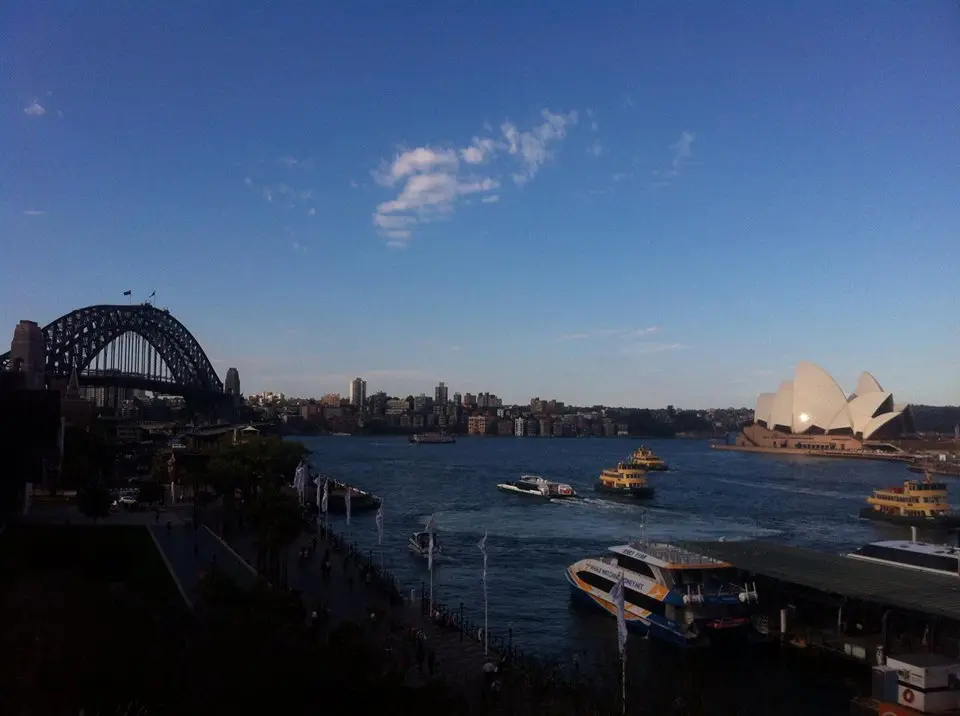 I wasn't the biggest fan of Sydney, living in Melbourne for 5 months probably accounted for that, but I can't deny that the Harbour area in Sydney was great!
This is the best part of Sydney and it is incredible to see the bridge and Opera house up close as they are spectacular in person!
13. Melbourne Cricket Ground
If you are a sports fan like me, then you have to visit the Melbourne Cricket Ground (MCG) while you are in Australia!
It's a massive stadium, capable of holding 100,00 spectators and watching a cricket or Aussie Rules match here is an experience.
It's also home to the National Sports Museum, which is worth a visit as well!
12. King's Canyon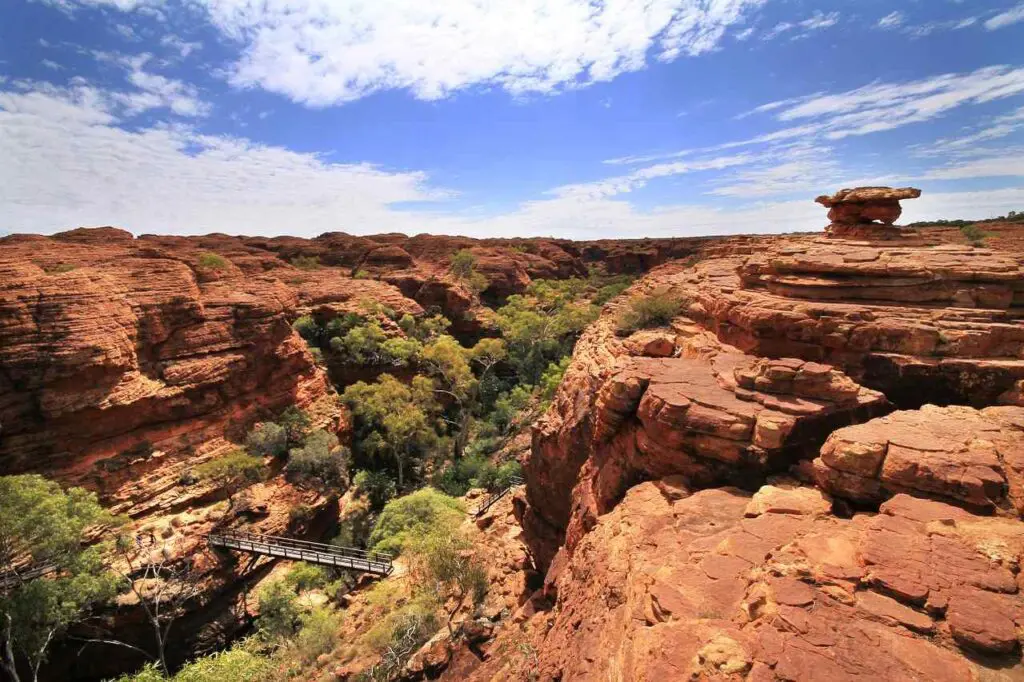 King's Canyon is overshadowed by nearby Uluru and Kata-Tjuta, but it's still one of the most famous landmarks in Northern Territory. It might not get the attention of the other two, but that doesn't mean that there's not a lot to see at King's Canyon!
I thought King's Canyon had some of the best views out of the three and the walk around the canyon is great and offers some amazing sights and views of the outback!
11. Airlie Beach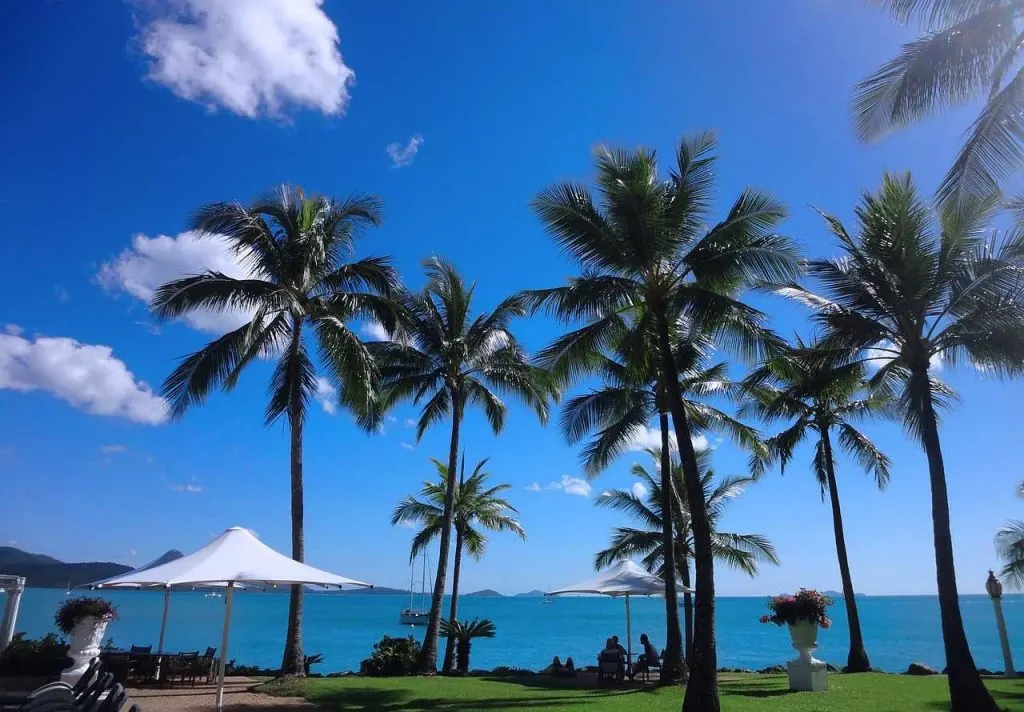 Airlie Beach is the gateway to the Whitsundays and although there isn't an awful lot to do here, it's not the worst place in the world to be!
It has a lively nightlife scene, and there are some great coastal walks around the area as well.
The beach isn't too bad either and they have a cool pool area just off it as well!
10. Whitsundays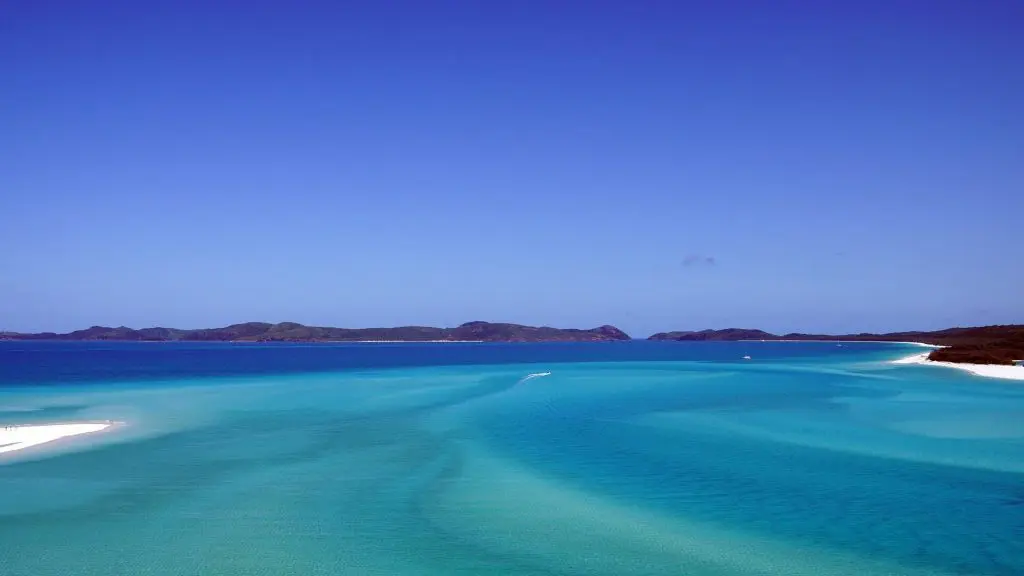 The Whitsundays is one of the top attractions in Australia, and this owes much to the beauty of the many islands that make up the Whitsundays.
Many backpackers go on a boat cruise around the islands and this is something worth doing while you're in Australia!
9. Byron Bay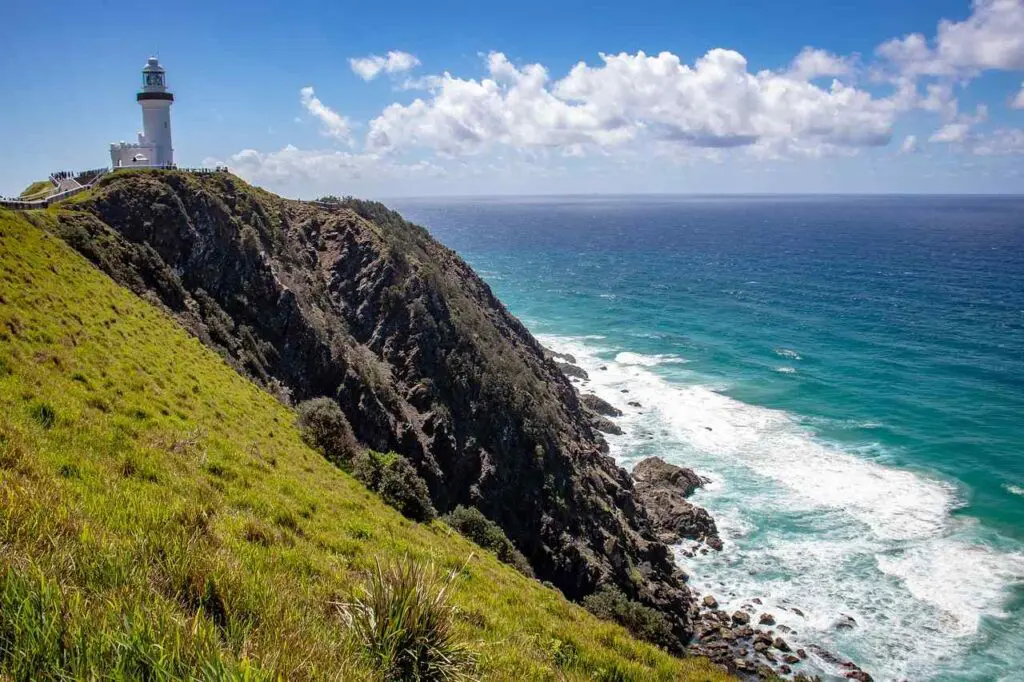 Another location on the East Coast, that I didn't stop at, Byron Bay is the most easterly point of mainland Australia.
This is marked by the lighthouse at Cape Byron and there are some great views of the Pacific from here. Byron is also a lively town with plenty of other activities for backpackers!
8. Night sky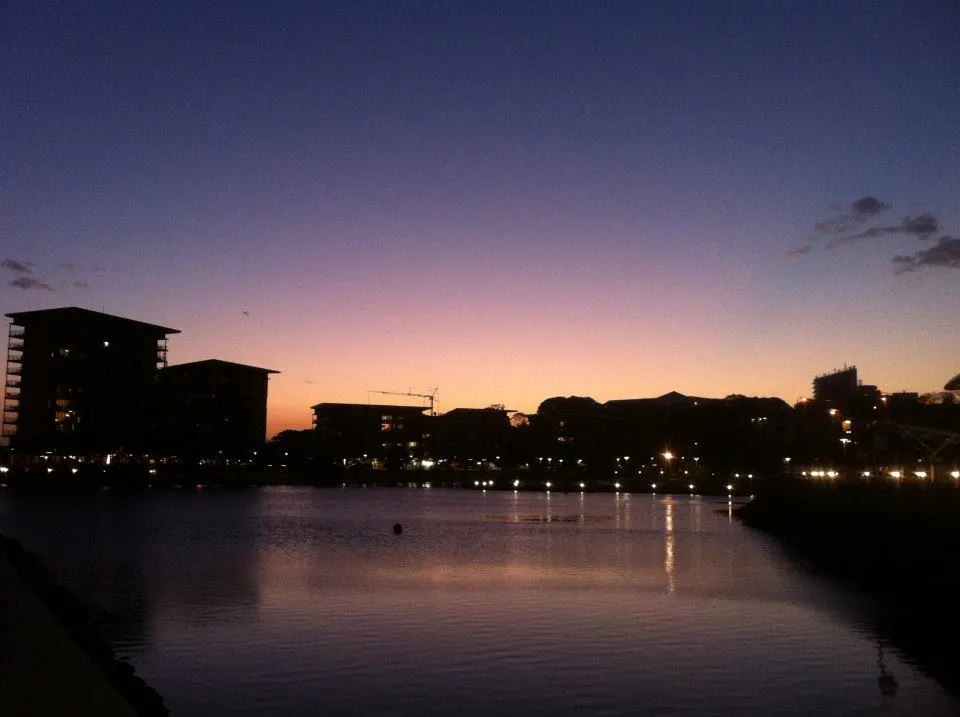 Australia is one of the best countries in the world for stargazing!
This is mainly due to its isolation from the rest of the world and the lack of pollution, especially in the outback.
I have never seen clearer skies, save for when I was in New Zealand, so if stargazing is your thing, Australia is the place for you!
7. St Kilda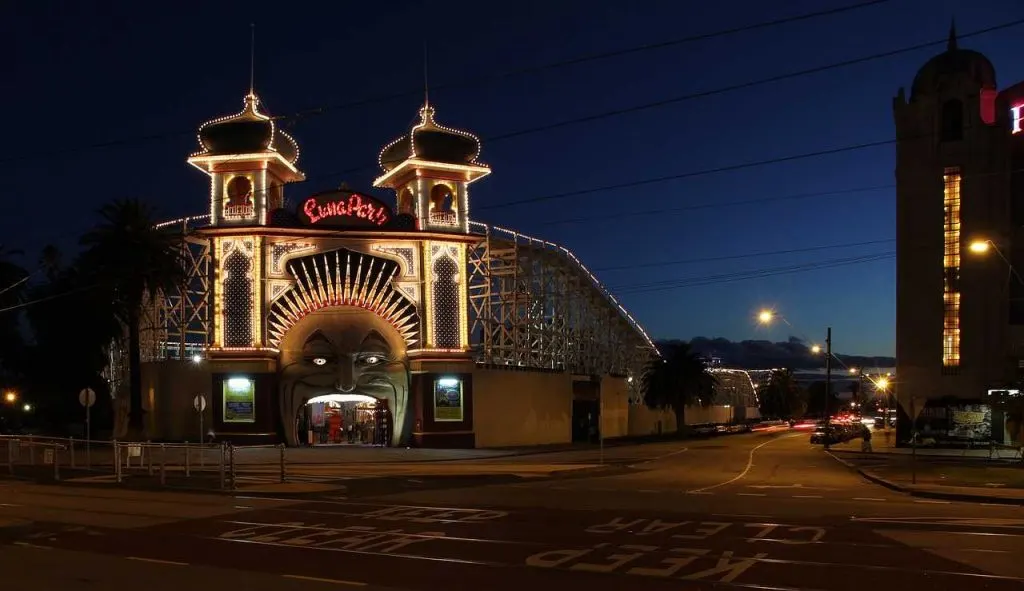 St Kilda is one of the top things to do in Melbourne and the main beach in the city.
The beach is good and there are lots of cool cafes and restaurants nearby. This is also a top backpacker spot in the city and a great place to meet like-minded travellers.
Luna Park is also worth a visit while in St Kilda!
6. Blue Mountains
This is another place that I regret not visiting in Australia, and as that list is quite long, it just shows how much there is to do in Oz!
The Blue Mountains are a mountain range in New South Wales and similar to the Grampians, they offer some incredible views and diverse scenery.
A must-visit in New South Wales!
5. Straightest road in the world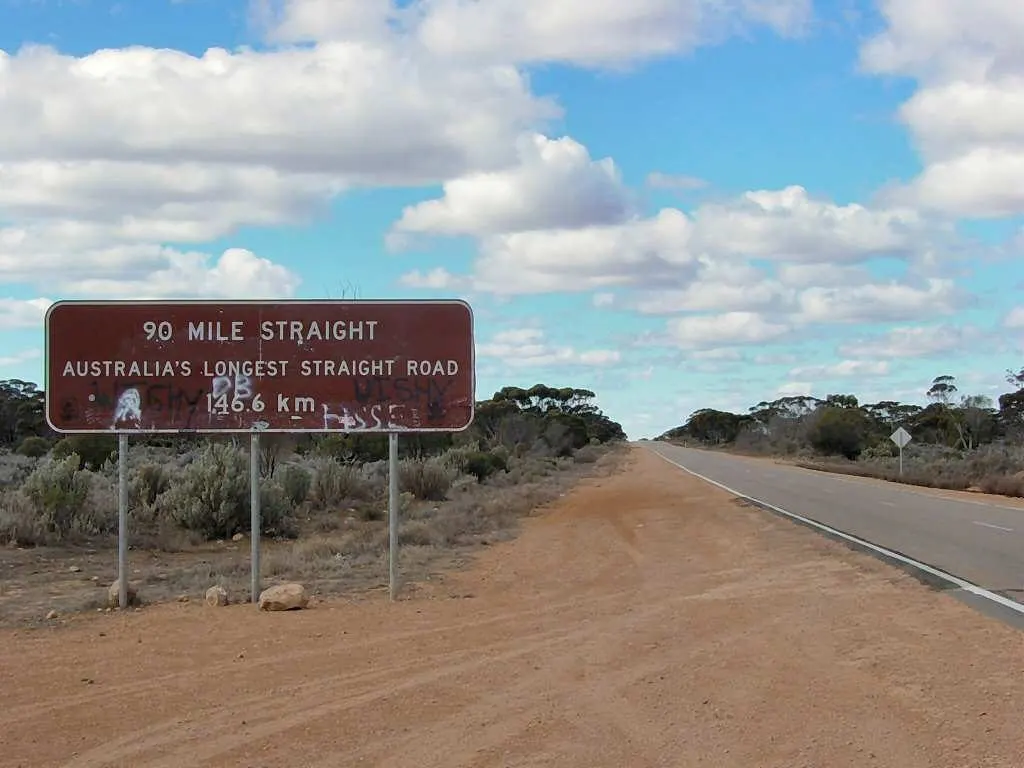 Among many other weird and wonderful things, Australia is also home to the straightest road in the world!
The 145.6 km (90 miles) road is on the Eyre Highway, which links Perth and Adelaide.
If you love road trips, then travelling on this road, should surely entice you to do an Adelaide to Perth road trip!
4. Koalas
Along with the Kangaroo, Koalas are another icon of Australia, and you cannot leave the country without seeing one.
They are weird creatures up close and don't do an awful lot, but there is no denying they are cute!
Most parks and zoos offer the chance to hold one, bear in mind you have to pay and it can be expensive!
3. Perth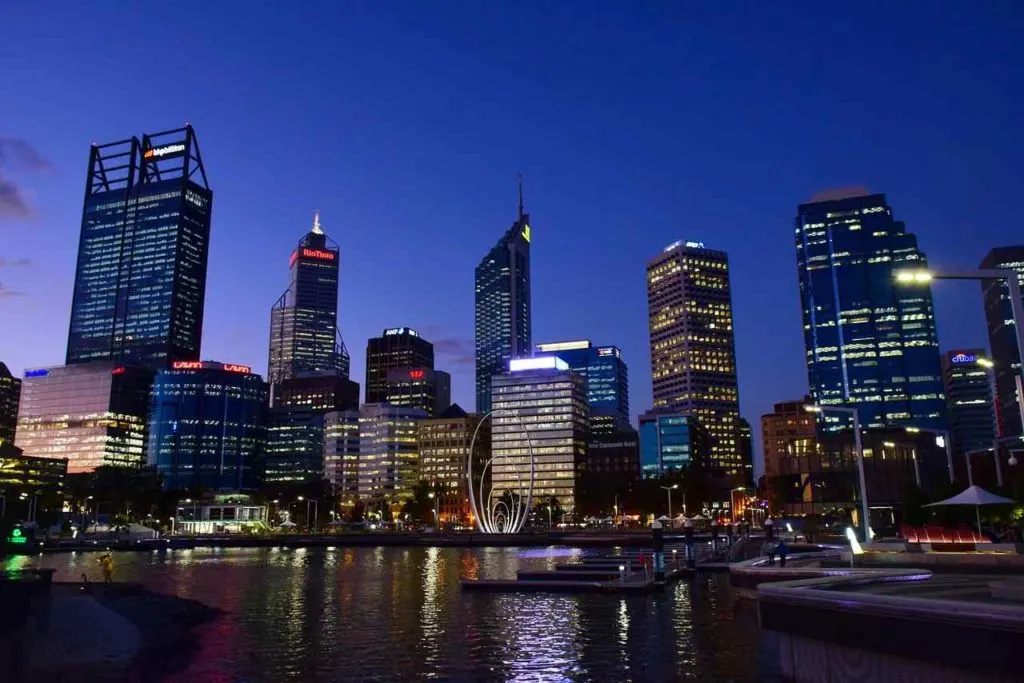 Perth is the capital of Western Australia, and the most isolated city in the world, but that doesn't mean you shouldn't visit.
There are plenty of things to do in Perth, and it is home to some of the best beaches in Australia.
One downside is that the city is quite expensive, so unless you have a job there, you will have to watch what you spend!
2. Big things
One thing that is slightly peculiar about Australia, is that for some reason, there are a lot of big things scattered across the country.
There are so many, they even have their own dedicated Wikipedia page!
They certainly liven up travelling around Australia, and give an insight into the culture of the people here! They also make road trips much more interesting!
1. Fraser Island
Another one of the great reasons to visit Australia, Fraser Island is the world's largest sand island.
Located on the East Coast, it is heritage listed and has a cool shipwreck that you can check out as well.
4×4 tours are popular on the island and are a great way to see all it has to offer.
You may even see the odd dingo as well!
Concluding Thoughts
As you can see, there are plenty of reasons to visit Australia, so what are you waiting for? Get out there!
Do you agree with these reasons? Is there anything that you think I've missed? Drop me a comment below to let me know what you think!
Need Travel Insurance?
SafetyWing offers coverage that will give you peace of mind while you're on the road. If you want to protect yourself while you're on the road, then click the image to take a look at the options available to you.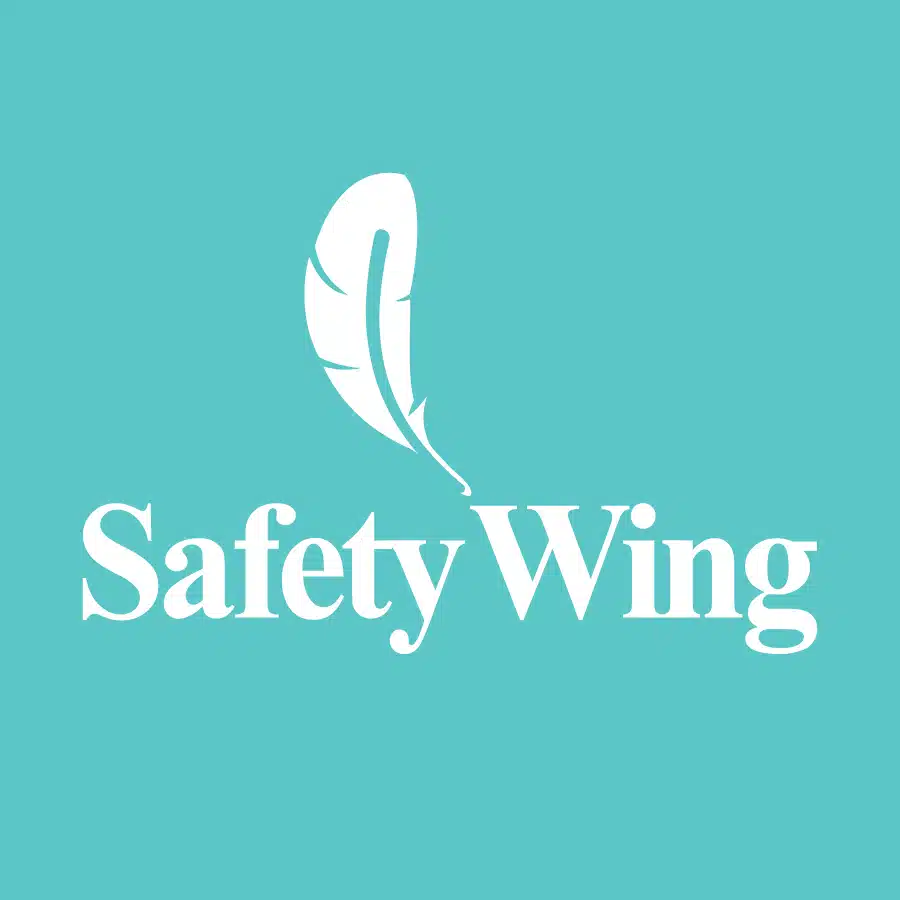 Pin for later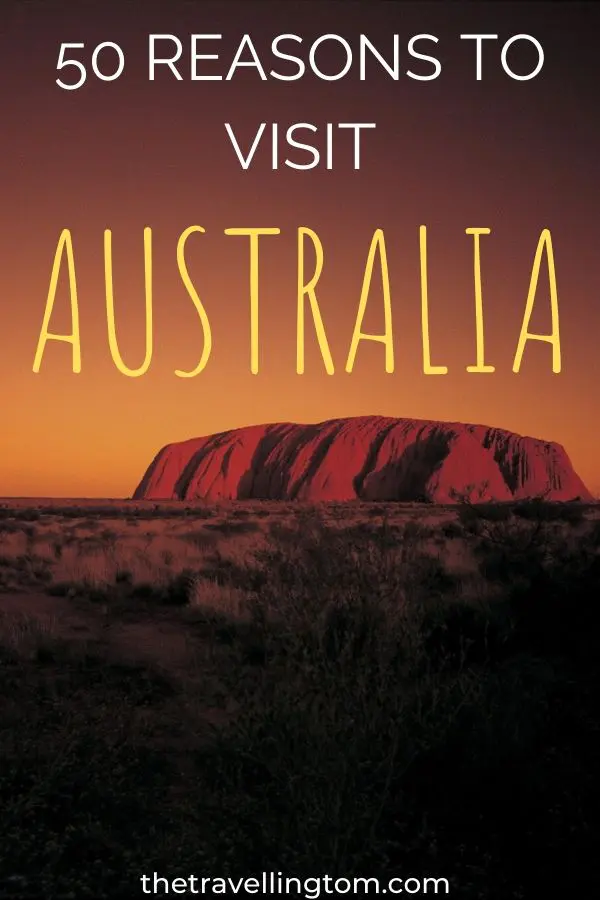 Tom is a travel addict who first left England to spend a year Down Under. Not satisfied with this, he then went to New Zealand, about as far away from home as he could get. He is now planning his next adventures in Europe and Canada while maintaining this blog. Check out the about me page to learn more!