Visiting Coober Pedy is a strange experience. There is nothing normal about this town, which has an other-worldly feel.
Located in the middle of the Australian outback far from civilisation, it resembles settings in Mad Max films. The last outpost in a barren post-apocalyptic world is a strange place!
However, it's the strangeness that makes it a unique place you should go out of your way to visit.
Few places in the world can match Coober Pedy for its strange vibe, indeed it was certainly the strangest place I encountered while backpacking Australia!
The underground homes and the general feeling that you're cut off from the world make it a strange place! So if you're travelling through South Australia, then it's definitely worth a visit!
Disclosure: This article may contain affiliate/compensated links. For full information, please see our full disclosure policy.
Table of Contents
Coober Pedy Travel Guide
General Info
You're probably wondering what a place like Coober Pedy is doing in the middle of the outback far away from civilisation. It's a good question and one with a simple answer, opal. The town is located above the biggest opal field in the world.
Since the discovery of opal in 1915 by Willie Hutchison, the underground town supplies the majority of the world's gem-quality opal. Thus, most of the town's inhabitants are involved in the mining industry.
Even the name, Coober Pedy, has interesting origins. It comes from the local Aboriginal term kupa-piti, which means 'white man's hole'.
As the town is in the middle of the desert, it gets hot, we're talking 50 degrees hot! Even during winter, temperatures regularly reach the 30-degree mark. Be sure to bring adequate protection from the sun, such as sun cream and a hat, as it's gonna be hot!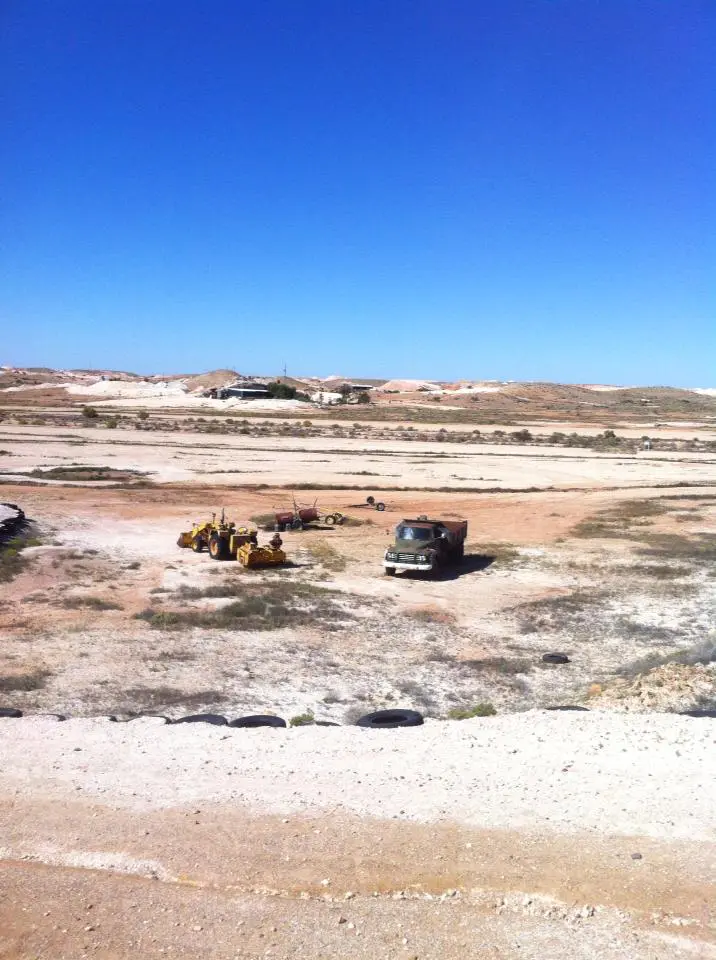 Getting to Coober Pedy
Pretty much the only way to get to Coober Pedy is via car on the Stuart Highway. There is an airport, but no major airlines fly into it. If you want to get there by plane you will have to book a flight on one of the regional airlines that operate there.
In my opinion, the best way to visit Coober Pedy is on a road trip! An Adelaide to Darwin road trip would pass through the town and it's a great place to stop for a few days and soak in the weird and wonderful sights of this outback town!
The majority of people pass through on one of the numerous tour group buses in the region from Adelaide or Alice Springs.
If you're going by campervan or if you're crazy enough, by car, then make sure you fuel up before you leave as there is next to nothing before reaching Coober Pedy.
This is especially true if you're coming from Adelaide. Once you leave Port Augusta, there is no other town and only a few pit stops before you reach this little town in the outback 334m (539km) later!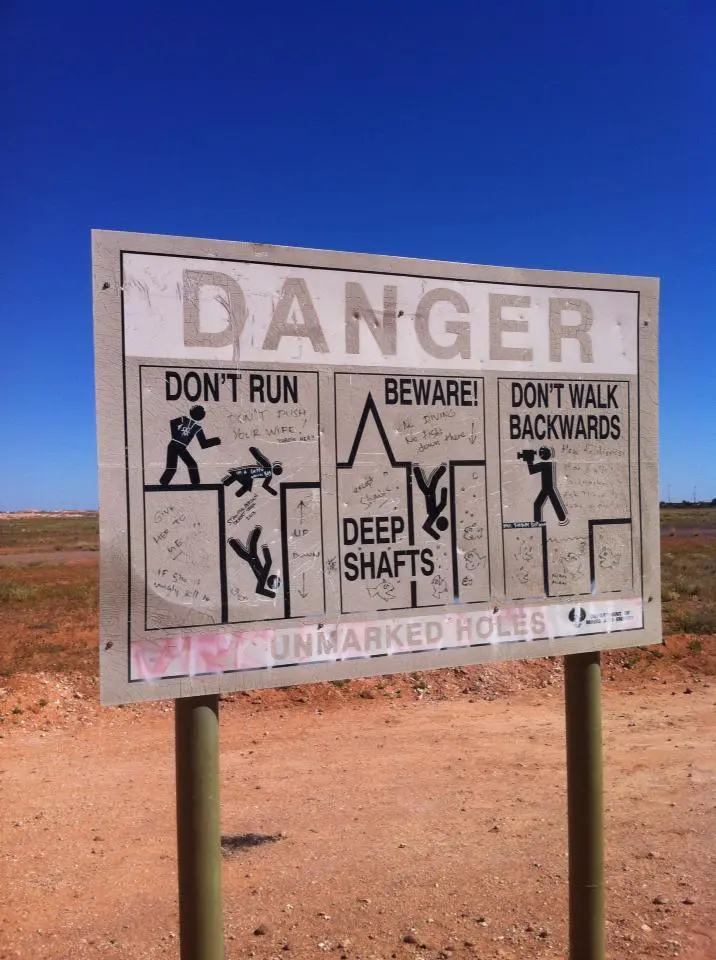 Best Time to Visit Coober Pedy
The best time to visit Australia is an important factor when visiting the country, and this especially holds true if you're visiting the Outback!
No matter what time of the year you go to the Outback, it's going to be hot. It just depends on how hot. Visit during the summer and the temperature will be above 40 degrees most days and might even reach 50 on occasion!
While, if you visit during the winter month it will be cooler, but that still means temperatures of around 30 degrees! This is still hot, but I know which temperatures I would prefer to be in!
Normally, I'm not so firm about the best time to visit somewhere, but in the case of Coober Pedy, I believe there is only one answer. In my eyes, it's undoubtedly better to visit during the winter. Simply, to avoid the searing desert heat during the summer.
By all means, you can go against my advice, but I don't think you'll enjoy suffering in extreme heat with little protection!
The Strange Town of Coober Pedy
Coober Pedy is without a doubt, the strangest place I have ever visited and definitely one of the most unusual places to visit in Australia!
It really is like visiting another planet, with houses bored into the side of rocks in the hillsides. It actually reminded me of the landscape of Tatooine from Star Wars, the barren desert, with houses made of rock was eerily similar!
The main reason people live underground is due to the intense heat. As I mentioned above, it can get quite hot in Coober Pedy. So to combat this, a lot of people live underground. The residents have bored caves into hillsides, which are known as dugouts. This also saves on air conditioning, as the underground houses remain at a constant temperature. Clever eh!?
The strangeness does not stop there. The only 'tree' in the town sits on a hilltop overlooking the town. Nothing strange about that you say!? Well, considering that it's made of scrap iron welded together it is a little strange!
Coober Pedy is not a destination that immediately springs to mind when you think of Australia. Images of Uluru, Melbourne and Sydney are what come to mind for most people. I completely understand the attraction of these places, especially the big cities, as they are great cosmopolitan centres and amazing places to live!
However, there is more to Australia than just surf, sun and sand. The Outback is a magical place, that is almost unique in many regards. Especially, in the case of Coober Pedy, where a town is literally in the middle of nowhere. Driving there really hammers this home, as it takes more or less a full day from Port Augusta!
I honestly think that you are really missing out if you don't include Coober Pedy on your backpacking itinerary of Australia. The place is so unique and quirky, that it must be included, this was one of the highlights of my working holiday in Australia and the outback in general, is amazing!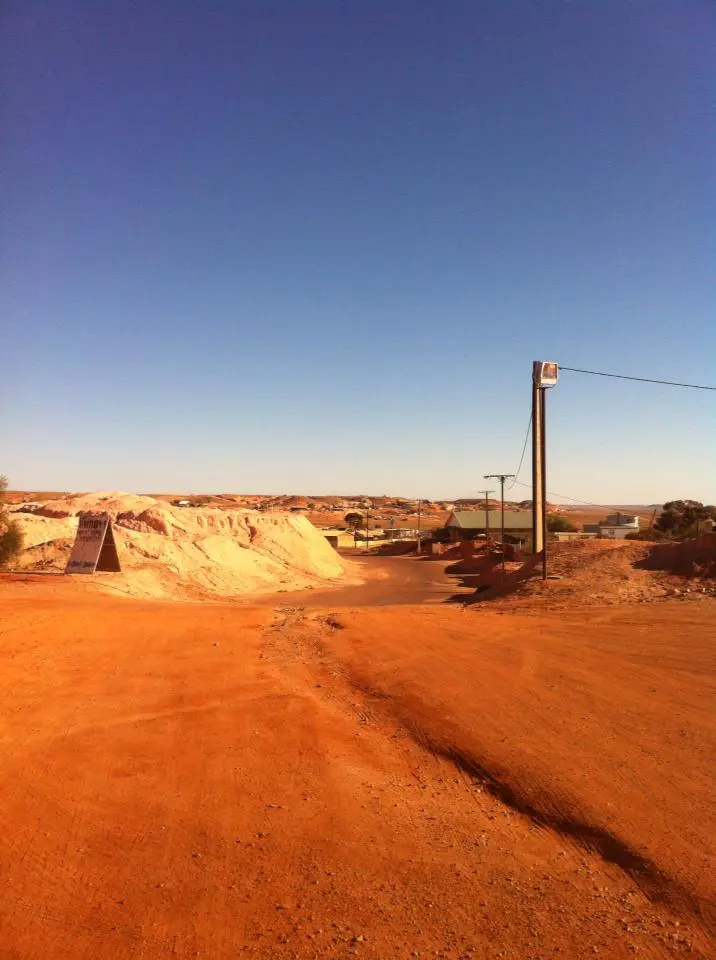 Where to Stay in Coober Pedy
If you're backpacking in Coober Pedy, then as far as I see it, you only have two options. For those of you travelling in a campervan, then naturally, you are going to be sleeping there. However, if you travel by car or another form of transport, then you will need to find accommodation.
Surprisingly, there are quite a few hotels and accommodation in Coober Pedy, with some even above ground! However, I feel it would be a waste to travel all this way, without spending the night underground.
After all, how many opportunities are you gonna get to sleep underground in your life!? Below are a few hotels and B 7B's to check out if you're wondering where to stay in Coober Pedy!
Desert Cave Hotel – An upmarket hotel with 19 underground suites to choose from. If you want to sleep underground in style this is the place for you!
The Lookout Cave Underground Motel – An underground hotel in Coober Pedy. Need I say more, the experience of a lifetime sleeping underground!
Underground Bed and Breakfast – If you want a more unique option, then this is the place. Cheap underground rooms that won't break the bank!
Things To Do in Coober Pedy
Surprisingly, for a small town in the middle of the desert, there are plenty of things to do in Coober Pedy. In fact, it's well worth staying there a whole day, so you can see what the town has to offer.
The attractions range from underground houses to a golf course in the middle of the desert! Another one of the town's attractions is the Dingo Fence, which is close to the town. Below are a few things to see that I recommend!
Josephine's Art Gallery and Kangaroo Orphanage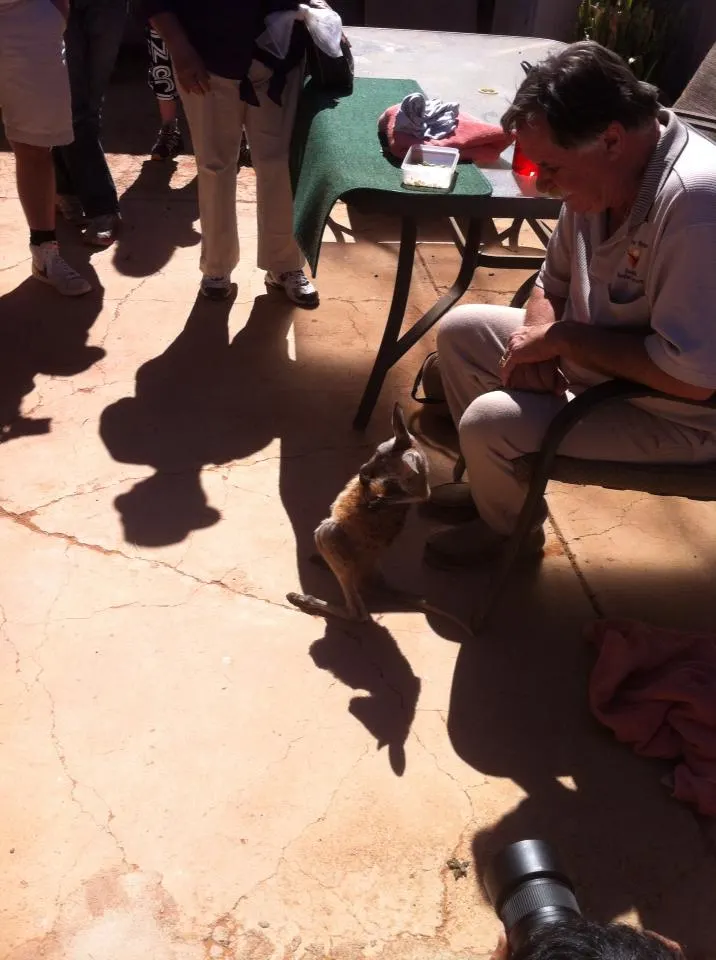 This is a must-see in Coober Pedy, and no the orphanage is not based underground! Josephine and her partner take in abandoned and injured kangaroos, that they come across in and around the area.
If you haven't yet seen a kangaroo while you've been backpacking in Australia, then this is the perfect place to go!
They have numerous kangaroos and if you are as lucky as me, you might even see a baby kangaroo (Joey)! They also have a great Aboriginal art gallery, with many great paintings and didgeridoos that you can purchase.
All proceeds go towards keeping the orphanage running, so it is a great way to support some great people!
Coober Pedy Golf Course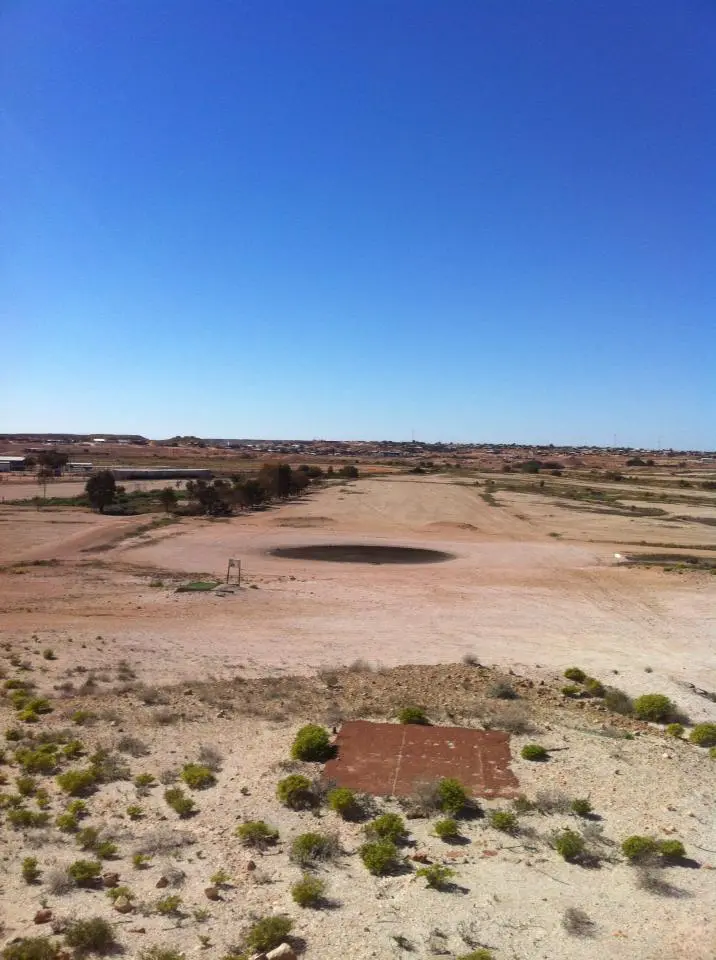 The golf course in Coober Pedy is perhaps the strangest in the world and is certainly worth a visit. As there is no grass, the course is entirely composed of sand, and the greens are in fact black!
To tee off, you carry around a patch of grass with a tee on it! Very weird!
With the temperature in the high 30s and 40s during the day, the course is mainly used at night, when it is a bit cooler.
This means that glow-in-the-dark balls are used, which just adds to the novelty. The likelihood is that you won't get a chance to play on the course during your stay, but it is worth visiting just for the novelty!
Umoona Opal Mine and Museum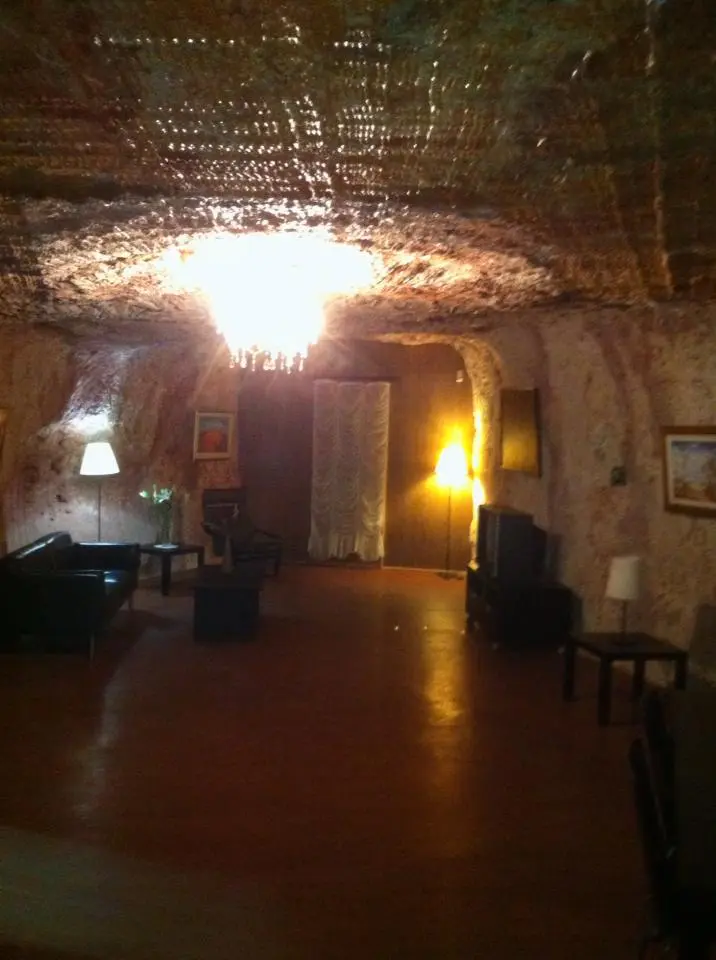 Visiting the Umoona Opal Mine is an absolute must-do in Coober Pedy. The tour of the mine and the museum gives you an insight into living in this weird and wacky town. It also sheds light on many of the features of the town, especially the underground houses!
Building an underground home is actually very cost-effective, with it costing around $50,000 to build your own bunker-style houses here!
If you get time, you should also check out the underground church here, as this is another unique experience, and it's actually quite a beautiful church!
Digging for opals in Coober Pedy isn't advised if you're a tourist but you can book a tour to check out an opal field. Or, if you can strike up a conversation with a miner, they might take you out to the field themselves!
Crocodile Harry's House
Crocodile Harry was an infamous character in the area, who sadly passed away. However, his house is still there along with the interesting decorations.
Although I never got to see the house while I was there, it sounds like a unique place to visit and just adds to the quirkiness of this place!
Concluding Thoughts
Visiting Coober Pedy is something that I highly recommend, especially as it is not a place many backpackers consider going to in Australia.
Indeed, many backpackers stick to the East Coast. My advice would be to go off the beaten track and see something completely unique!
It may not be what you picture when you think of Australia, but it's a place unlike any other. Be different, take a look!
Need Travel Insurance?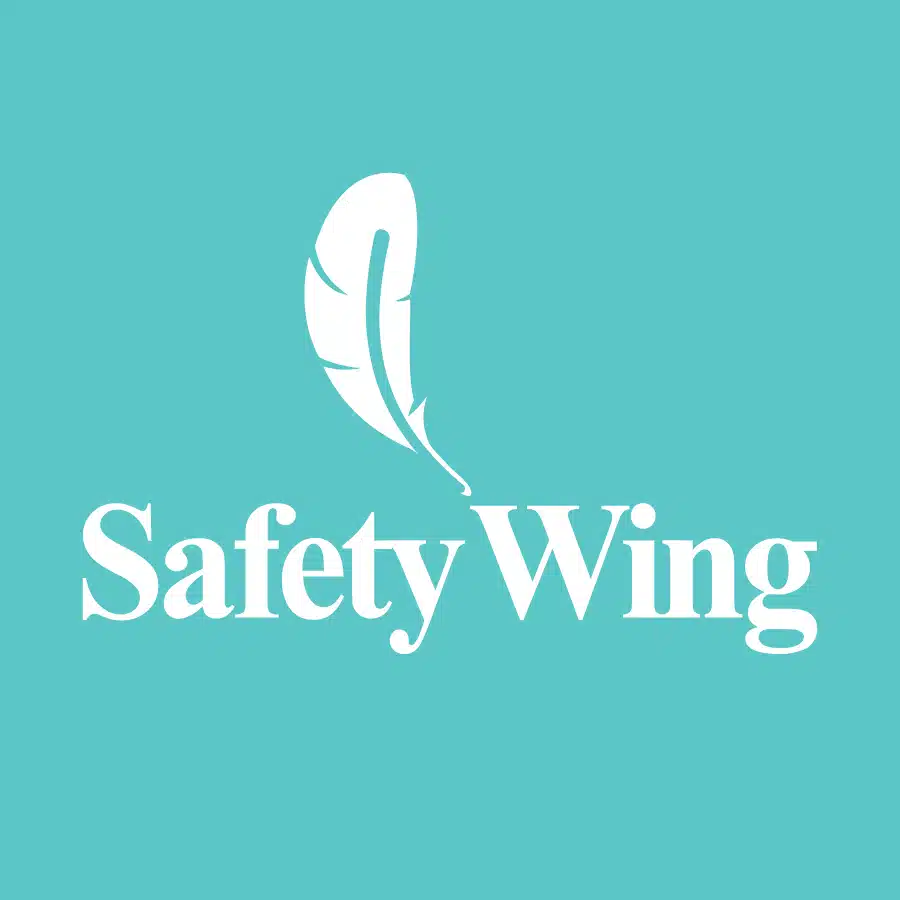 SafetyWing offers coverage that will give you peace of mind while you're on the road. If you want to protect yourself while you're on the road, then click the image to take a look at the options available to you.
Tom is a travel addict who first left England to spend a year Down Under. Not satisfied with this, he then went to New Zealand, about as far away from home as he could get. He is now planning his next adventures in Europe and Canada while maintaining this blog. Check out the about me page to learn more!