This Melbourne travel guide is the result of living in the city for 5-6 months during my Australia working holiday visa.
It's safe to say that I absolutely fell in love with the place. I had this title attributed to the city before I got there, but is Melbourne the world's most liveable city?
The world's most liveable city tag was something I didn't pay too much attention to at first. I had enjoyed being in Adelaide and wasn't sure whether Melbourne would be better.
Plus, I didn't know what the title really meant! I'd never really considered what makes a city 'liveable' and as I was backpacking Australia, I was unsure how long I would stay in Melbourne.
Well, although I don't have a way of measuring how liveable a city is, Melbourne is certainly one of the best that I lived in.
The excellent tram system makes getting around easy and with a wealth of places to visit and constant events, you are never short of things to do in Melbourne.
Disclosure: This article may contain affiliate/compensated links. For full information, please see our full disclosure policy.
Melbourne Travel Guide
General info
Melbourne is the capital of the state of Victoria and the second-most populous city in Australia after Sydney! It is named after Lord Melbourne who was the Prime Minister of the United Kingdom from 1834 to 1841.
During the Victorian Gold Rush of the 1850s, Melbourne became one of the wealthiest cities. While it was the seat of the government following the federation of Australia from 1901 until 1927.
Today, Melbourne is regularly ranked as one of the most livable cities in the world. It's renowned for its culture and sporting heritage, which has seen it host a number of events such as the 1956 Summer Olympics.
Best Time to Visit Melbourne
Considering the best time to visit Australia is vitally important when going to the country. As a continent in its own right, the climate varies significantly depending on where you are. This is certainly the case in Melbourne.
It's not regarded as the city of four seasons for nothing! The weather in Melbourne can change in an instant. Although this normally happens outside of the summer months when it's generally hot.
If you want great weather and not have to worry too much about rain, then the best time to visit Melbourne is during the summer. From October to the end of February, the weather is great, with temperatures over 30 degrees most days. However, it can get very hot at times, and it's not uncommon for temperatures to exceed 40 degrees.
Winter in Melbourne can be very cold. I remember cycling to work in temperatures below 5 degrees! Not what you'd expect in Australia!
This time of the year is the weather can change instantly. It can be sunny one moment and then turn windy and rain suddenly without warning. I would avoid backpacking in Melbourne during winter solely for this reason.
To truly enjoy Melbourne you need to visit during the summer. It's still great during the winter, but there are more things to do during the summer and the city is a lot livelier during this period!
If you plan on doing a 3 day itinerary of Melbourne, the best time to visit doesn't matter too much. Otherwise, the warmer months are the best time to visit Melbourne!
Melbourne Travel Guide: Getting There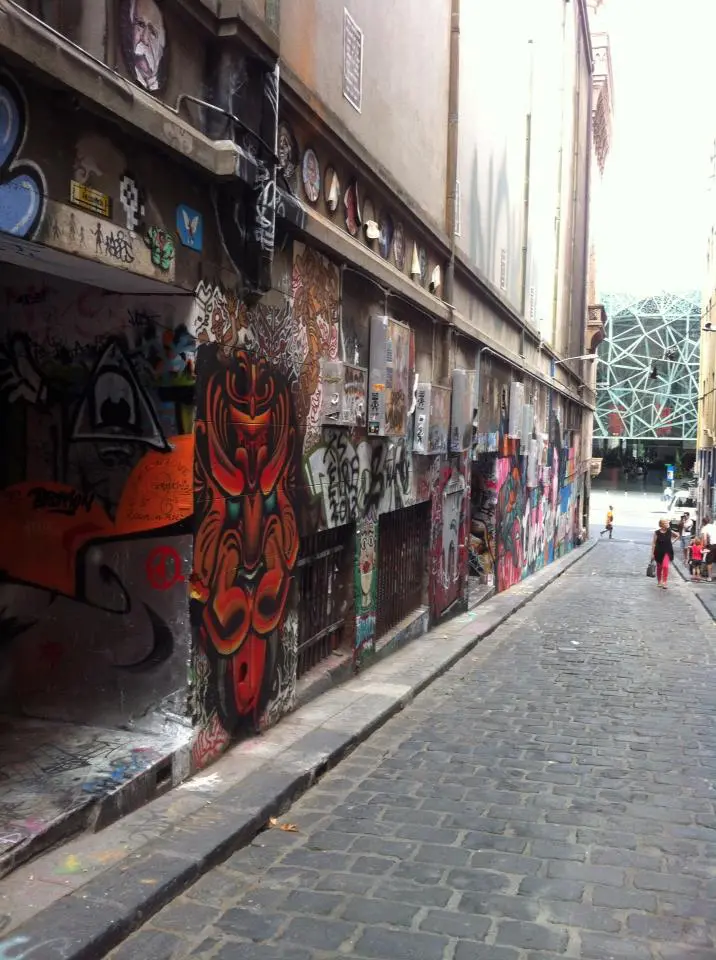 Getting to Melbourne is not too hard, as a number of international carriers fly into the main airport, Melbourne Tullamarine. Flights to Melbourne from the rest of Australia are also easy to find and are generally inexpensive if you book with Tiger or Jetstar.
Melbourne is a great place to either start or finish a road trip in Australia. You have a lot of choices when it comes to routes. You can head north to Sydney or even the Gold Coast, plus you can head into neighbouring South Australia!
I first came to the city at the end of my road trip from Adelaide, which was fantastic. You could do the trip in reverse, but either way, it's a good way of getting to Melbourne. It will allow you to see places you wouldn't otherwise see!
Once you are in the city itself, getting around Melbourne is extremely easy. There is a fantastic tram network, which covers the whole city centre and extends way out into the numerous suburbs around Melbourne. Travel within the City centre is free and does not require a travel card, which is known as a myki.
If you want to go travel outside of this zone, you will need to get a card. You can buy one for about $8 at the visitor information centre in Federation Square. Even though it's ridiculously easy to fare dodge in Melbourne, I used my card once for 4 months using a tram, it's best to have one.
You never know when the inspectors will be on the tram and if you have a myki card with you, at least, you can say you tried. That's true even if the machine didn't work, it's a surprisingly common occurrence!
There's not much point in driving in Melbourne when there is such an excellent tram network, which is probably one of the reasons it's considered the world's most liveable city!
The most obvious thing to note is that you'll be sharing the road with trams, so it's best to be vigilant all the time and never try to overtake a tram, as this could lead to a dangerous accident.
Is Melbourne The World's Most Liveable City?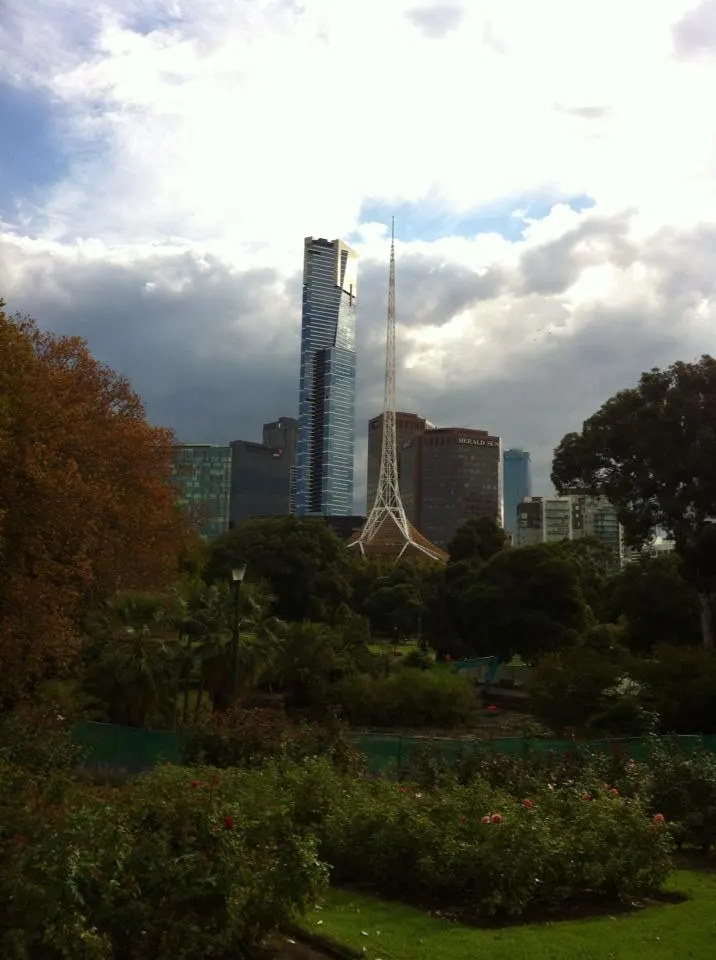 My Melbourne travel blog is based on five months of living in this great city! All the time I was there I constantly heard about the liveability of the city.
Melbourne is consistently ranked as the world's most liveable city according to The Economist Intelligence Unit. It has been ranked number 1 since 2011! The rankings take into account factors such as the widespread availability of goods and services, low personal risk, and an effective infrastructure.
This is all true and I guess it equates to a liveable city, whatever that term really means.
However, for me, what makes Melbourne a great and 'liveable' city is the culture and vibe of the city. There is always something going on and when I lived there, every other week there was an event. Whether it's sport-related, like Formula 1, or a festival such as the White Night festival, you're not short of things to do in Melbourne!
Melbourne has a very artsy and bohemian feel to it. This becomes more evident when you delve into the suburbs. Places like Brunswick Street are full of street art and independent shops and cafes.
You're not short on places to eat out in Melbourne. There are plenty of restaurants to choose from. Due to the multitude of immigrants from around the world, you can get virtually any cuisine you want!
To make things easier, Bel Around The World has come up with a guide to some of the best places to eat in Melbourne. I used to live in Fitzroy and definitely agree that you should try Hammer and Tong, as well as the food at the amazing Queen Victoria markets!
It's best to take these surveys and rankings with a pinch of salt, as it's essentially an opinion. I've met people who have raved about Melbourne and loved the place, while others didn't like it! This is true of all places and the only way to find out whether the city is great is to go there yourself!
There's no doubt in my mind that Melbourne is among the best reasons to visit Australia. The city has a different vibe to others in the country, it's edgier than Sydney and you are never short of things to do.
Perhaps this is why it's considered the most liveable city in the world!?
Where to stay in Melbourne
A city billed as the world's most liveable would have lots of places to stay surely? Well, that is definitely the case, be it long-term or short-term, there is a host of hostels in Melbourne as well as hotels to suit everyone's needs.
If you plan on staying in Melbourne to work and you have a working holiday visa, then finding somewhere to live is not too difficult. There are lots of rooms available for rent on Gumtree and if there is a group of you then you can find a flat on websites such as flatmates.com.au or easyroommate.
Weekly rent can range anywhere from $140 to $240 depending on where you live, which is not unreasonable considering the great wages paid in Oz!
There are a lot of hostels in Melbourne, I mean a lot! Well, over 100, with ones that range from great to not-so-great! Some of them were among the best hostels in Australia that I stayed in!
If you're wondering where to stay in Melbourne, then check below for my recommendations!
Hostels
Melbourne Central YHA – This is a very nice hostel near Southern Cross station. This place is a bit expensive and does lack a social area!
Melbourne Metro YHA – A nice hostel that is towards the north of the city. Spacious rooms and the staff here are great!
Nomads Melbourne – A nice hostel in front of the Queen Victoria Market. An in-house bar and cinema make Nomads a great choice!
Urban Central – Not as central as the name suggests, but it's not far from Southbank. Great facilities, huge kitchen area, the downstairs bar and spacious rooms!
Hotels
If you're not keen on staying in a hostel, then check out my selection of hotels in Melbourne!
Crown Metropol – if you want to stay in luxury in Melbourne, then this is the place. The hotel at the Crown Casino is incredible, maybe worth a one-night splurge!
Ibis Styles – A nice hotel in the centre of Melbourne with clean rooms and great staff.
Pegasus Apartment Hotel – Fancy staying in your own apartment in Melbourne? Then this is the place for you! Great facilities and a range of rooms to choose from!
Click here to check out the latest deals on hotels in Melbourne!
Culture in Melbourne
Melbourne is considered to be Australia's cultural capital for a reason. The city has a wealth of café's, museums and unique places to visit. The city is home to migrants from all parts of the globe and this has resulted in a diverse cafe culture.
There are tastes and culinary exports from every corner of the globe, so if you fancy Vietnamese, Greek or even Brazilian food, you shouldn't have too much trouble finding it somewhere!
Sport is a big part of life in Australia, and perhaps nowhere more so than in Melbourne. It's home to numerous world-class sporting events such as the Australian Grand Prix, Australian Open, and Melbourne Cup.
I was lucky enough to be in Melbourne when the British and Irish Lions were touring Australia. Plus, I got to watch Liverpool play a pre-season friendly at the MCG! all in the space of a few weeks!
Melbourne is also home to Australian Rules, the sport was devised in the city, and most of the teams come from the city's suburbs. Make sure you experience a game at the MCG, to see the passion for the sport first-hand.
Things to do in Melbourne
If you're wondering about what to do in Melbourne, then you'll be glad to know that there are plenty of things to do in the city! From sports to arts, there is a wide range of attractions in Melbourne for all travellers!
There are so many places to visit in Melbourne, you would need at least to try and see them all. Even then, I'm not sure whether you would have enough time! Below are a few of my suggestions for some of the best things to do in Melbourne.
Federation Square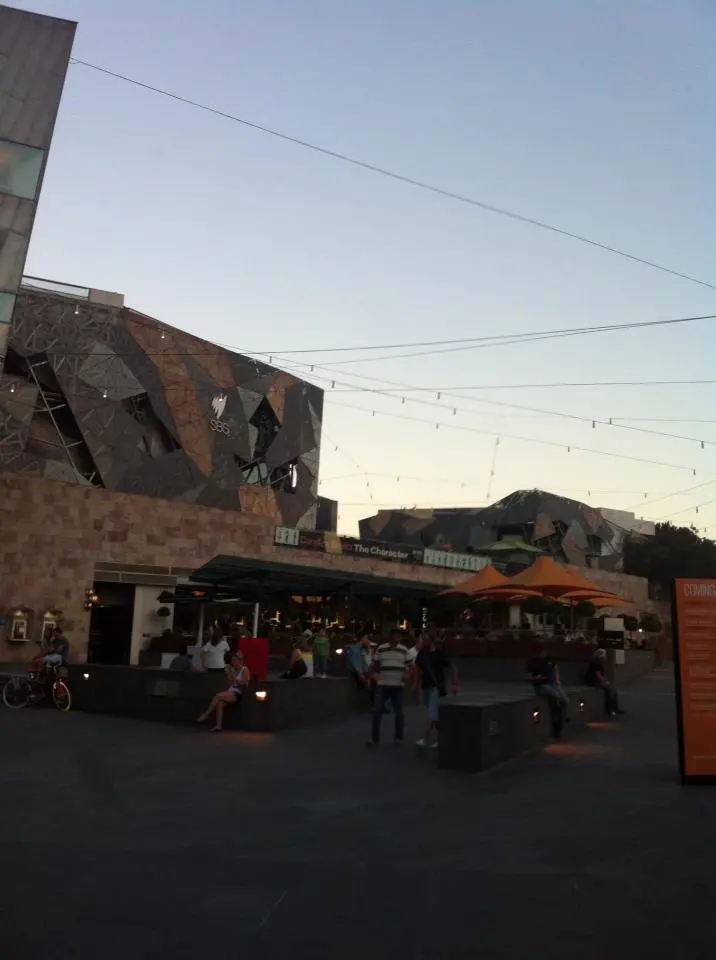 Federation Square is a recent addition to Melbourne, it was completed in 2002, but it's already a central part of the city. It's one of the points of interest in Melbourne that you cannot avoid visiting!
It's a great meeting point, as its central location opposite Flinders Street Station puts it right in the heart of Melbourne.
The architecture in the square is very modern and funky and is representative of Melbourne's reputation as an innovative city.
Fed Square is home to the National Gallery of Victoria (NGV) and the Australian Centre for the Moving Image (ACMI). The big screen is used to broadcast events such as the Australian Open and it also has free wifi!
MCG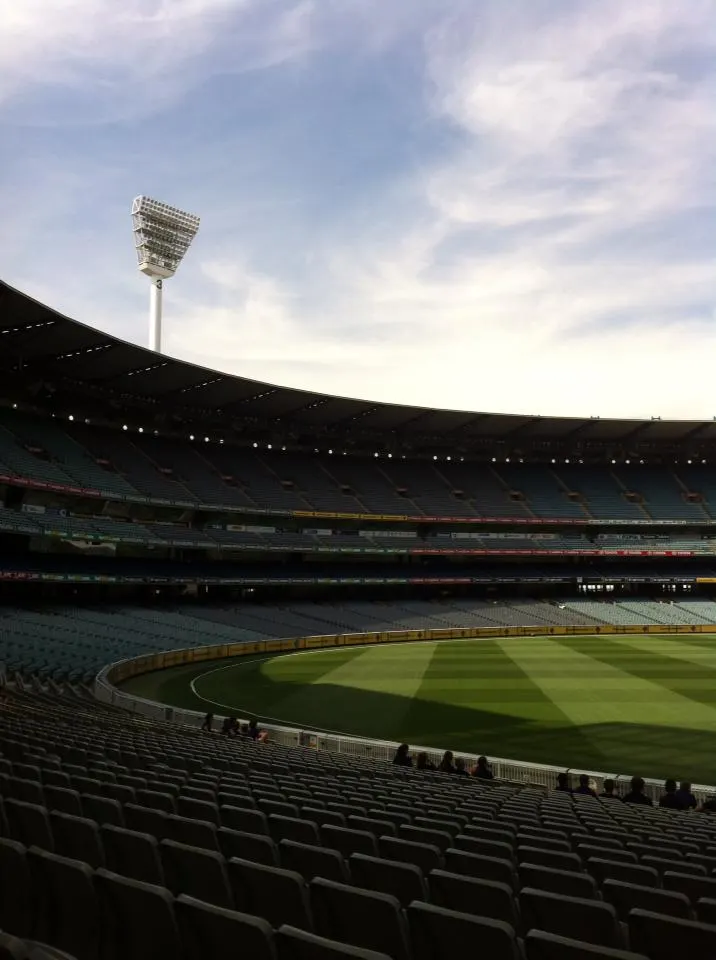 If you're a big sports fan, and even if you're not, I highly recommend visiting the MCG or the G, as it's known.
It's an absolutely massive stadium, which can seat 100,000 people and is an impressive sight. There are numerous sporting events to attend throughout the year such as cricket, Australian Rules (AFL) and Rugby occasionally.
If you want to sample an electrifying atmosphere, then you have to go to one! The MCG is home to the National Sports Museum and this is a must-visit if you're a sports fan.
There are a lot of great exhibits detailing the history of Australian sport and some interactive activities later. A visit to the MCG should be a part of every Melbourne itinerary!
Brunswick Street
I lived near Brunswick Street in Fitzroy and it is a very bohemian and cool place to check out. As a Northerner from England, that has grown up working in the construction industry, I felt like a bit of an outsider here.
Everything was very funky and hipsterish for my taste. But, I still enjoyed coming to Brunswick Street to eat and check out the great street art.
The street is full of unique places to eat and drink, some of which are the best in Melbourne. A diverse range of tastes, from Vietnamese to Greek, make the street a foodie's paradise. It is also home to a number of independent shops, which stock all sorts of weird and wonderful items.
The bohemian nature of the street is in evidence by the large graffiti that adorn the sides of most of the buildings! Just walking up and down the street, taking in all the art is something to enjoy!
St Kilda
St Kilda is Melbourne's most famous beach and a great location for backpackers to check out. There are lots of things to do and St Kilda is home to numerous events throughout the year, such as the St Kilda Festival, which showcases current and up-and-coming Australian artists.
Luna Park is an iconic amusement park at St Kilda, and is well worth checking out for its vibrant artwork and cool rides!
It is a great place to go during the summer and relax, especially when temperatures get hot.
This is probably one of the reasons Melbourne is considered the world's most liveable city as the beach is reachable from the centre of the city and from most suburbs as well, due to the great tram network.
Beach life is an essential part of the culture in Australia, so be sure to experience it in full at St Kilda!
Museums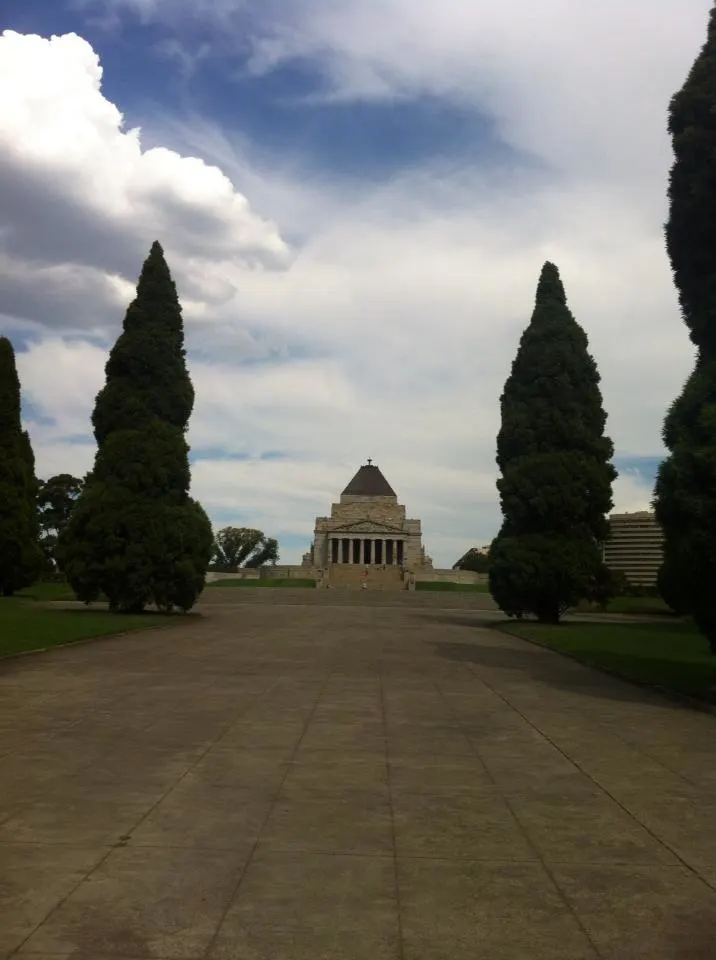 Melbourne is home to a lot of museums and art galleries, all of which are worth a visit. The Melbourne Museum is an interesting one, with lots of prehistoric exhibits.
However, at $20 to enter it's not exactly cheap! Next to the Melbourne Museum is the Royal Exhibition Building, which is a UNESCO World Heritage Building and worth checking out.
The National Gallery of Victoria (NGV) at Fed Square is an interesting place to see, with lots of ever-changing galleries.
I would also recommend visiting the Old Melbourne Gaol and Immigration Museum for an insight into the early history of Melbourne and Australia.
Cost of Travel in Melbourne
There's no getting away from it, along with Sydney, Melbourne is the most expensive city in Australia This is simply because it is one of the two main cities in the country. You will generally pay more for everything than if you were to visit Brisbane.
There are a few cheap hostels in Melbourne, but generally, you'll be paying over $30 a night for a bed. This increases when there is a big event on such as the Australian Open or F1. Most hostels do include free breakfast and wifi, but there are a few that don't so be sure to check before you book!
If you're planning on eating out in Melbourne, then you might want to think about limiting how much you do it. The costs can add up quickly if you're not careful. Alcohol costs a lot and you can expect to pay $10 in places for a beer! It's not even a pint either, due to the crazy Australian measurements!
You can save money if you go to food courts and suburbs such as Fitzroy where there are lots of cafes that have great deals. Prices will be more expensive in the city centre. My advice would be to cook as much food as possible to keep costs down. Most hostels have kitchens, so this shouldn't be a problem!
One area that could see you spend a bit of money is on attractions in Melbourne. Visiting the Eureka Tower and Melbourne Museum are just two places where you'll need to pay to enter.
There are a number of day trips from Melbourne that cost a fair amount of money. Going to Phillip Island or Wilson's Promontory could potentially cost in excess of $100!
You can also go to the Great Ocean Road but I did this as part of my Adelaide to Melbourne road trip and would recommend you do something similar. There are some great places between the two cities such as the Grampians, which you would otherwise miss out on.
Melbourne Travel Tips
Hostel charging for wifi? You can head to Federation Square for free wifi. You can also go to the State Library and use their computers as well! Other options are fast food outlets such as Mcdonald's and KFC.
If you're staying in Melbourne for a week or two, ask your hostel about weekly deals. Most of them will do one and they are usually cheaper than booking two or three days at once!
Use the tram service to get around the city centre for free! You can get away without paying outside of the CBD, but be wary of ticket inspectors if you frequent the trams regularly.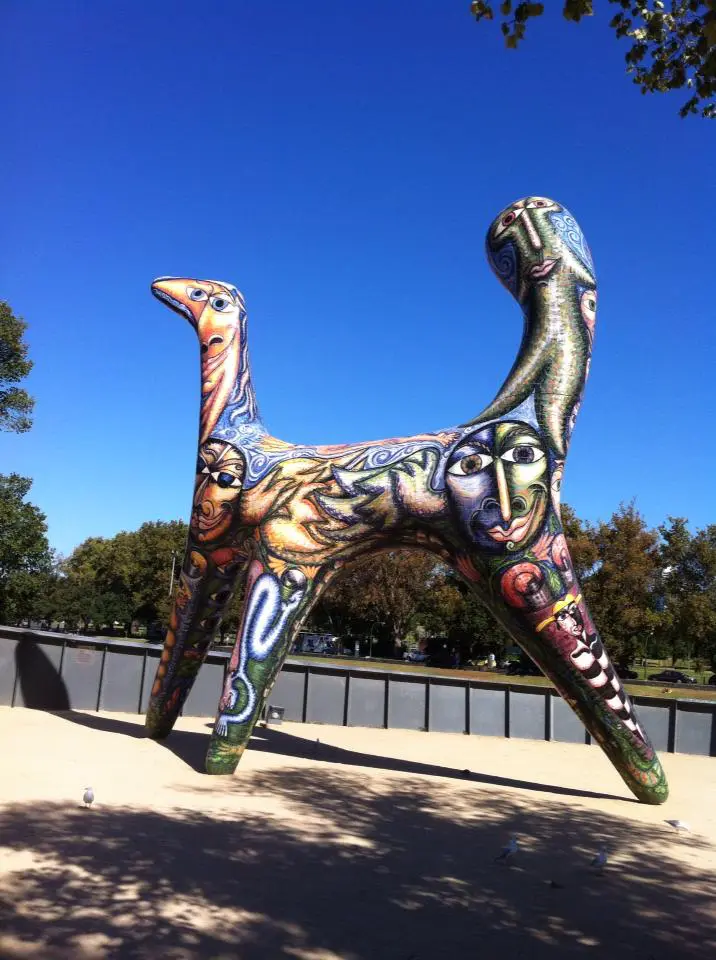 Concluding Thoughts
I'll be honest, I don't know what a liveable city really means! All of the above adds up to a great city and one that is certainly liveable. Whether it's the world's most liveable is another matter and not really something that's too important.
All I know is that Melbourne is definitely one of the best cities in the world to visit and live in. You're never short of things to do, and that was even true after I lived there for 5 months. I always found something new and exciting to do!
Be it checking out a cool suburb or go to one of the numerous events throughout the year, Melbourne is not short of activities! I guess this is what made Melbourne so great. Despite the fact I lived there for 5 months, I could still find stuff to do after it felt like I had seen the majority of the city!
Maybe that's what makes Melbourne so liveable!
Have you been to Melbourne recently? Did you agree or disagree with my Melbourne travel guide? Leave me a comment below!
Want the opinion of another Melbourne travel planner? Click here to get the Lonely Planet Pocket Melbourne (Travel Guide)
Tom is a travel addict who first left England to spend a year Down Under. Not satisfied with this, he then went to New Zealand, about as far away from home as he could get. He is now planning his next adventures in Europe and Canada while maintaining this blog. Check out the about me page to learn more!