If you're what to find the best day trips from Melbourne, then you've come to the right page! In this guide, I've put together the only list of Melbourne day trips you need during your time in the city.
Melbourne is a beautiful city and a fantastic place to live. There's a reason it's regularly named the world's most livable city, but there's plenty to do in the surrounding area too.
You can visit Wilson Promontory National Park, which is one of the lesser-known and scenic national parks in the country. The Great Ocean Road is nearby, which has many impressive sights such as the Twelve Apostles. While you can visit numerous wineries in the Yarra Valley!
Whether you're staying in Melbourne for 3 days or longer, you should try and do as many of these trips as you can. I believe these are the best day trips from Melbourne you can do and they will show all aspects of the underrated state of Victoria.
All you need to do now is start ticking them off!
Disclosure: This article may contain affiliate/compensated links. For more information, please see our full disclosure policy.
Best Day Trips From Melbourne
1. Wilson's Promontory National Park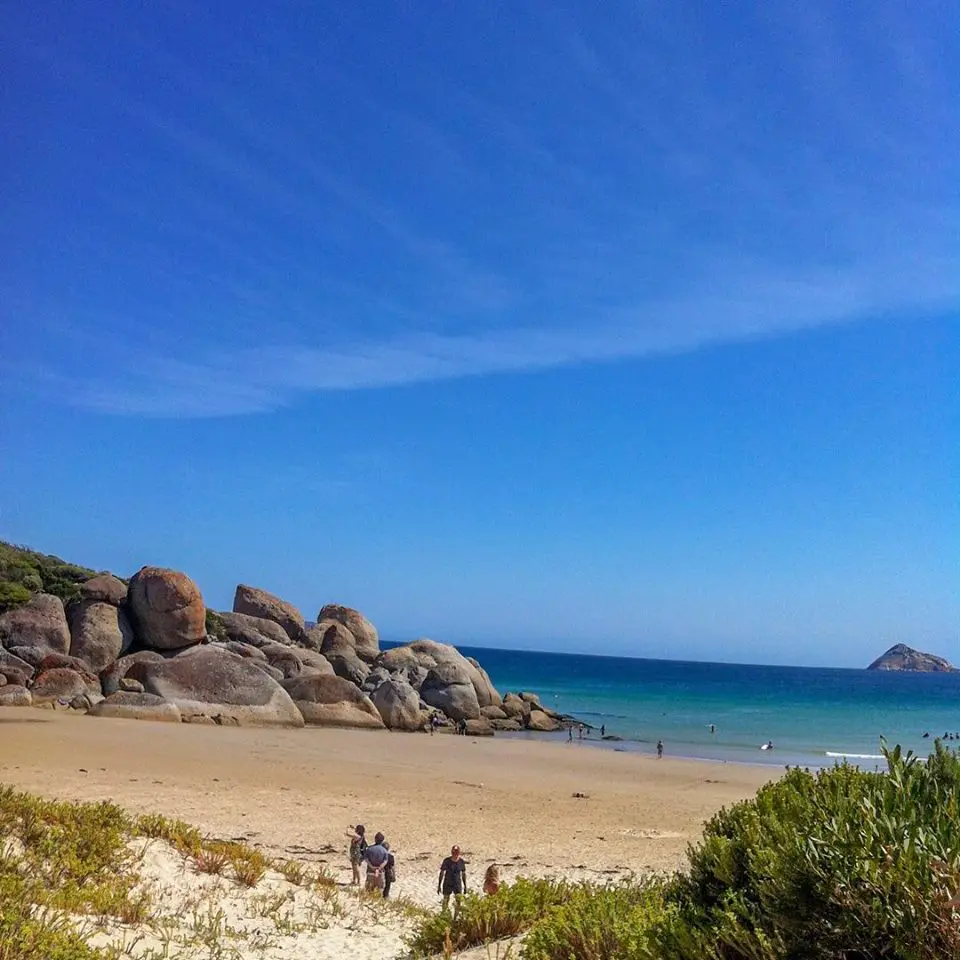 Wilson's Promontory is one of the most underrated places to visit in Australia. It is the southernmost point of mainland Australia and a hidden gem that not a lot of travellers know about.
I didn't even know it existed until I went there on a road trip! When we got there, I was blown away by what I saw. Golden beaches, blue waters and lots and lots of wildlife.
Whiskey Bay is one place you have to check out while you're there. The beach is pictured above and it's just incredible. The boulders are great to climb on, while the water is some of the clearest you will find in Australia.
If you love hiking, there are plenty of trails you can do, including a gruelling one to the lighthouse at the tip of Wilson's Promontory. That hike is not for the faint-hearted and will take at least a day!
Plenty of shorter trails exist and are worth doing if you're spending a day or two at Wilson's Prom. It's a three-hour drive to the park, so turning it into a weekend away is a good idea if you want to make the most of your trip!
Or, you can visit as part of the first leg of a Melbourne to Sydney road trip. Whatever you decide to do, Wilson's Prom is a fantastic place to visit!
2. Yarra Valley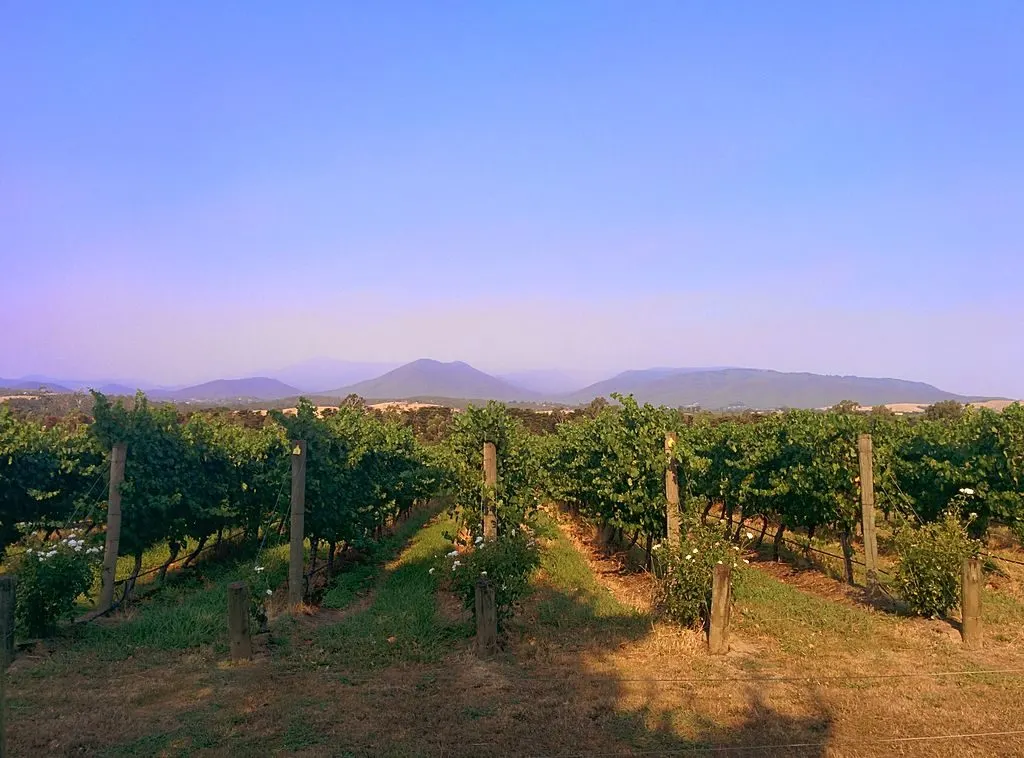 If you're a wine lover, then you have to visit the Yarra Valley while you're in Melbourne. It's one of the best wine regions in Australia and a great day trip from Melbourne.
The Yarra Valley is the oldest wine region in Victoria dating back to 1838. There are a lot of vineyards you can visit and the best way to do this is to book a tour.
As you can't get to the Yarra Valley via public transport, you'll need to use your own vehicle or go as part of a tour. On a tour, you'll go behind the scenes of a vineyard and learn how they produce wine.
Even if you're not a big fan of wine, visiting the Yarra Valley is still one of the best things to do in Melbourne. It's a great day out and allows you to sample some of the finest wine Australia has to offer!
After all, who doesn't like sampling free alcohol!?
3. Dandenong Ranges
If you're looking for a quick day trip from Melbourne, going to the Dandenong Ranges is one of the best you can do.
It's only a short drive from the city centre at under an hour away and is easily accessible via public transport too.
Once there you'll find there is a lot to do. Some of the best hikes in Melbourne can be found here such as the 1000 steps, also known as the Kokoda Track, which is a quick 3km trek. If you're looking for something more adventurous, you could hike up Mt Dandenong instead!
As well as hikes, you can head to the beautiful botanic gardens and you can also go on the Puffing Billy railway, which will give you a unique experience of the Dandenong Ranges.
4. The Great Ocean Road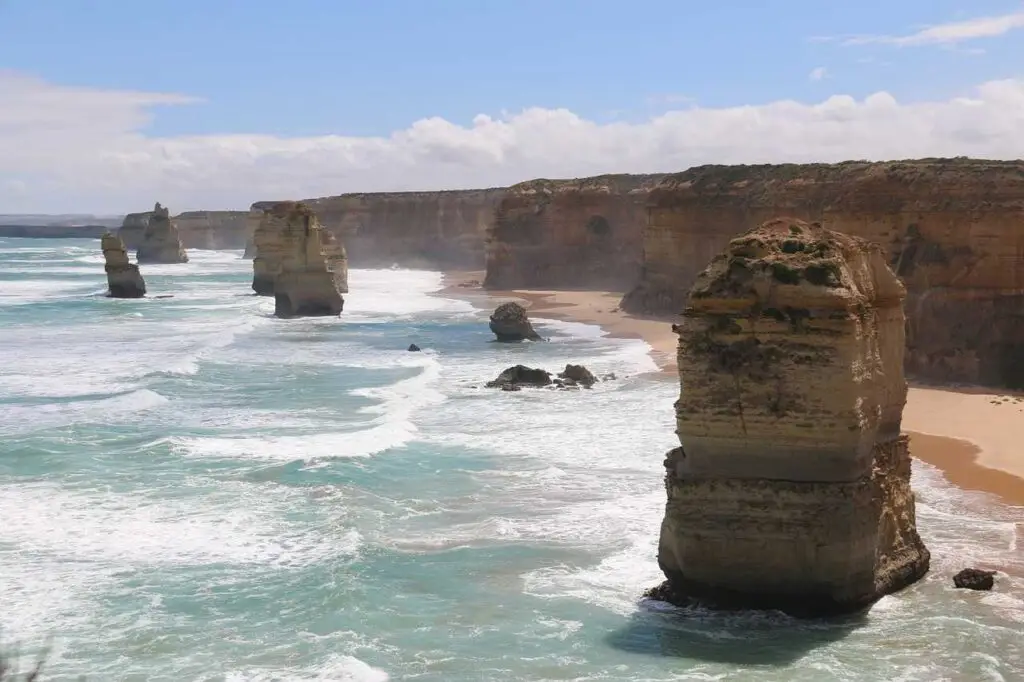 The Great Ocean Road is without question one of the best day trips from Melbourne you can do. This 243 km stretch of road has some incredible sights.
The Twelve Apostles are the main attraction on the road. They are a collection of towering stacks that have been left behind after millions of years of erosion. They're a stunning sight and worth the drive alone to see! Once you're there, you'll realise why it's one of the best places to visit in Victoria.
You can visit the Grotto, which is a sinkhole geological formation. I thought it was better than the Apostles as you can step foot inside it and appreciate its beauty. You also have London Bridge and a few beaches that you can relax on too.
There are so many sights on the Great Ocean Road that you will be stopping all the time to check them out! The proximity of the Great Ocean Road to Melbourne and the impressive nature of the sights make it a great place to head for a day away from Melbourne.
If you're feeling more adventurous, you could use it as the first leg of a Melbourne to Adelaide drive! With towns such as Lorne, Port Campbell and Apollo Bay all on the Great Ocean Road, it's a good option if you want to see as much as you can!
5. Phillip Island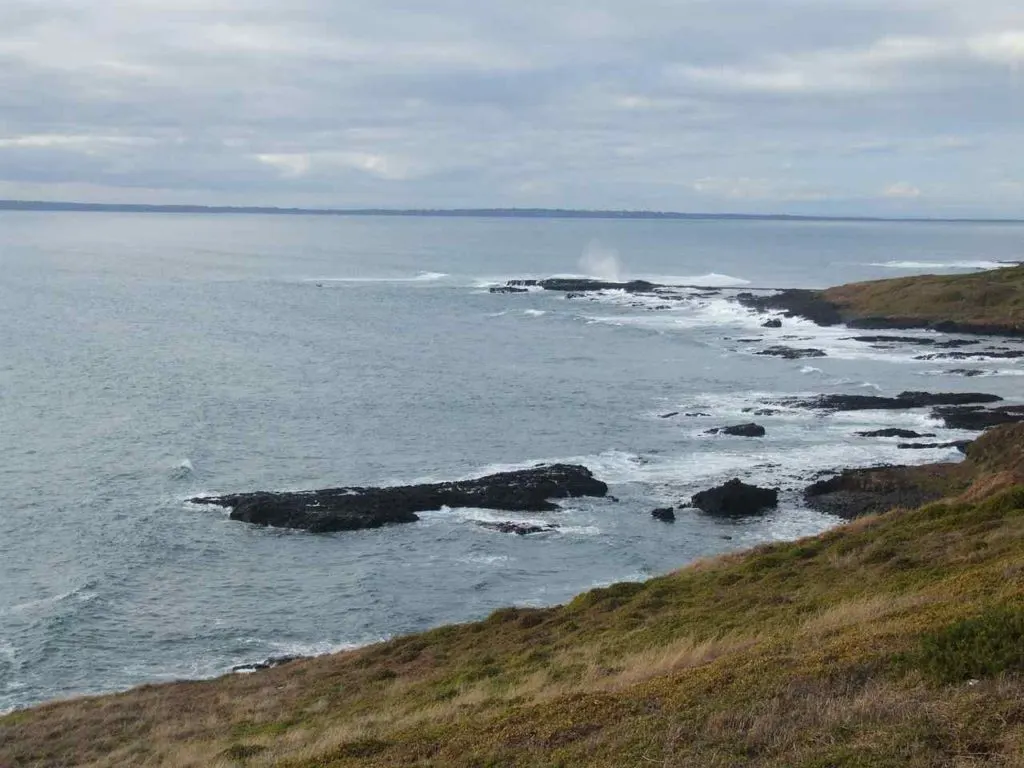 One of the best Melbourne day trips is to visit Phillip Island. If you have a car it's easy to drive there, otherwise, you can use public transport and hop on a ferry to reach the island.
Once you're there, you'll find a range of things to do on Phillip Island. The most popular and well-known is the Penguin Parade. Each night at sunset you can witness little penguins emerging from the shore and returning to their nests after a busy day fishing.
It's an incredible sight and one of the most popular activities in Australia. Be sure to book a tour or ticket in advance so you don't miss out!
As well as this, if you think the best time to travel to Australia is when there is a sporting event, then you want to visit Phillip Island in October to see the Australian Motorcycle Grand Prix. This is an amazing spectacle and worth every penny if you're an avid petrolhead.
With great beaches, lots of wildlife and loads of activities to do, Phillip Island is a great place to spend a day away from Melbourne!
6. Mornington Peninsula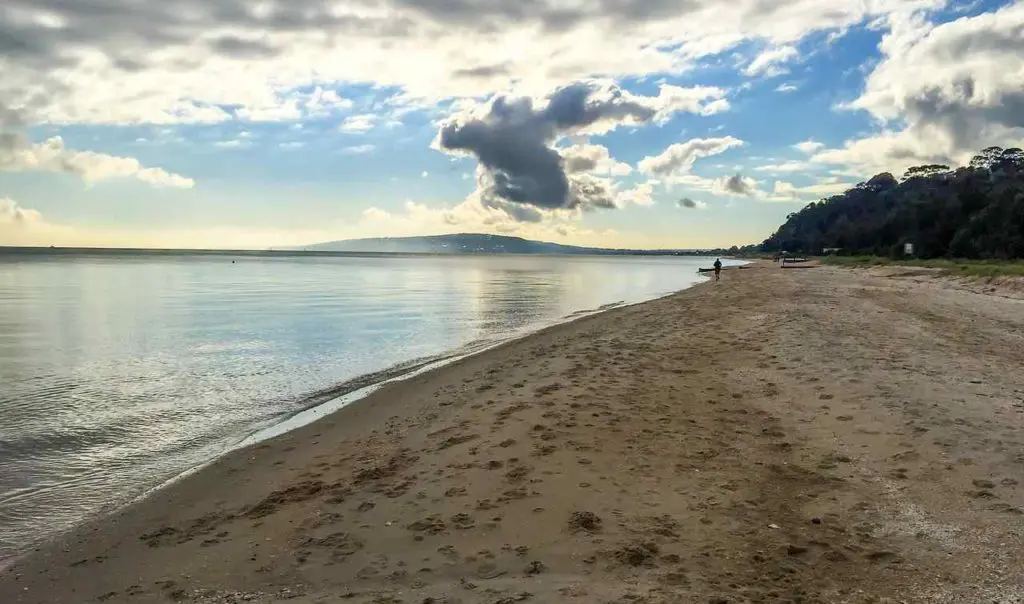 The Mornington Peninsula is one of the best places to visit outside of Melbourne and an ideal place to go on a day trip.
To get there, you just hop on a train to Frankston and get on a bus to visit different parts of the peninsula. This can be tricky to organise at times. You can book a tour instead if you prepare not to rely on public transport to get around.
One of the main attractions in the Mornington Peninsula are the fantastic beaches. Rosebud and Sorrento are two places you have to check out if you're a beach bum. They represent some of the best beaches in the Melbourne area.
As well as beaches you can visit local wineries which are an alternative to the Yarra Valley. The Mornington Peninsula National Park offers some great hiking trails, particularly Mount Martha, while you can visit the Peninsula Hot Springs if all you want to do is relax!
7. The Grampians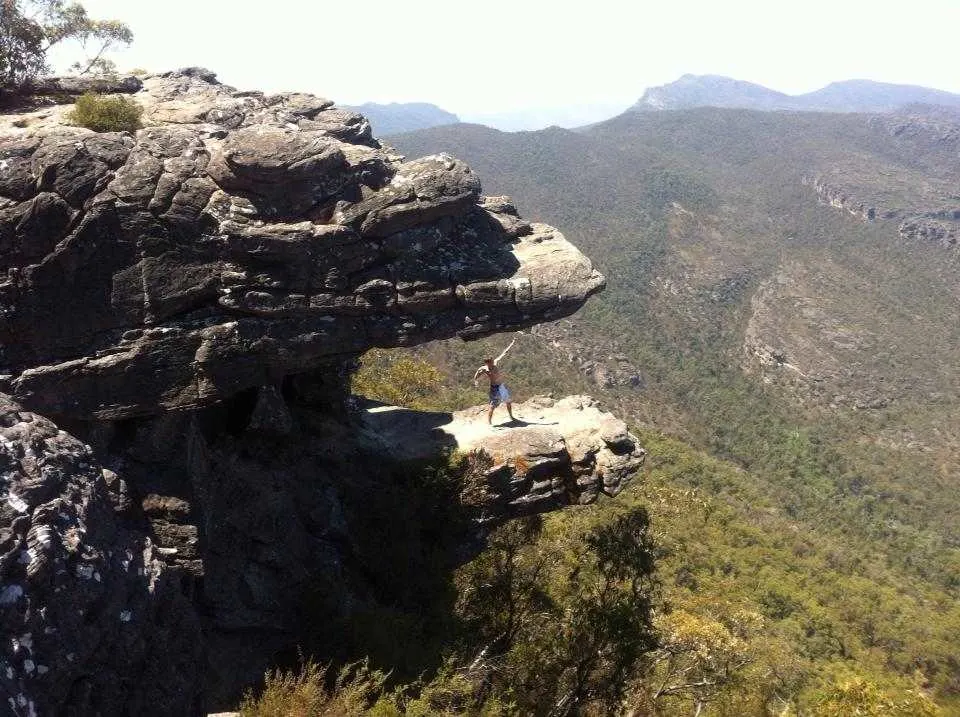 One of my favourite places during my time backpacking in Australia was the Grampians. Before I visited, I had hardly seen any Australian wildlife.
That changed when I got to the Grampians!
Kangaroos, wallabies, they were everywhere! As we drove into Hall's Gap, all you could see were animals wandering around minding their own business.
As well as the wildlife, there are plenty of things to do in the Grampians National Park. It's a huge place and you won't be able to see everything unless you spend a few days or a weekend there.
Sights you should prioritise are The Balconies, which offer amazing views of the park. You should also check out the numerous waterfalls in the park as these are epic!
8. Lorne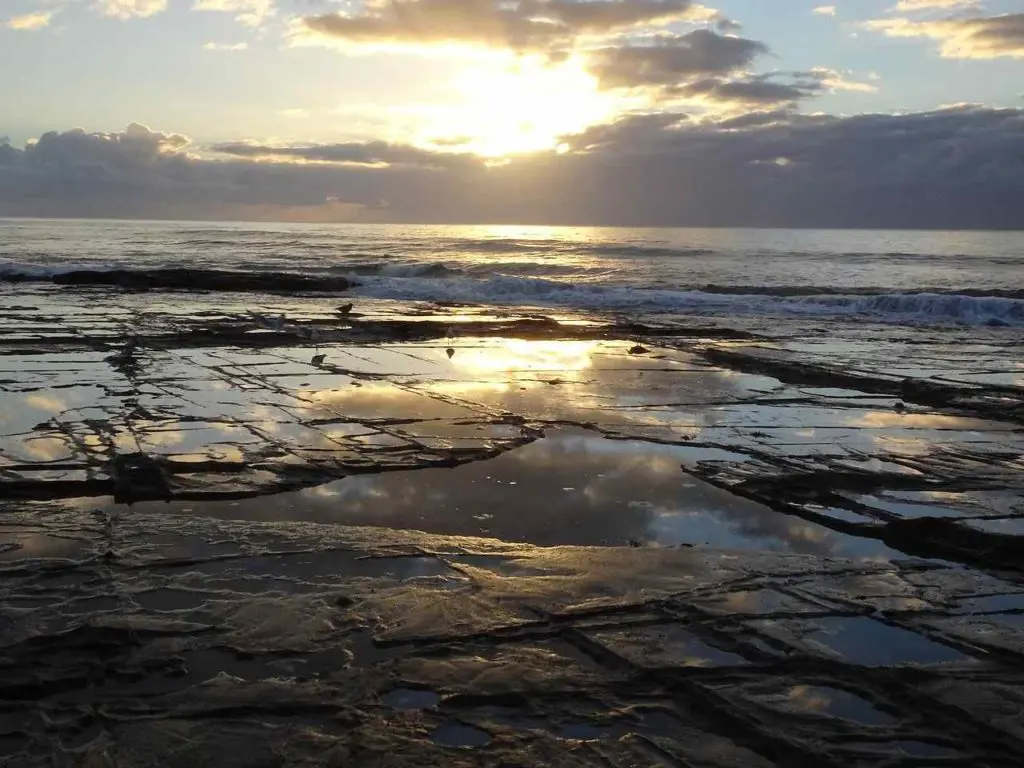 Lorne is part of the Great Ocean Road, but it's one of the best day trips from Melbourne in its own right.
With lots of things to do, it would be a shame to visit while you visit Melbourne. You can go surfing on beautiful beaches, spend time in the incredible nature trails around the area and drive some of the Great Ocean Road of course!
The Great Otway National Park is close by and this is a good place to go if you – for some reason – want a break from all the beaches along the coast!
Cascading waterfalls populate the region too. A visit to the Erskine Falls to see water tumble 30 ft into the pool below is well worth the hike to get there!
9. Geelong
Although nowhere near the size of Melbourne, Geelong is the second biggest city in Victoria and well worth checking out.
Geelong is one of the easiest places to visit from Melbourne. There are regular trains to Geelong, which take an hour o reach the city from Southern Cross station.
Once you get to Geelong you can walk along the Esplanade, which is one of the main attractions in the city. You can also go surfing at either Thirteenth Beach or Raffs Beach. If surfing's not your thing, you can head to the beach at Ocean Grove to relax.
The Botanic Gardens are a great place to go if you want to relax, while there are plenty of cultural sites to see too such as the National Wool Museum and Geelong Gallery
10. Healesville Sanctuary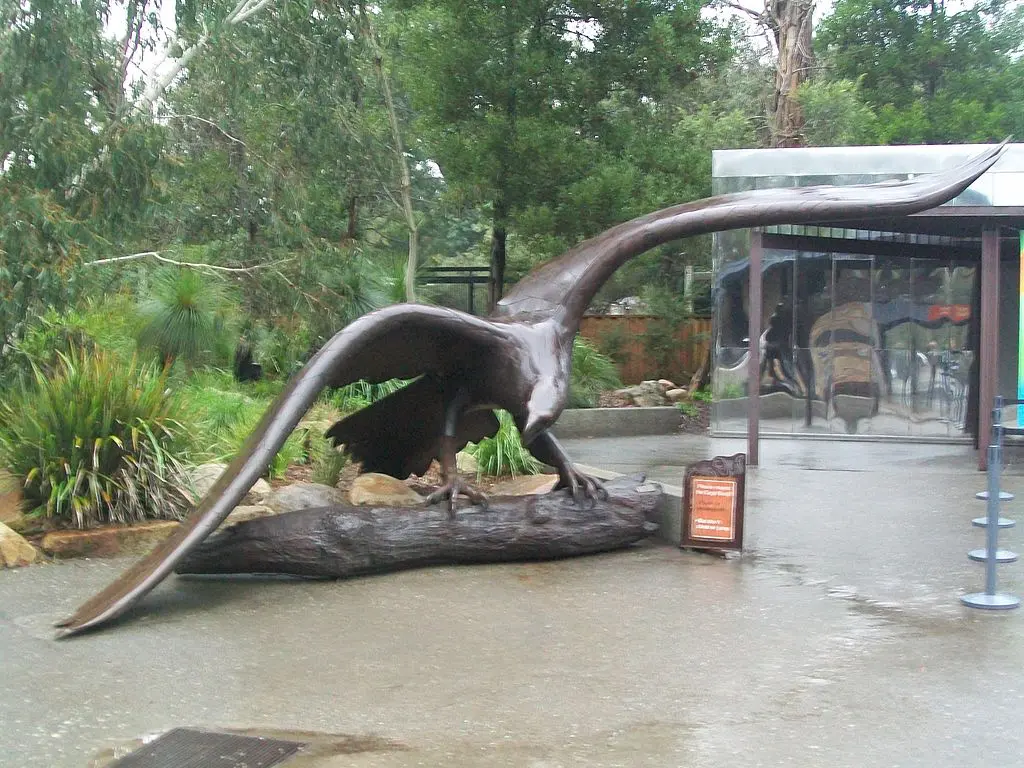 If you want to go to a place where you can see a variety of Australian wildlife, Healesville Sanctuary is where you should go.
Healesville is technically a zoo, but the animals aren't behind cages, which makes it more humane. Another reason to visit is that the sanctuary specialises in the preservation and breeding of endangered animals.
After the Australian bushfires in 2019 and 2020, this is more important than ever!
You will be able to see all the familiar Australian animals such as kangaroos, koalas, wombats and dingoes. You can also see platypuses at Healesville, one of the few places where you're able to!
A great thing about Healesville is that you can get up close and personal with kangaroos and koalas. It's possible to feed kangaroos, while you can get close to the koalas but you can't touch them.
11. Ballarat
If you want to see what country life in Australia is like, a trip to Ballarat will allow you to do so.
Ballarat is essentially a big country town and is located northeast of Melbourne. It's one of the best side trips from Melbourne due to how easy it is to reach. Trains go there hourly with the journey only taking 1 ½ hours.
The main attraction in Ballarat is Sovereign Hill, which is an open-air museum that replicates what life was like back in the 1850s during the gold rush.
It's worth visiting for the novelty factor and it does feel like you've gone back to the wild west, even if that is associated with America. While you're there, you can try your luck at gold panning and see if you can take a nugget of gold back as a memento!
12. Lake Mountain
When you think of the top reasons to visit Australia, skiing isn't one that comes to mind, but you'll find several ski fields in Victoria.
They're only open during the winter months. If you want to hit the slopes, this is when you'll have to visit Melbourne!
From June to September, Lake Mountain is an ideal place to go for a day trip from Melbourne. The area is known for its cross-country skiing with 37km of trails for you to explore.
You can still visit Lake Mountain outside of ski season. The slopes are perfect for hiking and mountain biking in the warmer months.
If you want to visit Lake Mountain, it should be noted that the only way you can get there is by car or by booking a tour during the winter months.
Need Travel Insurance?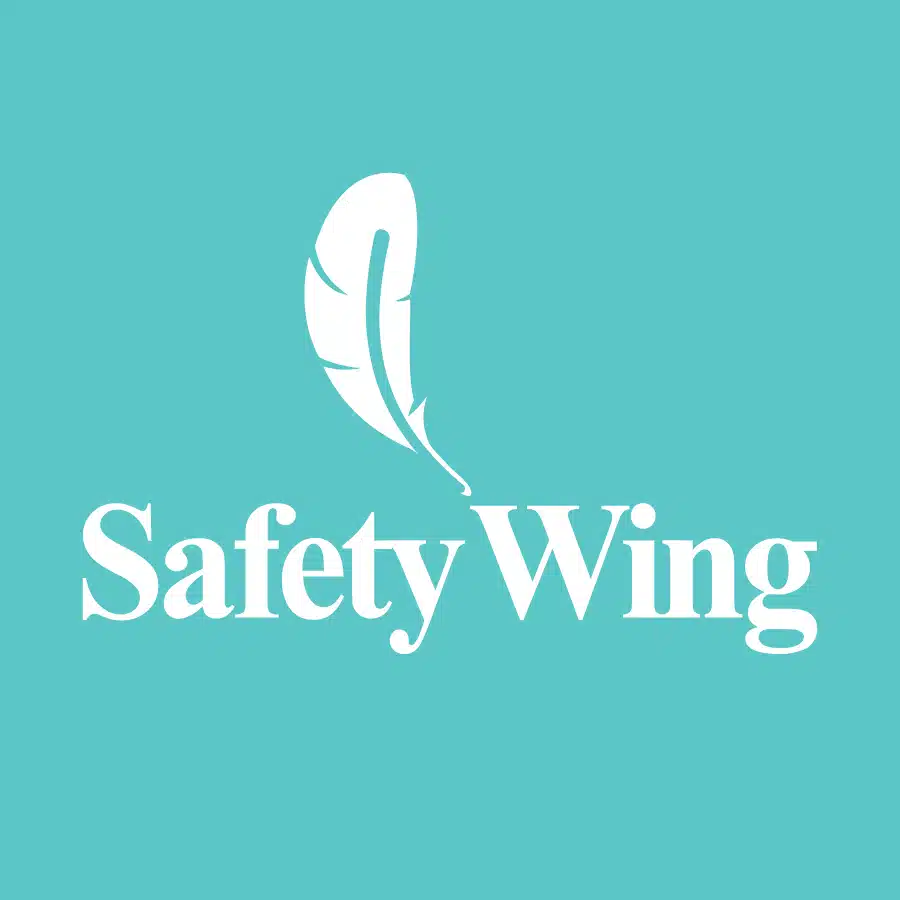 SafetyWing offers coverage that will give you peace of mind while you're on the road. If you want to protect yourself while you're on the road, then click the image to take a look at the options available to you.
Pin For Later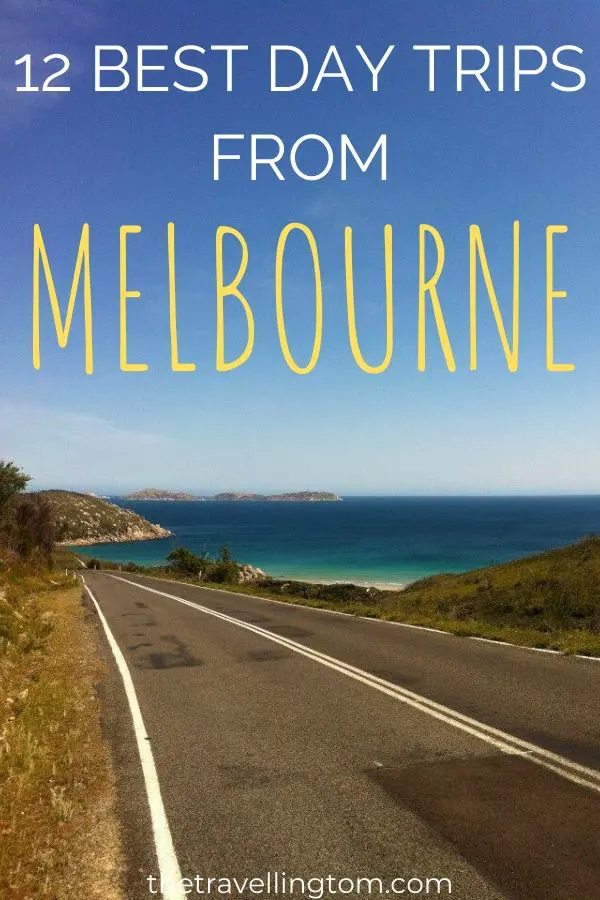 Tom is a travel addict who first left England to spend a year Down Under. Not satisfied with this, he then went to New Zealand, about as far away from home as he could get. He is now planning his next adventures in Europe and Canada while maintaining this blog. Check out the about me page to learn more!