The Gold Coast will always hold a special place in my heart. It was the first place that I travelled to when I went backpacking Australia on my working holiday visa.
That's where the genesis of this Gold Coast travel guide began!
Yes, I realise I am probably the only person that has started off their Australian adventure here, but when researching the country, it best fitted my idea of what Australia would be.
Gold beaches, sunny weather, turquoise ocean. Well, it wasn't like that the first day, as there was a bad storm, but it was certainly true after that!
There are plenty of things to do on the Gold Coast, and there are a number of job opportunities for backpackers as well.
Without further ado, let's get into this Gold Coast travel blog!
Disclosure: This article may contain affiliate/compensated links. For more information, please see our full disclosure policy.
Gold Coast Travel Guide
General info
The Gold Coast is located in Queensland, just above the border with New South Wales.
It is one of the most popular tourist spots in Australia, with many Australians heading there from all parts of the country, to relax and enjoy the almost year-round sunshine!
The city is the sixth most populated in Australia, and only second behind Brisbane in Queensland. Before the tourist boom, the Gold Coast was actually known as South Coast, simply because it was south of Brisbane!
However, inflated prices for real estate among other things led to it being christened the 'Gold' Coast, and the name stuck!
The Gold Coast has a subtropical climate, which means that the weather is great year-round, and winters rarely dip below 20 degrees.
Like everywhere else in Australia, it can get very hot, so I would advise you to pack sunscreen and a hat.
Otherwise, you will suffer my fate and end up looking like a peeling red lobster for a few days!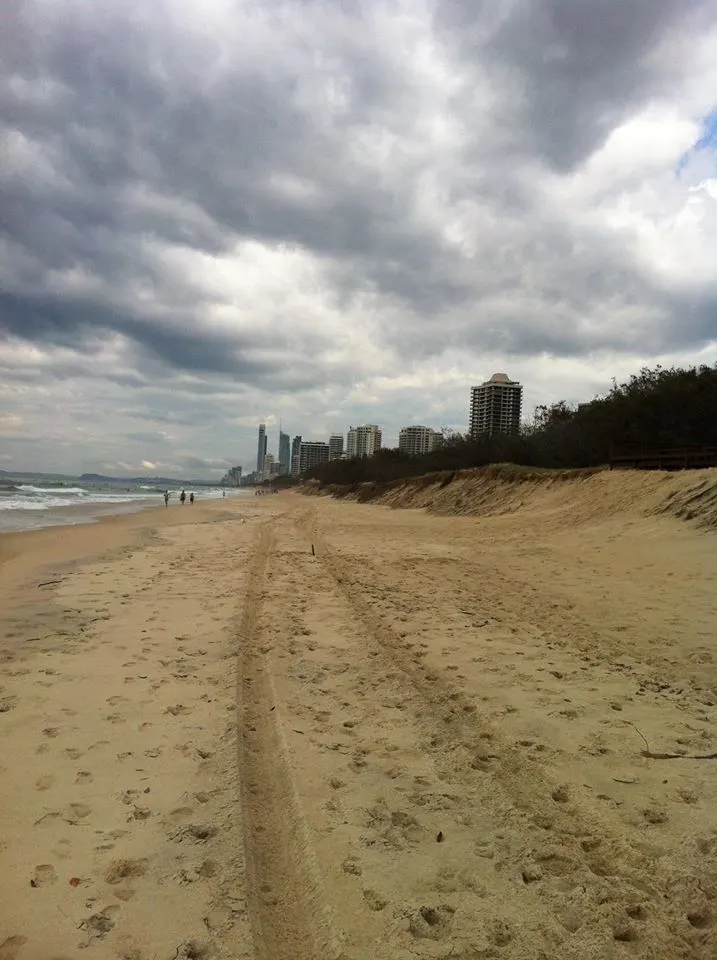 Best Time to Visit The Gold Coast
The best time to travel to Australia is generally during the summer and the Gold Coast is no exception.
Temperatures during the summer are hot, with an average of 28 degrees the norm. From November to March, the temperature stays consistently in this range.
Due to its location in the middle of the East Coast, the Gold Coast has a subtropical climate, which means it is hot throughout the year.
Temperatures rarely dip below 10 degrees during the winter. It will feel cooler from May to September, but it will be nowhere as cold as it gets in Adelaide or Melbourne!
The downside of the subtropical climate is that downsides thunderstorms and heavy rain are common throughout the year.
This is something you simply have to deal with when visiting the Gold Coast.
Due to its climate, there isn't necessarily a best time to visit the Gold Coast. If you want to go when it is quieter, winter, March and October will be the times to go.
Otherwise, you can visit the Gold Coast all year round and be guaranteed great weather and a great time.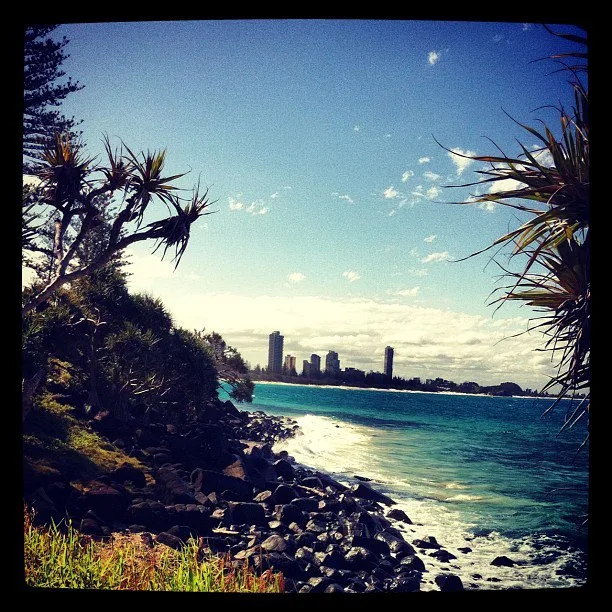 Why You Should Visit The Gold Coast
When I finally summed up the courage to get my Australian working holiday visa, I began to research which place I would fly into first.
Most normal people, decide upon one of the big cities, such as Melbourne or Sydney! Well, I am not most normal people and for one reason or another, I decided I was going to fly into the Gold Coast first!
The Gold Coast was what I envisioned Australia to be like and high on my list of reasons to visit the country.
Blue skies, golden sand and great weather, this wasn't exactly the case when I got off the plane, and it was pouring with rain, but at least it was hot! Thankfully, the weather improved and the Gold Coast did live up to my expectations!
One thing I should probably mention is that even though I really enjoyed my time on the Gold Coast, I wouldn't stay there for too long. I stayed for two weeks when I first arrived, and without a job, it was definitely too long.
I had exhausted everything that there was to do. I'd advise travelling around Queensland afterwards! It was something of a relief when I eventually decided to go and visit Brisbane!
Unless you get a job, I would stay for 3-5 days, you can see everything in that time, and get your fill of sunshine.
I would recommend this if you are strapped for time, as there are some great places on the East Coast, such as Brisbane, Hervey Bay and Cairns, which you should definitely visit during your Australian itinerary.
That's not to say the Gold Coast is bad, it certainly isn't, just that once you have seen and done everything, the itch to travel returns with aplomb!
There are certainly plenty of things to do on the Gold Coast, with numerous national parks close by, and three amusement parks for the adrenaline junkies among you.
Even if you just fancy relaxing on the beach, there are 70 km (42 miles) of coastline for you to choose from.
You will also be next to some of the best beaches in Australia. The beaches around Burleigh Heads were a particular favourite of mine, with fantastic views of the skyline and picture-perfect scenery!
If you are working/living in Brisbane, then the Gold Coast is a fantastic place to visit for a weekend or a few days away.
It is very easy to reach, only 30 minutes away by train, and you can relax away from the bright lights of Brisbane. The reverse is true as well, if you fancy checking Brisbane out for a few days, then it is easy to hop on the train and back!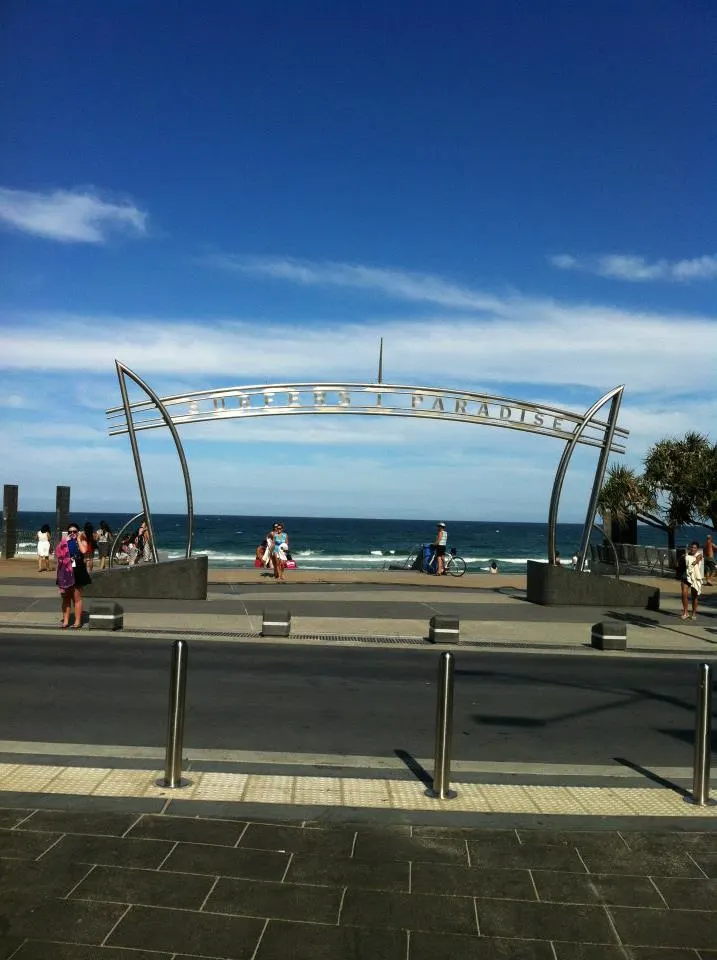 Things To Do on The Gold Coast
Despite its small size, there are a number of things to do on the Gold Coast. There are a lot of things to do outside of the city as well, such as the Mount Tamborine Skywalk.
However, with that said, once you have done these things, there isn't much more to do, due to the small size of the city.
I would recommend heading north to Brisbane or south to Byron Bay after a few days!
Nevertheless, my Gold Coast travel guide includes the best things you can do in the city before you do!
Amusement parks
The Gold Coast is home to the biggest amusement parks in Australia. There are three in total, Dreamland, Sea World and Warners Bro Movie World.
You can get a ticket that allows you to go to all three for around $80-100. If you've never been to an amusement park then they are worth checking out.
They are a great way to spend a day if you're stuck for ideas.
However, if amusement parks are not your thing, then there isn't much point in going. SeaWorld is not very popular these days and for good reason.
If you're not into amusement parks, then it may be best to spend your time relaxing at the beach. Adrenaline junkies will love the parks, so it depends on your own tastes really!
Burleigh Heads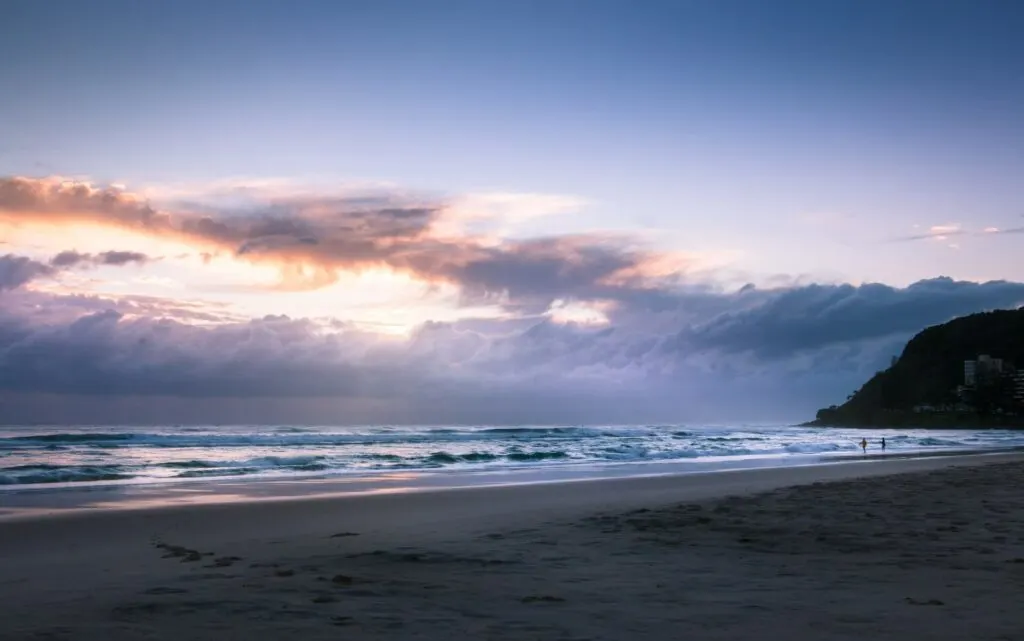 This was one of the best things that I did while backpacking the Gold Coast, mainly because the views from Burleigh Heads are incredible.
The only problem is that Burleigh Heads is quite a walk from Surfer's Paradise and even more of a walk from my hostel in Southport!
So, I definitely recommend getting a bus there, as believe me, you will be fucked if you walk there and back!
Despite the distance, it is definitely worth checking out, there are fantastic views of the coast and the skyscrapers look incredible from a distance.
The park itself doesn't have much to it, but there are a few spots where you can relax and admire the view, which alone is worth the trip!
Currumbin Wildlife Sanctuary
The Currumbin Wildlife Sanctuary is a great place to visit if you want to see some of the diverse and interesting wildlife that live in Australia.
The sanctuary is located in Currumbin, which is a suburb on the Gold Coast. Currumbin is easy to reach by public transport, with buses stopping nearby.
Currumbin Wildlife Sanctuary was originally a bird sanctuary, so it showcases some of the weird and wonderful birds that call Australia home.
If you fancy getting away from the hustle and bustle of Surfer's and the Gold Coast, this is a great place to visit, as it is very relaxing and enables you to sample one of the many sides to Australia!
Nightlife
The Gold Coast is renowned as one of the best spots for nightlife in the whole of Australia.
There are numerous clubs located in Surfer's Paradise and even if clubbing is not your thing, they are still worth checking out just for the experience!
A downside is that clubs in Australia can be quite expensive, so you could end up spending a fair bit of money if you get a bit drunk.
If you don't like clubs, there are a number of bars, where you can get a reasonably priced drink (at least compared to the clubs) and chat.
Either way, be sure to have a wander around Surfer's at night, if just for the experience!
Surfer's Paradise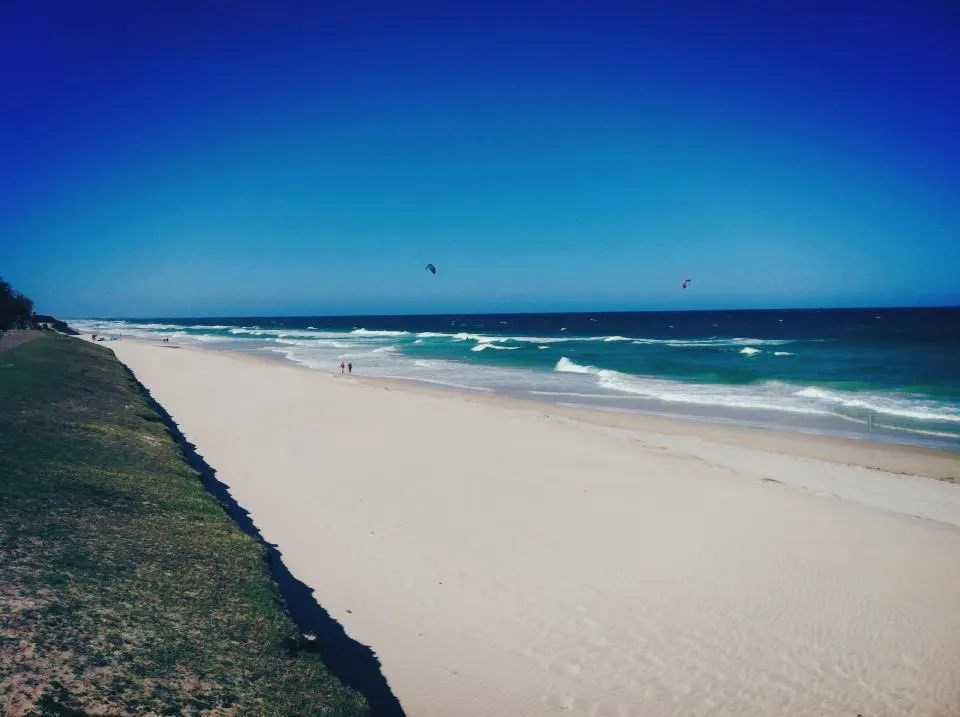 The Gold Coast is essentially one long beach, and the most famous of those beaches is definitely Surfer's Paradise!
The name alone evokes images of golden sand, glorious sun and great surf, and this is certainly true most of the time!
Surprisingly, for one of the most popular beaches in Australia, it's not too busy, which makes it all the more enjoyable.
Outside of the beach, Surfer's is the hub of the Gold Coast, with lots of nightclubs, shops and restaurants in the vicinity.
Truth be told, there isn't a lot of charm in this, as it can essentially be found anywhere, but there are a few good places to find, and it is pretty cool, partying next to one of the most famous beaches in the world!
Activities and Tours on The Gold Coast
There are many things to do on the Gold Coast you can do by yourself. However, there are activities and tours that will require you to pay to do them.
The numerous theme parks on the Gold Coast come to mind. It often works out cheaper to get a ticket for all three of the parks instead of separate tickets. There are many great experiences on the Gold Coast that you can partake in during your time there!
Below are a few recommendations for activities and Gold Coast tours that you should do during your time in the city.
Gold Coast Travel Tips
How Much Does It Cost to Travel on The Gold Coast?
The Gold Coast is a weird city cost-wise. Due to the numerous tourists and backpackers there, prices can be expensive in certain places.
It depends on where you visit. If you head into the heart of the city near Surfer's Paradise, you can expect to pay a lot more for food and drink.
If you head to the suburbs on either side of Surfer's, prices won't be as expensive!
Accommodation on the Gold Coast isn't too expensive. You can get a good hostel for less than $28 a night, which is much better than prices in Australia's big cities!
One area that will eat into your funds is if you decide to visit the numerous theme parks. Tickets are expensive and cost upwards of $70.
That's without taking into account getting there and then for and drink while you are there.
Other than that, the Gold Coast can be a cheap place to visit. A lot of the activities in the area involve being outdoors and you should take advantage of the great hiking trails and beach walks available in the city.
My suggested daily budget for the Gold Coast would be $50. This does assume you are cooking your own food and going out every night. You should adjust your budget accordingly if you plan to do either of these things.
Tips to Save Money
Most hostels in Australia charge for wifi, to combat this, you can go to public libraries in the city which offer free wifi. McDonald's and offer fast-food restaurants such as Hungry Jack's offer free wifi too!
Hire a bike to get around. This will save you money and time. The promenade stretches from Surfers to Coolangatta and cycling to Southport is easy too.
Hostels and hotels cost a lot more in Surfers than they do in the outer suburbs. Staying in Southport or Coolangatta is a good idea if you want to make your budget stretch!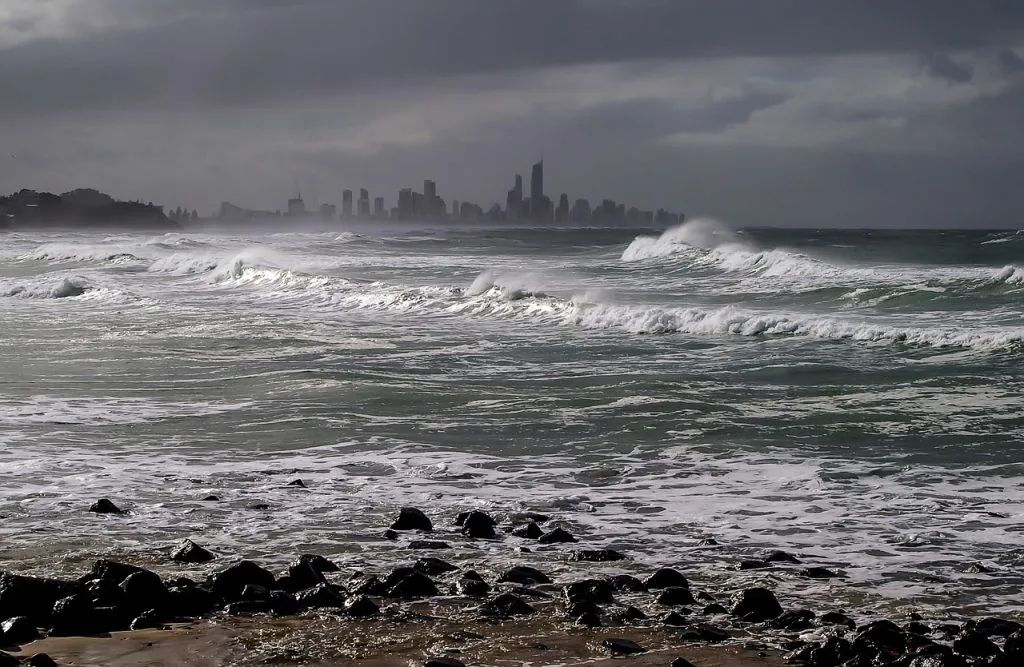 How to Get to The Gold Coast
As one of the major tourist spots in the country, there are many flights to the Gold Coast. The airport is served by all domestic airlines, including Jetstar, Virgin and Tiger among others.
The airport also serves international flights, but the majority of the flights are from New Zealand, Singapore and Hong Kong.
Thanks to the Greyhound bus service, almost all of Australia is easily accessible by bus, so if you are already on the East Coast, then getting to the Gold Coast, is easy via Greyhound.
Just book your tickets, hop on the bus, and you're on your way!
If you are passing through the Gold Coast on an Australian Road trip, then getting there is easy, just follow the main motorway and you can't go wrong!
The Gold Coast is a good stopover point for a few days if you travelling up or down the East Coast of Australia. What better place to relax for a few days before heading on!?
Getting around the Gold Coast is relatively straightforward, as it is not the biggest place, most places can be reached by walking.
However, if you want to venture further afield, then you can hop on the G: Link tram service, which opened in 2014.
This operates from Gold Coast University Hospital to Broadbeach South. If you want to venture further than that, then the bus is your best bet!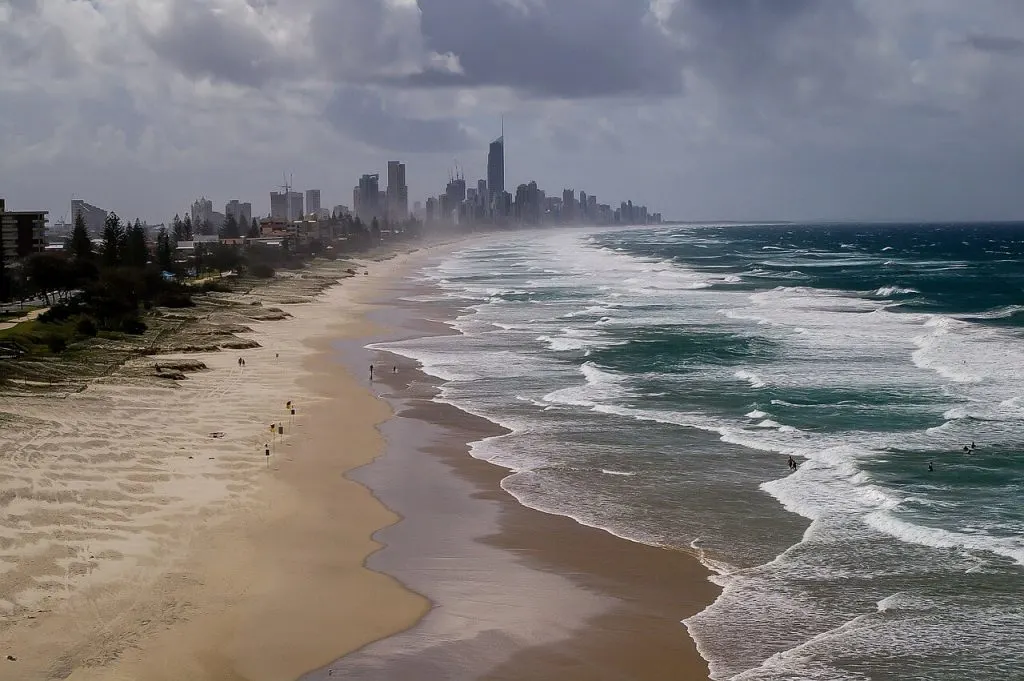 Backpacker Jobs on the Gold Coast
The Gold Coast has a lot of work opportunities. If you're doing your working holiday in Australia it's a good place to search for a job due to the various sectors you can work in.
Retail, hospitality and bar work are all readily available if you go out and look for them. There are also jobs available at the numerous amusement parks in the area.
Another popular backpacker job in the Gold Coast is that of promotion.
Basically, you stand on the streets and try and encourage passers-by to go on a tour, come into a bar, or whatever service you are offering. I
I'm of the belief you have to be a certain type of person to do this, as I would find it mind-numbingly boring after about 15 minutes, but if this sounds good to you, then go for it!
Construction jobs for backpackers are not as common as they are in other areas of Australia, at least to my eyes anyway.
Maybe I am wrong, but I didn't come across many opportunities while I was here, nor did I see that much actual construction going on. So if you want a construction job, it may be better to look at bigger cities, such as Adelaide, Brisbane or Melbourne!
As always, the best place to look for work is on Seek. This is the best website in Australia for finding work and there are hundreds of jobs on there.
Alternatively, it may be worth checking out any recruitment agencies in the area, as they may be better placed to find you a job in the area!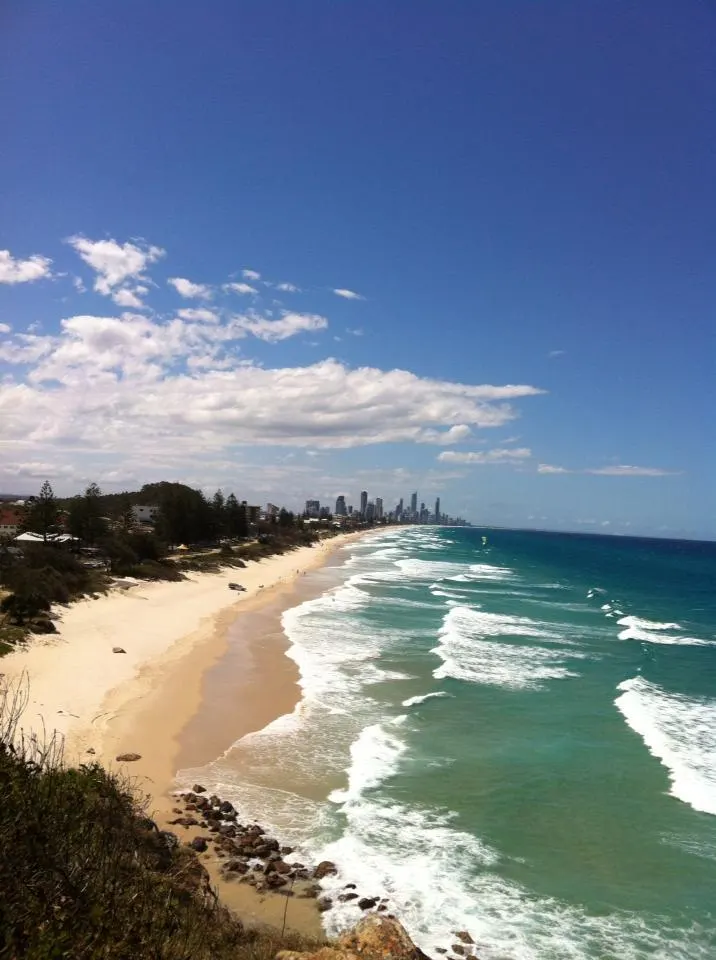 Where to Stay on The Gold Coast
As one of the popular backpacking spots in Australia, the Gold Coast has plenty of hostels to choose from.
I recommend heading to Hostelworld to book your hostels and check out which one you fancy staying in. The reviews can be quite helpful, and it gives you a chance to compare what you get price-wise!
I stayed in the YHA, which although advertised as Surfer's Paradise, is actually in the suburb of Southport.
That means if you want to get to Surfer's, you are going to have to walk for about 30 minutes or wait around for the shuttle, which operates a few times a day, to take you there.
The hostel itself is ok, it's not too expensive and the facilities are good, although a bigger kitchen would be great, considering the number of people that stay there.
If you want a more relaxed time on the Gold Coast, this may be the place for you. Otherwise, I would stay closer to Surfer's, where there is more happening!
Concluding Thoughts
In short, the Gold Coast is a great location to stay for a few days, but perhaps any longer than that and you are not utilising your time in Australia very well.
For all its charm and beauty, once you have seen and done everything, the itch to travel can be great!
However, the Gold Coast is beautiful and should definitely be included in your backpacking itinerary of Australia.
It's a great place to relax or party hard. Hopefully, my Gold Coast travel guide has inspired you to visit one of the coolest spots in Australia!
Need Travel Insurance?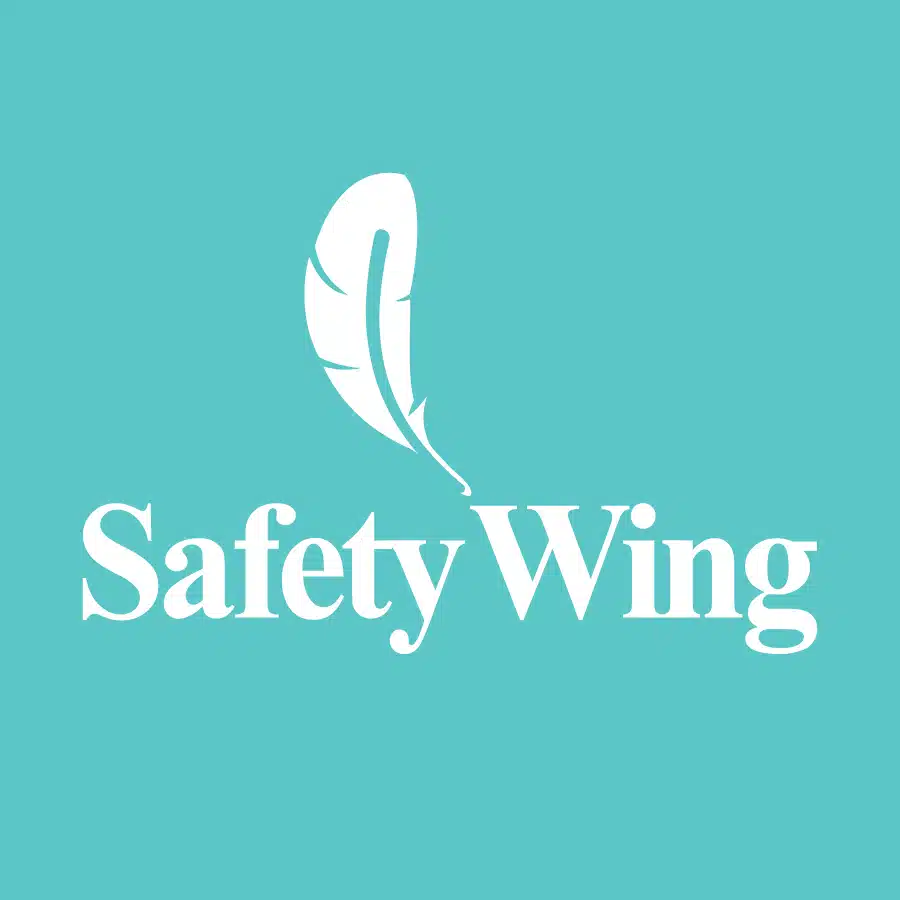 SafetyWing offers coverage that will give you peace of mind while you're on the road. If you want to protect yourself while you're on the road, then click the image to take a look at the options available to you.
Pin For Later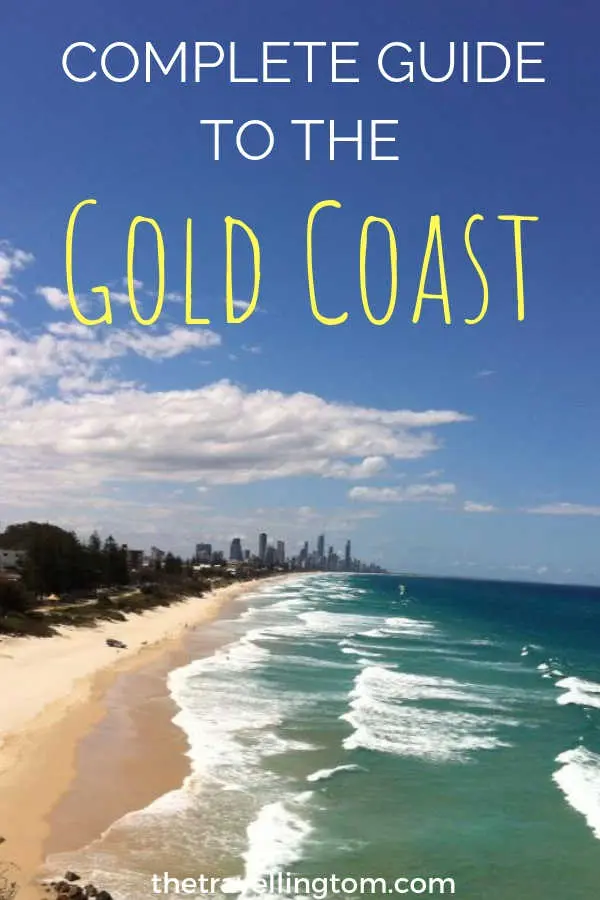 Tom is a travel addict who first left England to spend a year Down Under. Not satisfied with this, he then went to New Zealand, about as far away from home as he could get. He is now planning his next adventures in Europe and Canada while maintaining this blog. Check out the about me page to learn more!