Australian Road trips are among some of the best in the world.
Let me explain:
Road trips are one of my favourite ways to see a country. I don't think there's a better way to see a country, than by driving around and soaking up all the scenery!
Driving is perhaps the best way to see the unique scenery and landscapes in Australia. For instance, on driving from Adelaide to Darwin, you'll gradually see the scenery change from arid desert to tropical bush the further north you go!
I did a few road trips in Australia. The freedom of travelling around the country was something that I enjoyed. I recommend renting your own car instead of going on a guided tour.
There is nothing better than getting in a car and setting off on an adventure, you never know what you will see! Even a little-known destination can be surprisingly interesting!
There are numerous routes to choose from. The most popular routes are to drive down the East Coast and on the Great Ocean Road. But that doesn't mean they are the best. I preferred the drive from Adelaide to Darwin, as I saw a different side of the country than the one that is advertised.
I highly recommend you do a road trip in Australia. It's a fantastic way to see the country and you won't regret it if you do one!
Disclosure: This article may contain affiliate/compensated links. For full information, please see our full disclosure policy.
Table of Contents
Road Trips in Australia
Below is just a selection of a few routes that are most widely travelled while backpacking in Australia. Given the size of the country, there are a few other routes you can do.
You can use this section as your general Australian road trip planner. There are a lot more routes other than the ones below.
Driving in Australia isn't the quickest way to get around, but it is the best. The drives take you to lesser-known parts of the country that you may not otherwise see. Despite the distances, they are highly enjoyable!
Need a Rental Car?
I use Rentalcars.com whenever I need to rent a car. They offer the most comprehensive listings of rental cars on the web. Plus, their deals are often cheaper than if you went straight to the supplier!
Adelaide to Melbourne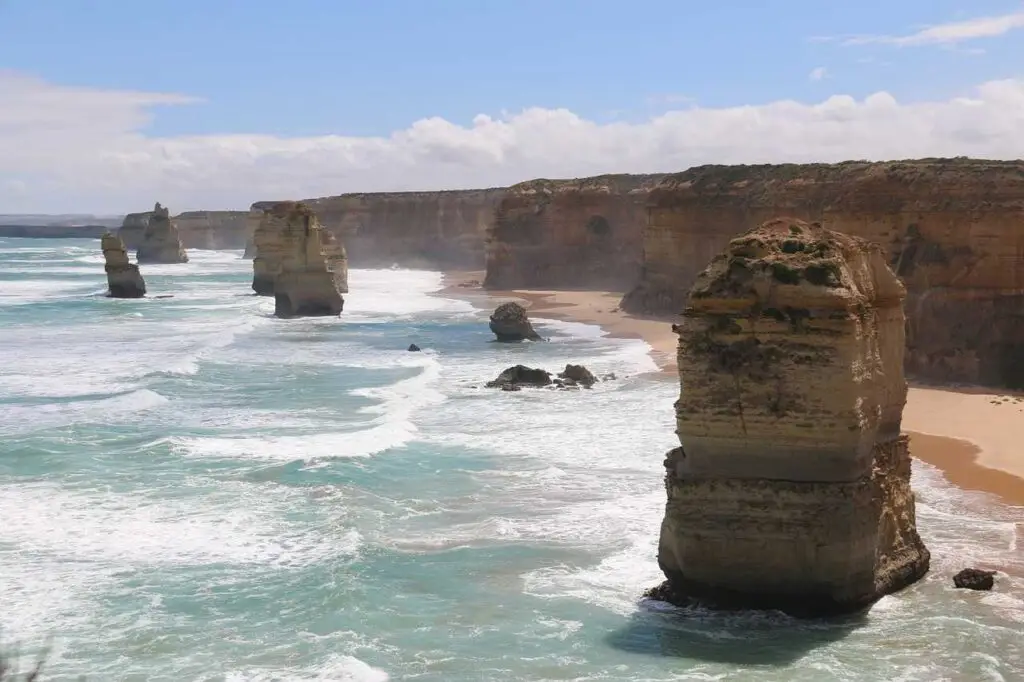 Distance
727.3 km (451.9 miles)

Time
5 to 7 days
The Adelaide to Melbourne drive is an extension of the Great Ocean Road, which is one of the best Australian road trip routes. This was one of my favourite Australian road trips! There was always something interesting to see along the way and the distance is not as long as on other road trips.
You have the option of heading to Wilson's Promontory once you reach Melbourne if you start in Adelaide. Travelling to Wilson's Promontory was one of the best things I did during my time in Australia!
The route takes you along the Great Ocean Road, which is one of the best places to visit in Australia. You can check out The Twelve Apostles, The Grotto and London Bridge. The Great Ocean Road is not very long at 151 miles (243km) and can easily be done in a day.
Other highlights include Torquay, where you can check out world-famous Bell's Beach, a particular highlight if you love surfing! Apollo Bay and Cape Otway are cool places to visit and you should head to the Grampians.
A great national park just over the border from South Australia, it has a lot of great waterfalls and mountains to explore. The Grampians is home to a lot of wildlife, just don't get too close to the Kangaroos, they can be a bit lively!
There isn't an awful lot to see while travelling in South Australia on the trip. The road from Adelaide is mostly salt lakes with little else. However, you should head to Blue Lake near Mt Gambier and check out the cool lake formed in a crater. From December to March, the lake has a distinct blue colour, while from April to November it turns a greyish colour!
Adelaide to Darwin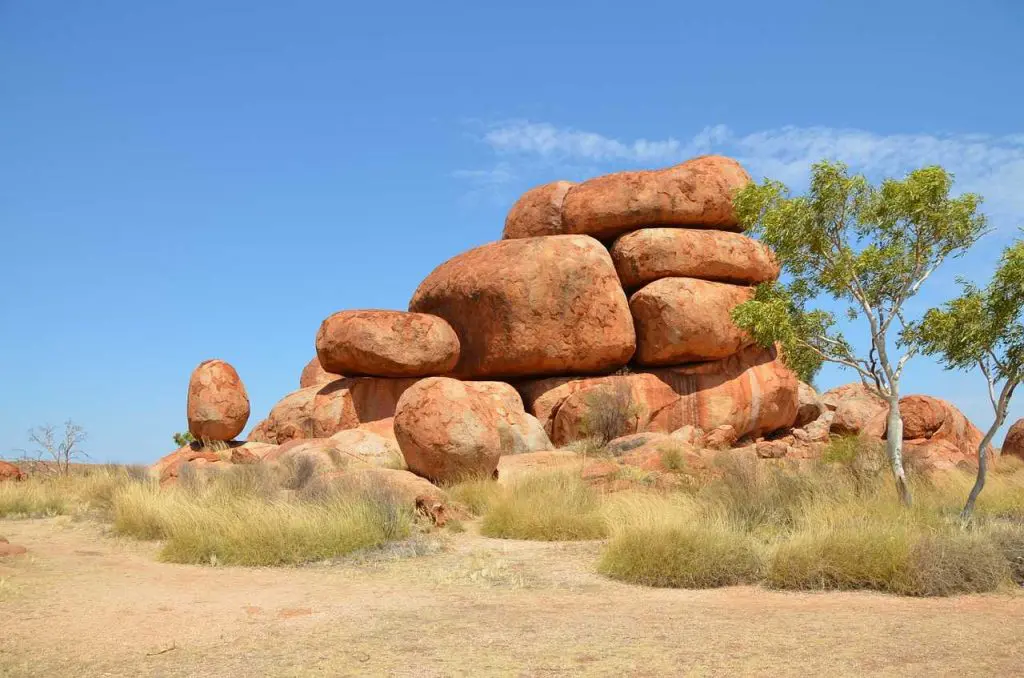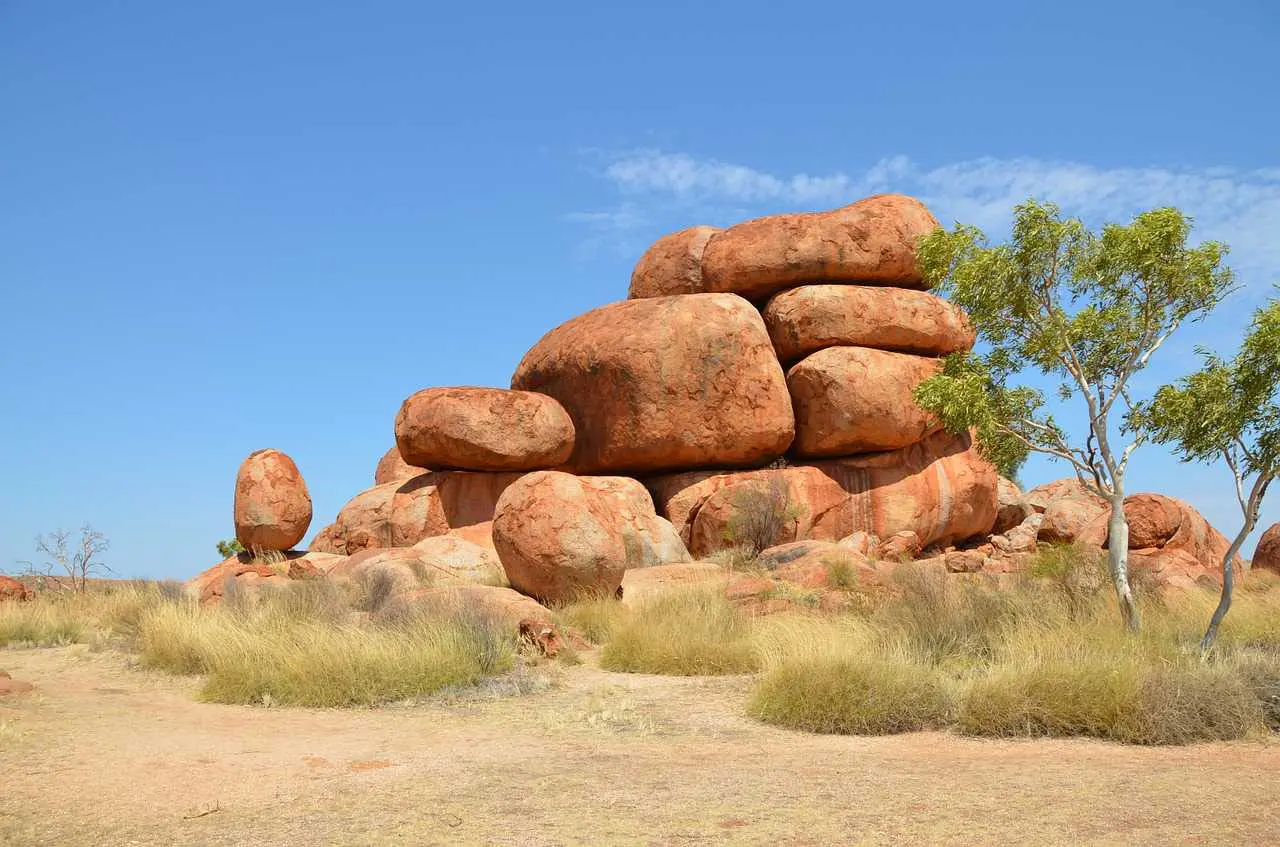 Distance
3,887.5 km (2,415 miles)

Time
7 to 10 days
An Adelaide to Darwin road trip route cuts right through the heart of Australia, taking you from the arid south to the tropical north of this giant continent. Along the way, you will encounter some of the strangest and most wonderful places in Australia. I believe it's one of the best road trips in Australia!
Although Uluru is not strictly a part of this route, I highly recommend you visit it as it is one of the best things to see in Australia. There is also Kata Tjuta and Grand Canyon to see as well, both are just as impressive as Uluru!
This route is long, wherever you start from. The only difference is that on this road trip from Adelaide, civilisation ceases once you pass Port Augusta early on. So you have to decide, whether to stop overnight in the Flinders Ranges or head on to the wacky town of Coober Pedy!
This trip can be dangerous, as there are large periods where you do not encounter civilisation at all. Make sure you have adequate supplies and always stop for fuel because it might be a long way to the next petrol station.
This route takes in some of the least-known and best sights in Australia, such as Coober Pedy, Mataranka Thermal Springs and the Devil's Marbles.
This is one of the better Australian road trips, the diversity of scenery and landscapes as you head north is incredible! I recommend you visit Darwin, it's an interesting city with lots of things to see and do!
Adelaide to Perth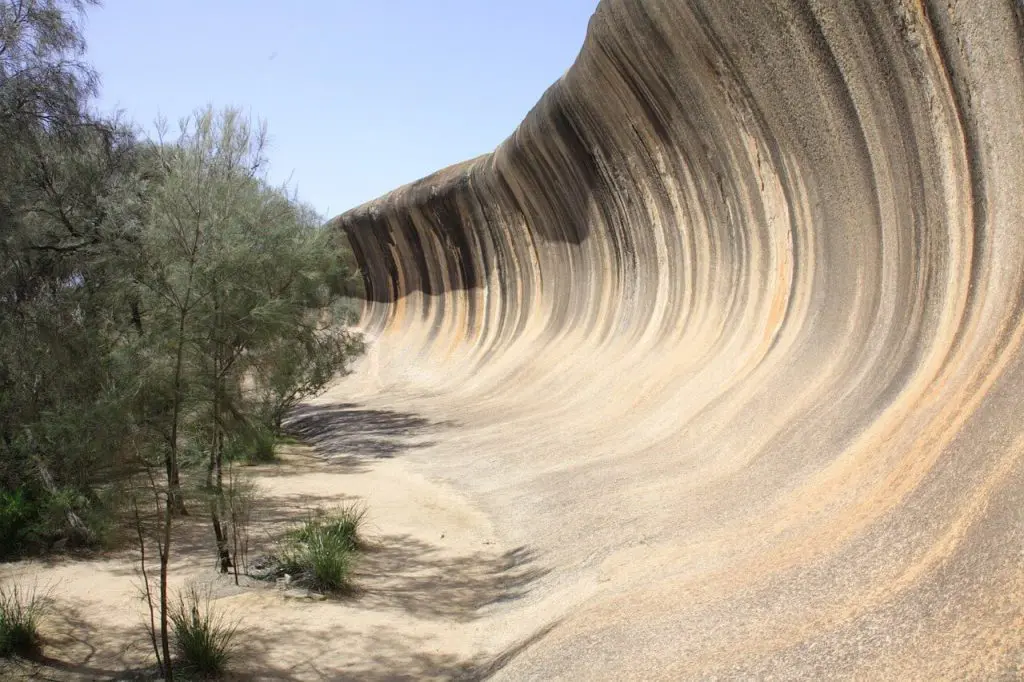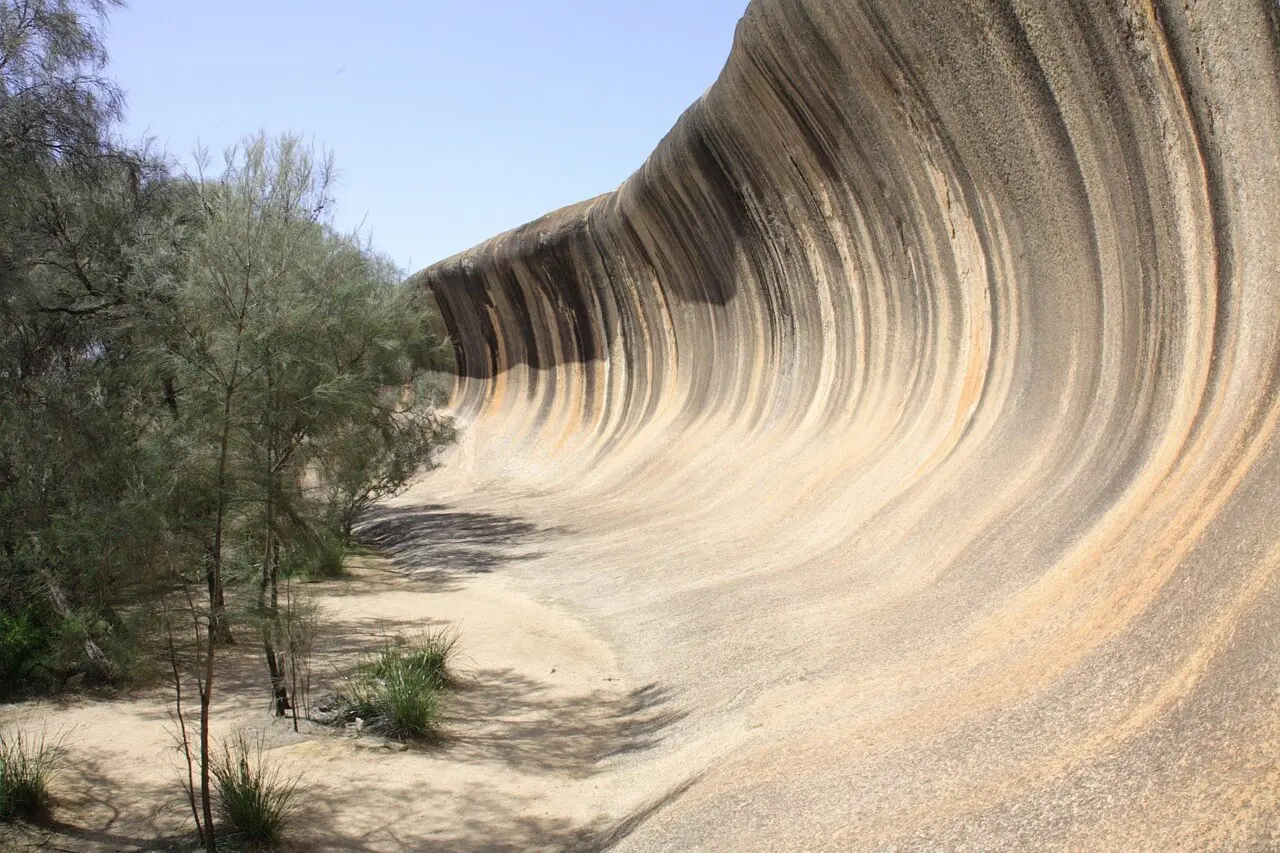 Distance
3,149 km (1,956.6 miles)

Time
8 days
The journey from Adelaide to Perth may not look too interesting, but that's not the case.
An Adelaide to Perth road trip has a few interesting sights. You can go to the Flinders Ranges and head to Port Lincoln after heading from Adelaide. Here you can go down in a cage with Great White Sharks if you are brave enough!
The Nullarbor Plain is home to one of the straightest stretches of road anywhere in the world at 145km! It's so long that the Royal Flying Doctors sometimes use it as an emergency runway! This part of the trip doesn't have much to see, but that changes as you head closer to Perth.
Esperance is a picturesque town with secluded beaches, a great place to stop for a few hours or overnight. If you have an interest in mining, you can head to the Kalgoorlie Super-pit, which is Australia's largest gold mine. There are even tours of the pit, which can be done for $45.
Before reaching Perth, you should check out Wave Rock. This is one of the more unusual places to visit in Australia! It is a rock formation that is shaped like an ocean wave that is about to break. This trip may seem bland at first glance, but there are actually several places to visit!
Brisbane to Cairns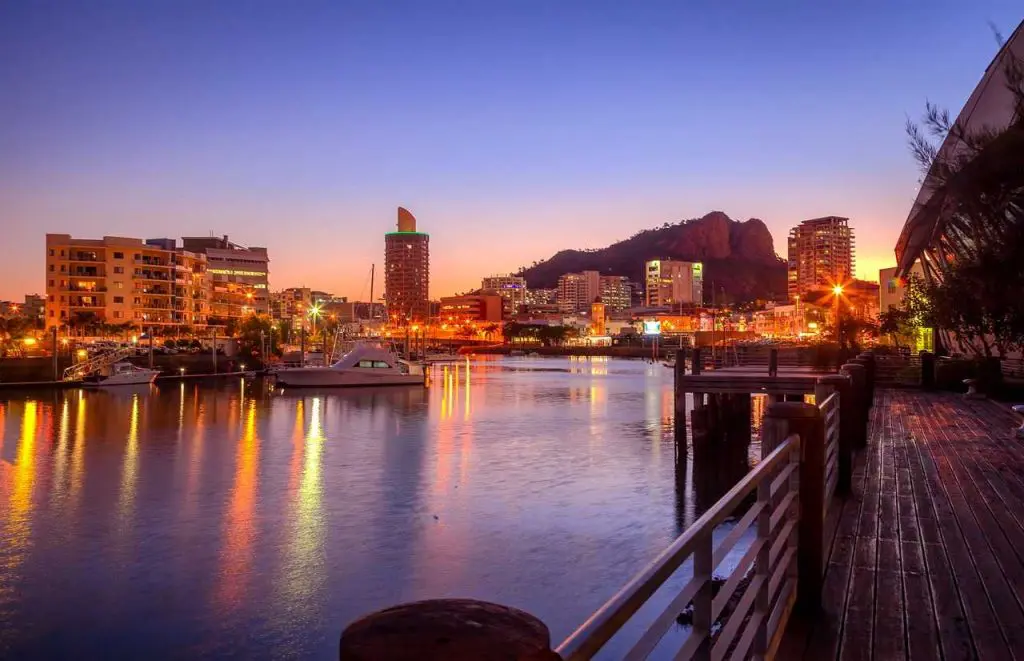 Distance
1,678.5 km (1,042.9 miles)

Time
8 to 10 days
A Brisbane to Cairns road trip is the most popular backpacker route in Australia and there is a lot to see along the way.
You can do this trip via Greyhound bus, by buying one of the numerous passes they have available. I did this travelling from Brisbane to Cairns and although fun, it can drag being stuck on a bus for a long time. Travelling from Airlie Beach to Cairns can take 10 hours for example.
I thought this was worse than coping with a long-haul flight for a similar length of time, at least, they have in-flight entertainment!
My advice would be to do it by car or campervan, this way you can stop where you want. You can create your own East Coast itinerary and do what you want. You're not stuck on a bus for hours on end, bored out of your mind! Depending on where you start there are many interesting places to visit.
Hervey Bay was one of my favourite stops along this route. I liked the laidback vibe of the town and that I had large parts of the beach to myself!
From here there is Fraser Island, Airlie Beach, where you can see the Whitsundays. Then it's onto backpacking in Cairns, which is an interesting city. This trip is what most people do when travelling in Australia.
Melbourne to Sydney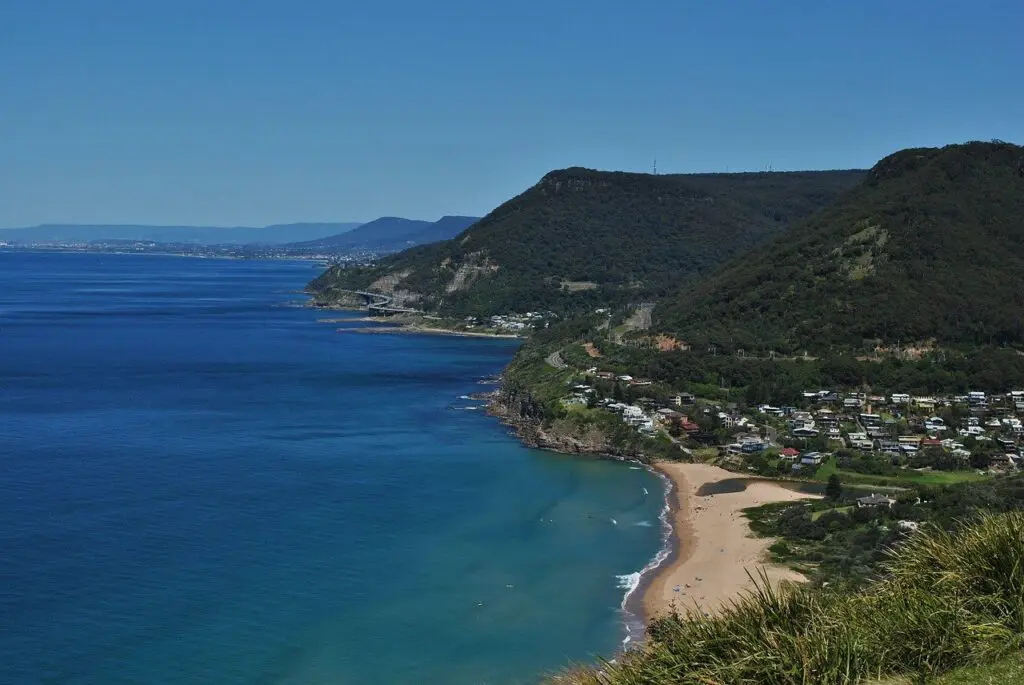 Distance
1,605.2 km (997.4 miles)

Time
7 days
Driving from Melbourne to Sydney is the best way to travel between the two biggest cities in Australia, Sure, you can fly between them but you'd be missing out on so many great places to see.
Wilson's Promontory is a beautiful national park and has some fantastic beaches, while Gippsland Lakes is an underrated part of the country.
This Melbourne road trip is one that you can do during winter too. You'll be able to go skiing at Kosciuszko National Park in the ski fields there, while if you did the road trip during the summer, you can climb up Mt Kosciuszko, the highest point in Australia.
This trip takes you to the capital of Australia, Canberra. The city is an overlooked part of the country which is a shame because there's a lot to see there.
The journey towards Sydney takes you to Wollongong and some of the best beaches on the New South Wales coast.
This is an Australian road trip I highly recommend and one you'll have lots of fun on!
Perth to Darwin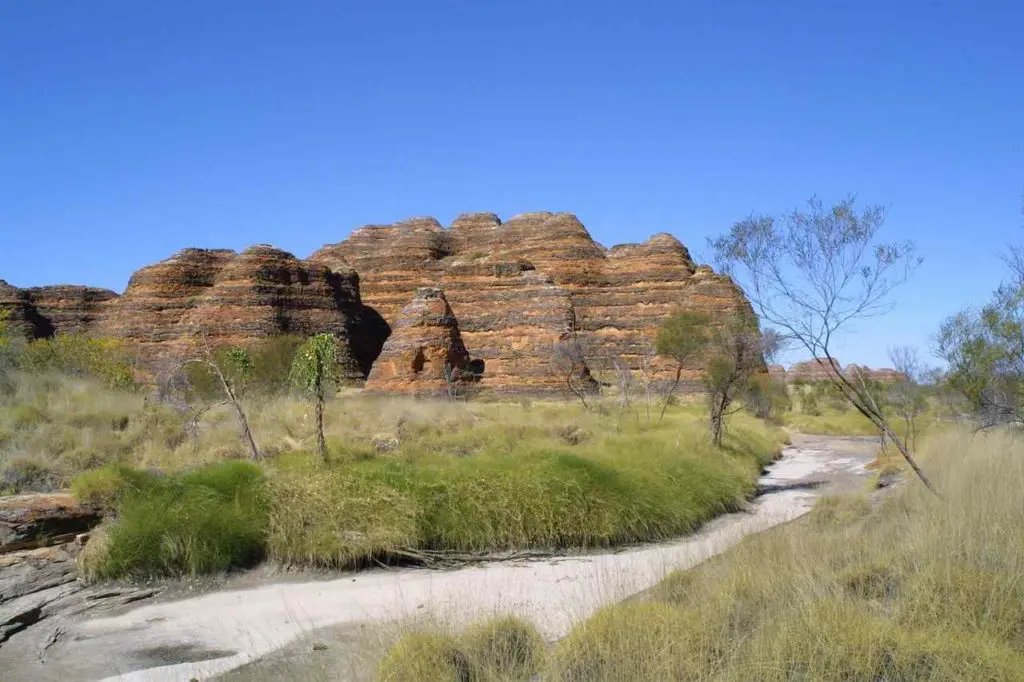 Distance
4,147 km (2,576 miles)

Time
10 days
A Perth to Darwin road trip is one of the longest and most arduous drives you can do in Australia. This trip is not for the faint-hearted. if you want to see some of the lesser-known spots in Australia though, it's worth it!
The trip takes you from the southwest of Western Australia to the top end of Australia. Along the way, you will see some weird and wonderful sights.
The drive up the coast of Western Australia has plenty to see. You can head to Monkey Mia and swim with dolphins, head to Busselton to see the longest jetty in Australia and see camels frolicking on the beach in Broome.
The drive towards the Northern Territory will take you to the Karijini National Park which has numerous freshwater holes that you can swim in.
Another place you can check out is the Purnululu National Park, which is home to the fantastically named Bungle Bungle Range. It's a geographical feature that resembles towering beehives!
This isn't one of the most well-known road trips in Australia, but it's one of the best and will allow you to see a side of the country most travellers don't get to see!
Sydney to Brisbane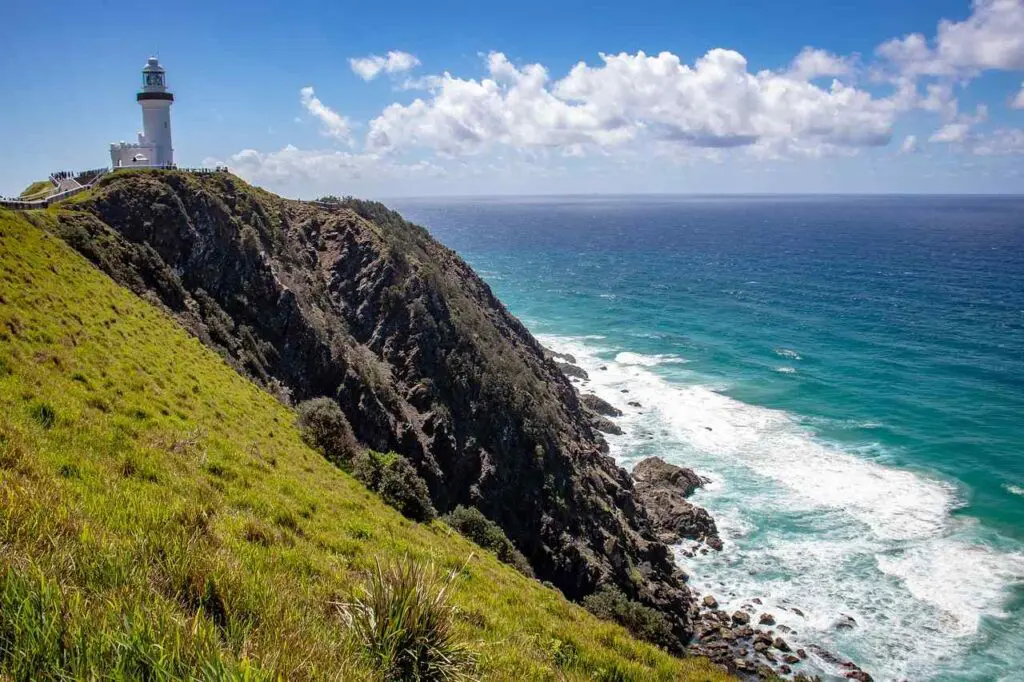 Distance
910 km (565.4 miles)

Time
7 days
A Sydney to Brisbane road trip is one of the most underrated road trips in Australia. There is a lot to see between these two cities!
The drive up the coast is one of the most scenic in Australia. You get to visit fantastic places such as Newcastle, Coffs Harbour and Byron Bay.
Byron Bay is a favourite of backpackers and there's a good reason. It's a beautiful place! The walk to Cape Byron to see the lighthouse at the easternmost point of Australia is incredible. The views across the Pacific Ocean are out of this world.
You'll find some of Australia's best beaches on this stretch of the coast and many of them are ideal for surfing. It may be worth spending a few days in Sydney before you set off to make the most of them!
Another excellent place to visit is the Gold Coast. It can be maligned as a soulless city but I liked it. The beaches are excellent and you don't have to stay in the city when you can venture to the suburbs and check out some great parks such as Burleigh Heads.
Perth to Broome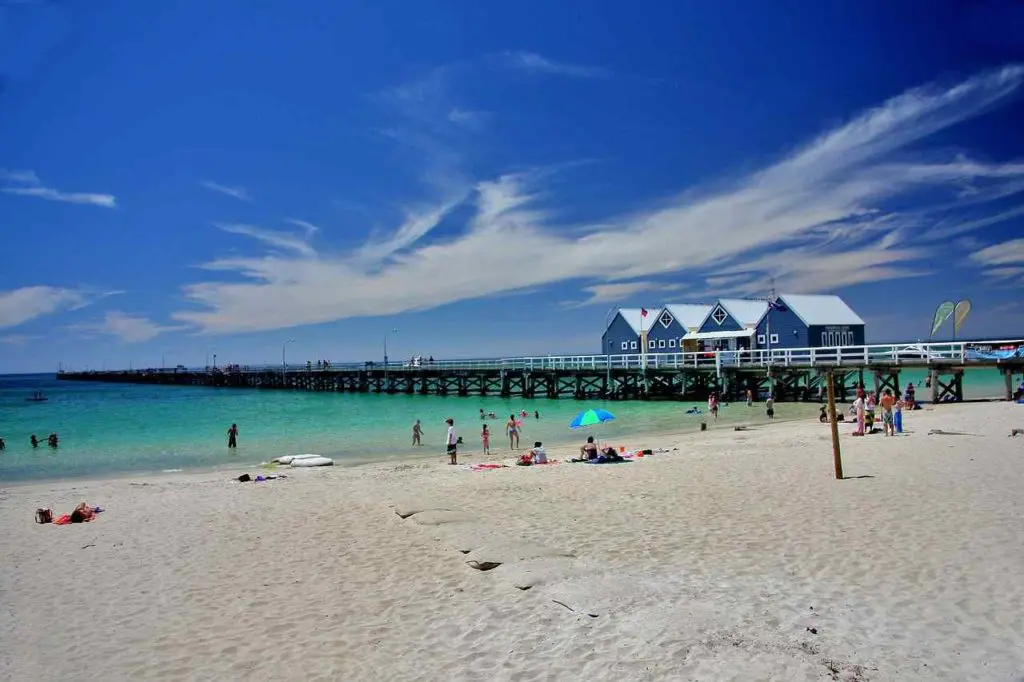 Distance
2,224 km (1,381.9 miles)

Time
7 to 9 days
A Perth to Broome road trip follows a similar route to the Perth Darwin road trip as you drive between the two main settlements in Western Australia.
You'll many of the same places on that trip, although you can do it at a slower pace. As you don't need to drive all the way to Darwin, this gives you more time to explore Western Australia.
The West Coast is considerably less populated than the East Coast, which means that the scenery and landscape are generally unspoilt. There are lots of great things to see, such as the Ningaloo Reef, Monkey Mia and cool coastal towns such as Exmouth and Broome.
Driving from Perth to Broome on the Great Northern Highway is a long road trip at 2,240.5 km, but it's worth it. You get to see a beautiful part of the country that many other travellers ignore.
Tasmanian Road Trip

Distance
1,158 km (720 miles)

Time
6 days
Here's the thing:
Despite being one of the most beautiful parts of the country, Tasmania is often forgotten about during a trip to Australia. This was certainly the case for me!
I didn't visit Tasmania and I wish I had as it looks like the perfect place for a road trip. The scenery here is quite similar to what I saw while backpacking in New Zealand.
There are mountains across the island, beautiful beaches and lots of incredible scenery as well. A road trip around Tasmania would almost certainly rival those in New Zealand!
As I've not been to Tasmania I can't really comment on what it's like. However, Claire's Footsteps has, so if you want a Tasmania road trip itinerary, check it out!
The Big Lap of Australia

Distance
39,373.5 km (24,465.5 miles)

Time
3 months minimum
If those Australian road trips are not adventurous enough for you, then I've left the most adventurous one till the end!
Let me explain:
As you can probably tell from the title above, this road trip involves doing one massive lap of Australia. Basically, you drive around the entire circumference of the country! It's a self-drive in Australia that will be challenging, yet rewarding!
This is a serious undertaking and not for the faint-hearted. The route clocks in at a massive 39,373.5km (24,465.5 miles)! This is not something you simply do on a whim, it needs serious planning.
You will almost certainly need a 4×4 for this road trip, as navigating the Cape York Peninsula, will require driving on unsealed roads.
There's no doubt this would be one of the best ways to see Australia, as you will see the numerous diverse landscapes. However, it would take a good while to complete, and potentially suck up your budget!
This is without a doubt the ultimate Australian road trip, completing it would be an achievement in itself!
Concluding Thoughts
There's no doubt in my mind that the routes above are among the best road trips in Australia!
They allow you to see the country from another point of view. Plus, self-driving in Australia allows you to see what you want when you want!
This is the kicker for me! As you can tailor your itinerary to please yourself. Travelling around Australia by car is a rewarding way to see the country!
If you've done all these trips and are yearning for more then I recommend getting the Lonely Planet Guide to the Best Trips in Australia!
It has detailed information on 38 great trips you can do in Australia. This information came in handy for me while travelling in this great country!
Need a Rental Car?
I use Rentalcars.com whenever I need to rent a car. They offer the most comprehensive listings of rental cars on the web. Plus, their deals are often cheaper than if you went straight to the supplier!
Need Travel Insurance?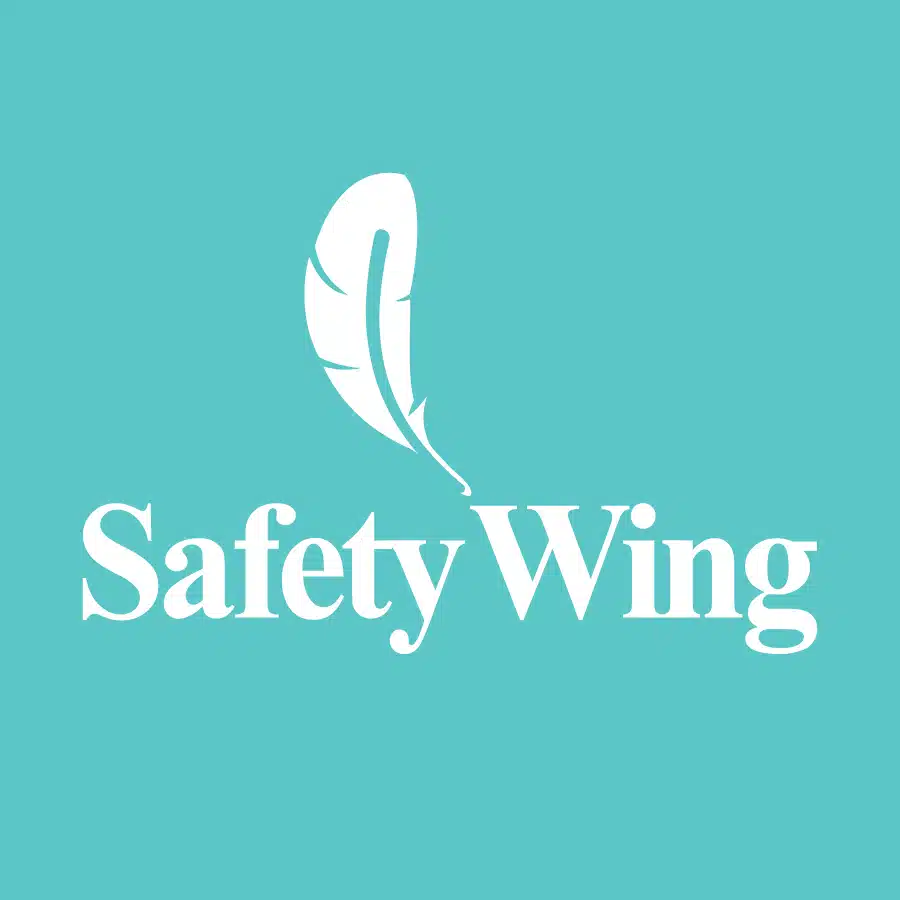 SafetyWing offers coverage that will give you peace of mind while you're on the road. If you want to protect yourself while you're on the road, then click the image to take a look at the options available to you.
Tom is a travel addict who first left England to spend a year Down Under. Not satisfied with this, he then went to New Zealand, about as far away from home as he could get. He is now planning his next adventures in Europe and Canada while maintaining this blog. Check out the about me page to learn more!