This Queensland travel guide is here to convince you that visiting this great state is something that you should do while you're in Australia.
Let me explain why:
For a start, Queensland is home to some of the most beautiful places to visit in Australia, such as the Great Barrier Reef and the Whitsundays.
These are among many people's top reasons to visit Australia!
As well as that, there are great cities such as Brisbane and the Gold Coast, which have plenty of things to do. There are also some great lesser-known places as well.
Hervey Bay and Mooloolaba may not be familiar names, but they should be visited while travelling around Australia.
This guide will provide you with advice on where to visit, what to do and how much things cost while travelling around Queensland!
Disclosure: This article may contain affiliate/compensated links. For full information, please see our full disclosure policy.
Table of Contents
Queensland Travel Guide
General Info
Queensland is the second-largest and third-most populated state in Australia. The state is named in honour of Queen Victoria, who signed the papers confirming its separation from New South Wales in 1859.
Due to its large size, Queensland straddles a number of climate zones. The Far North is tropical, while further south near Brisbane, there are hot summers with mild winters.
In all, there are five distinct climate zones in Queensland. The Far North suffers from a wet season, similar to the one in the Top End of the Northern Territory.
Travelling around Queensland
Travelling around Queensland can be a challenge at times because the state is gigantic. When I was travelling from Brisbane to Cairns via Greyhound bus, I didn't think the journey would take as long as it did. The places seemed quite close on the map. In reality, it was very different!
Hervey Bay to Airlie Beach is a 12-hour trip, while the trip up to Cairns is a 10-hour drive! They really don't look that far apart on the map! It just illustrates how big Australia really is!
You can travel between the Gold Coast and Brisbane easily via train, which only takes about 30 minutes. After that, Greyhound would be your best for travelling around Queensland!
Another option is to rent a car or campervan. This might be a good idea if there are a few of you in your group, as you can split the costs. You also have the benefit of stopping where and whenever you want, as opposed to being stuck on a bus for hours! Jucy, Apollo and Wicked are some great companies to rent from!
The main airport in Queensland is in Brisbane, though there are a lot of flights into Cairns and the Gold Coast too. Internal flights can be cheap, especially if you book with budget airlines such as Jetstar or Tiger!
Why You Should Visit Queensland
Due to its size, Queensland is one of the most diverse states in Australia. In this regard, I found it was similar to travelling in South Australia. The contrast between the south and the North of the state is quite stark.
The Far North of Queensland in places such as Cape Tribulation and Cairns is very tropical with distinct seasons. Whereas further south near Brisbane it's less humid and the landscape is not as lush.
This diversity is one of the best aspects of Queensland. You can see many different sides to Australia just by travelling around Queensland. This is even truer if you ventured into the Queensland Outback and went somewhere like Mt. Isa!
The diversity is true of things to do in Queensland as well. You can do anything from scuba-diving in the Far North to hiking in the Daintree Rainforest.
If you want to see the Great Barrier Reef, then you should visit Cairns. As well as the reef, there are plenty of beautiful spots and natural beauty in the area.
You can visit Bundaberg, which is also a great Australian holiday destination. It's a handy place to stop over for a while if you're travelling to the Far North of Queensland.
There are Queensland destinations for everyone as the state is that big! Don't fancy hiking? Then you can chill out at Magnetic Island. Want more hustle and bustle? Then visit Brisbane!
Where to Stay in Queensland
There are plenty of choices when it comes to backpacker accommodation in Queensland. The problem is that with so much choice it can be difficult to know which hostels are good and which ones are not so good!
Even small places such as Airlie Beach have a lot of hostels! The choice really is dizzying!
The YHA operates some of the most popular hostels in Australia and they have a number of hostels in Queensland.
I stayed in their hostels on the Gold Coast and Brisbane. Both were comfortable, the one in Brisbane was great, as it had a rooftop pool and great facilities.
[table id=12 /]
Due to the amount of choices in Queensland, my advice is to look at Hostelworld before you book a hostel.
This way you can compare ratings, and facilities to choose the best hostel for you! If you don't fancy staying in a hostel in Queensland, then click here for the latest deals on Booking.com for hotels in Queensland!
When Is The Best Time to Visit Queensland?
The best time to visit Queensland depends on a few factors because of the size of the state.
The Far North has a tropical climate with defined seasons. This means that if you visit somewhere like Cairns during the Australian summer, you'll be visiting during the rainy season!
Further down towards the border with New South Wales, the climate is quite stable.
The summers are hot and the winters are mild, which means that there are more options for someone wanting to visit a place like Brisbane!
Activities To Do in Queensland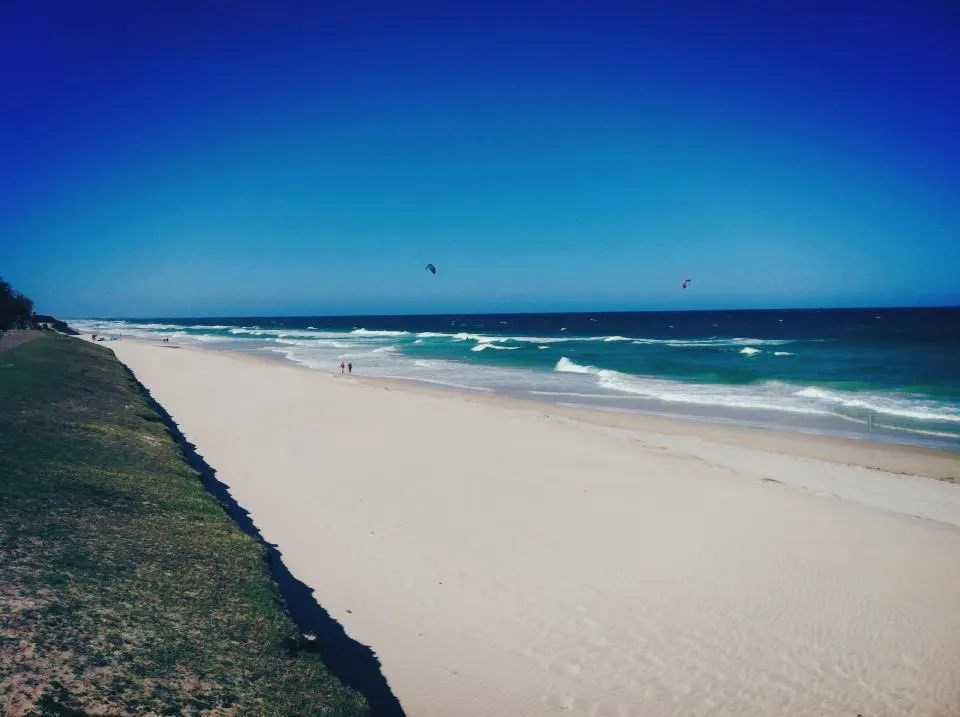 Road Trip
A road trip in Queensland is one of the best ways to see the state!
Given that the distances between places are huge here, it's much better to be able to stop where and when you want!
Being stuck on a coach for hours is not much fun and you don't see as much as you could during a road trip!
Driving from Brisbane to Cairns, or vice versa will take you to some of the most popular and scenic spots in Australia. It's an ideal way to see Queensland and one that won't involve hours and hours of coach journeys!
Surfing
No Queensland travel guide would be complete without a mention of surfing! Queensland has some of the best spots in Australia to go surfing! They don't call it Surfer's Paradise for nothing!
There are plenty of other great spots for surfing further up the coast as well. If you haven't tried surfing during your time travelling around Australia, then Queensland is the perfect place to start!
Diving
No Queensland travel guide would be complete without mentioning scuba diving. After all, the state is home to the Great Barrier Reef!
This is one of the primary reasons to visit Australia for many people and if you're a keen diver, then all the more so!
There are some other great spots as well in Queensland, especially in the Far North, so give scuba-diving a try while you're here!
Places to visit in Queensland
As one of the biggest states in Australia, there are plenty of places to visit in Queensland. Most people know about popular hotspots such as Brisbane and the Gold Coast, but there are quite a few hidden gems as well!
I visited Mooloolaba almost as a last resort because all the hostels in Noosa were fully booked. I was pleasantly surprised by the place and enjoyed my time there!
The further north you travel, the more tropical Queensland becomes and you can visit the Daintree Rainforest or Magnetic Island if you wish. There are a lot of things to do in Cairns, such as visiting the Great Barrier Reef or relaxing at the Esplanade!
Queensland does have a bit of a reputation as a samey backpacker trail, but there's quite a bit of variety if you get off that trail!
Brisbane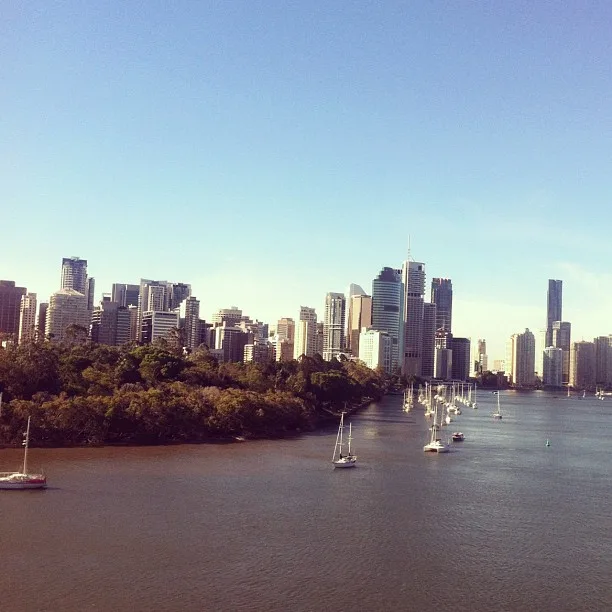 Brisbane is the biggest city in Queensland and somewhere that you absolutely have to visit when travelling around Queensland! It may not be as glamorous or cultural as Melbourne or Sydney, but it has plenty of charm nonetheless!
The Southbank along the Brisbane River is one of my favourite spots in the whole of Australia. There are loads of great cafes here and there's even a makeshift beach, should you fancy a dip! The Story Bridge is another great landmark
The city has a reputation as a party haven, and it's not called Bris Vegas by the locals for nothing! The nightlife here is lively, and there's always something happening in the city.
Read more: Brisbane Travel Guide
Fraser Island
Fraser Island is one of the most popular places to visit in Australia, never mind Queensland. It's considered to be the largest sand island in the world and it's also a world heritage site.
For an island that is only 120km (75 miles) long, it's quite diverse with rainforests, woodland and swamps present!
The most common activity to do here is a 4×4 drive on the beach, which allows you to see a lot of this scenic island. The chance to see a wild dingo is also another great reason to visit Fraser Island.
This is one of the unique places to visit in my Queensland travel guide and one you shouldn't miss!
Gold Coast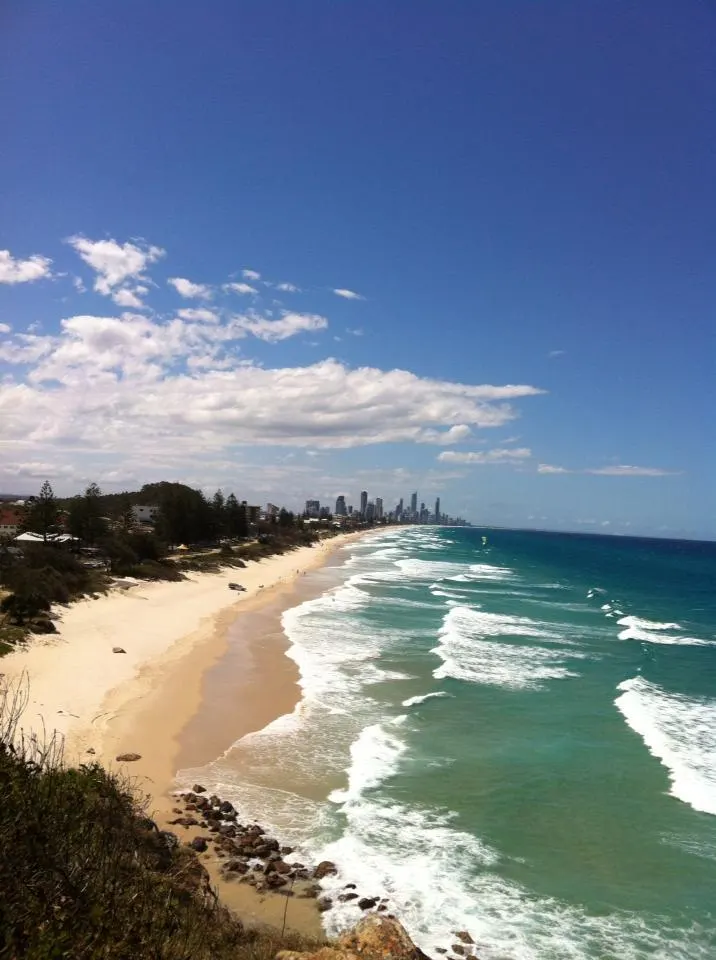 The Gold Coast is one of the most popular places to visit while travelling in Queensland. It's home to the famous Surfer's Paradise beach, which is a must-visit!
There's also lively nightlife, so this is definitely the place to party in Queensland.
If you want to get away from the hustle and bustle, you can trek to Burleigh Heads, which is a picturesque national park to the south of the Gold Coast.
There are some great views of the Gold Coast from here and the landscape is amazing!
Hervey Bay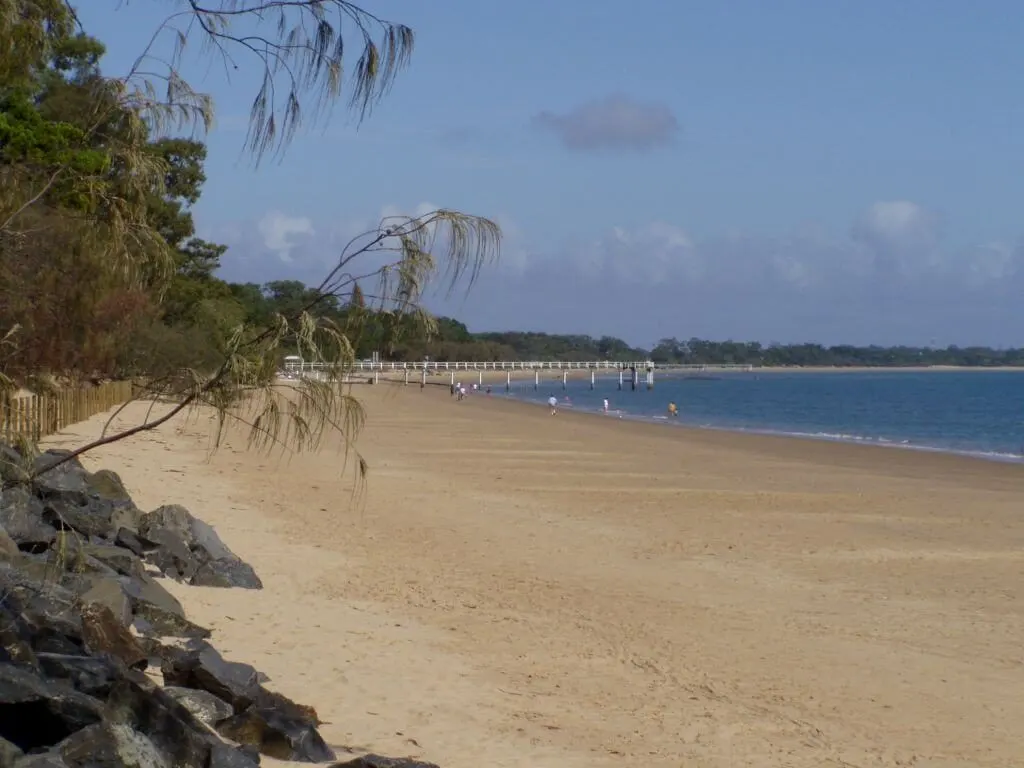 I was pleasantly surprised when I travelled to Hervey Bay. I wasn't sure what to expect as I hadn't heard much about it, but I thought it was a great place.
Granted, it's small and there's not an awful lot going on, but it's a great place to relax.
There are a few cool things to do at Hervey Bay, such as visiting the beach, which is great! It's not too busy and very picturesque, I really enjoyed walking up and down it for hours, just enjoying the peace and quiet.
Hervey Bay may not feature prominently in a Queensland travel guide, but you should definitely include it as part of your itinerary!
Whitsundays
Visiting the Whitsundays is one of the best reasons to visit Australia and one of the most famous landmarks in Queensland! The islands are extremely popular with backpackers and form part of the popular East Coast travelling route!
I didn't visit the Whitsundays during my time in Australia, but I really regret it! The chance to visit these stunning islands was one I stupidly passed up.
As you can visit them on a sailing boat as well, I feel like I missed out two-fold. Accommodation in the Whitsundays can involve sleeping in a chartered boat, which makes the experience of visiting even more special!
This is something I would have liked to experience, so don't make the same mistake as me and see the Whitsundays!
How Much Does It Cost to Travel in Queensland?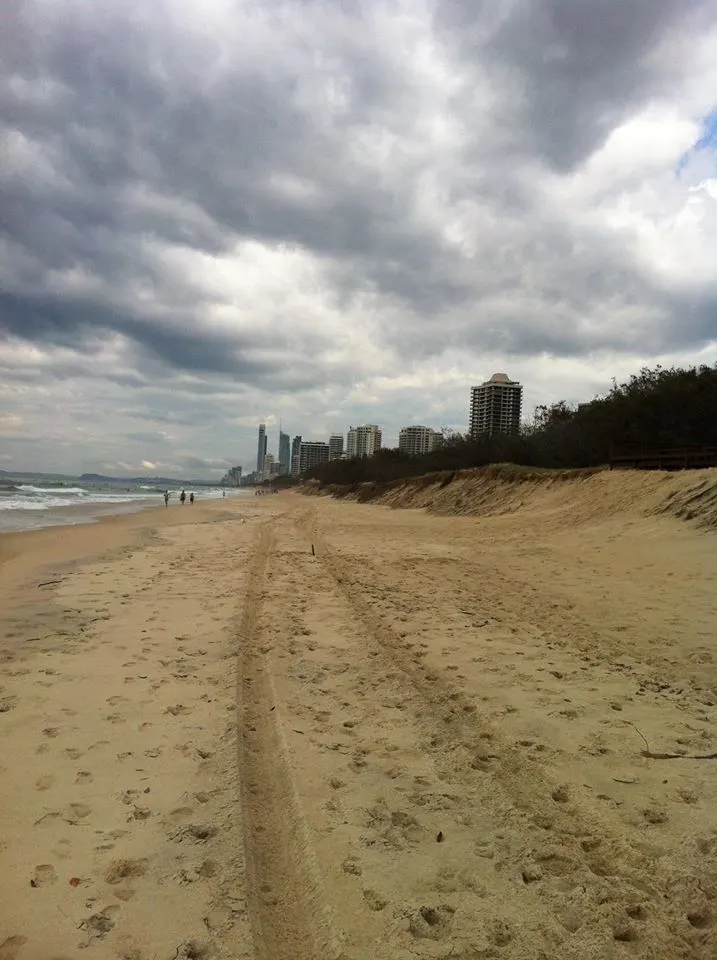 Travelling around Australia can be expensive and Queensland is no exception. However, one bonus is that it's not as expensive as New South Wales and Victoria. Brisbane is a cheaper city than both Melbourne and Sydney.
I've tried to make this Queensland Travel Guide budget-friendly. Below are a few hints and tips aimed at saving you money when travelling to Queensland!
Accommodation
My Queensland trip guide has already recommended a few good hostels to stay at, but there are ways you can save money on accommodation. One is to stay in rooms with more people, as these are always cheaper!
If you don't mind staying in a room with 8 or 10 people, you could save a lot of money!
Looking around on Hostelworld is a great way to save money, as you can often pick out a cheap hostel! If you really want to save money, however, you can do what I did and sleep in a car for three days!
Food and Drink
The cost of food and drink is cheaper in Queensland on the whole than in states such as Victoria and New South Wales. This only really applies to eating out though, so prices in the supermarkets are more or less the same.
If you want to save money then my advice is to stock up on pasta and rice. It's cheap, lasts a while, and is versatile for cooking.
Like most places in Australia, alcohol is expensive in Queensland. If you want to save money, then I would advise you to cut back on your drinking or stick to wine!
You can get bottles of wine for $4, which is considerably cheaper than beer!
Tours
If you're doing the main backpacker route up the East Coast to Cairns, then the odds are you're going to do a lot of tours. This will eat into your budget, as they do add up, especially with the costs of travelling around and hostels!
My advice would be to pick one or two things that you really want to see and do and then limit the rest!
This way you will still have great experiences, but you will also save yourself a fair bit of money. It's not cheap doing all the activities such as scuba diving, and sailing around the Whitsundays.
One of the best Queensland travel tips is to book through a travel agent such as Peter Pans or Wicked. You can normally get a better deal if you book through them than direct with the company!
Tips and tricks
Most of the hostels in Queensland charge you for wifi. To get around this, go to libraries, McDonald's, Burger King or KFC where the wifi is free!
Stock up on pasta and rice when you are staying in hostels. They are both really cheap, and you can make lots of great meals with either of them!
Buy alcohol before you go out and stick to wine, it is a lot cheaper than beer! Yes, the $3-5 bottles of wine do taste good surprisingly!
Book any tours through a tour agency! I'd recommend Peter Pans, as I got some great discounts through them when I booked some of my tours. Never book directly with the company!
Concluding Thoughts
Hopefully, my Queensland travel guide has given you a flavour of what to expect in this great state! It's a big state, and there's no shortage of things to do in Queensland!
Travelling to Queensland is something most people will do when they visit Australia. Seeing the natural beauty in this state is something that I highly recommend!
Need Travel Insurance?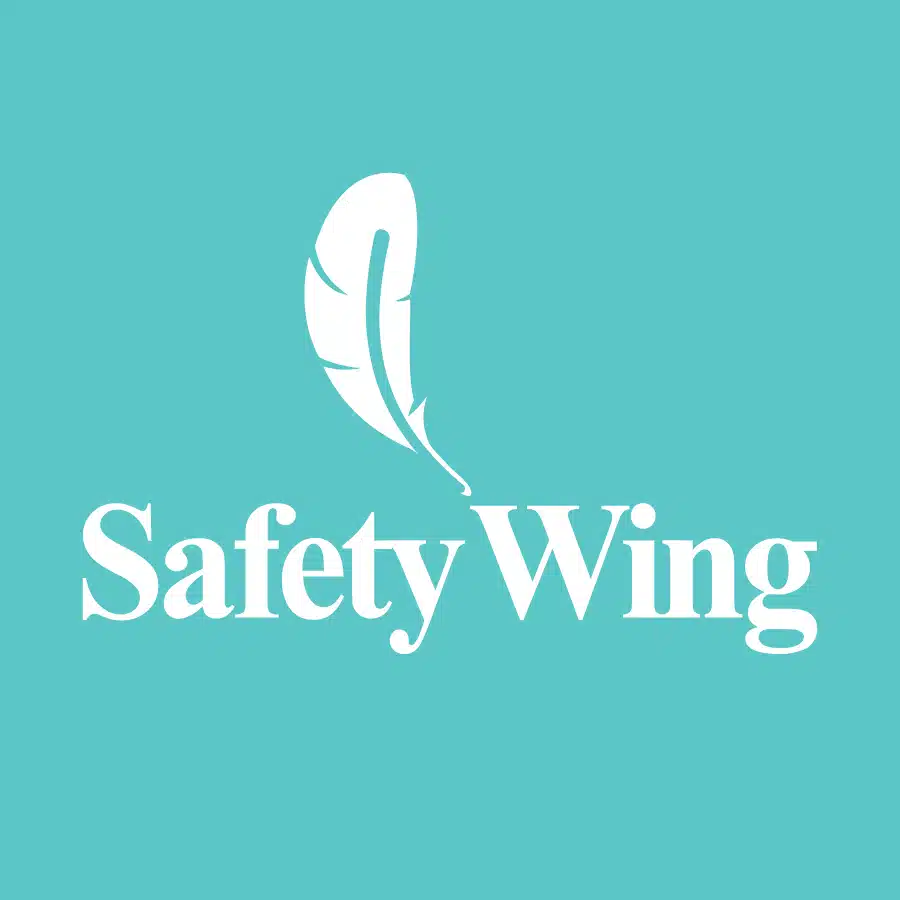 SafetyWing offers coverage that will give you peace of mind while you're on the road. If you want to protect yourself while you're on the road, then click the image to take a look at the options available to you.
Pin For Later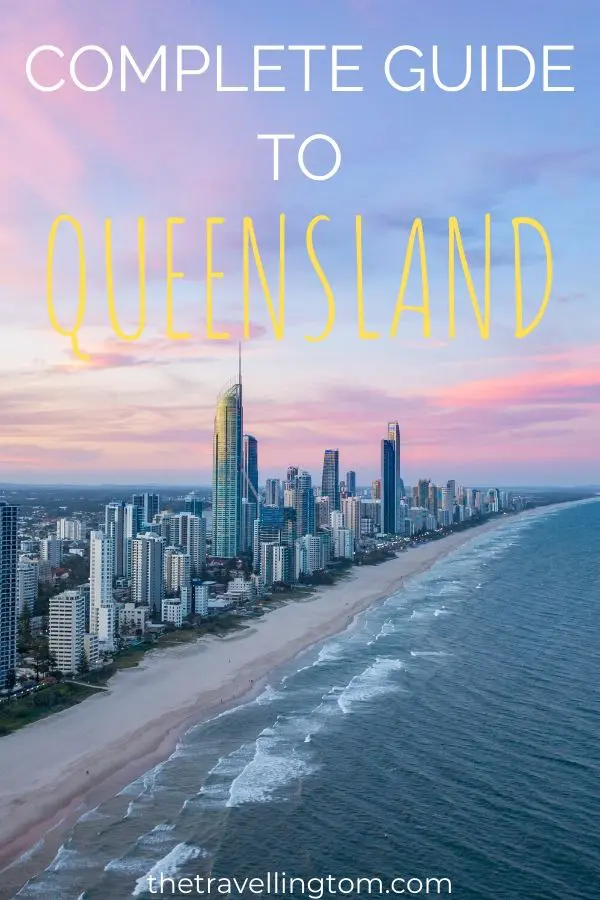 Tom is a travel addict who first left England to spend a year Down Under. Not satisfied with this, he then went to New Zealand, about as far away from home as he could get. He is now planning his next adventures in Europe and Canada while maintaining this blog. Check out the about me page to learn more!