If you're thinking of visiting one of the most beautiful states in America, then these Arizona quotes will convince you to visit. Arizona is one of the most incredible places in America and it has to be on your itinerary should you visit the country.
It's not just the beautiful scenery there are plenty of great cities to check out too such as Phoenix and Flagstaff.
But there's no denying Arizona's natural beauty is one of the core attractions. The Grand Canyon is the main attraction, as is Monument Valley and it's no surprise that many of the best quotes about Arizona reflect this.
If you want to feel inspired to visit Arizona, then this collection of quotes will certainly do that.
Table of Contents
Best Arizona Quotes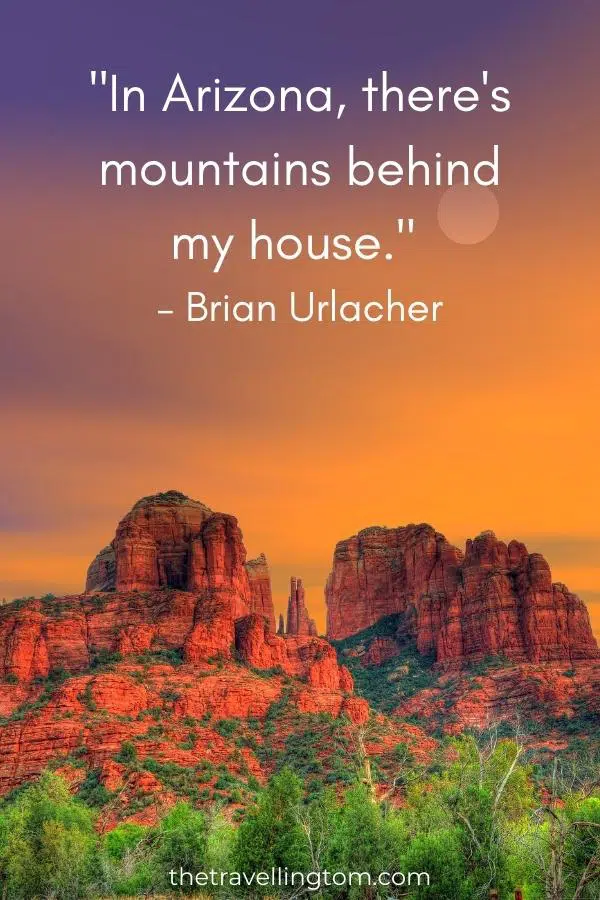 There's no getting away from it, Arizona is one of the most incredible places in America.
The scenery here is off the charts and with the Grand Canyon in the state, it's not hard to see why.
With so many amazing places to visit in Arizona, you have no shortage of amazing destinations to check out!
If you're planning to visit this beautiful, check some of the best quotes about Arizona below.
"In Arizona, there's mountains behind my house." – Brian Urlacher
"When I came home after my statutory term as surgeon general, I just resumed my life here in southern Arizona. Teaching at the university; my law enforcement career. Sitting on some boards. All the things I did before." – Richard Carmona
"I was honored to wear 'Arizona' across my chest. I am extremely blessed to have my education completely paid for and take part in the great tradition of Wildcat softball. To have my jersey number retired was the ultimate compliment." – Jennie Finch
"My wife used to be an anchorwoman in Arizona, so she knew John McCain, and she liked him, and I kinda liked him." – Clint Eastwood
"Arizona is now recognized as a premier place in which to locate, expand and grow a business." – Jan Brewer
"My five years in Arizona were so much fun because we were winning and I knew how to enjoy it because I knew the other side of it." – Carson Palmer
"The cardones cactus is very similar to saguaro cactus in Arizona. These cacti only grow in very specific, particular places." – James Turrell
"I often say that Arizonans should decide what's best for Arizona." – Jane D. Hull
"The strike of the miners in Arizona was one of the most remarkable strikes in the history of the American labor movement. Its peaceful character, its successful outcome, were due to that most remarkable character, Governor Hunt." – Mary Harris Jones
"Arizona is gorgeous. The sunshine in Arizona is gorgeous red." – Cecilia Bartoli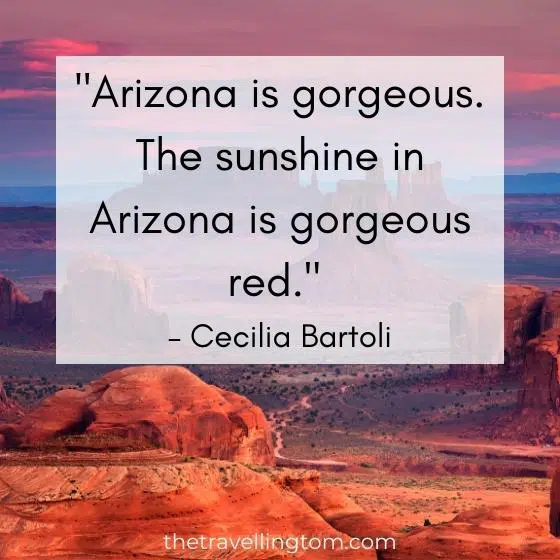 You might also like: Miami quotes
"The Make-A-Wish Foundation started with one wish out of Phoenix, Arizona, and the organization has grown so grand ever since." – Ainsley Earhardt
"Today, Arizona's sons and daughters, mothers and fathers are proudly serving their country." – Jane D. Hull
"I love Arizona. I was raised right. Somebody has to go to Washington and knock the hell out of the place." – Ben Quayle
"Well, I think it's real important that people understand, first and foremost, those of us that have lived in Arizona or in southern California, we have a very diverse population. The Hispanic population has been part of all of our lives since we've been born here or since we've grown up here." – Jan Brewer
"As a little girl in Arizona, none of the women in my family had a cultural connection with Girl Scouts, but the opportunity resonated with my mother as a platform that would allow me to excel in school." – Anna Maria Chavez
" In Arizona, we're at 7,000 feet, so we're above half of the world's atmosphere. It's crisp but hard, a side-raking light that can be revealing but doesn't have the softness that maritime air has." – James Turell
"The morning was, like nearly all Arizona mornings, clear and beautiful." – Edgar Rice Burroughs
"Across the Colorado River from the Needles, the dark and jagged ramparts of Arizona stood up against the sky, and behind them, the huge tilted plain rising toward the backbone of the continent again." – John Steinbeck
Arizona Travel Quotes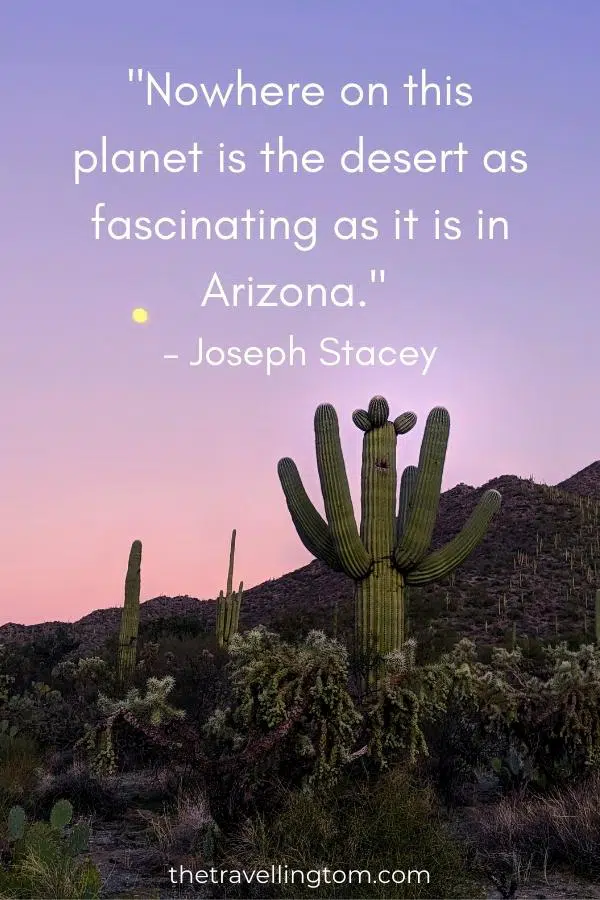 "Nowhere on this planet is the desert as fascinating as it is in Arizona." – Joseph Stacey
"The Horny Toad in Cave Creek has great food. When I'm in Arizona, I have at least one meal there. I have a daughter who lives out there, and Dee Dee Wood, who was the choreographer on 'Mary Poppins,' lives out there. I still get out there once in a while, but not in the summer." – Dick Van Dyke
"I got my first pilot license, an airplane private pilot license, in 1997 for the purpose of going to pick up my kids, who were living with their mother in Arizona, and I was in L.A. It was easier than to put them on a commercial flight. It was purely practical." – Lorenzo Lamas
"I've had a surprising number of near-death experiences: I was nearly blown up by a landmine in Sudan; I was stranded on the Zambezi river at night; I was bucked off a rodeo horse in Arizona and had to be airlifted to hospital; and, worst of all, I once ate a Pot Noodle." – Sandi Toksvig
"I divide my time between homes in Arizona and England, six months a year in each place." – Terri Windling
"I grew up in Arizona and have a lot of buddies that are cowpokes." – Michael Biehn
"'Hey Dude' was shot in Arizona, and that took me to the West Coast. We did 65 episodes. It was not a show that a ton of people saw, so it was like doing acting classes and getting paid for it. At that point I had the acting bug. So I went to L.A. to give it a try and never left." – Christine Taylor
"There's not a single person in Arizona today who would say the Grand Canyon was a mistake." – Stuart Udall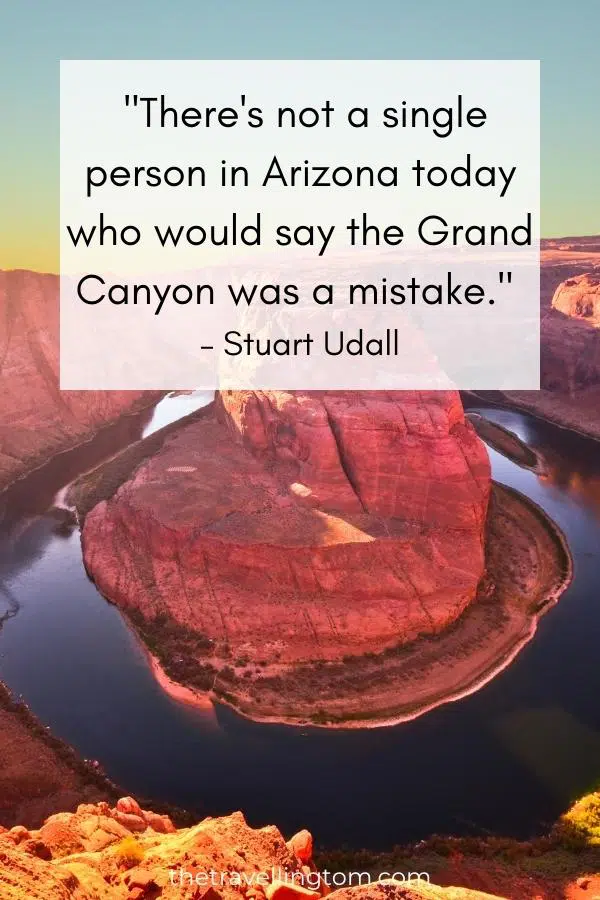 You might also like: Colorado quotes
"I was ten years old in 1969, and while we lived in Arizona that year, I spent most of the summer staying with family friends in Portland, Oregon while my parents visited Spain. It was an adventure all around." – Patrick Nielsen Hayden
"My father's grandparents came from Norway and settled in the Scandinavian bastion of Minnesota. As a little girl in Tempe, Arizona, I daydreamed about picking cloudberries by a fjord in a fresh Nordic wind." – Kate Christensen
"Arizona – I've only spent a few days there, but it's inspired me the most. It's so peaceful." – Benjamin Clementine
"My idea of heaven is being in Arizona, stuck up a mountain – somewhere where there are no phones." – Gavin Esler
"The Arizona desert to us is starkly beautiful at all times, but when touched by the magic of spring it becomes a land of enchantment. The weirdly beautiful cacti that dominate the landscape strangely resembles the vegetation of a past era, millions of years ago." – Raymond Carlson
"Well, the trip from then on across Arizona and east of Los Angeles was just one Oasis after another. You can just throw anything out and it will grow there. I like Arizona." – Will Rogers
---
You might also like:
---
Funny Quotes About Arizona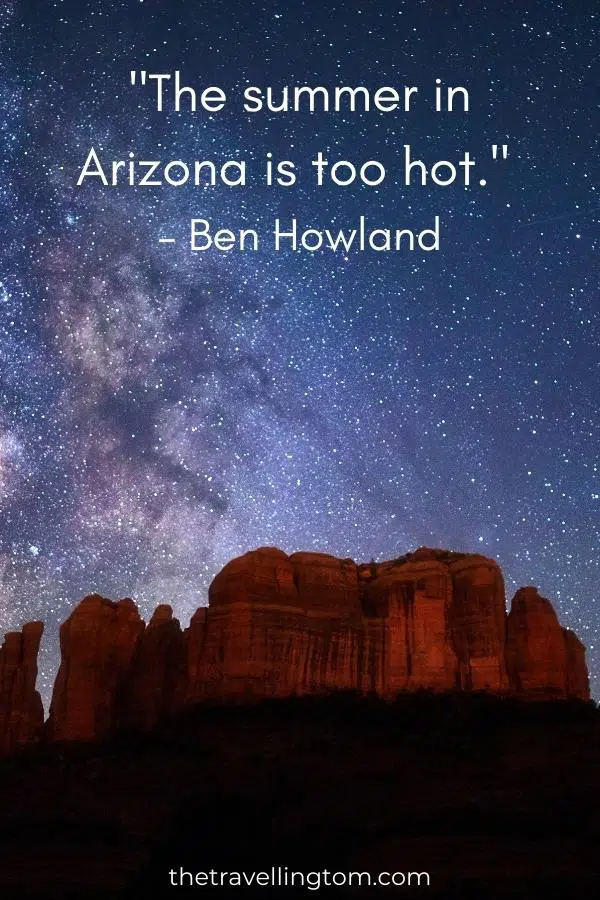 "The summer in Arizona is too hot." – Ben Howland
"Baseball, it is said, is only a game. True. And the Grand Canyon is only a hole in Arizona. Not all holes, or games, are created equal." – George Will
"What most people don't understand is that UFOs are on a cosmic tourist route. That's why they're always seen in Arizona, Scotland, and New Mexico. Another thing to consider is that all three of those destinations are good places to play golf. So there's possibly some connection between aliens and golf." – Alice Cooper
"I worked at a movie theater in Tempe, Arizona, when I went to community college there. And I got fired because a sorority had rented out a theater to watch 'Titanic,' and they were being really rude to me while they were waiting for the movie. So as I tore their tickets, I told them the end of the movie." – Bill Hader
"I had a brief experience in the food industry. I was a bus boy in a Mexican restaurant in Arizona, scraping re-fried beans off people's plates. It teaches you a bit of humility and the importance of a good deodorant." – Wentworth Miller
"Arizona is a great place to be a radiation researcher." – Steven Magee
"I was stationed in Turkey, Mexico City, South America, Texas, Arizona, so I do know where the Mexican-U.S. border is." – Joe Arpaio
"My very first job was a cashier at Burger King in Tucson, Arizona. And I occasionally worked the drive-thru. I'd go wherever I was needed! My second job was at Dairy Queen. I stayed in the fast food royalty." – Kate Walsh
"I lived in Arizona, and I thought Florida was in California because I thought oranges came from the same place." – Jennifer Rubin
"Even the plants in Arizona wanted to hurt you." – Janette Rallison
"I went to Phoenix, Arizona for 'Angel Unchained,' and they'd hire the bike gang from Phoenix to be extras in the movie." – Larry Bishop
"I ain't movin' to Arizona! Dammit, there is nothin' there but gravel and scorpions." – Mary Doria Russell
"Arizona changes its state motto to Damn, it's hot." – Greg Proops
"You know you're an Arizona native when a rainy day puts you in a good mood." – Marshall Trimble
"You know you're an Arizona native when you take rain dances seriously." – Skip Boyer
"They must've abbreviated us AZ because we have the entire spectrum of weather extremes: 'Ablaze in the Phoenix sun to 'zero-degree snow in Flagstaff." – Terri Guillemets
Arizona Instagram Captions
No doubt you'll be taking plenty of photos while you're in Arizona. These Arizona Instagram captions will help you make your post stand out when it ends up on the gram!
Desert days and Arizona nights
Arizona, Yuma favorite state
Living the Arizona life
It's Friday night and I'm Phoenix fine
I can't wait to meteor you, Arizona
Canyon believe it?
Sand, sun and Arizona fun
Arizona is my therapy
I left my heart in Arizona
In Arizona, you'll find everything from A to Z
Quotes About Arizona's Culture and History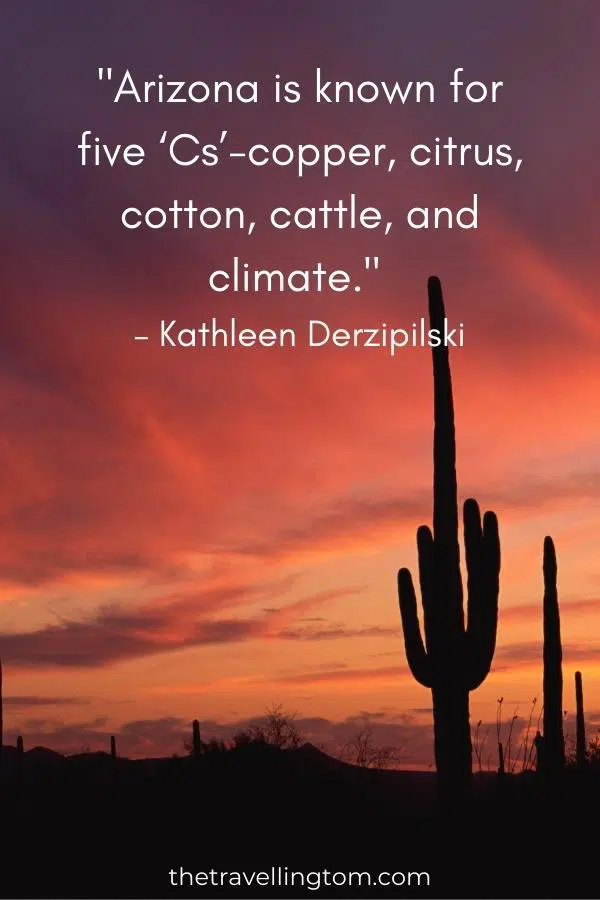 "Arizona is known for five 'Cs'-copper, citrus, cotton, cattle, and climate." – Kathleen Derzipilski
"I got to Arizona in 1980, before the Cardinals, Diamondbacks and Coyotes. The sun rose and set with the Phoenix Suns, and it wasn't very spectacular. But I became a loyal fan and went to a lot of games." – Peter Billingsley
"I look at my grandparents and what they dealt with in the Japanese internment in Arizona. That sense of perseverance, of making the best out of an incredibly bad situation, has always been something I drew inspiration from. I always ask myself, 'What in the world do I have to complain about?'" – Scott Fujita
"At Harvard, I grew up a lot in terms of being able to deal with different types of people because where I grew up in Arizona, it's predominately white and predominantly Mormon families, so there's not a whole lot of diversity." – Ryan Fitzpatrick
"America is the only developed nation that has a 2,000-mile border with a developing nation, and the government's refusal to control that border is why there are an estimated 460,000 illegal immigrants in Arizona and why the nation, sensibly insisting on first things first, resists 'comprehensive' immigration reform." – George Will
"When states like Alabama and Arizona passed some of the harshest immigration laws in history, my Attorney General took them on in court and we won." – Barack Obama
"As Annie Proulx is to Wyoming, so is Jane Candia Coleman to Arizona." – Clive Sinclair
"I was raised in Arizona, and I went to public school, and the extent of my knowledge of the civil-rights movement was the story of Rosa Parks and Martin Luther King, Jr. I wonder how much my generation knows." – Emma Stone
"Things in Arizona don't just die; they bake and fry in the heat until there is nothing left."– Jeffry R. Halverson
You might also like: New Orleans quotes
"We have at least 125 communities in Arizona at risk from wildfire, not because of review processes or litigation delays but because of a lack of federal funding on the ground to actually begin the projects." – Janet Napolitano
"Producing fuel cells and solar panels requires high tech facilities and produces high paying jobs. The industry is booming in Arizona. The state already has about 100 firms in the solar industry and has grown 20% since 2003." – J. D. Hayworth
"I think it's really cool, but Jimmy Eat World and Gin Blossoms did it better than anyone. People don't realize just how awesome the Arizona history is, especially for alternative music. Growing up, that's all I ever wanted to be was those two bands." – Nate Ruess
"I live in Arizona, and I don't like the way they treat Hispanics there." – Charles Barkley
"Coming to Arizona, I didn't know what to expect,' Griner said. 'The city, the team, the players, the organization, front office really got behind me and everything I wanted to do. I was very vocal on being a part of the LGBTQ community and wanting to get involved anyway I could." – Brittney Griner
"She was actually learning to love Arizona. The beauty and color and solitude, the vastness of it had called to something deep in her. First, she had complained of the dust, the wind, the emptiness, the absence of people. But she had forgotten these." – Zane Grey
"Arcadia is one of the most beautiful neighborhoods in all of Arizona, and I love living here." – Peter Sperling
"Already, Seattle is taking hold of her. She still holds Sedona in the dry tan of her skin and in her hair, but the fine mist of the Northwest is making its way to places she didn't know were parched." – Susan Wiggs
---
Thanks for reading my collection of the best Arizona quotes! Hopefully, they have sparked your curiosity and inspired you to visit the state.
Do you have any other quotes about Arizona? If you do, leave them in the comments below. Let me know if you've been to Arizona and what you think. I'm interested to see what your opinion of the state is!
Tom is a travel addict who first left England to spend a year Down Under. Not satisfied with this, he then went to New Zealand, about as far away from home as he could get. He is now planning his next adventures in Europe and Canada while maintaining this blog. Check out the about me page to learn more!