These New Jersey quotes will have you inspired to visit one of the most interesting states in America.
Often in the shadow of New York, these Jersey quotes will show you that its near neighbour has plenty to offer and plenty to see. From the famous Jersey shore to Atlantic City, there's no shortage of places to check out.
You'll find a wide range of garden state quotes that highlight the best of Jersey, funny things about Jersey and a window into the history of the state too. I've also included some Jersey Captions for Instagram you can use with your pictures!
If you want some inspiration for your next trip to Jersey, then look no further.
Best New Jersey Quotes
"I can't see myself ever leaving. I love New Jersey." – Jim Breuer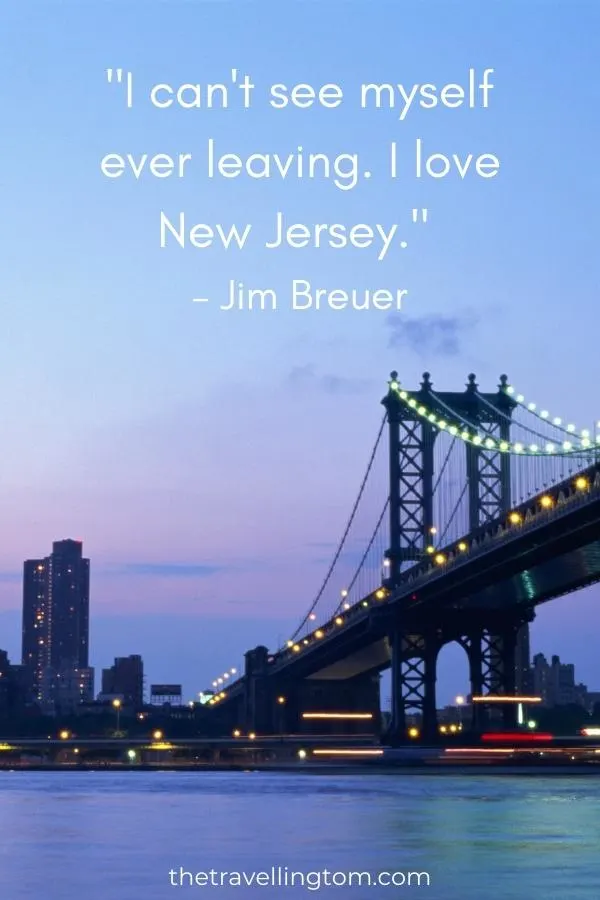 "I just want everybody to know my music and get to know my squad, Remy Boyz; just to show people New Jersey. New Jersey got talent, too. I mean, everybody sleeps on us, and they put us as the underdog." – Fetty Wap
"Growing up in Livingston, New Jersey, was terrific." – Adam Pally
"I think, growing up in a small town – I grew up in a lot of different places. I grew up in a city environment, a more suburban environment, a more rural environment. That's the beauty of New Jersey is you get a lot of different types of living." – Halsey
"In a way, Jersey really supports rock, maybe more than New York City and Long Island. I know plenty of bands that tour and do much better at Starland or other clubs in New Jersey than others in the tri-state area." – Eddie Trunk
"Well if you from New Jersey, you always knew that going to Jersey Shore was way different from where you lived at. I live in Newark, and that is 150 percent opposite of Jersey Shore." – Redman
"There was this darkness about being from New Jersey." – Jack Antonoff
"I'm from the dirty depths of New Jersey." – Ezra Miller
"I live in New Jersey now, which always gets a bad rap here and there, but I must say, I enjoy living here too." – Paul Muldoon
"The major poets of New Jersey have all suffered, whether it's Whitman, who lost his job for 'Leaves of Grass,' or William Carlos Williams, who was called a communist, or Ginsberg, whose 'Howl' was prosecuted, or myself. If you practise poetry the way I think it needs to be done, you're going to put yourself in jeopardy." – Amiri Baraka
"New Jersey is the most poetic state: close enough to New York to be urban and cosmopolitan, far enough to be desirous and unsure; densely populated, but full of farms and woods, with the most deer of any state." – Robert Pinsky
"Let me tell you who I am: I'm a girl from New Jersey who moved to New York and worked in a bar while trying to make a living at what I really wanted to do, which was act." – Piper Perabo
"'The Sopranos' only reflected the tenor of how things are done in New Jersey. They didn't invent it. And I say that as a fan of both 'The Sopranos' and New Jersey." – Kevin Bleyer
"New Jersey shaped who and what I am. Growing up in Jersey gave you all the advantages of New York, but you were in its shadow. Anyone who's come from here will tell you that same story." – Jon Bon Jovi
"I grew up in New Jersey and played sports and rode my bike around. It was a really nice time – kids didn't have cellphones then – and you knew everyone in the town." – Aileen Lee
New Jersey Travel Quotes
"I live in New Jersey, so I kind of just go to New York whenever." – Sadie Sink
You might also like: Utah quotes
"I love America, and parts of New Jersey remind me of Newfoundland – rolling hills and gardens – it's great! I guess that's why they call it the Garden State." – Neil Sadaka
"From the top of the quarry cliffs, one could see the New Jersey suburbs bordered by the New York City skyline." – Robert Smithson
"In 1938, when I had decided that the only way to see the country was in a trailer, and I built the trailer which I still have and lived in it for eighteen months, and learned America from San Diego to the Canadian border, from Miami to New Jersey, and east to west in between." – Leslie Charteris
"Northern New Jersey looks like a cluster of idyllic suburbs, but each of those seemingly normal towns has a dark side that's constantly gossiped about but never publicly acknowledged. They seem to thrive on their strangenesses." – Chris Gethard
"I grew up in the northernmost parts of New Jersey, known more for lush forests and old farmland than industrial wastelands and fist pumping." – Brad Leone
"I grew up in northern New Jersey – the banlieue of New York – and I now live in Brooklyn. I am separated from my parents by about 50 miles, but really there is almost no distance between us. I speak to them nearly every day." – Jonathan Ames
"The state of New Jersey is really two places – terrible cities and wonderful suburbs. I live in the suburbs, the final battleground of the American dream, where people get married and have kids and try to scratch out a happy life for themselves. It's very romantic in that way, but a bit naive. I like to play with that in my work." – Harlan Coben
"Ellis Island lies in New York Harbor 1,300 feet from Jersey City, New Jersey, and one mile from the tip of Manhattan. At the time of the first European settlement, it was mostly mud, sand, and oyster shells, which nearly disappeared at high tide." – David Souter
"New Jersey is very big. There are different areas of New Jersey. There is North New Jersey. There is like the center. There are a lot of actors from New Jersey that don't speak with a New Jersey accent." – Janet Montgomery
"I was a garbage man in New Jersey in summers during college at Yale. Everybody else got to go to Switzerland and I got to go to the dump." – Tom Perrotta
"A lot of people don't know, but New Jersey has, like, 700,000 acres of farmland." – Charlie Puth
"I have a very powerful sense of place, but I have a very powerful sense of being a migrant, so it's both. It seems like I'm always leaving my home. That's part of the formula. I love the Dominican Republic. I go back all the time. I love New Jersey. Go back all the time." – Junot Diaz
---
You might also like:
---
Funny New Jersey Quotes
"I think I'm one of the few people who have experienced New Jersey becoming fashionable twice in a lifetime." – Steven Van Zandt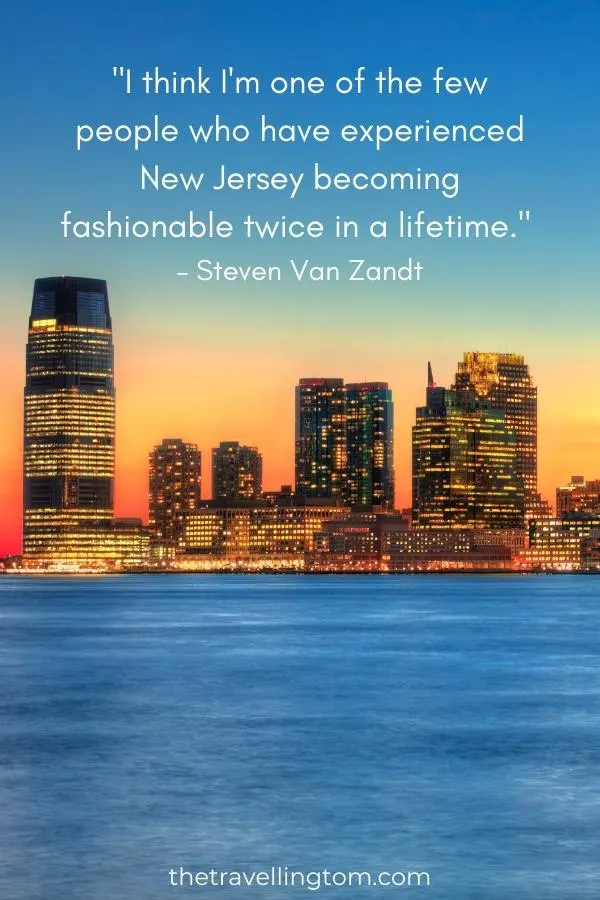 "I was born in New York City, but I was raised in New Jersey, part of the great Jewish emigration of 1963." – Jon Stewart
"If there was an Oppression Olympics, I would win the gold medal. I'm Palestinian, Muslim, I'm female, I'm disabled, and I live in New Jersey." – Maysoon Zayid
"Philadelphia merely seems dull because it's next to exciting Camden, New Jersey." – Robert Anton Wilson
"Israel is slightly smaller than New Jersey. Moses in effect led the tribes of Israel out of the District of Columbia, parted Chesapeake Bay near Annapolis, and wandered for forty years in Delaware." – P.J. O'Rourke
"I'm a dummy from New Jersey." – Chris Gethard
"Artificial Intelligence leaves no doubt that it wants its audiences to enter a realm of pure fantasy when it identifies one of the last remaining islands of civilization as New Jersey." – Godfried Danneels
New Jersey Captions For Instagram
Hooked on the New Jersey Shore
Friends, sun, and the Jersey Shore
There's a lot you don't know about Jersey
It's bad manners to keep New Jersey waiting
The Garden State is my favorite state
My heart belongs to the Jersey Shore
Meanwhile, in New Jersey…
Be shore of yourself
Jersey strong, baby
See you at the shore
A bad day at the Jersey Shore is better than a good day anywhere else
Quotes About New Jersey's Culture and History
"I come from North New Jersey, where nothing's promised." – Michael B. Jordan
"My parents came here from Colombia during a time of great instability there. Escaping a dire economic situation at home, they moved to New Jersey, where they had friends and family, seeking a better life, and then moved to Boston after I was born." – Diane Guerrero
"One of the greatest things about our band is that we bring the American dream to the world. Here's a bunch of kids that were living in nowhere New Jersey, and we made it through a lot of practice and a lot of work and a lot of luck. It shows the world, 'If we did it, you can do it.'" – David Bryan
"I was raised poor, in a tenement building in Union City, New Jersey, the son of Cuban immigrants." – Bob Menendez
"I have nothing but the best memories of growing up in New Jersey. Of course, I grew up in a nice town, a suburb. But Tenafly was right next to Englewood, which had a tremendous amount of racial tension in the '60s. So I was aware of the real world." – Lesley Gore
"New Jersey fans are the most ruthless fans in the country for booing and hating on whatever's in the ring if they don't like it." – Hornswoggle
"You see, one of the things about being a Housewife, and a New Jersey Housewife, in particular, is that most of the drama seems to happen behind the scenes when the cameras aren't around." – Teresa Giudice
"I grew up here in New York City and New Jersey, performing on Broadway shows, surrounded by some of my closest friends from the LGBT community. My father, a minister from New Jersey, shaped my view that love is love, that we are all equal." – Nick Jonas
"It was sort of assumed, from the time I was born, really, that I would go to college. That's sort of the way that Jewish families in New Jersey handled things; that was the norm." – Alan Guth
"Many people don't know that New Jersey is a fertile breeding ground for writers, some of them quite renowned. And I would wager that most would be truly startled to learn that the star in the Jersey firmament is – drum roll here – Newark." – Sharon Kay Penman
"Where I grew up, in New Jersey, there was a lot of organised crime activity. It was a part of life." – Frankie Valli
"Mafia guys are all just insecure people who want their money. They're like little seven-year-old kids when they don't get their way. I knew guys like that growing up in New Jersey." – Ray Liotta
Tom is a travel addict who first left England to spend a year Down Under. Not satisfied with this, he then went to New Zealand, about as far away from home as he could get. He is now planning his next adventures in Europe and Canada while maintaining this blog. Check out the about me page to learn more!