If you're scouring the web for the best New Orleans quotes, then you've come to the right place.
These quotes about New Orleans exemplify how much of a fantastic place the city is. New Orleans is a vibrant and lively place and these quotes reflect that.
The city may have suffered from Hurricane Katrina in recent years but still retains its charm and soul. The electric Bourbon Street, the colorful Mardi Gras, and Jackson Square are all things you have to check out when you're in the 'Big Easy'!
I hope these NOLA quotes convince you of the wonder of New Orleans and inspire you to visit the city in the near future.
Best New Orleans Quotes
New Orleans is one of the best cities in America and somewhere you have to visit while you're in the country.
Whether you spend 3 days in New Orleans or more, these New Orleans quotes highlight what's so great about the city.
"The city itself, I like the vibes of New Orleans." – Zion Williamson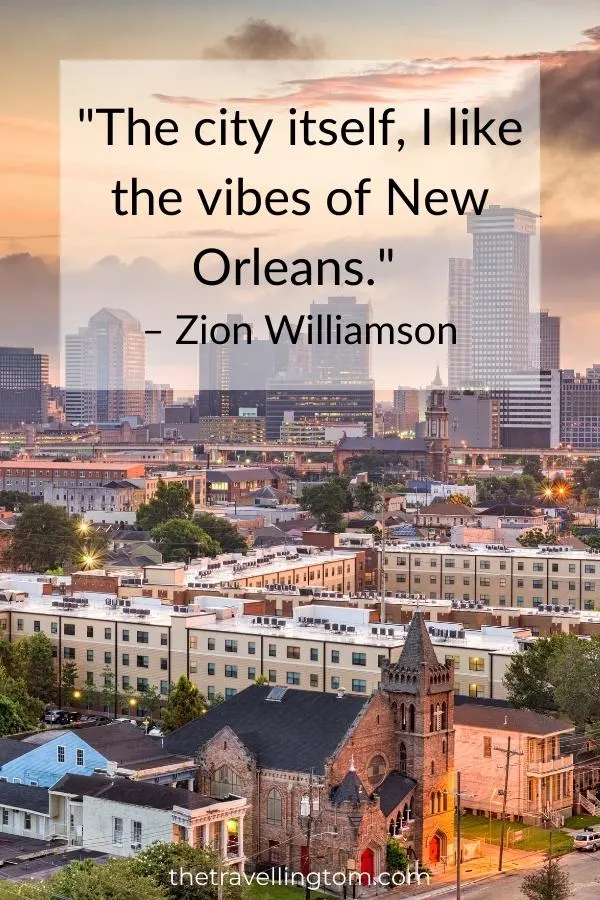 "I have a love / hate relationship with the city of New Orleans, which is the strongest kind of relationship." – Nicolas Cage
"You should celebrate the end of a love affair as they celebrate death in New Orleans, with songs, laughter, dancing and a lot of wine." – Francoise Sagan
"There are only two things: love, all sorts of love, with pretty girls, and the music of New Orleans or Duke Ellington. Everything else ought to go, because everything else is ugly." – Boris Vian
"I love New Orleans physically. I love the trees and the balmy air and the beautiful days. I have a beautiful house here." – Anne Rice
"I want to thank the people of New Orleans and south Louisiana. New Orleans is my hometown, and of course they support their own team, the Saints, but they also support their own, and that city and state have backed me from the start." – Peyton Manning
"There's so much music going on in New Orleans." – Anthony Hemingway
"New Orleans is kind of dark in a very beautiful way." – Nicole Gale Anderson
"Ain't no place like New Orleans. It's one of a kind." – Aaron Neville
"In America, there might be better gastronomic destinations than New Orleans, but there is no place more uniquely wonderful." – Anthony Bourdain
"I have a deep affinity for New Orleans – it's like a second home to me – they treat me like I'm their own." – Teena Marie
"New Orleans is an amazing town." – Benjamin Walker
"New Orleans will always be in my heart. New Orleans raised me – it's in my blood." – Aaron Neville
"There's nothing like New Orleans. When it comes back, it will be a tremendous highlight for America." – Peter Max
"I live in New Orleans, because it's the strangest city in the United States. It has the highest murder rate in the country, the highest incarceration rate, and often we have to boil our drinking water, but there's nowhere else remotely like it." – Nathaniel Rich
"New Orleans has a lot of good food." – Lee Byung-Han
"New Orleans is a unique environment." – Steve Earle
"New Orleans is home. That's where the heart is." – Steve Zissis
"I love New Orleans." – Chris Paul
"New Orleans is gumbo. You get so many types of things… jazz, folk, Zydeco." – Luke James
"New Orleans is thrilling. The history is as rich as the food." – Toyah Wilcox
"New Orleans is my kind of city. I think there's a lot going on, but it's also very calm. It's a place where I can actually drive a car without being stuck in traffic for 40, 50 minutes. It's my kind of city. A lot going on but still calm." – Zion Williamson
---
You might also like:
---
New Orleans Travel Quotes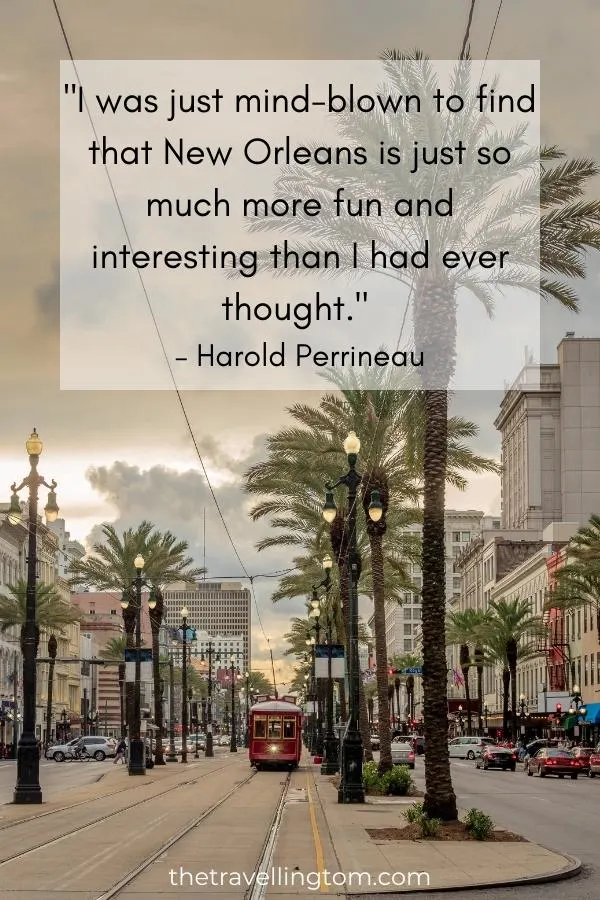 "I was just mind-blown to find that New Orleans is just so much more fun and interesting than I had ever thought." – Harold Perrineau
"I was introduced to the Turducken in New Orleans. And it wasn't Thanksgiving. Glenn at the Gourmet Butcher Block brought it by, and I had never heard of it or had seen one, and they put it in the booth, and it smelled so good that I had to taste it. And it was good. Then Thanksgiving came, and we got one in addition to the traditional turkey." – John Madden
"I once paddled a canoe the length of the Mississippi River all the way from Itasca to New Orleans." – John Sandford
"From the food to the Mardi Gras Indians to the brass bands and the second liners parading through the street, Jazz Fest presents New Orleans in one place." – Trombone Shorty
"If you're open to it, New Orleans will teach you about yourself, but if you want to hide from who you really are, the city will help you do that, too." – Laurell K. Hamilton
"I love Louisiana. There's no place on earth like Louisiana, and there's no city on earth like New Orleans. I grew up in Baton Rouge." – Don Lemon
"It's always on everyone's list, like, 'What's New Orleans like?' I think people have a pre-conceived idea, like it's just Mardi Gras and Bourbon Street. But really, there's so much culture, the music's great, the food's great. It's not good for the waistline! But I'm actually from the South, I'm from Georgia, so the weather doesn't bother me." – Sung Kang
"Flying over New Orleans on our approach, I got it. There was no view of land without water – water in the great looming form of Lake Pontchartrain, water cutting through in tributaries, water flowing beside a long stretch of highway, water just – everywhere." – Rachel Sklar
"There is something about New Orleans that embodies passion; I've never seen that before. There's something tangible about the essence of the city. You can taste and smell it." – Blake Lively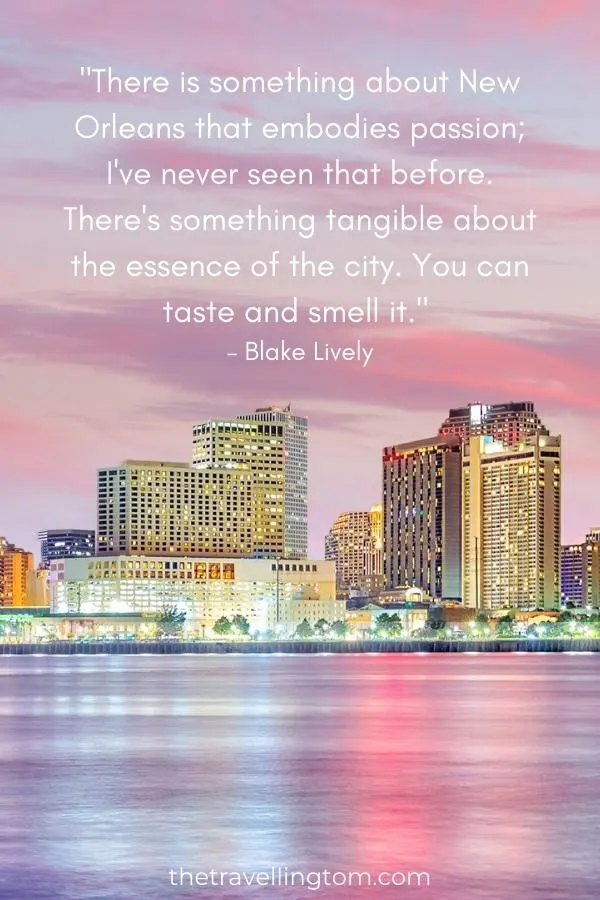 You might also like: Colorado quotes
"New Orleans is unlike any city in America. Its cultural diversity is woven into the food, the music, the architecture – even the local superstitions. It's a sensory experience on all levels and there's a story lurking around every corner." – Ruta Sepetys
"Pensacola isn't Florida, really. It's the Panhandle. It's right up there near Alabama and Louisiana. It's, like, a stroll away from New Orleans. I feel like New Orleans is home." – Katy Mixon
"I think New Orleans is such a beautiful city. It looks like a fairytale when you walk through the French Quarter or the Garden District. There is such a lush sense of color, style, architecture – and the people themselves." – Anika Noni Rose
"I took several trips to New Orleans and met with people who had intimate knowledge of the underbelly of the city in the 1950s. The meetings were both fascinating and terrifying." – Ruth Septeys
"I spent so many summers and New Years and fun times in New Orleans. It was always a place where I felt I could go and actually let go and enjoy the spirit of something." – Sandra Bullock
"The most interesting place I've gone on location was New Orleans." – Taryn Manning
"It's a wonderful city and every American has enjoyed New Orleans in one way or the other." – Henry Bonilla
"An American has not seen the United States until he has seen Mardi Gras in New Orleans." – Mark Twain
Funny New Orleans Quotes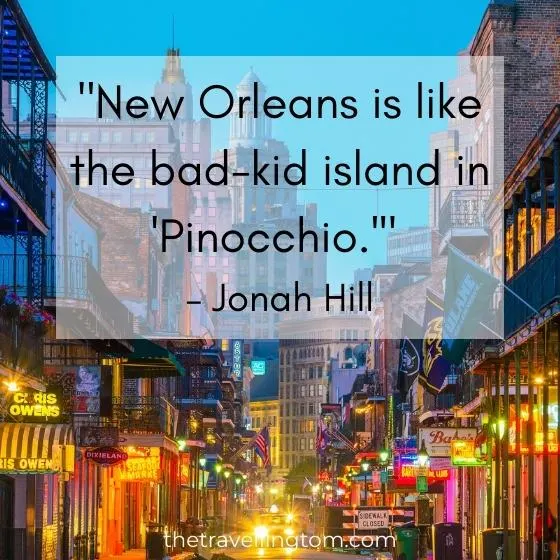 "New Orleans is like the bad-kid island in 'Pinocchio.'" – Jonah Hill
"I don't like traffic cameras. In fact, I hate them. But that doesn't mean I can break the speed limit and run red lights to get to a New Orleans Saints game." – John Kennedy
"The biggest challenge in New Orleans has been to find workers who can climb a ladder after lunch." – Harry Anderson
"Twerking is definitely from New Orleans." – Big Freedia
"What happens in Vegas may stay in Vegas, but what happens in New Orleans, goes home with you." – Laurell K. Hamilton
"New Orleans is awake all night, and every night is a party." – Kodi Smit-McPhee
"I love to eat. I'm from New Orleans. I eat like nobody's business. So to find a workout that I actually look forward to is a lifesaver." – Shelley Hennig
"In New Orleans, we celebrate everything. It's probably the only place you'll see people dancing in a funeral home." – Trombone Shorty
"Most Americans never work as hard as when they're trying to appear normal, and in New Orleans, we just don't bother with that." – Harry Shearer
"When a lot of people are calling it a night at 2 A.M., New Orleans is coming alive." – Mannie Fresh
"New Orleans people love their weekends." – Archie Manning
"If there was no New Orleans, America would just be a bunch of free people dying of boredom." – Chris Rose
New Orleans Instagram Captions and Puns
One thing you're sure to do lots of when you're in New Orleans is to take photos.
The city is a photographer's dream!
If you're looking for Instagram captions about New Orleans, then check out some of the ones below. They should come in handy when you come to upload your snaps onto the gram!
New Orleans is calling and I must go
Bayou babe
I wanna be loved bayou
New Orleans is my happy place
I'd rather be in New Orleans
New Orleans, old dreams. Good times, easy themes
Beignet, done that
We don't hide crazy, we parade it down the street
My heart belongs in New Orleans
Life is better in New Orleans
Feed your soul in New Orleans
New Orleans Sayings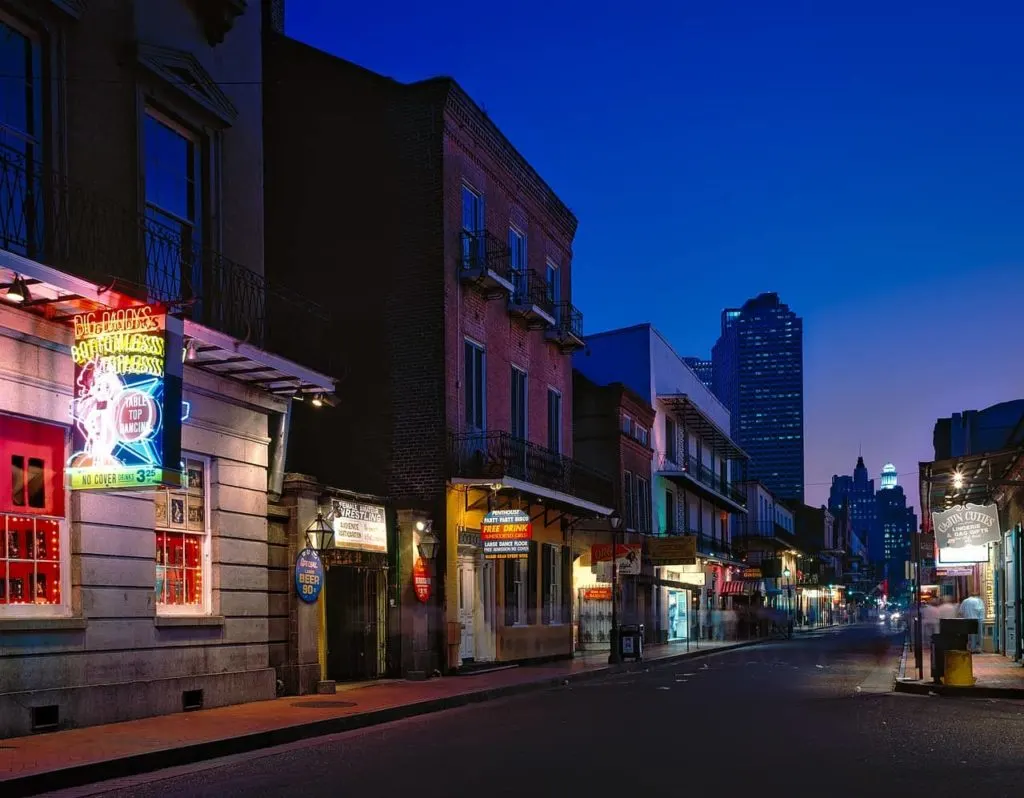 "Lagniappe" – a Cajun-Frech noun that's used to describe something that's good. Pronounced lan yap.
"Pass a good time" – used by natives of New Orleans when they feel it's time to have a good time
"Who dat?" – An easy one to understand: who's that.
"Pinch the tail and suck the head" – A saying that explains the correct way to crawfish.
"Where y'at?" – This saying isn't asking where you are but how you're doing. The phrase is a common way of greeting in New Orleans.
"Laissez les bon temps rouler" – A Cajun expression meaning let the good times roll.
"How's ya mama an' them?" – As saying that refers to how good members of one's family are doing.
Quotes About New Orleans History and Culture
"Yeah, I think A Confederacy of Dunces is probably the perfect New Orleans book." – Poppy Z. Brite
"I come from a long line of strong and confident women out of New Orleans. My grandmother and great-grandmother were women who ran their homes and were leaders in their communities. I was never taught that there was anything that I couldn't do, and I believed that." – Stephanie Allain
"America has only three cities: New York, San Francisco and New Orleans. Everywhere else is Cleveland." – Tennessee Williams
"I live in New Orleans part of the year, and it's a really fun eating town. I bought two homes there, one to live in and one as an investment. They love to eat, drink and dress up in costumes. There are so many reasons to dress up – Mardi Gras, Halloween, Southern Decadence." – Jennifer Coolidge
"My father was Muslim, and my mom is Christian, and we moved from New Orleans to Oakland, so I always had this appreciation for different cultures." – Yahya Abdul-Mateen II
"Presley is country music, white music. Jazz is black music – it was invented by the blacks in New Orleans. And I'm really a jazz singer. I was impressed with Elvis – he was the handsomest guy I ever met in my life, and a very nice person, too. But the music doesn't impress me." – Tony Bennett
"My music is homegrown from the garden of New Orleans. Music is everything to me short of breathing. Music also has a role to lift you up – not to be escapist but to take you out of misery." – Allen Toussaint
"New Orleans has a unique history as a great melting pot of all kinds of cultures, and that manifests itself now through the food, the music, and the kinds of people who live there." – Scott Bakula
"The New York that Frank Sinatra sang about, people will never know that place. The New Orleans that Louis Armstrong sang about is the New Orleans that's still there – it's preserved." – Blake Lively
"Half of my family has a deep-rooted connection to the South and Louisiana, and for me, New Orleans is one of our most precious, historic communities: visually, emotionally, artistically." – Sandra Bullock
"In America, I would say New York and New Orleans are the two most interesting food towns. In New Orleans, they don't have a bad deli. There's no mediocrity accepted." – Mario Batali
"New Orleans style is funky – it's just as experimental as the city. There aren't any rules. If you want to wear a polka-dot shirt and some crazy pants, you can get away with it there." – Benjamin Booker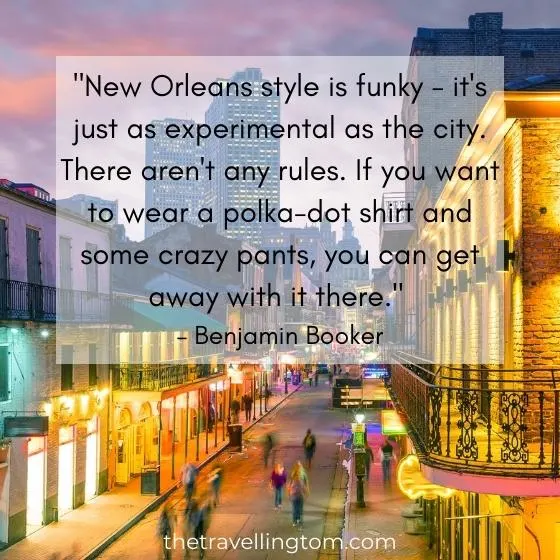 You might also like: Arizona quotes
"New Orleans, more than many places I know, actually tangibly lives its culture. It's not just a residual of life; it's a part of life. Music is at every major milestone of our life: birth, marriage, death. It's our culture." – Wendell Pierce
"I'm from New Orleans, which is all about direct engagement out in the street with all the parades and Mardi Gras Indians and jazz funerals. I'm trying to take that and put it into my generation, a group that doesn't have enough joy and celebration in their lives." – Jon Batiste
"In New Orleans, music is part of the culture. You're raised with it, from the cradle to the grave, and all in-between." – Aaron Neville
"It's a common theme around the city of New Orleans; we're resilient people because we have to be. We love this place with all of our heart and all of our soul and I just wanted to try to do something that I could to help make it better." – Mitch Landrieu
"I've worked tremendously hard to make things happen for New Orleans culture." – Big Freedia
"I really did have this powerful sense, when I was in New Orleans after the storm, of watching all these profiteers descend on Baton Rouge to lobby to get rid of the housing projects and privatise the school system – I thought I was in some science-fiction experiment." – Naomi Klein
"There's also the tradition of voodoo, the Haitian magic arts, in New Orleans. And because New Orleans is below sea level, when they bury people in New Orleans, it's mostly above ground. So you have this idea that the spirits are more accessible and can access you more easily because they're not even buried." – Sam Trammell
"New Orleans taught me that mourning takes many different forms. Where I'm from, mourning is spirited. It is loud." – Clint Smith
"Creole is New Orleans city food. Communities were created by the people who wanted to stay and not go back to Spain or France." – Paul Prudhomme
"If I had grown up in any place but New Orleans, I don't think my career would have taken off. I wouldn't have heard the music that was around this town. There was so much going on when I was a kid." – Pete Fountain
"One of the most special things about the city of New Orleans is how diverse a people we really are. There's been a new generation of individuals that have all grown up together, so I don't really see myself as a White mayor. I've never seen New Orleans as a Black city." – Mitch Landrieu
"There's a tradition – in New Orleans it still exists – where people play in the street. People play outside of the venues. Food, music, and that cultural exchange, it happens anywhere." – Jon Batiste
"New Orleans has an incredible culture. Everybody brings up food first, but I realized there's a lot more to that in terms of music and art and people and history." – J.J. Redick
---
Thanks for reading my collection of the best New Orleans quotes! Hopefully, you've enjoyed reading and are now considering a trip to this incredible city in Louisiana.
Do you have any other quotes about New Orleans? If you do, leave them in the comments below. Let me know if you've been to New Orleans and what you think. I'm interested to see what your opinion of the city is!
Looking For More Quotes?
Lake Quotes – Discover some of the best quotes about these magnificent bodies of water!
River Quotes – If want to find some of the best quotes about rivers, this is the post for you!
Montana Quotes – Check out some of the best quotes about one of the most beautiful states in America.
Tom is a travel addict who first left England to spend a year Down Under. Not satisfied with this, he then went to New Zealand, about as far away from home as he could get. He is now planning his next adventures in Europe and Canada while maintaining this blog. Check out the about me page to learn more!