If you want to know the best Colorado quotes, then you've come to the right place. Colorado is one of the most beautiful states in America and I'm sure these quotes will inspire you to visit.
With stunning scenery high in the Rocky Mountains and great cities like Denver, there are a lot of things to see and do in Colorado.
I'd say the main attraction of Colorado is its natural beauty. The mountains and places like Aspen and Boulder are just out of this world. They're the reason there are so many quotes about Colorado.
Hopefully, these quotes and Colorado captions for Instagram will inspire you to check out one of the most interesting parts of the US!
Best Colorado Quotes
There's no denying just how beautiful Colorado is, it's an incredible place to visit.
The scenery, the character of the cities, and the people all make it an excellent destination.
If you're looking for inspiration for your trip, this collection of the best Colorado quotes will do the trick!
"I'm grateful for anything that brings me back to Colorado." – Sheryl Lee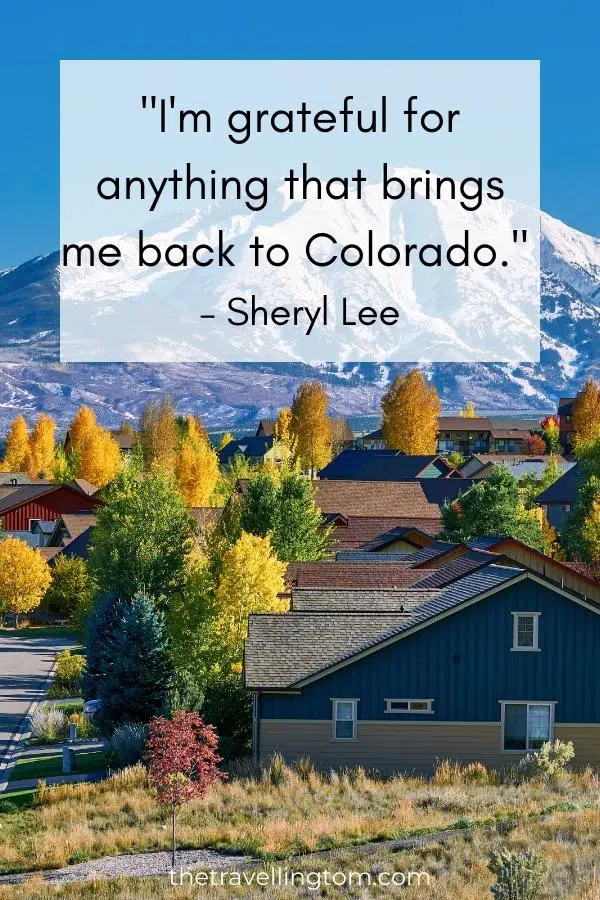 "Nikola Tesla, one of Colorado's famous residents, always believed that the gasoline engine made no sense." – Kimbal Musk
"After college, I moved to Breckenridge, Colorado, and went snowboarding every day. I didn't know what I wanted to do, but I knew what I didn't want to do. So I applied to grad school for writing, and I just gave it a shot and took it from there." – Kaui Hart Hemmings
"If you like the outdoors, Colorado is a big adventure playground for adults: it's great for skiing, cycling, climbing, and hiking." – Tyler Hamilton
"I'm born in Alaska, grew up in Colorado, went to college in Colorado, went to Colorado State, and I actually finished my degree." – Derek Theler
"Well, we have this place in Telluride, Colorado. It's somewhere I can just get away and relax and think." – Joe Cocker
"Being from Colorado is, to me, very, very special. I'm just very thankful to be here. I'm also thankful to be a part of the history of this state." – Dianne Reeves
"Colorado has always been a good place to find what you're made of." – John Hickenlooper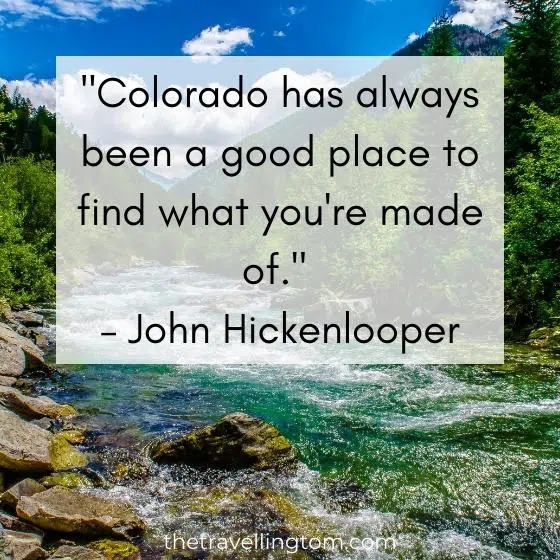 You might also like: Florida quotes
"Some of the best times I've spent in Colorado have been in the backcountry with my mom and siblings, and more recently, with my own kids. That is why I'm concerned to see today's kids spending more time browsing the Internet than exploring nature." – Mark Udall
"Who knows? Maybe years from now I'll be on a ranch in Colorado with 10 kids. The whole point of life is to experience a little bit of everything, and I think it's better when there are a few surprises thrown in." – Keri Russell
"I think the Colorado Plateau is the most scenic area in the world – let's begin with that. Not just the United States." – Stewart Udall
"People in Colorado are resilient." – Phil Heath
"Growing up in Denver, I'm sure it started with loving the Colorado mountains." – Gale Norton
"You don't need missionaries in Colorado; you got Colorado." – Trey Parker
"Colorado is an oasis, an otherworldly mountain place. I've played so many shows in Colorado that I think I'm the Colorado house band." – Brandi Carlile
"I still think I'm like the poor girl from Colorado who worked three jobs to buy a car. That's still my mentality, so I'll be walking down the street, and I forget what I do and who I am." – Amy Adams
"It's fascinating to go somewhere where you're away from everything. There are no houses, no buildings, no roads, no people. And for a little less extreme hunting, any place in the West – Colorado, Utah, Montana – that's just beautiful country." – Shawn Michaels
"Colorado's home for me." – Donald Cerrone
"Colorado does not shut down. Colorado does not quit. Colorado does not break." – John Hickenlooper
"Right after college, a buddy of mine was moving to Boulder for some summer program, and he was like, 'Come live with me.' And I figured, why not? I love Colorado." – Matt Besser
"There's a sense of family in Colorado; there's such a pride factor there." – Ivan Moody
Colorado Quotes About Travel
"Honestly, I wish I could bring more of Colorado with me everywhere." – Josh Blue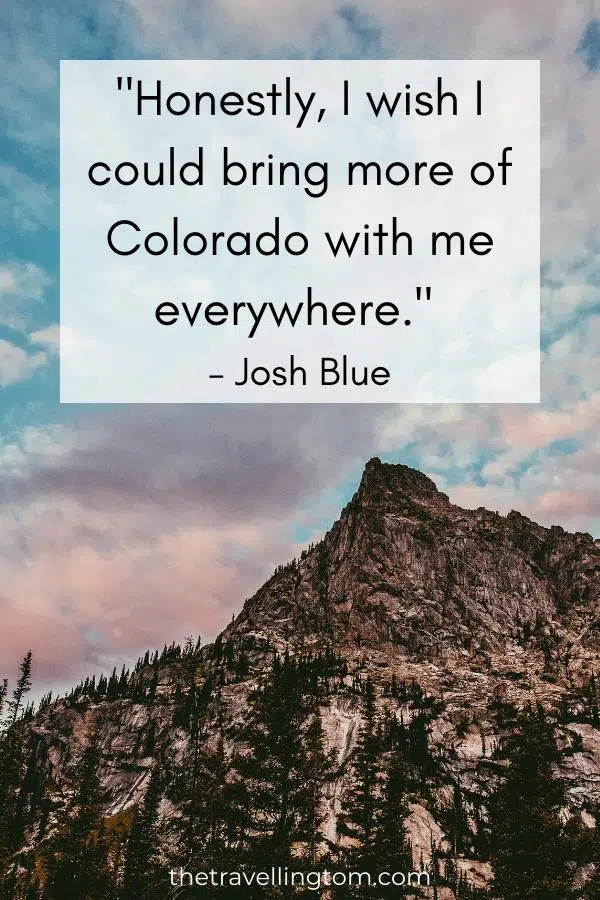 You might also like: Hawaii quotes
"My district is centered around the progressive college town of Boulder, Colorado, and the high-tech U.S. 36 corridor. It goes from the well-established suburbs of northwest Denver in Adams County to the beautiful mountain towns of Vail and Breckenridge and the majestic Western Slope of the Rocky Mountains." – Jared Polis
"I've traveled a fair amount around the country and visited many states. It's amazing that Oregon is so different from Idaho; even though Portland isn't that far from Boise, it's a completely different city. Colorado is very different from Oregon. From a European perspective, I've always found that fascinating about America." – Andrew Haigh
"There can be nothing in the world more beautiful than the Yosemite, the groves of the giant sequoias and redwoods, the Canyon of Colorado, the Canyon of the Yellowstone, the Three Tetons; and our people should see to it that they are preserved for their children and their children's children forever, with their majestic beauty all unmarred." – Theodore Roosevelt
"Everyone had always told me I had to see alpine flowers since I was writing about flowers, and I had never seen these. So I happened to be teaching a class at the University of Colorado, and I got to go for hikes that took me there. But my perspective was most often down at ground level, trying to see quite tiny exquisite flowers." – Martha Ronk
"And there in the blue air, I saw for the first time, far off, the great snowy tops of the Rocky Mountains. I had to get to Denver at once." – Jack Kerouac
"Colorado boasts a wonderful variety of colorful and interesting birds that are an important part of the state's outdoor heritage." – Mary Taylor Gray
"Some of the most beautiful and colorful parts of Colorado are found in the clouds above." – Mike Nelson
"When people think 'Colorado', many of the images that pop into their minds are of majestic mountains, forests, rivers, canyons, and other natural features. " – Nancy S. Greif
"Colorado Springs is one of the best places in the world to see the history of the Earth." – Kirk Johnson
"I remember, when we moved out to Colorado, I was struggling. The mountains were so big, and I wasn't really prepared or used to it all." – Red Gerard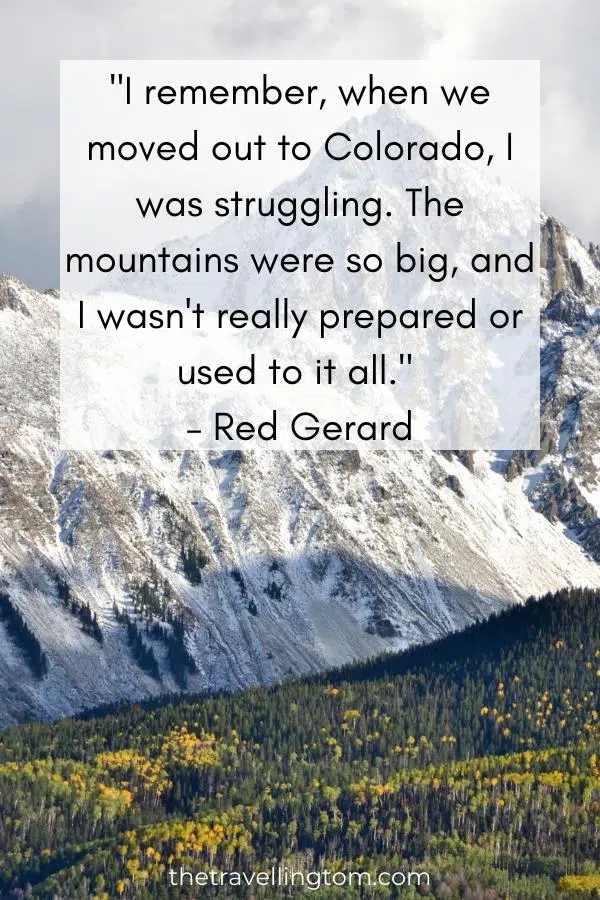 You might also like: Arizona quotes
"The view of the Rocky Mountains from the Divide near Kiowa Creek is considered one of the finest in Colorado." – Bayard Taylor
"My first experiences of Colorado travel have been rather severe. At Greeley, I got a small upstairs room at first, but gave it up to a married couple with a child, and then had one downstairs no bigger than a cabin, with only a canvas partition. It was very hot, and every place was thick with black flies." – Isabella Bird
"I love a lot of Colorado and upper Utah. I think some of the most beautiful terrain is upper BC." – Joe Lando
"I grew up with parents who were English professors at Wichita State University, and we were more liberal-minded as a family than most of the people I hung out with in Wichita. During summers, we went off to Telluride, Colorado, where I've returned every summer since I was born." – Antonya Nelson
"Colorado Springs is a very good place to train ahead of the Olympics. We get to compete with different partners, learn different movements, we also get to improve upon our speed, which is very essential." – Geeta Phogat
"I was born in Evanston, Illinois. I spent my elementary and part of my junior high school years in a D.C. suburb. And then I spent my high school years in Minnesota. And then I spent my college years in Colorado. And then I spent some time living in China. And then I spent three years in Vermont before moving down to Nashville." – Abigail Washburn
"I love the Midwest. I think about it every day. I wonder if I would rather have a little farm in the Midwest, in Illinois or Wisconsin, or would I rather have like a little getaway up in the mountains of Colorado." – Joe Lando
"I'd never really experienced the West before moving to Colorado. The East Coast, where I grew up, has a lot of big cities, like Boston and New York, and is more densely populated, and I instantly fell in love with the big open spaces of the West, where you can see not just for a few miles but for a few hundred miles." – Tyler Hamilton
"We lived in Colorado, and my parents were outdoorsy mountain people. My father would always say, 'Go out and don't come back until you have something to show me.' Which meant he wanted me to come back with a scraped knee or an injury. When I went out to play, I felt like I'd better get hurt." – Jessica Biel
"I love to hike, fly-fish, and ski in the mountains where I live in Colorado." – Blake Crouch
"I'd like to see more of Colorado, Utah, and maybe go to Yellowstone. Oh, and I'd like to kayak down the Colorado through the Grand Canyon." – Jesse Spencer
Funny Colorado Quotes
"Colorado's right next to Utah – you know, Mormon Central." – Trey Parker
"I just came from Aspen, Colorado and they had fifteen kids I played for and they all played horns." – Jimmy Smith
"I thought I would be laying hardwood floors in Colorado – a construction worker. Middle class or working class, that's where I was! I just fought because I loved it. It was so fun! Being able to go in there and outthink your opponents." – Donald Cerrone
"Each year, millions of skiers come to Colorado to experience its superb emergency medical facilities." – Dave Barry
"I grew up in Greeley, Colorado, in a house without a television set. I was a very nerdy kid: I used to play 'astronaut' and eat bouillon as astronaut food. We also had tons of books." – Harper Reed
"I'm talkin' about a place where the beer flows like wine, where the women instinctively flock like the salmon of Capistrano. I'm talkin' about Aspen." – Jim Carrey
"I had my house converted to the Colorado altitude, so I am always above sea level." – Gilbert Arenas
"In Colorado Springs there's nothing to do but look at the mountains and box." – Adrien Broner
"If it went on the ballot in Colorado, I would vote to lower the drinking age." – Pete Coors
"I learnt to drive at around eleven years old. In an old jeep on a field in Colorado. There were lots of ditches. I could barely see over the steering wheel." – David Lauren
"When you were a teenager in Colorado, the way to be a punk rocker was to rip on Reagan and Bush and what they were doing and talk about how everyone in Colorado's a redneck with a gun and all this stuff." – Trey Parker
Colorado Captions for Instagram
No doubt you'll be taking plenty of photos while you're in Colorado. These Colorado Instagram captions will help you make your post stand out when it ends up on the gram!
In case you were wondering, I'm peaking.
Drop the Pike.
I can think of Vermillion reasons why I want to be in Colorado.
Colorado is a Denver of thieves.
Let minnow if you want to spend the day at the lake.
"But first, let's go to Colorado."
"Destination: Colorado."
"Colorado – Switzerland of America."
"I love Colorado."
"Adjusting my altitude in Colorado."
Denver, Where It's Legal to Get a Rocky Mountain High
Colorado doesn't whisper, it Auroras.
Hope Colorado Springs eternal.
Colorado: Rocky Mountain State
Rocky Mountain Empire
It's just Rocky roll to me.
Quotes About Colorado's History and Culture
"As a ski bum and someone who came up in a ski bum family, I understand the essence of what Colorado is all about." – Grace Potter
You might also like: New Orleans quotes
"I constructed a laboratory in the neighborhood of Pike's Peak. The conditions in the pure air of the Colorado Mountains proved extremely favorable for my experiments, and the results were most gratifying to me." – Nikola Tesla
"Meth is a major problem not only in our urban areas, but in most of the rural areas of Colorado. No region has been immune from this scourge and it is getting larger." – Ken Salazar
"As long as there's land available, single-family homes will be built, and Colorado residents will always go for a single-family over a condo." – Gary Bauer
"Hemp has the potential to be a major boon to Colorado agriculture, giving farmers another viable and profitable option for their fields." – Cory Gardner
"You get a compound fracture in Colorado where I live, and you can probably be in a hospital within a matter of hours, certainly within a day." – Jon Krakauer
"I'm a nature girl. I grew up in Colorado and was always outside. I still am, even when I'm in the city." – Kate Hudson
"A border collie saved me once when I was pinned under a horse in Colorado. And once when I went through the ice, one of my sled dogs saw me go under, and she got the rest of the team, and they pulled me out of 12 feet of water. I think that dogs offer the only form of unconditional love that's available to humans." – Gary Paulsen
"Telluride has an incredible history and reputation, and I've long known of it as a unique entity that makes a place for writers – one more aspect of this exceptional film festival in the Colorado Alps." – Rachel Kushner
"I became a country music fan in 1990 when I moved to Colorado. It was my first exposure to it because I'm from a city. I've been a fan of country music ever since." – Ricky Schroder
"This year, we must address the Colorado Paradox. We have more college degrees per capita than any state. Yet we lag the nation in the percentage of students who go on to higher education." – Bill Owens
"We all recognize that Colorado and our nation have a long and storied tradition of gun ownership for hunting, outdoor recreation and self-defense. However, I am not convinced that combat weapons are necessarily part of that heritage." – Mark Udall
"I am proud to place Tercio Red River into a conservation easement forever protecting this spectacular landscape with Colorado Open Lands." – Louis Bacon
"What's happening on the Colorado River is happening all over the world. The water is overused, overdammed, and it's polluted in some places." – Greg MacGillivray
"I grew up in Colorado and spent my summers in Montana as a ranch hand." – Chris Eigeman
"Bugs are a great pest in Colorado. They come out of the earth, infest the wooden walls, and cannot be got rid of by any amount of cleanliness. Many careful housewives take their beds to pieces every week and put carbolic acid on them." – Isabella Bird
"My goal as governor is for Colorado to have the cleanest air and the cleanest water in the country, and to be a model for the nation in using clean, renewable sources of energy." – Cary Kennedy
---
Thanks for reading my collection of the best Colorado quotes! Hopefully, they've ignited your wanderlust and inspired you to visit the state.
Do you have any other quotes about Colorado? If you do, leave them in the comments below. Let me know if you've been to Colorado and what you think. I'm interested to see what your opinion of the state is!
Tom is a travel addict who first left England to spend a year Down Under. Not satisfied with this, he then went to New Zealand, about as far away from home as he could get. He is now planning his next adventures in Europe and Canada while maintaining this blog. Check out the about me page to learn more!