If you're looking for Grand Canyon quotes, then you've come to the right place!
Even if you've never been to America, or live on the other side of the planet, you'll be familiar with the Grand Canyon. It's one of those places that are familiar to all of us no matter where we're from.
These quotes on the Grand Canyon will relay to you how breathtaking and incredible it is. If you've never been, you'll get an idea of what it's like, while if you have, you'll be reminded of the beauty of the place.
If you ever get the chance to visit, you should. This list of quotes about the Grand Canyon can only go so far in explaining the sheer wonder of this natural landmark.
To appreciate it, you have to visit.
Table of Contents
Best Grand Canyon Quotes
"I believe in evolution. But I also believe, when I hike the Grand Canyon and see it at sunset, that the hand of God is there also." – John McCain
You might also like: Montana quotes
"New nemeses keep racing fresh, but I also find challenge in going longer, with only the distance as foe. I run my first 50-mile race, journey across the Grand Canyon and back, circumnavigate Mount St. Helens." – Don Kardong
"It took five days to drive to Los Angeles by myself. I listened to Abbey Road for six hours at a time and watched the desert open up before me again and again. I saw the sun set and rise at the Grand Canyon, and I sang out over the cliffs, picked up tumbleweeds along the way and threw them in the back of my car." – Madi Diaz
"You cannot see the Grand Canyon in one view, as if it were a changeless spectacle from which a curtain might be lifted, but to see it, you have to toil from month to month through its labyrinths." – John Wesley Powell
"When I did the video for 'Holding Out For A Hero,' we filmed that on top of the Grand Canyon, and that was quite frightening. I was close to the edge, and there was a helicopter hovering about, creating a lot of wind, and I was nervous I was going to fall off." – Bonnie Tyler
"Climbing K2 or floating the Grand Canyon in an inner tube; there are some things one would rather have done than do." – Edward Abbey
"Every season has its peaks and valleys. What you have to try to do is eliminate the Grand Canyon." – Andy van Slyke
"The Grand Canyon is carven deep by the master hand; it is the gulf of silence, widened in the desert; it is all time inscribing the naked rock; it is the book of earth." — Donald C. Peattie
"It's like trying to describe what you feel when you're standing on the rim of the Grand Canyon or remembering your first love or the birth of your child. You have to be there to really know what it's like." — Harrison Schmitt
"I don't believe that anyone can see the Grand Canyon area for themselves and not know that we have to do everything we can to protect it for future generations." – Nolan Gould
"The Grand Canyon which yawns between the writer's concept of what he wants to capture in words and what comes through is a cruel abyss." — Fannie Hurst
"My goal is that after seeing 'Grand Canyon,' every person in the audience will go home knowing they have to conserve water: even something as simple as installing a low-flow toilet or showerhead, or turning off the faucet while they're brushing their teeth." – Greg MacGillivray
"Nearly every president in the past 100 years has declared national monuments, from Teddy Roosevelt creating the Grand Canyon National Monument to George W. Bush preserving 10 islands and 140,000 square miles of ocean waters in the Northwestern Hawaiian Islands." – Frances Beinecke
"In October 2014, for the first time in almost three-quarters of a century, a gray wolf was seen loping along the forested North Rim of the Grand Canyon, in Arizona. She had walked hundreds of miles, probably from Wyoming or Idaho." – Lydia Millet
"My family was lower middle class, and my parents both worked, so we couldn't take proper vacations. We'd go for three days to Santa Barbara or to the desert, so my first real vacation came was when I was 12, when friends of my parents were taking their kids away. We went to Grand Canyon, Bryce Canyon, and Zion National Park in Arizona and Utah." – Harry Shearer
"I can still remember my first experience of standing at the edge of the Grand Canyon and looking into it. It was so awesome, it took a fair amount of restraint to prevent me from jumping into it, because I was certain I could fly." – Mark Goulston
"I'd like to see more of Colorado, Utah, and maybe go to Yellowstone. Oh, and I'd like to kayak down the Colorado through the Grand Canyon." – Jesse Spencer
"We did a lot of those road trips, all the mandatory stuff that you should when you're a kid, like Mount Rushmore and the Grand Canyon and the Sequoias and the western coast." – Vicki Lawrence
"The astonishing sense of connection with that river and canyon caught me completely unaware, and in a breath, I understood the intense, protective loyalty so many people feel for the Colorado River in the Grand Canyon. It has to do with truth and beauty and love of this earth, the artifacts of a lifetime and the descent of a canyon wren at dawn." ― Ann Zwinger
"It doesn't have to be the Grand Canyon, it could be a city street, it could be the face of another human being – Everything is full of wonder." – A.C. Grayling
Famous Quotes on the Grand Canyon
"There will never be a photograph of the Grand Canyon that can adequately describe its depth, breadth, and true beauty" – Stefanie Payne
You might also like: Alaska quotes
"The wonders of the Grand Canyon cannot be adequately represented in symbols of speech, nor by speech itself. The resources of the graphic art are taxed beyond their powers in attempting to portray its features. Language and illustration combined must fail." – John Wesley Powell
"Politicians wanted to mine the Grand Canyon for zinc and copper, and Theodore Roosevelt said, 'No.'" – Douglas Brinkley
"President Theodore Roosevelt, who signed the Antiquities Act into law, created 18 monuments, including the Grand Canyon and Olympic National Park in Washington, totaling more than a million acres." – Tatiana Schlossberg
"It's not at all naturally human to see something like the Grand Canyon as beautiful." – David Roberts
"Beautiful doesn't begin to describe it. A flower is beautiful. But this is beautiful the way that a person is beautiful- terrifying with its jagged edges, yet seductive with its crevices that hide so many secrets." ― Jeri Smith-Ready
"There's not a single person in Arizona today who would say the Grand Canyon was a mistake." – Stewart Udell
"Maybe you weren't born with a silver spoon in your mouth, but like every American, you carry a deed to 635 million acres of public lands. That's right. Even if you don't own a house or the latest computer on the market, you own Yosemite, Yellowstone, the Grand Canyon, Golden Gate National Recreation Area, and many other natural treasures." – John Garamendi
"He meant the Grand Canyon was only a mood of nature, a bold promise, a beautiful record. He meant that mountains had sifted away in its dust, yet the canyon was young. The man was nothing, so let him be humble. This cataclysm of the earth, this playground of a river was not inscrutable; it was only inevitable—as inevitable as nature herself. Millions of years in the bygone ages it had lain serene under a half-moon; it would bask silently under a rayless sun, in the onward edge of time." ― Zane Grey
"The really wonderful moments of joy in this world are not the moments of self-satisfaction, but self-forgetfulness. Standing on the edge of the Grand Canyon and contemplating your own greatness is pathological. At such moments we are made for a magnificent joy that comes from outside ourselves." — John Piper
"What can be more soul-shaking than peering through a 100-inch telescope at a distant galaxy, holding a 100-million-year-old fossil or a 500,000-year-old stone tool in one's hand, standing before the immense chasm of space and time that is the Grand Canyon, or listening to a scientist who gazed upon the face of the universe's creation and did not blink?" – Michael Shermer
"The Grand Canyon is living evidence of the power of water over a period of time. The power may not manifest immediately. Water can be very powerful, like a tidal wave." — Frederick Lenz
"It is a spectacular illusion – a deeply three-dimensional scene flattened onto an earthly canvas." ― Stefanie Payne
"I think what I would really most like to write about is palm trees and bougainvillea and hummingbirds. I would like to go into the desert and write about salamanders and the Grand Canyon, but history keeps rupturing my experience because politics are everywhere." – Robin Coste Lewis
"It's always been a luxury to be able to hop a plane to Paris, to Venice, to the Grand Canyon." – Nancy Gibbs
"In the Grand Canyon, Arizona has a natural wonder which is in kind absolutely unparalleled throughout the rest of the world" – Theodore Roosevelt
"I wrote my senior essay on the Santa Fe Writer's Colony and my dissertation on sacred landscapes – the Grand Canyon, the Dakota Badlands. As a setting, I love the West. I just love that western landscape." – Elise Broach
"I once met a man who said he had visited every exotic place from the Grand Canyon to the Great Wall, but when I questioned him closely. I discovered he hadn't seen the songbirds in his own backyard." — Richard Bode
"Truly, Arizona is a wonderland, and in the Grand Canyon, one can think of nothing but the Abomination of Desolation." – John G. Bourke
---
You might also like:
---
Grand Canyon Travel Quotes
"When your spirit cries for peace, come to a world of canyons deep in the old land." – August Fruge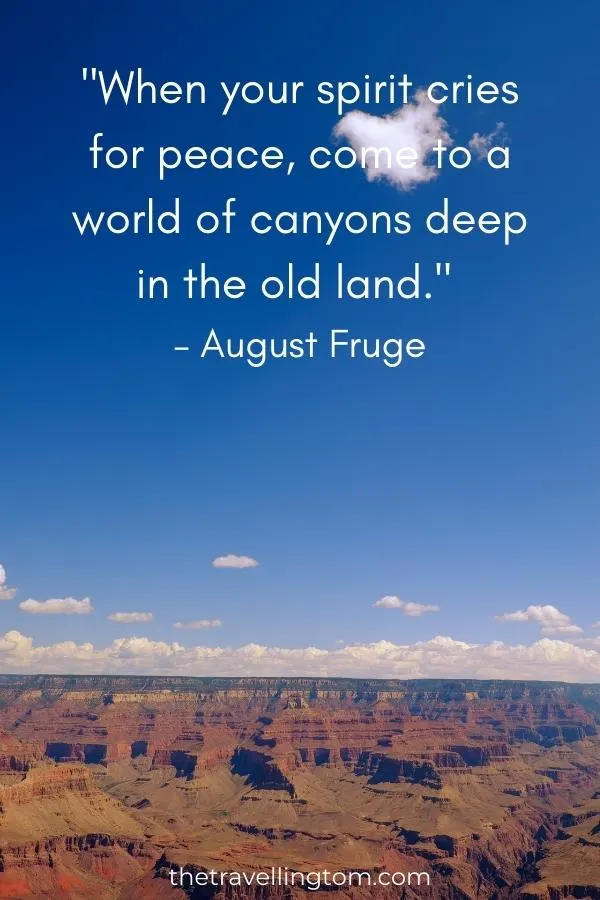 "If you are working, almost like with layers of the Grand Canyon, there's history within those layers." — Leonardo Drew
"Anybody who travels knows that you're not really doing so in order to move around – you're traveling in order to be moved. And really what you're seeing is not just the Grand Canyon or the Great Wall but some moods or intimations or places inside yourself that you never ordinarily see when you're sleepwalking through your daily life." — Pico Iyer
"I had come to the canyon with expectations. I wanted to see snowy egrets flying against the black schist at dusk; I saw blue-winged teal against the green waters at dawn. I had wanted to hear thunder rolling in the thousand-foot depths; I heard the guttural caw of four ravens. What any of us had come to see or do fell away. We found ourselves at each turn with what we had not imagined." ― Barry López
"Life is supposed to be a series of peaks and valleys. The secret is to keep the valleys from becoming Grand Canyons." — Bernard Williams
"You wait in heat like this, scanning the horizon for a cloud, sometimes through a haze of wildfire smoke that turns the world orange, when a drop of rain would be a miracle." – Craig Childs
"Leave it as it is. The ages have been at work on it and man can only mar it." — Theodore Roosevelt
"Well, once you've been in the Canyon and once you've sort of fallen in love with it, it never ends. It's always been a fascinating place to me, in fact, I've often said that if I ever had a mistress it would be the Grand Canyon." — Barry Goldwater
"I would rather stumble by chance on a tiny stream in the woods than planning a trip to the Grand Canyon." – Marty Rubin
Funny Quotes About The Grand Canyon
"You can't say you're going to jump the Grand Canyon and then jump some other canyon." – Evel Knievel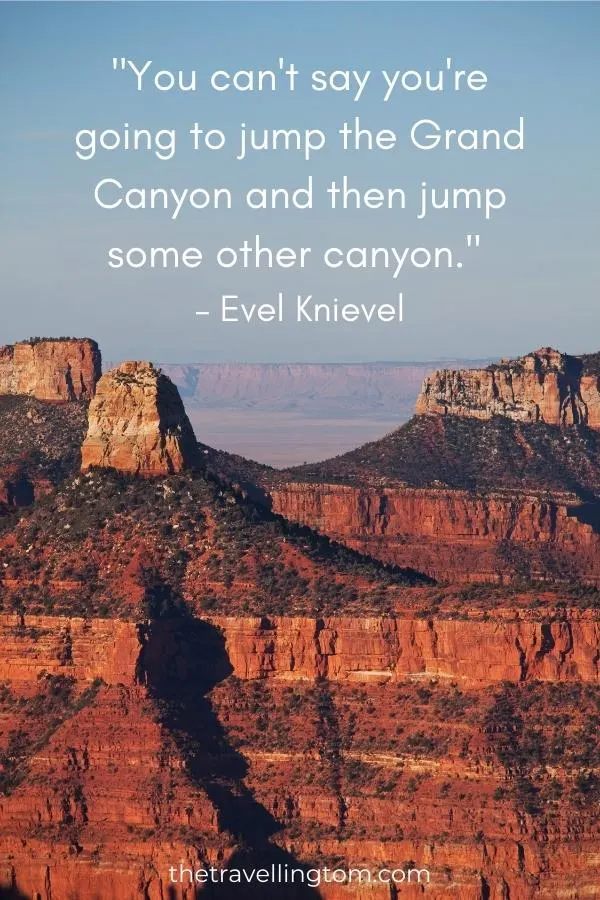 You might also like: San Diego quotes
"Baseball, it is said, is only a game. True. And the Grand Canyon is only a hole in Arizona. Not all holes, or games, are created equal." – George Will
"If you're ever thinking 'Oh, but I'm a waste of space, I'm a burden' remember, that also describes the Grand Canyon." — Maria Bamford
"Writing a book of poetry is like dropping a rose petal down the Grand Canyon and waiting for the echo." – Don Marquis
"We've got to step up our conservation efforts before it's too late. We're not protecting our lands and natural resources. Take the Grand Canyon for example; I'm sure that at one time it was a beautiful piece of land, and just look at the way we've let it go." – Pat Paulsen
"I wish they'd build a ski jump at the Grand Canyon; it'd be fantastic." – Eddie The Eagle
"Majestic doesn't appeal to us. We Americans like the Grand Canyon better with Clarence and Arlene parked in front of it, smiling." — Garrison Keillor
"When visiting the Grand Canyon, make sure you hike into the canyon. And be careful not to fall or step in mule poop." ― McKenna Shay
"When the last living thing has died on account of us, how poetical it would be if Earth could say, in a voice floating up perhaps from the floor of the Grand Canyon, "It is done." People did not like it here." — Kurt Vonnegut
"I believe in a benevolent God not because He created the Grand Canyon or Michelangelo, but because He gave us snacks." ― Paul Rudnick
"I have an admiration for Mr. Eastwood that borders on the kind that I have for the Grand Canyon. Like it, he is craggy, worn, awesomely impressive and unique, a living four-star tourist attraction that, in the formulaic words of the Guide Michelin, 'vaut le voyage.'" – Michael Korda
"I could throw 56-pound words clear across the Grand Canyon. As a matter of course, I went into politics." — Henry F. Ashurst
"With what you don't know about me, I could just about fill the Grand Canyon." — Kevin Smith
"Crying. Acceptable at funerals and the Grand Canyon." – Ron Swanson
Looking For More Quotes?
Waterfall Quotes – Discover what makes waterfalls so special with these quotes!
Camping Quotes – The joys of camping expressed in quotes!
Alabama Quotes – Sweet home Alabama! Find out the best quotes about this glorious state!
San Francisco Quotes – One of the most iconic cities in America has inspired plenty of amazing quotes!
Maine Quotes – A fascinating state that's inspired many. Discover why with these quotes!
Tom is a travel addict who first left England to spend a year Down Under. Not satisfied with this, he then went to New Zealand, about as far away from home as he could get. He is now planning his next adventures in Europe and Canada while maintaining this blog. Check out the about me page to learn more!