Looking for some of the best Seattle quotes? Then you've come to the right place!
These quotes about Seattle relay all that's wonderful about this city in the Pacific Northwest. From the towering Space Needle to the coffee culture and the stunning backdrop of Mount Rainier, they reflect everything that makes Seattle such a great place to visit.
I've got some Seatlle puns too that reflect some of the characteristics of the city, while there are some Seattle Instagram captions you can use to include along with your photos of this stunning city.
Hopefully, these quotes convince you to check out Seattle and visit one of the best cities in America!
Best Seattle Quotes
"My favourite city of all has to be Seattle as it seems to encapsulate everything that is great about both Britain and America." – Toyah Wilcox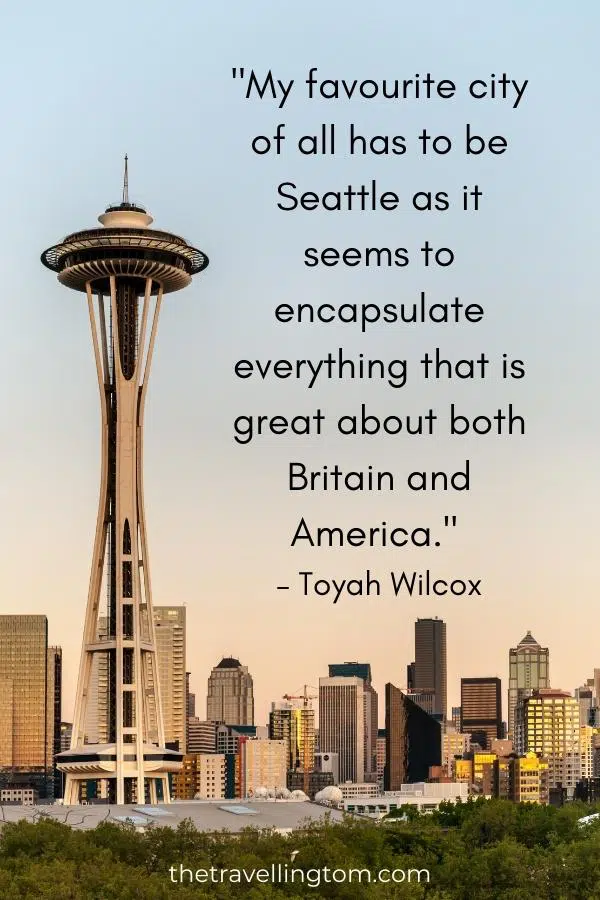 "I love Seattle. I lived out in Seattle for a while, and the food there is so phenomenal. It's so fresh and gorgeous, and just beautiful and simple. I really love that place." – Damaris Phillips
"I give Seattle credit for grooming me, making me the person I am today." – Jamal Crawford
"I can't say anything I don't love about Seattle." – Felix Hernandez
"Seattle has shaped me in a lot of ways." – David Shields
"Seattle is like a global gumbo, a melting pot with all kinds of people – the rich, the poor, white people, some Chinese, Filipino, Jewish and black people – they're all here." – Quincy Jones
"The ruling ethos of Seattle is forlorn apology for our animal impulses." – David Shields
"I really liked the Seattle movement." – Axl Rose
"I didn't know exactly what to expect when I first came to Seattle but I have to say that how the city and the fans have embraced me has gone beyond my wildest dreams and for that I am forever grateful." – Freddie Ljungberg
"I grew up outside of Seattle and have lived here my whole life, and I think that there is a culture of questioning and guilt. Almost an 'anti-ambition.'" – Carrie Brownstein
"People in Seattle – and I'm speaking from experience – are indoors more. It used to just rain a ton, and as a result, you'd be inside listening to music all the time and playing. You'd all rehearse at each other's houses and share ideas. There was no competition. When I got to L.A., I was really stunned by the competition." – Duff McKagan
"I'm a Mariners fan! I'm from Seattle, so I'm all about the Mariners and the Seahawks." – Jo Koy
"Whether I live there again or not, Seattle will always be my home." – Mark Lanegan
"People are nice in Seattle." – Howie Long
"With the national team, we have these fans, people love of us, people come up to us in our cities, and they're like, 'We love you – what are you doing in Seattle?' And I'm like, 'I live here, and I've played here for the last five years.'" – Megan Rapinoe
"I learned so much from the people in Seattle. They taught me everything from community to business relationships." – Shawn Kemp
"Of course Seattle loves soccer. You can see from the men's Seattle Sounders team." – Hope Solo
"To some extent, Seattle remains a frontier metropolis, a place where people can experiment with their lives, and change and grow and make things happen." – Tom Robbins
"I think it's evident that expensive neighborhoods in Seattle are surrounded by natural beauty. That elevates city life. So if we can make cities more attractive in the long run, we can be smarter about issues like development, zoning and economics." – Stone Gossard
"Seattle is a place I've lived only a couple of years, but I feel like I've been adopted by this city. It's like a hug. I've been recognized on planes, in the airport and by cab drivers. I don't get that anywhere else in the country." – Hari Kondabolu
"Chris Cornell painted in song the darkness and beauty of life in Seattle." – Mike McCready
---
You might also like:
---
Seattle Quotes About Travel
"I love downtown Seattle. It's a city that has all of the outdoor activities and is still a very cosmopolitan city." – Greg LeMond
"Tacoma is actually my hometown, but if you live within 40 minutes of Seattle, you say Seattle." – Jo Koy
"I grew up in Germany for a little while, and all my German friends said that Seattle, weather and energy-wise, is a lot like West Germany. It's true." – Daniel Breaker
"When time permits, I try to see interesting people in the cities I visit. In Seattle, I met Paul Allen, the co-founder of Microsoft, who is shy in personality but flamboyant in his philanthropy." – Steven Pinker
"I was living down in this awful little redneck town in Oregon, and everyone else was living in Seattle, so we rented a house in Portland, between the two." – Isaac Brook
"My wife and I just prefer Seattle. It's a beautiful city. Great setting. You open your front door in the morning and the air smells like pine and the sea, as opposed to bus exhaust." – Ron Reagan
"When I got out of college, I moved to Seattle because it was the nearest big city and still didn't know if I wanted to be a composer, conductor, singer, actor. I just got day jobs and auditioned and took what came, and the theater doors were the ones opening the most." – J.K. Simmons
"Logistically, moving from Miami and New Orleans all the way to Seattle isn't the easiest thing. Really, for my dog, she was kind of the biggest hurdle to get here." – Jimmy Graham
"I grew up in the Seattle suburbs – the suburbs of suburbs. Where I'm from, it's super quiet, just woods and nothing." – Yoon Ahn
"When I moved to Seattle in fourth grade, I joined the Seattle Girls' Choir. It's a world-class choir, and we competed, toured Europe, and went and sang at the Vatican, so it was a really awesome experience to have that young." – Bonnie McKee
"Seattle was built out on pilings over the sea, and at high tide the whole city seemed to come afloat like a ship lifting free from a mud berth and swaying in its chains." – Jonathan Raban
"All I really had was a suitcase and my drums. So I took them up to Seattle and hoped it would work." – Dave Grohl
"I feel thankful for the Seattle organization and the city. The fans embraced me right away, and I had a great time there." – Robinson Cano
"One of my favorite places is Seattle. Growing up, I never thought I'd be able to go to Seattle. I grew up in eastern South Carolina, so that's as far as you can get from Seattle, unless I lived in Miami." – Josh Turner
"I grew up in Seattle, but I always knew I wanted to leave." – David Guterson
"I grew up in Colorado – went back there, tried to heal myself and grow and learn, then got a call that David Lynch wanted me to fly back to Seattle so he could meet me for Twin Peaks." – Sheryl Lee
"At night, what you see is a city, because all you see is lights. By day, it doesn't look like a city at all. The trees outnumber the houses. And that's completely typical of Seattle. You can't quite tell: is it a city, is it a suburb, is the forest growing back?" – Jonathan Raban
"I love being able to help promote Seattle to travelers worldwide." – Tom Douglas
"When friends come over from Europe, they think it's going to be rainy in Seattle but it's beautiful. It's a hidden pearl. And people here respect your private life." – Freddie Ljungberg
"I prefer to be a mother in the Pacific Northwest! I grew up outside of Seattle and personally find it to be the most beautiful place in the world." – Josie Bissett
"My first flight was to Majorca as a 17-year-old and I went to Seattle to visit a friend after that. But the first time I really ventured out abroad to Canada and Japan as well as to Europe, to France, Spain, Italy, Germany and the Netherlands, was to promote my first album." – Corrine Bailey Rae
Funny Seattle Quotes
"Seattle has one season: rain" – Tracy Gordon
You might also like: Montana quotes
"I'm not from this Earth – I'm from Pluto. I moved to Seattle when I was 2." – Lil Mosey
"What's my favorite thing about Seattle? It's Ho Ho's Restaurant." – Marshawn Lynch
"I bought my first camera in Seattle, Washington. Only paid about seven dollars and fifty cents for it." – Gordon Parks
"And Seattle isn't really crazy anymore. It's a big dot-com city." – Krist Novoselic
"I was never the class clown or anything like that. When I was growing up and doing theatre in Seattle I was always doing very dramatic work. Now I can't get a dramatic role to save my life!" – Anna Faris
"This is Seattle. We're supposed to have superior taste." – Maria Semple
"I grew up in Seattle, where there isn't a lot of sun." – Josie Bissett
"I think I've seen 'Sleepless in Seattle' like 40 times… I've seen 'Harold and Maude' like 50 times probably." – Alison Sudol
Seattle Instagram Captions
I left my heart in Seattle
Live, love, Seattle
There's no place like Seattle
Sleepless in Seattle
Seattle state of mind
Seattle is always a good idea
You bring the sunshine to Seattle
I love you like the rain loves Seattle
Seattle, you are on my mind
You had me at Seattle
Seattle Puns
Seattle's coffee scene is a thing of brew-ty
Needle-less to say, I love Seattle's skyline
Sleeveless in Seattle
I refuse to Seattle for anything less than perfect
I Wheel-y love Seattle
Seattle is one Amazon city
Spacing out in Seattle
I don't needle this attitude right now
It's time to Se-attle
If the city isn't right, don't Seattle
Quotes About Seattle's History and Culture
"I know a lot of people say New York is the basketball mecca, but to me, it's Seattle." – Rashard Lewis
"If I'd written all the truth I knew for the past ten years, about 600 people – including me – would be rotting in prison cells from Rio to Seattle today. Absolute truth is a very rare and dangerous commodity in the context of professional journalism." – Hunter S. Thompson
"Some people have no respect whether you are with your family or not. That's the hardest part. I was shopping in a grocery store in Seattle looking for stuff for Nicholas. This guy kept following me with his cell phone video on." – Joe Montana
"Seattle is this curious liberal 'island.'" – Jonathan Raban
"I'm damn proud to be a Seattle Mariner." – Ken Griffey Jr.
"I have a fond place in my heart for Seattle, so I hope that an NBA team comes back to this great city, this great sports city." – Magic Johnson
"Most of the tech CEOs I know used to think that moving to the Midwest or the South was beneath us, a good tactic for the Boeings of the world who don't need the kind of rare skills we depend on, who have to grub for profits when we reach for growth. But if Amazon can't afford to keep growing in Seattle, who can?" – Glenn Kelman
"I think what's beautiful when you're looking at artists like Macklemore and you're looking at artists like Ayron Jones, they're proud of Seattle and they're bringing it back. Seattle's a real music town. When you act ashamed of that, you should be pushed outta the game as far as I'm concerned." – Sir Mix-a-Lot
"I had bohemian parents in Seattle in the last '60s living in a houseboat. My dad wrote science fiction novels and painted big murals and oil paintings." – Rainn Wilson
"My mother was the first African-American policewoman in Seattle – recruited, actually – and she did it for only 2 years, as she did not want to carry a gun. She worked mostly on domestic disturbances. The NAACP wanted her to do it. She did not actually have the temperament to be a cop – she was very sweet. She had a Masters in social work." – Brian Stokes Mitchell
"In Seattle, I soon found that my radical ideas and aesthetic explorations – ideas and explorations that in Richmond, Virginia, might have gotten me stoned to death with hush puppies – were not only accepted but occasionally applauded." – Tom Robbins
"Seattle is very similar to Minneapolis. I like the culture; I like the people. I raced a bike and won a national championship on Lake Washington in 1977, so I've had a connection there for a long time." – Greg LeMond
"I think there are four or five interesting pockets where a lot of cool technology companies are getting started. Chicago is one of them. New York is certainly another. Silicon Valley really dominates. And you're seeing some stuff out of Boston and Seattle and down South." – Eric Lefkofsky
"For generations, people have come to U.S. shores to seek opportunity. It's what my grandfather did a century ago, when he came to Seattle, and worked as a houseboy just one mile from the Washington State governor's mansion that I was privileged to inhabit for eight years." – Gary Locke
"One of the first bands to break out of Seattle was Heart." – Layne Staley
"I think Seattle has a great sort of luxury and comfort sensibility, which I oftentimes think is lost in fashion for fashion's sake." – Chris Benz
"Whatever Seattle says, the great chief at Washington can rely upon with as much certainty as he can upon the return of the sun or the seasons." – Chief Seattle
"If Nirvana had remained a small, underground punk rock band, Kurt Cobain would still be alive. And he'd probably be living in Seattle, getting kind of fat and balding, be relatively happy and producing records for other people." – Moby
"Seattle is the place where you can really find any kind of food, especially Japanese food." – DeAndre Yedlin
"Seattle, they like the Bay a lot. They like the Bay area sound, the West Coast sound." – Lil Mosey
"Portland hardly got to have an identity before that identity became a joke – I live in a joke. Seattle at least got to wear out its identity before it became a joke." – Isaac Brook
"I have an affinity for the old Seattle coffee shops, places like the Green Onion and the Copper Kettle, the classic kind of coffee bar – little places that served breakfast, lunch and dinner and have pretty much disappeared." – Tom Douglas
"Seattle very much benefited from this geography where it was a town nobody had really heard of in terms of a music scene. So we had that factor of being a new discovery." – Chris Cornell
"Seattle is a fantastic place to build a great technology-enabled consumer company." – Dan Levitan
"I grew up a Seattle Sonics fan, in Washington state." – Mark Lanegan
"Seattle has a long tradition of celebrating local and non-local art – from the Burke and Seattle Art Museums to the Asian Art Museum." – Paul Allen
"I mean, if you look at all the great romantic screwbally kind of movies from the '30s and '40s, they're all in New York. Even 'Sleepless in Seattle,' a movie about Seattle, ends up in New York, of course. The whole country, even if they've never been to New York, knows about it… from the movies." – Brad Hall
---
Thanks for reading my collection of the best Seattle quotes! Hopefully, you've enjoyed reading and are now considering a trip to this incredible city in Washington State.
Do you have any other quotes about Seattle? If you do, leave them in the comments below. Let me know if you've been to Seattle and what you think. I'm interested to see what your opinion of the city is!
Tom is a travel addict who first left England to spend a year Down Under. Not satisfied with this, he then went to New Zealand, about as far away from home as he could get. He is now planning his next adventures in Europe and Canada while maintaining this blog. Check out the about me page to learn more!