If you're looking for Norway quotes, then you've come to the right place.
These quotes about Norway will provide you with an insight into this amazing country and plenty of inspiration to book a trip.
Norway is one of the most beautiful countries on the planet. From the vibrant capital Oslo to stunning places such as Bergen, Tromso and Preikestolen, there's so much to see and do here.
These Norway quotations will give you a picture of what the country is like and why you should consider visiting. If these quotes don't do the trick then I don't know what will!
Table of Contents
Best Norway Quotes
With so many great places to visit in Norway, it can be hard to know where you should go when you're there. Norway is much bigger than people realise and there's so much to see it does make seeing everything difficult.
The below will highlight what makes Norway so great and why you should consider visiting.
"I'm a bit biased, as I married a Norwegian, but Norway is an incredible country." – Edd China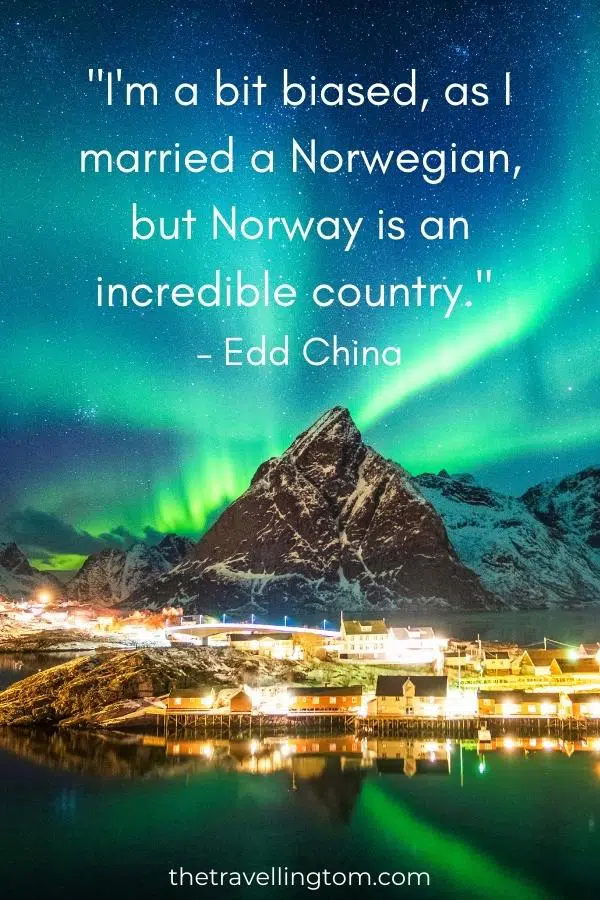 "If the world were an orange with 18 segments meeting at the top (the North Pole), roughly 8 of them would be in Russia, Canada would have 4, Denmark 2, and Norway, Sweden, and the U.S. just one apiece. Only a sliver of Alaska, on the Beaufort Sea, lies above the Arctic Circle." – Alex Shoumatoff
"I'm from a small town called Alesund in Norway." – Sigrid
"Norway, for some reason, I find Norway really fascinating, you really feel nature in that country. And then there is somewhere like Japan, which is the most interesting culturally because their whole psychology, how they think is so different to us and how I've grown up." – Katie Melua
"I've sung before, first in a band in high school and then in a band in Norway, but never in a musical." – Essie Davis
"We have to find compromises. That's the way it is in Norway." – Kjell Magne Bondevik
"I don't think I would participate in 'Eurovision,' but I would love to write a song for it. But it would have to be for Norway, obviously. Do it for my country." – Sigrid
"I grew up in a small mountain town in Norway, and I remember miming to the Beatles on the couch when I was about six, singing into a broomstick, but this was a country that only had one radio station. There was no music around, really." – Morten Harket
"The main experience, I think, is that we have managed: people moving to Norway has made Norway richer, economically, but also our culture has become more rich in many ways." – Jens Stoltenberg
"I really enjoy myself in Norway. Because I had started losing confidence in my ability of what I do. But sometimes, man, you just get tired of fighting and trying to prove yourself." – Ike Turner
"My mother-in-law's from Norway, and she's always liked old-school remedies." – Lindsey Vonn
"In Norway, everyone knows everyone, and everyone is very supportive of each other. If there is anyone new, or a new song is coming out, everyone will probably know about it." – Astrid S
"The prison system in Norway is fairly civilized, by world standards, and so are the prisoners and the guards." – Varg Vikernes
"I'm from Norway, and when kids were reading comics, I was reading Icelandic and Norwegian sagas about the Vikings. The glorification of violence, their mentality, and their way of living – that was part of my own education growing up." – Kristofer Hviju
"It wasn't the best move to move here as far as snooker's concerned. But everything else, living in Norway is beautiful, my wife, my son, you can't change those things, it's one against 10 positive things." – Kurt Maflin
Norway Quotes About Travel
Backpacking Norway is an incredible experience and one you should do at least once in your life.
Below are several quotes that highlight travelling around Norway and doing activities such as climbing Preikestolen make Norway such a great destination!
"I got the travel bug when I was quite young. My parents took me and my sisters out of school and we travelled all over Europe. It was an eye-opening experience and, although I love Norway, I also enjoy visiting new countries. I don't get homesick." – Magnus Carlsen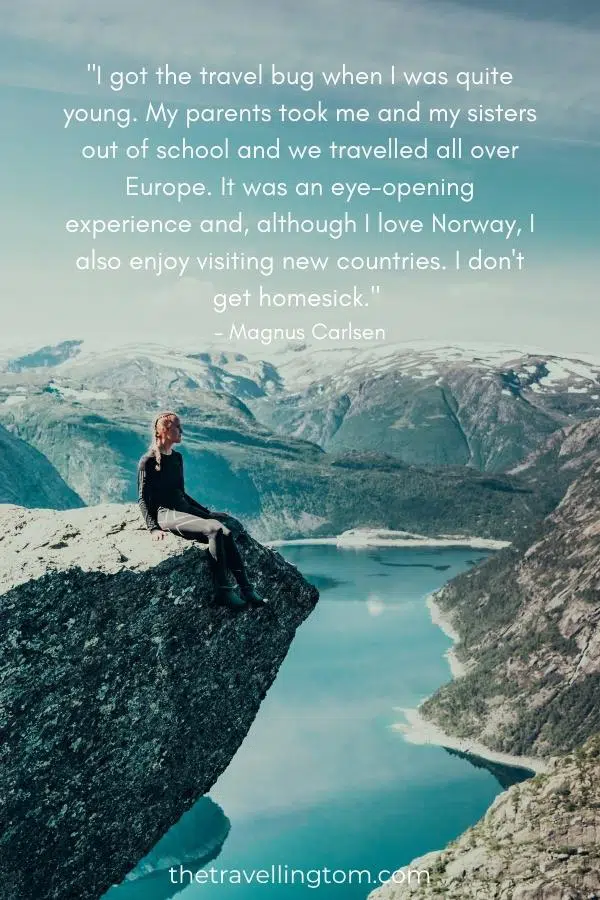 "I'm 100% Norwegian. Three generations removed and all continuous inbreeding of Norwegian of Minnesota and Iowa, so I traveled to Norway before." – Eric Christian Olsen
"We had to leave Norway and go where it was all happening, which was London. We loved it there, but it was hard. We had no money – we were literally starving. It started to get ugly." – Morten Harket
"I am drawn to cold, desolate places rather than Hawaii. I actually love Hawaii too, but I tend to go to Iceland or Norway or Northern Japan – northern places for whatever reason. Which aren't necessarily the best places to tour." – Phil Elverum
"I was born in Norway, and when I was little I went to live in Detroit, Michigan. My father was a professor of philosophy at Wayne University, and my mother was also a teacher." – Marta Kristen
"I grew up riding when I was younger in Texas. I actually learned how to ride in Norway. I really love riding horses." – Jackson Rathbone
"I was born in Oslo, Norway, but now live in the suburbs of Southwest London, right near the River Thames. It's a lovely part of the world." – Alexander Hanson
"My father's grandparents came from Norway and settled in the Scandinavian bastion of Minnesota. As a little girl in Tempe, Arizona, I daydreamed about picking cloudberries by a fjord in a fresh Nordic wind." – Kate Christensen
"My dad, a geologist, was an expert in glaciers and permafrost, so we moved to a lot of cold places such as Canada, Iceland and Norway." – Lucy Worsley
---
You might also like:
---
Funny Norway Quotes
"I want to travel. Maybe I'll end up living in Norway, making cakes." – Eva Green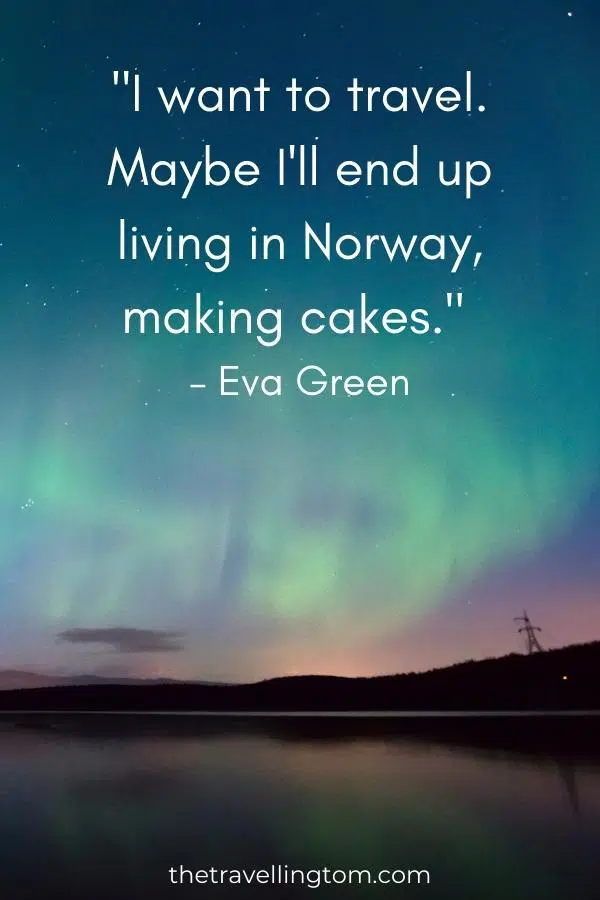 "The myth about me as a footballer has grown: I am now the lost Maradona of Norway." – Jo Nesbo
"I think Wimbledon is the highlight for most players, it's special. My father played there six times and never got past the first round so we have to end this bad streak, for the family and Norway." – Casper Ruud
"When we were kids, Stoke was massive in Norway." – Morten Harket
"For many years, it seemed as if nothing changed in Norway. You could leave the country for three months, travel the world, through coups d'etat, assassinations, famines, massacres and tsunamis, and come home to find that the only new thing in the newspapers was the crossword puzzle." – Jo Nesbo
"There's a lot of crappy music that people like, you know, all over the world, and Norway is definitely not an exception." – Sondre Lerche
"I got an email from the Crown Prince of Norway asking me to talk at a summit for young Norwegian entrepreneurs. I ran to my wife and was like, 'Hey! I got an email from the Prince of Norway!'" – Nick Woodman
Norway Instagram Captions, Puns and Proverbs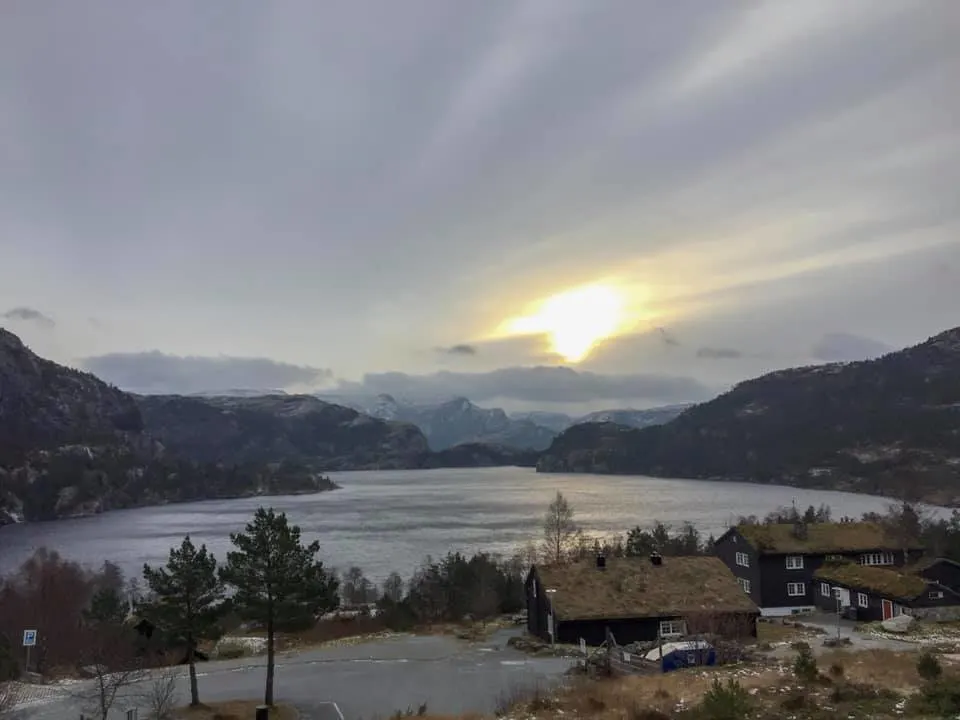 Once there, there's Norway you'll want to leave
Oslo is everything but Blå
There's Norway I can go back home
I want to come back soon, but I can't a fjord it
A Norse is a Norse of course, of course
Stavanger hunt
You old Tromso and so
Back That Asgard Up
Rock 'n Troll
Keeping Thor
"It is the law that judges, not the judge."
"The best remedy against getting drunk is keeping sober."
"The fair wind blows even if the sailor does not see it."
"Behind the clouds, the sky is always blue."
"Do not count a person's years, until he has nothing else to count."
"Straight ahead is shortest, but not always easiest."
Quotes About Norway's Culture and History
"Norway is combating climate change. It's an important issue for us. And we are committed to the Paris Agreement." – Erna Solberg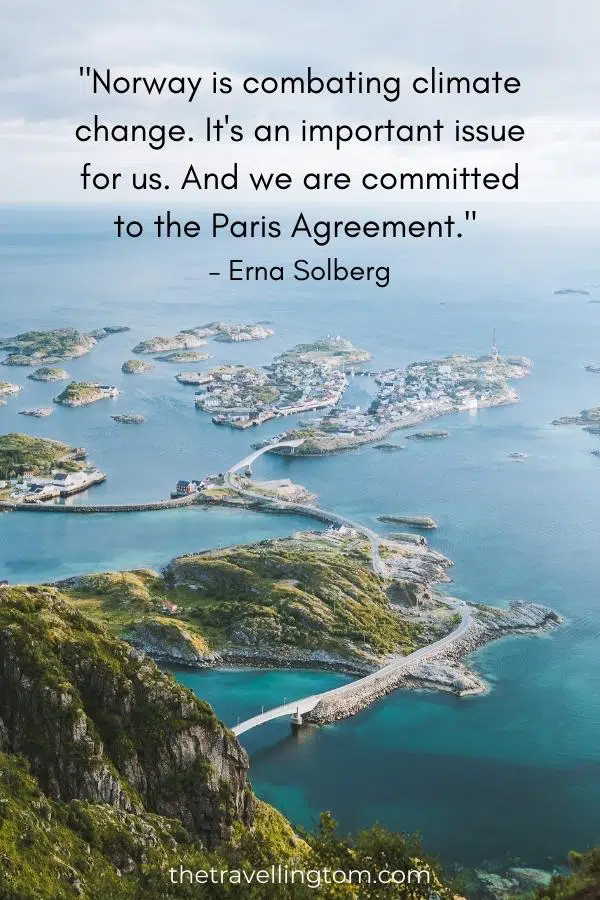 "Norway was occupied by the Germans in the Second World War, and I've met a lot of people who had to live through that occupation in varying degrees." – Christopher Heyerdahl
"As foreign minister of Norway, I learnt how natural changes provoked by climate change are creating new sources of political instability." – Jonas Gahr Store
"Many people, especially in the U.S., see countries like Sweden or Norway or Finland as role models – we have such a clean energy sector, and so on. That may be true, but we are not role models." – Greta Thunberg
"Norway will be recognized as an open democracy with the rule of law, with the universal human rights, and with the broad international engagement on the international scene taking upon ourselves responsibilities, because we are a privileged country." – Jonas Gahr Store
"Norway is a small country, about half the size of Sweden, but it has a very good film climate because they have municipal cinemas, so even in the smallest towns you have a cinema that shows arthouse films from all over the world." – Stellan Skarsgard
"Norway or Switzerland are two marvellous countries, I very much admire, the most advanced countries in the world in fact with great qualities of life." – Jose Manuel Barroso
"The future of Norway isn't about competing on being the cheapest but the most innovative. We have an expensive welfare state, and the only answer to continue that way is to become more competitive, especially on knowledge." – Erna Solberg
"I had to inspect all fighter units in Russia, Africa, Sicily, France, and Norway. I had to be everywhere." – Adolf Galland
"Iceland, though it lies so far to the north that it is partly within the Arctic Circle, is, like Norway, Scotland, and Ireland, affected by the Gulf Stream, so that considerable portions of it are quite habitable." – Harry Johnston
"If you go to Norway, Finland, Russia or Australia, you'll see Xerox or Fuji-Xerox people, not just the name on the door. We have human beings who live and work and serve customers everywhere around the globe." – Ursula Burns
"Generally speaking, I don't think people know a great deal about the Viking culture, apart from the label that is usually attached to them, either pillagers or deviants who came and brought back loot to Norway. It was an incredibly sophisticated, complex and layered culture. They had their own laws, many of which protected women." – Gabriel Byrne
"Nationalism in Norway was very strong in 1905, that we must be free of Sweden. But I must say, I'm not 100 percent sure that was a wise decision. We had the war; we were occupied by Germans from 1940 to '45. And if there had been one Scandinavian country, then it would not have been so very easy probably to go ahead with the occupation." – Olav Thon
"Football is the biggest sport in Norway for girls and has been for years, but at the same time, girls don't have the same opportunities as the boys." – Ada Hegerberg
---
Thanks for reading my collection of the best Norway quotes! Hopefully, they have sparked your curiosity and inspired you to visit the country.
Do you have any other quotes about Norway? If you do, leave them in the comments below. Let me know if you've been to Norway and what you think. I'm interested to see what your opinion of the country is!
Tom is a travel addict who first left England to spend a year Down Under. Not satisfied with this, he then went to New Zealand, about as far away from home as he could get. He is now planning his next adventures in Europe and Canada while maintaining this blog. Check out the about me page to learn more!