If you're looking for the best Alabama quotes, then you've come to the right place. Alabama is one of the most recognized states by name but not everyone will know an awful lot about it.
This is especially true if you live outside of America, where you're only familiar with the state, might be the Lynyrd Skynrd song, 'Sweet Home Alabama'. You'll also find some Sweet Home Alabama quotes from the film of the same name!
However, these quotes about Alabama will let about the rich history of the state and its fascinating culture. As well as amazing scenery and beaches, there are interesting cities such as Tuscaloosa and Selma that you have to visit while you're in the state. The latter played a prominent role in the civil rights movement in the 60s.
Alabama is also famous for its college football team, which is one of the best in the NCAA. If you're in the state during the college football season, watching a match is a must.
Hopefully, these Alabama sayings will inspire you to visit an underrated part of the States!
Table of Contents
Best Alabama Quotes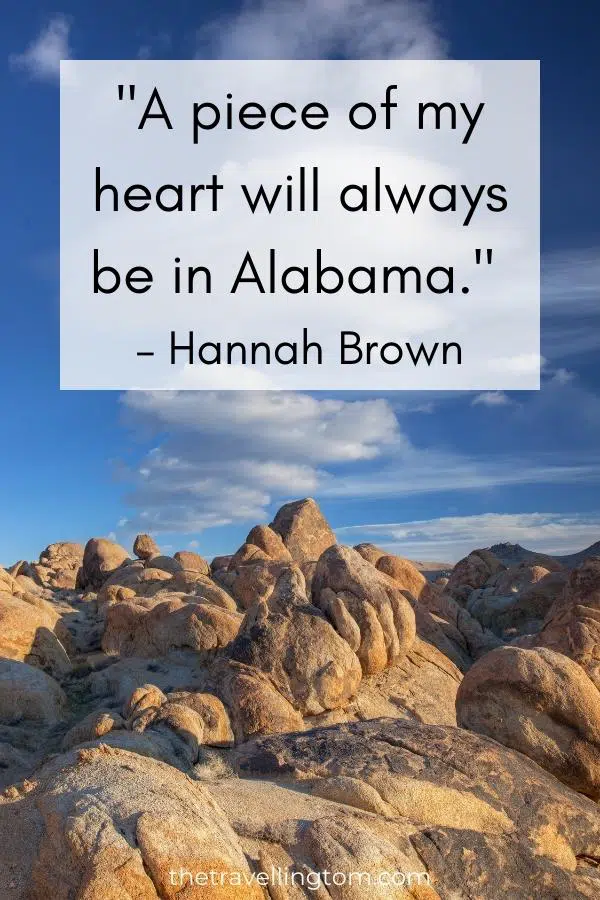 You might also like: Grand Canyon quotes
"A piece of my heart will always be in Alabama." – Hannah Brown
"My only crime was being born black – or being born black in Alabama." – Anthony Ray Hinton
"In 1965, the attempted march from Selma to Montgomery on March 7 was planned to dramatize to the state of Alabama and to the nation that people of color wanted to register to vote." – John Lewis
"There was never a time you could get the majority of people in Alabama or Mississippi, or even southern Delaware, to vote to end segregation. What changed things was the rule of law, the courts. Brown v. Board of Education was ushered in by a movement, but it was a legal decision." – Bryan Stevenson
"One of these days when I'm finished coaching at Alabama, I'll write an authorized book because there's only one expert on my life, and guess who that is… me. And there won't be any misinformation. There won't be any false statements. There won't be any hearsay. There won't be any expert analysis from anybody else. It will be the real deal." – Nick Saban
"I have a dream: That one day, down in Alabama, with its vicious racists, with its governor having his lips dripping with the words of "interposition" and "nullification" — one day right there in Alabama little black boys and black girls will be able to join hands with little white boys and white girls as sisters and brothers." – Martin Luther King Jr.
"My professional and personal roots in Alabama are deep and lasting." – Coretta Scott King
"May God continue to bless sweet home Alabama." – Kay Ivey
"The state of Alabama can take my freedom, the state of Alabama can take my future, but the state of Alabama cannot take my joy." – Anthony Ray Hinton
"I was raised in South Alabama in the woods, y'know? I'm country." – Shelby Lynne
"My grandmother was born in 1900, and she would regale me with tales I call 'Little House on the Prairie' tales, but they were tales of segregated and racist America growing up in Alabama and Mississippi, where she came from." – David Allen Grier
"I'm from Alabama and I have morals and I have class. That's my personality." – Katherine Webb
"I'm always kind of hoping that I'll get a movie that shoots in Alabama so I can go back and kind of get a break from my city life." – Nolan Gould
"Some Lynyrd Skynyrd songs are literally the backdrop of America. Songs like 'Simple Man' and 'Free Bird' and 'Alabama.' I wasn't prepared for how emotional the crowd gets during the songs." – Johnny Colt
"I think you'd change Alabama fundamentally if in six years someone said, 'If you want the best education in America, you've got to live in Alabama.' you'd change economic development, change the image of this state, you'd offer these kids an opportunity they otherwise would never have had." – Bob Riley
"I love my home state and my hometown. I'm so grateful to Birmingham and Alabama for what it made me." – Jordan Fisher
"While over Alabama earth These words are gently spoken: Serve and hate will die unborn. Love and chains are broken." – Langston Hughes
Alabama Quotes About Travel
You might also like: Sunrise quotes
"We used to travel through Alabama a lot and get onto back roads and just marvel at how pretty it was and how nice the people were." – Gary Rossington
"I've been to the Bahamas. It's a beautiful country with truly excellent people. When I took a cruise that docked for a couple hours in Nassau, it mostly reminded me of a giant version of my grandmother's neighborhood in Mobile, Alabama… but with better accents." – W. Kamau Bell
"New York is a completely different culture to Montgomery, Alabama." – Claudette Colvin
"I lived in Alabama for a while during the dying days of the Continental Wrestling Federation. I lived in Montgomery and traveled all over Alabama." – Mick Foley
"Alabama is a land of bountiful natural beauty, and our state and local trails are a means to experience and enjoy that outdoor splendor." – Kat Ivey
"For my band's debut tour in 2011, we road-tripped across the country in a 15-passenger van. It was the first time I'd left Alabama. I drove through scenery I'd only ever seen in calendars: auburn leaves falling in Vermont, the sun setting over purple mountains in Arizona. It was incredible." – Brittany Howard
"Folks in Alabama seem like folks in Georgia to me. I feel like you can just about combine the two." – Sam Hunt
"I grew up in Mobile, Alabama – somebody's got to be from Mobile, right? – and Mobile sits at the confluence of five rivers, forming this beautiful delta. And the delta has alligators crawling in and out of rivers filled with fish and cypress trees dripping with snakes, birds of every flavor." – Mike deGruy
"I grew up in Florida in different cities. I was born in Mississippi. My parents moved a lot, so I moved to Tennessee, Alabama, South Carolina, Virginia, all through the South. But my family's roots were from central Florida, like Daytona Beach area, so we ended up moving there." – Diplo
"I grew up really close to Alabama, about 10 minutes from the Alabama line. We'd make trips to Alabama, and I feel at home there." – Sam Hunt
"I grew up in rural Alabama, and some of my older family members used to eat red clay dirt. As a kid, I was introduced to it." – Cynthia Bailey
"Whenever I tell people in Berkeley, Calif., where I live, that I'm headed to the beach in Alabama, they are shocked. Most people outside of the Gulf Coast have no idea that Alabama has beaches – even though if you look at a map of Alabama, there is a part of it that looks as if it should belong to Florida." – W. Kamau Bell
---
You might also like:
---
Funny Alabama Quotes
You might also like: Hawaii quotes
"The only traffic I had to deal with in Alabama was a tractor." – Devlin Hodges
"I'm a wimp. I'm from Alabama. I don't like the cold." – Dabo Swinney
"I was born in Alabama, but I only lived there for a month before I'd done everything there was to do." – Paula Poundstone
"My dad was the biggest Alabama fan ever, and I was brainwashed." – Dabo Swinney
"My family is from a tiny town in Alabama. So all I wanted to do was get out of this town." – Lennon Parham
"In Alabama, when you come out of the hospital, they have to stamp your birth certificate with either Alabama or Auburn, or you don't leave." – Dabo Swinney
"I'm from Alabama. I'm not rude." – Kaitlan Collins
"You can say a lot of bad things about Alabama, but you can't say Alabamans as a people are unduly afraid of deep fryers. In that first week at the Creek, the cafeteria served fried chicken, chicken fried steak, and fried okra, which marked my first foray into the delicacy that is the fried vegetable." – John Green
Alabama Instagram Captions
Just a girl who loves Alabama
Here for the views and honky tonk bars
It's an Alabama thing, you wouldn't understand
Sweet home Alabama
Roll tide!
Be back never, staying in 'Bama
You can leave Alabama, but it will never leave you
Alabama, you're barbe-cute!
Alabama is the heart of America
Every time I visit Alabama, I always leave with a beautiful memory
Sweet Home Alabama Quotes
"The truth is I gave my heart away a long time ago, my whole heart, and I never really got it back." – Melanie Carmichael
"Your daddy… Lord, but I was a fool for that man. I couldn't even put one foot in front of the other. I just kept thinking, 'oh, preacher, hurry up before he changes his mind'!" – Pearl Smooter
"You can't have roots and wings." – Jake Perry
"You're the first boy I ever kissed, Jake, and I want you to be the last." – Melanie Carmichael
"Nobody finds their soulmate when they're ten. I mean, where's the fun in that, right?" – Jake Perry
"He knew that it would take more than an apology to get you back. He'd have to conquer the world first. He's been trying ever since." – Lurlynn
"I've never met anyone so manipulative, so deceitful, and I'm in politics." – Mayor Kate Hennings
"You can't ride two horses with one ass, sugarbean" – Earl Smooter
"You can take the girl out of the honky tonk, but you can't take the honky tonk out of the girl." – Bobby Ray
"I better have my lawyer take a look at these. I'm just a simple country boy. There's all kinds of big words in here I can't even pronounce. Hell, you might be takin' me to the cleaners for all I know."– Jake Perry
Quotes About Alabama's Culture and History
"By growing up in Alabama, I had a melting pot of the whole pie: R&B, gospel, country." – Lionel Richie
"I don't understand it, how President Johnson can send troops to Vietnam and cannot send troops to Selma, Alabama, to protect people whose only desire is to register to vote." – John Lewis
"In 1968 when I was in high school I built a four-foot-tall remote control robot with pneumatic cylinders that operated his hands. My robot won first place at a science competition at the University of Alabama where my high school was the only African-American school represented. That was a huge moral victory." – Lonnie Johnson
"I played the young Reese Witherspoon in 'Sweet Home Alabama' when I was 7, and the boy who played the young Josh Lucas was 10." – Dakota Fanning
"When states like Alabama and Arizona passed some of the harshest immigration laws in history, my Attorney General took them on in court and we won." – Barack Obama
"If you are a gay couple living in Alabama, you know one thing: your family has no standing under the law; and it can and will be violated by strangers." – Andrew Sullivan
"I got the sense that Alabama is a place where people don't want handouts and don't much care for people talking out of the side of their mouth." – Adam McKay
"I grew up in Alabama in a very small town and didn't have access to the finest of anything, really. But my mother was the kind of woman who just wanted us, me and my sisters, to be exposed to any and anything she could find." – Andre Holland
"You know what the lowest-rated episode we ever had was? Where Captain Kirk kissed Uhuru – a white man kissing an African-American woman. All the stations in the American South – in Georgia, Alabama, Mississippi, Louisiana – refused to air it. And so our ratings plummeted." – George Takei
"I'm one of the baddest, hardest-hitting heavyweights in the business. Right here from Alabama, baby." – Deontay Wilder
"My parents were both born in Birmingham, Alabama, and come from large Catholic families with lots of Michaels, Marks, and Patricks, so they wanted to choose two names that I don't think you could find anywhere else in the family tree: Haley and Joel." – Haley Joel Osment
"Dixie has just fallen to pieces. There are little patches of Dixie. But even in the heart of Dixie – in Alabama – Dixie is slipping. They've stopped using the word in commercial listings." – John Shelton Reed
"Life for my family was a real struggle, as it was for most in those farming communities in Alabama." – Jim Nabors
"I grew up in Gladstone, Alabama, on a dirt road, with an outside bathroom." – Matthew Knowles
"I live in rural Alabama, and it's very conservative. I've had one guy say 'you can't be a minister and a DJ at the same time'. I thought 'how does someone get to choose what God has assigned me to do – God has given me a ministry." – Robert Hood
---
Thanks for reading my collection of the best Alabama quotes! Hopefully, they've filled you with wanderlust and inspired you to check out the state.
Do you have any other quotes about Alabama? If you do, leave them in the comments below. Let me know if you've been to Alabama and what you think. I'm interested to see what your opinion of the state is!
Tom is a travel addict who first left England to spend a year Down Under. Not satisfied with this, he then went to New Zealand, about as far away from home as he could get. He is now planning his next adventures in Europe and Canada while maintaining this blog. Check out the about me page to learn more!