If you want to know the best Hawaii quotes on the web, you've come to the right place. Hawaii is one of the best states in America and utterly different from the other 49.
As a group of islands, Hawaii is unique among the states and has distinct scenery and culture that make it a must-visit. These Hawaiian quotes are designed to inspire you to visit and fire up your wanderlust.
These quotes about Hawaii focus on what makes the state such a great destination, such as the incredible mountains, beautiful beaches and distinct culture from the mainland. All are reflected in the quotes below. We also have some Hawaii captions for Instagram you can use with your photos too!
If you want some great Aloha quotes to excite you for an upcoming trip or inspire you to visit, read on!
Table of Contents
Best Hawaii Quotes
Whether you're looking for things to do in Waikiki, or you're planning a trip to the numerous natural beauty spots in Hawaii, the below quotes will inspire you to book your trip asap!
"For me, the magic of Hawaii comes from the stillness, the sea, the stars." – Joanne Harris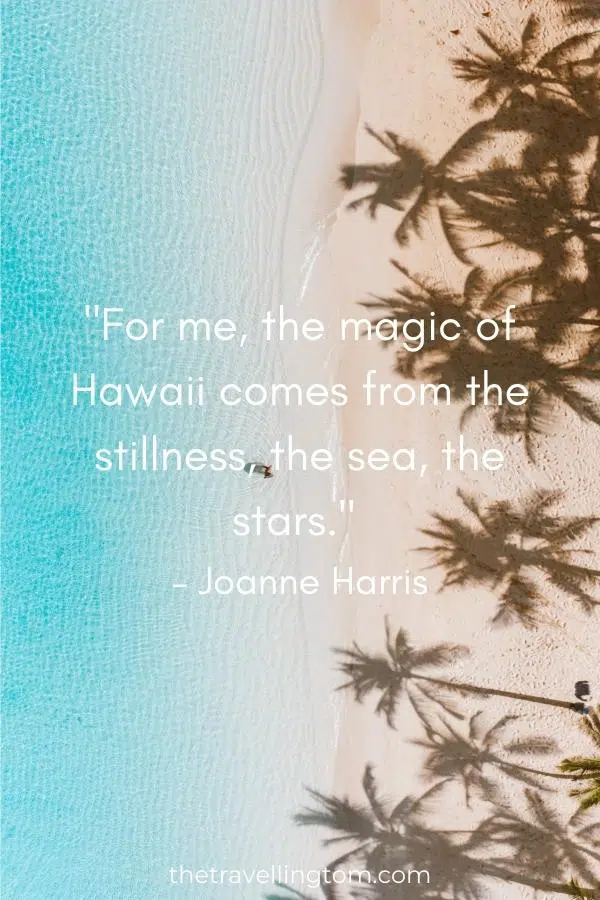 "Hawaii has always been a very pivotal role in the Pacific. It is in the Pacific. It is a part of the United States that is an island that is right here." – Dan Quayle
"Hawaii is the best form of comfort for me. When I die, I want to be cremated, and I want half my ashes spread in the Pacific around the island, the rest on the property." – Richard Pryor
"Hawaii is not a state of mind, but a state of grace." – Paul Theroux
"Hawaii is a beautiful place to bring up a family." – Henry Ian Cusick
"Hawaii feels so passionately about climate. You know, our oceans are warming. As a result, we have more ocean acidification and coral bleaching. You can actually see it." – Brian Schatz
"Coming to Hawaii is like going from black and white to color." – John Richard Stephens
"Hawaii is paradise. It sounds cheesy to say it, but there's music in the air there." – Bruno Mars
"One of the happiest times of my life, I lived in a tent on a porch on Hawaii." – Diane Greene
"Hawaii – the Aloha state – is built on the strength of its multicultural society, from our indigenous Native Hawaiian people to the many immigrants that followed." – Mazie Hirono
"I think it's really important as we position Hawaii as the policy leader in renewable energy." – David Ige
"Hawaii is absolutely beautiful." – Rachelle Lefevre
"Beating the drums for Hawaii is not hard to do… the place just grows on you." – James MacArthur
"I love to surf. Hawaii has some of the best waves in the world, and the most consistent as well. That's always fun." – Brendon Urie
"Eventually, I want to move to Hawaii and chill forever." – Riley Keough
"I love to be in Hawaii – everything very natural, and my style reflects that." –Colbie Caillat
"I live in Hawaii, and the trails and mountains here are just magic." – Alex O'Loughlin
"I translate Hawaii as a place where people make sure I'm having a great time, eating terrific food, without any expectation of anything in return. It's a place for people to be happy. It sounds corny, but in Hawaii, it's not; it's uncorny." – Roy Choi
"Hawaii is such a wonderful, healing place for me. I feel so at ease with the natives and love the tranquillity of the islands. It is a place to find inner peace and be one with nature." – Camille Grammer
Hawaii Quotes About Travel
"If you want to surf, move to Hawaii. If you like to shop, move to New York. If you like acting and Hollywood, move to California. But if you like college football, move to Texas." – Ricky Williams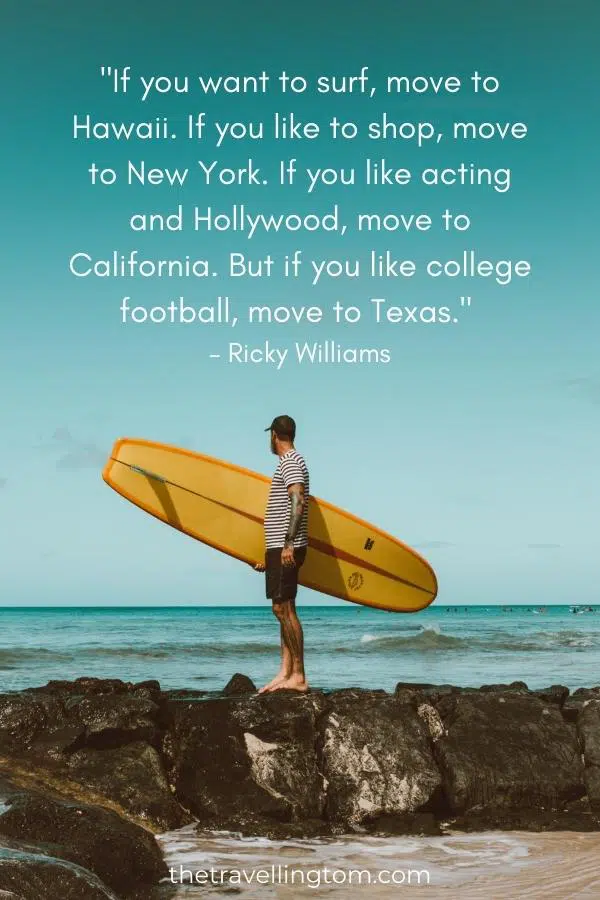 "Hawaii and Fiji are two of the best island groups in the world to visit as a vacationer. The great hotels, the fascinating local people, the exciting history of the two contrasting island groups, and the unmatched scenery make these two of the most enticing stopovers." – James A. Michener
"I was raised all over. Kansas, Hawaii, Georgia, Texas and Kentucky, by the time I was 11." – Jeri Ryan
"The beauty of Hawaii probably surpasses other places. I like the Big Island and the two mountains, Mauna Loa and Mauna Kea, where you can look out at the stars." – Buzz Aldrin
"Fresh seafood reminds me of Hawaii and eating raw ahi fish on the beach with a little soy sauce – instant sashimi." – Marie Helvin
"I moved to Hawaii from Inglewood, New Jersey. I had planned on retiring there." – George Benson
"A large part of Canada heads for Florida, California, and Hawaii in the winter to get away from the snow." – Margaret MacMillan
"I've never been to Hawaii. It looks amazing." – Noel Fielding
"I don't look down on tourism. I live in Hawaii where we have 7 million visitors a year. If they weren't there, there would be no economy. So I understand why a tourist economy is necessary." – Paul Theroux
"I love voyaging – the longest has been 3,000 miles to Hawaii. I've also spent weeks all over the Caribbean." – David Crosby
"Hawaii was beautiful of course, we played at Turtle Bay an amazing resort right on the ocean." – Natalie Gulbis
"I would love to rent a little cottage or cabin in Colorado and learn to ski or snowboard. And on the warmer side, I also want to rent a house in Hawaii and learn to surf!" – Karlie Kloss
"I love Hawaii. I really enjoy surfing in Oahu, and Waianae is such a great area. And Maui – I like Maui a lot, too." – Troy Polamalu
"I was on a beach in Hawaii for a video shoot once, and it was incredibly beautiful. It had very fine black sand with a silver sparkle running through it." – Louise Nurding
"My best vacations have been in Hawaii." – Sue Bird
Funny Hawaii Quotes
"Hawaii's the 50th state? I thought it was a suburb of Guam." – Bobby Heenan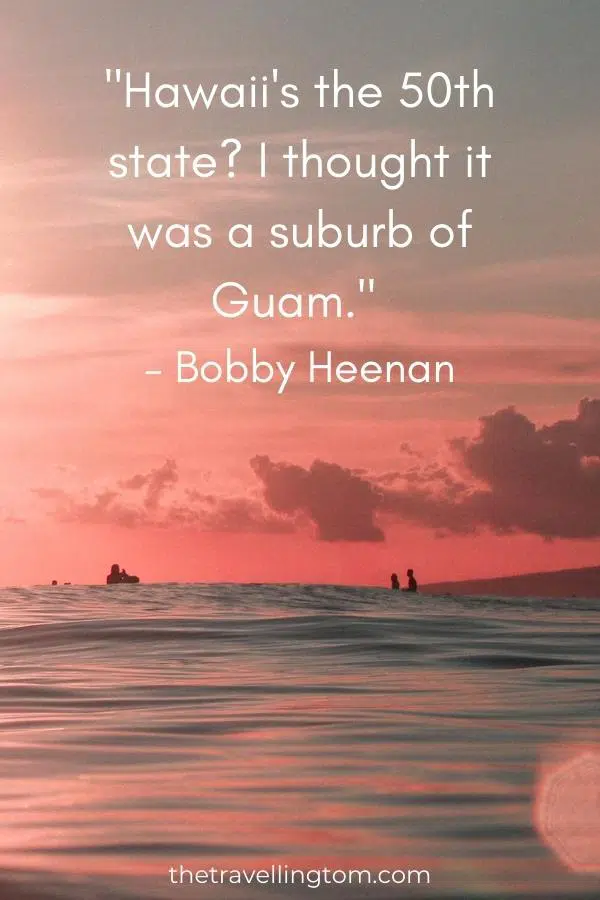 "My oldest daughter got married, she had a wedding in Hawaii and a reception in Nashville, and in between I had a Cup date in Dauphin, Manitoba." – Barry Trotz
"Syracuse, New York, is like Hawaii for eight months of the year. The other four months, I don't care about the weather because we're playing basketball." – Jim Boeheim
"Chasing kids on the beach and sleeping is the closest I come to exercising while in Hawaii." – Adam Scott
"I figured, correctly, that Berlin in February was not a destination coveted by tourists. I found good airfares on Lufthansa, an airline I quite like, and got a great rate at a brand new Ritz-Carlton, which clearly hoped to seduce visitors into forsaking Hawaii for Potsdammer Platz." – Erik Larson
"Two weeks in Hawaii with four kids is one of the dumber ideas I've ever had." – Rachel Hollis
"Hawaii is so boring because it's always sunny." – Daniel Dae Kim
Hawaii Captions for Instagram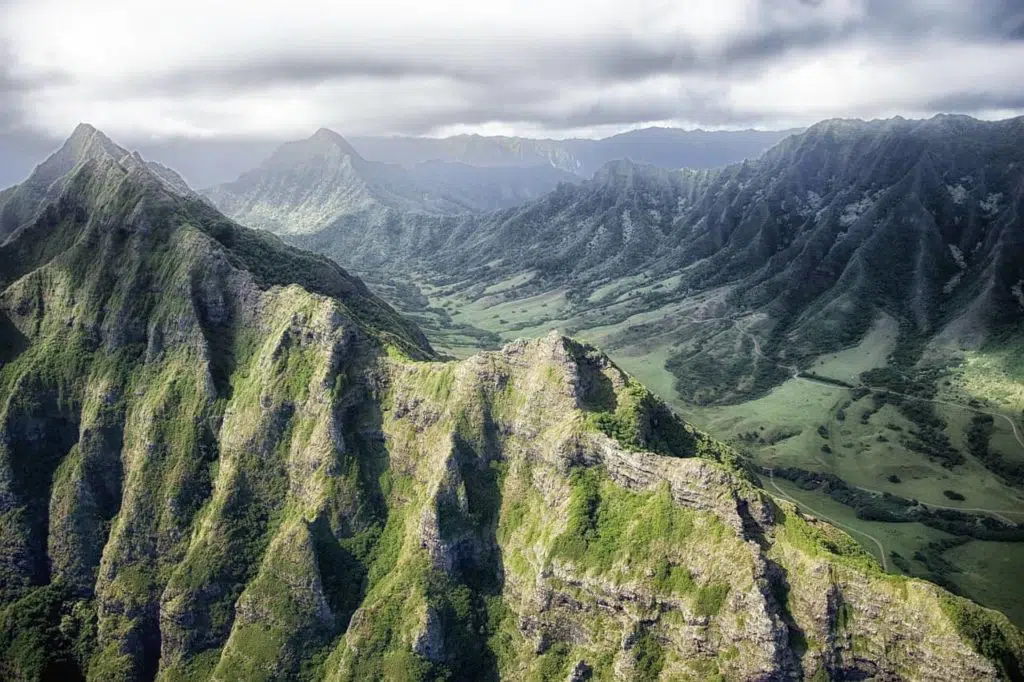 Be the aloha you wish to see in the world
You can't stop the waves, but you can learn to surf
I left my heart in Hawaii
Out of all the adventures I've taken, Hawaii is my favorite
Living that Hawaii life
Ready, set, hike.
Hawaii is always a good idea
The view from the top of Haleakala is one you'll never forget
I'd rather be in Hawaii
Alexa, take me to Hawaii
Hawaii is calling, and I must go
This is my happy place
You had me at Aloha
Quotes About Hawaii's Culture and History
"In Hawaii, we have something called Ho'oponopono, where people come together to resolve crises and restore peace and balance." – Duane Chapman
You might also like: Montana quotes
"We need Hawaii just as much and a good deal more than we did California. It is Manifest Destiny." – William McKinley
"American imperialism is often traced to the takeover of Cuba, Puerto Rico, and Hawaii in 1898." – Noam Chomsky
"Too much detail can bog down any story. Enough with the history of gunpowder, the geology of Hawaii, the processes of whaling, and cactus and tumbleweed." – Edward M. Lerner
"I can't even speak Hawaiian, but if you go there and listen to a Hawaiian song, you get captured because it's so beautiful, like the melody is just gorgeous and you know Bob Marley is on the radio every single day. It's very reggae-influenced down there. Basically, you haven't been to paradise if you haven't been to Hawaii." – Bruno Mars
"People love the ocean. People are always asking me why I don't study the ocean, because, after all, I live in Hawaii. I tell them that it's because the ocean is a lonely, empty place." – Hope Jahren
"My husband is from Hawaii and his father who was also born in Hawaii was a teenager when Pearl Harbor happened, right before church and he ran up and got on the roof of his grandfather's house and watched the planes go over." – Sigourney Weaver
"There's nothing – there's nothing – as action-packed as 'Hawaii Five-O.'" – Michelle Borth
"Things down here in Hawaii are similar to Alabama. We go to church every Sunday. People are treated like family there just like here. There are many similarities there, and you want to be somewhere that feels like home, and that's what Alabama feels like." – Tua Tagovailoa
'Hawaii can be heaven and it can be hell." – Jeff Goldblum
"Indian-styled garments are very popular in the U.S., especially in areas near the beach, like Hawaii and Los Angeles." – Maggie Grace
"Hawaii is a paradise – and I can never cease proclaiming it. But I must append one word of qualification: Hawaii is a paradise for the well-to-do." – Jack London
"If you look at a map, you see that Hawaii is in the middle of nowhere. It's 17 hours of straight flying from London. It's very far away, and sometimes you feel as if you're on another planet. But I like that. Also, that's ideal for writing." – Paul Theroux
"Incredible as it might seem, Hawaii is like a gigantic raft, drifting slowly with the centuries." – Terence Barrow
"Hawaii is so complex; there are so many points of view, and there are so many experiences to see and to find." – Kaui Kurt Hemmings
"The history of Hawaii may be seen as a story of arrivals." – Susanna Moore
"I think when you go to Hawaii, you'll notice the ambience, and you'll notice everyone is friendly because we all kind of think for each other." – Auli'i Cravalho
"I have great respect for the special nature of Mauna Kea and profound regard for Hawaii's culture, environment, and people." – Sandra Faber
"Hawaii is a melting pot of people and my school specifically has a lot of diversity that personally inspires me in everything I do." – Bretman Rock
---
Thanks for reading my collection of the best Hawaii quotes! Hopefully, you've enjoyed reading and are now considering a trip to this incredible state.
Do you have any other quotes about Hawaii? If you do, leave them in the comments below. Let me know if you've been to Hawaii and what you think. I'm interested to see what your opinion of the state is!
Tom is a travel addict who first left England to spend a year Down Under. Not satisfied with this, he then went to New Zealand, about as far away from home as he could get. He is now planning his next adventures in Europe and Canada while maintaining this blog. Check out the about me page to learn more!