These Utah Quotes are sure to inspire you to visit one of America's most beautiful states.
It's an incredible place to visit and home to some of the most incredible national parks in America such as Zion National Park. It's sites like the ones you can see at Zion that inspired some of the most famous quotes about Utah.
You can also check out Salt Lake City, Moab and many other great places in the Beehive State. a road trip around the state will help you se it in its full glory.
We've included some Utah captions you can use with your photos on Instagram and Utah puns too that will make you giggle! So, if you want to be inspired to visit one of the most underrated states in America, just check out some of these quotes!
Best Utah Quotes
"Everything that allowed me to come here to Utah has been great." – George Hill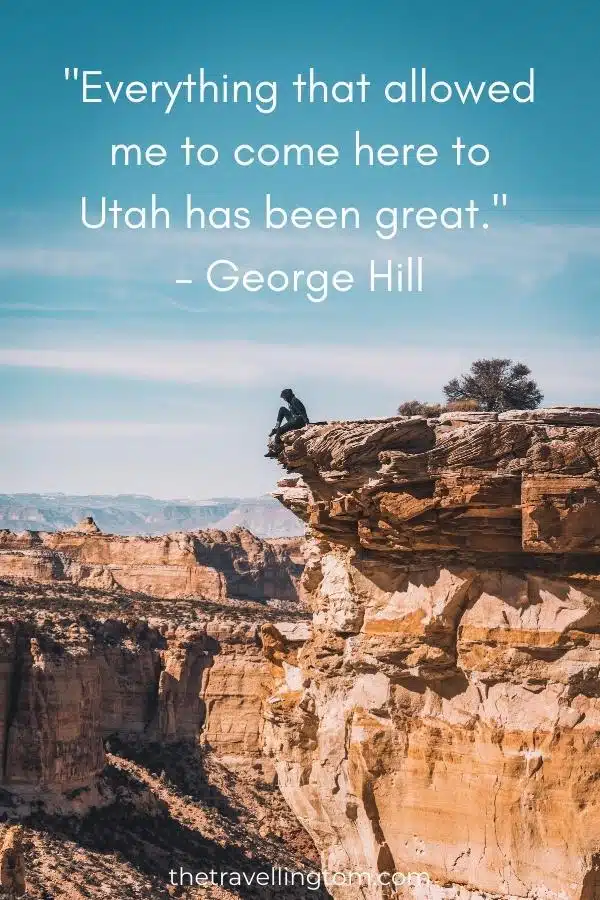 "Anyone who spends time on the road knows there's something special about being in the middle of Utah or Nebraska – you sit with it, and there's a peace about it. You can go left or right, and it opens up all kinds of doors. You take your own path." – Jason Momoa
"People make fun of Utah nightlife, but it's actually dope. I love it." – Donovan Mitchell
"The San Gabriel monument expands our natural heritage, but there is more in need of safeguarding – extraordinary places like Utah's Greater Canyonlands." – Francis Beinecke
"To be honest, I love being in Utah so I think most people have the wrong idea about the city, about the place." – Rudy Gobert
"I love Utah." – Joe Ingles
"Utah is a very special place for me. It helped me a lot." – Kyle Kuzma
"Utah was so different, I was so new to it. I didn't expect to stay. But as the years have gone on, I've grown to love it." – Derrick Favors
"It's funny – when you look at the real A-listers nowadays, look at how many live in and around Hollywood. Most of them live on a ranch in Utah. It's no coincidence these guys get in and get out." – Darren Boyd
"In Utah, there are no bad things in the water there. It's just smooth, really beautiful." – Steve Guttenberg
"Utah is amazing, it's incredible because it's so big. There are so many places to drive. There are curves, straight bits; it's like Road Runner country, frankly." – Edd China
"I love everything about being in Utah. I'll never change it. I don't need the big market to be happy." – Donovan Mitchell
Utah Travel Quotes
"I love living in Utah. I was born here but raised in L.A., but we decided about 13, 14 years ago to come here to Utah." – Donny Osmond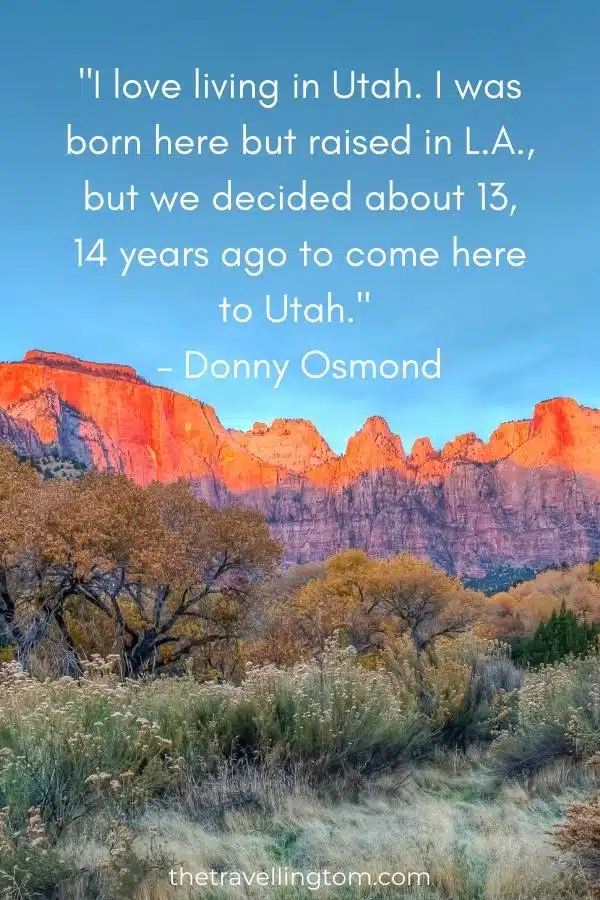 "My father moved out to Park City in the mid-'70s and lived in a Winnebago behind a hippie joint called Utah Coal & Lumber that was one of only two or three restaurants at that time. Park City was a sleepy little mining town, with not a condo in sight." – Ira Sachs
"I love a lot of Colorado and upper Utah. I think some of the most beautiful terrain is upper BC." – Joe Lando
"It's fascinating to go somewhere where you're away from everything. There are no houses, no buildings, no roads, no people. And for a little less extreme hunting, any place in the West – Colorado, Utah, Montana – that's just beautiful country." – Shawn Michaels
"When I first left Indianapolis, I was only 20 years old and moved out to Utah and had no friends or family there. I had my teammates but I was the youngest player and everyone had a family so video games and being able to play them with my friends, it was like I was hanging out with them." – Gordon Hayward
"Growing up in a Jewish matriarchal world inside the patriarchal paradise of Salt Lake City, Utah, gave me increased perspective on gender issues, as it also did my gay brother and my lesbian sister. Our younger sister is the perfect Jewish-American wife and mother, and is fiercely proud of that fact." – Roseanne Barr
"Snowboarding! I love it! Some of the best places to snowboard are Telluride and Park Cities, Utah." – Bridget Hall
"Family trips to Yellowstone and to what are now national parks in Southern Utah, driving the primitive roads and cars of that day, were real adventures." – Paul D. Boyer
"My family was lower middle class, and my parents both worked, so we couldn't take proper vacations. We'd go for three days to Santa Barbara or to the desert, so my first real vacation came was when I was 12 when friends of my parents were taking their kids away. We went to Grand Canyon, Bryce Canyon, and Zion National Park in Arizona and Utah." – Harry Shearer
---
You might also like:
---
Funny Utah Quotes
"Once you put yourself in the hands of the government, you could end up in Utah." – Michael O'Donoghue
"Colorado's right next to Utah – you know, Mormon Central." – Trey Parker
"I like Utah, but they don't have a Starbucks." – Mike D'Antoni
"I went to Salt Lake City and the Mormons tried to convert me, but when I found they forbade tea and tobacco I thought it was no religion for me." – Bertrand Russell
Utah Captions For Instagram
Utah is my therapy
Live. Breathe. Visit Utah. Repeat
The Deserted State
I'm in a good place right now. Not emotionally, I'm just in Utah
Dear Utah, I think about you all the time
I left my heart in Zion National Park
Either you love Utah or you are wrong
Utah is calling and I must go
Keep calm and go to Utah
Summer nights & Utah skies
Utah Puns
Arches you glad you're in Utah?
If you haven't been to Utah yet, Bryce yourself — it's beautiful
Canyon-believe these lands?
How well do you know Utah's geography — have U-taught yourself well?
Be – Utah – Ful
Don't get salt-y when I tell you Utah is the best state!
I want to take U-tah all the beautiful places
The way I speak, U-tah think there's no better place on earth
I'm Zion over these views
Salt Lake Pretty
Quotes About Utah's Culture and History
"Lifestyle-wise, like L.A. in general, Utah is very conservative, very laid back, and L.A. is nothing like that." – Kyle Kuzma
"Money speaks in Utah." – Robert Redford
"If the people of Utah shall peacefully form a State Constitution tolerating polygamy, will the Democracy admit them into the Union?" – Abraham Lincoln
"Actually, I was born in Las Vegas. My parents moved to Utah when I was eight because, after 40 years in Vegas, they were tired of it. We ended up in Nephi, a really small town in Utah." – Brandon Flowers
"Utah may well be the most cosmopolitan state in America. Vast numbers of young Mormons – increasingly women as well as men – spend a couple of years abroad as missionaries and return jabbering in Thai or Portuguese and bearing a wealth of international experience." – Nicholas Kristof
"Mother Nature is a master sculptor and in no place is that more evident than at Arches National Park." – Stefanie Payne
"Moab is seriously one of the most beautiful places I have ever been." – Isabelle Fuhrman
"Out in Utah, it's chill, laid-back. There's not a lot of rah-rah stuff going on. You can focus on your job, your career, whatever else you have going on." – Derrick Favors
Looking For More Quotes?
Lake Quotes – Discover some of the best quotes about lakes in this post.
River Quotes – If you love rivers, you'll love the quotes on this page!
Tom is a travel addict who first left England to spend a year Down Under. Not satisfied with this, he then went to New Zealand, about as far away from home as he could get. He is now planning his next adventures in Europe and Canada while maintaining this blog. Check out the about me page to learn more!