If you're looking for quotes about Scotland, then you've come to the right place! I've compiled a list of the very best quotes about this beautiful country.
These Scotland quotes describe in various ways the beauty and wonder you'll find in this incredible part of the world. Scotland is one of my favourite places to visit and there are multiple reasons for that.
The people are friendly and great fun, you have incredible cities to check out such as Edinburgh and Glasgow. While the scenery is on another level. The Isle of Skye is one of the most amazing places I've ever visited!
I've included some funny quotes about Scotland, captions for you to use with your Instagram photos and some Scotland puns and proverbs too.
Hopefully, these quotes inspire you to visit bonnie Scotland and experience one of the most fascinating countries in the world!
Table of Contents
Best Quotes About Scotland
If you're backpacking in the UK, you have to visit Scotland. There's no getting around it!
Scotland is arguably the most beautiful part of the country. Not visiting the Highlands or spending 3 days in Edinburgh would be a travesty.
Below are some of the best Scotland quotes that will show why you have to consider a trip to Scotland while you're in the UK.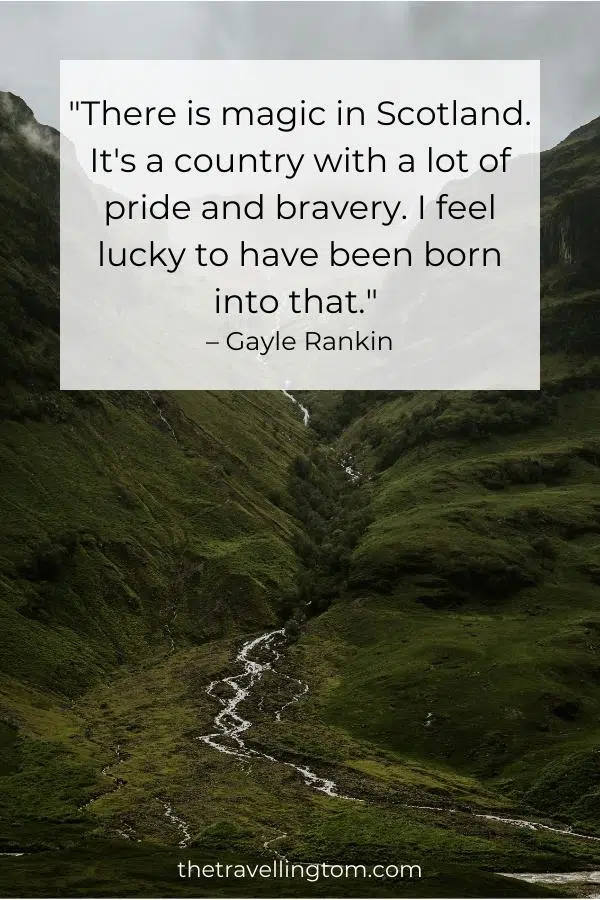 "There is magic in Scotland. It's a country with a lot of pride and bravery. I feel lucky to have been born into that." – Gayle Rankin
"Scotland is not a region of the U.K.; Scotland is a nation, and if we cannot protect our interests within a U.K. that is going to be changing fundamentally, then that right of Scotland to consider the options of independence has to be there." – Nicola Sturgeon
"When you hear someone from the very north of Scotland speaking, I think it's nice, very musical and harmonious." – Sean Connery
"I'm William Wallace, and the rest of you will be spared. Go back to England and tell them… Scotland is free!" – William Wallace
"I go to Scotland maybe three times a year, and I love it. When I'm at home, I feel at home, I feel myself, I feel connected." – Gerard Butler
"Singing Flower of Scotland was the only thing that made me nervous. I don't get nervous doing my own shows." – Amy MacDonald
"Scotland should be nothing less than equal with all the other nations of the world." – Sean Connery
"There are three reasons why I live in Scotland. First, I like silence, and you have to be a millionaire to buy silence in Italy. Second, I like cold weather. Third, in Italy I have too many relatives and know too many people, so I never get a quiet time." – Giancarlo Menotti
"Scotland is my country, the nation that shaped me, that taught me my values. A nation whose achievements inspired and inspire me, a community whose failings drive me – drive my overwhelming desire to fight for social justice and equality." – Johann Lamont
"Of all the small nations of this earth, perhaps only the ancient Greeks surpass the Scots in their contribution to mankind." – Winston Churchill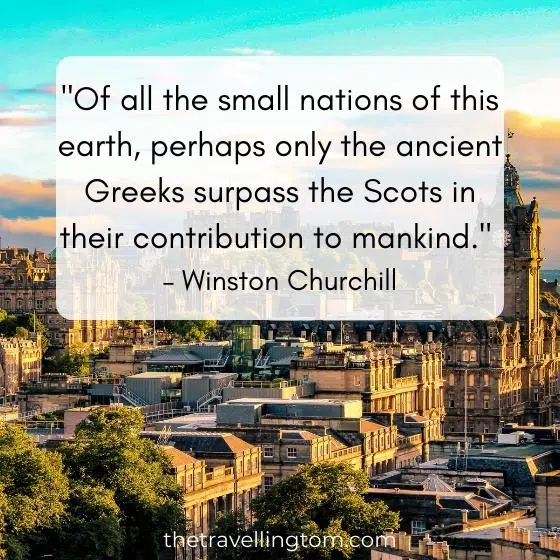 You might also like: Quotes about Ireland
"It's part of me, Scotland. I'm still immersed in it even though I am not there." – Irvine Welsh
"I come more to Scotland than I ever used to, so I feel more connected to it, more part of the zeitgeist. You know when you realize you have a choice and I'm choosing my homeland. It's funny: when you get older these things creep up to you." – Alan Cumming
"Everything I have done or attempted to do for Scotland has always been for her benefit, never my own and I defy anyone to prove otherwise." – Sean Connery
"Scotland is a much lighter and more fun place than I thought it was. I was miserable when I was there. But it wasn't Scotland's fault. It was my circumstances. I was – I hate to say the word humbled – but that's what it felt like. I was wrong about this place. This is a great place full of very fun people." – Craig Ferguson
"Scotland is the best place in the whole world." – Gail Porter
"There's just no place like Scotland when the sun is out. I just love coming home." – Ashley Jensen
"After I've been in America for a while, I get homesick for Scotland." – Billy Boyd
"Scotland just isn't terribly Tory." – Sara Sheridan
"I love going to Scotland." – Julianne Moore
"Scotland is so gorgeous that every time I'm there, I start to dream of living there. I want to buy one of those whitewashed cottages with the thatch roofs and gaze out at the sea and read my books. I want to be away from the Internet and the news and lawn mowers at 7 A.M. on Sunday mornings." – Julia London
"I'm rediscovering Scotland; I'm falling in love with it again." – Sam Heughan
Scotland Travel Quotes
Scotland is a fantastic country to travel. I loved all of my trips north of the border, such as my Isle of Skye road trip, which was an incredible trip around one of the most beautiful places on the planet.
These Scotland travel quotes will show you how good the country is and inspire you to make a trip of your own!
You might also like: Edinburgh quotes
"I love Scotland, mainly for its landscape. I like walking, and it's a great place to go hiking." – Toby Stephens
"There are few places in my life that I've found more ruggedly beautiful than the Highlands of Scotland. The place is magical – it's so far north, so remote, that sometimes it feels like you've left this world and gone to another." – Julia London
"In Scotland, beautiful as it is, it was always raining. Even when it wasn't raining, it was about to rain, or had just rained. It's a very angry sky." – Colin Hay
"The mud is cold when you're in the north of Scotland!" – Tahar Rahim
"My dad loved Scotland, so we would pile into his caravan and head for the Highlands, to Fort William and Loch Ness. It was such an adventure – my siblings and I were allowed to roam and explore the local beaches. We loved the freedom of those trips." – Rick Astley
"Scotland is undoubtedly the star of 'Outlander.' I'm so proud of the country and all it has to offer." – Sam Heughan
"It doesn't matter if it's soggy or it's sunny, there are so many lovely roads and awesome rugged countryside in Scotland – that's what makes it." – Edd China
"Even in rugged Scotland, nature is scarcely wilder than a mountain sheep, certainly a good way short of the ferity of the moose and caribou." – John Burroughs
"I won't tell anyone where my favourite place in Scotland is… but it might be somewhere on Skye." – Sam Heughan
"I am attached to the west coast of Scotland – it's gorgeous to look at and challenging. You have to contend with the possibility of being blown away or rained on. And in the summer months you can be eaten alive by midges." – Clive Anderson
"Both Plockton and the Isle of Muck in north-west Scotland are incredibly beautiful. Sadly, Plockton has been discovered by tourists because it's where they shot Hamish Macbeth." – Arabella Weir
"I absolutely love Scotland. I'm always happy there." – Jennifer Saunders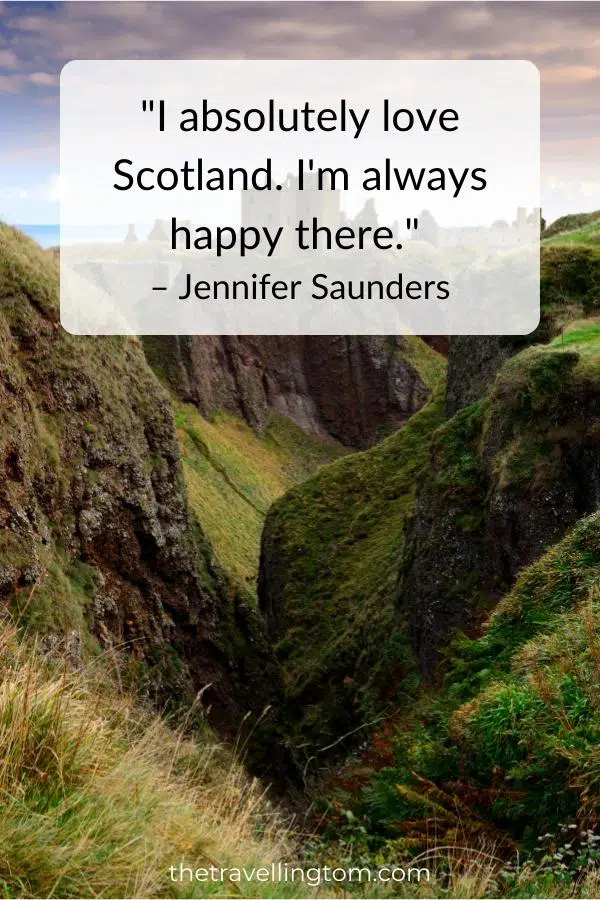 "For someone who doesn't live there, when I go back to Scotland it's very weird for me." – Jimmy Somerville
"I like Cornwall and particularly the Isle of Mull on the west coast of Scotland where I got married. It's absolutely beautiful." – Lee Mack
"I really enjoy travel, I enjoy the U.K., I enjoy Scotland, Glasgow." – George Wendt
"I've always loved Scotland, and I'm not a huge fan of big cities, to be honest. I like them to dip into for a bit, but I'm not sure I would want to live in one again." – Iain Banks
"Whenever I've been in Scotland I've had such amazing support, and the love from Scottish fans has always been great." – Olly Murs
"The great outdoors is a theme with me; a walking holiday in Scotland is perfect – Culloden and the forests of Aviemore are both favourites." – Erin O'Connor
"Although I don't live there anymore, Scotland is a great place for the people coming over to visit and to tour around the Highlands, because it is a very magical place." – James Cosmo
"I live out in the country in Scotland and know that if I close my eyes, I can recognise every sound." – Rory McCann
"Would I work in Scotland again? Of course I would. I loved every single second of being there." – Brendan Rodgers
"Scotland is extraordinary as a location, the light is amazing, for instance on the west coast." – Denis Lawson
---
You might also like:
---
Funny Quotes About Scotland
It's good to have a laugh now and then. These funny quotes about Scotland will provide you with plenty of laughter.
While some of them are just funny, others reveal what life and travelling in Scotland is like if you're unfamiliar with the country.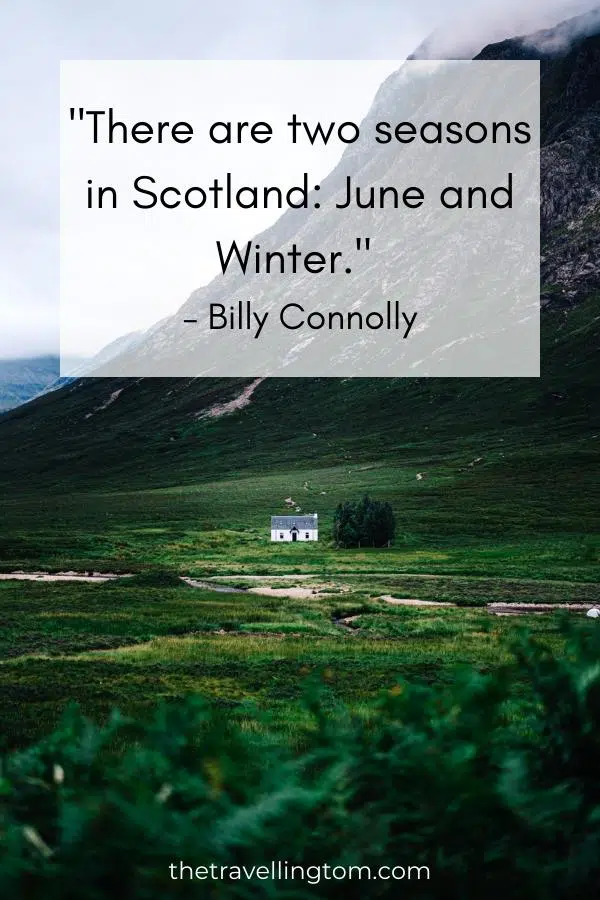 "There are two seasons in Scotland: June and Winter." – Billy Connolly
"It is true that I once refused to eat haggis in Scotland and this did not sit well with the local population." – Rick Riordan
"I am constantly disappointing people up in Scotland by not being Scottish!" – Jonny Lee Miller
"The Internet shows me how limited my interests are – there's everything out there and I'm still looking at what the weather's going to be like in Scotland." – Frankie Boyle
"I was born in London, and went to school in Scotland – I used to be dead tired when I got home at night." – Norman Wisdom
"Do I miss football in Scotland? It keeps you really alive, that's for sure. Your heartbeat fluctuates. I'm flatlining at the moment which is actually quite nice but you need to go up and down to stay alive." – Gordon Strachan
"We Slovenians are even better misers than you Scottish. Do you know how Scotland began? One of us Slovenians was spending too much money, so we put him on a boat and he landed in Scotland." ― Slavoj Žižek
"A couple of taxi drivers have asked me if we can survive financially as an independent nation. I say, how come we are more stupid than Denmark or Finland or Sweden? They've all got the same amount of people. Are we all going to down tools? Is everybody in Scotland going to stop working?" – Eddi Reader
"My place in Scotland is in the middle of nowhere, so you've just got a keyboard, guitar, a little drum machine and you know if you can work stuff out like that, if you can hammer out songs that sound good just with those three things and a voice, you're on your way." – Jay Kay
"In Scotland, I'm just like a lot of other guys, but in America, I'm seen as a very strong, masculine guy." – Gerard Butler
"You have to go to Scotland at all times of the year – in order to appreciate the times when the sun does come out." – Bill Bailey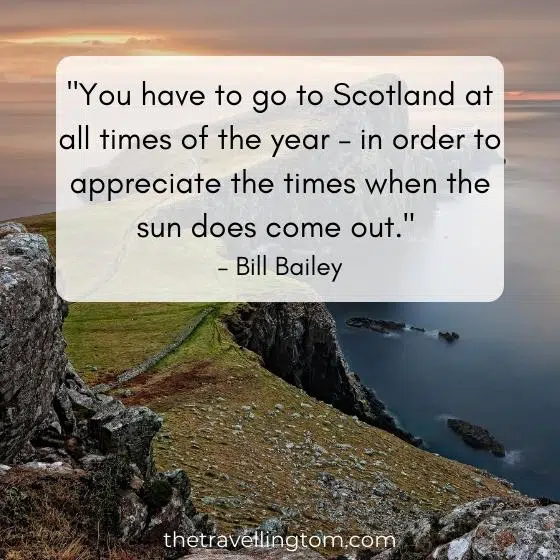 "They say that the older you get, the more conservative you become: perhaps that's the reason there are no Tories in Scotland." – Frankie Boyle
"There was nobody in my family who knew anything about the film industry. I'm from the west of Scotland. It's not exactly a mecca for filmmaking. I think I saw Rab C. Nesbitt in Asda once, but that was about it." – Kelly MacDonald
"I look upon Switzerland as an inferior sort of Scotland." – Sydney Smith
"Scotland's a pretty place. I mean, as long as it ain't raining." – Boo Weekley
"In a lot of farther-flung places in Scotland people are guarded at first, but as soon as they get to know you they really hate you." – Frankie Boyle
"Scotland is a picturesque country where the people are friendly yet completely incomprehensible. Also, the national delicacy is a sheep's stomach filled with its liver, lungs, and heart." – Adam Schlesinger
"I attempted to fish in Scotland and I managed to hook a dog. It was a horrible moment but the dog turned out to be fine." – Emily Blunt
"I lived for a year in Scotland. British sign language is very different from American." – I. King Jordan
"Politics in Scotland is far too important to be taken seriously." – Rory Bremner
"Gigs in Scotland are always so much fun." – Grace Chatto
"Two negatives make a positive but only in Scotland do two positives make a negative." – Frankie Boyle
Scotland Instagram Captions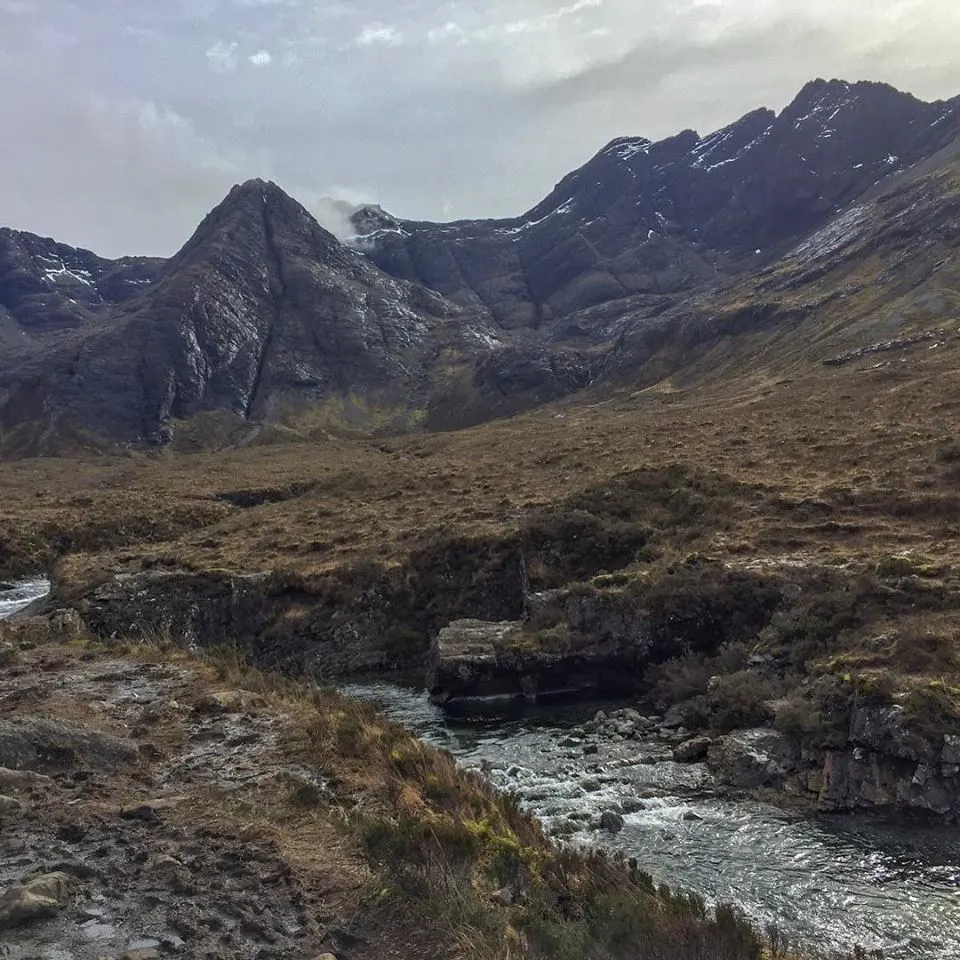 "Where's the whiskey?!"
"I have taken the high road. I have taken the low road. I have been to Scotland by morning."
I don't want to leave, but it's time for Glasgow.
"Put some whiskey in my coffee because it's Scotland somewhere!"
"Thistle nicely."
"Kiltn' it"
"Kilt: It's what happened to the last person who called it a skirt"
Don't think Scottish sheep are the cutest? Ewe gotta be kidding me!
Yes, I love whiskey. Who's caskin?
I need to mull over my decision on which Scotch to pick.
Scotch is neat.
"Don't marry for money, you can borrow it cheaper." ― Scottish Proverb
"Fools look to tomorrow; Wise men use tonight." ― Scottish Proverb
"Hours are Time's shafts, and one comes winged with death." ― Scottish Clock Motto
"The day has eyes, the night has ears." – Scottish Proverb
"The devil's boots don't creak." – Scottish Proverb
Quotes About Scotland's History and Culture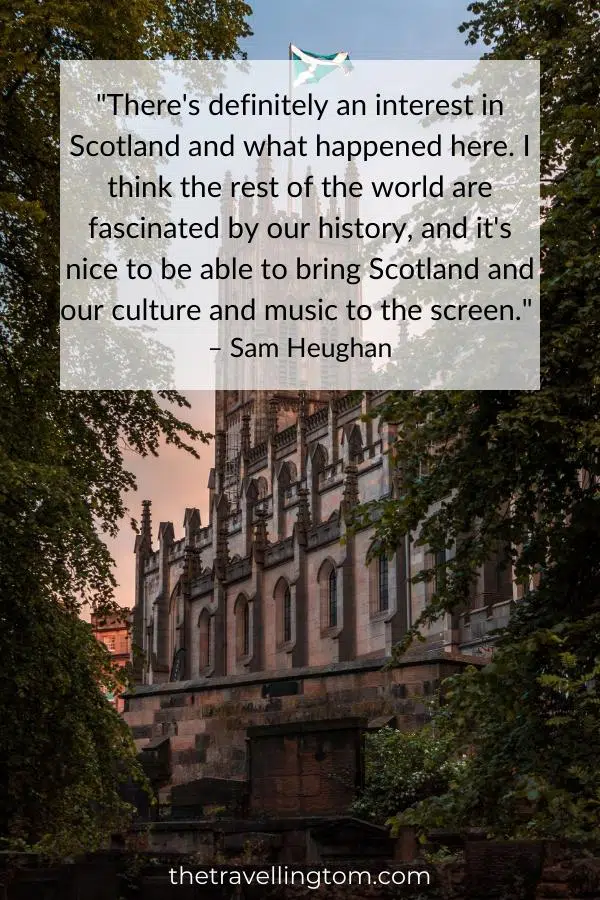 "There's definitely an interest in Scotland and what happened here. I think the rest of the world are fascinated by our history, and it's nice to be able to bring Scotland and our culture and music to the screen." – Sam Heughan
"If you put a frog in boiling water, it'll jump straight out. If you put it in cold water and gradually bring it to the boil, it'll sit right there until it dies. Scotland has been sitting in England's gradually boiling water for so long that many people are used to it." – John Niven
"Historically, Macbeth is one of the greatest kings Scotland ever had. He was on the throne for 19 years, and he simply has this dreadful reputation because Shakespeare manipulated history for the benefit of James I, who was paying him to write the play to blacken Macbeth's name." – David Hewson
"In 18th-century Scotland, the main event was the Jacobite rebellion under Bonnie Prince Charlie, so that seems like a nice dramatic backdrop." – Diana Gabaldon
"I have planted over 6,000 trees at home in Scotland, some of them oak. I'd like my children to be able to watch them grow." – Rory Stewart
"The thing I miss the most about Scotland is the football." – Robert Carlyle
"There is no sunlight in the poetry of exile. There is only mist, wind, rain, the cry of the curlew, and the slow clouds above damp moorland. That is the real Scotland; that is the Scotland whose memory rings the withers uncivilized from-home; and, in some way that is mysterious, that is Swielding that even a stranger learns to love" – H. V. Morton
"I remember my dad came from Ireland and Scotland, and so he carried with him the fear of poverty. So when I wanted to break loose, it kind of made him very nervous." – Robert Redford
"In Scotland over many years we have cultivated through our justice system what I hope can be described as a 'culture of compassion.' On the other hand, there still exists in many parts of the U.S., if not nationally, an attitude towards the concept of justice which can only be described as a 'culture of vengeance.'" – Keith O'Brien
"A glass of whisky in Scotland in the thirties cost less than a cup of tea." – Catherine Helen Spence
"It's different in Scotland. People who come to readings are more interested in literature as such, but the readership in general is really quite diverse. It's a cliche, but it's said that people who read my books don't read any other books, and you do get that element." – Irvine Welsh
"Scotland is one of my favourite places to perform: it's really something special. Scottish audiences are just so enthusiastic; their approach to dance music just feels similar to my own somehow." – Moby
"I'm interested in Scotland now and then, how it's changed. I want to get the reader to think about that by thinking about something from the past. How has society changed, how has policing changed, have we changed philosophically, psychologically, culturally, spiritually?" – Ian Rankin
"I think Scotland has some great stories." – Billy Boyd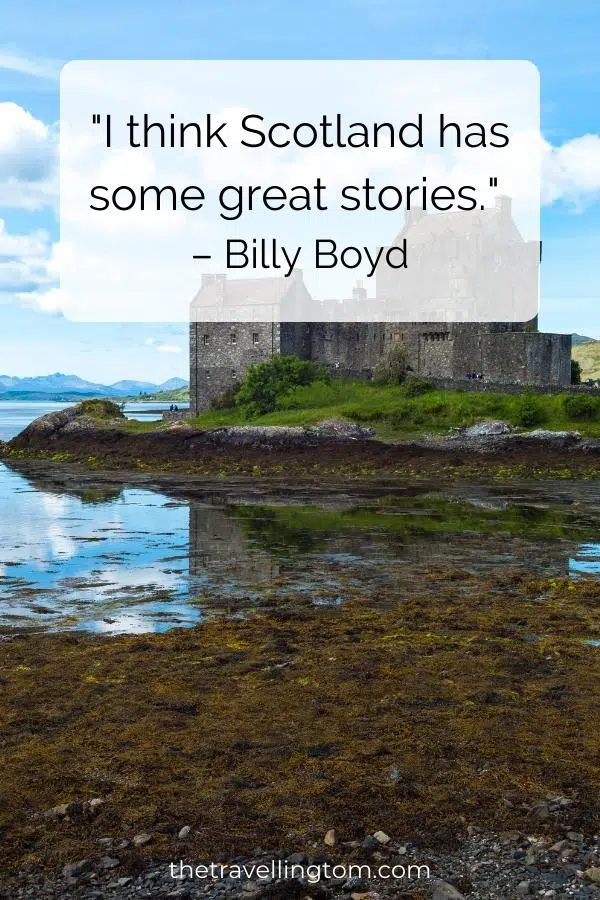 "When one thinks of golf and Scotland, the first thing that comes to mind is usually St. Andrews, especially the famed Old Course." Raymond Bonner
"I've always loved the fans in Scotland and have a little Scottish blood of my own." – Dolly Parton
"Witches were burned and killed in Scotland and England for centuries before what happened in Salem." – Janet Montgomery
"I was brought up in the north of Scotland, and where I lived was so lowly populated, it was used as a low-flying area by the Air Force, so lots of exciting aircraft used to fly over my village." – David Mackay
"Scotland never voted for Margaret Thatcher." – Nicola Sturgeon
"When you go away, you see where you come from in a different light. I see Scotland, and the rest of Britain, as much more exotic than I used to." – Irvine Welsh
"I think as much as people talk about Scotland as being a place where it's raining all the time it's a fantastic country. Considering it's such a small country you have to realise how successful it's been in the world of motorsport." – Susie Wolf
"I really got into Gaelic music and the whole sound of it, and I got to go to Scotland." – Rhiannon Giddens
"Fantasy, myth, legend, truth – all are intertwined in the story that is Scotland." ― Laurence Overmire
---
Thanks for reading my collection of the best Scotland quotes! Hopefully, they have sparked your curiosity and inspired you to visit the country.
Do you have any other quotes about Scotland? If you do, leave them in the comments below. Let me know if you've been to Scotland and what you think. I'm interested to see what your opinion of the country is!
Tom is a travel addict who first left England to spend a year Down Under. Not satisfied with this, he then went to New Zealand, about as far away from home as he could get. He is now planning his next adventures in Europe and Canada while maintaining this blog. Check out the about me page to learn more!