If you're looking for the best Italy quotes, then you've come to the right place. I've compiled some of the best quotes about this amazing country you'll find anywhere on the web.
These quotes about Italy will provide you with lots of brilliant reasons to go and visit one of the most fascinating countries on the planet.
From the ancient capital with the towering Colosseum and Pantheon to Florence, Milan and Sicily, Italy is full of so many amazing destinations you'd need a good year to explore all of the country. This is why it's such a popular destination, there's just so much to do!
I've included some funny quotes about Italy and captions for you to use with your Instagram photos too.
Hopefully, these quotes inspire you to visit Italy and experience one of the most fascinating in Europe, and the world!
Table of Contents
Best Italy Quotes
"You may have the universe if I may have Italy." – Giuseppe Verdi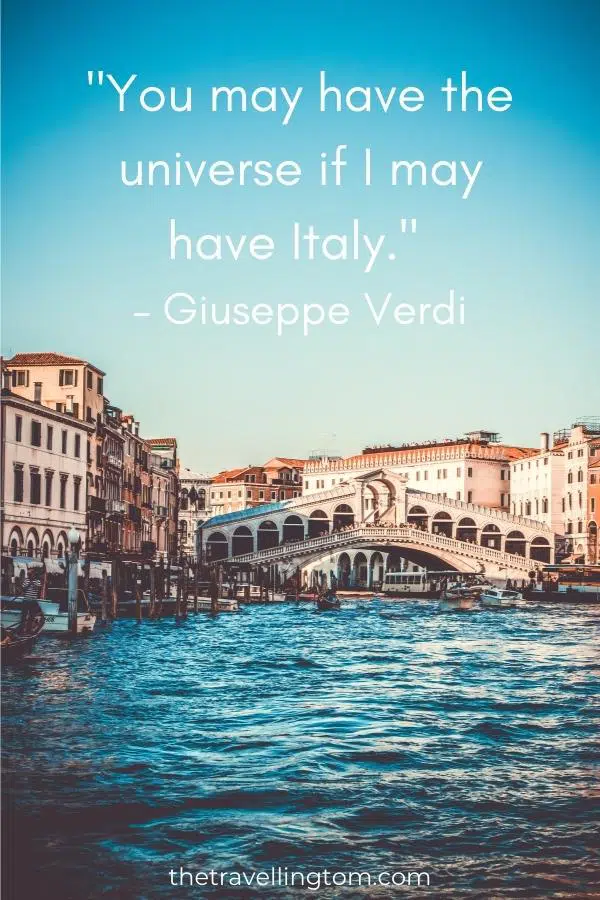 You might also like: Belgium quotes
"When I come to reflect on the subject, in no country have I received such honors or been so esteemed as in Italy, and nothing contributes more to a man's fame than to have written Italian operas, and especially for Naples." – Wolfgang Amadeus Mozart
"In Italy, food is an expression of love. It is how you show those around you that you care for them. Having a love for food means you also have a love for those you are preparing it for and for yourself." – Joe Bastianich
"Italy, and the spring and first love all together should suffice to make the gloomiest person happy." – Bertrand Russell
"For sure, in Italy, the sun always shines." – Aleksander Mitrovic
"Italy will always have the best food." – Diane von Furstenburg
"For us to go to Italy and to penetrate into Italy is like a most fascinating act of self-discovery." – D.H. Lawrence
"I think I feel automatically at home in Italy." – Boyd Rice
"Italy – I love the late-night culture, hanging around the square at midnight with everyone, catching up and having a drink." – Gemma Chan
"In Italy, they add work and life on to food and wine." – Robin Leach
"Italy was where the soul went to find calm and love, and I wanted to hold the best of it in the palm of my hand." – Lisa Brennan-Jobs
"You know, people come to Italy for all sorts of reasons, but when they stay, it's for the same two things." "What?" "Love and gelato." – Jenna Evans Welch
"I think I went to Italy initially for the art, architecture, food and history, but I stayed there because of the people in Cortona." – Frances Mayes
"I am proud to be Italian because I was born in Italy, I grew up in Italy, I went to school in Italy and I have worked in Italy. I'm Italian." – Mario Balotelli
"If I spoke Italian, I'd be in Italy in a minute. I love the food, I love the way people live there. I mean, it really is my idea of paradise." – Bonnie Bedelia
"Italy offers one the most priceless of one's possessions – One's own soul." — Barbara Grizzuti Harrison
"Italy is a country where pleasure principle dominates." ― Sari Gilbert
"How much energy is wasted in Italy in trying to write the novel that obeys all the rules. The energy might have been useful to provide us with more modest, more genuine things, that had less pretensions: short stories, memoirs, notes, testimonials, or at any rate, books that are open, without a preconceived plan." – Italo Calvino
"Everything in Italy that is particularly elegant and grand borders upon insanity and absurdity or at least is reminiscent of childhood." – Alexander Herzen
"The most stylish country in the world is Italy." – Nick Rhodes
"I have spent a lot of time in Italy throughout my career – especially when I was karting, because it's kind of the world centre of that sport – and I love it." – Lewis Hamilton
"Life is too short. If we're in Italy, have pizza and pasta. But not every day." – Harley Pasternak
"Italy has a special place in my heart." – Antoine Arnault
"Of course, we all know Italy is an amazing country. We have stunning coastlines and a scenic countryside. We have a climate that allows us to spend a lot of time outdoors. We have fashion, we have food. But life in Italy is so good that sometimes we tend to rest on our laurels." – Fabio Cannavaro
Italy Travel Quotes
"Traveling is the ruin of all happiness! There's no looking at a building after seeing Italy." – Frances Burney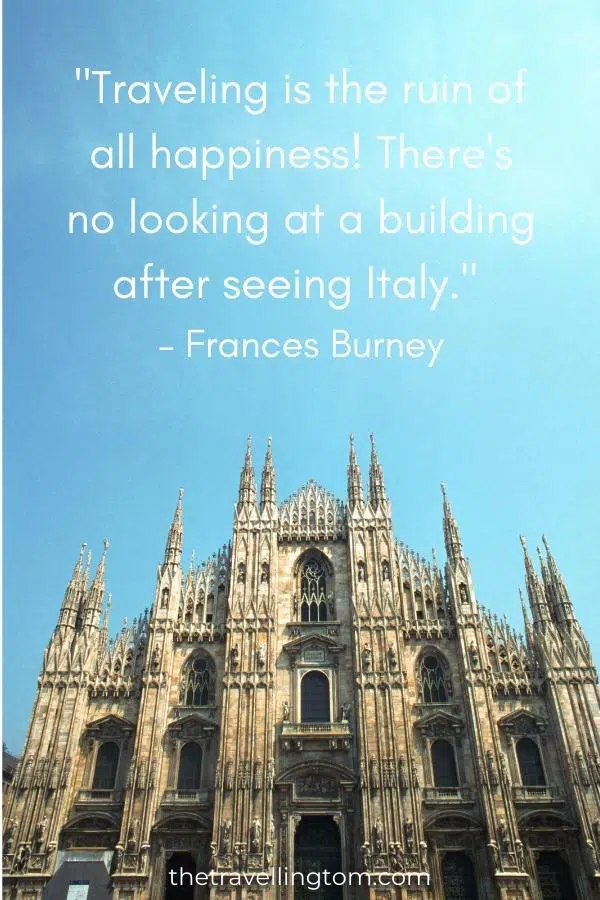 You might also like: Sicily quotes
"Bologna is the best city in Italy for food and has the least number of tourists. With its medieval beauty, it has it all." – Mario Batali
"One of my ambitions is to move to Tuscany. I like the idea of getting a vineyard. I love being under the sun and being casual and comfortable. That's my idea of heaven.' – Paolo Nutini
"A man who has not been in Italy, is always conscious of an inferiority." – Samuel Johnson
"Capri on the Amalfi Coast in Italy is my ultimate holiday destination." – Vidal Sassoon
"I remember the first time I went to Italy when I was eighteen, I was in Florence and there were all these eighteen, nineteen, twenty-year-olds gliding past on Vespas with crinkly, long, hair, and I thought I was on the set of a movie. I couldn't believe that this was going on and I hadn't known about it before. I was flabbergasted." – Walter Kirn
"I just went off for two months traveling around Europe on a motorcycle and pretty much turned my phone off. I did 5,000 miles with my dad. We went through Holland, Germany, Austria, Slovenia, Croatia, Bosnia, Montenegro, Italy… and then I did Spain and France by myself." – Michael Fassbender
"I love to travel the world. My husband and I always travel and everywhere we go I've been to Italy, of course London, Ireland, and you just receive so much love." – Tamera Mowry
"Until 1914 I loved to travel; I often went to Italy and once spent a few months in India. Since then I have almost entirely abandoned travelling, and I have not been outside of Switzerland for over ten years." – Hermann Hesse
"I would love to take a road trip across Italy in an Aston Martin S Coupe." – Esha Gupta
"Lucca, in Italy, is my favorite vacation spot." – Claudia Kim
"Italy is best for holidays." – Grace Chatto
"I always go back to Italy for holidays because I live half my life on the island of Sardinia." – Gino D'Acampo
Funny Italy Quotes
"I was offered a free villa in Hollywood, but I said no thank you, I prefer to live in Italy." – Ennio Morricone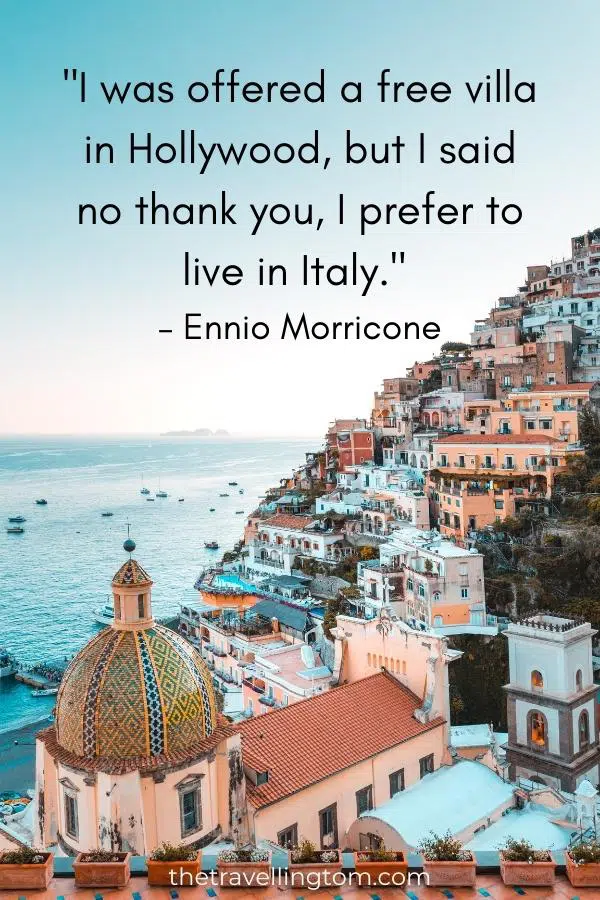 You might also like: Portugal quotes
"I would like to thank my parents in Vergaio, a little village in Italy. They gave me the biggest gift: poverty." – Roberto Benigni
"Every country gets the circus it deserves. Spain gets bullfights. Italy the Church. America Hollywood." – Erica Jong
"I couldn't settle in Italy – it was like living in a foreign country." – Ian Rush
"Italy is definitely where I feel most at home, or alternatively, living in total wilderness, in the bush in Australia." – Noah Taylor
"Certainly, in Italy, nobody takes light for granted." – Barbara Steele
"If I go to Germany, I learn something in addition. The German television is very precise and respectable. One has never stress. In Italy it is more dynamic. But I amuse myself madly in both countries." – Michelle Hunziker
"In Italy, even the policemen look like they've just come off a catwalk. One I found, standing on a rostrum in the middle of a Roman square, was immaculate, as was his routine. Each wave of the hand, each toot of the whistle and each twist of the body was Pans People perfect. Never mind that the traffic was completely ignoring him, he looked good, and that's what mattered. Looking good in Italy is even more important than looking where you're going.' – Jeremy Clarkson
"I am proof that you can make money in Italy and be honest." – Leonardo Del Vecchio
"Wasting time is something that people do or feel all over the world, not just in Italy." – Paolo Sorrentino
"I'm a pretty calm person. That came from living in Italy for a long time. Nothing works, nothing is on time. You have to learn to deal with it." – Tom Ford
"Nothing except time is wasted in Italy." – Thomas Bailey Aldrich
"The reality is that when you visit Italy, you'll be hijacked by relatives of all sorts; the entire family tree is waiting to meet you." – Ivanka Di Felice
"Veni, vidi, vici. That was easy for Julius Caesar to say; he crossed Italy in a chariot, not on a stupid bike." ― Leah Marie Brown
"Italians have a little joke, that the world is so hard, a man must have two fathers to look after him. And that's why they have godfathers." – The Godfather
"I got married on a beach in Italy. It was very romantic getting married in Italian. But I've no idea what we agreed to." – Denis Lawson
Italy Instagram Captions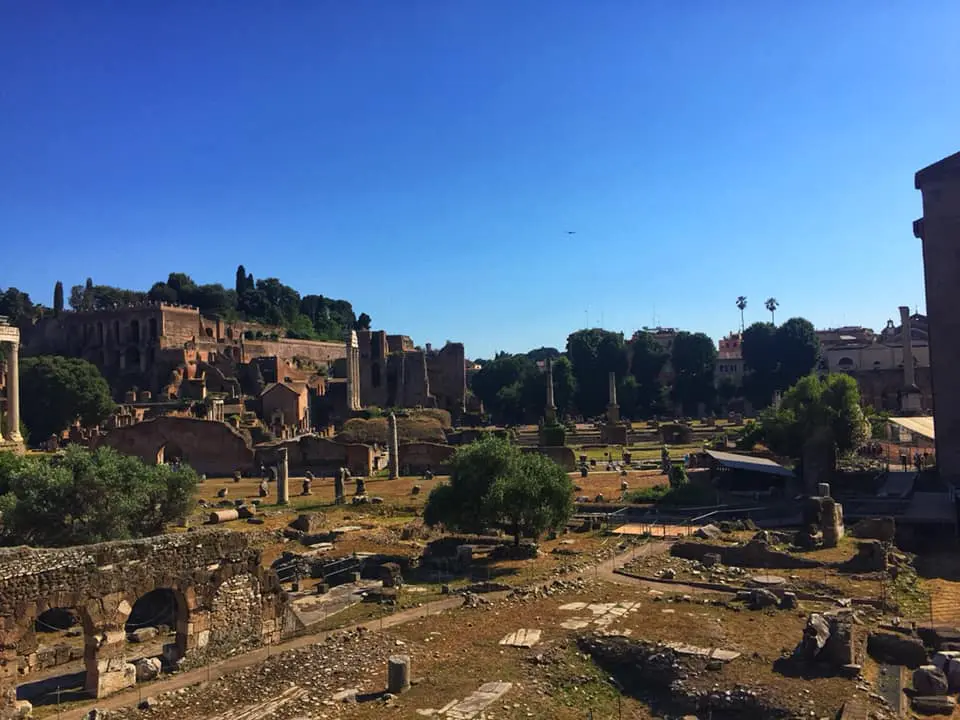 La Dolce Vita
Let's go Rome
Penne for your thoughts?
Leaving a Pizza My Heart in Italy
When in Italy, carbs are no longer sin!
You Cannoli do so much on one vacation
You Wanna Pisa Me?
No place like Rome
When in Rome…
Espresso Yourself
Quotes About Italy's Culture and History
"We don't sell a car, we sell a dream. We are Italy's national team. There are many great soccer teams in our country, but there is only one Ferrari." – Luca di Montezemolo
"In Italy, for 30 years under the Borgias, they had warfare, terror, murder and bloodshed, but they produced Michelangelo, Leonardo da Vinci and the Renaissance. In Switzerland they had brotherly love, they had 500 years of democracy and peace – and what did that produce? The cuckoo clock." – Graham Greene
"The Vatican is a dagger in the heart of Italy." – Thomas Paine
"Yes, young men, Italy owes to you an undertaking which has merited the applause of the universe. You have conquered and you will conquer still, because you are prepared for the tactics that decide the fate of battles." – Giuseppe Garibaldi
"In Italy, there's perhaps a little less space than in Spain, but there's certainly as much sunshine." – Carlo Rubbia
"If you deconstruct Italy, you will, in the end, see a grapevine, a tomato and a small boy hammering a shard of marble." ― Pietros Maneos
"In a way I spend my entire life stealing from everything – from the past, from cities I love, from where I grew up – grabbing things, taking not only from architecture but from Italy, art, writing, poetry, music." – Renzo Piano
"In Italy, there are so many significant architectural structures in history such as the Pantheon in Rome, or the Duomo." – Tadao Ando
"Ireland, Italy and Brazil are the most musical places for me. They're extremely musical cultures and anything you pitch they basically catch." – James Taylor
"Like Venice, Italy, New Orleans is a cultural treasure. And everyone who lived in the city should be allowed to come back. But that doesn't mean that they all should live in exactly the same spot that they lived before." – Ed McMahon
"Italian cities have long been held up as ideals, not least by New Yorkers and Londoners enthralled by the ways their architecture gives beauty and meaning to everyday acts." – Rebecca Solnit
"Italy is the last country where people savour the joy of living. It makes us believe it even when Italy herself has ceased to believe." — Roger Peyrefitte
"Italian culture is so deeply soaked in an appreciation of the good things in life." — Mariska Hargitay
"Italy is famous for fashion, food, Ferrari, and furniture – furniture was a segment where the companies in the high end are all small." – Luca di Montezemolo
"In Italy, football is too important. There is more pressure on coaches, teams, directors. Now is not a good moment for football in Italy. The stadiums are not full. There are problems with violence; it's very difficult with the ultras. People don't go to the stadium just to enjoy 90 minutes of football. People go to the stadium to fight, to win." – Carlo Ancelotti
"Totally contrary to my genetic makeup, contrary to my usual behaviour and preferences, contrary to all logic, I fell madly in love with Italy, its people and its chaos." – Nancy Yuktonis Solak
"Italy, all the same, had spoiled a great many people; he was even fatuous enough to believe at times that he himself might have been a better man if he had spent less of his life there." ― Henry James
"I cook a lot of Italian food. Bucatini Pomodoro is my best: it's a fat spaghetti with tomato, olive oil, and reminds me of getting married in Italy." – Bill Rancic
"Italy in the first years got food, for the first year or the first periods got food. Then we got raw materials and then we got tool machines, let's say, instruments for working." – Gianni Agnelli
"You're a Catholic in Italy when you're born, it's unthinkable to stop being Catholic. You just take the rules a lot more seriously, because it pervades your culture." – Andrew Greeley
"Italy is full of historical buildings. And Europe holds a great history of philosophy from Greece until today. I read all those books and see these buildings, and I think of where I stand when I design my architecture." – Tadao Andoren
"I spent five years in Italy, and the Italians have a slightly different lifestyle. Everything is a bit slower and more easygoing. You can feel that when you live there; you become a little more relaxed about typically 'German' things like accuracy and punctuality." – Miroslav Klose
"Everybody in Italy cooks. They have a better knowledge of the kitchen – that's the place around which the whole of Italian society revolves." – Gino D'Acampo
"In Italy the artist is a god. Now if the artist is a god, the scientist is likewise a god." – Josef Albers
"Italy will never be a normal country. Because Italy is Italy. If we were a normal country, we wouldn't have Rome. We wouldn't have Florence. We wouldn't have the marvel that is Venice." – Matteo Renzi
---
Thanks for reading my collection of the best Italy quotes! Hopefully, they have sparked your curiosity and inspired you to visit the country.
Do you have any other quotes about Italy? If you do, leave them in the comments below. Let me know if you've been to Italy and what you think. I'm interested to see what your opinion of the country is!
Tom is a travel addict who first left England to spend a year Down Under. Not satisfied with this, he then went to New Zealand, about as far away from home as he could get. He is now planning his next adventures in Europe and Canada while maintaining this blog. Check out the about me page to learn more!