These Switzerland quotes will tell you all about this incredible country and why you should visit it!
Switzerland is one of the most beautiful countries in Europe. No matter what part of the country you visit, you're almost guaranteed to find spectacular scenery and incredible cities.
These quotes about Switzerland offer a glimpse into the culture, history and landscapes that constitute Switzerland. From the epic Matterhorn to cool cities such as Geneva and Zurich, there's a lot to see and do in the country.
I've included some Swiss proverbs and captions for Instagram too, that you can use with your photos to describe the beauty of Switzerland.
Take a look at this collection of Swiss quotes and get inspired to book your trip there today!
Table of Contents
Best Switzerland Quotes
"I've been to a lot of places while touring, but I'd have to say Switzerland was my favorite." – Drake Bell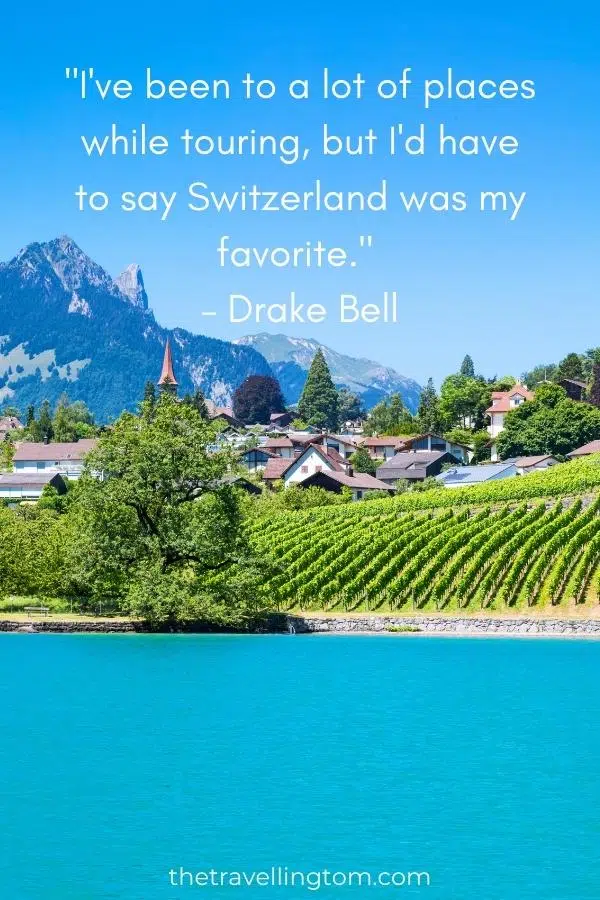 "Switzerland is a country where very few things begin, but many things end." – F. Scott Fitzgerald
"Switzerland is a small, steep country, much more up and down than sideways, and is all stuck over with large brown hotels built on the cuckoo clock style of architecture." – Ernest Hemingway
"Internationally, I love going to Switzerland. I went there many times for shooting and loved the Alps, the tranquility, cleanliness, the greenery and the warmth of the people there." – Chiranjeevi
"It's tough to find a place not to like in Switzerland." – Michele Bachmann
"In a war everybody always knows all about Switzerland, in peace times it is just Switzerland but in war time it is the only country that everybody has confidence in, everybody." – Gertrude Stein
"I was born in Kosovo and grew up in Switzerland." – Xherdan Shaqiri
"Maybe if I was born in Kosovo, I might not be where I am now, so I need to thank Switzerland, of course, because I went to school there, learnt to play football there, and started my career there." – Granit Xhaka
"I initially moved to Switzerland for work on an animated feature film, and have been here ever since." – John Howe
"In an ideal world, I'd spend every weekend at my home in Zermatt in Switzerland." – Vanessa Mae
"I'm quite fond of Switzerland. I love Switzerland." – James Balog
"To be an artist at all is like living in Switzerland during a world war. To be an artist in Zurich, in 1917, implies a degree of self-absorption that would have glazed over the eyes of Narcissus." – Tom Stoppard
"I have been to Switzerland a handful of times, and it is quickly becoming one of my favorite places to climb." – Tommy Caldwell
"I'm from Switzerland, so I grew up with great chocolate." – Daniel Humm
"I see the cliffs, glaciers, torrents, valleys of Switzerland – I mark the long winters and the isolation." – James Joyce
"My rank is the highest known in Switzerland. I'm a free citizen." – George Bernard Shaw
"I already lived in Switzerland in 2002, and from this time I know that it's a very calm country. I really enjoy living there." – Felipe Massa
Switzerland Travel Quotes
"Switzerland's hallucinatory landscapes demand immediate action – grab boots, leap on board, toot bike bell and let spirits rip." – Nicola Williams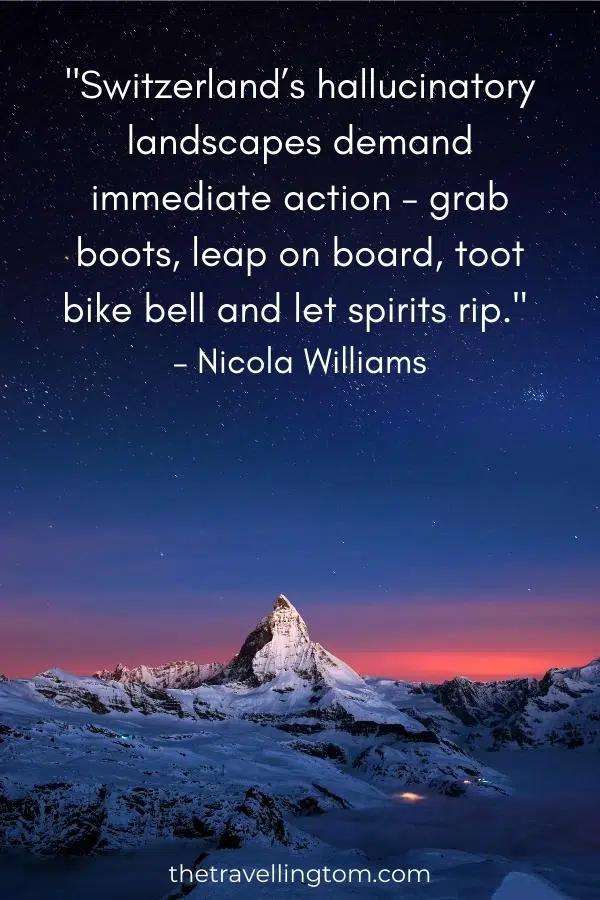 "If I go to someplace like Switzerland, I find a lot of uptight people because they're living amongst so much beauty; there's no urgency in trying to find the beauty within themselves. If you're stuck in New York, you have to somehow look within yourself – otherwise, you'd go crackers." – George Harrison
"Until 1914 I loved to travel; I often went to Italy and once spent a few months in India. Since then I have almost entirely abandoned travelling, and I have not been outside of Switzerland for over ten years." – Hermann Hesse
"After a summer trip to Switzerland, which was rich in experiences, I started writing. In the beginning, I aimed at descriptions of nature and folk life until, as the years passed, the description of man became my chief interest." – Henrik Pontoppidan
"I moved to Switzerland when I was 8, and during our breaks, we'd go to snowboard, and he'd take me to the mountains; we'd take a train. It was kind of crazy, you know. When I think about it, I wake up at 4, take a train to the mountains, sleep in the train and then go snowboard, and then come back. It was quite a mission." – Chloe Kim
"I grew up a little bit in Germany and then in Switzerland, then in France, the United States and in England, and so it is weird." – Alexander Dreymon
"I just got back from Switzerland, which I've never been to. I went to Switzerland and Amsterdam." – Linda Cardellini
"One of the happier ironies of recent history is that even as Tibet is being wiped off the map in Tibet itself, here it is in California, in Switzerland, in Japan. All over the world, Tibetan Buddhism is now part of the neighborhood. In 1968, there were two Tibetan Buddhist centers in the West. By 2000, there were 40 in New York alone." – Pico Iyer
"I kind of work on an airplane. The Burger King brand headquarters is in Miami. The Tim's headquarters and our head office is in Toronto. And we have international offices for the brands in Switzerland and Singapore, so I kind of bop back and forth around all the offices. And I try to spend most of my time visiting our restaurant owners." – Daniel Schwartz
"I love the region around Lake Geneva. The landscape is beautiful, very peaceful, and such a nice place to relax and spend time outdoors. It's always a pleasure to come back home." – Stan Wawrinka
"I loved my mission in Switzerland and Germany. As I left on the train from Basel, Switzerland, tears flowed down my cheeks because I knew then that my full-time service in the Church had ended." – Joseph B. Wirthlin
"I love nature like nothing else. Before I moved to Switzerland, my home was a flat in London with a garden. In those snatched moments away from dance, I did typical weekend things like pruning, planting, and weeding. I planted fruit trees and even had a vegetable garden, but I wasn't around enough, so it was a disaster." – Sylvie Guillem
"Swiss cities remind me of the kid at high school who's great at sports, has perfect hair, the best girlfriend, and the teachers all love him. He's just too perfect." – Rick Steves
"'Onward' was a song I wrote in Montreux, in Switzerland, when we were there camping out for the whole winter. In the summer, Montreux is a really, really big summertime-touristy, full-of-life kind of place. In the winter, it closes down." – Chris Squire
"My father, born in Colorado, met my mother, born in Switzerland, when he went into the finance company where she worked and asked for a loan." – Susan Straight
"I was born in Belgium. I went to school in England and in Switzerland, then I came to America, so I really feel like I am a citizen of the world." – Dianne von Furstenberg
"I grew up partially in Switzerland but mostly in Australia. I lived in Kakadu for a short time – it's an Aboriginal community. My best friend growing up was Aboriginal. She taught me so much." – Isabel Lucas
Funny Switzerland Quotes
"I've always wanted to go to Switzerland to see what the army does with those wee red knives." – Billy Connolly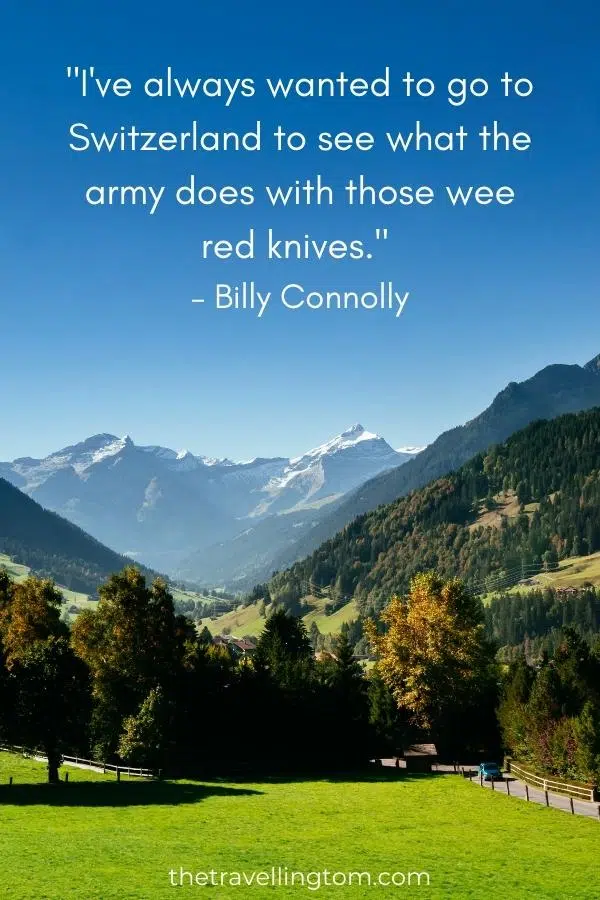 "In Italy, for 30 years under the Borgias, they had warfare, terror, murder and bloodshed, but they produced Michelangelo, Leonardo da Vinci and the Renaissance. In Switzerland they had brotherly love, they had 500 years of democracy and peace – and what did that produce? The cuckoo clock." – Graham Greene
"A U.N. study claims the happiest country in the world is Switzerland. When asked why they're so happy, Swiss people couldn't answer because their hands were counting money and their mouths were full of chocolate." – Conan O' Brien
"Switzerland is a place where they don't like to fight, so they get people to do their fighting for them while they ski and eat chocolate." – Larry David
"I was a garbage man in New Jersey in summers during college at Yale. Everybody else got to go to Switzerland and I got to go to the dump." – Tom Perrotta
"I look upon Switzerland as an inferior sort of Scotland." – Sydney Smith
"Switzerland would be a mighty big place if it were ironed flat." – Mark Twain
"Switzerland's been weird since they unplugged the clocks." – Carly Simon
"I don't like Switzerland; it has produced nothing but theologians and waiters." – Oscar Wilde
"Since Switzerland has nothing else to identify it and since both its national products, snow and chocolate, melt, the cuckoo clock was invented solely in order to give tourists something solid to remember it by." – Alan Coren
"The Swiss have perfected the negative mental attitude so that it works positively. They have the happy knack of seeing the downside of any situation." – Paul Bilton
"The Swiss have an interesting army. Five hundred years without a war. Pretty impressive. Also pretty lucky for them. Ever see that little Swiss Army knife they have to fight with? Not much of a weapon there. Corkscrews. Bottle openers. 'Come on, buddy, let's go. You get past me, the guy in the back of me, he's got a spoon. Back off. I've got the toe clippers right here." – Jerry Seinfield
"I keep my opinions to myself. I'm neutral – like Switzerland." – Sistine Stallone
"Why did I move to Switzerland? To buy Keith Richards used blood." – Luca Tramontin
Switzerland Captions For Instagram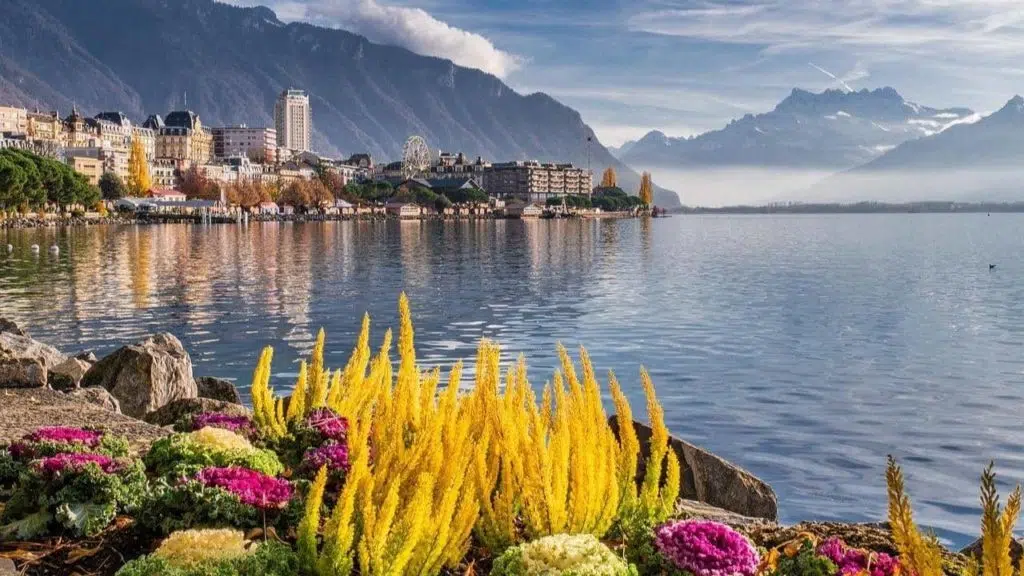 All about that Basel
I'm feeling so so-Swiss-ticated in Zurich
Life is sweeter in Switzerland
Switzerland is spectacular
Taking in Switzerland with Swiss precision
Mountains, lakes and much more in Switzerland
What's so great about Switzerland? Well, the flag is a plus
This day just keeps getting better and Federer
Switzerland will take your breath away
Switzerland is truly magical
Swiss Proverbs and Sayings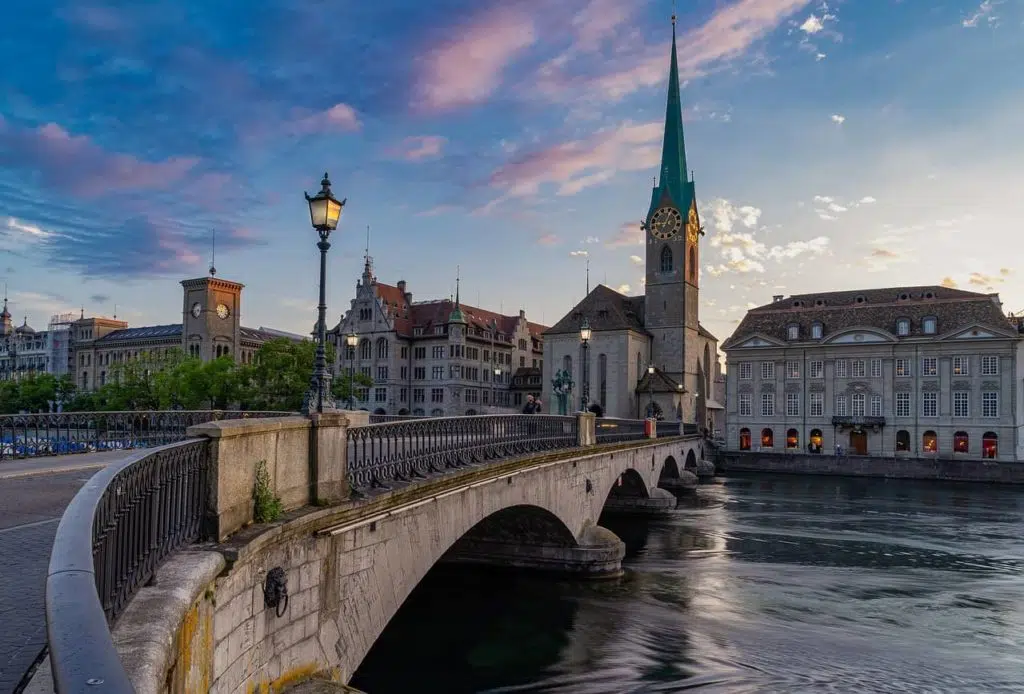 In a house of gold, the clocks are of lead
If you close one eye, you will not hear everything
A greedy person and a pauper are practically one and the same
When a merchant talks about sheep he means the hide
To be a fool at the right time is also an art
What good is a golden gallows if they are going to hang you?
Sometimes you have to be silent in order to be heard It's easier to criticize than to do better
A good spectator also creates
One simple maxim is often worth more than two good friends
The tongue is the worst piece of meat in the world
Words are dwarfs; deeds are giants
The poor lack much, but the greedy lack more
Quotes About Switzerland's Culture and History
"Thinking ahead is highly valued in Swiss everyday life, whether you are making plans, or catching a bus." – Margaret Oertig-Davidson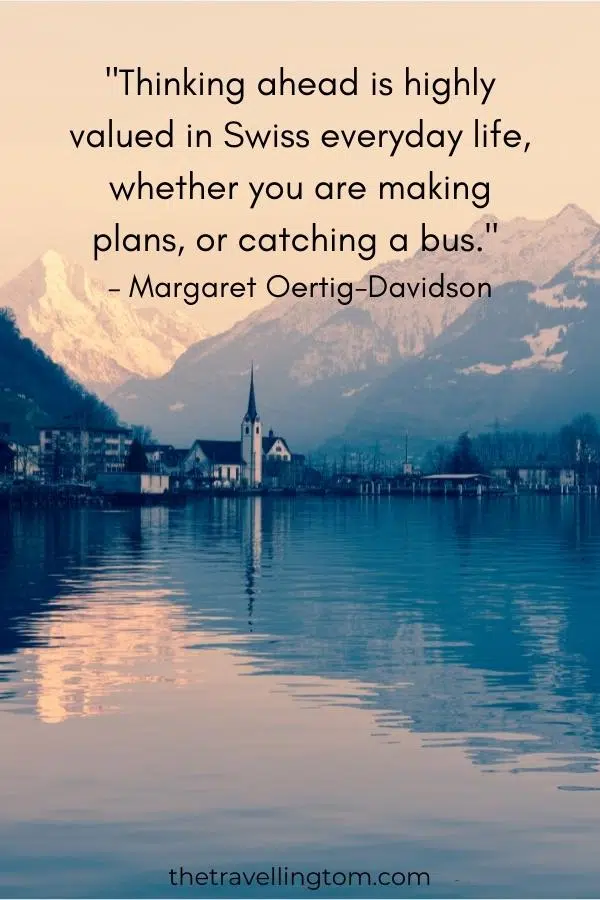 "I was born in South Africa during apartheid, a system of laws that made it illegal for people to mix in South Africa. And this was obviously awkward because I grew up in a mixed family. My mother's a black woman, South African Xhosa woman… and my father's Swiss, from Switzerland." – Trevor Noah
"I've never had a bank account in Switzerland since 1984. Why would the Swiss do this to me? Maybe the Swiss are trying to divert attention from the Holocaust gold scandal." – Benazir Bhutto
"Norway or Switzerland are two marvellous countries, I very much admire, the most advanced countries in the world in fact with great qualities of life." – Jose Manuel Barroso
"In Switzerland, we have a centuries-old tradition of living together in one confederation and one society. That holds us back from excesses. We are a civilized and enlightened community and, by practising multicultural tolerance, we manage to stop extreme developments from going too far." – Klaus Schwab
"If we heard that somebody starved to death in Sweden or Switzerland, we would be shocked." – P.J. O'Rourke
"Growing up in Switzerland, you learn German pretty much from day one in school. You learn French and Italian as well. I took English as an extra language because I figured that was the language of the world." – Cesaro
"I left Britain because I fell in love with someone who lived in Switzerland – that was the main thing." – Phil Collins
"That's one of the reasons I moved to Florida. Of course, the main reason is the weather and the training. But there's more jealousy in Switzerland because it's so little and they don't have so many athletes." – Martina Hingis
"I have built already seven very large railway stations: one in Italy; two in Belgium; and in France, and in Switzerland, in Portugal, and also in the United States. And what happens is that stations are not things that come from one day to another, it takes many years." – Santiago Calatrava
"It's the change of rhythm which I think is what keeps me alive. In Spain, I hear so much noise from my window that can't stand it. In Switzerland, it's the lack of noise that drives me crazy." – Geraldine Chaplin
"The whole world is set up so that for places like Switzerland to exist, that are crime-free and with the best care for everybody, you have to have places like Sudan, or Jamaica. But really, there's enough to share, when you check it. It's not that complicated, really. It's probably less thinking and more feeling that's required." – Damian Marley
"When I was still young and living in Switzerland, I had auditioned in Munich for a German film and was rejected. So I gave up and concentrated on my stage work. But I always wanted to make films." – Bruno Ganz
"Switzerland has no competition. It sits in the middle of Europe, it has the highest technological development, it's legally safe and the political circumstances are never going to change." – Jean Ziegler
"I can always tell when my mother, an artist who grew up in Switzerland, starts to feel nostalgic for home. It is the smell of the crispy apple tarts, the ginger cookies, and the creamy muesli full of nuts and fresh berries. The scent alone delivers a rush of childhood memories for me." – Suleika Jaouad
"I get all my ideas in Switzerland near the Forka Pass. There is a little town called Gletch, and two thousand feet up above Gletch there is a smaller hamlet called Über Gletch. I go there on the fourth of August every summer to get my cuckoo clock fixed. While the cuckoo is in the hospital, I wander around and talk to the people in the streets. They are very strange people, and I get my ideas from them." – Dr. Seuss
---
Thanks for reading my collection of the best Switzerland quotes! Hopefully, they have sparked your curiosity and inspired you to visit the country.
Do you have any other quotes about Switzerland? If you do, leave them in the comments below. Let me know if you've been to Switzerland and what you think. I'm interested to see what your opinion of the country is!
Tom is a travel addict who first left England to spend a year Down Under. Not satisfied with this, he then went to New Zealand, about as far away from home as he could get. He is now planning his next adventures in Europe and Canada while maintaining this blog. Check out the about me page to learn more!