Looking for Rome quotes? Then this is the post for you! I've compiled the best list of quotes about Rome you'll find anywhere on the web.
If you need inspiration for your trip to Rome, then this post will help. But, in all honesty, the thought of viewing the Colosseum, Trevi fountain and various other sites in the city should more than suffice!
Rome is one of my favourite cities and I can't express how much I love it there. It doesn't matter whether you love history, food, or even sport, there's something for everybody in Rome. These quotes reflect the beauty and attraction of the Italian capital.
This collection of Rome quotes should give you the inspiration and wider understanding of the city needed to book your trip to one of the most incredible cities on the planet!
Best Rome Quotes
3 days in Rome might not be enough for some people, but it will allow you to get a good handle on the city.
There's so much to do in Rome, you could easily spend a week exploring everything. However long you spend in the city, here's a collection of some of the best quotes about Rome to get you excited for your trip!
"I found Rome a city of bricks and left it a city of marble." – Augustus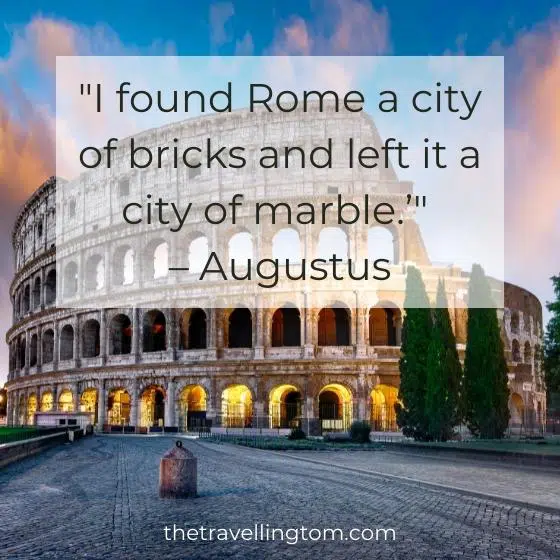 "Rome is the city of echoes, the city of illusions, and the city of yearning." – Giotto di Bondone
"Rome will exist as long as the Coliseum does; when the Coliseum falls, so will Rome; when Rome falls, so will the world." – Venerable Bede
"Rome was a poem pressed into service as a city." – Anatole Broyard
"Rome was not built in one day." – John Heywood
"When thou art at Rome, do as they do at Rome." – Miquel de Cervantes
"I thought I knew everything when I came to Rome, but I soon found I had everything to learn." – Edmonia Lewis
"Everyone soon or late comes round by Rome." – Robert Browning
"I have lived most of my life in Paris, but I have a connection with Rome that I have with no other place. I'm attached by invisible strings." – Darius Khondji
"Nothing compares to Rome. Nothing. People there are crazy about football – in a positive way." – Edin Dzeko
"I just love Rome. It really does cast a spell on you." – Alec Baldwin
"Rome holds my psyche in balance. Whenever I'm there, it's like a holiday." – Giambattista Valli
"Rome is possibly my favorite city in the world. I have such fond memories there – most of them food-related." – Mallory Jansen
"The beauty of Rome is that you can wander into a pizzeria just about anywhere and get a real Italian pizza that's thankfully worlds away from the Super Supreme I used to order at Pizza Hut as a kid." – Ed Stoppard
"Rome is a broken mirror, the falling straps of a dress, a puzzle of astonishing complexity. It is an iceberg floating below our terrace, all its ballasts hidden beneath the surface." ― Anthony Doerr
"Rome is not like any other city. It's a majestic museum, a living room to tiptoe through." — Alberto Sordi
"If I wasn't an actress, I'd like to cook. I'm pretty obsessed by it. Rome was great in that sense, going to amazing cookery bookshops. No wonder their food is good because the quality and wide range of their produce is so good. It's not fair, really." – Polly Walker
"As far as cities, one of my favorite stops every year is Rome I think it's super fun to play there, because the tournament is really cool and the fans are super engaged, but also you get to walk around going to dinner, and the history – it's truly one of the most amazing cities in the world. I love it." – Madison Keys
"Yes, I have finally arrived at this Capital of the World! I now see all the dreams of my youth coming to life. Only in Rome is it possible to understand Rome." – Johann Wolfgang von Goethe
"In Rome, one had simply to sit still and feel." ― E.M. Forster
Rome Travel Quotes
With so many things to do in Rome, it's no surprise it's one of the most popular places to visit in Europe.
The Colosseum, Pantheon and Trevi fountain are just a few of the things you can do in the city. These Rome travel quotes below will give you a flavour of what you can expect in the city.
"When in Rome, live as the Romans do; when elsewhere, live as they live elsewhere." – Saint Ambrose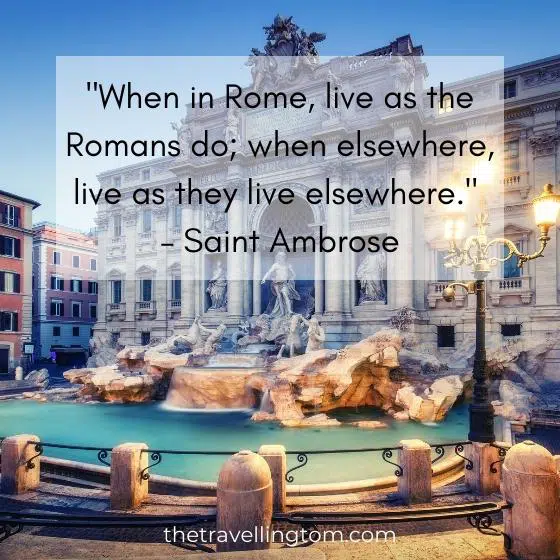 You might also like: Venice quotes
"If I'm in Rome for only 48 hours, I would consider it a sin against God to not eat cacio e pepe, the most uniquely Roman of pastas, in some crummy little joint where Romans eat. I'd much rather do that than go to the Vatican. That's Rome to me." – Anthony Bourdain
"I am a sucker for those old traditional places, and Rome is as good as it gets, particularly when you throw in Italian food." – Roger Federer
"All roads indeed lead to Rome, but theirs also is a more mystical destination, some bourne of which no traveller knows the name, some city, they all seem to hint, even more eternal." – Richard La Gallienne
"Going around Rome, you can find beauty because, quite simply, Rome is very beautiful. But the beauty of the people is sometimes harder to discover." – Paolo Sorrentino
"In Rome, I particularly love the history, churches, sculptures and architecture and the fact that you can walk along a tiny cobbled street and turn the corner to find the Trevi Fountain. London is evocative of other eras and full of history." – Philip Treacy
"Rome is one of my favourite cities in the world." – Erin Heatherton
"Rome is my most favorite city, so I really enjoy to stay here and the whole tournament." – Daniela Hantuchova
"I do remember one of the first great experiences of going to Europe was playing in Rome hearing the people sing our music so loud. It was louder than the music we were playing." – John Petrucci
"Rome is a place almost worn out by being looked at, a city collapsing under the weight of reference." – Graham Joyce
"I grew up in Rome, in actually what I would say was a liberal, open-minded family. My father was an architect and my mother was a teacher of art history, so it was sort of intellectual, and maybe a bit much for me when I was a child." – Frida Giannini
"My first time to Rome was when I was backpacking with my best friend around Europe for a month at 18 years old, so I remember that excitement of being away from home properly for the first time." – Natalie Dormer
"You look at passers-by in Rome and think, 'Do they know what they have here?" – Frank McCourt
"The traveler who has contemplated the ruins of ancient Rome may conceive some imperfect idea of the sentiments which they must have inspired when they reared their heads in the splendour of honoured beauty." – Edward Gibbon
"Rome is a little bit different. There is something in Rome, incredible, like in a Fellini movie. Everybody's screaming and laughing very loud." – Alessandro Michele
"Rome lifts you up but won't let you settle down – it turns you into a bird without a nest." ― Glenn Haybittle
"I always wonder about people who go to Rome as they might go, for example, to Paris or to London. Certainly, Rome, as well as these other cities, can be enjoyed aesthetically but if you are affected to the depths of your being at every step by the spirit that broods there, if a remnant of a wall here and a column there gaze upon you with a face instantly recognised, then it becomes another matter entirely." ― C.G. Jung
"I live in Rome and five minutes from my flat is a church where you can walk in and see this beautiful Caravaggio. Just the way this man uses dark paint: dark to create dark, the layering of the darkness in his work. I just race home: I want to create!" – Taiye Selasi
"In Italy, there are so many significant architectural structures in histories such as the Pantheon in Rome, or the Duomo." – Tadao Ando
"This bloke in Rome once took his camera off and cracked me round the head with it, and I'm bleeding. He was a bit bigger than me, the Italian photographer, but I thought, 'I can't back down now,' so I sort of squared up to him. Luckily, my mate jumped round and bit him on the neck." – Pete Doherty
"To my taste, the men in Rome are ridiculously, hurtfully, stupidly beautiful. More beautiful even than Roman women, to be honest. Italian men are beautiful in the same way as French women, which is to say – no detail spared in the quest for perfection. They're like show poodles. Sometimes they look so good I want to applaud."– Elizabeth Gilbert
"I sometimes fancy that Rome will crowd everything else out of my heart." – Nathaniel Hawthorne
"If we could be reborn wherever we chose, how crowded Rome would be." – Francine Prose
Funny Rome Quotes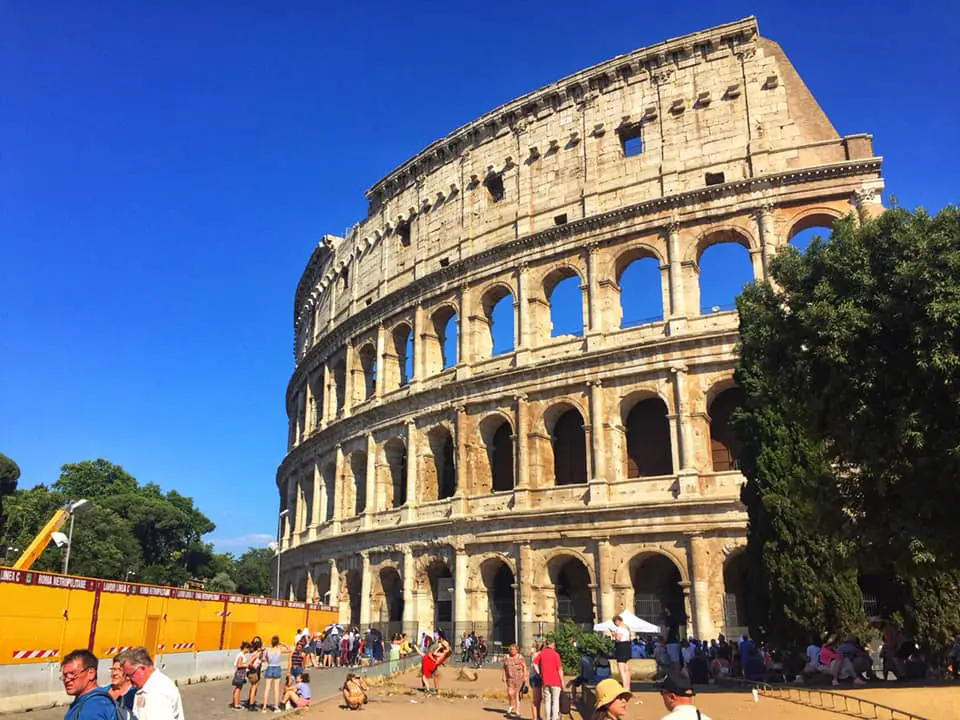 "They say Rome wasn't built in a day, but I wasn't on that particular job." – Brian Clough
"I had rather be first in a village than second at Rome." – Julius Caesar
"Italy has changed. But Rome is Rome." – Robert DeNiro
"I love Rome. I'm very happy there. I wasn't in New York." – Jhumpa Lahiri
"Anywhere I go, there is always an incredible crowd that follows me. In Rome, as I land at the airport, even the men kiss me. I love Rome." – Muhammad Ali
"Oddly enough, I'm not religious but I'm also very fond of St Peter's in Rome. When I'm there, I always know there's a good meal not far away." – Jonathan Pryce
"If you're going to do a spaghetti legs routine where else but in Rome to do it. The home of spaghetti!" – Bruce Grobbelaar
"There's one thing that I like about Rome that was stated by Napoleon: that from sublime to pathetic is only one step away. And in Rome there's a constant shifting between sublime and pathetic." – Paolo Sorrentino
"A fool is one who admires other cities without visiting Rome." – Francesco Petrarca
"All things atrocious and shameless flock from all parts to Rome." – Tacitus
"I'm sure when they partied when Rome was burning, that was a really great party." – Adam McKay
"All the bad things that have ever happened to me have always happened in Rome." – Richard Burton
"How wonderful, to walk half-drunk with a Lemonsoda on a muggy night like this around the gleaming slate cobblestones of Rome with someone's arm around me." ― André Aciman
"One week after moving to Rome, I started writing in my diary in Italian." – Jhumpa Lahiri
"Moving from Rome to Brussels was hard." – Federica Mogherini
"In Rome, the emperor sat in a special part of the Colosseum called the Caesarian Section." – George Carlin
Rome Instagram Captions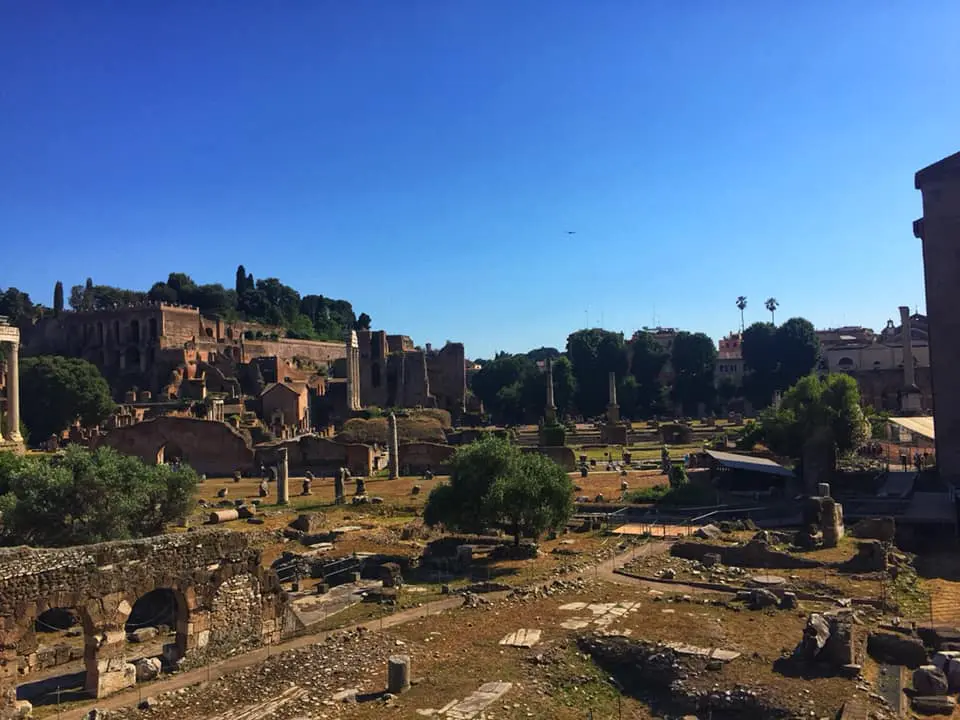 One of the things you're guaranteed to do when you visit Rome is to take a lot of photos. If you're looking for Instagram captions about Rome, then these ones below will be a fine addition to your photos!
"Oh Rome! my country! city of the soul!" — Lord Byron
"I'm in love with a city on the other side of the world."
"There was once a dream that was Rome. You could only whisper it. Anything more than a whisper and it would vanish, it was so fragile." – Marcus Aurelius (in the film Gladiator)
"Her smile, I'm sure, burnt Rome to the ground." – Mark Z. Danielewski
"I walked across Tuscany from Siena to Rome, which was a lovely way to see the landscape. It was sunny but not too hot, and we made detours to look at treasures – churches, paintings, little hill villages. The first couple of days, you feel your knees are turning to jelly. But, in the end, you feel very limber. I hope I can always do it." – Diana Quick
"Rome is but a wilderness of tigers." – Titus
"There is no place like Rome, there is no place like Rome."
"Veni, Vidi, Vici." ― Julius Caesar
"Rome is magic." – Maria Grazia Cucinotta
"That Rome was comparatively great and wealthy is certain.' – Goldwin Smith
"In the Eternal City, time is elastic, and new discoveries live among the most ancient things." – Erica Firpo
Rome Puns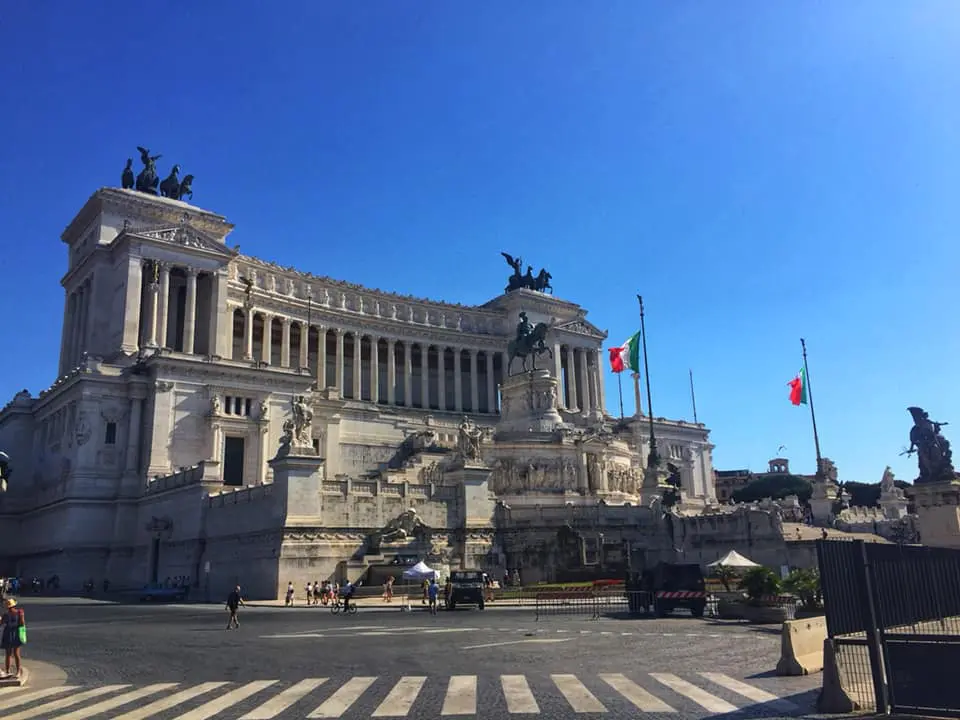 What a Romeantic city.
"Just Roman around."
Olive you.
"Home sweet Rome."
"Rome more, worry less."
I'm having Trevi saying 'goodbye' to Rome.
Sending you olive my love from Rome!
Arch you glad you're in Rome?
Words can't espresso how much you mean to me.
You cannoli do so much.
Dear, Rome. We're better together.
I chianti-ven believe how beautiful Rome is!
SPQR stands for Some Popular Quote: Rome, right?
It's impossible to ruin the view of the Colisseum.
"Wine flies when you're having this much fun."
Rome stole a pizza my heart.
Just Romeing around after dark.
Caught in a bad Rome-ance.
Put Etruscan me.
Honey, I'm Rome!
I'm a bit Romesick.
Leave some Rome in your suitcase for souvenirs!
We built this city on rock and Rome.
Rome Quotes About History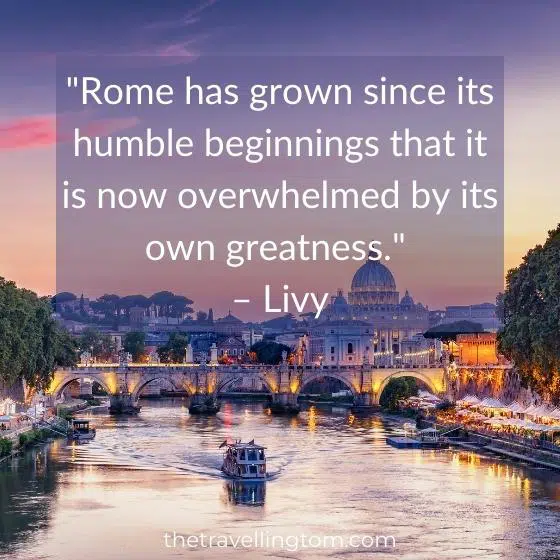 "Rome has grown since its humble beginnings that it is now overwhelmed by its own greatness." – Livy
"In 'Roma,' I wanted to get across the idea that underneath Rome today is ancient Rome. So close. I am always conscious of that, and it thrills me. Imagine being in a traffic jam at the Coliseum! Rome is the most wonderful movie set in the world… As was the case with many of my film ideas, it was inspired by a dream." – Federico Fellini
"I love Rome and the way that you can wander around and find something interesting around every street corner. You can smell the history." – Jonathan Agnew
"Are we like late Rome, infatuated with past glories, ruled by a complacent, greedy elite, and hopelessly powerless to respond to changing conditions?" – Camille Paglia
"Ancient Rome was as confident of the immutability of its world and the continual expansion and improvement of the human lot as we are today." – Arthur Erickson
"Rome has not seen a modern building in more than half a century. It is a city frozen in time." – Richard Meier
"Men did not love Rome because she was great. She was great because they had loved her." – G K Chesterton
"Rome – the city of visible history, where the past of a whole hemisphere seems moving in funeral procession with strange ancestral images and trophies gathered from afar." – George Eliot
"A great city, whose image dwells in the memory of man, is the type of some great idea. Rome represents conquest; Faith hovers over the towers of Jerusalem; and Athens embodies the pre-eminent quality of the antique world, Art." – Benjamin Disraeli
"I was born in 1928, so in 1943, 1944, we had the war in Rome. There were a lot of hardships, a lack of food, many shortages. So when I worked with the Americans, the English, and the Canadians soon after the war, when I played with them, they paid me with food. That will give you an idea how widespread poverty was at that time." – Ennio Morricone
"Rome is one enormous mausoleum. There, the Past lies visibly stretched upon his bier. There is no today or tomorrow in Rome; it is perpetual yesterday." – Thomas Bailey Aldrich
"The thing I love about Rome is that it has so many layers. In it, you can follow anything that interests you: town planning, architecture, churches or culture. It's a city rich in antiquity and early Christian treasures, and just endlessly fascinating. There's nowhere else like it." – Claire Tomalin
"Rome was great in arms, in government, in law." – Godwin Smith
"Ancient Rome was a violent place." – James Purefoy
"Rome is the capital of Europe; it's as simple as that. You need to see what the Romans did 2,000 years ago. They were so advanced compared to the rest of the world. They showed us how to make roads, toilet seats, how to do irrigation, and more. When you see the Colosseum you won't believe it was built so long ago." – Gino D'Acampo
"The ancient Romans built their greatest masterpieces of architecture, their amphitheatres, for wild beasts to fight in." – Voltaire
"The fall of Rome seemed unthinkable to people at the time but inevitable to historians reflecting upon it with the benefit of context." – Mary Pilon
Frequently Asked Questions
What is a famous quote about Rome?
"I found Rome a city of bricks and left it a city of marble." – Augustus
What is a beautiful quote about Rome?
"Rome is not like any other city. It's a majestic museum, a living room to tiptoe through." — Alberto Sordi
What is a famous quote about the Roman Colosseum?
"Rome will exist as long as the Coliseum does; when the Coliseum falls, so will Rome; when Rome falls, so will the world." – Venerable Bede
What was Rome's slogan?
Rome's slogan was Senatus Populusque Romanus, abbreviated to SPQR, which translates to 'The Roman Senate and People.'
---
Thanks for reading my collection of the best Rome quotes! Hopefully, they have sparked your curiosity and inspired you to visit the city.
Do you have any other quotes about Rome? If you do, leave them in the comments below. Let me know if you've been to Rome and what you think. I'm interested to see what your opinion of the city is!
Tom is a travel addict who first left England to spend a year Down Under. Not satisfied with this, he then went to New Zealand, about as far away from home as he could get. He is now planning his next adventures in Europe and Canada while maintaining this blog. Check out the about me page to learn more!