These Venice quotes will have you aching to book a trip to this iconic and beautiful Italian city.
I've collated the best collection of quotes about Venice to give you an idea of what you can expect when you visit one of the most incredible cities in the world, never mind Europe!
Venice is a place everyone knows about, even if they haven't visited. The famous canals, Piazza San Marco and the Doge's Palace are just some of the attractions that make up the compelling reasons to visit Venice.
Whether you're planning to visit, or looking for some inspiration, these Venice quotations will give you lots of reasons to go ahead and book that Venice trip!
Table of Contents
Best Venice Quotes
"A realist, in Venice, would become a romantic by mere faithfulness to what he saw before him." – Arthur Symons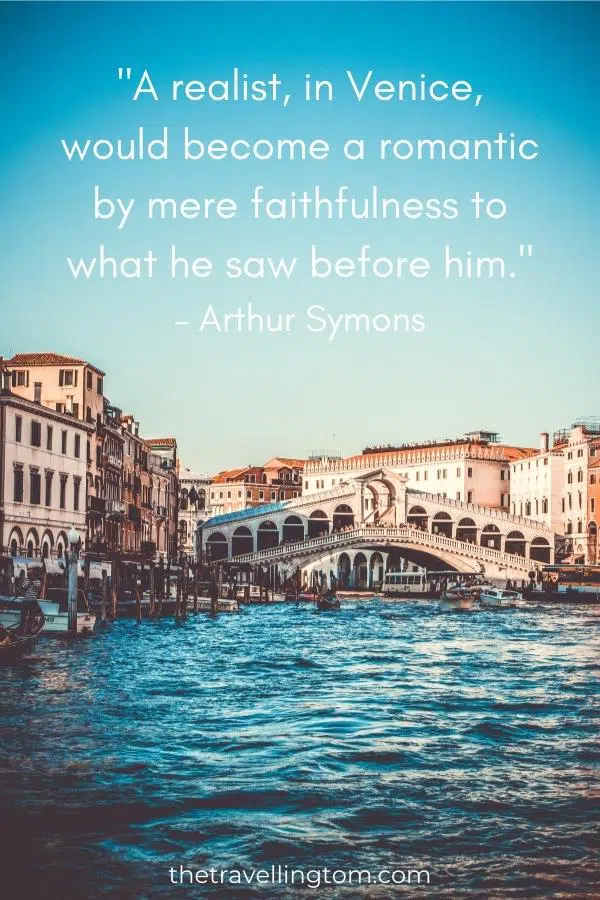 "Venice is eternity itself." – Joseph Brodsky
"Venice is the perfect place for a phase of art to die. No other city on earth embraces entropy quite like this magical floating mall." – Jerry Saltz
"Nothing ever seems straightforward in Venice, least of all its romances." – Roger Ebert
"Venice is a place that is high on reinvention. The kind of place that you can go and be whoever it is you want to be and do whatever it is you want to do, and nobody's going to ask you a lot of questions about it." – Will Arnett
"If I could live in one city and do every single thing I do there, I would choose Venice. You can't turn your head without seeing something amazing." – Nile Rodgers
"Venice, Italy, is one of my favorite cities, a place I've been lucky enough to visit twice." – Rosecrans Baldwin
"When writers for adults contemplate Venice, they behold decay, dereliction and death. Thomas Mann, Daphne du Maurier, L. P. Hartley and Salley Vickers have all dispatched hapless protagonists to Italy, where they see Venice – and die." – Jan Mark
"Venice has always fascinated me. Every country in Europe then was run by kings and the Vatican except Venice, which was basically run by councils. I've always wondered why." – Alan Furst
"Venice is incredible. Although you may have seen it in pictures, you can't grasp how beautiful it is until you visit." – Gino D'Acampo
"When I went to Europe for the first time, I went to Paris and then to Venice. So after Paris, Venice was my first great European city, and it just blew me away." – James Ivory
"Venice is unlike any other city simply because you travel primarily by boat. Time warps, and I love the feeling of it slowing down." – Stacy Martin
"This was Venice, the flattering and suspect beauty this city, half fairytale and half tourist trap, in whose insalubrious air the arts once rankly and voluptuously blossomed, where composers have been inspired to lulling tones of somniferous eroticism." – Thomas Mann
"If I were not King of France, I would choose to be a citizen of Venice." – Henry III of France
"Paris is an ideal place to become informed, while Venice is a place to think and write." – Pontus Hulten
"Memory's images, once they are fixed in words, are erased," Polo said. "Perhaps I am afraid of losing Venice all at once, if I speak of it, or perhaps, speaking of other cities, I have already lost it, little by little." – Italo Calvino
"There is something so different in, Venice from any other place in, the world, that you leave at, once all accustomed habits and, everyday sights to enter an enchanted garden." – Mary Shelley
"Venice, its temples and palaces did seem like fabrics of enchantment piled to heaven." – Percy Shelley
"Venice can wash through you all the memories you have never made." – Glenn Haybrittle
"When I seek another word for 'music', I never find any other word than 'Venice." – Friedrich Nietzsche
"If you read a lot, nothing is as great as you've imagined. Venice is – Venice is better." – Fran Lebowitz
Venice Travel Quotes
"Venice, the most touristy place in the world, is still just completely magic to me." – Frances Mayes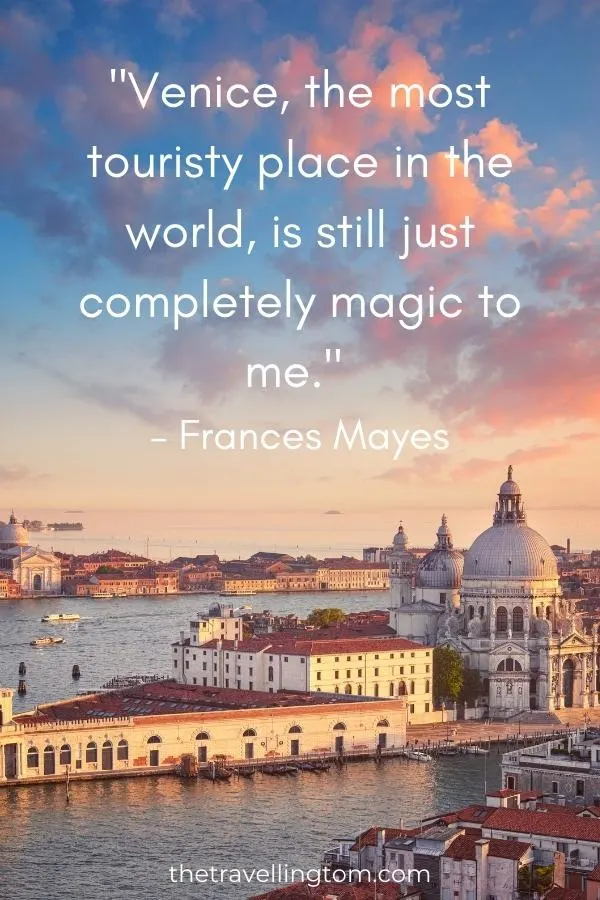 "I loved every place I lived and traveled. London, Paris, Rome, Venice. I fell hard for Central America and Mexico. In each country, I had fantasies that I could live there." – Frances Mayes
"Italy will never be a normal country. Because Italy is Italy. If we were a normal country, we wouldn't have Rome. We wouldn't have Florence. We wouldn't have the marvel that is Venice." – Matteo Renzi
"No one forgets the first glimpse of Venice. Whether arriving by plane, boat, train, or car, there is that startling moment when one looks across the waves and finds what should not be there – stone towers, rich churches, and packed buildings rising out of the sea. The extraordinary beauty of Venice only adds to its improbability. How does such a city exist?" – Thomas F. Madden
"I will never forget experiencing Venice for the first time. It feels like you are transported to another time – the art, music, food and pure romance in the air is like no other place." – Elizabeth Berkley
"Amsterdam was a great surprise to me. I had always thought of Venice as the city of canals; it had never entered my mind that I should find similar conditions in a Dutch town." – James Weldon Johnson
"Venissa is a perfect destination for day-trippers from Venice proper who are searching for great food and a little adventure; it's a 30-minute jaunt by vaporetto from St. Mark's, quicker by water taxi." – Roger Morris
"To go out in a gondola at night is to reconstruct in one's imagination the true Venice, the Venice of the past alive with romance, elopements, abductions, revenged passions, intrigues, adulteries, denouncements, unaccountable deaths, gambling, lute-playing and singing." – Peggy Guggenheim
"The building I most admire is the Doges Palace in Venice, both by day and by night. Looking at it from the lagoon, it resembles a floating kilim carpet. I love all the bridges which connect houses, people, gardens and palaces. I also love moats to isolate yourself. A ha-ha for secrecy, as in every English country garden." – Anouska Hempel
"My husband and I went to Venice, Italy, for our first-year anniversary and spent a day on the Island of Burano. There, we had lunch at the famed Trattoria al Gatto Nero da Ruggero – one of the most incredible meals of our lives." – Maneet Chauhan
"Venice appeared to me as in a recurring dream, a place once visited and now fixed in memory like images on a photographer's plates so that my return was akin to turning the leaves of a portfolio: a scene of the gondolas moored by the railway station; the Grand Canal in the twilight; the Rialto bridge; the Piazza San Marco; the shimmering, rippling wonderland; the bustling water traffic; the fish market; the Lido beach and boardwalk; Teeny in the launch; the singing, gesturing gondoliers; the bourgeois tourists drinking coffee at Florian's; the importunate beggars; the drowned girl's ghost haunting the Bridge of Sighs; the pigeons, mosquitoes, and fetor of decay." – Gary Inbinder
"I'm often in Venice in November and December, when it's foggy and wintry, and the decorations in the shops and the lights in the churches make the place feel both Christmassy and melancholic." – Jurgen Teller
"Everything in Venice is just a little bit creepy, as much as it's beautiful." – Christopher Moore
"When I went to Venice, I discovered that my dream had become – incredibly, but quite simply – my address." – Marcel Proust
"If you want to go for a romantic break, or a quick break in Italy, it has to be Venice." – Gino D'Acampo
"It's so easy for me to get caught up in the feeling of a city like Venice, where Everything is just beautiful colour and gorgeous buildings that are so peaceful. You can roam around and get lost in the labyrinth." – Nanette Lepore
"In the winter, Venice is like an abandoned theatre. The play is finished, but the echoes remain." – Arbit Blatas
---
You might also like:
---
Funny Venice Quotes
"Venice is like eating an entire box of chocolate liqueurs in one go." – Truman Capote
"Though there are some disagreeable things in Venice there is nothing so disagreeable as the visitors." – Henry James
"Is it worthwhile to observe that there are no Venetian blinds in Venice?" – William Dean Howells
"An orange gem resting on a blue glass plate: it's Venice seen from above." – Henry James
"Venice is the most romantic place in the world but it's even better when there is no one around." – Woody Allen
Venice Instagram Captions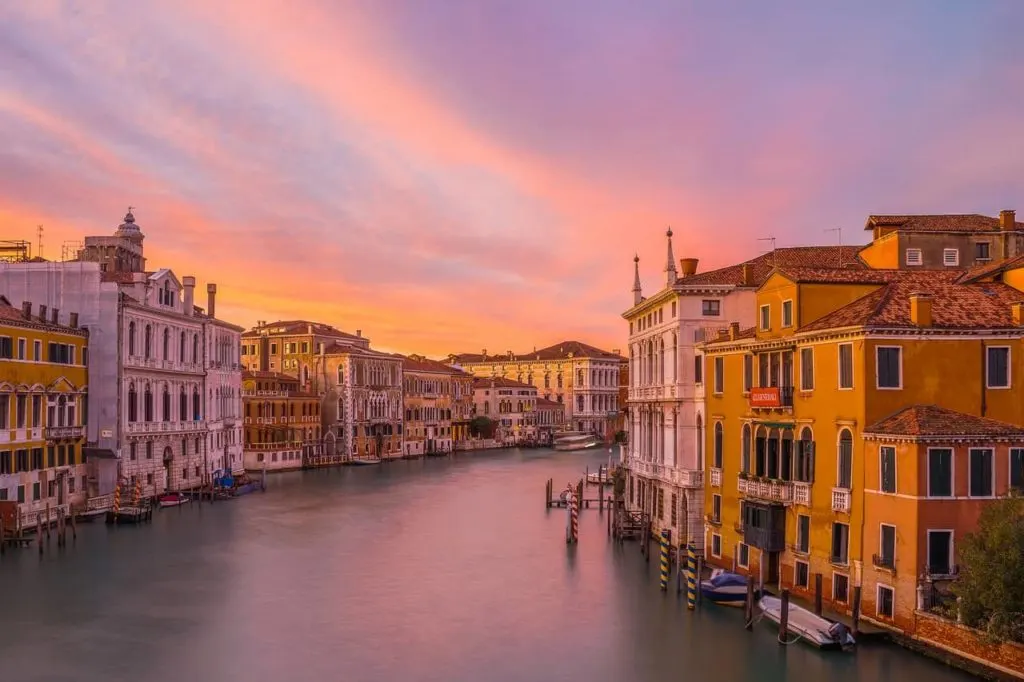 Whatever floats your gondola
Came to Venice for the sights, stayed for the gelato
Scoops, I did it again
Can you ever eat too much pasta?
I'm having a Venice time
When I see Venice, my eyes turn into little hearts
There's nothing to wine about in Venice
Venice has a pizza of my heart
You cannoli imagine how beautiful Venice is!
Problems come and go, pizza is forever
Once upon a time in Venice
It's Venice to see you
How nice? Venice
Quotes About Venice's History and Culture
"Venice never quite seems real, but rather an ornate film set suspended on the water." – Frida Giannini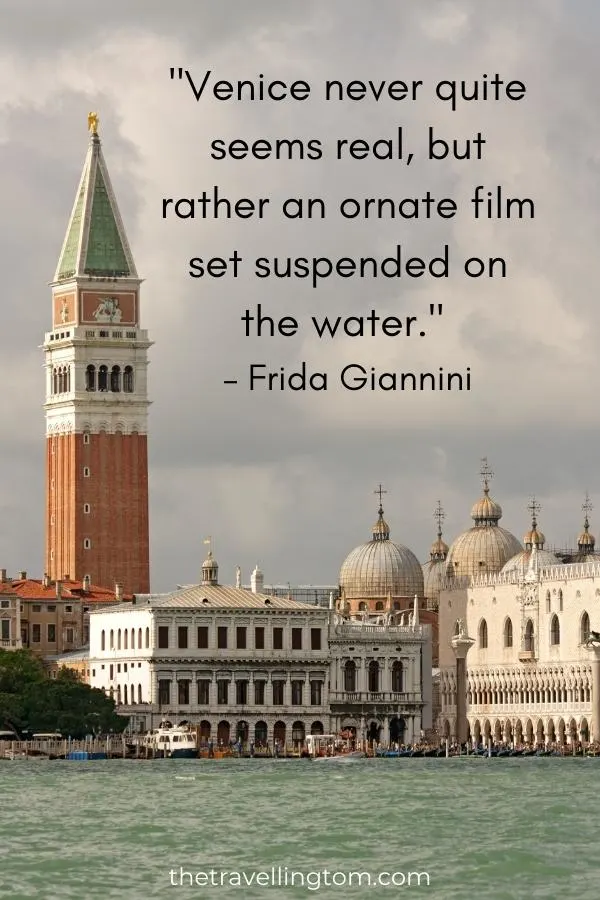 "I became fascinated by marionettes, which I first saw in Venice. They were so haunted and so alive. You walked by them, and you could feel their presence, with their beady eyes just fixed on you." – Laura Amy Schiltz
"I was being taken around by a press agent at the Venice Film Festival at age 18. Was it fun? Sure. But it was a dangerous path to be walking on as far as having a substantive life. Because the casualty rate at the Venice Film Festival for 18-year-olds? High." – Ethan Hawke
"Venice bewitches. Like many before me, I have been seduced by its art, architecture, poetry and beauty." – Russell Norman
"I love dressing up, but I do find the red carpet thing quite stressful. When I went to Venice Film Festival last month to promote 'Wuthering Heights,' I told my boyfriend beforehand 'I will be a nightmare, I will cry, I will be nervous.' Actually once I was there, it was fine." – Kaya Scodelario
"I have long believed that celebrity, the way we worship and package and sell our pop stars, is what filled the need for gods that was once filled by the pictures in stained glass. Hollywood is post-Christian Venice – in other words, a pantheon of saints without the hassle and heartache of religion." – Rich Cohen
"Sultan Mehmet had good relations with the Medici family and other powerful Italian clans, especially in Venice and Florence, and at his request, they sent him artists and craftsmen by the dozen." – Stephen Kinzer
"My mother took me to Venice one time and showed me all the houses where famous composers used to live. It gave me a fascination for music and the city, but also for architecture. It was a valuable lesson." – Ben van Berkel
"We're not just making 'Marco Polo,' we're living it. Because we traveled to Venice… Kazakhstan… into the jungles of Malaysia." – John Fusco
"The irony of the political rise of the plutocrats is that, like Venice's oligarchs, they threaten the system that created them." – Chrystia Freeland
Frequently Asked Questions
What is a famous quote about Venice?
"Venice bewitches. Like many before me, I have been seduced by its art, architecture, poetry and beauty." – Russell Norman
What is a cute quote about Venice?
"Venice never quite seems real, but rather an ornate film set suspended on the water." – Frida Giannini
What is the slogan of Venice?
The slogan of Venice is 'Duri i banchi,' which means 'hold on, go ahead.' It's often used as a form moral support and encouragement
---
Thanks for reading my collection of the best Venice quotes! Hopefully, you've enjoyed reading and are now considering a trip to this incredible city in Italy.
Do you have any other quotes about Venice? If you do, leave them in the comments below. Let me know if you've been to Venice and what you think. I'm interested to see what your opinion of the city is!
Tom is a travel addict who first left England to spend a year Down Under. Not satisfied with this, he then went to New Zealand, about as far away from home as he could get. He is now planning his next adventures in Europe and Canada while maintaining this blog. Check out the about me page to learn more!