Looking for quotes about Ireland? I've compiled some of the best quotes about the emerald isle you'll find anywhere on the web.
These Ireland quotes outline just how incredible the country is as a destination. There are so many great places to visit, it's hard to know where to start.
From the lively capital Dublin to the rebel city Cork and the imposing Cliffs of Moher, there's just so much to see and do in Ireland. The scenery in Ireland is out of this world, which will be highlighted if you visit places such as Kerry.
I've included some funny quotes about Ireland, captions for you to use with your Instagram photos and some Ireland puns and proverbs too.
Hopefully, these quotes inspire you to visit Ireland and experience one of the most fascinating countries on the planet!
Best Quotes About Ireland
If you decide to go backpacking in Ireland, you won't regret it. The country is an incredible place to visit!
Ireland is such a beautiful country that words don't really do it justice. As well as the incredible sights, there's so much culture and history to absorb too.
It really is a spectacular place to visit! Here are some of the best quotes about Ireland to get you in the mood for a trip.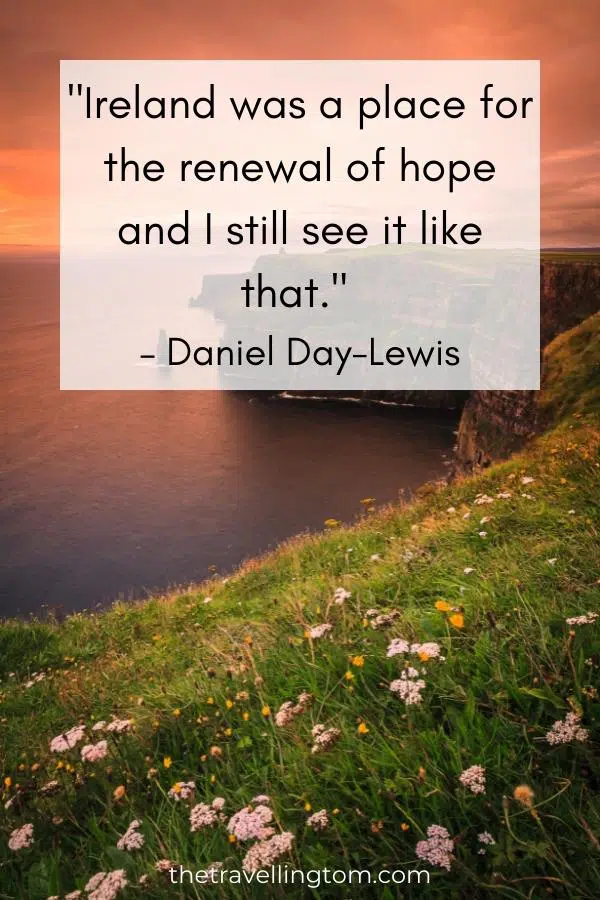 "Ireland was a place for the renewal of hope and I still see it like that." – Daniel Day-Lewis
"You can take a man out of Ireland, but you can't take the Irishness out of the man." – Tyson Fury
"We may have bad weather in Ireland, but the sun shines in the hearts of the people and that keeps us all warm." – Marianne Williamson
"I can't say enough about Ireland. I can't. I'd move there." – Jeffrey Dean Morgan
"I carry the flag of Ireland all the time. I want to represent my country." – Conor McGregor
"Ireland is the old sow that eats her farrow." – James Joyce
"I love our shared island, our shared Ireland and its core decency. I love it for its imagination and its celebration of the endless possibilities for our people." – Michael D. Higgins
"It's beautiful, shooting in Ireland. It's an amazing country." – Travis Fimmel
"What Ireland needs now above all else is peace." – Albert Reynolds
"I love Ireland. I feel very at peace there. It's just magical and beautiful." – Eva Green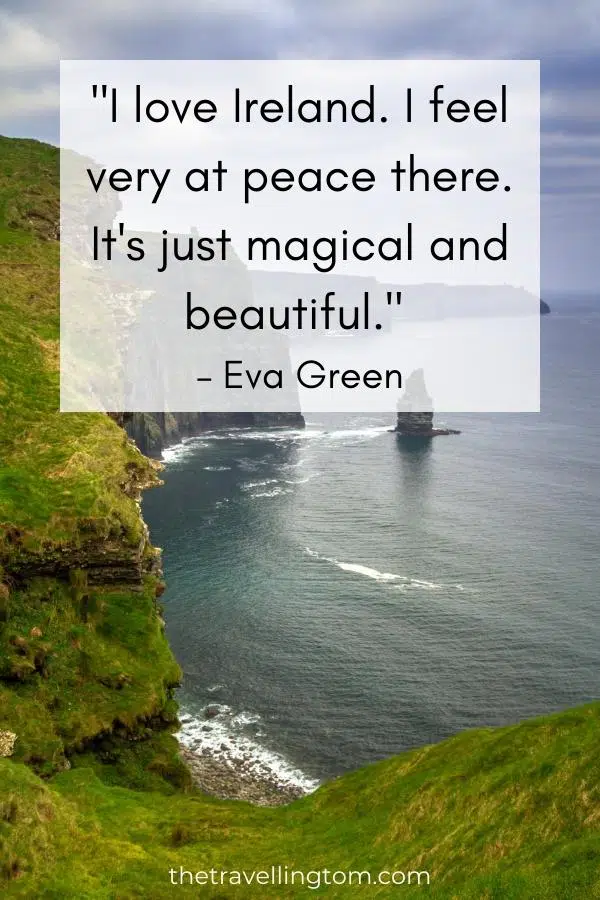 You might also like: Quotes about Scotland
"Ireland is a great country to die or be married in." – Elizabeth Bowen
"I feel more and more the time wasted that is not spent in Ireland." – Lady Gregory
"Everybody gets too drunk sometimes; and even if everybody didn't, I have gotten too drunk sometimes. I haven't hurt anybody. In Ireland we drink a lot. It's part of our culture. I like drinking. I don't think it's a bad thing." – Andrea Corr
"When I was a kid, if you didn't speak Irish, you really wanted to. And you played Gaelic games and you didn't pay any attention to what was happening in the outside world, because really, Ireland was the center of the universe. And I don't think that's the case anymore. Although, admittedly, it is the center of the universe." – Roddy Doyle
"I'd never had any problem finding inspiration; Ireland was always just there, you know? All this richness of culture was there to tap into." – Brendan Gleeson
"There's a lot I've missed about living in Ireland. You miss family, particularly when you've got kids." – Deirdre O'Kane
"It's not a hard sell to be asked to do something in Ireland." – Bryce Dessner
Ireland Travel Quotes
I've loved every minute of my travels in Ireland. The great thing is that there are so many places to visit in Ireland. So you'll never run out of places to go.
The West coast is spectacular, with unbelievable scenery, while the north of the country is fascinating too. These Ireland travel quotes will give you a flavour of just how great a country it is to travel!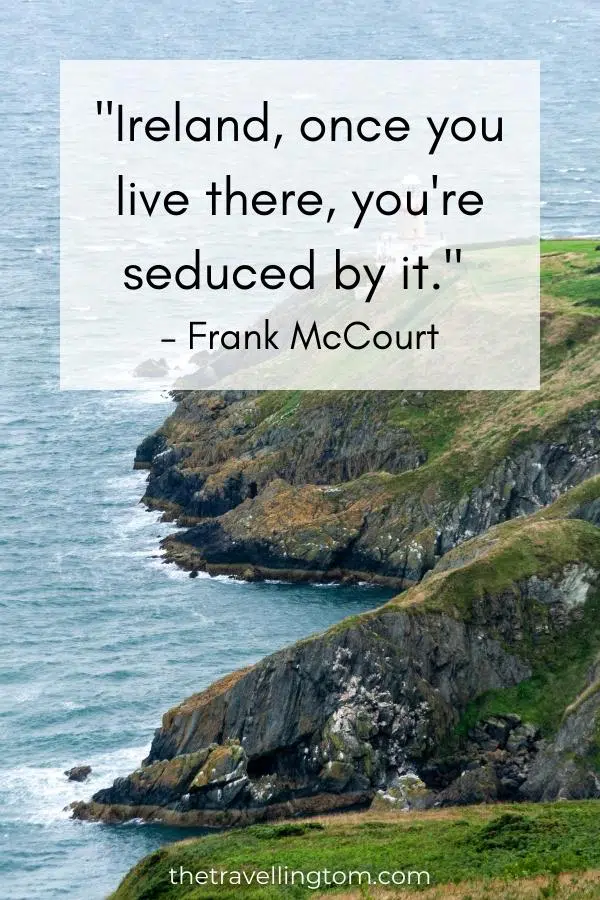 "Ireland, once you live there, you're seduced by it." – Frank McCourt
"I always went to Ireland as a child. I remember trips to Dundalk, Wexford, Cork and Dublin. My gran was born in Dublin, and we had a lot of Irish friends, so we'd stay on their farms and go fishing. They were fantastic holidays – being outdoors all day and coming home to a really warm welcome in the evenings." – Vinnie Jones
"The landscape in Ireland is just – I've never been in such a beautiful place with the lakes and ocean and everything." – Travis Fimmel
"I'll always be somebody who spends a lot of time in a lot of places; that's just always going to be the way. But I try to spend as much time in Ireland as I can, because it's lovely, and it feels like a release." – Robert Sheehan
"I really enjoyed shooting in Ireland. The people are so lovely. I hope I don't offend anyone in saying this, but the nature reminded me of Americans: everyone was warm and open and easy to talk to. And Ireland is so beautiful and lusciously green." – Maya Hawke
"I didn't start traveling abroad until I was 17, but I spent many summers on the beaches of Donegal in Ireland." – Caitriona Balfe
"Winterfell is atop of this huge mountain in Northern Ireland, and you can see all these weather fronts coming in. Basically, the sky circles the mountain. It's the most beautiful place." – Kristian Nairn
"It's just very homey in Ireland. It's very comforting and comfortable. There's lots of fireplaces with fires. It's just really cozy." – Amy Adams
"Ireland is such an amazing country, and I have this little dream in the back of my head that someday I'll end up living there. When I've established myself in America and I don't need to live near the action, so to speak, and if you're good, the work will come to you. I feel very Irish; maybe that's why I've been so lucky with my career." – Anne Hathaway
"It's strange coming back to Northern Ireland, but it feels like a home away from home." – Sean Bean
"It was great to work in Ireland because it's such a beautiful country, but it's not particularly easy to film in because the weather changes all the time." – Anjelica Huston
"I sure love Ireland. The first trip I ever made was last year when I did this record in Dublin." – Michael W. Smith
"I'd love to live in Ireland but I'd like to live as me, not what someone thinks I am. People don't understand – I lived there before I was famous." – Van Morrison
"I'll tell you what, it doesn't get more beautiful than the west of Ireland. Connemara and County Derry are quite stunning, really." – Matthew Goode
"Dublin's a great place. It really is. It's a great place. And Ireland, especially, is a great place. I've realized that growing up more. I'm loving my country more as I'm getting older." – Barry Keoghan
"Visiting Ireland reminded me of when I first arrived in Vermont. I thought, This is home." – Jane O'Meara Sanders
---
You might also like:
---
Funny Quotes About Ireland
It's good to have a laugh now and then. These funny quotes about Ireland will provide you with plenty of laughter.
While some of them are just funny, others reveal what life and travelling in Ireland is like if you're unfamiliar with the country.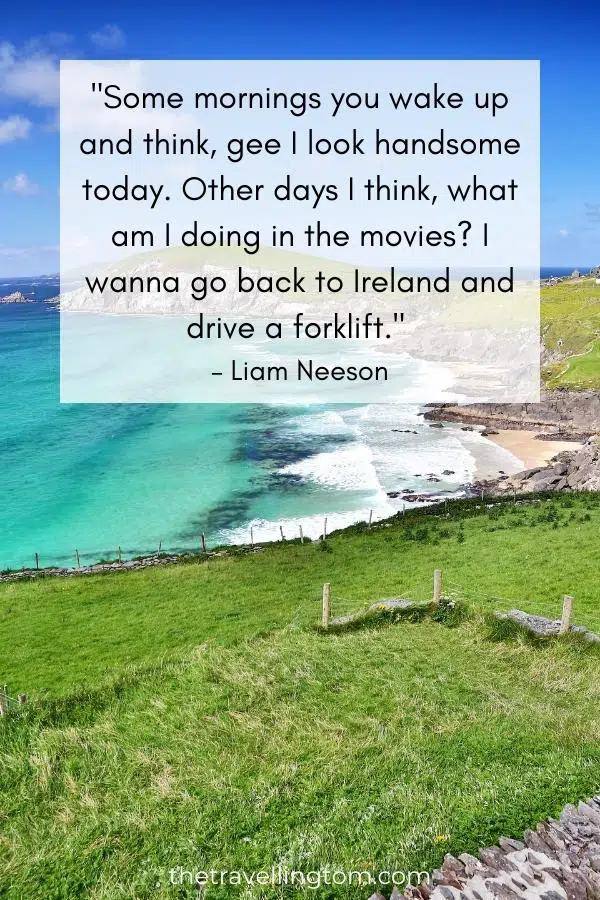 "Some mornings you wake up and think, gee I look handsome today. Other days I think, what am I doing in the movies? I wanna go back to Ireland and drive a forklift." – Liam Neeson
"What I've said before, only half in joke, is that everybody in Ireland is famous. Or, maybe better, say everybody is familiar." – Seamus Heaney
"Geographically, Ireland is a medium-sized rural island that is slowly but steadily being consumed by sheep." – Dave Barry
"At home in Ireland, there's a habit of avoidance, an ironical attitude towards the authority figure." – Seamus Heaney
"The problem with Ireland is that it's a country full of genius, but with absolutely no talent."The problem with Ireland is that it's a country full of genius, but with absolutely no talent." – Hugh Leonard
"I actually don't think Ireland has a summer. I never experienced a summer there. It was just so wet." – Travis Fimmel
"Ireland is a great place to be odd." – Roisin Murphy
"Ireland sober is Ireland stiff." – James Joyce
"The most brilliant satire of all time was 'A Modest Proposal' by Jonathan Swift. You'll notice how everything got straightened out in Ireland within days of that coming out." – P.J. O'Rourke
"I like Ireland because it means I'm near France." – Harry Harrison
"I'm 78, I'm on my pension in Ireland, and all that good stuff." – Anne McCaffrey
"Ireland. Great for the spirit – very bad for the body." – Hugh Dancy
"I hate wearin' sunglasses, to be honest with you. You don't need sunglasses in Ireland." – Tristan MacManus
"From my experience of shooting 'Tudors' on the island of Ireland, you cannot predict the weather." – Natalie Dormer
Ireland Instagram Captions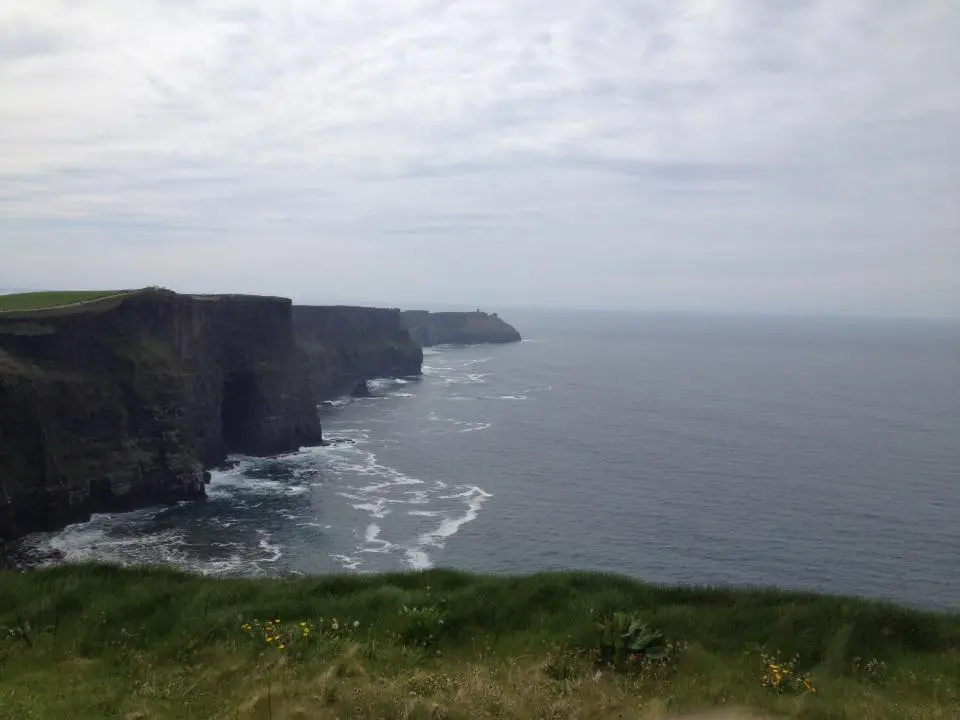 This trip is quite a cliffhanger
I fell into a burnin' Ring of Kerry
Ireland always leaves me wanting Moher
Keep calm and leprechaun
Cashel money
I'm just here for the pubs and potatoes
Haters gonna hate. Potatoes gonna potate
The leprechauns made me do it
Thanking my lucky stars and four-leaf clovers for being in Ireland
Dear Ireland, I miss you every day
Stuck in an Irish fairytale
The paddy don't start till I walk in
Quotes About Ireland's Culture and History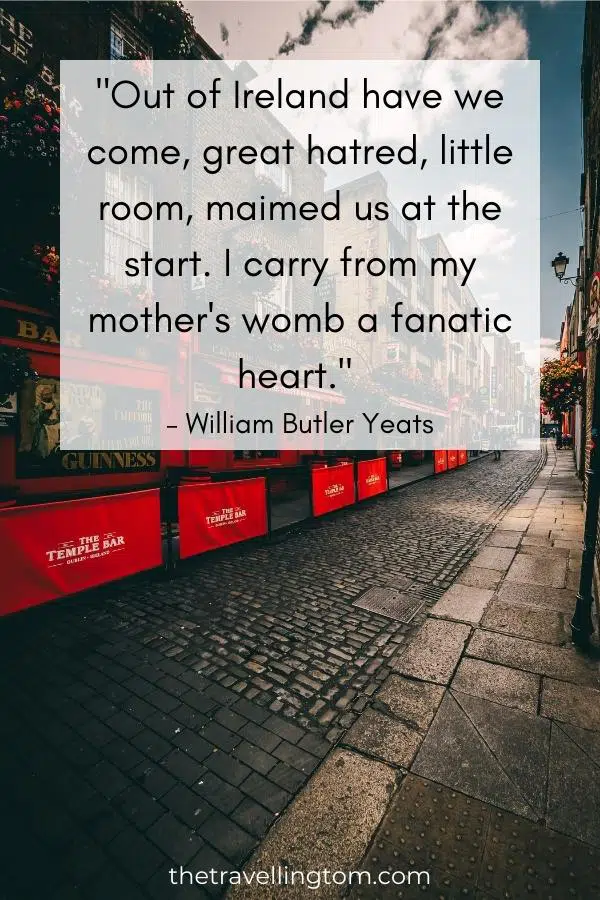 "Out of Ireland have we come, great hatred, little room, maimed us at the start. I carry from my mother's womb a fanatic heart." – William Butler Yeats
"They won't break me because the desire for freedom, and the freedom of the Irish people, is in my heart. The day will dawn when all the people of Ireland will have the desire for freedom to show. It is then that we will see the rising of the moon." – Bobby Sands
"I went to Cork, Ireland, and stood on the dock some of my ancestors had left from. I felt their ghosts gather round me, and I cried to imagine what it must have felt like – leaving that beautiful land and those beloved people, knowing it was forever." – Luanne Rice
"Love is never defeated, and I could add, the history of Ireland proves it." – Pope John Paul II
"I have a theory about Ireland, being at the edge of Europe. For 1,000 years, people didn't know what was beyond. But we thought about it – a lot. And that 'beyond' became internalized in our psyche." – Conor McPherson
"We are bound to lose Ireland in consequence of years of cruelty, stupidity and misgovernment and I would rather lose her as a friend than as a foe." – William Gladstone
"The cup of Ireland's misery has been overflowing for centuries and is not yet half full." – Boyle Roche
"Ireland was, of old, called the Isle of Saints because of the great number of holy ones of both sexes who flourished there in former ages or who, coming thence, propagated the faith amongst other nations." – Sabie Baring-Gould
"Ireland is a peculiar society in the sense that it was a nineteenth century society up to about 1970 and then it almost bypassed the twentieth century." – John McGahern
"Among the best traitors Ireland has ever had, Mother Church ranks at the very top, a massive obstacle in the path to equality and freedom. She has been a force for conservatism… to ward off threats to her own security and influence." – Bernadette Devlin
"I grew up in very rural Ireland. The Internet was kind of a connection to the greater world. It had a lot of significance." – Patrick Collison
"Ireland and England are like two sisters; I would have them embrace like one brother." – Boyle Roche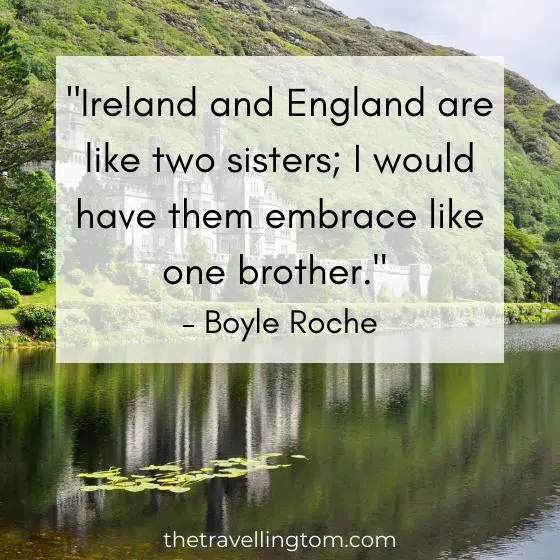 "I find that I sent wolves not shepherds to govern Ireland, for they have left me nothing but ashes and carcasses to reign over!" – Elizabeth I
"Ireland and its people have much to be proud of. Yet every land and its people have moments of shame. Dealing with the failures of our past, as a country, as a Church, or as an individual is never easy. Our struggle to heal the wounds of decades of violence, injury and painful memory in Northern Ireland are more than ample evidence of this." – Sean Brady
"Altho that is so, Ireland has always denied and Ireland still denies that the Union was binding upon her either legally or morally. And here on this historic occasion we have assembled to renew our protest and to place it upon record." – John Edward Redmond
"The nineteenth century, especially the second half of it, was a time of restatement in Ireland. After the famine, after the failed rebellions of the Forties and Sixties, the cultural and political desires for self-determination began to shape each other in a series of riffs on independence and identity." – Eavan Boland
"The thing that started the peace movement in Ireland was anger – my anger. It wasn't anger; it was fury." – Betty Williams
"It wasn't so long ago that it was not popular to speak Gaelic in Ireland because the areas that Gaelic is spoken in were much poorer areas." – Enya
"I was one of the many kids in Northern Ireland who grew up in the countryside and had an idyllic childhood well away from the Troubles." – James Nesbitt
"In 1889, I predict, the legislative stage of the Irish question will have arrived; and the union with England, which shall then have cursed Ireland for nine tenths of a century, will be repealed." – John Boyle O'Reilly
---
Thanks for reading my collection of the best Ireland quotes! Hopefully, they have sparked your curiosity and inspired you to visit the country.
Do you have any other quotes about Ireland? If you do, leave them in the comments below. Let me know if you've been to Ireland and what you think. I'm interested to see what your opinion of the country is!
Tom is a travel addict who first left England to spend a year Down Under. Not satisfied with this, he then went to New Zealand, about as far away from home as he could get. He is now planning his next adventures in Europe and Canada while maintaining this blog. Check out the about me page to learn more!