3 days in Bologna is enough time to explore the many sights in this fascinating Italian city.
Bologna is one of the most underrated cities in Italy and has plenty of interesting and quirky sights to explore, as well as some great food.
If you're wondering what to do in Bologna for 3 days, you can visit the stunning Sanctuary di San Luca, the Two Towers, and the unique Finestrella, there's a lot to see in the city.
This Bologna itinerary will show you all the best things to see and do in the city, where to stay, how much a trip to Bologna costs, and much more.
Keep scrolling to find out how much you can have in Bologna in just 3 days!
Disclosure: This article may contain affiliate/compensated links. For more information, please see our full disclosure policy.
3 Days in Bologna Itinerary
Quick 3 Days in Bologna Itinerary
Day 1 – Walking Tour, The Two Towers, Piazza Maggiore and Nettuno
Day 2 – Medieval Museum, Finestrella, Sanctuary di San Luca
Day 3 – University of Bologna, Ducati Museum, Quadrilatero

Check out some of the best places to eat in Bologna with this food tour!
Get transport to/from Marconi Airport to Bologna City Centre here
My Experience in Bologna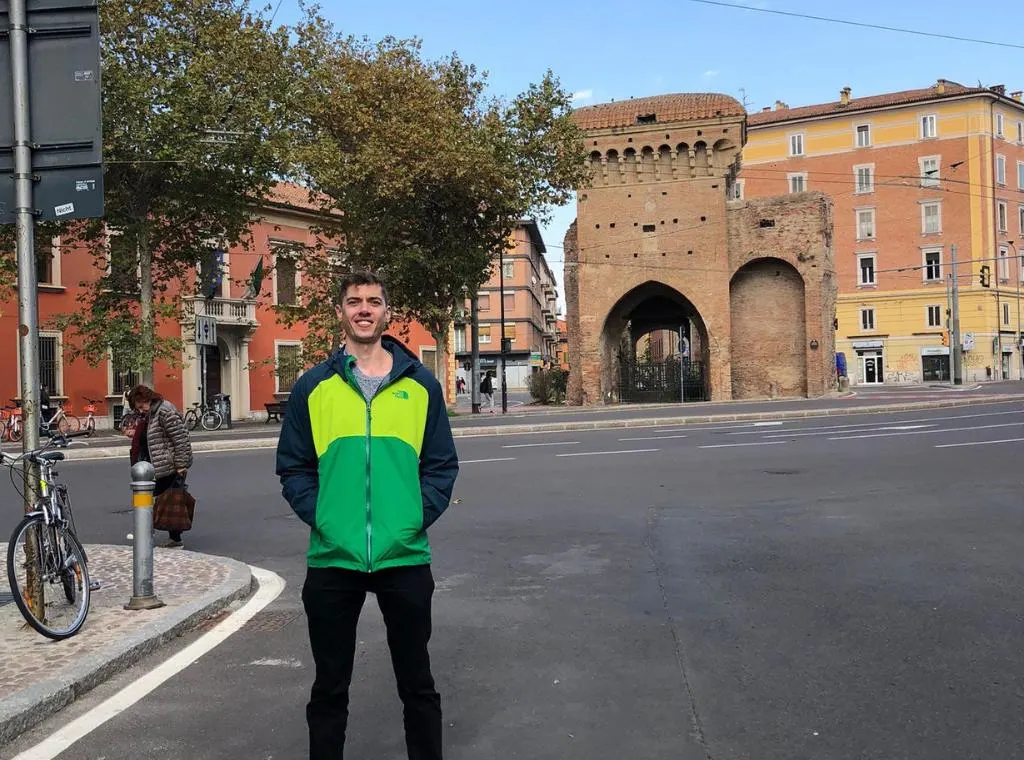 My visit to Bologna was to see a friend and formed part of a trip where I also spent 3 days in Milan and visited other cities in Northern Italy such as Modena and Parma.
I'd been to Bologna once before this trip but that was during a Europe-wide road trip and we dropped our friend off at the airport in Bologna, while we were staying in Ferrara.
I never made it into the city centre, so when the opportunity to visit came up, I was interested to see what the city was like.
Bologna is a much more interesting city than I thought and there are many things to see and do there. It does help when you have a friend to show you around. I wouldn't have known about half the things I was shown if it wasn't for them.
It's also a bigger city than I realised so you will need a couple of days to explore and see everything. The other good thing about Bologna is that it's well-connected with the rest of Northern Italy.
Here's a quick list of the things I liked about Bologna and what wasn't so great during my trip.
Good
It's a beautiful city with a lot of interesting sights. You won't run out of things to do in 3 days.
Bologna is well-connected to the rest of Northern Italy, which makes it easy to go on day trips to places such as Modena and Parma.
The food in Bologna is fantastic. To give you an idea, I ordered some pasta at the train station and I was blown away by how good it was!
Bad
The city is bigger than I thought, which means it can be hard to get around without using public transport. There are a lot of sights that are a long walk from the centre. It's not necessarily bad but you will certainly get your 10,000 steps during each of the three days!
There wasn't as much budget accommodation as I thought there'd be. There are a few hostels but if you book things last minute like me, you might end up paying a bit more. Book your trip early would be my advice.
Again, not exactly a bad thing, but there are a lot of 'hidden' sights that you won't find if you don't know someone who lives in Bologna. My advice would be to do a walking tour when you arrive to learn about these interesting quirks.
What To Do In Bologna For 3 Days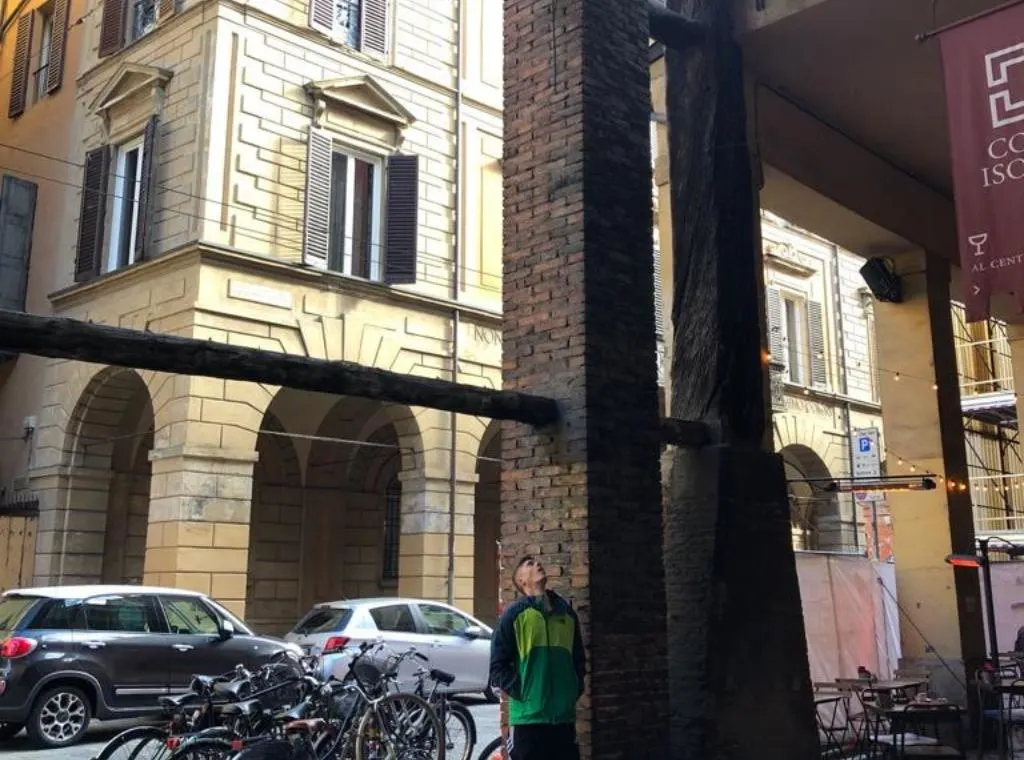 Bologna might not be the most well-known destination for everyone, but there are plenty of things you can do in the city.
There are a lot of cultural sights to see, such as the Two Towers and numerous museums too. You'll also find many architectural marvels as well.
Another good thing about Bologna is that's one of the best-connected places in Northern Italy.
If you're there for longer than 3 days or you want to spend half a day in another place, you can hop on a train and head to nearby destinations such as Modena and Rimini.
I'd recommend doing this only when you've visited some of the places I've listed below first, as well as some tours you should do in Bologna.
The Two Towers – The Towers are the symbol of Bologna and are a sight to behold. You can go inside one of them and learn more about its fascinating past
Sanctuary of San Luca – This is a church that sits atop Monte della Guardia above the city. It's a long walk but it's worth it as the church is beautiful and the views of the city are even better!
Finestrella – This is a little window that opens up to one of the ancient canals that still exist in Bologna. A fun and quirky thing to see in Bologna.
The Three Arrows – This is another quirky sight that's unique to Bologna. If you head to Casa Isolani and point your head upwards, you'll see three arrows stuck in the ceiling of the third floor. I didn't believe this at first, but they are. There's no definitive explanation for why they're there, but they make for an interesting sight.
Bologna Itinerary – Day 1
Walking Tour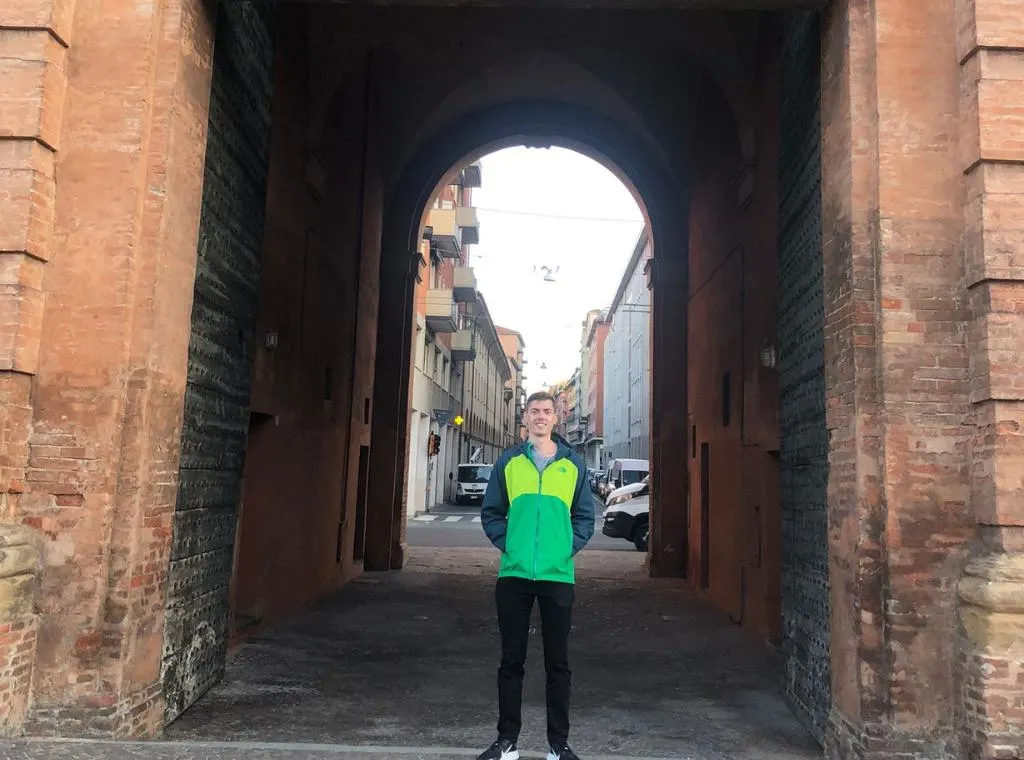 One of the first things I do whenever I visit a new city is check into my accommodation and then head off to explore the city.
This didn't quite happen this time as I had my friend showing me around the city. But as I was unfamiliar with bologna, this was in some senses, a walking tour.
Normally, I'd just walk in a random direction and see where I end up. But the 'tour' my friend took me on was good and showed me a lot of the city and some of the cool features you might not otherwise see.
I'd recommend booking a walking tour if you can. Bologna is an interesting city and it's handy to have someone who knows the city showing you around. You'll learn about the history of the city, as well as getting your bearings!
The Two Towers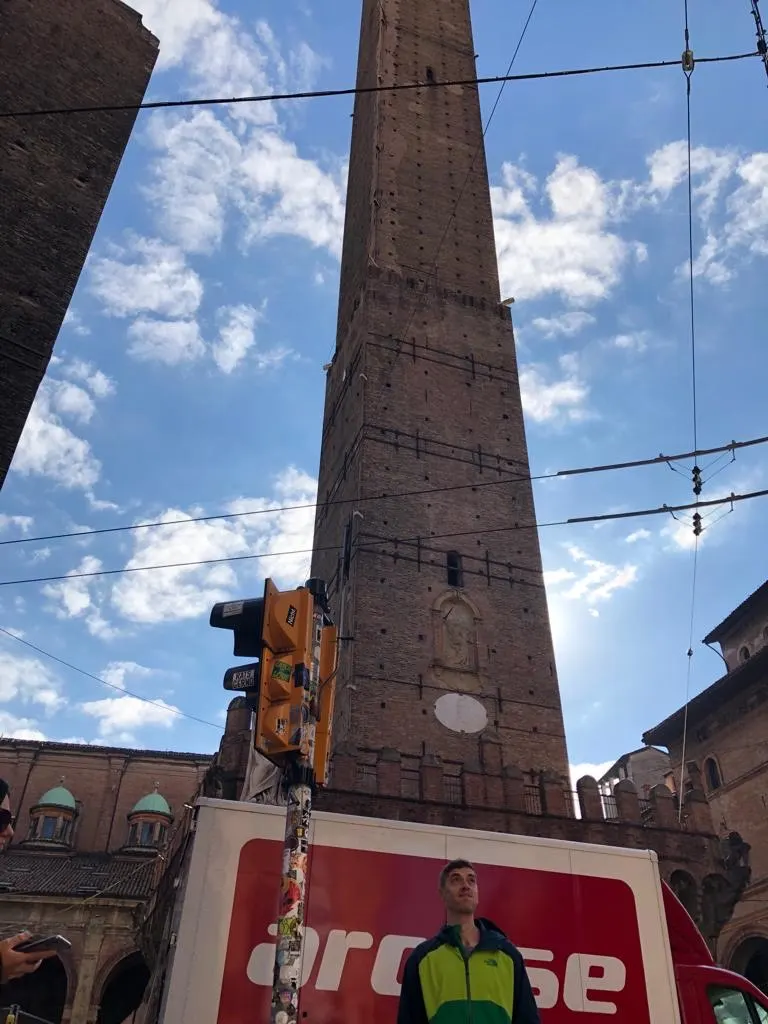 No, not the Lord of the Rings film, although that is awesome! The Two Towers refers to the towers that can be found in the centre of Bologna.
They are huge and were first built in 1119, which blew my mind. The Towers are the most popular attraction in Bologna, so expect there to be a lot of people there.
When I visited, work was underway on one of the towers, so I was unable to go inside and have a look around. But, normally, you can do this.
I'd recommend doing it if you get the chance. I would have loved to have gone inside and from what I'm told, you get a great view of the city from the numerous windows.
Piazza Maggiore and Piazza del Nettuno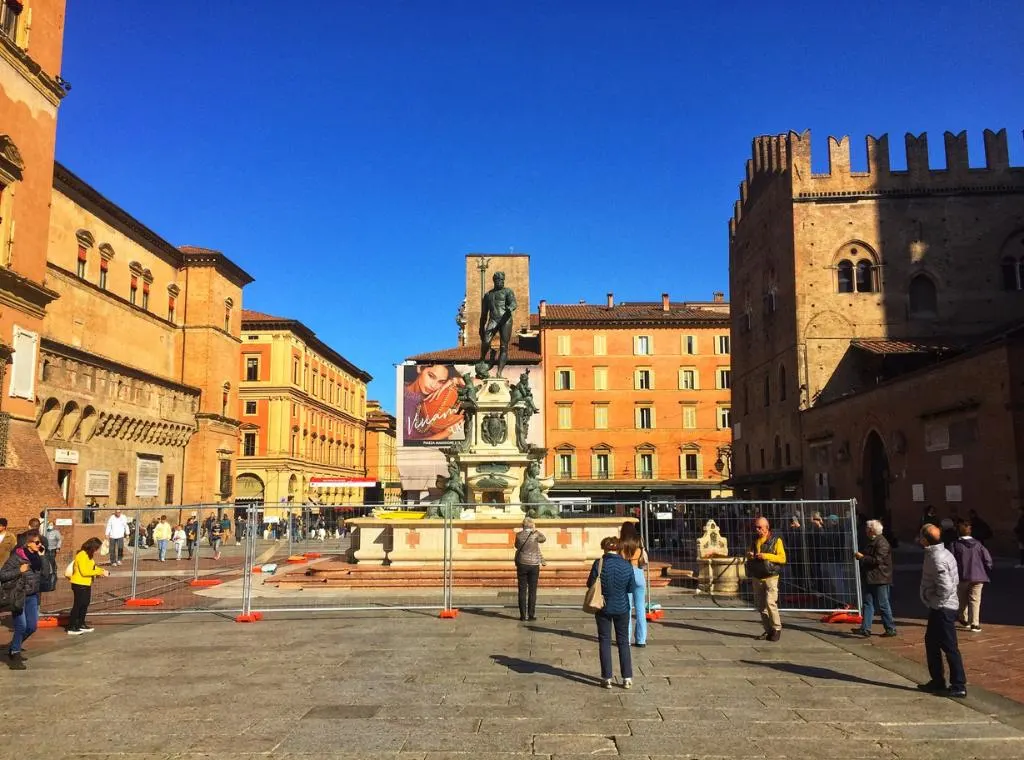 Piazza Maggiore and Piazza del Nettuno are the main squares in Bologna. They're the central squares in the city and its focal point.
These squares are huge and framed by marvellous buildings such as the Biblioteca Salaborsa and Palazzo d'Accursio
One of the main attractions is the giant fountain of Neptune, which is what gives Piazza del Nettuno its name. It's a magnificent sculpture and has four inscriptions on each side with some background on the fountain's construction.
A cool thing to do nearby is to head towards the Palazzo del Podesta, head to the arches and turn to face the wall. If you and your friend stand in opposite corners, you can exactly what they say despite the hustle and bustle.
These walls are known as the whispering walls and are one of many fun quirky things you can find in Bologna!
Bologna Itinerary – Day 2
Medieval Museum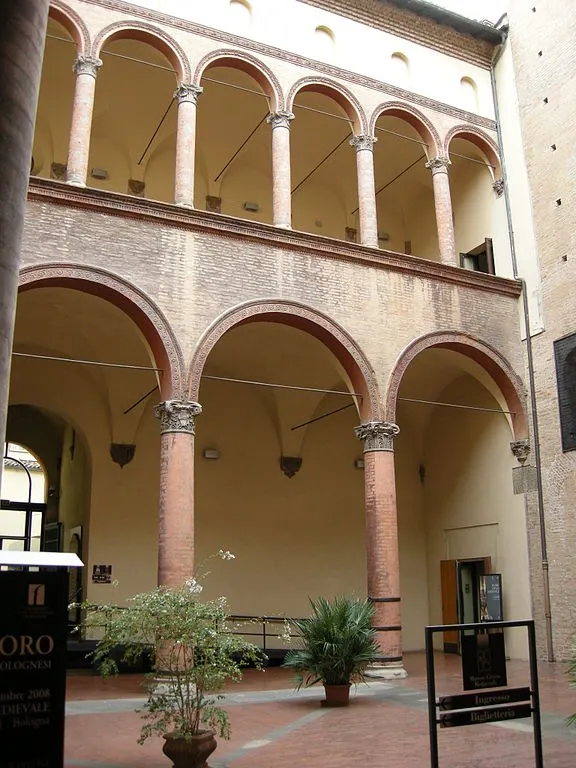 There are a lot of museums in Bologna, owing to the city's past and heritage, but the Medieval Museum is one of the best.
It's a good place to start the second of your 3 days in Bologna, especially if you want to learn more about the history of the city.
The museum is located in Palazzo Ghisilardi and has a wide collection of artefacts, such as sculptures from the Renaissance and Baroque periods.
It's €6 to enter, but if you're a history buff like me, it's money well spent!
Finestrella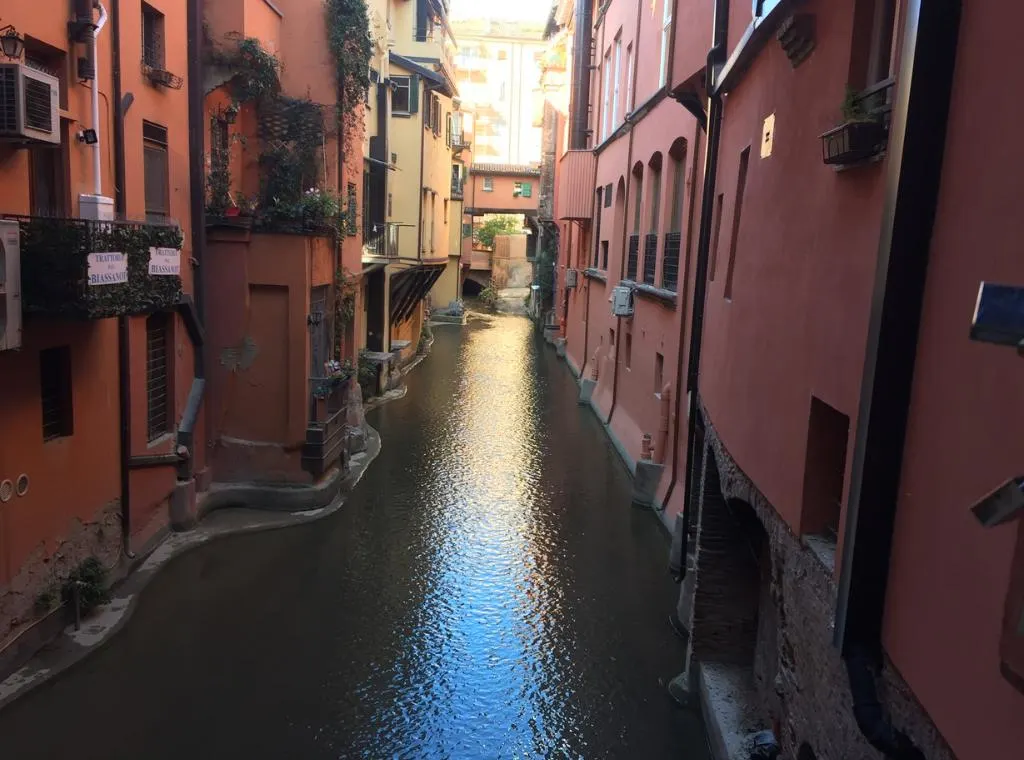 The Finestrella is one of the quirkiest things to do in Bologna, but it's also one of the best in my opinion.
It's a small window that opens up to a view of one of the ancient canals in Bologna. I was bewildered when my friend mentioned this to me, but I was impressed when I saw it.
You'll need to head to Via Piella and look out for a small window as you walk down the street. The canal is one of the 'lost' canals that were a fixture in the city before they were paved over.
You'll only be peering through the window for a minute or two, but where else in the world are you going to find as quirky an attraction as this?
Sanctuary di San Luca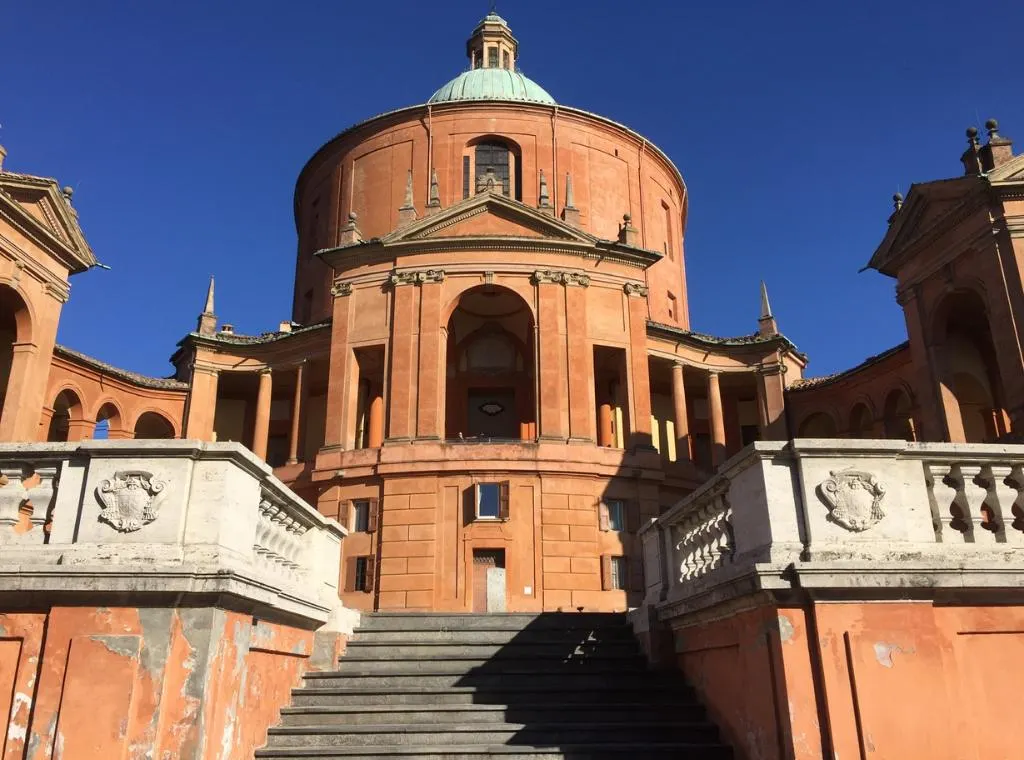 Getting to the Sanctuary di San Luca is a trek but it's worth it for the views and the walk up there isn't too bad either.
The Sanctuary is a church at Monte della Guardia above the city. You can walk to the Arco del Meloncello, which is where the uphill section of the portico to the sanctuary starts. Or you can get the bus to a place close by.
It's a long walk up but it's worth it and you get to walk up underneath the porticos, which makes the walk that extra bit special.
The Sanctuary itself is beautiful and worth exploring. The views of the city are the main reason to visit they are stunning and offer a fantastic view of Bologna!
Bologna Itinerary – Day 3
University of Bologna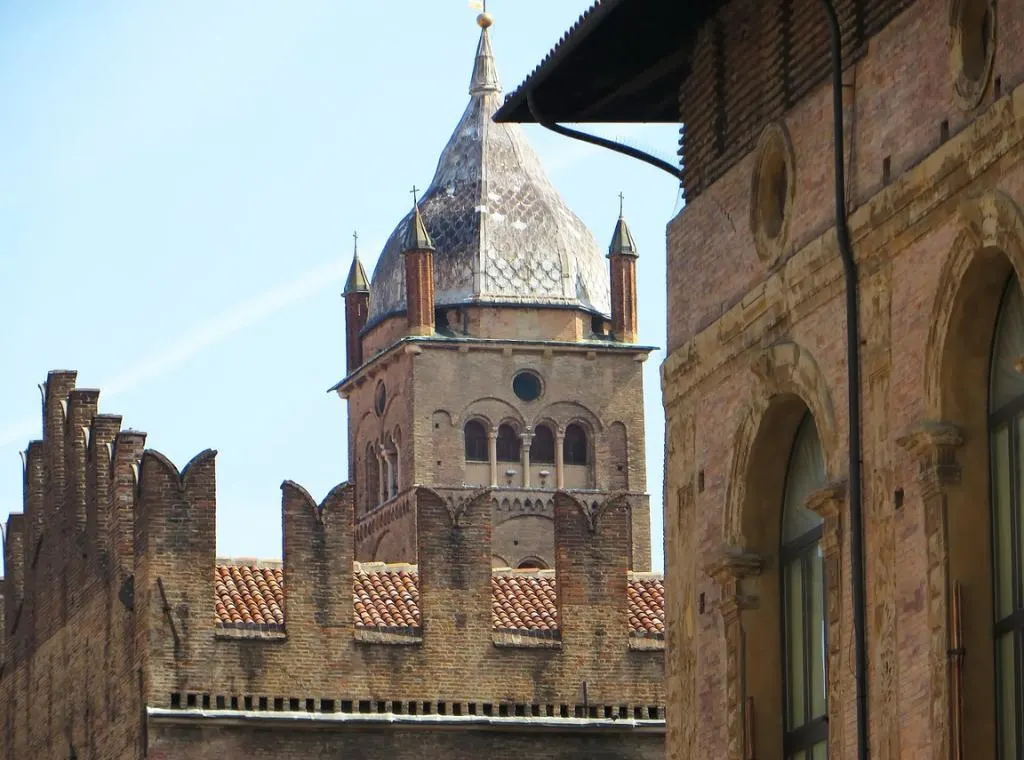 The last of your 3 days in Bologna see you visit the oldest continuous university in the world.
Founded in 1088, the university is the second-largest in Italy and is a place that's worth exploring for a variety of reasons.
The main one is the architecture at the university, which is incredible. It's so good, The Times listed it as one of the most beautiful universities in the world.
There are also several museums at the university such as Museo della Specola, which among other things has a collection of instruments used by astronomers through the centuries.
You might not think to visit the university, but you'd be missing out if you didn't.
Ducati Museum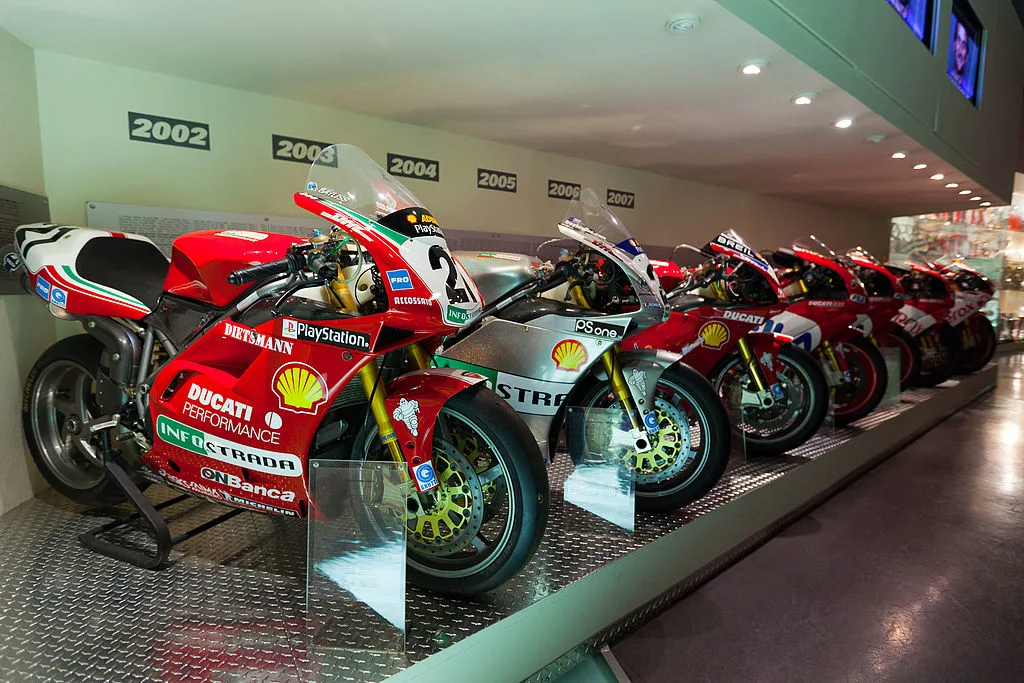 If you're into motorbikes, visiting the Ducati Museum will be something you want to do.
Bologna is home to Ducati, one of the most famous motorcycle brands in the world, and touring the museum is a must if you're a petrolhead.
The museum is located outside of the city centre, so you'll need to take the bus to get there. You can hop on the 36 or 39 bus outside Bologna Central Station, get off at the first stop and then get on the 13 bus in the direction of Via Normandia and get off at the 'Borgo Panigale – Ducati Museum' stop.
It costs €17 for adults to enter and is worth doing if you're looking for something different to do in the city.
Quadrilatero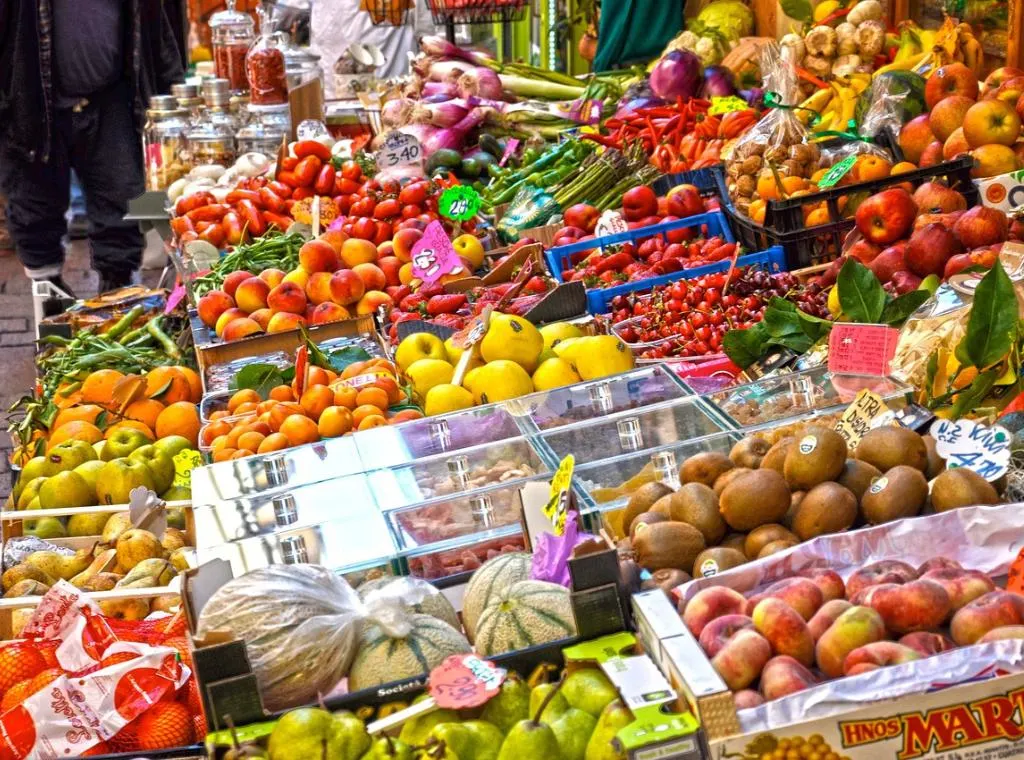 The final activity on this Bologna itinerary is a trip to the Quadrilatero, which is the oldest market in Italy!
This is a cool place to finish up your trip as you walk around the market and see all the various stalls, as well as the beautiful architecture.
There are some great shops and stalls here, many of which have been here for generations and retain the charm of old.
Wandering through the narrow alleyways and the hustle and bustle is a lot of fun. Plus, you might be able to find something cool gifts or souvenirs to take home.
Other Places To Visit in Bologna
Day trip to Modena: Modena is around 30 minutes by train from Bologna and is a nice little city worth exploring if you have time. You can visit the Ferrari Museum and check out the stunning buildings and architecture there too!
Secret Food Tour: Discover some of the best-kept secrets when it comes to food in Bologna and learn more about the city's past on this tour. Click here to book your tour!
Day trip to Ravenna: The fascinating city of Ravenna is a short train ride from Bologna and is home to many UNESCO heritage sights. It's worth visiting if you're in Bologna for longer than 3 days. Click here to book your tour now!
Bologna Travel Tips
If you've not visited Bologna before, or it's been a while since your last visit, this section will tell you all about the city from the perspective of a visitor.
Find out where to stay, the general costs of visiting the city, the best time to visit, how to get around, and my thoughts on visiting Bologna.
Where To Stay in Bologna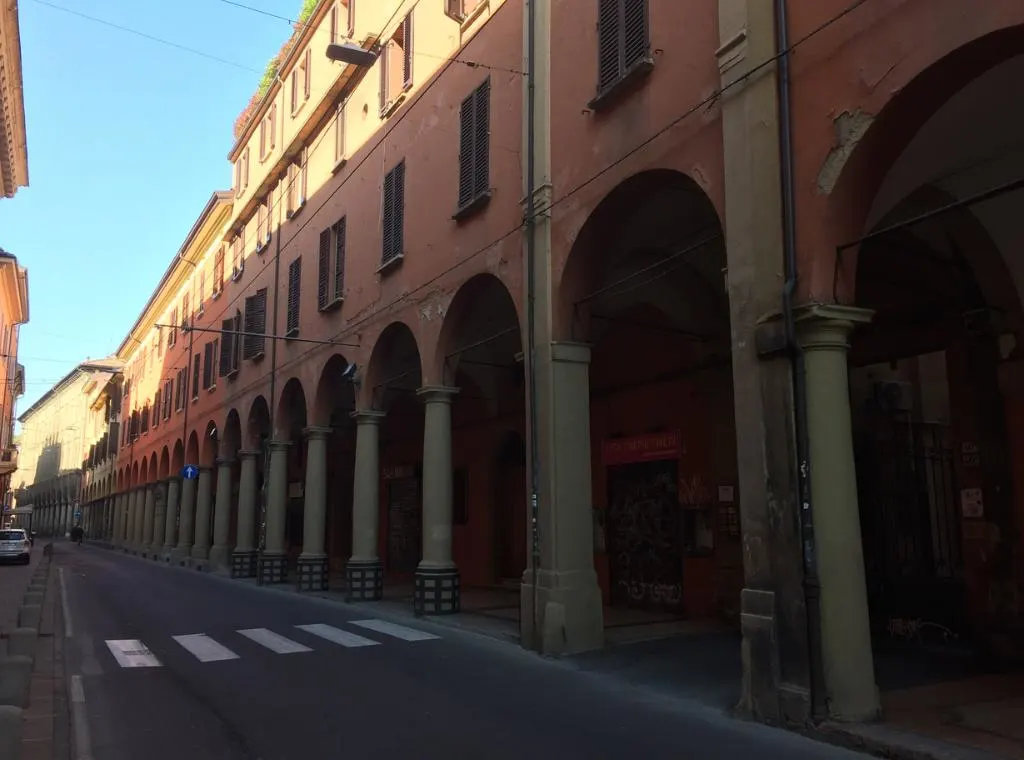 There's a wealth of options when it comes to staying somewhere in Bologna so you shouldn't have much difficulty finding somewhere good.
Although it's not the biggest place, you have a good choice of hostels, hotels and rental apartments to choose from.
Most of these are located in the city centre and this is probably the best place to be. You can stay further out of the centre, but it becomes less convenient the further out you go, as everything is clustered in the centre.
It might be slightly cheaper to stay outside of the centre, so if your budget is a concern, I'd factor this on. Otherwise, I'd stay in the centre as you'll either have to walk or get a bus and you're away from the train station which is the main transport hub in the city.
I've listed a few places you should consider staying at during your 3 days in Bologna below:
| Accommodation | Description |
| --- | --- |
| Combo Bologna | A nice hostel not far from the central station with clean and comfortable rooms and a big outdoor space. |
| Dopa Hostel | A brilliant hostel with all the facilities you need in the centre of the city. |
| Il Nosadillo Hostel | Located in the medieval centre of Bologna, this is a small hostel with a chilled vibe and all the facilities you need. |
Cost of Travel in Bologna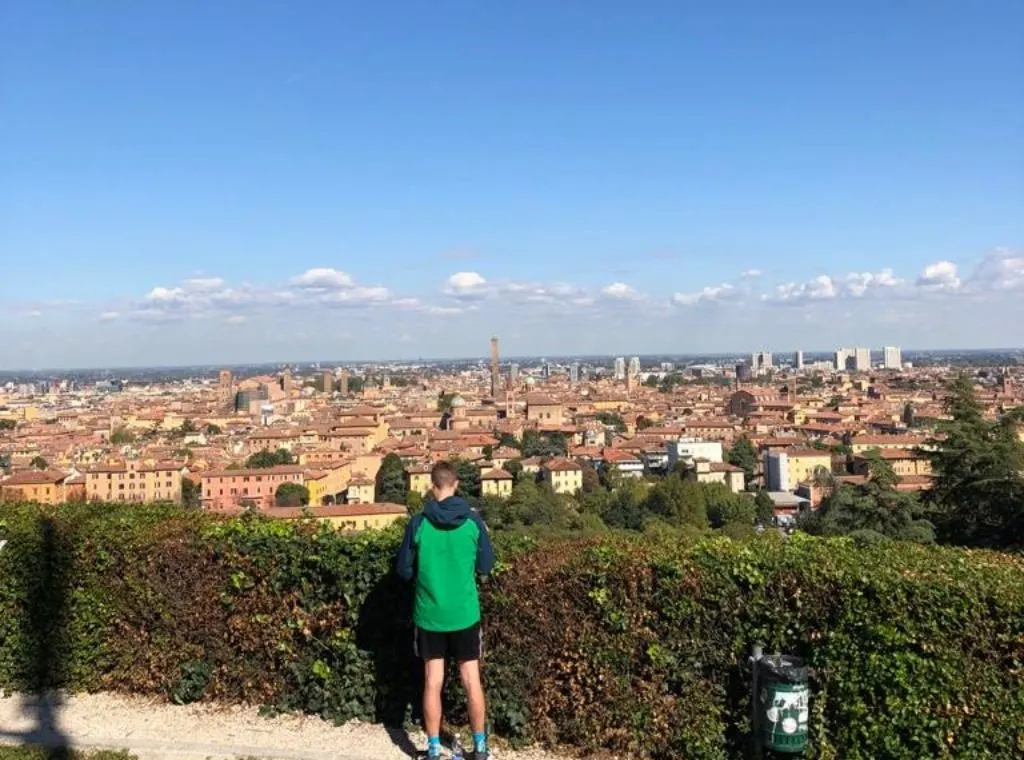 Italy isn't the most expensive country in Europe and visiting Bologna for 3 days isn't going to stretch your budget to breaking point.
The city isn't as expensive as bigger cities such as Milan and Rome. You can spend 3 days here on a budget without too much difficulty.
One thing that will eat into your budget is if you decide to do a lot of tours. This is something you can budget for beforehand. Although, there aren't many expensive tours, so as long as you don't splash the cash willy-nilly, you should be fine.
Eating out and accommodation are reasonably priced, while if you do any day trips, the train fares don't amount to much. If you want to buy some travel gifts for friends and family that should also be factored in.
Below is a rough guide to prices for accommodation, eating out and transport in Bologna.
They don't include prices for extras such as nights out at a bar/pub, club entry fees, souvenirs/clothing purchases, tours. etc. You will have to budget extra for these purchases as they are 'non-essential!'

Accommodation
Hostel: Dorm – €21-34; Private – €50-75
Hotels: €80-150
Rental Apartment: €100-130

Food and Drink
Breakfast: Free-€6
Dinner: €10-20
Takeaway meal: €5-8+
Pint of beer: €4-6

Transport
Bus single ticket: €2
Day card: $6
Bike rental: €25 for the day
Best Time To Visit Bologna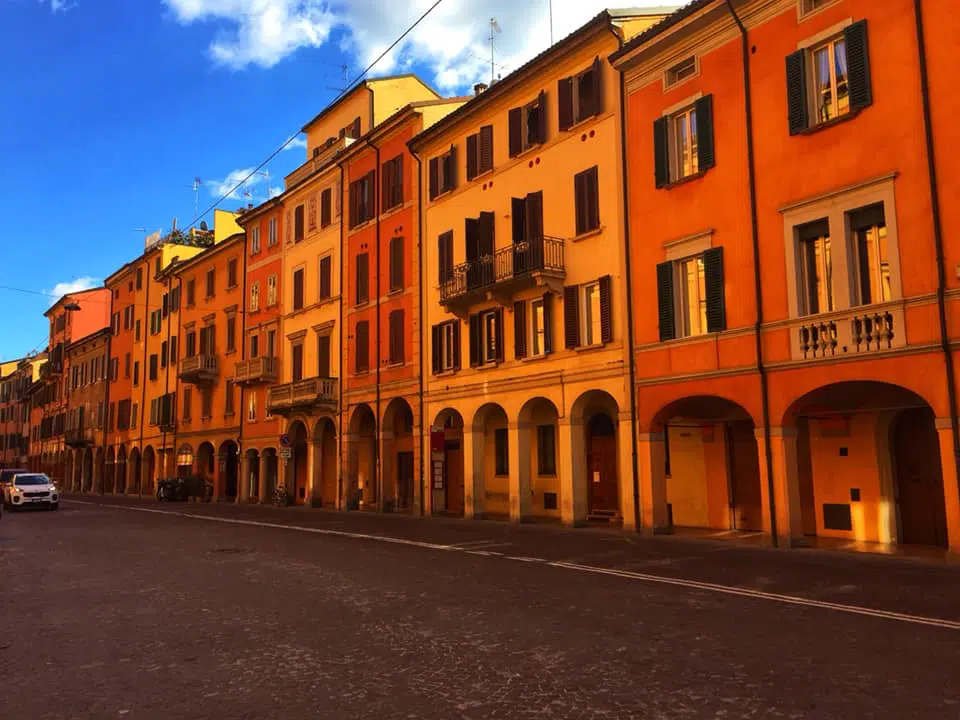 Bologna is in the Emilia-Romagna region of Italy, which is in the north of the country. While the climate isn't cold, it can be more temperamental than places further south.
Still, most of the time the weather follows what you'd expect from the seasons. It's much warmer in summer than at any other time of the year and you should expect more rain in spring and autumn.
I visited during October and was lucky enough to avoid any rain, although it was mild during this time. I was able to walk around in shorts but I was the only one!
I also visited briefly in the summer when catching a train to visit Turin. It was much warmer and there were more tourists too.
You should take this into consideration as well as the weather when visiting Bologna, as it does get busier during the summer months.
I've outlined a quick guide to what to expect when visiting Bologna in each of the four seasons below:
Bologna in Spring
Spring is when the weather starts to pick up with temperatures getting warmer and there are fewer tourists to deal with too. This is a good time to visit Bologna if you can.
Average temperatures from low to high: 4.1°C – 23° C / 39.4°F – 73.4° F
Bologna in Summer
The weather in Bologna gets much hotter during the summer and depending on how hot it gets, it can be uncomfortable. There will also be more tourists at this time of the year. If neither bothers you, it's a good time to visit.
Average temperatures from low to high: 15.7°C – 30.4° C / 60.3°F – 86.7° F
Bologna in Autumn
Autumn is probably the best time to visit Bologna. Temperatures aren't as high as during the summer, and nor is it as cold as in winter. You can still do most of the things you can in the summer but without the stifling heat and large crowds.
Average temperatures from low to high: 4.3°C – 25.4° C / 39.7°F – 77.7° F
Bologna in Winter
Winter isn't the best time to visit Bologna. It's much colder than at any other time of the year and you're more likely to get caught in rain too. The one silver lining is that there won't be many tourists. If you don't mind the weather, it would make a good time to visit.
Average temperatures from low to high: -0.5°C – 9° C / -1.8°F – 48.2° F
How To Get Around Bologna
Bologna isn't the biggest city, so you can walk around without too much difficulty. If the places you're visiting are mainly in the city centre, then you'll be fine.
If you want to venture further afield though, to visit the Sanctuary of San Luca for example, then you'll need to take the bus part of the way as it's a long walk.
There's an extensive bus network in the city, which you can use to get around the city and the surrounding area. Via Marconi is one of the best places in the city to get buses from if you need to use them.
Bologna doesn't have a metro system, although a tram network is being built, this won't be operational until 2026 at the earliest.
The two options you have are walking or the bus. But this isn't a big problem, as you'll be able to get around the city easily using one or both.
Getting from Bologna airport to the city centre is easy too. There's a monorail that takes you from the airport to the train station in the city centre.
It takes around seven minutes and there are frequent services, especially at peak times.
Frequently Asked Questions
Is 3 Days Enough in Bologna?
3 days is enough time to see everything that Bologna has to offer. The city is bigger than you think, so you'll need three days to see all the sights such as the Two Towers, Piazza Maggiore and the Sanctuary of the Madonna di San Luca.
Is Bologna Worth Going To?
Bologna is a great place to visit and an underrated destination. The city has a long history and many fascinating architectural and cultural sights to visit. The food is also brilliant here and the city has a lively nightlife too.
Looking For More Travel Guides?
3 Days in Palermo – If you want to visit another Italian city that's got a lot of character and history, Palermo is the place to go.
Road Trip in Sicily – A road trip around one of the most beautiful and interesting parts of Italy is a must if you have time to spare after visiting Bologna.
3 Days in Rome – The capital of Italy is one of the most incredible places to visit on the planet. It's a train ride away from Bologna and a good place to visit afterwards.
Tom is a travel addict who first left England to spend a year Down Under. Not satisfied with this, he then went to New Zealand, about as far away from home as he could get. He is now planning his next adventures in Europe and Canada while maintaining this blog. Check out the about me page to learn more!