If you're looking for Greece quotes, then you've come to the right place.
Greece is one of the most beautiful countries, and perhaps the world. Its past is well-known and plays a massive role in what makes the country so special.
These quotes about Greece embody all of this. You'll find quotes that talk about the beauty of Greece, while we also have ancient Greece quotes that talk about its fascinating past and figures like Socrates, Aristotle and Plato.
I've also included some Greece captions you can use to illustrate your images on Instagram and social media.
Take a look at this collection of inspiring Greek quotes and get plenty of reasons why you have to visit this magical country!
Best Greece Quotes
"Greece is the most magical place on Earth." – Kylie Bax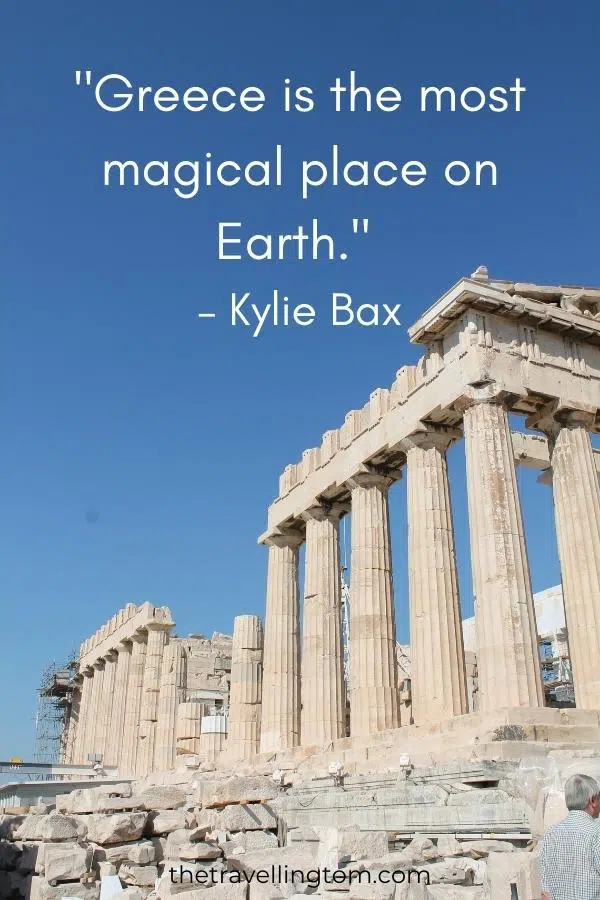 "Greece was a muse. It inspired creativity in magical ways that I can't even begin to understand or explain." – Joe Bonamassa
"The center of Western culture is Greece, and we have never lost our ties with the architectural concepts of that ancient civilization." – Stephen Gardiner
"Italy is full of historical buildings. And Europe holds a great history of philosophy from Greece until today. I read all those books and see these buildings, and I think of where I stand when I design my architecture." – Tadao Ando
"I had the privilege of living in Greece in the early 1970s." – Charles Dallara
"Greece – The feeling of being lost in time and geography with months and years hazily sparkling ahead in a prospect of inconjecturable magic." – Patrick Leigh Fermor
"I lived in Greece for about four years of my life, and living there had a huge impact on my life growing up. My father was very much adamant that we would learn about our culture. It's a very rich culture to be a part of since it has such a great history behind it. I definitely carry that in my job, and I am very passionate." – Marina and the Diamonds
"I've spent important times of my life in Spain and Greece, and various deep things happened there – falling in love, stuff like that." – Matt Bellamy
"When I lived in Greece and off the coast of Italy, I enjoyed a branzino dish so much that I created my own version." – Camila Alves
"Greece is so beautiful and inspiring." – Joe Bonamassa
"Greece is a good place to look at the moon, isn't it." – Kari Hesthamar
"What, ultimately, is Greece if it is not the people who live in this country? It's not the mountains and the plains." – Alexis Tsipras
"In many ways, we are all sons and daughters of ancient Greece." – Nia Vardalos
"In ancient Greece, Socrates reportedly didn't fancy a literate society. He felt that people would lose the capacity to think for themselves, simply adopting the perspective of a handy written opinion, and that they would cease to remember what could be written down." – Nick Harkaway
"Student journeys which were important to me were Sicily, Greece, and Egypt, where I really saw these buildings, and that is where you're able to grasp what things mean." – Ben Nicholson
"The mention of Greece fills the mind with the most exalted sentiments and arouses in our bosoms the best feelings of which our nature is capable." – James Monroe
"Greece gave democracy to the rest of the world." – Alexis Tsipras
"I would love to go to Greece." – Lucy McMann
"I love Greece. It's really cool in the summer." – Lance Stroll
Greece Travel Quotes
"I like reading, free diving and hiking. But my favorite thing to do is travel anywhere in Greece. I love everything about that place." – Max Irons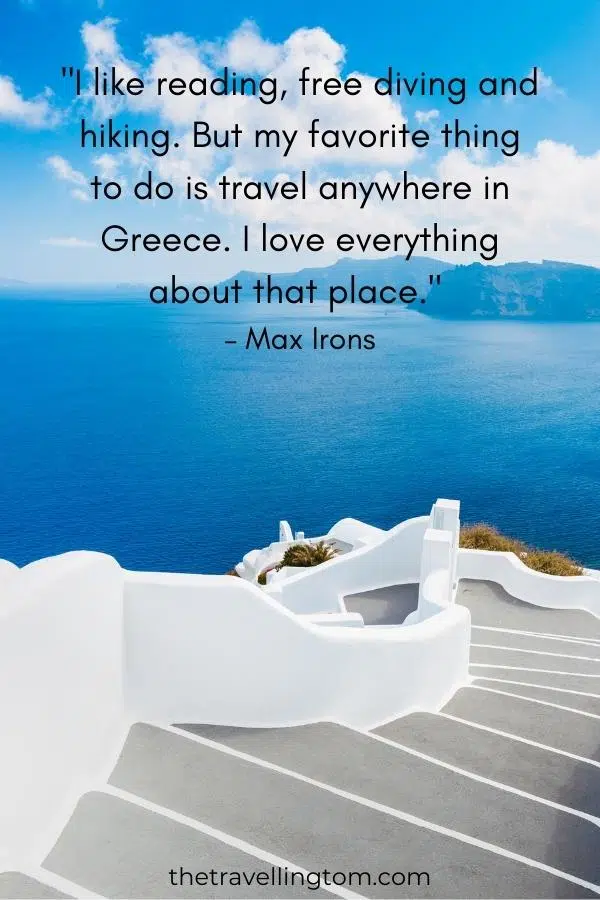 "I've been starting in new places year after year after year. It's just like when I went to Greece or the Philippines. I love when people think I'm a new artist. It's a chance to start over." – Thalia
"Happy is the man, I thought, who, before dying, has the good fortune to sail the Aegean sea." – Nikos Kazantzakis, Zorba the Greek
"I have very fond memories of growing up in Greece, of my brothers and I causing chaos and climbing up trees, which is really cool. Back then, we didn't have all the video games and all that stuff. We just had each other, and we played on the street." – Tracy Spiridakos
"The original Grand Tour would generally begin in Belgium or the Netherlands before moving through Paris, Geneva, Spain, Italy, and perhaps Greece." – Hanya Yanagihara
"I want to go to Italy and France; those are my two places. And I really want to go to Greece. I've seen so many pictures on Airbnb that make me think I should be living there. I could eat great salads and be on a boat." – Mary Lambert
"I was five years old when we got on a boat for a month and headed over to Australia. I dont have great recollections of it. At the time, there was a bit of upheaval in Greece and, unfortunately, we got caught up with that." – Angelos Postecoglou
"If I could go anywhere, I'd love to visit Greece someday because it looks so beautiful, and I'd also love to go to Mexico." – Laurie Hernandez
"When I was 16 years old, I went scuba diving in Greece and saw more plastic bags than fish. I wondered why we couldn't just clean it up. That rather simple question stuck in my head." – Boyan Slat
"Kosovo is too close to Europe. It is not only close to Albania, it is close to Greece, Italy, Germany and Switzerland, where there are still many Kosovo refugees. Spontaneous reactions could multiply." – Fatos Nano
"Athens, the eye of Greece, mother of arts and eloquence, native to famous wits." – John Milton
"My teens and 20s were spent lying on sheets of tinfoil in the weak English sun, covered in baby oil. In Greece and France I would burn, then turn a dark brown." – Jane Green
"Such is the aspect of this shore; "Tis Greece, but living Greece no more! So coldly sweet, so deadly fair, We start, for the soul is wanting there." – Lord Byron
"Greece is the home of Gods. They may have died, but their presence still makes itself felt." – Henry Miller
"England and Greece are friends. English blood was shed on Greek soil in the war against fascism, and Greeks gave their lives to protect English pilots." – Melian Mercouri
"I really want to go to Greece. I want to go to Australia." – Gigi Gorgeous
"Greece has got something like 1,400 islands. There is so much of Greece you can't know even if you're Greek. It's sprinkled out all around the edge of the Aegean, all over the place. It's already a secret place wherever you go, even if it's somewhere huge like Athens or Corinth. The place enchanted me." – Joanna Lumley
"The reason for my big success in England was the Brits – they started wanting to go on holidays, like Spain and Greece." – Demis Roussos
Funny Quotes About Greece
"In Greece wise men speak and fools decide." – George Santayana
"Not since Ancient Greece have cities been thought of as the ideal living environment for humans. And that was so long ago it predates the invention of trousers." – Giles Coren
"Greece is not an easy country to do business in." – Ali Babacan
"Be afraid of the Greeks bearing gifts." – Virgil
"Alcohol makes other people less tedious, and food less bland, and can help provide what the Greeks called entheos, or the slight buzz of inspiration when reading or writing." – Christopher Hitchens
"You know, it is said that we Greeks are a fervent and warm-blooded breed. Well, let me tell you something – it is true." – Melina Mercouri
"There are two kinds of people. Greeks, and everyone else who wishes they were Greek." – My big fat Greek wedding
"The Greeks had invented democracy, built the Acropolis, and called it a day." – David Sedaris
"In a way, it's nice to know that there are Greek gods out there, because you have somebody to blame when things go wrong. For instance, when you're walking away from a bus that's just been attacked by monster hags and blown up by lightning, and it's raining on top of everything else, most people might think that's just really bad luck; when you're a half-blood, you understand that some divine force is really trying to mess up your day." – Rick Riordan
Greece Captions for Instagram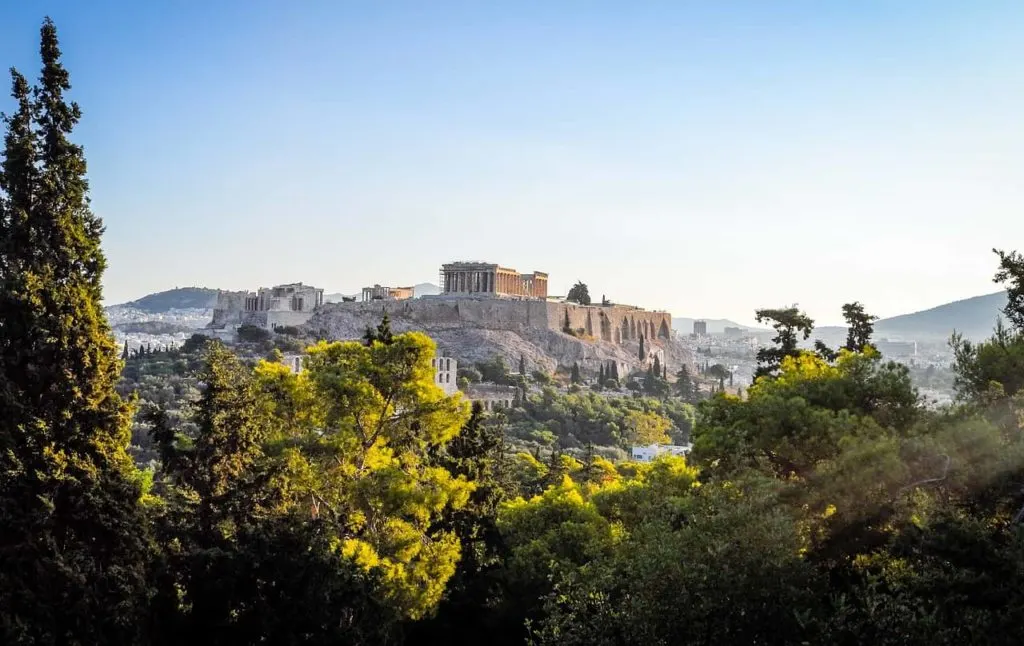 It's all Greek to me
Greece is the word
Greecey hair, don't care
Greece is more than a country. It is an experience
I can be your gyro baby
I'm going to myth you Greece!
Why it's Greece lightning!
I followed my heart and it led me to Greece
Greece is always a good idea!
Got Greece on my mind
Quotes About Greece's Culture and History
"Among all peoples, the Greeks have dreamt life's dream most beautifully." — Wolfgang Goethe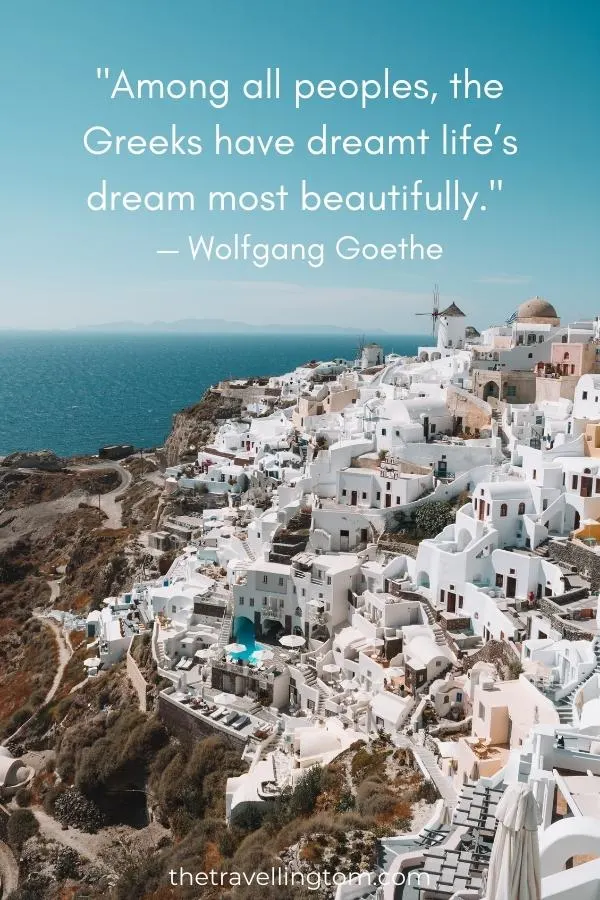 "The ancient Greek philosophers were blonde and blue-eyed and, even then, talked about how their race was mixed with others and how this affected their society negatively. When there were no more natural blondes and no more blue eyes in Greece, they incidentally stopped producing great philosophers." – Varg Vikernes
"Socrates' fame spread all over Greece, and the most respected and educated men from all around came to him, in order to enjoy his friendly company and instruction." – Moses Mendelssohn
"If you deconstruct Greece, you will, in the end, see an olive tree, a grapevine, and a boat remain. That is, with as much you reconstruct her." – Odysseus
"The world is expanding Greece and Greece is the shrinking world." – Victor Hugo
"For me, Greece is Maria Farantouri. This is how I imagined Goddess Hera to be: strong, pure, and vigilant. I have never encountered any other artist able to give me such a strong sense of the divine." – François Mitterrand
"I've always wanted to see what Egypt was like when they were building the pyramids or Rome at the height of the empire or Greece – more specifically, Crete before it was destroyed. Why? Because I'm curious how we all hung out on a day-to-day basis, what was the chit chat, etc. Reading things in a book never gives you the feel." – Albert Hammond, Jr.
"Greeks use food for everyday gatherings. Cooking is a big part of our lives. We want to show people our hospitality." – Ioanna Hawkins
"I have a long view of history – my orientation is archaeological because I'm always thinking in terms of ancient Greece and Rome, ancient Persia and Egypt." – Camille Paglia
"The culture of Greece is not the same as the culture of Germany, and to fuse them into a single unit is extremely difficult." – Alan Greenspan
"Philosophy is best practised by people in general and not by philosophers alone. Philosophy is too often a luxury now, but in ancient Greece, carpenters, masons and beggars were the main practitioners. What I am trying to develop is a philosophical system where all the subjects can be taught." – Michel Onfray
"If you look at the map, there's Thrace, Greece, Bulgaria, and there's tiny Gallipoli. It is such a small part of the whole peninsula, and yet you only hear about this little tiny bit." – Kerry Greenwood
"The Spartans were a paradoxical people. They were the biggest slave owners in Greece. But at the same time, Spartan women had an unusual level of rights. It's a paradox that they were a bunch of people who in many ways were fascist, but they were the bulwark against the fall of democracy." – Frank Miller
"The fashions of the ages vary in this direction and that, but they vary for the most part from a central road which was struck out by the imagination of Greece." – Gilbert Murray
"I spent most of the '60s, when I was starting to try to write novels, living and working in Greece and Turkey. These are countries where the ancient past is interfused with the daily present, and I remember being struck with wonder at the constant sense of continuity and connection, the reminders that lie in wait for you at every turn." – Barry Unsworth
"The birthplace of 'Western' civilization is generally agreed to be Greece, and its birth date is generally agreed to be some time during the 6th century B.C.E. Obviously, there is not one single dramatic moment that definitively started the whole thing." – Brenda Myers
"No account of the Renaissance can be complete without some notice of the attempt made by certain Italian scholars of the fifteenth century to reconcile Christianity with the religion of ancient Greece." – Walter Pater
"Since the days of Greece and Rome, when the word 'citizen' was a title of honor, we have often seen more emphasis put on the rights of citizenship than on its responsibilities." – Robert Kennedy
---
Thanks for reading my collection of the best Greece quotes! Hopefully, they have sparked your curiosity and inspired you to visit the country.
Do you have any other quotes about Greece? If you do, leave them in the comments below. Let me know if you've been to Greece and what you think. I'm interested to see what your opinion of the country is!
Tom is a travel addict who first left England to spend a year Down Under. Not satisfied with this, he then went to New Zealand, about as far away from home as he could get. He is now planning his next adventures in Europe and Canada while maintaining this blog. Check out the about me page to learn more!