Looking for Sicily quotes? Well, you've come to the right place. I've compiled a fantastic list of quotes about this beautiful island that will inspire you to visit this amazing part of the world.
Italy is an incredible country, and choosing a 'best' part of Italy is a fool's game. But Sicily would be in any conversation regarding the best places in Italy. It's simply stunning and brimming with culture and history.
You have the amazing history of Palermo and its recent darker past, the ferocious Mt Etna and some truly epic historical sites such as Agrigento and Taormina. You could easily spend a month in Sicily and still have things to do!
What these quotes about Sicily will do is inspire you to visit this part of Italy. If you've already booked your trip, then they will just add to the excitement before you get there!
What I hope this collection of Sicily quotes does is provide you with the inspiration you need to check out one of Europe's most intriguing islands!
Table of Contents
The Best Sicily Quotes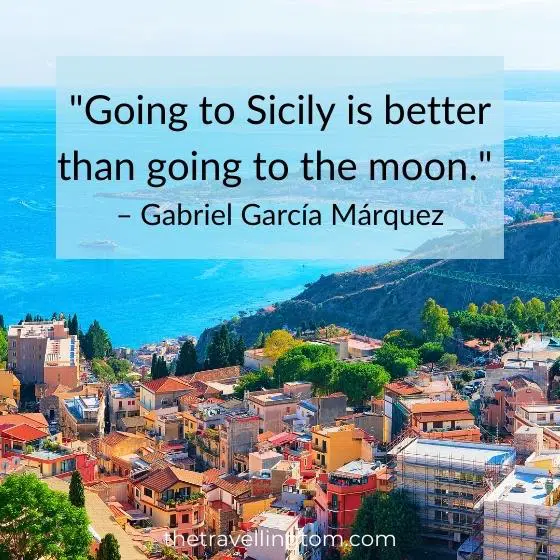 Sicily is one of the best places to visit in Italy. Of that, there's no doubt. After spending 3 days in Palermo and travelling around the island I can testify to that. Sicily was an amazing place to visit and there's just so much to do here. Not to mention the food is incredible too!
I've listed what I consider to be some of the best Sicily quotes below to get you in the mood for your trip!
"Going to Sicily is better than going to the moon." – Gabriel García Márquez
"I speak a little bit of Italian, yeah. I understand more than I speak. I speak more of a dialect; my mum's from Naples and my dad's from Sicily, so it comes out little a bit of a cocktail of the Italian language." – Luke Pasqualino
"Frank Sinatra took me to a whole new planet. I worked with him until he passed away in '98. He left me his ring. I never take it off. Now, when I go to Sicily, I don't need a passport. I just flash my ring." – Quincy Jones
"My family was all born in Sicily and I'm Italian-American. They're the real thing. They're authentic Italians, and honestly they're the most open-minded, nicest people in the world and nothing can really offend them. That's the way I think true Sicilians are." – Vinny Guadagnino
"On the sixth day, God accomplished his work and, pleased with all the beauty he had created, he took the earth in his hands, and kissed it. There, where he put his lips, that's Sicily." – Renzo Barbera
"The south of Italy and Sicily were a gift from the Gods to the Greeks." – Salvatore Furnari
"My memories of my childhood are wonderful memories. I feel that I was privileged because I grew up in a beautiful city. It is Catania, on the eastern coast of Sicily. It's a place filled with sun, close to the beach." – Luca Parmitano
"I do not envy God's paradise because I am so satisfied to live in Sicily." – Federico II
"Sicily is more beautiful than any woman." – Truman Capote
"To have seen Italy without having seen Sicily is not to have seen Italy at all, for Sicily is the clue to everything." – Goethe
"People can't get their heads round the idea of a species surviving; you know, they're more concerned about how you treat a donkey in Sicily or something." – Prince Philip
"I had to inspect all fighter units in Russia, Africa, Sicily, France, and Norway. I had to be everywhere." – Adolf Galland
"I come from a small village in Sicily. For all Italian people, family is very important. We don't fight with our families." – Domenico Dolce
"I think that my interpretation of Italian was a lot more southern than what my husband cooks. You know, I grew up in Queens and in Brooklyn, and we – really, it's more southern. It's Naples and Sicily. It's heavier. It's over-spiced. And like most Americans, I thought spaghetti and meatballs was genius." – Debi Mazar
"Sicily is a blessed land. First, because of its geographic position in the Mediterranean. Second, for its history and all the different peoples who have settled there: Arabs, Greeks, Normans, the Swedes. That has made us different from others. We exaggerate, we overdo. We love Greek tragedy. We cry, we fight, sometimes for nothing." – Marcello Giordani
"Whatever may happen to the Sicilians, they comment on it with a joke." – Cicero
"We built our fashion around three fundamental concepts: Sicily, tailoring, and tradition. Our dream is to create a style which is timeless, and to create clothes with such a strong personality that whoever sees them can instantly say without a shadow of a doubt: this is a Dolce & Gabbana." – Domenico Dolce
"My dad lives in Sicily, so I'm half Italian and half Irish – it's a fiery combination." – Nico Marallegro
"The failure of Christianity in the areas west from Sicily was even greater, and was increased by the spread of Arab outlooks and influence to that area, and especially to Spain." – Caroll Quigley
"My grandfather was a chef for a Baron in Sicily before he came to America. I grew up with him. I used to do my homework at one end of the kitchen table while he cooked at the other end." – Vincent Schiavelli
"Student journeys which were important to me were Sicily, Greece, and Egypt, where I really saw these buildings, and that is where you're able to grasp what things mean." – Ben Nicholson
"I was born in Messina, Sicily. I stayed there until I was 18 and finished my studies." – Maria Grazia Cucinotta
"We feel a special bond with Sicily and its people – in fact, our first campaigns were shot in Sicily, like the one shot in Vucciria Sicilian historical market We enjoyed showing the faces and the characters that crowd that beautiful market every day." – Stefano Gabbana
"I like to collect aprons from different places I go. I first started when I was in Italy because I thought that would be really appropriate. I got a hand-stitched Italian apron from this woman in Sicily who put my name on it, and it said, 'Sicily, Italy.' So now I get one from everywhere I go." – Britt Robertson
"One of my desert island books, 'The Leopard' is not so much a novel as a eulogy for a way of life and a Sicily that was already lost by the time Giuseppe Tomasi di Lampedusa was writing." – Ruth Ware
"I rented a house in Favignana, off the coast of Sicily, in the mid or late '90s. There was a revolving door of visiting friends and family – we played games, painted our faces, went swimming naked, cooked big meals, rode around on motorini, and had great cappuccinos." – Amber Valletta
"I never forget my first emotions in football, in Sicily." – Patrice Evra
"My father took my mother, me, and my brother from Sicily to New York. He got us one-way tickets but booked himself a return flight. He dumped us with my mother's parents, who had just arrived from Italy, and abandoned us. That was 1986. I didn't see or speak to him for another 12 years. That's cruel." – Paulie Malignaggi
Sicily Travel Quotes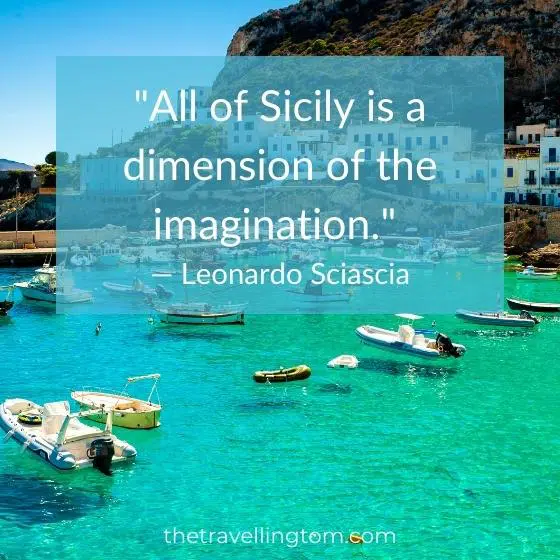 With so many places to visit in Sicily, you can be left struggling to decide where to visit when you're there. This is especially true if you're only there for a week.
Ideally, you would do a road trip in Sicily and spend at least a week or two driving and seeing all the best spots. If you're wondering why Sicily is such a great place to visit, here are some Sicily travel quotes to give you an idea.
"All of Sicily is a dimension of the imagination." ― Leonardo Sciascia
"Syracuse is the grandest of cities, a sojourn dear to the indomitable Ares." – Pindar
"Sicilians build things like they will live forever and eat like they will die tomorrow." – Plato
"Sicily is the pearl of this century…Since old times, travelers from the most faraway country…boast of its extraordinary beauty, and highlight its strengths…because it brings together the best aspects of other countries." – Al-Idrisi
"All Sicilian expression, even the most violent, is really wish fulfillment: our sensuality is a hankering for oblivion, our shooting and knifing a hankering for death; our laziness, our spiced and drugged sherbets, a hankering for voluptuous immobility, that is, for death again; our meditative air is that of a void wanting to scrutinize the enigmas of nirvana." ― Giuseppe Tomasi di Lampedusa
"I hate and detest Sicily in so far as I love it, and in so far as it does not respond to the kind of love I would like to have for it." ― Leonardo Sciascia
"All that nature has of great, all it has of pleasant, all it has of terrible, can be compared to Etna and Etna cannot be compared to anything." – Dominique Vivant Denon
"Were a man to spend only one day in Sicily and ask, "What must one see?" I would answer him without hesitation, "Taormina." It is only a landscape, but a landscape where you find everything on earth that seems made to seduce the eyes, the mind and the imagination." – Guy de Maupassant
"I love Sicily. It's beautiful. It's old. It's Italy, but it's not. I like the people—proudly mixed up, preyed upon by generations of invaders and a nearly ubiquitous fraternal organization that makes even the simplest transaction—like getting fruit to market—complicated. Sicilian food is exactly everything I love: the cuttlefish-stained pasta, street meat, inky wines, oily fishes. And for some reason, though I don't speak Italian, I understand nearly every word in Sicily." – Anthony Bourdain
"Palermo was lovely. The most beautifully situated town in the world – it dreams away its life in the Conca d'Oro, the exquisite valley that lies between two seas. The lemon groves and the orange gardens were entirely perfect." – Oscar Wilde
Quotes About Sicily's History and Culture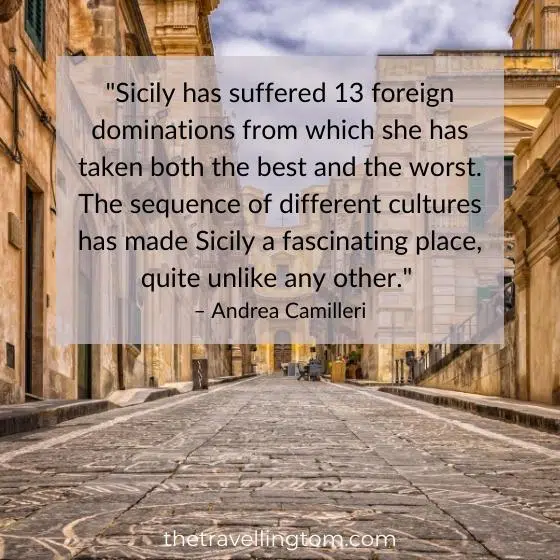 "Sicily has suffered 13 foreign dominations from which she has taken both the best and the worst. The sequence of different cultures has made Sicily a fascinating place, quite unlike any other." – Andrea Camilleri
"One of the biggest dishes in Sicily is couscous, and there's always been a North African influence on Italian culture, culinary culture there." – Jonas Carpignano
"Being summoned by the Athenians out of Sicily to plead for his life, Alcibiades absconded, saying that that criminal was a fool who studied a defence when he might fly for it." – Plutarch
"Sicily could only be an island, less by the caprice of nature than by her own insolence. As though she might have quit Italy had she not already been born separate from it." – Marlena De Blasi
"I also really loved the sea when I was young, when I lived in Sicily, but unfortunately the sea here has been reduced to a trash dump. It's a horrible pain going to the beach; you risk getting an infection or getting tar all over you." – Dacia Maraini
"The typical WW1 soldier was not an intellectual like Ernst Junger or Wilfred Owen, but was a peasant draftee from Galicia or Bavaria or Sicily, with all the traditional religious ideas. The hothouse atmosphere of war brought everyone into a supernatural-oriented universe of ghosts and apparitions." – Philip Jenkins
"I'll go to the south of Sicily in the winter, and paint memories of Arles "" I'll buy a piano and Mozart me that "" I'll write long sad tales about people in the legend of my life " This part is my part of the movie, let's hear yours." – Jack Kerouac
"One usually dies because one is alone, or because one has got into something over one's head. One often dies because one does not have the right alliances, because one is not given support. In Sicily the mafia kills the servants of the State that the State has not been able to protect." – Giovanni Falcone
"I like Sicilian food. It's real peasant food." – Raymond Kelly
"In Sicily, women are more dangerous than shotguns." – Mario Puzo
Sicilian Sayings
Sicily is a unique place and that's reflected in the character of the local people and some of their sayings.
If you speak Italian, you might be able to slip some of these into a conversation with a Sicilian. Otherwise, try and keep an ear out and see if you hear any of these Sicilian sayings during your visit!
"L' amuri è come a tussi…nun si po ammucciari" – Love and a cough cannot be concealed
This one is quite simple to understand. It's saying what's obvious is obvious. Anyone can see what's going on.
"Burrasca furiusa prestu passa" – Any furious storm passes quickly
A simple phrase that's states the worst things only last for a while.
"Testa ca 'un parra si chiama cucuzza" – If you don't talk, your head is like an empty pumpkin
This is a really funny way of saying that it's good to express your thoughts.
"Dinari e santità, crìdìtinni mità" – Only half believe what someone tells you about their wealth and saintliness
This saying is tied in with Sicilian's lack of trust in those who boast.
"Bòn tièmpu e màlu tièmpu nun nùra tutu u tièmpu" – Neither good nor bad weather lasts forever
A Sicilian equivalent of the English saying nothing lasts forever.
---
Thanks for reading my collection of the best Sicily quotes! Hopefully, they have sparked your curiosity and inspired you to visit the island.
Do you have any other quotes about Sicily? If you do, leave them in the comments below. Let me know if you've been to Sicily and what you think. I'm interested to see what your opinion of the island is!
Tom is a travel addict who first left England to spend a year Down Under. Not satisfied with this, he then went to New Zealand, about as far away from home as he could get. He is now planning his next adventures in Europe and Canada while maintaining this blog. Check out the about me page to learn more!