If you're looking for Portugal quotes, then you've come to the right place.
Portugal is one of the most beautiful and underrated countries in Europe. It often gets forgotten due to its location and the proximity to its much larger neighbour Spain.
However, as these quotes about Portugal will testify, the country has a lot to offer. From stunning cities such as Lisbon and Porto to the incredible beaches of the Algarve, Portugal has culture and scenery everywhere you go.
I've included some Portugal puns and Instagram captions to give you a laugh and to potentially use on your social media when the time comes to share all your amazing photos!
There's no doubt these Portuguese quotes will have you itching to book a trip to this beautiful paradise!
Best Portugal Quotes
"I've got two places I like to be. Portugal is one." – Cliff Richard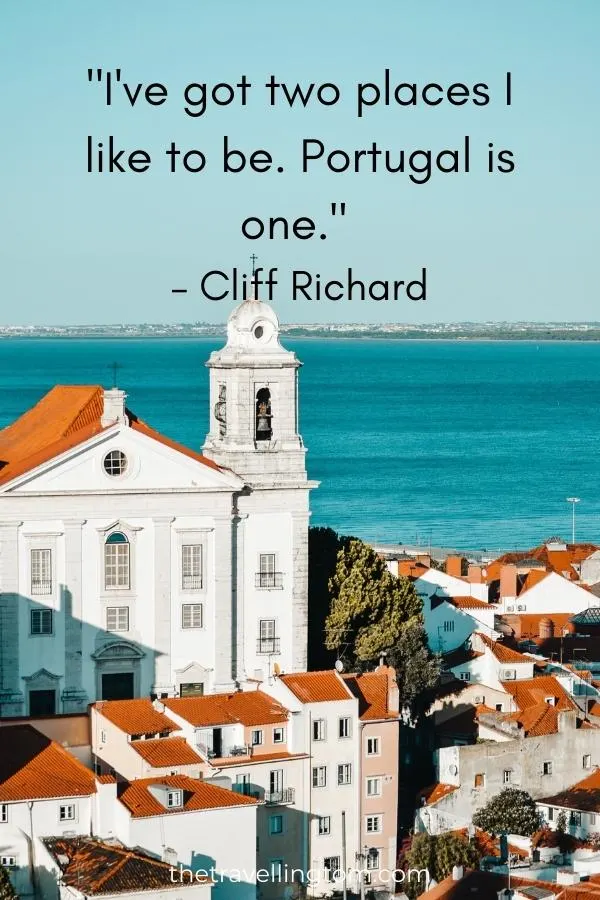 "I like to dream about Portugal, and it's less easy when you are there." – Maria de Medeiros
"But Portugal has a peaceful feel about it. I sit on the terrace overlooking the vineyard there and I feel cut off from the world. You need that sort of thing." – Cliff Richard
"I grew up in Portugal, and people there party 'til 7 or 8 in the morning there." – Sara Sampaio
"If there is one portion of Europe which was made by the sea more than another, Portugal is that slice, that portion, that belt. Portugal was made by the Atlantic." – Hilaire Belloc
"I was born in Oxford. I grew up in Cascais, Portugal." – Annabelle Wallis
"Wet or fine, the air of Portugal has a natural happiness in it, and the people of the country should be as happy and prosperous as any people in the world." – HG Wells
"The bar for loud family meals is set pretty high when you come from Portugal." – Mariana van Zeller
"Portuguese is cheerful and sweet, like a language of birds." – Paulo Rónai
"Any Portuguese town looks like bride's finery – something old, something new, something borrowed, and something blue." – Mary Mccarthy
"Oh, salty sea, how much of your salt Is tears from Portugal?" – Fernando Pessoa
"I love white Portugal wine better than claret, champagne, or burgundy. I have a sad vulgar appetite." – Jonathan Swift
Portugal Travel Quotes
"I lived five years in Portugal and then spent winters in Nepal or India." – Lykke Li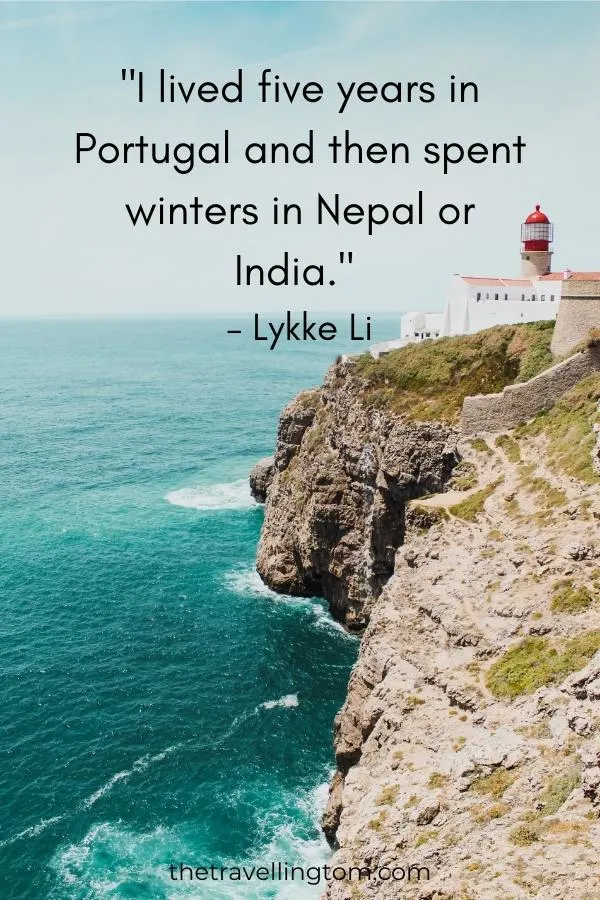 You might also like: Poland quotes
"I had this aunt who had a career and travelled. She'd say things like, "When you go to college, I think we should go scuba diving in the summer. Scuba diving in Portugal is fabulous." And I'd be like, "Portugal! Holy cats!" – Geena Davis
"In New York, I am barely recognised, or people don't really care. When I go to Portugal, I go outside to a public place and am recognised constantly." – Sara Sampaio
"Because of my Portuguese heritage, I have an interest in all of the instrumentation that comes from Portugal and Brazil as well." – Nelly Furtado
"I've lived in England, France, Spain, Portugal and Germany in the '80s. I don't like being settled. It's not really healthy." – Denny Laine
"I was born in Canada, and then my dad played pro soccer in England and then also on an island off the coast of Portugal. So we lived there for, like, 10 years. And then we moved to Minnesota. So I feel like I've experienced a lot of different cultures, and I'm still figuring out who I am." – Kylie Bunbury
"I've got a place in Portugal, which I like very much, but I've just been working in Malaysia for five weeks. My family had a chance to come over and we really loved it, particularly the island of Pangkor." – Ian Rush
"The first poem in The Beauty holds a woman in Portugal in a wheelchair singing, with great power, a fado. I have never seen this or heard of it, the image simply arrived. But surely such a thing has happened. And it matters to me that it has, or could." – Jane Hirshfield
"My business partner gave me a drone, a small helicopter you pilot with an iPhone, and also it has a camera so you can see what it sees on the iPhone. Great fun. I fly it outside in Portugal. It's wonderful to oversee gardens." – Christian Louboutin
"It's a gorgeous country with all sorts of history. A lot of Europeans vacation in Portugal, but it hasn't really caught on with North Americans." – Melisse Gelula
"My affection hath an unknown bottom, like the Bay of Portugal." – William Shakespeare
"I've been able to help my family financially since making my first hit record. I bought my parents a house. My husband and I have a property in Portugal and one in Mumbles, Wales, and my family are always coming out to visit us. It has been fantastic to have such a successful career and to have been able to help everyone." – Bonnie Tyler
"I'm from Scotland, one of four daughters, and we grew up moving every few years between Scotland, Portugal, Colombia and Scotland again." – Pollyanna McIntosh
"Portugal is still one of those places, where you can have a really great dinner out, which might cost $18 to $23 in Manhattan, only costs about $9 to $11 in Portugal." – Melisse Gelula
---
You might also like:
---
Funny Portugal Quotes
"In Portugal, seeing a black cat is a bad sign; it's bad luck. But they tell me if it crosses from left to right, it's good luck. But I don't like black cats!" – Nuno Espirito Santo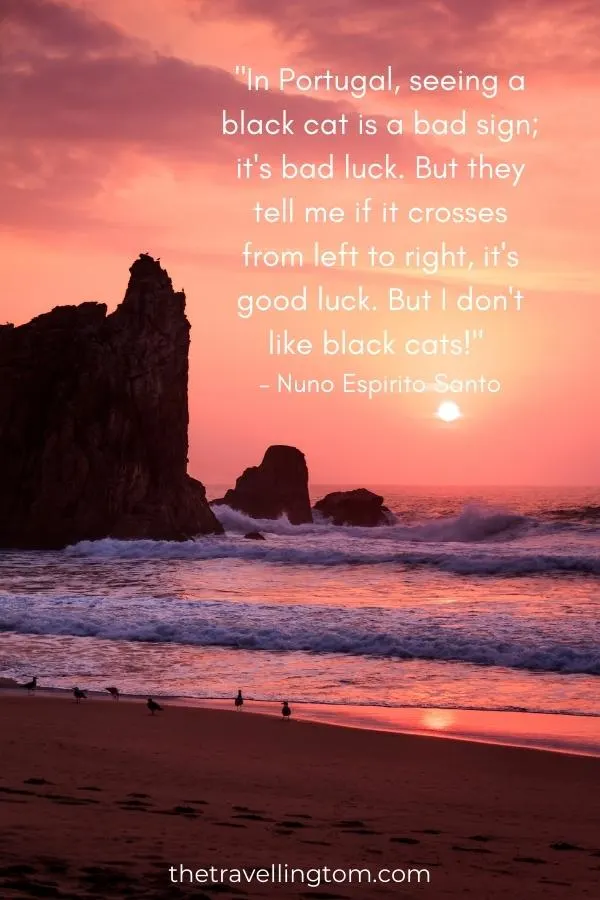 "My father is Portuguese, and in Portugal, it is traditional to take your mother's maiden name as a middle name. My mum is called Tough." – Lucy Bronze
"Mum doesn't like it when I mention that Dad's a better cook than her. He was born in Spain and spent eight years in Portugal and is exceptional at lots of cuisines." – Paloma Faith
"As we say in Portugal, they brought the bus and they left the bus in front of the goal." – Jose Mourinho
"Portugal has amazing seafood with all the eyeballs staring back at you." – Annie Wersching
"Portugal is a high hill with a white watch tower on it flying signal flags. It is apparently inhabited by one man who lives in a long row of yellow houses with red roofs, and populated by sheep who do grand acts of balancing on the side of the hill." – Richard Harding Davis
"I bought some land in Portugal, on the highest hill in Guimaraes, because I pictured that I wanted to build my house there. I said, 'What a perfect place this would be,' but I forgot to ask the council if I could build a house there. When I did, they said, 'No!'" – Nuno Espirito Santo
"Portugal has a national team called Cristiano Ronaldo and a group of players who run after him." – Carlos Queiroz
Portugal Instagram Captions
Portugal is picture perfect!
Peace, love and exploring Portugal
I followed my heart and it led me to the Algarve
I left my heart in Portugal
Chilling with the castles and cliff-sides
Made it to Portugal
In love with Lisbon
Take the long flight to Lagos, it's worth it!
I'm all about the passport stamps and being in Portugal
There's no such thing as a place better than Portugal
Portugal Puns
Coim-bros
Lisbon Voyage!
Lamego home, but I'll be back!
It would be a Sintra to miss out on this place!
I just need someone to Lisbon to me
If you like Pena-coladas
Don't hate the player, hate the de Gama
Portugal is tram-endous
Portugal towers over the competition.
Roca the Casbah
I love travelling to Faro-way places
I don't mean to Braga, but this is an amazing trip!
Quotes About Portugal's Culture and History
"In Portugal, my sculpture 'She Changes' refers to the town's fishing history, to the era of seafaring trade and discovery. The contemporary site is industrial, surrounded by red and white striped smokestacks, which is mirrored in the pattern of the sculpture." – Janet Echelman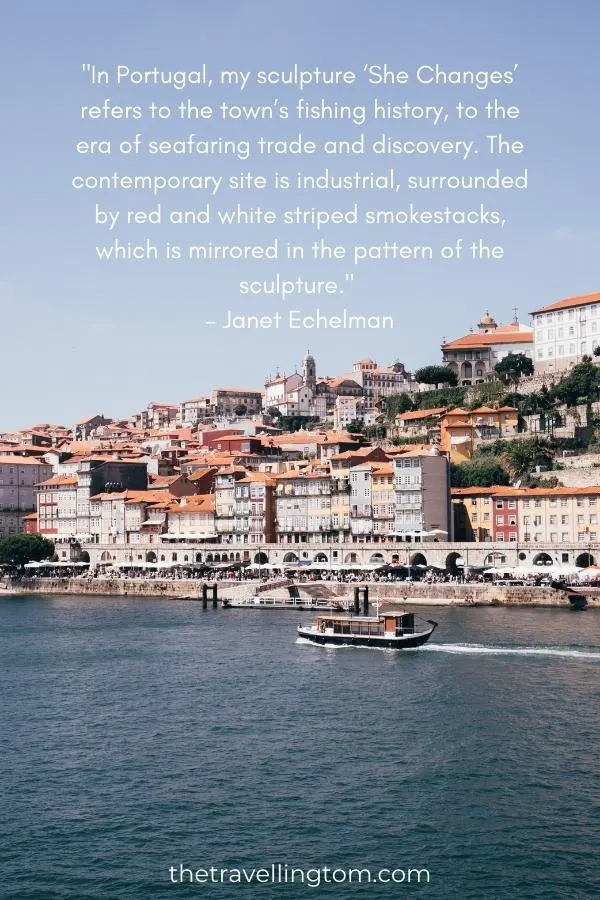 "My father was a great admirer of music and the arts, so there was always a lot of culture in the house. As it happened, while my father was the ambassador in Portugal, the ambassador's residence had a piano, and so I started learning how to play it at the age of five." – Adnan Sami
"It's very different, because in Portugal we don't play during the Christmas holidays. But I think it's very good for the fans and everyone around, because families can enjoy the games together during the holidays. For my family, it's also good because they like to see me perform and they like to see my play." – Rui Patricio
"As soon as the news of the Cabot voyages reached the King of Portugal he arranged to send an expedition of discovery to the far north-west, perhaps to find a northern sea route to Eastern Asia." – Harry Johnston
"People of my generation in Portugal fell into the magic potion of political ideas. What was very funny about this revolution was that it did not bring wealth to the Portuguese. But it brought language, ideas. You'd go to the fish market, and all the women who were selling fish would call each other fascist, communist." – Maria de Medeiros
"When I was nine years old, my father went to Spain to work for three years, and I was in Portugal. He has a sports store. I only saw him once a month, which was difficult. I was alone with my mother and my sister, who is younger than me." – Ruben Neves
"Heroic ages are not and never were sentimental and those daring conquistadores who conquered entire worlds for their Spain or Portugal received lamentably little thanks from their kings." – Stefan Zweig
"I started my career in Portugal, and the longest I've ever played a character was for about a year, which is how long our TV shows last." – Daniela Ruah
"I suppose I have become a sort of living monument in Portugal. But I come from a family with roots all over the world, so the idea of patriotism is not very strong in me. My country is the country of Chekhov, Beethoven, Velasquez – writers I like, painters and artists I admire." –Antonio Lobo Antunes
"I have built already seven very large railway stations: one in Italy; two in Belgium; and in France, and in Switzerland, in Portugal, and also in the United States. And what happens is that stations are not things that come from one day to another, it takes many years." – Santiago Calatrava
"To be sure, political unions between European countries have often failed in the past, but usually only after relatively brief periods. Denmark and Iceland separated after 130 years; the unions between Spain and Portugal and between Sweden and Norway each lasted less than a century." – Linda Colley
"In the Middle Ages, Spain and Portugal were so powerful that they signed a set of treaties literally dividing up the globe between them." – Max Fisher
"I came home from Portugal convinced that nothing is so important as making known what the Mother of God asked in those apparitions of 1917. The future of our civilization, our liberties, our very existence may depend upon the acceptance of her commands." – William Thomas Walsh
---
Thanks for reading my collection of the best Portugal quotes! Hopefully, they have sparked your curiosity and inspired you to visit the country.
Do you have any other quotes about Portugal? If you do, leave them in the comments below. Let me know if you've been to Portugal and what you think. I'm interested to see what your opinion of the country is!
Looking For More?
3 Days in Porto – Check out this itinerary for one of the best cities in Portugal!
Tom is a travel addict who first left England to spend a year Down Under. Not satisfied with this, he then went to New Zealand, about as far away from home as he could get. He is now planning his next adventures in Europe and Canada while maintaining this blog. Check out the about me page to learn more!