These Alaska quotes will provide you with plenty of inspiration to visit one of America's most fascinating states and one of its most beautiful too.
Our list of quotes about Alaska will enlighten you about one of America's oft-forgotten states. Due to its separation from the mainland, it can be easy to neglect Alaska, unless you decide to visit via Canada.
But there are a lot of good reasons to check out Alaska. The beauty of the wilderness in the state is unparalleled. Anchorage and Juneau are fascinating cities, and the highest point in America, Denali is located within the state too.
Our list of Alaska sayings and quotes covers a wide breadth of what makes the frontier state such an enticing destination!
Table of Contents
Best Alaska Quotes
"To the lover of wilderness, Alaska is one of the most wonderful countries in the world." – John Muir
You might also like: Grand Canyon quotes
"When I was 23, I climbed this mountain in Alaska called Devil's Thumb alone. It was incredibly dangerous, and I did it because I thought that if I did something that hard and pulled it off, my life was gonna be transformed. And of course, nothing happened. But I get the search for purpose." – Jon Krakauer
"I consider myself a product of Alaska. The love and the debt that I feel to my home state, you always want your hometown to be the proudest of you." – Jewel
"What I miss most about living in Alaska is the fishing." – Darby Stanchfield
"Alaska itself is an unusual state." – Fareed Zakaria
"It's not like Alaska isn't wilderness – it mostly is. But most Alaskans don't live in the wild. They live on the edge of the wild in towns with schools and cable TV and stores and dentists and roller rinks sometimes. It's just like anyplace else, only with mountains and moose." – Tom Bodett
"I've always been fascinated and stared at maps for hours as a kid. I've especially been most intrigued by the uninhabited or lonelier places on the planet. Like Greenland, for instance, or just recently flying over Alaska and a chain of icy, mountainous islands, uninhabited." – Andrew Bird
"I'm not someone who can lie on a beach and do nothing. I am not sure what you are supposed to do, so I get bored. I prefer to have a purpose, such as going to Alaska to see orca whales." – Miranda Richardson
"Tom Kizzia hasn't just observed and written about Alaska for three-plus decades, he's lived it. Pilgrim's Wilderness is a story that needed to be told by the only man who could tell it." – Tom Bodett
"For sheer majestic geography and sublime scale, nothing beats Alaska and the Yukon. For culture, Japan. And for all-around affection, Australia." – Sam Abell
"I've always heard that heli-skiing in Alaska is amazing. I would love to be able to do that at some point in my life." – Lindsey Vonn
"There's a lot of people around Alaska now who are actually running the place who claim to just have gone there for the summer once 30 years ago. And that seems to be what happens." – Tom Bodett
"I've been under the spell of the North ever since my childhood in Alaska. More and more, I've been returning to Alaska, and sometimes my adventures inspire a story." – Will Hobbs
"My mom, dad and me were a compact group. They instilled in me a love for the outdoors. On school breaks, we'd go fishing for a week in the wilds of Alaska or Canada. The land was always in their souls." – John Carter Cash
Alaska Travel Quotes
"I went to Alaska as a young man just looking for adventure. And like so many of us in the '70s, we found it." – Tom Bodett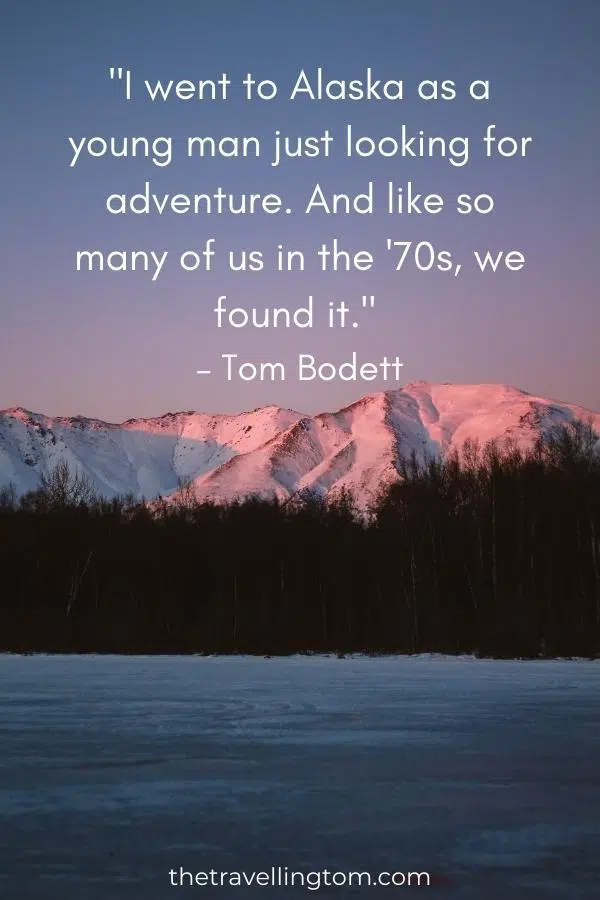 You might also like: New Jersey quotes
"Nobody is accidentally in Alaska. The people who are in Alaska are there because they choose to be, so they've sort of got a real frontier ethic. The people are incredibly friendly, interesting, smart people – but they also stay out of each other's business." – Marcus Sakey
"I grew up in Dutch Harbor, Alaska – a place so tiny, we got only one channel on TV. The high school and middle school had 50 kids total!" – Darby Stanchfield
"I'm born in Alaska, grew up in Colorado, went to college in Colorado, went to Colorado State, and I actually finished my degree." – Derek Theler
"I like Alaska for the salmon fishing – it's fantastic there. I usually stay in a log cabin with no one around for miles. I like to go with friends, but I'm also happy to be on my own with nature." – Vinnie Jones
"I was so grateful to have made Into the Wild before I made Speed Racer because on Speed Racer I was indoors every single day, every single scene, on a green screen. Some of the time, just to pass the time, I would think back to climbing mountains in Alaska. That really helped me." – Emile Hirsch
"We host some trips all over the world. We go to Alaska. We go to Mexico. We're going to Venezuela in December. We've been to Russia, all in conjunction with the radio show." – Martin Miller
"John Muir, the famous naturalist, wrote in his journal that you should never go to Alaska as a young man because you'll never be satisfied with any other place as long as you live. And there's a lot of truth to that." – Tom Bodett
"I've seen a few wild grizzly bears, mostly in Alaska and British Columbia, and always from a distance. But each grizzly I've caught sight of was as fearsome and sublime as the last. You never get used to their raw power and massive bodies, or the mysterious intelligence in their dark, close-set eyes." – Lydia Millet
"Like any traveler, I'm always looking for those experiences that are almost unique to any place, and watching films around Alaska of the skies in winter made me want to taste those unworldly showers of light in person." – Pico Iyer
"We've been some cool places fishing. My parents and my family all went up to Alaska. We fished for king salmon, and that was really neat." – Luke Kuechly
"I actually did my first tour at the age of 10 with my dad, and it was as a country singer. We toured through Alaska, and he took me to sing at places like county fairs, hoedowns, backyard barbecues, you name it. We were usually passing around the hat for gas money to get to the next gig." – Tiffany Darwish
"I served at the Pentagon and at Fort Leavenworth – my job was video cameraman, and that allowed me to travel to places like Korea, Japan, Alaska, Germany and the Netherlands." – Chad Coleman
"When you're filming on the road you literally are isolated for two weeks and you may go to Alaska or Atlanta or you may go to Florida." – Jo Frost
"There's one place, and one place only, to see polar bears in America. You have to travel to the country's northernmost point, the very apex of Alaska's North Slope, to the permafrost shores that stretch out on either side from the Inupiat town of Kaktovik." – Michael Shnayerson
---
You might also like:
---
Funny Alaska Quotes
"The Bermuda Triangle got tired of warm weather. It moved to Alaska. Now Santa Claus is missing." – Steven Wright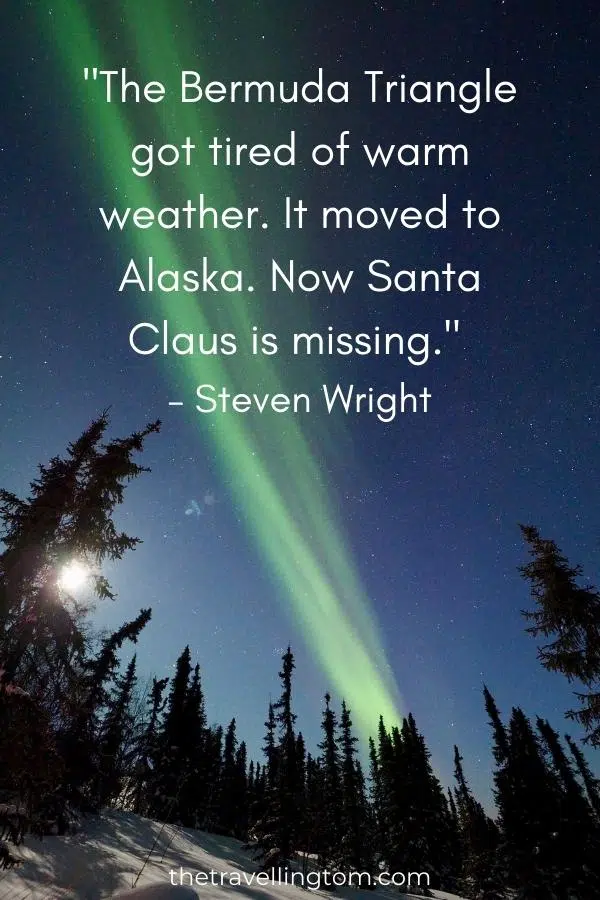 "Unless we make Christmas an occasion to share our blessings, all the snow in Alaska won't make it 'white'." – Bing Crosby
"I'm about to do my second Bikram yoga class in Anchorage, Alaska. It's the only way to stay warm. I've got to get into shape. I've been eating nothing but fish and chips." – Emily Blunt
"I've never been to a beach party before. We have gravel-pit parties in Alaska." – John Gourley
"Really, I didn't like Alaska. It rained, almost every day, at least 300 days out of the year." – John C. Hawkes
"The original settlers of Alaska apparently were Russian." – Jeff Goldblum
"I missed that question on Alaska. I hear they want to make it a state now." – Anson Williams
"With the most powerful binoculars, I cannot see Alaska." – Mikheil Saakashvili
"Historically, Alaska is a place that has attracted those fed up with conventionality." – Bill O'Reilly
"Alaska is what happens when Willy Wonka and the witch from Hansel and Gretel elope, buy a place together upstate, renounce their sweet teeth, and turn into health fanatics." – Sloane Crosley
"Whenever I leave home to film, my wife Marina gets terrified that I'm going to come back having bought a tiny plot of land in rural Alaska." – Ben Fogle
"It's so perfectly Alaska to be like, 'Dad we're going to the Grammys,' and for him to be like, 'Oh, well that's great, Johnny. All right, gotta go back to work.'" – John Gourley
Alaska Instagram Captions
Alaska is calling and I must go
Alaska hair, don't care
Checking out the Last Frontier State
Living my best life in Alaska
I'd rather be in Alaska
Dreaming of Alaska
Northern lights and Alaskan nights
Wild at heart in Alaska
On top of the world at Denali
The sun is my compass here in Alaska
Quotes About Alaska's History and Culture
"When we lived in Juneau, Alaska, it was a town of about 7,000 people, and totally isolated; the only way to get to it was by ship." – John C. Hawkes
You might also like: Lake quotes
"If the world were an orange with 18 segments meeting at the top (the North Pole), roughly 8 of them would be in Russia, Canada would have 4, Denmark 2, and Norway, Sweden, and the U.S. just one apiece. Only a sliver of Alaska, on the Beaufort Sea, lies above the Arctic Circle." – Alex Shoumatoff
"I don't think I can tell any stories about how I lived in a van in Alaska. I grew up in the suburbs, I even had my own room. We weren't poor. Everything was very normal." – Lisa Loeb
"I never watch MTV. I don't have time to watch TV. And when I do, I'm watching the Discovery Channel. 'Deadliest Catch: Crab Fishing in Alaska,' that's my show." – Carly Schroeder
"There's a film that I wrote that I want to do called 'The Grey,' which is about a group of pipeline workers in Alaska flying back into civilization after being remote for a number of months. The 737 they're on goes down, and they begin to be hunted by a pack of rogue wolves." – Joe Carnahan
"There was really no friendship in modeling, though a certain amount of warmth comes from running into models you know on shoots, because you end up in so many unfamiliar places, from Alaska to Africa." – Carol Alt
"I went to Alaska a while back and surfed the waves generated from a glacier calving and ever since then, I've never been afraid in the ocean." – Garrett McNamara
"My mother is Turtle Mountain Chippewa, and she lived on her home reservation. My father taught there. He had just been discharged from the Air Force. He went to school on the GI Bill and got his teaching credentials. He is adventurous – he worked his way through Alaska at age seventeen and paid for his living expenses by winning at the poker table." – Louise Erdrich
"Every year, tens of millions of salmon return to the pristine shores of Bristol Bay in Alaska. They linger in the bay's cool, shallow waters before charging up nearby streams to spawn and create another generation of wild salmon." – Frances Beinecke
"Growing up in Alaska, they don't really teach you to swim there. I learned to swim just a few summers ago with Olympic gold medalist Amanda Beard. She did great, and right after that I went to get scuba certified. I had fun with it. I didn't really get scared, but some people thought that was a risk." – Holly Madison
"Kids in Alaska don't know they're growing up on the Last Frontier. It's just what they see on the license plates, and it's something tourists like to say a lot because they've never been around so many mountains and moose before" – Tom Bodett
"In one line of his poem he said good fences make good neighbors. I'd like to think that Alaska and British Columbia working together can prove that we can be pretty darned good neighbors without fences." – Dan Miller
"The day after my high school graduation in 1952, I headed to Alaska. I was 17. I started out greasing equipment, then became a heavy-crane operator. I made and saved good money there for two years." – Deniis Washington
"Alaska and Montana are not in the south but they definitely form part of the crimson tide of red states where Republicans are dominant." – Juan Williams
"The Maldives, a string of islands off the coast of India whose highest point above sea level is eight feet, may be the first nation to drown. In Alaska, entire towns have begun to shift in the loosening permafrost." – Michael Specter
"I would be ecstatic if the very first writer to step foot in a Storyknife cabin was an Alaska Native woman writer." – Dana Stabenow
"I chose to document the lives of people living in a remote village in Alaska called Shishmaref because there we can literally see how climate change is affecting their homes, livelihoods and ultimately their lives." – Amy J. Berg
"Bears are extremely human, even down to their footprints. But I am also a fly fisherman, so I have fished beside brown bears in Alaska and was once charged by a black bear. I love bears." – Joseph Monninger
"My stories are Alaska stories, and they need to be told in Alaska. Evergreen Films is located in Alaska; the company does amazing work, and I am thrilled at the prospect of working together." – Dana Stabenow
"Looking For Alaska by John Green is a very great book. I feel like every teenage girl says John Green's Fault In Our Stars, but Looking For Alaska is better." – Alessia Cara
Frequently Asked Questions
What is a famous quote about Alaska?
"To the lover of wilderness, Alaska is one of the most wonderful countries in the world." – John Muir
What is Alaska's tourist slogan?
Alaska's state motto is 'North to the Future.'
What is Alaska's motto?
Alaska's motto is 'The Last Frontier.'
---
Thanks for reading my collection of the best Alaska quotes! Hopefully, you've enjoyed reading and are now considering a trip to this incredible state.
Do you have any other quotes about Alaska? If you do, leave them in the comments below. Let me know if you've been to Alaska and what you think. I'm interested to see what your opinion of the state is!
Tom is a travel addict who first left England to spend a year Down Under. Not satisfied with this, he then went to New Zealand, about as far away from home as he could get. He is now planning his next adventures in Europe and Canada while maintaining this blog. Check out the about me page to learn more!