Looking for quotes about Sweden? Well, you've come to the right article, as I've scoured the web to find the best quotes about this beautiful country.
Sweden is an incredible country with lots to see and do. The capital, Stockholm is a fascinating city with brilliant architecture, nightlife and history.
As well as great cities such as Malmo, Gothenburg and Uppsala, there's plenty more to do in Sweden too. You can check out the world-famous IKEA stores, go hiking in the beautiful forests and take a trip to the north of the country to see the Northern lights.
These Sweden quotes will have you chomping at the bit to visit this incredible Scandinavian country. We've included some funny Sweden quotes and Swedish Instagram captions too, that go with your photos of this stunning country.
Table of Contents
Best Quotes About Sweden
Sweden is an incredible country and one I've enjoyed travelling in. Whether it was my 3 days in Stockholm or trips to lesser-known places, there's always something to do in the country.
Below is a collection of some of the best Sweden quotes that should whet your appetite for what awaits you on your trip!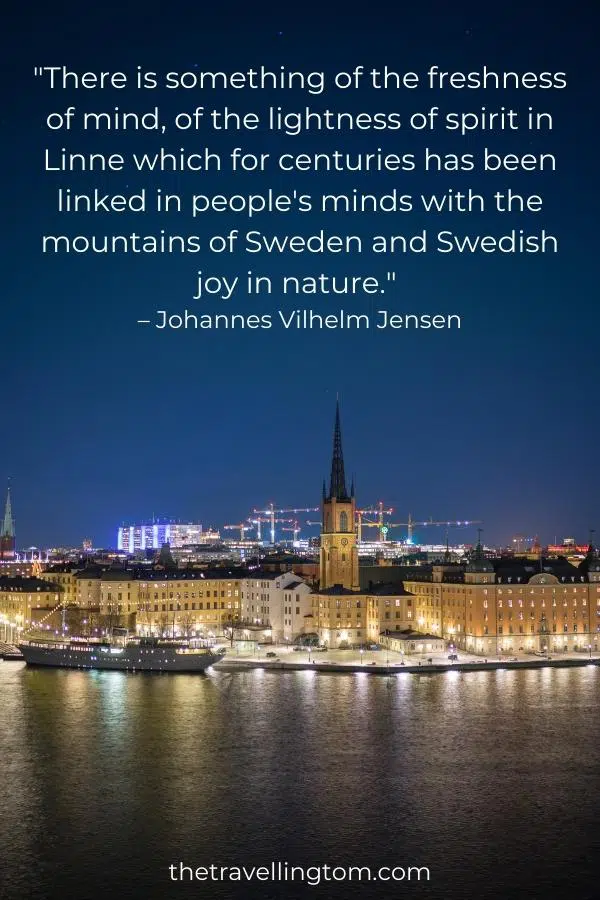 "There is something of the freshness of mind, of the lightness of spirit in Linne which for centuries has been linked in people's minds with the mountains of Sweden and Swedish joy in nature." – Johannes Vilhelm Jensen
"I have had much to learn from Sweden's poetry and, more especially, from her lyrics of the last generation." – Knut Hamsun
"We have a history of great producers – ABBA and Max Martin – we have proof of people being successful from Sweden." – Zara Larsson
"I think Sweden is known for people being a bit more quiet than other cultures, and I guess it's a mixture: shyness and leaving room for other people to talk. Of course, when people get drunk, all of that disappears." – Jose Gonzalez
"Spending time in Sweden on loan was one of the best things I ever did." – Peter Crouch
"Sweden is an open, liberal, secular and democratic country. We strive towards achieving equality; we are forward-looking and refuse to be pulled back by social constructs such as religion." – Björn Ulvaeus
"Sweden is the home of my ancestors, and I have reserved a special place in my heart for Sweden." – Carl D. Anderson
"The system in Sweden is great because you get free healthcare and free education; someone who doesn't have a lot of money can become a doctor or lawyer. There's good paternity and maternity leave – the U.S. is probably the only civilised country in the world that doesn't give parents anything." – Alexander Skarsgård
"I love Sweden. The entire world should be like Sweden. They all like to drink and get naked, and the women are hot. I can't think of a better nation on the planet." – Drew Curtis
"In Sweden everybody has this perfect surface. Everyone's very polite and controls their feelings." – Noomi Rapace
"Sweden is still a very peaceful country to live in. I think that people in Britain have created this mythology about Sweden, that it's a perfect democratic society full of erotically charged girls." – Henning Mankell
"In Sweden everybody is so calm and relaxed. I love it." – Anthony Johnson
"I've seen quite a bit of the world, but I really like Sweden and feel like I could live there some day." – Juliana Hatfield
"I think one thing with Sweden is that in some way the Swedish society is a very good society, almost perfect on the surface. That is something that makes the writers forced to see what is underneath the surface, because it's always something underneath the surface, of course." – Alexander Ahndoril
"I'm not saying everything in Sweden is perfect, because it's not. But it is interesting having grown up in a social democratic country such as Sweden and then watching what's going on in the U.S. and the income disparity." – Alexander Skarsgård
"Sweden's development is based on the equal rights of men and women. We know that investments in gender equality and sexual and reproductive rights pay off." – Isabella Lovin
"My favorite country that I have visited would have to be Sweden. I'm such a sucker for the Swedish culture, and I learned Swedish in college, so I like to try and navigate my way around." – Hilary Knight
Funny Sweden Quotes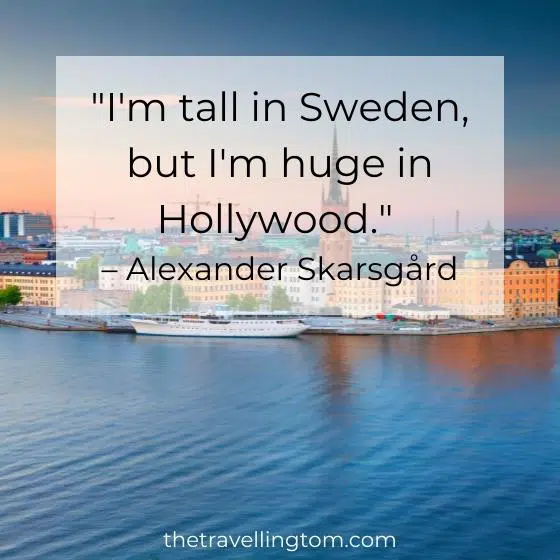 "I'm tall in Sweden, but I'm huge in Hollywood." – Alexander Skarsgård
"I do have a ski lift named after me in Sweden… It's an honour. I got to smash a bottle against the first pillar and say, 'I name this chairlift James Blunt. God bless her and all who rides me.'" – James Blunt
"Swedes love queuing. They even flirt in queues!"― Abhinay Sarkate
"I'm from Sweden. We don't wear clothes in Sweden." – Alexander Skarsgård
"When we were in Sweden, there was a fan that hid in a bin. I think one of the security guards saw and tried to take her out, and she went a bit crazy and started tackling them." – Zayn Malik
"I was born in Sweden, and in Sweden we are known for the piracy services." – Daniel Ek
"I'm the minority in my house sometimes. My wife is Swedish, and we go to Sweden and everyone is rattling off in Swedish. It's like, 'OK, I can just read a book.'" – Will Ferrell
"Sweden is a small country and, well, our family's pretty prominent in that world, I guess. And I really didn't like the sound of just being 'the fourth acting Skarsgard.'" – Bill Skarsgård
"You're not really supposed to like ABBA in Sweden. It's nerdy." – Izabella Scorupco
"I was in Sweden for 10 days. They put me on the front page of the daily papers eight days in a row. I did nothing to warrant any of the attention. It was ridiculous." – Johnny Thunders
"I grew up in a very bohemian environment in southern Sweden, so I was always, always, always in black jeans." – Johan Lindeberg
"In Sweden, stardom is looked upon as phony. You walk to the theater every day like everybody else." – Lena Olin
"We don't do 'dating' in Sweden." – Caroline Winberg
"I'm from Sweden, so I don't enjoy winter at all; there's nothing cute about it." – Lykke Li
"Sweden is famous for many things – but not fashion." – Stefan Persson
"You don't take food home from restaurants in Sweden." – Greg Poehler
"I'm Swedish. Sweden is known for its melancholia." – Johan Renck
"I'm from Sweden, where it's winter, like, half the year. And it's dark – we barely have any daylight." – Snoh Aalegra
"Everyone has a temper, but in Sweden, no one throws a racquet or screams. We show more manners and common sense. This is a game, not war." – Mats Wilander
"In Sweden it's not allowed to say good things about yourself." – John Guidetti
---
You might also like:
---
Sweden Puns and Proverbs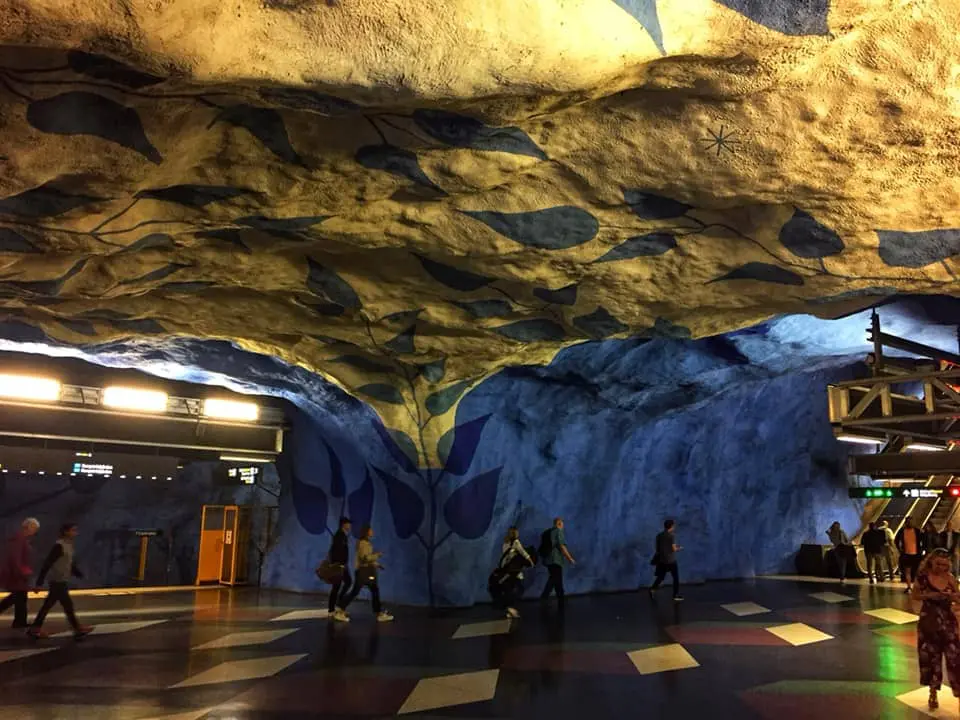 Malmö money, Mo problems
What a Nobel goal.
It's still Stockholm Roll to me.
Kiruna Matata
He's the hero Gothenberg deserves.
I'm already Torne.
Potatoes in Sweden are kind of a big dill.
Having a Swedesational time.
In Sweden, the most popular sport is meatball.
Everyone should come to Sweden now and Ven.
Alla goda ting är tre. – (Good things come in threes.)
Ett rent samvete är bästa huvudkudden. – (A clean conscience is the best pillow.)
Det som börjar med en knappnål slutar oftast med en silverskål. – (What starts with a needle usually ends with a silver bowl.)
Har man tagit fan i båten får man ro honom i land. – (If you've brought the devil aboard, you'll have to row him ashore.)
Man måste lära sig krypa innan man kan gå. – (You must learn to crawl before you can walk.)
Sweden Travel Quotes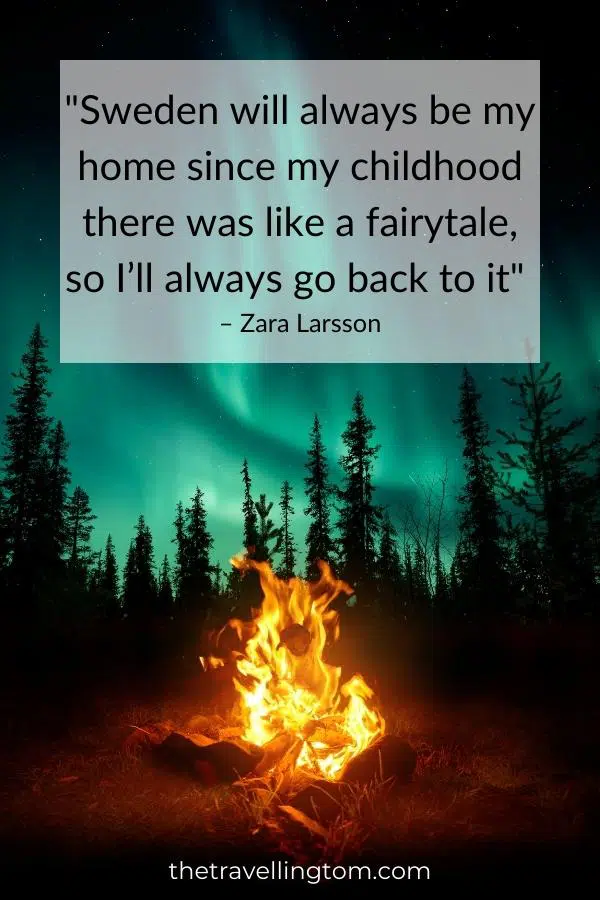 "Sweden will always be my home since my childhood there was like a fairytale, so I'll always go back to it" – Zara Larsson
"There's something I love about how stark the contrast is between January and June in Sweden. In a way, I feel that time doesn't exist in LA. Sometimes I don't know if it's February or April or October, because you're always sitting outside on the same patio, and it's 70 degrees." – Alexander Skarsgård
"It's a small city where I have a lot of time to think. The orchestra and I have had a chance to connect very well in this time. I think of all the millions of people in Los Angles. There aren't that many millions of people in all of Sweden." – Gustavo Dudamel
"Every time I'm in Canada I feel more Swedish, and every time I'm in Sweden I feel more Canadian. I belong in both places and I love them both equally. It's funny because the Swedes claim me as their Swedish pride and the Canadians call me their Canadian girl. I'll take it all." – Malin Åkerman
"There are days when I walk through the center of Stockholm when I get this sudden feeling of happiness – a sense of belonging and at the same time grateful that I'm so privileged that I can live my life in my city." – Björn Ulvaeus
"Gothenburg is the Baltimore or Liverpool or Marseille of Sweden – plagued by the death of wharfs and other industries, and with complex segregation of the populace from southern Europe, which once brought in a labor force that suddenly found itself living in remote projects without jobs." – Johan Renck
"Where I am from in Sweden was on the beach, so I love the sound of the water hitting the dock." – Freddie Ljungberg
"There's something I love about how stark the contrast is between January and June in Sweden." – Bill Skarsgård
"We do not even see the sun for several months in the north of Sweden." – Alexander Ahndoril
"Northern Sweden holds a special kind of magic. It's cold, lonely, and the people are tough and silent, or so the stereotype says. This is Asa Larsson's home turf and I find as much joy in reading her closely observed descriptions of the environment, as in following her intriguing plots." – Camilla Lackberg
"The northern part of Sweden is considered more isolated, not so sociable, not so educated, more unemployment, very working-class, and people drink more than rest of Sweden; that's the kind of area I'm from." – Asa Larsson
"I haven't lived in Sweden since I was a teenager. We lived in southern Sweden, about two hours north of Copenhagen, where my family's home base has been since 1970. Our parents bought a schoolhouse in preparation for self-sufficient living. They wanted to create a place to do all the things they believed in." – Neneh Cherry
Sweden Instagram Captions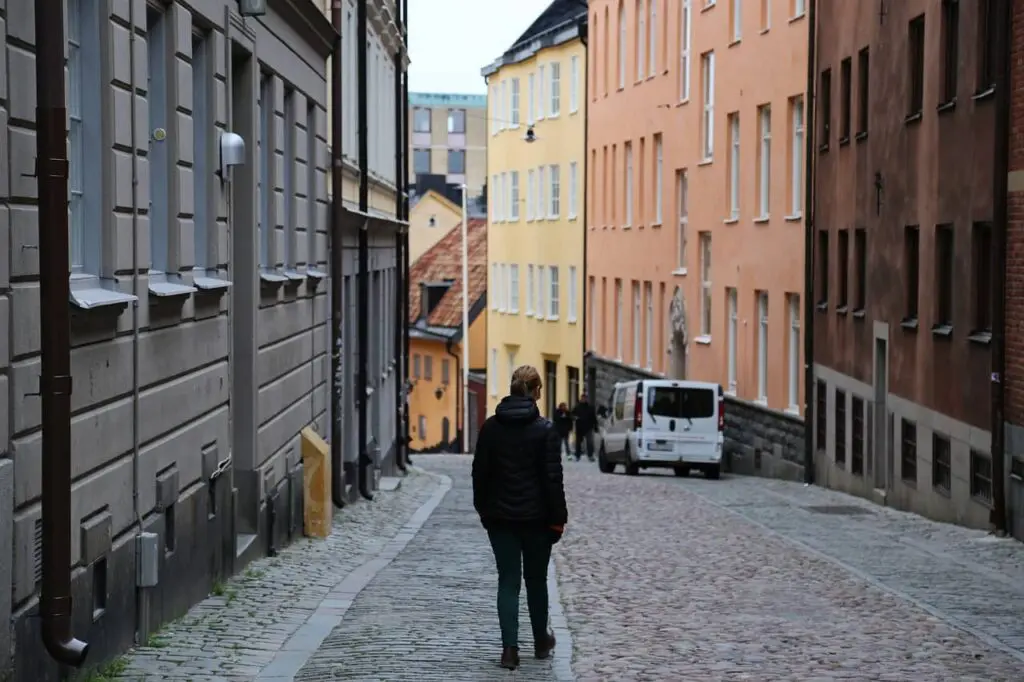 Pretty Swede views.
IKEA-n't even.
I'm already Torne.
You really Sweden up my life.
Do you take Mastercard or Vasa?
I Götaget you into my life.
Check out my Birka bag.
This place is ABBA-lutey wonderful.
Sweden has a Gripsholms me.
Into the Abisko.
Hear me Aurora.
Quotes About Sweden's Culture and History
"People in Sweden are very conscious of what people are saying about you." – Avicii
"My father is from Bosnia, and my mother is from Croatia, but I was born in Sweden." – Zlatan Ibrahimovic
"The holidays are my favorite time of year! Christmas was always one of the biggest celebrations in Sweden, and I look forward to the festivities each year." – Marcus Samuelsson
"I miss the archipelago, the islands outside of Stockholm, the most. That's where I spent my summers as a kid. Going on a boat and island-hopping. In August, we have a crayfish party." – Elsa Hosk
"What's sometimes really overwhelming in Sweden is the uniformity. People kind of disappear by all looking the same and wearing the same clothes. There are a lot of great individuals, but it can become a very blank and bleak picture." – Neneh Cherry
"In Sweden, I went to an English school, where there was a mishmash of people from all over the world. Some were diplomatic kids with a lot of money, some were ghetto kids who came up from the suburbs, and I grew up in between. There's a community of second-generation immigrants, and I became part of that because I had an American father." – Joel Kinnaman
"I had a gig in Sweden. There were thousands of people there, and when I launched into 'I'm Yours,' they were all singing along. It was as if I was singing the Swedish national anthem. I was stunned." – Jason Mraz
"In Sweden, self-sufficiency and autonomy are all; Interpersonal debt of any kind, be it emotional, or any kind be avoided at all cost. The Swedes don't even like to owe a round of drinks." ― Michael Booth
"What's a lingonberry? "It's a fruit that grows in the forest, in Sweden. You've probably had lingonberry jam at your grandmother's house. We always had it when I was growing up; like other kids had a grape jam, we had lingonberry. Your grandmother always used to say lingonberry jam is like Swedish summer in a jar. The Swedes love their lingonberries. It's not so sweet, sort of like cranberry sauce." ― Sandra Lee
"You know growing up in Sweden meant we had a lot of rain when we played tennis. We were taught on clay courts but because of the weather, we had to go indoors a lot." – Björn Borg
"Here in Sweden and the Nordic countries, we have come a relatively long way when it comes to LGBTQI rights. But what we see as self-evident or at least would like to believe is self-evident – is unthinkable in other parts of the world." – Victoria, Crown Princess of Sweden
"Sweden is not a green paradise, it has one of the biggest carbon footprints." – Greta Thunburg
"I'm such a spiritual person and in Sweden it's a bit taboo to be too open with your spirituality; they always think it's a bit weird." – Snoh Aalegra
"My friends who are not from Sweden tell me that I'm more reserved or maybe more … I guess the opposite of what a Latin American would be. Maybe because Scandinavians are more careful with their words and I guess it takes a lot to become a friend of a Swede." – Robyn
"What Stieg Larsson was up to – it was the Swedish guilt over World War II. All of our neighbors had the most terrible experiences with the bad forces, but Sweden didn't. I think we use the thrillers in a different way. We never write a thriller like 'Who is the murderer?' The big question in most of our thrillers is… 'Why?'" – Michael Nygvist
"I don't really have an issue with showing certain parts of my body. I'd rather not, but it's not a big deal. Growing up in Sweden, it's natural over there." – Malin Åkerman
"Marriage is not common in Sweden." – Eva Gabrielsson
"I very often get that question: 'What is your real profession?' That's because in Sweden, it is 'not allowed' to have more than one profession – there's something suspicious about it! But nowadays it's more accepted that one can do a lot of things." – Erland Josephson
"Sweden was once a very homogenous society, but no more. For decades, people have been coming into Sweden from all over the world, and that's changed the way we cook." – Marcus Samuelsson
"Sweden is a great country. What is not so great is that we have a society that, in a way, says it's great if you don't look right, if you don't look left, if you just look straight forward." – Michael Nyqvist
"The north of Sweden is very socialist and poor. They feel left out and despise Stockholm in many ways because Stockholm has become new liberals and much more Americanized." – Joel Kinnaman
"Almost certainly, my ancestors had travelled by sea from Sweden to England in search of prosperity, and the evidence suggests they left Sweden around the ninth or 10th centuries." – Gordon Brown
"I was born into an upper-middle class family in a village in the South of Sweden in April 1899. It was a large family with seven children, a large house, and a home which was very hospitable and open to friends and relatives." – Bertil Ohlin
"I grew up in Sweden. It's a profoundly Americanized country. We have a strong tradition of Americana and always had non-dubbed American television, and embracing American culture a lot, so I always knew that I wanted to go to America." – Tobias Forge
"My parents would make the journey across the border to Norway to buy butter and flour, staples that were cheaper there than in Sweden." – Sven-Goran Eriksson
---
Thanks for reading my collection of the best Sweden quotes! Hopefully, they have sparked your curiosity and inspired you to visit the country.
Do you have any other quotes about Sweden? If you do, leave them in the comments below. Let me know if you've been to Sweden and what you think. I'm interested to see what your opinion of the country is!
Tom is a travel addict who first left England to spend a year Down Under. Not satisfied with this, he then went to New Zealand, about as far away from home as he could get. He is now planning his next adventures in Europe and Canada while maintaining this blog. Check out the about me page to learn more!