If you're looking for lake quotes, then you've come to the right place!
Lakes are some of the most spectacular natural features you'll see. There's a reason we tend to gravitate towards lakes and that's because of their beauty and how calm it feels to be beside a lake.
We have a selection of lake life quotes that reflect just how amazing it is to live near a lake.
After living in New Zealand for a year, I realised this myself when I spent time in Queenstown and Wanaka. The lakes there added to the special feel of the towns.
These lake sayings will inspire you to check out lakes near you or some on your travels. You can also these quotes about lakes on Instagram as captions to go with all the amazing photos of lakes you're going to take!
Table of Contents
Beautiful Lake Quotes
"Perhaps the truth depends on a walk around the lake." – Wallace Stevens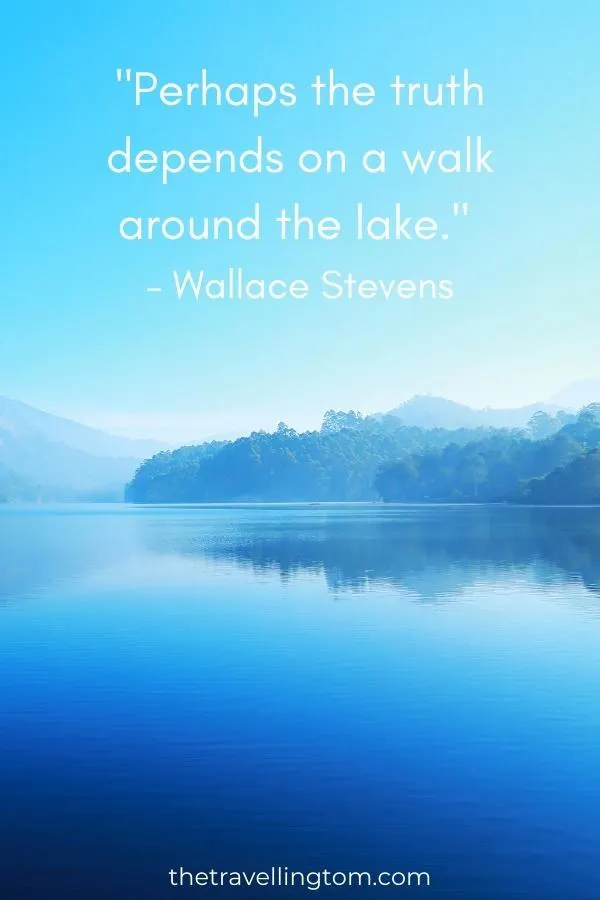 "Nothing is more memorable than a smell. One scent can be unexpected, momentary and fleeting, yet conjure up a childhood summer beside a lake in the mountains." – Diane Ackerman
"Many miles away there's a shadow on the door of a cottage on the Shore of a dark Scottish lake." – Walter Scott
"This lake exceeds anything I ever beheld in beauty." –Percy Bysshe Shelley
"Many drops make a bucket, many buckets make a pond, many ponds make a lake, and many lakes make an ocean." – Percy Ross
"The still waters of a lake reflect the beauty around it. When the mind is still, the beauty of the Self is seen reflected in it." –B.K.S Iyengar
"Not every lake dreams to be an ocean. Blessed are the ones who are happy with whom they are." –Mehmet Murat ildan
"Every lake belongs to the quietness desired by the swans." –Munia Khan
"A lake is a landscape's most beautiful and expressive feature. It is Earth's eye; looking into which the beholder measures the depth of his own nature." –Henry David Thoreau
"If there are ripples on the surface of a lake, we cannot see the depth. Similarly, unless the mind is restful, we cannot experience the harmony and union within us." –Sri Ravi Shankar
"Grace is like a lake of drinkable water right outside your door. But you stay inside and die of thirst." – Maya Angelou
"I grew up with the smell of the lake and the feeling of the woods." – Steven Tyler
"When a lake's doubt is shown as ripples, sunshine rays are flown to the hills." –Ankush Agarwal
"When the mind is silent like a lake the lotus blossoms." –Amit Ray
"Even a pebble cast in the middle of a lake creates ripples that eventually reach the shore." –Jeffrey G. Duarte
"Who could be so lucky? Who comes to a lake for water and sees the reflection of moon." –Rumi
"I went to the Lake District to see what kind of a country it could be that would produce a Wordsworth." – John Burroughs
"Rivers, ponds, lakes and streams – they all have different names, but they all contain water. Just as religions do – they all contain truths." –Muhammad Ali
"If the lake sees the ocean, it will want big waves! If the ocean sees the lake, it will want calm days that lasts for years!" – Mehmet Murat ildan
Lake View Quotes
"So lovely was the loneliness of a wild lake." – Edgar Allan Poe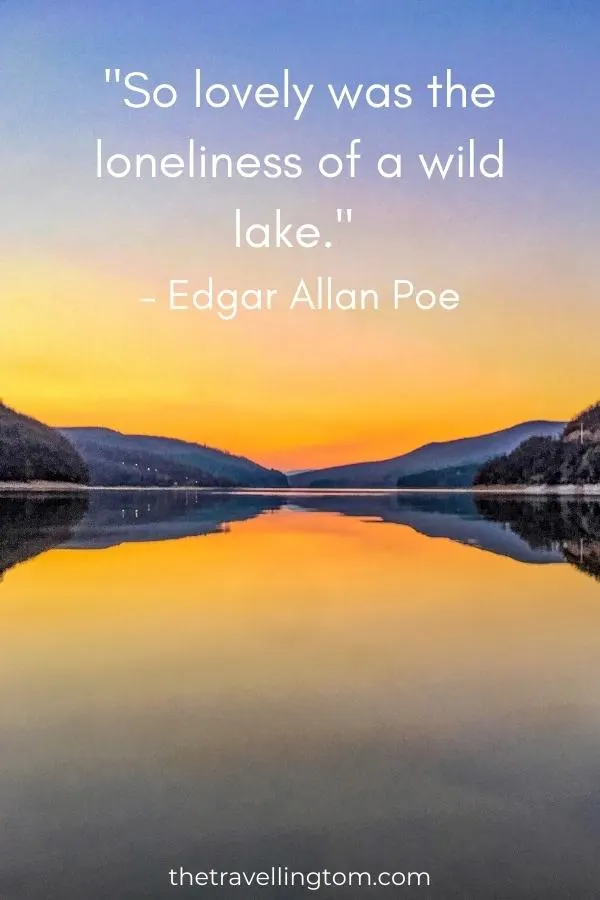 "I loved watching the base of those thunderstorms, the billowing tops of the cumulonimbus, the lightning that effortlessly lit up the lake and the sky. It was gorgeous, so energetic. I was in love." – Ginger Zee
"Looking out over the lake, I felt enveloped in the most peaceful, loving utopia." – Laurie Kahn
"The wilderness holds answers to questions we have not yet learned to ask." – Alan S. Kesselheim
"In terms of beautiful views while eating, I love Babington House in Somerset looking onto beautiful lake, beds, hills and forest." – Daisy Lowe
"Talk not of the river or lake, To those who have looked on the sea." – Ella Wheeler Wilcox
"Make your heart like a lake with a calm, still surface and great depths of kindness." –Lao Tzu
"One of my dreams was always to have a piano – a room with a piano overlooking the ocean or a lake." – Paul Rodgers
"It is life, I think, to watch the water. A man can learn so many things." –Nicholas Sparks
"A lake carries you into recesses of feeling otherwise impenetrable." – William Wordsworth
"When you're young you think that you're going to sail into a lovely lake of quietude and peace. This is profoundly untrue." – Doris Lessing
---
You might also like:
---
Funny Lake Quotes
"My Mom said she learned how to swim when someone took her out in the lake and threw her off the boat. I said, 'Mom, they weren't trying to teach you how to swim.'" – Paula Poundstone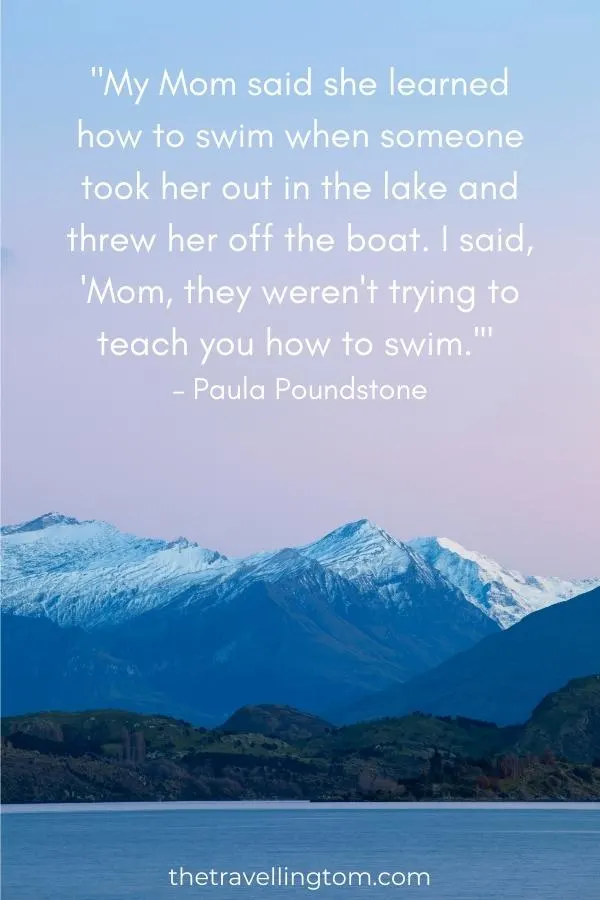 "Welcome to Lake Wobegon, where all the women are strong, all the men are good-looking, and all the children are above average." – Garrison Keillor
"When the fishbowl gets too small, it's time to pack up and leave and jump into the lake or ocean." – Travie McCoy
"Be calm like a calm lake, then you will look beautiful like a beautiful calm lake!" –Mehmet Murat Ildan
Frozen Lake Quotes
"A man without courage is a boat in a frozen lake! Get rid of your fears!" – Mehmet Murat Ildan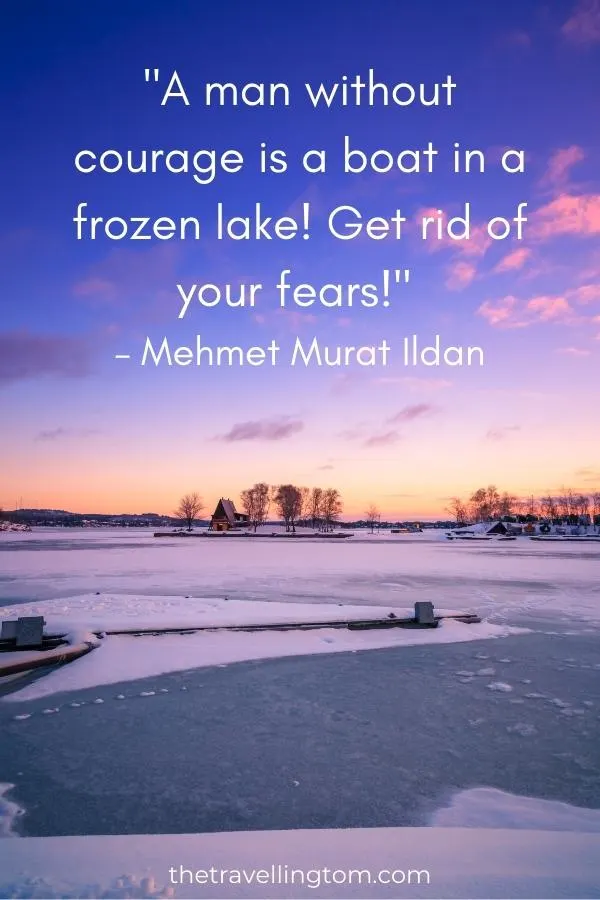 You might also like: Alaska quotes
"I studied his eyes. They were nearly a color today, a frozen lake reflecting a clear blue…" – Cara McKenna
"Man without dreams is a boat in a frozen lake!" – Mehmet Murat Ildan
"Apart from the obvious advantages of having ice to melt, filter, then drink, you can also break apart the water's hydrogen from its oxygen. Use the hydrogen and some of the oxygen as active ingredients in rocket fuel and keep the rest of the oxygen for breathing. And in your spare time between space missions, you can always go ice skating on the frozen lake created with the extracted water." – Neil deGrasse Tyson
"The barriers between reality and fiction are softer than we think; a bit like a frozen lake. Hundreds of people can walk across it, but then one evening a thin spot develops and someone falls through; the hole is frozen over by the following morning." – Jasper Fforde
"February brings the rain, Thaws the frozen lake again." – Sara Coleridge
"Some people look like frozen lakes; break the ice, there you will see a lively world!" –Mehmet Murat Ildan
Lake Life Quotes
"The lake and the mountains have become my landscape, my real world." – Georges Simenon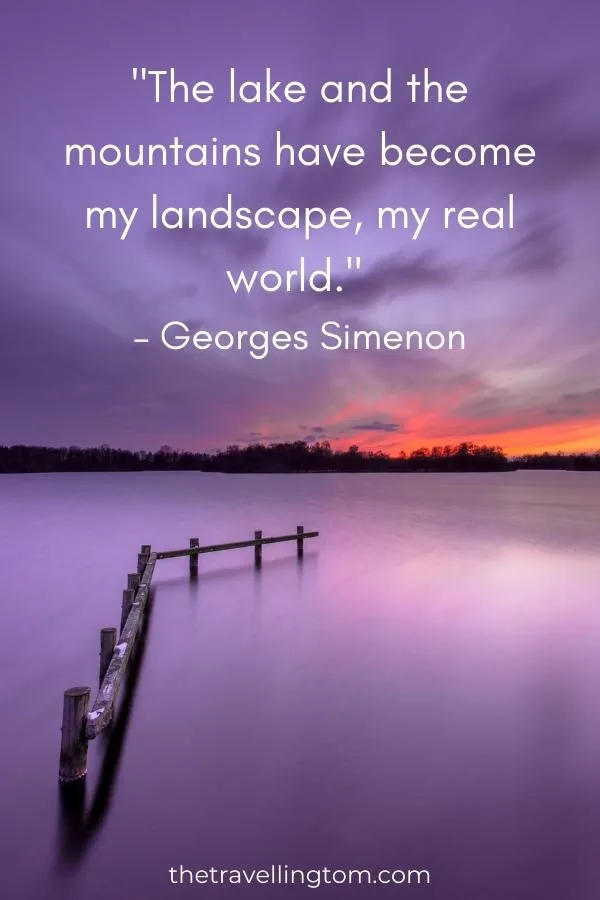 "I'm an old-fashioned guy… I want to be an old man with a beer belly sitting on a porch, looking at a lake or something." – Johnny Depp
"My hometown, first and foremost, it's one of the most beautiful places I've ever seen. A beautiful lake town. It's one of those communities where, winter rolls around, it's exactly the same as any other small town in America. Sort of a lower socio-economic area. There isn't anything high-end necessarily anywhere around there." – Joe Harris
"My recollection of a hundred lovely lakes has given me blessed release from care and worry and the troubled thinking of our modern day. It has been a return to the primitive and the peaceful." –Hamlin Garland
"A normal lake is knowable. A Great Lake can hold all the mysteries of an ocean, and then some." – Dan Egan
"I just love to be out on the lake, wakeboard, surfing, just playing, man." – Donald Cerrone
"Earth and Sky, Woods and Fields, Lakes and Rivers, the Mountain and the Sea, are excellent schoolmasters, and teach some of us more than we can ever learn from books." – John Lubbock
"We go to Montana every year – that's where my husband is from – Flathead Lake, Montana, which is one of the most beautiful places I've ever been to in my life. It's amazing that his entire family lives there. There's waterskiing, jet skiing, and kayaking, and it's just really fun." – Kellie Martin
"There's only one way to tackle life, enjoy a day at the beach, and jump into a Great Lake: Headfirst!" – Viola Shipman
"I love the region around Lake Geneva. The landscape is beautiful, very peaceful, and such a nice place to relax and spend time outdoors. It's always a pleasure to come back home." – Stan Wawrinka
Frequently Asked Questions
What is a famous quote about lakes?
"This lake exceeds anything I ever beheld in beauty." –Percy Bysshe Shelley
What is the calm lake quote?
"Be calm like a calm lake, then you will look beautiful like a beautiful calm lake!" –Mehmet Murat Ildan
What is a short quote about lakes?
"Every lake belongs to the quietness desired by the swans." –Munia Khan
Tom is a travel addict who first left England to spend a year Down Under. Not satisfied with this, he then went to New Zealand, about as far away from home as he could get. He is now planning his next adventures in Europe and Canada while maintaining this blog. Check out the about me page to learn more!