If you're looking for Maine quotes, then you've come to the right place!
The state is one that goes under the radar in America and outside the country, but these quotes about Maine will ignite your wanderlust and have you dreaming of a trip there in no time!
Maine is famous for its numerous lighthouses, lobsters and moody scenery which makes it one of the most beautiful places in America.
We've included some Maine captions for Instagram that you can use to go with all the amazing photos you're bound to take when you're there.
If you're wondering whether to visit or already have a trip planned, these Maine sayings will get you excited for your visit to the Pine Tree State!
Best Maine Quotes
"There's a quality of life in Maine which is this singular and unique. I think. It's absolutely a world onto itself." – Jamie Wyeth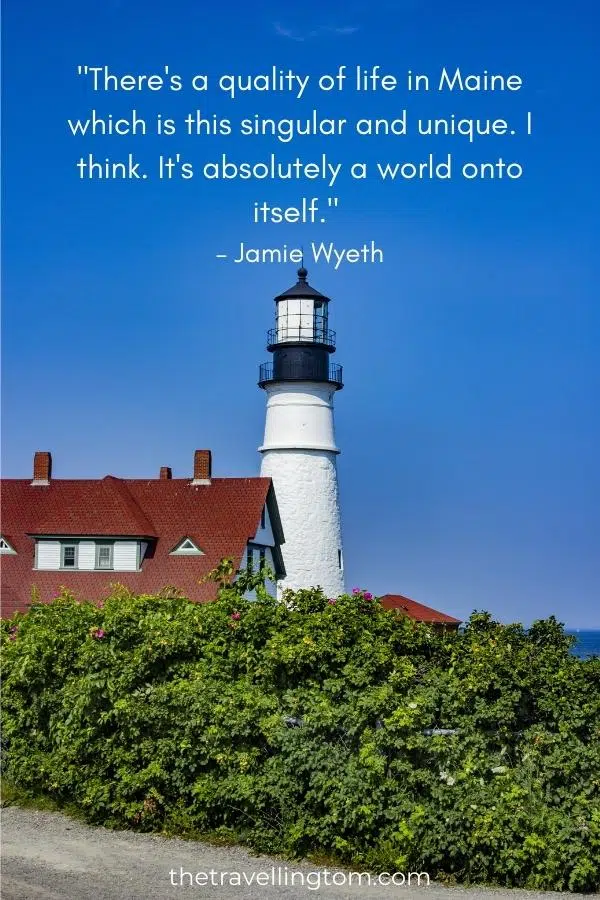 "Maine out of season is unmistakably a great destination: hospitable, good-humored, plenty of elbow room, short days, dark nights of crackling ice crystals." – Paul Theroux
"In this part of the world, only Maine gives winter the welcome and the worship it should have." – Tom Allen
"Maine is wonderful. It can be very hard. I mean, if you look at the profile maps it doesn't look it, but somehow when you get out there it's really steep and hard." – Bill Bryson
"Maine is a movable music festival in the summertime." – Sue Hebbell
"All I know is that history repeats itself and people are going to want to experience the world. But I know then they are going to have a better appreciation for what is here in Maine." – John Baldacci
"Did you ever see a place that looks like it was built just to enjoy? Well, this whole state of Maine looks that way to me." – Will Rogers
"In Maine, there is a deeply ingrained sense that you can always get a little more use out of something." – Tim Sample
"Winter in Maine is a time of alternating rest and frenzied activity." – Tom Allen
"I never fastened my door, night or day, though I was to be absent several days; not even when the next fall I spent a fortnight in the woods of Maine. and yet my house was more respected than if it had been surrounded by a file of soldiers." – Henry David Thoreau
"It had rained on some vivid green ferns in Maine and it was quite beautiful. I was moving the camera slightly and studying the ground glass. Looking at those 20 square inches, trying to find out just what were the right elements to include." – John Sexton
My grandfather once told her if you couldn't read with cold feet, there wouldn't be a literate soul in the state of Maine. – Marilynne Robinson
"I am a big lover of the environment. I actually come from Maine, which is pretty much all environment." – Noah Gray-Cabey
Maine Travel Quotes
"Maine is a beautiful place that I paradoxically want to hoard to myself and share with everyone I meet." – John Hodgman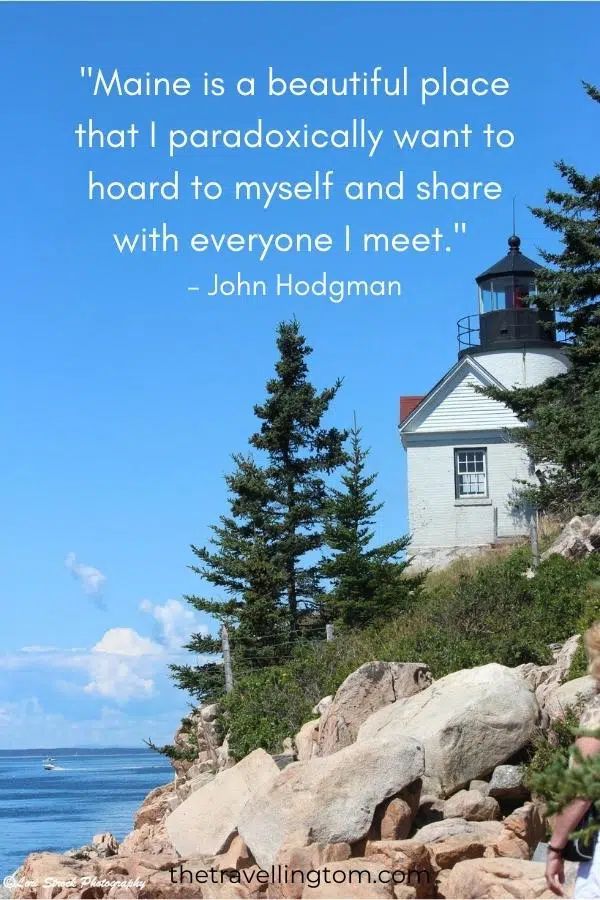 "The beauty of Maine is such that you can't really see it clearly while you live there. But now that I've moved away, with each return it all becomes almost hallucinatory: the dark blue water, the rocky coast with occasional flashes of white sand, the jasper stone beaches along the coast, the pine and fir forests somehow vivid in their stillness." – Alexander Chee
"I looked along the San Juan Islands and the coast of California, but I couldn't find the palette of green, granite, and dark blue that you can only find in Maine." – Parker Stevenson
"Located on the East Coast of the United States, Maine is famous for its wild, untamed scenery. Rocky, windswept beaches line the coast." – Robin S. Doak
"I don't want to live in Maine full time, but the physical beauty is very striking. It is the exact opposite of New York. When you walk through my small town to get a cup of coffee, you bump into five people you know." – Elizabeth Strout
"Every summer my husband and I pack our suitcases, load our kids into the car, and drive from tense, crowded New York City to my family's cottage in Maine. It's on an island, with stretches of sea and sandy beaches, rocky coasts, and pine trees. We barbecue, swim, lie around, and try to do nothing." – Hope Davis
"My brother and I grew up in a setting in the woods very much like 'The Witch' in southern New Hampshire, and then we would drive up north to Maine to settings like 'The Lighthouse' for vacations." – Robert Eggers
"Ever since childhood, when I lived within earshot of the Boston and Maine, I have seldom heard a train go by and not wished I was on it." – Paul Theroux
"I had to live this long, have the experiences I've had, to create what I do. I knew I wanted to write for years, but I had to be ready so I wouldn't blow it. The move to Maine was the final step." – Terry Goodkind
"I know a number of coastal trails in downeast Maine, all of them interesting." – Sue Hubbell
---
You might also like:
---
Funny Maine Quotes
"I'm from Maine. I eat apple pie for breakfast." – Rachel Nichols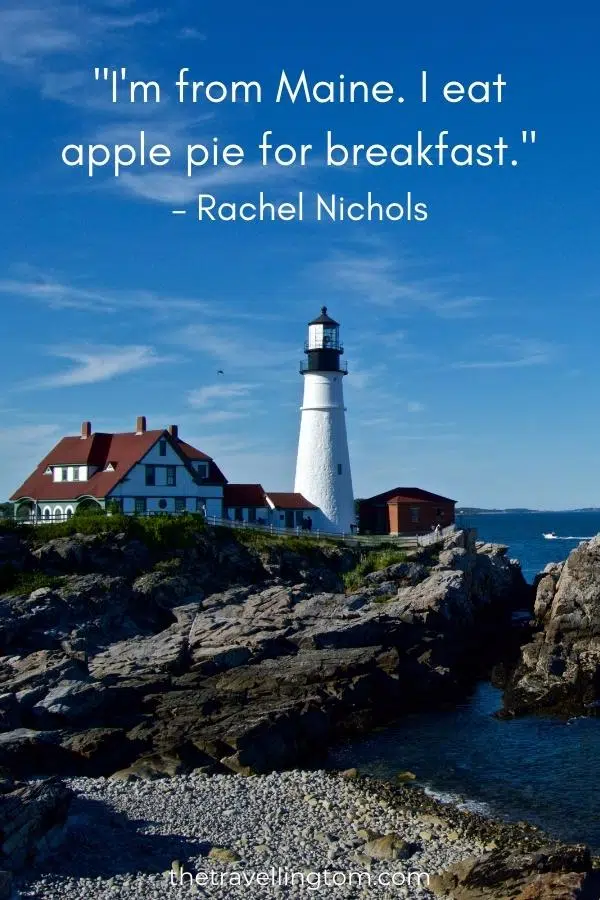 "When I go to a bar, I don't go looking for a girl who knows the capital of Maine." – David Brenner
"I grew up on a dirt road in Maine, and pretty much everybody on that dirt road was related to me, and they were old. And so grumpy." – Elizabeth Strout
"At one point, I was seriously considering playing Huck Finn in a production in Northern Maine in the dead of winter." – David Walton
"My greatest fear in the state of Maine: newspapers. I'm not a fan of newspapers." – Paul LePage
Maine Captions for Instagram
Found myself a good catch in Maine
Shell yeah, Maine!
This lobster's my butterhalf
Shell we dance?
Let's shell-ebratethe good times in Maine
I love my Maine squeeze
Me, myself and Maine
Sea you in Maine
Life is short, so visit Maine!
My Maine destination
No place like Maine
My Maine man!
Quotes about Maine's Culture and History
"Maine is a joy in the summer. But the soul of Maine is more apparent in the winter." – Paul Theroux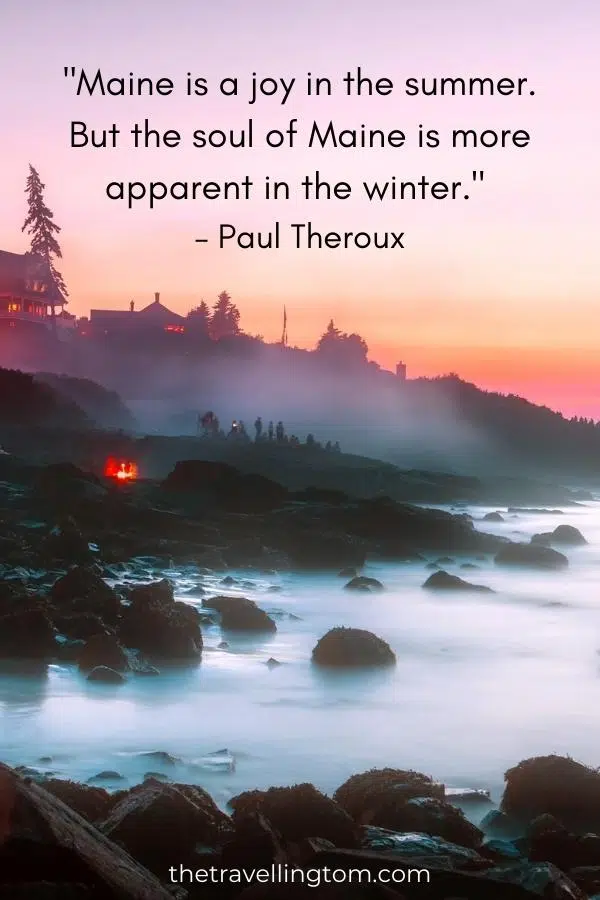 You might also like: New Jersey quotes
"My mother's family has been in Maine for over 300 years on the same farm. They have a King George III deed." – Alexander Chee
"Is there any nation on earth that has more natural attractions, from the scenic coastal towns of Maine to the volcanic islands of Hawaii and the natural beauty of our majestic national parks?" – Stephen Moore
"In Maine, we have a saying that there's no point in speaking unless you can improve on silence." – Edmund Muskie
"Many small towns I know in Maine are as tight-knit and interdependent as those I associate with rural communities in India or China; with deep roots and old loyalties, skeptical of authority, they are proud and inflexibly territorial." – Paul Theroux
"Maine people have a live-and-let-live philosophy, and tend to be fair and open-minded." – Chellie Pingree
"Maine's long and cold winters may help keep our State's population low, but our harsh climate also accounts for what is unique and valuable about our land and our people." – Tom Allen
"Excellent education and an excellent environment are two hallmarks of our state. How we treat our environment is connected to so many other opportunities in Maine." – John Baldacci
"In a way, I'm very interested in writing about Maine, because I think Maine represents its own kind of history. It's the oldest state, and it's the whitest state." – Elizabeth Strout
"When I was a child growing up in Maine, one of my favorite things to do was to look for sand dollars on the seashores of Maine, because my parents told me it would bring me luck. But you know, these shells, they're hard to find. They're covered in sand. They're difficult to see." – Sarah Parcak
"Maine is the largest producer of wild blueberries in the world. The woody plants occur naturally in the sandy gravel understory of Maine's coastal forests, where little else bothers even trying to grow." – Jeanne Marie Laska
"I spent most of my youth in Montana, where there are long, cold winters, but Maine has the coldest winters you could imagine. Not only are they long, not only does it snow, but it gets really damp. It's a wet cold with a lot of wind." – Michael Finkel
"Almost everyone I spoke with in Maine who's involved with the Arctic told me that Mainers have more in common with people from Iceland and Norway than they do with people from New York or California – they all live in relatively small communities with fairly extreme weather, and mainly depend on the ocean and other natural resources." – Tatiana Schlossberg
Tom is a travel addict who first left England to spend a year Down Under. Not satisfied with this, he then went to New Zealand, about as far away from home as he could get. He is now planning his next adventures in Europe and Canada while maintaining this blog. Check out the about me page to learn more!