Whether you're looking for quotes about Amsterdam to inspire you to visit this beautiful city or to place them in your Instagram captions, you've come to the right place.
These Amsterdam quotes will have you laughing, dreaming of cheese and canals and racing to book a flight to the Netherlands.
If you're looking at visiting the Netherlands, Amsterdam is a city you'll visit. As the capital and biggest city in the country, there's no getting away from it.
It doesn't matter how long you spend in the city, even if it's just 24 hours, you'll be blown away by its beauty and character.
What I hope this collection of the best quotes about Amsterdam will do is to convince you of the necessity to visit one of the most intriguing cities in Europe!
The Best Amsterdam Quotes
Amsterdam is one of the first places many people consider visiting when they head to Europe. The city has a reputation as being a cultural hotspot and a lively place to be.
Whether you spend 3 days in Amsterdam or more, you're going to have a fantastic time exploring one of Europe's most vibrant cities. Here are some of the best quotes about Amsterdam to get you in the mood.
"I love Amsterdam. The city is vibrant and alive. It's fresh and so open. It's definitely one of my favourite places." – Stefon Harris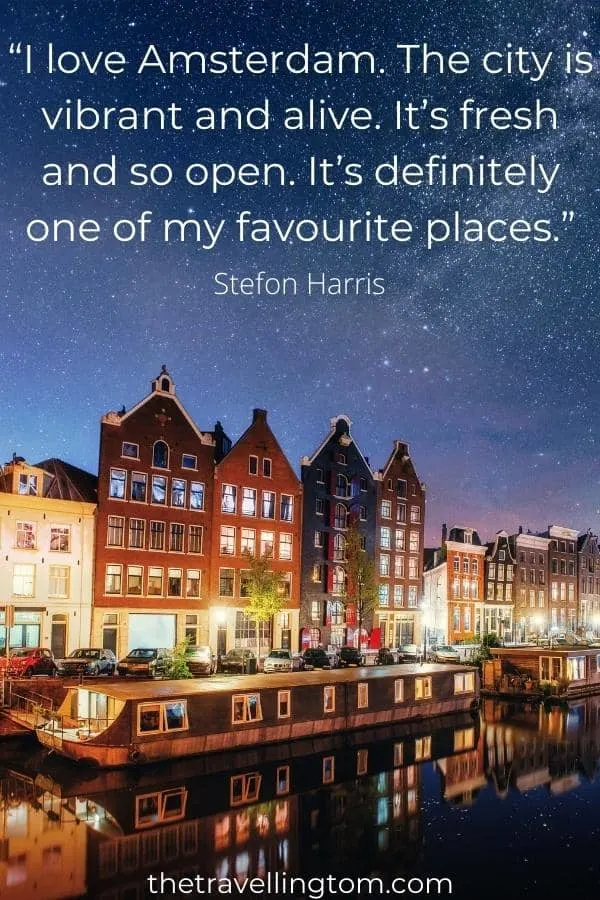 You might also like: Belgium quotes
"I am a village boy, and Amsterdam for me was always the big town."– Anton Corbijn
"But words are water in Amsterdam, they flood your ears and set the rot, and the church's east corner is crowded." – Jessie Burton
"Some tourists think Amsterdam is a city of sin, but in truth, it is a city of freedom. And in freedom, most people find sin." – John Green
"In Europe, I always have fun bike riding in Amsterdam." – Ezra Koenig
"Then came the second Amsterdam discovery, although the principle was known elsewhere. Bank deposits did not need to be left idly in the bank. They could be lent. The bank then got interested. The borrower then had a deposit that he could spend. But the original deposit still stood to the credit of the original depositor. That too could be spent. Money, spendable money, had been created. Let no one rub his or her eyes. It's still being done every day. The creation of money by a bank is as simple as this, so simple, I've often said, that the mind is slightly repelled." – John Kenneth Galbraith
"Stand outside De Eland on the Berenstraat Bridge over the Prinsengracht and you see what real Amsterdam life is like." – David Hewson
"Amsterdam was a great surprise to me. I had always thought of Venice as the city of canals; it had never entered my mind that I should find similar conditions in a Dutch town." – James Weldon Johnson
"Amsterdam must have more than a million people. But the only area where jazz is really profitable and successful in an economic sense is in Japan. That's because they haven't been exposed enough." – Norman Granz
"The Annex is an ideal place to hide in. It may be damp and lopsided, but there's probably not a more comfortable hiding place in all of Amsterdam. No, in all of Holland." – Anne Frank
"In Amsterdam, the water is the mistress and the land the vassal." – Félix Martí Ibáñez
"I think Amsterdam is to Holland what New York is to America in a sense. It's a metropolis, so it's representative of Holland, but only a part of it – you know, it's more extreme, there's more happening, it's more liberal and more daring than the countryside in Holland is." – Anton Corbijn
"Amsterdam is like the rings of a tree: It gets older as you get closer to the centre." – John Green
"Amsterdam lives and breathes creativity. One moment you walk into a building from the 17th century and the next you find yourself in a hub of creative start-up companies." – Marcel Wanders
"In Amsterdam, the river and canals have been central to city life for the last four centuries." – Janet Echelman
"I was told David Letterman and Kaufman had heart attacks on the same day. David Letterman's heart attack was at a hospital in NYC. Kaufman's heart attack was at the red light district in Amsterdam. I think Kaufman had more fun." – Howard Stern
"Location: Amsterdam, Where Fire Is Called "Vlam" – Kristin Cashore
"I get inspired by certain places. You have to write in places like Amsterdam or Paris or New Zealand, when you're standing on a yacht, looking out at the middle of the ocean." – Action Bronson
"Ireland is also quite nice. So is Amsterdam." – Diane von Furstenberg
"In a city like London, the fact that cultures live together and cross-fertilize is a beautiful and natural thing. The many cultures in Amsterdam contributed to the city's high level of craziness – something which every interesting city should offer. But sometimes immigrants can live in parallel worlds which can exclude others and not be very attractive." – Charles Landry
"I have always lived in Amsterdam. During the war, we inhabited the Rivieren neighbourhood where many Jews lived at the time. Our downstairs neighbours were Jews, and there were also Jews a few houses from us. We saw how they were rounded up and taken away. That made a very great impression on me." – Els Borst
Amsterdam Instagram Captions
No doubt you're going to take plenty of photos during your visit to Amsterdam. If you're looking for Instagram captions about Amsterdam, then some of the ones below should come in handy when you come o upload your snaps onto the gram!
"When in Amsterdam!"
"Hands up if you've fallen in love with Amsterdam"
"Amsterdam – the city of bikes"
"AmsterDAMNN!"
"Amsterdam, a city of sin and canals."
"Do it for the Amstergram!"
"Amsterspam"
"Amsterdamage"
"Dam Good Vibes #damgoodvibes"
"I'd rather be in Amsterdam"
Amsterdam Puns
Everyone loves a good pun! Here are some of the best puns about Amsterdam that you can share on social media or use with your friends or family.
What did the police get in Amsterdam? A massage in a brothel
Do you think our tu-lips should kiss? Methinks yes
Cycling in Amsterdam was a piece of a pancake
Do you like windmills? Because the Dutch are big fans
I didn't strut through Amsterdam. I stroop-waffled along
Too Dutch of a good thing
Dutch is life
I cycle therefore I Amsterdam
Amstel in love with Amsterdam
Amsterdam definitely met our high expectations
I had a waffle good time in Amsterdam
Amsterdam Sayings
While these sayings aren't about Amsterdam, they are ones you might hear spoken around Amsterdam, or if you take a day trip from Amsterdam. They're similar to English idioms and proverbs and are provided in Dutch with a literal English translation and explanation underneath to help you understand the context.
Nu komt de aap uit de mouw – Now the monkey comes out of the sleeve
This is the Dutch equivalent of 'letting the cat out of the bag.
Je lult uit je nek – You are dicking out of your neck
You're likely to hear this phrase when someone says something dubious or downright false. An equivalent to the English phrase, 'you're talking out of your backside.'
Tyfus, kanker, kolere – Typhus, cancer, cholera
You might hear this phrase uttered by cyclists if you wander onto the cycle paths without looking. Instead of the English way of using profanities or sexual organs to show their disgust, the Dutch prefer to reference illnesses.
Het zit wel snor – It sits like a moustache
This is one of the stranger sayings you might hear in Amsterdam. It refers to expressing patience or calmness and is the equivalent of 'don't worry' in English.
De beste stuurlui staan aan wal – The best sailors remain on shore
This phrase is a reference to criticism. It refers to the point that the people who often criticise others are the ones who don't do the actual work.
Amsterdam Quotes About Travel
Amsterdam is one of the most popular destinations in Europe and there's a good reason for this. There are a lot of things to do in Amsterdam such as go on a boat trip along the canals, sit in one of the famous canals and check out the house where Anne Frank hid from the Nazis.
I'm sure Amsterdam is on most people's bucket lists, but if you need a dose of inspiration to visit, here are some of the best Amsterdam quotes about travel to get you in the mood for visiting this incredible Dutch city!
"Amsterdam. It is so cute and quaint. I rode bicycles around the city and through the tiny little streets, rented a paddleboat and had a picnic lunch on the canals." – Bridget Marquardt
You might also like: Budapest quotes
"Here people cycle with a reckless swagger, talking on the phone and eating breakfast." – David Nicholls
"My experience in Amsterdam is that cyclists ride where the hell they like and aim in a state of rage at all pedestrians while ringing their bell loudly, the concept of avoiding people being foreign to them." – Terry Pratchett
"San Francisco is a lot like Amsterdam – free, open-minded and casual – though I expected better weather." – Marcel Wanders
"I'm not going back to Amsterdam, though it would be very comfortable there with Frank de Boer, Danny Blind, and Dennis Bergkamp. When I left 12 years ago, I said I would return, but I did not know then what great years I would have with Manchester United. I might occasionally visit training with them, but I will not be going regularly." – Edwin van der Sar
"What's special about Amsterdam is that the city is able to connect worlds that are not otherwise connected." – Marcel Sanders
"Amsterdam is a breeding ground for new creative pursuits in many areas fuelled by a tolerance and openness to ideas unlike any other city I've been to. There is something for everyone here, especially when you dare to go off the beaten path." – Marcel Wanders
"I lived on a houseboat in Amsterdam for a year. It was intense, and it's possible that I even had a few blackouts." -Wolfgang Beltracchi
"I dropped my pants in a tattoo parlour in Amsterdam. I woke up in a waterbed with this funky-looking dragon with a blue tongue on my hip. I realized I made a mistake, so a few months later I got a cross to cover it. When my pants hang low, it looks like I'm wearing a dagger!" -Angelina Jolie
"Martin said, "It feels as though part of my self has detached and gone to Amsterdam, where it—she—is waiting for me. Do you know about phantom limb syndrome?" Julia nodded. "There's pain where she ought to be. It's feeding the other pain, the thing that makes me wash and count and all that. So her absence is stopping me from going to find her. Do you see?" – Audrey Niffenegger
"When the Internet arrived in Ireland… it was like having Amsterdam's Red Light District in your own living room." – Tom Dunne
"I am working here (in Amsterdam) on my last big triptych, which will be a tremendous story, and which gives me a more intense life and exhilaration. My God, life is worth living!" – Max Beckmann
"I'm really big on family. I'll love catching up with my cousins. Everyone's in their twenties, so they're all on their grind at the moment, but when we get the time, I'll fly everybody to Amsterdam or Ibiza, and we can just hang for a week, chill, do nothing." – Tinie Tempah
"You could spend your time with your nose buried in a guidebook, but Amsterdam really is best explored on foot, so you can stumble upon the city's hidden gems. The architecture and the beauty of some of the buildings is also wonderful." – Gregory Porter
"I can be a bit nerdy so I need a good, clearly marked map, as you can miss out on some of the coolest places in Amsterdam if you don't have a wander down the little side streets." – Gregory Porter
"Amsterdam's my favourite place to visit." – Bianca Del Rio
Frequently Asked Questions
What is a cool quote about Amsterdam?
"Some tourists think Amsterdam is a city of sin, but in truth, it is a city of freedom. And in freedom, most people find sin." – John Green
What is the motto of Amsterdam?
The motto of Amsterdam is 'Valiant, Steadfast, Compassionate.'
---
Thanks for reading my collection of the best Amsterdam quotes! Hopefully, they have sparked your curiosity and inspired you to visit the city.
Do you have any other quotes about Amsterdam? If you do, leave them in the comments below. Let me know if you've been to Amsterdam and what you think. I'm interested to see what your opinion of the city is!
Pin for Later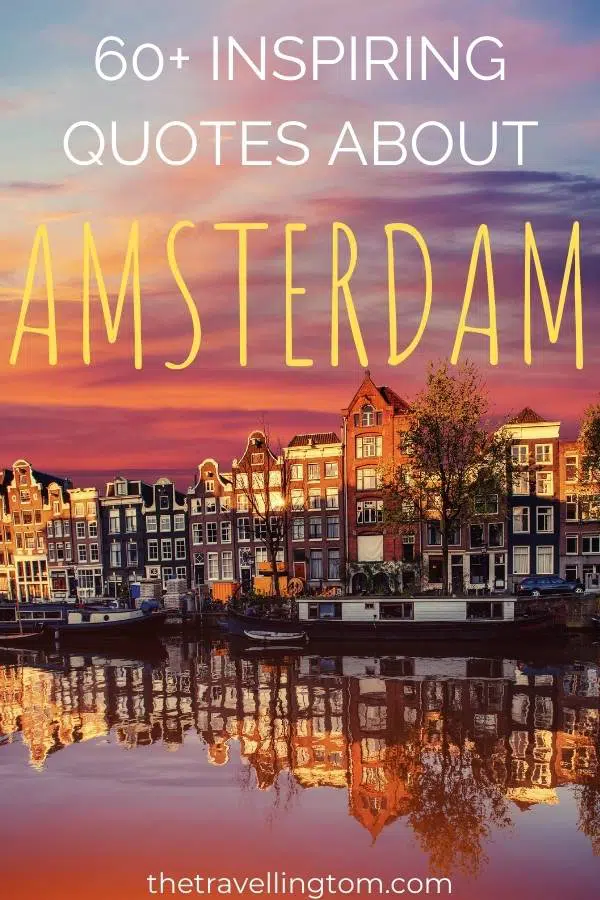 Tom is a travel addict who first left England to spend a year Down Under. Not satisfied with this, he then went to New Zealand, about as far away from home as he could get. He is now planning his next adventures in Europe and Canada while maintaining this blog. Check out the about me page to learn more!