These San Francisco quotes will leave you with a deep sense of wanderlust and a desire to check out one of America's iconic cities.
San Francisco is a beautiful place and one you have to visit while you're in America. It's home to one of the most photographed landmarks in the country, the Golden Gate Bridge as well as the infamous Alcatraz prison.
Our list of quotes about San Francisco reflects these landmarks and the city's wider beauty and culture as reasons you have to include it as part of your itinerary.
We've also included some San Francisco captions for Instagram you can use with your photos to detail how much you've enjoyed your visit.
So, if you're looking to book a trip, these San Francisco slogans will certainly get your heart racing and fingers to get out to the West Coast and the Bay Area!
Best San Francisco Quotes
"San Francisco, coolest place ever." – Imogen Poots
"I hope I go to Heaven, and when I do, I'm going to do what every San Franciscan does when he gets there. He looks around and says, 'It ain't bad, but it ain't San Francisco.'" – Herb Caen
"I love San Francisco so much. I call it the Emerald City and have been coming here since 1992. I have a few old friends that live here, and my aunt and uncle live in Oakland. I think it's a magical city – it's big, sexy and very 'cosmo' with a small-town feel." – Andy Cohen
"San Francisco has just blown us all away. I also understand Angels in America didn't do well there." – Chita Rivera
"When I went to San Francisco in that cold late spring of 1967, I did not even know what I wanted to find out, and so I just stayed around a while and made a few friends." – Joan Didion
"East is East, and West is San Francisco." – O. Henry
"San Francisco is 49 square miles surrounded by reality." – Paul Kanter
"I grew up in Marin County north of San Francisco, and in the 1950s and '60s it was a natural paradise." – Huey Lewis
"San Franciscans are very proud of their city, and they should be. It's the most beautiful place in the world." – Robert Redford
"A city is where you can sign a petition, boo the chief justice, fish off a pier, gaze at a hippopotamus, buy a flower at the corner, or get a good hamburger or a bad girl at 4 A.M. A city is where sirens make white streaks of sound in the sky and foghorns speak in dark grays. San Francisco is such a city." – Herb Caen
"I think San Francisco is the best place in the whole world for an easy life." – Imogen Cunningham
"If you're not alive, San Francisco will bring you to life." – William Saroyan
"San Francisco is the only city I can think of that can survive all that thing you people are doing to it and still look beautiful." – Frank Lloyd Wright
"The sheer sensory experience of San Francisco is unlike anywhere else. Not just the physical beauty, but the textures, the feel, the wind, the ocean. It's a monumental feeling unrivalled by anywhere else. It's a world-class, gorgeous city. And the coffee is great." – Jennifer Egan
"San Francisco is a breathtakingly beautiful city, with lots of great contrasts between dark and light, often overlapping each other. It's a great setting for a horror story." – Christopher Moore
"San Francisco is poetry. Even the hills rhyme." – Pat Montandon
"I didn't like Los Angeles very much but I like San Francisco." – Mick Ralphs
"San Francisco has always been a haven for misfits and weirdos. I'm both of those, which is why I came here." – Michael Franti
"San Francisco is one of my favorite cities in the world." – Rosalynn Carter
"I live near San Francisco in the most beautiful spot on earth and enjoy myself in many ways. Yes, I love to work, which for now is to think and read and write, so it's all a dream come true." – Francis Ford Coppola
"Most inspiration still comes from bicycling around San Francisco. This city never fails to inspire me. It is one of the most vibrant cities – especially visually – with a constant influx of young energy arriving daily. I love it." – Barry McGee
"I love San Francisco!" – Fred Willard
"I live in San Francisco, and I love it!" – Ayesha Curry
"San Francisco is one of my favorite cities on the planet." – Craig Venter
"I'm a huge fan of San Francisco. And I was out here for a couple years in the mid-'90s when I was a Wallace Stegner Fellow at Stanford." – Stacey D'Erasmo
"I would rather be in San Francisco than just about anywhere on Earth." – Joe Buck
"San Francisco is the microcosm for what's happening all over the world." – Alexandra C. Pelosi
"To me… San Francisco is an ideal city, intellectually stimulating and naturally beautiful. The oceans and forests are close enough to refresh the spirit; the architecture is always exciting." – Ruth Bernhard
San Francisco Travel Quotes
"I'm a huge fan of the Bay Area so I always love coming to San Francisco." – Ezra Koenig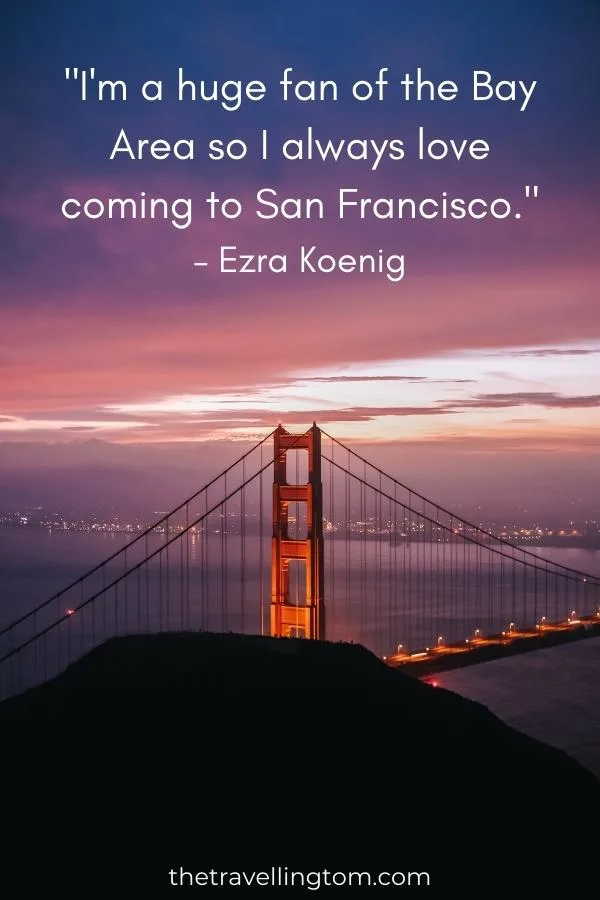 "San Francisco is a mad city – inhabited for the most part by perfectly insane people whose women are of a remarkable beauty." – Rudyard Kipling
"I've got one of those over-stuffed leather chairs from the Pottery Barn. It faces north. I live in San Francisco, so there's the Golden Gate Bridge off to the left, and there's Alcatraz off to the right, and I've got a pile of pulp fiction next to me, and there's usually a decent bottle of red wine next to the fireplace." – Mike Rowe
"Forty-five years ago, when I was 18, I came to San Francisco by boat and took two weeks to get here. I had a great impression. I think San Francisco is the welcoming gate for people from Asia." – Tadashi Yanai
"It's the grandest city I saw in America. If everyone acted as the San Franciscans did, there would be hope for settlement of the world's difficulties." – Frol Zozlov
"Every morning in San Francisco was a bit like waking up on the edge of the earth." – Elizabeth Percer
"My family moved a lot as a kid. We started in Colorado, where I lived for five years. We moved to Chicago for two years, to San Francisco for one year, Connecticut for seven, Oregon for a couple years, and then I went to school. So I was always moving, I'm still always moving." – Gus Van Sant
"I have this insane and unabated longing for San Francisco. I come up there every chance that I get." – Aisha Tyler
"I've always had a connection here in the city from the first day I arrived. I stayed in the city. I made San Francisco my home. I was seen in the offseason at a lot of different functions, and people liked that." – Willie McCovey
"San Francisco is exciting, moody, exhilarating. I even love the muted fogs." – Julie Christie
"America loses so much of what defines it if you subtract the Chinese influence. I know this because I spent 12 years living in one of America's most popular tourist destinations: San Francisco. And it would not be one of America's top tourist destinations without Chinatown." – W. Kamau Bell
San Francisco in shades of blue, a city in a dream, and I was filled with a tremendous yearning to live." – Rebecca Solnit
"You wouldn't think such a place as San Francisco could exist. The wonderful sunlight there, the hills, the great bridges, the Pacific at your shoes." – Dylan Thomas
"When I went to San Francisco for the first time in 1975, I went there for a summer, this acting training program for three months in the summer – I've never been the same." – Isiah Whitlock, Jr.
---
You might also like:
---
Funny San Francisco Quotes
"San Francisco is a city of twenty-something millionaire white kids named Doug." – Tom Lehrer
"It was totally insane doing goat yoga in San Francisco." – Gino D'Acampo
"You are fortunate to live here. If I were your President, I would levy a tax on you for living in San Francisco!" – Mikhail Gorbachev
"One of the reasons I moved to San Francisco was the weather. And then I realized that I really don't like being outside." – Sarah Cooper
"I happen to be fortunate: I live in San Francisco, and I can afford a $600 phone. Or two of them!" – Robert Scoble
"San Francisco has always been my favorite booing city. I don't mean the people boo louder or longer, but there is a very special intimacy. When they boo you, you know they mean you. Music, that's what it is to me. One time in Kezar Stadium they gave me a standing boo." – George Halas
"It's an odd thing, but anyone who disappears is said to be seen in San Francisco." – Oscar Wilde
"This is one Hart that you will not leave in San Francisco." – Gary Hart
"Los Angeles? That's just a big parking lot where you buy a hamburger for the trip to San Francisco." – John Lennon
"San Francisco is one of the worst-dressed cities in the world, bar none." – Kevin Plank
"San Francisco is a lot like Amsterdam – free, open-minded and casual – though I expected better weather." – Marcel Wanders
"Anyone who doesn't have a great time in San Francisco is pretty much dead to me." – Anthony Bourdain
San Francisco Captions for Instagram
You might also like: Chicago quotes
This trip is golden, baby
Oh how I've mist you, Golden Gate Bridge
"The West Coast is the best coast
Cruising through Cali
Visiting the Bay with my bae
I'd rather be in San Francisco
This trip is golden, baby
Chillin' in the San Francisco hills
Dear San Francisco, I will never get over you
Living with a golden state of mind
Quotes About San Francisco's Culture and History
"San Francisco is perhaps the most European of all American cities." – Cecil Beaton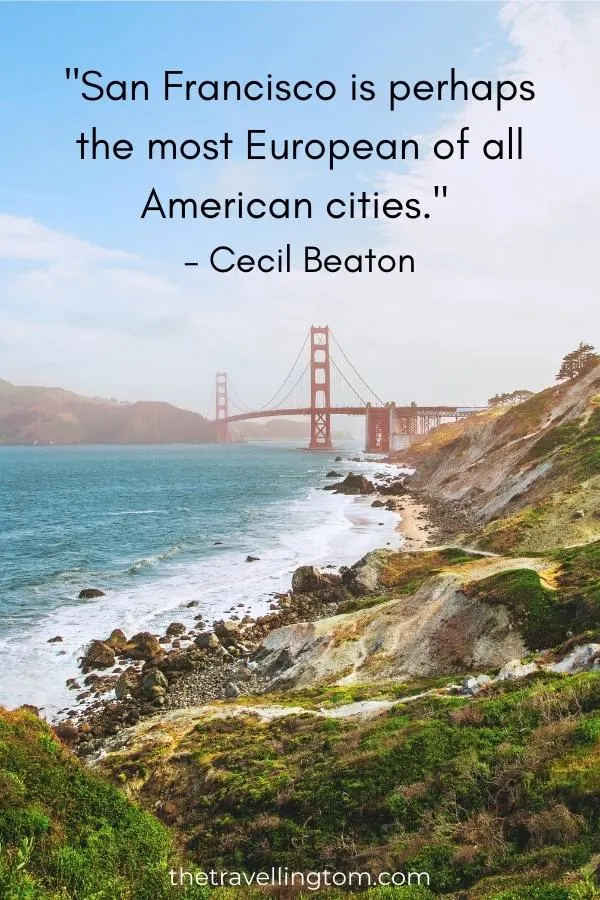 You might also like: River quotes
"San Francisco is gone. Nothing remains of it but memories." – Jack London
"The Golden Gate Bridge in San Francisco is for the community of San Francisco. And the Brooklyn Bridge, which is one of the most magnificent bridges ever built, is also a monument to the community, you see." – Santiago Calatrava
"In San Francisco, our diversity is our strength." – London Breed
"Being gay in San Francisco is fun. Being gay in Saudi Arabia – that's a whole other matter." – Gilbert Baker
"Should hostilities once break out between Japan and the United States, it is not enough that we take Guam and the Philippines, nor even Hawaii and San Francisco. We would have to march into Washington and sign the treaty in the White House." – Isoroku Yamamoto
"There's a certain attitude that you'll experience in San Francisco. You could call it hubris." – Alexandra C. Pelosi
"San Francisco is an interesting place. It's always been such a nice culturally diverse environment, which it still is, but there's a lot of money there now and a lot of dot com's so it's a little different than it used to be." – Les Claypool
"I was born in San Francisco. I was raised in Oakland, so I'm, like, super Bay Area born, and, you know, it's just really multicultural up there, and there's a lot of subcultures just from, like, anything, like from rockabilly to, like, crazy punk scenes to, you know, a huge rap scene, and there's just all kinds of things you can do out there." – Kreayshawn
"When you play quarterback in San Francisco, not much goes under the radar." – Steve Young
"There was a Japantown in San Francisco, but after the internment camps that locked up all the Japanese, Japantown shrunk down to just a couple tourist blocks." – Ann Nocenti
"I forgot that San Francisco is not an angry city like New York. Gays have gotten what they wanted there over the years, unlike New York, where we had to fight for everything." – Larry Kramer
"I grew up in San Francisco. And so I'm informed in a certain kind of way about, you know, believing in democracy and believing in America. And I'm a very ardent patriot." – George Lucas
"I love San Francisco for the music culture. There's this vibe there that I can't find anywhere else in the world. Easily one of the best places on the sea coast." – Tash Sultana
"I knew San Francisco when it was a wild place during Prohibition. There were more speakeasies than churches, and you could always get a drink." – Jackie Coogan
"The environment of San Francisco has so much history to it that I really appreciate. Musically, socially, and culturally. There's this new culture of people; it's a crazy place to be." – GRiZ
"If you have to be a one-hit wonder, then 'San Francisco' is the one to have." – Scott McKenzie
Looking For More Quotes?
Lake Quotes – Discover some more quotes that will inspire you to check out some lakes!
River Quotes – Check out our great collection of quotes about these watery bodies.
Sunrise Quotes – If you love sunrises, you'll love these quotes!
Florida Quotes – Some great quotes about the Orange State!
Tom is a travel addict who first left England to spend a year Down Under. Not satisfied with this, he then went to New Zealand, about as far away from home as he could get. He is now planning his next adventures in Europe and Canada while maintaining this blog. Check out the about me page to learn more!