These sunrise quotes will inspire you to get up early and watch one of the most magical daily events.
I remember waking up early to see the sunrise at Uluru and being blown away by what I saw. Any of these quotes about sunrises would have applied at the time as it was one of the most spectacular things I've ever witnessed.
Catching a sunrise is something you have to do while you're on a trip, especially if you're near the equator as the morning sunrise will be even more spectacular!
Here are some of the most inspirational quotes about sunrises you can use with your photos or inspire you on your next adventure!
Best Sunrise Quotes
"There was never a night or a problem that could defeat sunrise or hope." – Bernard Williams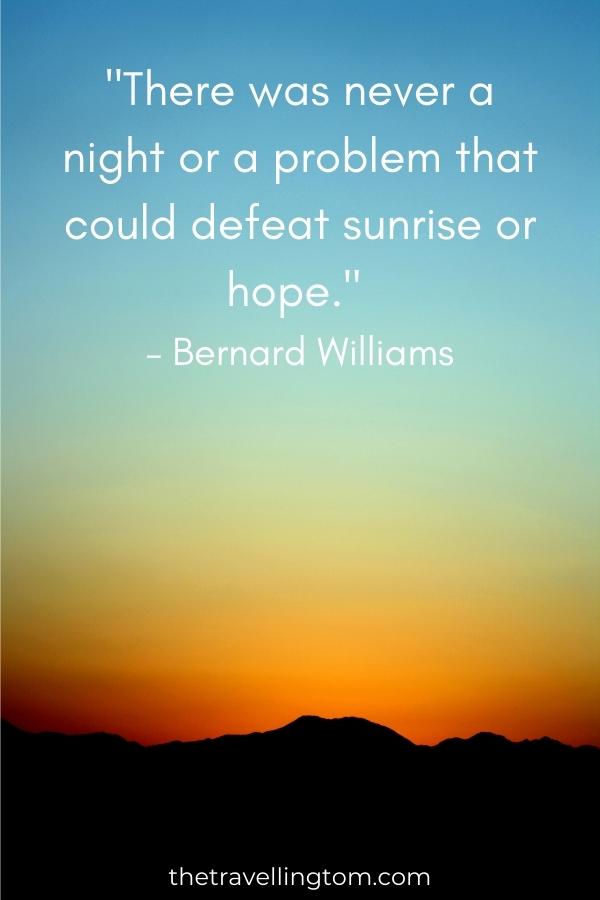 "There's never one sunrise the same or one sunset the same." – Carlos Santana
"The sky takes on shades of orange during sunrise and sunset, the colour that gives you hope that the sun will set only to rise again." – Ram Charan
"Give me odorous at sunrise a garden of beautiful flowers where I can walk undisturbed." – Walt Whitman
"If I can see the sunrise – and I usually don't – I like to. I'm a big fan of the sun." – Ezra Furman
"At sunrise everything is luminous but not clear. It is those we live with and love and should know who elude us. You can love completely without complete understanding." – Norman Maclean
"My California sunrise, there's a real mist in the air. I think of the mountains. You can smell the farm fields. You can smell the dirt and the lights and the whole sun." – Jon Pardi
"Every sunrise is a blessing, it's an opportunity to learn something new and to create something that can benefit others. It also gives a chance to make amends. Use it wisely before sunset." ― Euginia Herlihy
"A night can never defeat the sunrise." – Sumit Sharma
"May every sunrise hold more promise and every sunset hold more peace." – Umair Siddiqui
"Watching sunrise and sunset from space, which is a beautiful sight, has been a personal privilege I have attained while being there. Another reflection from within I felt was that there was nothing which was neither visible and nor with a supportive environment as to how Planet Earth is." – Rakesh Sharma
"I have grown up on a diet of sunrise picnics, learning the names of butterflies, planting trees." – Dia Mirza
"Each day is born with a sunrise." ― Suzy Kassem
"There's always a sunrise and always a sunset and it's up to you to choose to be there for it." – Cheryl Strayed
Funny Sunrise Quotes
"The biggest cliche in photography is sunrise and sunset." – Catherine Opie
"Trying to sneak a fastball past Hank Aaron is like trying to sneak the sunrise past a rooster." – Joe Adcock
"Sunrise is starting to feel like a guilt trip." ― Kris Kidd
"There is, I have heard, a little thing called sunrise, in which the sun reverses the process we all viewed the night before. You might assume such a thing as mythical as those beasts that guard the corners of the earth, but I have it on the finest authority, and have, indeed, from time to time, regarded it with my own eyes." ― Lauren Willig
"To sleep after sunrise was impossible on account of the number of flies which kept buzzing about the face." – George Grey
"Dawn and its excesses always reminded me of heaven, a place where I have always known I would not be comfortable." ― Marilynne Robinson
"For a girl with such a dark mind, you're a little too in love with the sunrise." ― Sherry Namdeo
---
You might also like:
---
Sunrise Captions For Instagram
It's a beautiful morning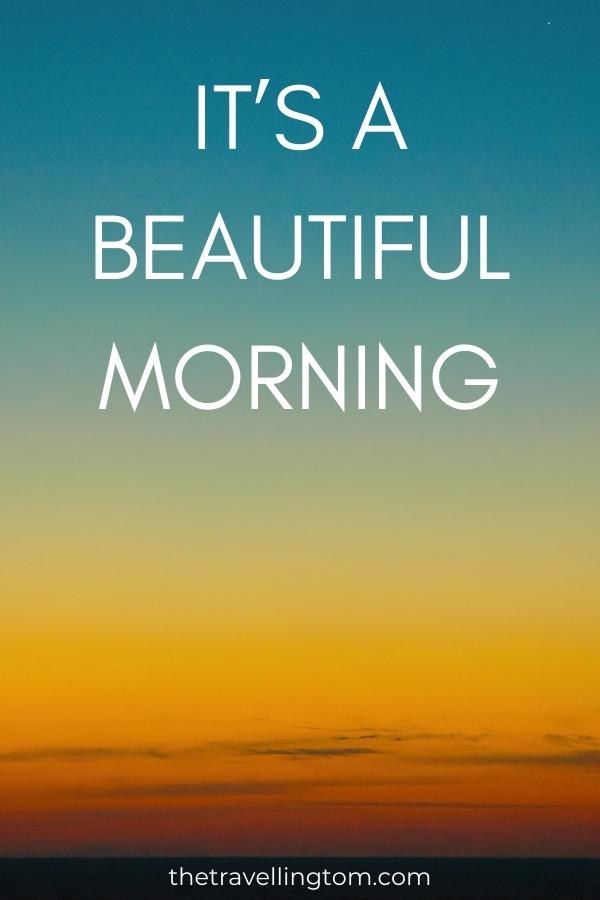 I want to soak up the sun
Like snowflakes, no two sunrises are alike
Rising to the occasion
Sunrise is a girl's best friend
I got a pocket full of sunshine
I'm walking on sunshine
Here comes the sun
Rise before the sun does
Sunrise: proof the best things in life are free
Rise and shine!
The sun will rise and so will I
Beautiful Sunrise Quotes
"If you are in a beautiful place where you can enjoy sunrise and sunset, then you are living like a lord." – Nathan Phillips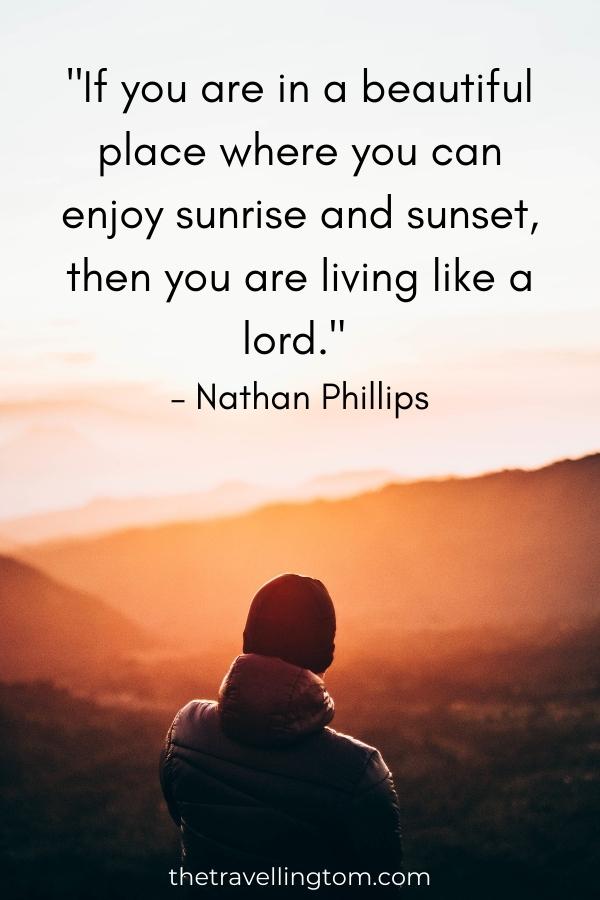 "Nothing is more beautiful than the loveliness of the woods before sunrise." – George Washington Carver
"Lost – yesterday, somewhere between sunrise and sunset, two golden hours, each set with sixty diamond minutes. No reward is offered, for they are gone forever." – Horace Mann
"Opportunities are like sunrises. If you wait too long, you miss them." — William Arthur Ward
"Sunrise offered a very beautiful spectacle; the water was quite unruffled, but the motion communicated by the tides was so great that, although there was not a breath of air stirring, the sea heaved slowly with a grand and majestic motion." – George Grey
"I tend to go to bed really early on New Year's Eve. Then I wake up early, drive up while it's still dark, and hike out somewhere beautiful to watch the sunrise. I just take a couple hours and have a post-mortem of the year." – Charlie Hunnam
"I'm not a night owl, but for Glasto there was no chance I was going to miss a moment. I heard intriguing things about watching the sunrise from the stone circle, so that was on my list." – Emma Corrin
"What is the good of your stars and trees, your sunrise and the wind, if they do not enter into our daily lives?" – E. M. Forster
"I like that time is marked by each sunrise and sunset whether or not you actually see it." – Catherine Opie
"I love watching the sunrise and sunset and the sky, the birds." – Manisha Koirala
"Our biggest learnings come only from the biggest blows, hence, I'd request one and all to look out for the silver linings and focus on positive thoughts and ideas, because as I always say, every cloud has a silver lining, and every sunset ends with a beautiful sunrise." – Rituparna Sengupta
Morning Sunrise Quotes
"O sky above me, you modest, glowing sky! O you, my happiness before sunrise! Day is coming: so let us part!" ― Friedrich Nietzsche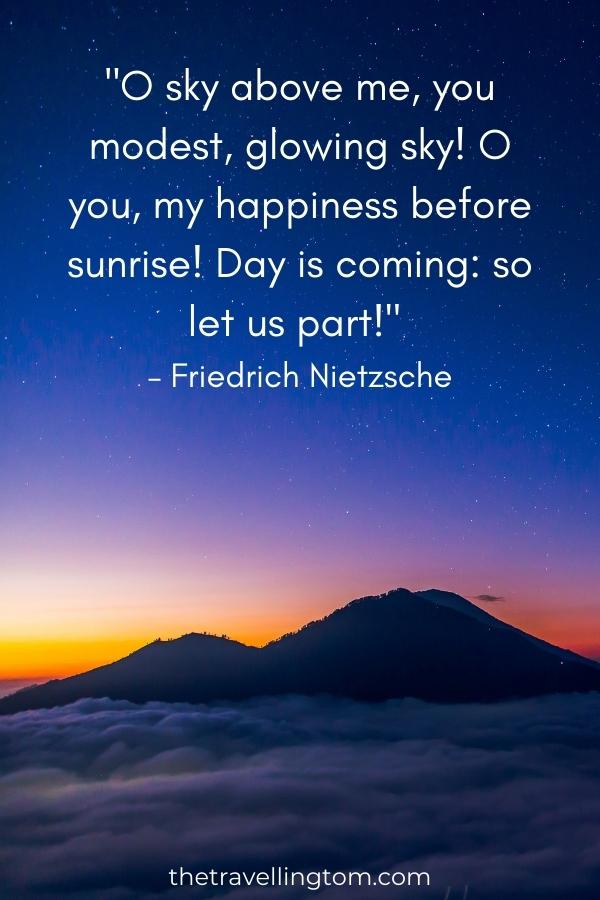 "There is a force of exultation, a celebration of luck, when a writer finds himself a witness to the early morning of a culture that is defining itself, branch by branch, leaf by leaf, in that self-defining dawn, which is why, especially at the edge of the sea, it is good to make a ritual of the sunrise." – Derek Walcott
"Saw the sun rise. A lovely apricot sky with flames in it and then solemn pink. Heavens, how beautiful…I feel so full of love to-day after having seen the sun rise." ― Katherine Mansfield
"Sunrise looks spectacular in the nature; sunrise looks spectacular in the photos; sunrise looks spectacular in our dreams; sunrise looks spectacular in the paintings, because it really is spectacular!" ― Mehmet Murat Ildan
"There's always a story. It's all stories, really. The sun coming up every day is a story." ― Terry Pratchett
"What breaks in daybreak? Is it the night? Is it the sun, cracked in two by the horizon like an egg, spilling out light?" ― Margaret Atwood
"On the last morning of Virginia's bloodiest year since the Civil War, I built a fire and sat facing a window of darkness where at sunrise I knew I would find the sea." – Patricia Cornwell
"Across our small globe, dawn sweeps each morning, lighting cities and cottages, barrios and villages. Whoever and wherever you may be, you can step out into that morning sunrise and know, from our American example, that life does not have to be the way it is for you." – Sheldon Whitehouse
"How sweet the morning air is! See how that one little cloud floats like a pink feather from some gigantic flamingo…. How small we feel with our petty ambitions and strivings in the presence of the great elemental forces of Nature!" ― Arthur Conan Doyle
Quotes About Sunrises and New Beginnings
"Get outside. Watch the sunrise. Watch the sunset. How does that make you feel? Does it make you feel big or tiny? Because there's something good about feeling both." – Amy Grant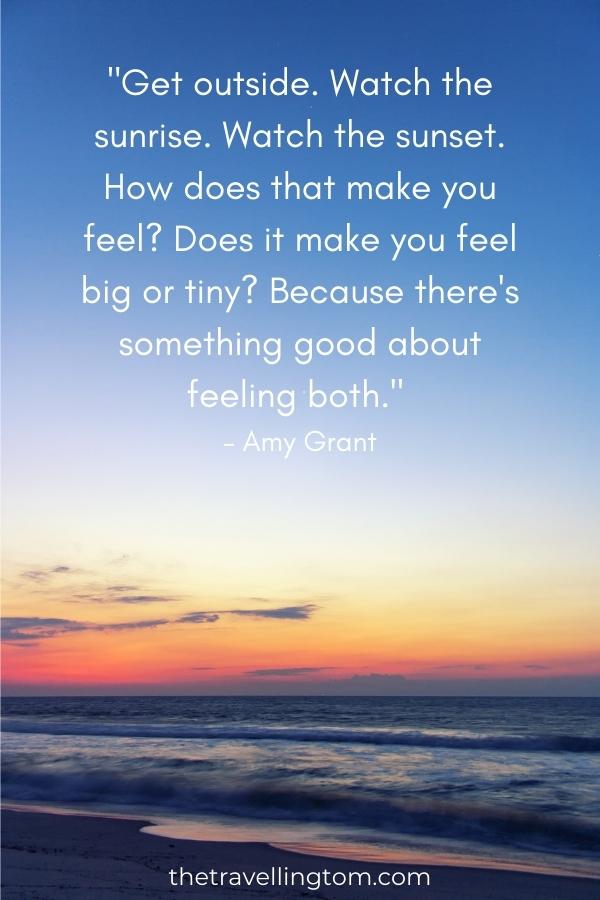 "The darkness is at its deepest just before the sunrise." – Voltaire
"What I know for sure is that every sunrise is like a new page, a chance to right ourselves and receive each day in all its glory. Each day is a wonder." – Oprah Winfrey
"For most people, we often marvel at the beauty of a sunrise or the magnificence of a full moon, but it is impossible to fathom the magnitude of the universe that surrounds us." – Richard Baker
"I hope you realize that every day is a fresh start for you. That every sunrise is a new chapter in your life waiting to be written." ― Juansen Dizon
"It's a new day. Yesterday's failure is redeemed at the sunrise" ― Todd Stocker
"We wanderers, ever seeking the lonelier way, begin no day where we have ended another day; and no sunrise finds us where sunset left us." — Kahlil Gibran
"Sunrise is the reminder that we can start new beginning from anywhere." ― Rupal Asodaria
"Know where to find the sunrise and sunset times and note how the sky looks at those times, at least once." – Marilyn vos Savant
"The darkness that follows a sunset is never so dark that it can change the inevitability of a sunrise." ― Craig D. Lounsbrough
"I love sunrises. They always signify something new and something beautiful. The darkness fading away." ― Michelle N. Onuorah