If you're looking for the most inspirational river quotes then you've come to the right place!
Rivers are some of the most striking natural features you'll see. The river in my hometown of Chester is a case in point. It snakes its way through the city and depending on your viewpoint is a sight to behold.
These beautiful river quotes reflect the nature of these bodies of water and the wonder we hold them in. Whether you want to visit the Nile in Egypt, the Amazon in Brazil, or just a river in your own country, you'll plenty of inspirational quotes here.
Check out these river sayings and find some of the best ancient and modern insights into rivers now!
Best Quotes About Rivers
"No man ever steps in the same river twice, for it's not the same river and he's not the same man." – Heraclitus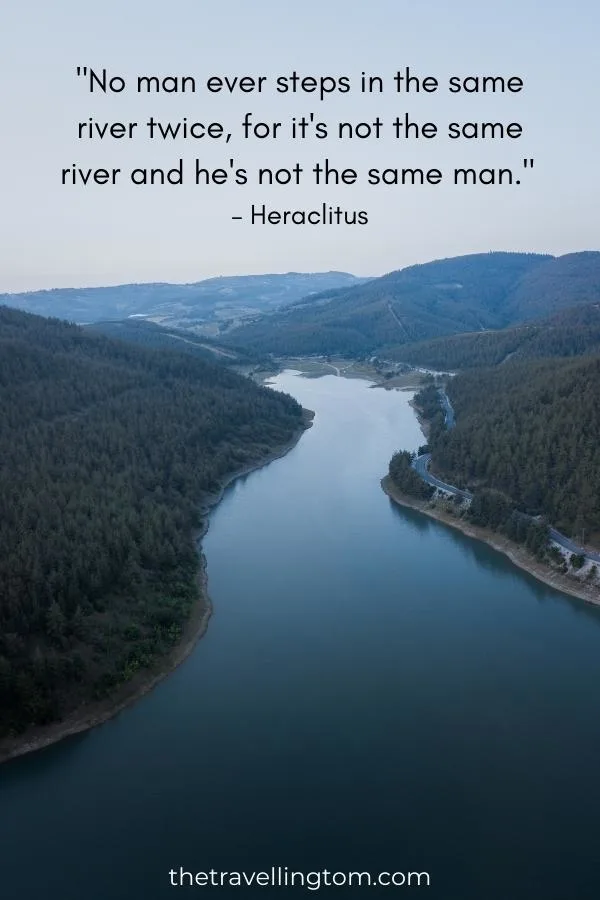 "You drown not by falling into a river, but by staying submerged in it." – Paulo Coelho
"He who postpones the hour of living is like the rustic who waits for the river to run out before he crosses." – Horace
"Time is the substance from which I am made. Time is a river which carries me along, but I am the river; it is a tiger that devours me, but I am the tiger; it is a fire that consumes me, but I am the fire." – Jorge Luis Borges
"Love is the river of life in the world." – Henry Ward Beecher
"You can't be unhappy in the middle of a big, beautiful river." – Jim Harrison
"Many a calm river begins as a turbulent waterfall, yet none hurtles and foams all the way to the sea." – Mikhail Lermontov
"Fame is like a river, that beareth up things light and swollen, and drowns things weighty and solid." – Francis Bacon
"The Yellowstone river is a beautiful river to navigate." – William Henry Ashley
"The United States is a world unto itself. We have mountains, we have deserts, we have a river that equals the Yangtze River, that equals the Nile. We have the greatest cities in the world – among the greatest cities in the world." – Paul Theroux
"Here, on the river's verge, I could be busy for months without changing my place, simply leaning a little more to right or left." – Paul Cezanne
"It is only in appearance that time is a river. It is rather a vast landscape and it is the eye of the beholder that moves." – Thornton Wilder
"A book is kind of like a river; I simply jump in and start swimming." – Melody Carlson
"Rivers know this: there is no hurry. We shall get there someday." – A.A. Milne
"If you have a river, then you should share it with everyone." – Chen Guangbiao
"I've always been fascinated by the Mississippi River and the way of life in these small river towns." – Daniel Woodrell
Beautiful River Quotes
"May what I do flow from me like a river, no forcing and no holding back, the way it is with children." ― Rainer Maria Rilke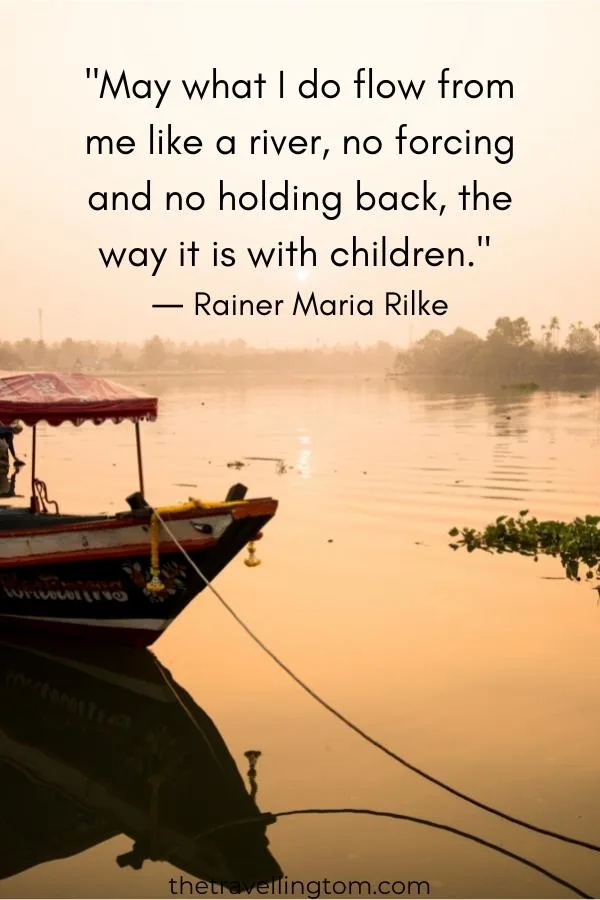 "Time is a sort of river of passing events, and strong is its current; no sooner is a thing brought to sight than it is swept by and another takes its place, and this too will be swept away." – Marcus Aurelius
"The river of knowledge has no depth." ― Chinonye J. Chidolue
"The air moves like a river and carries the clouds with it; just as running water carries all the things that float upon it." ― Leonardo da Vinci
"For life and death are one, even as the river and the sea are one." – Khalil Gabrin
"I know the joy of fishes in the river through my own joy, as I go walking along the same river." – Zhuangzi
"Eventually, all things merge into one, and a river runs through it." – Norman Maclean
"The hard path is often the right one. The river teaches more than the shore." ― Maxime Lagacé
"What makes a river so restful to people is that it doesn't have any doubt – it is sure to get where it is going, and it doesn't want to go anywhere else." – Hal Boyle
"What is a fish without a river? What is a bird without a tree to nest in? What is an Endangered Species Act without any enforcement mechanism to ensure their habitat is protected? It is nothing." – Jay Inslee
"Whenever I think of my birthplace, Walton-on-Thames, my reference first and foremost is the river. I love the smell of the river; love its history, its gentleness. I was aware of its presence from my earliest years. Its majesty centered me, calmed me, was a solace to a certain extent." – Julie Andrews
"I'll love you, dear, I'll love you till China and Africa meet and the river jumps over the mountain and the salmon sing in the street." – W.H. Auden
"About fifteen miles above New Orleans the river goes very slowly. It has broadened out there until it is almost a sea and the water is yellow with the mud of half a continent. Where the sun strikes it, it is golden." – Frank Yerby
"All rivers, even the most dazzling, those that catch the sun in their course, all rivers go down to the ocean and drown. And life awaits man as the sea awaits the river." – Simone Schwartz-Bart
"I remember how beautiful the Merrimac looked to me in childhood, the first true river I ever knew; it opened upon my sight and wound its way through my heart like a dream realized; its harebells, its rocks, and its rapids, are far more fixed in my memory than anything about the sea." – Lucy Larcom
"It is one thing to hear about the forest and the river, but an entirely other experience to go there, to see the environment, and to appreciate the natural riches there first-hand." – Chris Kilham
"My favourite places on earth are the wild waterways where the forest opens its arms and a silver curve of river folds the traveller into its embrace." – Rory MacLean
"Nature is filled with tendencies and obstructions. Extremes beget limitations, even as a river by its own swiftness creates obstructions for itself." – Robert Green Ingersoll
Life is Like a River Quotes
"Life is like a river. It will either drag you with its flow, or you can learn to surf. Choice is yours." – Nitin Kishore Rawat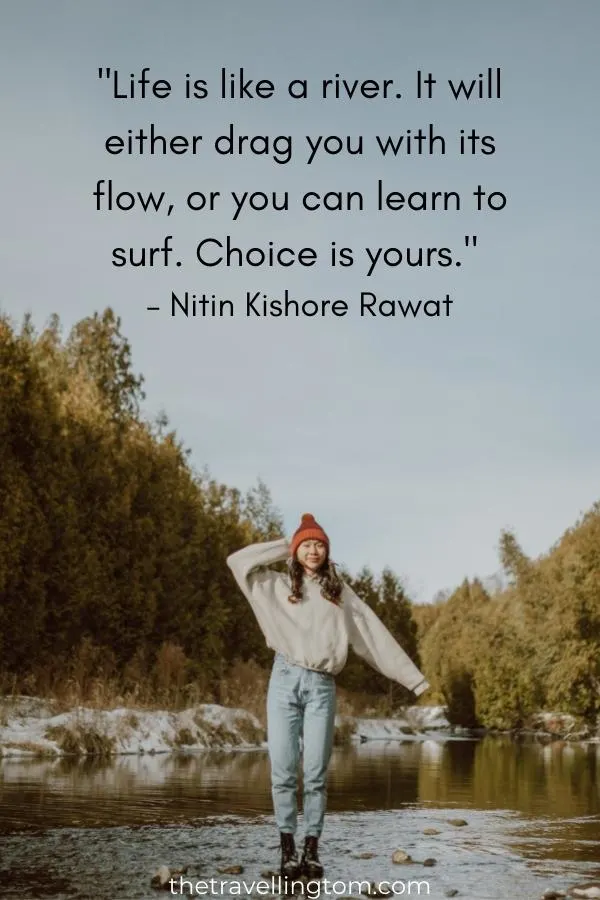 "Life is much like a river. I can't determine where the river comes from or where it's flowing to. But I can immerse myself in it as it's flowing by me." – Craig D. Lounsbrough
"Life is like the river, sometimes it sweeps you gently along and sometimes the rapids come out of nowhere." – Emma Smith
"Life in us is like the water in a river." – Henry David Thoreau
"River is time in water; as it came, still so it flows, yet never is the same." – Barten Holyday
"Hitch a ride on the river of life." – Jonathan Lockwood Huie
"The only way to understand a river is to jump into it." ― Alice Hoffman
"The body is like water, and the blood as the river." ― Mia Siufi
"Life is a river of ordeals that makes men swim upstream so that they may chase after their dreams, and whoever refuses to swim gets washed away downstream and be dragooned to drown to its defeatist depths." ― Picazo Basha
"The river is one of my favorite metaphors, the symbol of the great flow of Life Itself. The river begins at Source, and returns to Source, unerringly. This happens every single time, without exception. We are no different." – Jeffrey R. Anderson
"A river doesn't just carry water, it carries life." – Amit Kalantri
"There are no guarantees in life, no certainties in life – just the ever-changing, flowing river of life." ― Rasheed Ogunlaru
"Life is like a river. Let it flow in its own way. Never try to control it." – Shobana Rajasundaram
Funny River Quotes
"Denial ain't just a river in Egypt." – Mark Twain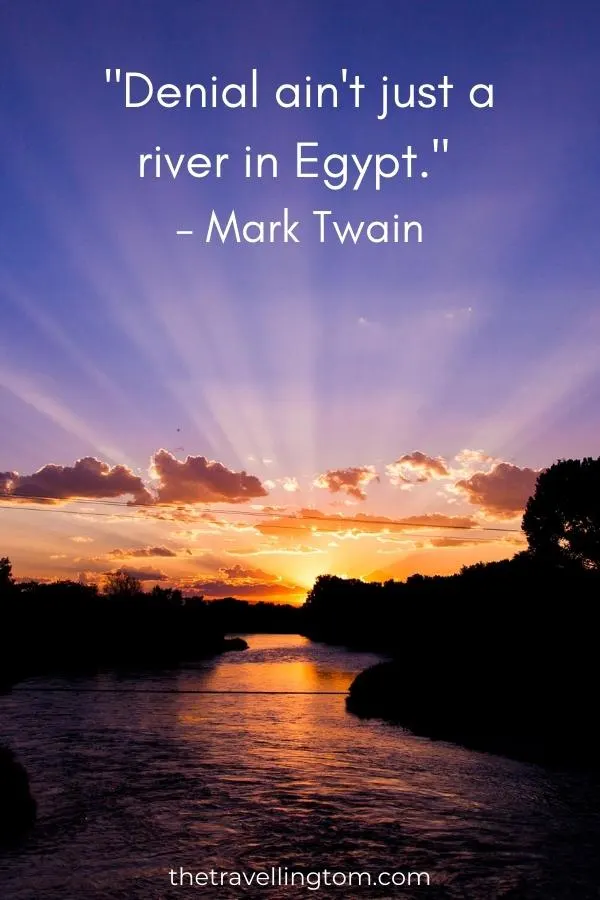 You might also like: Montana quotes
"Some drink deeply from the river of knowledge. Others only gargle." – Woody Allen
"If one morning I walked on top of the water across the Potomac River, the headline that afternoon would read: 'President Can't Swim.'" – Lyndon B. Johnson
"Never insult an alligator until after you have crossed the river." – Cordell Hull
"I like geography best, he said, because your mountains & rivers know the secret. Pay no attention to boundaries." ― Brian Andreas
"The river Trent is lovely, I know because I have walked on it for 18 years." – Brian Clough
"Let me put it this way: I can sing a hell of an 'Old Man River,' way down in the bass." – Julie Andrews
"Who put their foot in the Missouri River first: Lewis or Clark? Who cares!" – Buzz Aldrin
A River Runs Through It Quotes
"The river was cut by the world's great flood and runs over rocks from the basement of time. On some of those rocks are timeless raindrops. Under the rocks are the words, and some of the words are theirs. I am haunted by waters."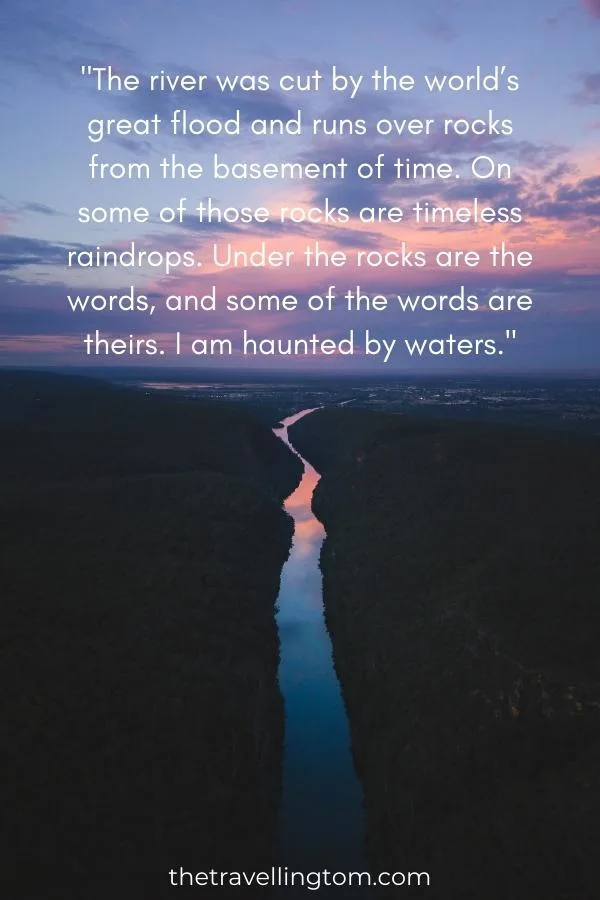 "And I knew just as surely, just as clearly, that life is not a work of art, and that the moment could not last."
"On the river, the heat mirages danced with each other and then they danced through each other and then they joined hands and danced around each other. Eventually, the watcher joined the river, and there was only one of us. I believe it was the river."
"Eventually, all things merge into one, and a river runs through it."
"Even the anatomy of a river was laid bare. Not far downstream was a dry channel where the river had run once, and part of the way to come to know a thing is through its death. But years ago I had known the river when it flowed through this now dry channel, so I could enliven its stony remains with the waters of memory."
---
You might also like:
---
River Captions for Instagram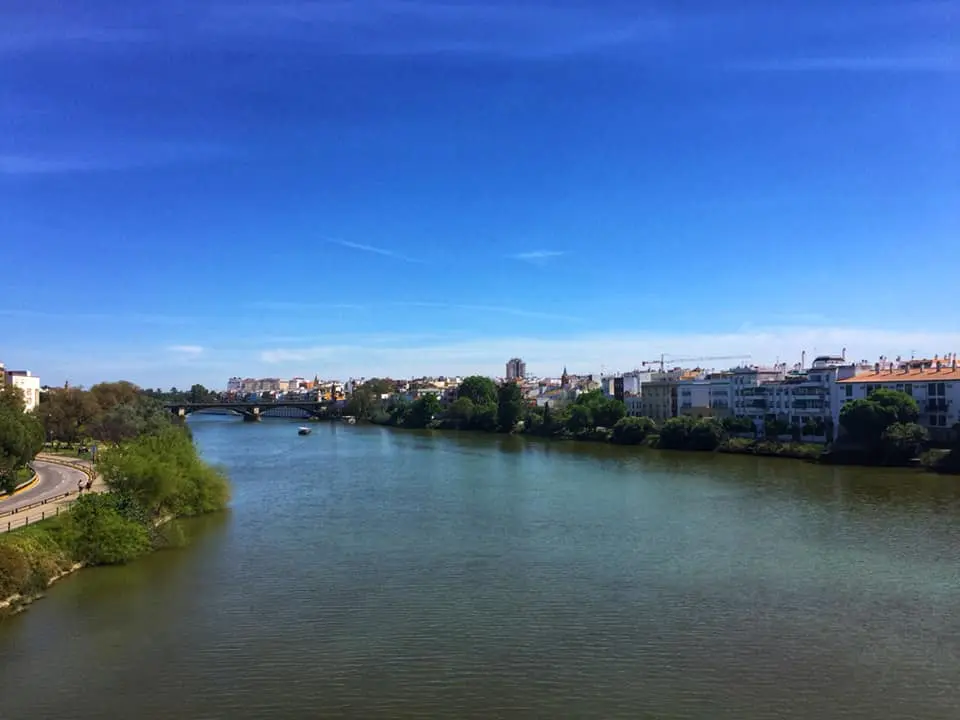 Rollin rollin rollin on the river
Lost on the river. Don't bother me
Life is simple, just add water
I don't need a river to be lazy
Keeping it reel on the river
River rules: Live, love, swim!
We steer the boat, we don't alter the river
Take me to the river, drop me in the water
River water is just like poem without words
Day dreams of river streams
On river time
River hair, don't care
Life is good, but its better on rivers
To the river I go, to lose my mind and find my soul
Inspirational River Quotes
"It is from small streams that big rivers rise." – Matshona Dhliwayo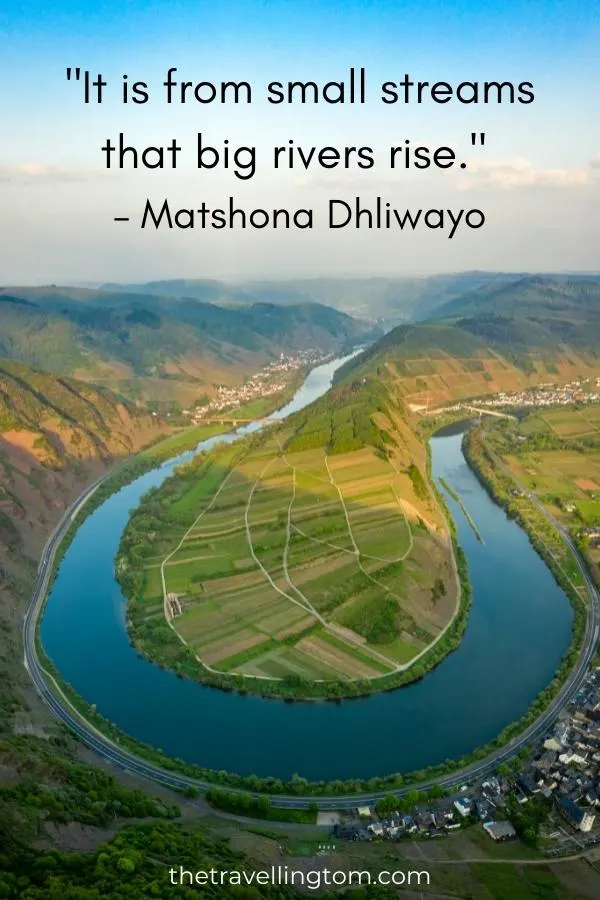 "Instead of drifting along like a leaf in a river, understand who you are and how you come across to people and what kind of an impact you have on the people around you and the community around you and the world, so that when you go out, you can feel you have made a positive difference." – Jane Fonda
"The river flows at its own sweet will, but the flood is bound in the two banks. If it were not thus bound, its freedom would be wasted." – Vinoba Bhave
"When you do things from your soul, you feel a river moving in you, a joy." – Rumi
"I grew up in this town, my poetry was born between the hill and the river, it took its voice from the rain, and like the timber, it steeped itself in the forests." – Pablo Neruda
"Just as a drop of water in the ocean cannot avail much; but if a great river runneth into it, that maketh a great commotion." – Jakob Bohme
"Nature promotes mutualism. The flower nourishes the bee. The river waters quench the thirst of all living beings. And trees provide a welcoming home to so many birds and animals. There is a rhythm to this togetherness." – Ram Nath Kovind
"Do not despise the water droplets that you receive. Soon, they will be a river." ― Bruce Mbanzabugabo
"While the river of life glides along smoothly, it remains the same river; only the landscape on either bank seems to change." – Max Muller
"Just as the water of a river near its mouth, in its final form, is composed largely of many tributaries, so an idea, in its final form, is composed largely of later additions." – Willy Ley
"Patience is the river that finds its way to the sea, by flowing through many confluences." – Mladen Đorđević
"The river embraces me and guides me to swim inside her and to drink the nectar of love from her bosom. She tells me her secrets and I tell her mine." – Avijeet Das
"There are so many times in one's life, when one feels he has nothing more to offer. But no, my river has not run dry." – Eric Burdon
"If we choose to walk into a forest where a tiger lives, we are taking a chance. If we swim in a river where crocodiles live, we are taking a chance. If we visit the desert or climb a mountain or enter a swamp where snakes have managed to survive, we are taking a chance." – Peter Benchley
"The river of time may fork into rivers, in which case you have a parallel reality and so then you can become a time traveler and not have to worry about causing a time paradox." – Michio Kaku
"One place that I looked at a lot from space and which looks alluring is New Zealand, especially the North Island. It's a big broad valley with a river flowing through it, and you can see the wine-making dryness of the land." – Chris Hadfield
Frequently Asked Questions
What is a good quote about rivers?
"No man ever steps in the same river twice, for it's not the same river and he's not the same man." – Heraclitus
What is the quote about life like a river?
"Life is like a river. It will either drag you with its flow, or you can learn to surf. Choice is yours." – Nitin Kishore Rawat
What is a romantic quote about rivers?
"All rivers, even the most dazzling, those that catch the sun in their course, all rivers go down to the ocean and drown. And life awaits man as the sea awaits the river." – Simone Schwartz-Bart
Looking For More Quotes?
Spain Quotes – Many rivers run through Spain and these quotes highlight the country's unique beauty!
Ireland Quotes – There are plenty of beautiful rivers in Ireland, so check out some of the best quotes about this beautiful country.
Waterfall Quotes – Quotes about one of the most impressive bodies of water.
Tom is a travel addict who first left England to spend a year Down Under. Not satisfied with this, he then went to New Zealand, about as far away from home as he could get. He is now planning his next adventures in Europe and Canada while maintaining this blog. Check out the about me page to learn more!