These San Diego quotes will provide you with the inspiration you need to check out this fascinating Californian city.
San Diego is one of the main cities in California and an ideal place to get away from the buzz and hysteria of Los Angeles.
These quotes about San Diego reflect the beauty, culture and history of the city. Also reflected in these quotes is the breadth of things you can do in the city such as visit the amazing beaches, museums and parks that make San Diego such a great destination.
I've also included some San Diego captions for Instagram that you can use to go along with your photos on social media.
After you've read these quotes, you'll be booking your trip to the city in no time!
Best San Diego Quotes
"San Diego is the best city in the world." – Eric Weddle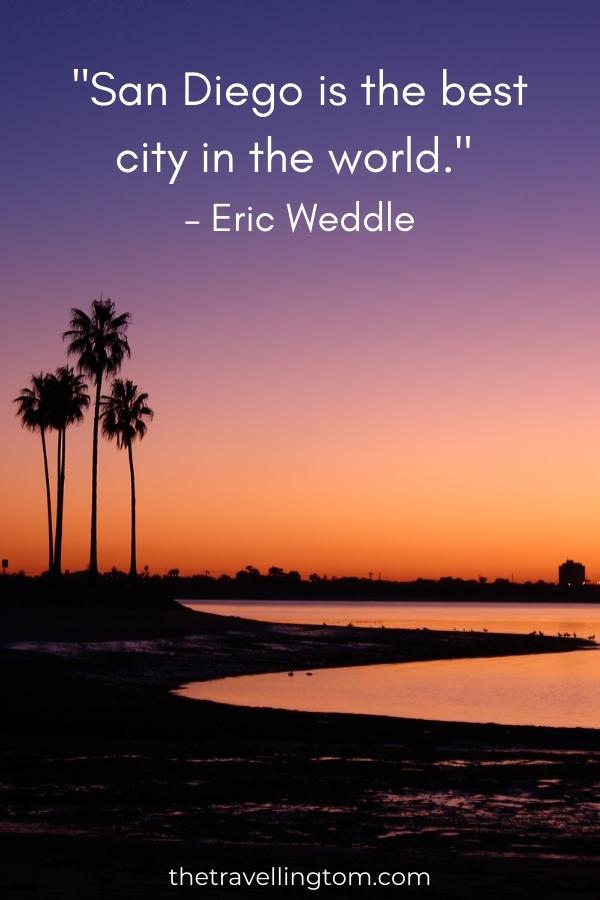 "I love going to San Diego." – Cody Bellinger
"You stay classy, San Diego." – Ron Burgundy
"There's something about San Diego that is quite different than Los Angeles." – Donal Logue
"Once you've lived in Del Mar or the San Diego area, why would you want to live anyplace else? It's the neatest place, whether it's the culture or the small-town atmosphere the whole San Diego area has." – Martin Cooper
"My buddy David Wells is a big motorcycle guy, so when I go visit him in San Diego, he takes me out on his bike. He's got some antique Indians. I never really rode during my career, because I was afraid I'd fall off and ruin my career." – David Cone
"San Diego as a city is really awesome." – Kristen Bell
"Well, when I was a kid, I grew up in San Diego next to the ocean. The ocean was my friend – my best friend." – Robert Ballard
"The San Diego region in many ways is defined by our relationship with the ocean. It's our front yard and a beautiful playground for families and visitors. It should be clean, safe, and inviting." – Steve Peters
"My mom was born in San Diego, around Vista. So we've always been California people." – Gracie Gold
"I was homeless and I was in San Diego and I started singing in a local coffee shop and people started coming to hear me sing." – Jewel
"Usually I'll go to San Diego to hang out with my parents if I want to unwind." – Mario Lopez
"People actually enjoy it when it rains in San Diego because we never get it. It's a nice change of pace. When you live in Southern California, everybody says, 'It's so expensive there.' I tell them, 'It's just a very expensive weather tax.'" – Steve Finley
"It has been very special to be a San Diego Charger." – Philip Rivers
"I'm very thankful to San Diego for the musical opportunities it gave me." – Gregory Porter
"I want to go to San Diego, I want to go why no puedo." – Manu Chao
"Growing up, I didn't realize how unique it was to live on the border of the United States and Mexico. It wasn't until I started doing interviews with the press that I actually began to appreciate just how cool it was that I would cross the international border every single day from Tijuana into San Diego to go to school." – Marcela Valladolid
"I think our immigrants are a strength for us in San Diego. I think it's a strength in our communities in California. Our immigrant community in San Diego has been part of the fabric of our city for decades, and it's one that I'm proud of." – Kevin Faulconer
San Diego Travel Quotes
"To go to San Diego is everything. It's literally everything. It's the ultimate dream. It's the big one." – Tim Rozon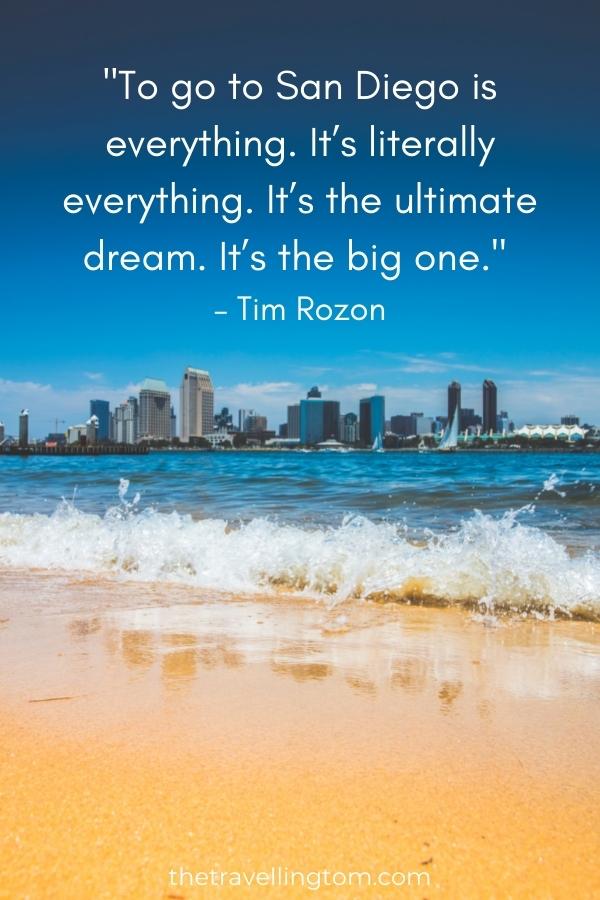 "I like to travel any chance I get, even if it's just a local vacation to San Diego or Palm Springs or wherever. I just like to get out and do stuff and see the world." – Christa B. Allen
"I realized that it's all really one, that John Lennon was correct. We utilize the music to bring down the walls of Berlin, to bring up the force of compassion and forgiveness and kindness between Palestines, Hebrews. Bring down the walls here in San Diego, Tijuana, Cuba." – Carlos Santana
"Thank God I arrived the day before yesterday, the first of the month, at this port of San Diego, truly a fine one, and not without reason called famous." – Junipero Serra
"I never tire of the drive from Phoenix to San Diego, and it is mostly desert, obviously, but you get different varieties of desert terrain." – Rob Halford
"I'm a coastal person. I grew up in Long Island and lived in San Diego. I felt landlocked in Pittsburgh. Psychically, it just wasn't the place for me." – Alice McDermott
"Like I'm in San Diego today and this is my hometown so I've got a lot of my friends coming and I definitely want to put on the best show that I can." – Matt Cameron
"In 1938, when I had decided that the only way to see the country was in a trailer, and I built the trailer which I still have and lived in it for eighteen months, and learned America from San Diego to the Canadian border, from Miami to New Jersey, and east to west in between." – Leslie Charteris
"My family came over from Spain about nine generations ago. I was born in San Diego, but by the time I was four days old, I was on a flight back to Spain because that's where my family was living at the time." – Bitsie Tulloch
"The bridge to Coronado Island off San Diego was built because the mob had a hotel there and needed a way to get people out there." – Don Winslow
"The reason I'm in San Diego is not because I want distance from South Africa but because I want proximity to the people I love. But I don't envy growing up in America. As ugly as aspects of it were, my biggest blessing was to be born a South African." – Athol Fugard
"To me, everything outside of Los Angeles is the 'south,' including places like San Diego. It's sort of like the saying, 'Everything is God.' Indeed it is." – Buzz Osborne
"I always loved music and was drawn to it and affected by it. But it wasn't until I got to San Diego that I started exploring music more." – Andra Day
"San Diego, in fact, is one of the hardest places to sell Mexican food. You just cross the border into Tijuana and they have better food that's more authentic and for half the price." – Marcela Valladolid
---
You might also like:
---
Funny San Diego Quotes
"Maui reminded me of San Diego: beautiful, but crowded." – Larry Ellison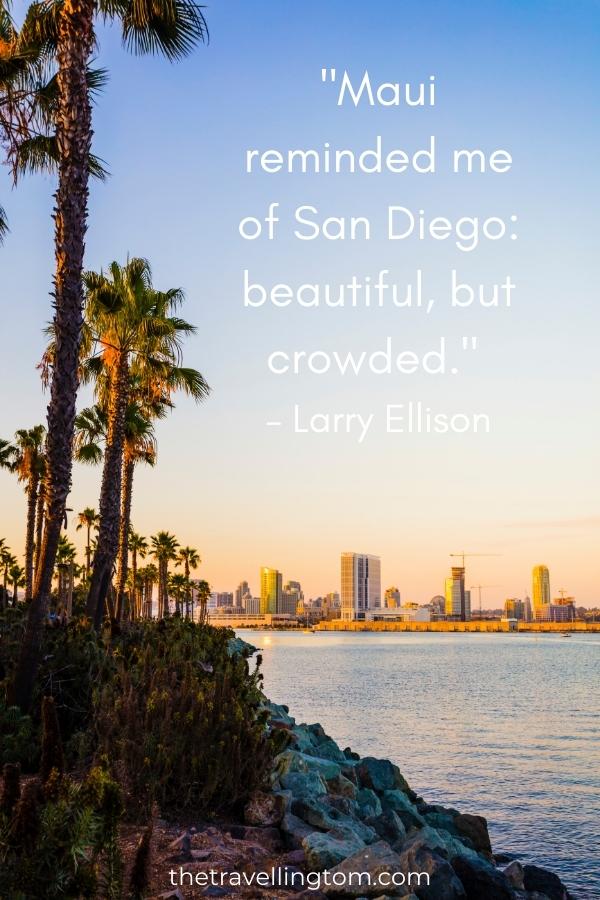 "I've played D&D for years. I'm a comic book guy. Comic-Con in San Diego is nerd Christmas for me." – Brian Posehn
"I once did a flip-flop joke in San Diego, and I got booed… but it's all in good fun." – Sebastian Maniscalco
"Los Angeles is like San Diego's older, uglier sister." – Justin Halpern
San Diego Captions for Instagram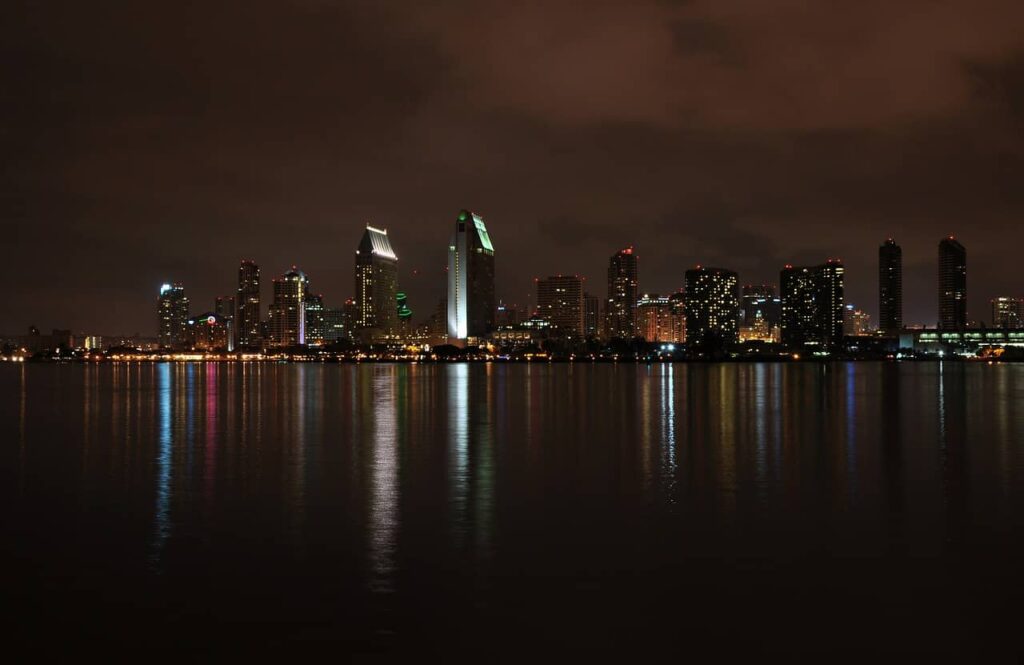 You might also like: Chicago quotes
Stay classy, San Diego
The world is my oyster and San Diego is my home
San Diego = freedom
Going to San Diego, be back never
San Diego is my therapy
Let's be honest: San Diego is always a good idea
From Balboa Park to Mission Bay, San Diego is the place I'll stay
San Diego is calling me, and I must go
Life is better in San Diego
I just can't help falling in love with San Diego
I'd rather be in San Diego
There's no better place than San Diego
Sun, sand, and San Diego
There's no problem that San Diego can't solve
Quotes About San Diego's Culture and History
"I need to surf – surf and yoga. Whenever I'm in L.A., I go down to San Diego to surf for the weekend, and I always come back perfect." – Rodrigo Santoro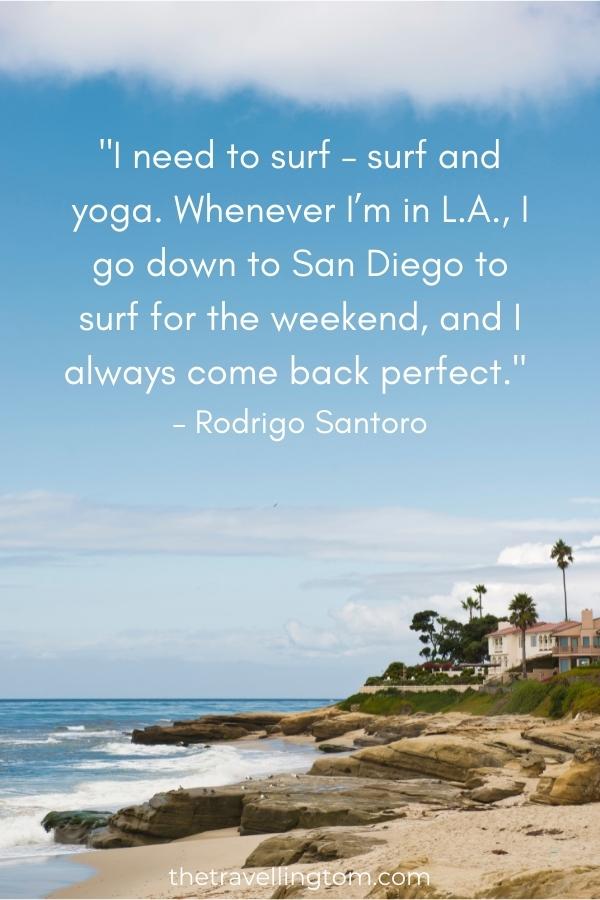 You might also like: River quotes
"I grew up in San Diego, California, and I spent a lot of time in the summer basically living in a bathing suit, you know, get in the car and drive straight to the beach and spend the entire day in that thing, so I always approached bathing suits thinking that they are very much like outfits." – Emily Ratajkowski
"I was born in San Diego, and we moved to Los Angeles when I was seven. A couple of years later, I started acting!" – Danica McKellar
"San Diego shaped me a lot. The visual landscapes, the emotional panoramas, the teachers and mentors I had from the third grade through San Diego High – it's all a big part of the poetry fountain that I continue to drink from." – Juan Felipe Herrera
"There's so many gifts from the faith to appreciate and it strikes people differently, but the one-ness of the Church wherever you are, Raleigh, San Diego, Alabama. Every place we were was home because the Catholic Church is the same everywhere." – Philip Rivers
"I definitely tried to skateboard in middle school, and being from San Diego, surf and skate culture is a big, prevalent thing. But I was not that good – I was kind of a chubby kid and didn't totally master skating." – Kyle Mooney
"It's good to have a lot of once-in-a-lifetimes in your lifetime. If you get the chance to skydive, go skydiving. If you're offered a part in a weird Shakespeare play in San Diego, slap on some tights and rock out some iambic pentameter." – Neil Patrick Harris
"My favorite afternoon snack as a child in San Diego was a still-steaming flour tortilla purchased at the taqueria down the street from my school, and I've yearned for them ever since I moved away." – Samin Nosrat
"There aren't many sources of money in San Diego, apart from local partnerships and local investors. It's pretty starkly polarized to Silicon Valley." – Steve Jurvetson
"Growing up in San Diego, I can remember going with my brother to see bands like Pennywise and NOFX – good punk bands that were fast and tight." – Vic Fuentes
"I'm Asian-American, and I was the only Chinese girl growing up in a white school in San Diego. So I understood what it was like to be different, to always want to fit in and never feel like you ever could." – Tess Gerritsen
"I was actually born in New York, and spent some of my childhood in Boston. But my family moved to San Diego when I was 12, and I went to high school here." – Jandy Nelson
"When it comes to inspiration, I come from San Diego originally – it's an un-media-hyped, sleepy sort of town, big on beach culture." – Gary Jules
"Comic-Con is incredibly important to San Diego, but that doesn't mean we can't poke a little fun at it!" – Steve Breen
"I used to stand on the corner in San Diego with poems sticking out of my hip pocket, asking people if there was a place where I could read poems. The audience is half of the poem." – Juan Felipe Herrera
"I want it to be clear that my love for San Diego, the time here, the memories we had, the games, the practices, everything about it is special and awesome. That will never go away." – Philip Rivers
"I'm very thankful to San Diego for the musical opportunities it gave me." – Gregory Porter
"I have been blessed to win a number of awards and be involved in numerous historical baseball moments over my 20-year career with the Los Angeles Dodgers and San Diego Padres." – Steve Garvey