These Nashville quotes are the perfect way to get inspired and start planning a trip to Music City!
Nashville is known as music city and this is one of the biggest attractions when it comes to visiting. In these quotes about Nashville, you'll find a lot of references to music and how country music, in particular, is revered in the city.
As well as music, there are lots of other reasons to visit Nashville. You have to check out Broadway, the beating heart of the city and a street that is at the heart of many Nashville sayings. While Cumberland Park is a beautiful place to relax not far from the city centre.
I've also included some Nashville captions for Instagram that you can use together with the shots of this beautiful city you're bound to get.
If you're looking for inspiration to visit Nashville, then these quotes will have you booking a trip in no time!
Table of Contents
Best Nashville Quotes
"Nashville is my home, and the reason why I get to do what I love." – Taylor Swift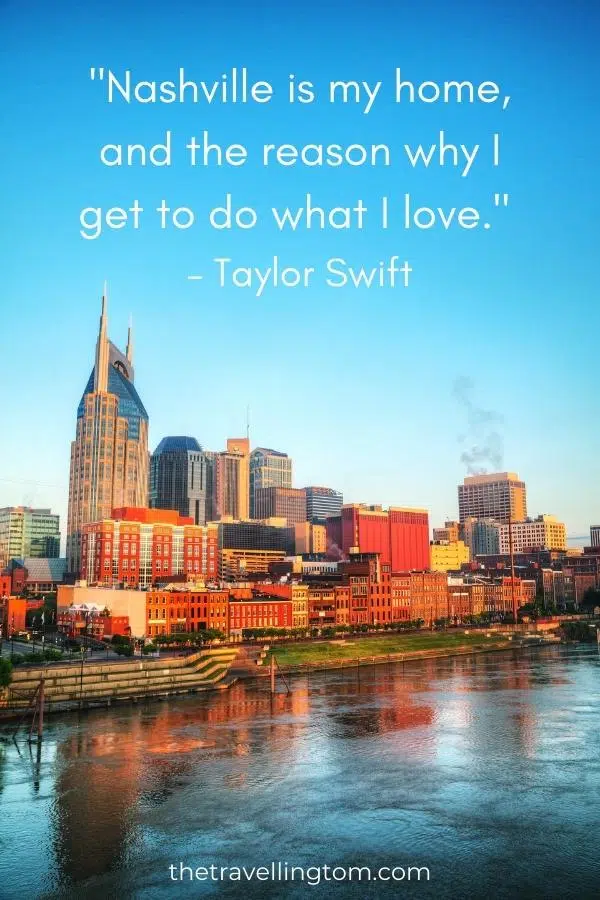 "Everyone has their own path in life, no matter if it's being a celebrity or a singer. Quite frankly, I didn't move to Nashville and tell myself I wanted to be a singer because I wanted to be a celebrity or I wanted to be somebody that people admired. I wasn't about that. I just loved music." – Jake Owen
"I grew up listening to Hank Williams and Johnny Cash, so arriving in Nashville in the '60s was really exciting for me." – Kris Kristofferson
"I'm from Tennessee. My mom lives in Nashville. I'm born and bred country. That's all I listen to." – Lucy Hale
"I'm from Clearwater, Florida, and I love Nashville so much I don't even really miss the beach." – Brooke Hogan
"You know, when you're an actor, you want to go to Hollywood. When you're a musician, you want to go to Nashville." – Richie Sambora
"L.A. was never me. Nashville is my home." – Jana Kramer
"There was a time when I was – after my very first record from Nashville, I thought I might not be one of those who actually really makes it, and I may end up back in Canada, just playing clubs. And that might – this might have just been it." – Shania Twain
"I like this town, it's really great. They've put me in The Nashville Songwriters Hall of Fame. This town is about music. It's about the kind of music I like." – Otis Blackwell
"Nashville is wicked. It's like a proper music community, but it's also quintessentially American. You bump into people there with cowboy hats that spit in jars and call you 'boy.' I just love that." – Ed Sheeran
"Nashville has pushed me to improve constantly as few other places could, and I'm grateful for that." – Natalie Prass
"I have a special place in my heart for Nashville because it saved my life back in the day." – Kris Kristofferson
"I cut all my early records in Nashville, so I guess that makes me country. I call it country pop, but my love of the blues is in there, too." – J. J. Cale
"Ooooh, I love Nashville! It seems like everywhere you walk, there's great music coming out of every wall." – Imelda May
"I've always been a big fan of Nashville, and I have friends that live there." – Eric Close
"I don't know that I could pick a better place to raise a family than Nashville." – Jay DeMarcus
"Nashville has a great creative atmosphere. It's a small, close-knit music community that you can't find anywhere else." – Kim Carnes
"My absolute favorite meal in Nashville is sweet-potato pancakes at Pancake Pantry." – Taylor Swift
"The greatest thing about Nashville is that it's welcoming." – David Berman
"I like to sing. I write music. Country songs. You have to if you're in Nashville. It's part of the lease. You sign a lease that says, I will write country songs and pay my rent on time." – Jim Varney
"Nashville is coming up to be an amazing foodie city." – Maneet Chauhan
"I love Nashville. It's such a great town, and I'm a huge country music fan. That's what I listen to on the radio in the car." – Joanna Garcia
"I loved Nashville. I was amazed by the whole place." – Shawn Mendes
"There's nothing like Nashville for making records." – Carol Channing
---
You might also like:
---
Nashville Travel Quotes
"I could easily make Nashville a permanent home." – Sam Palladio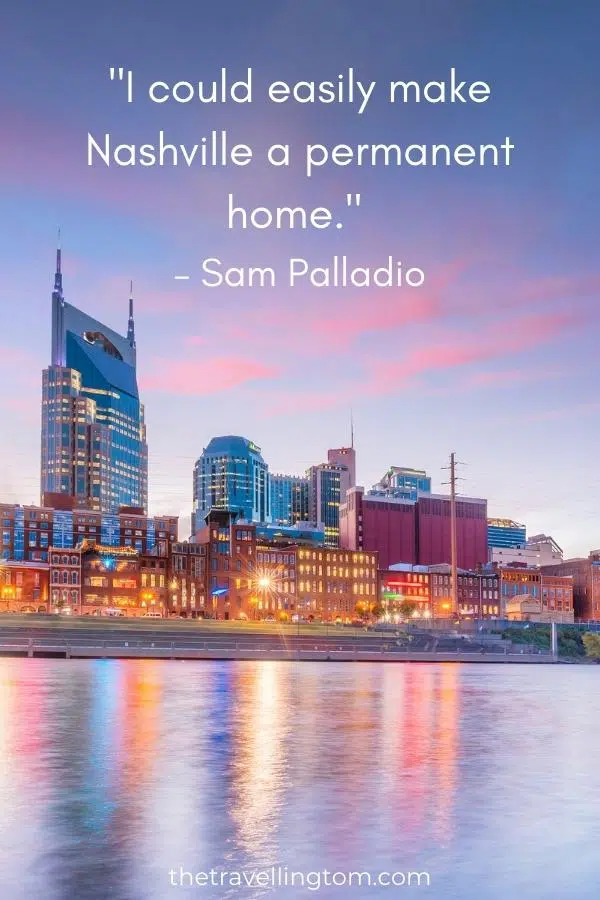 "Coming to Nashville has been so motivating and inspirational. Just watching people live and breathe their music and create something that they can feel from start to finish." – Madi Diaz
"I started playing guitar, like, when I was 17 or so, but where I'm from, you just don't hear about people moving to Nashville and making it. It was such a foreign thing to me. I never knew music was an option for me." – Kip Moore
"I had no idea when I moved to Nashville people just were songwriters. I had no idea. So I guess I was selling myself as a singer when I first moved here. But then right after I first moved, I started writing a lot." – Ashley Monroe
"I have no regrets. I feel very grateful for the life that I had – you know, family I live with; and I've been doing work that I love, ever since I came to Nashville." – Kris Kristofferson
"I drove to Nashville a few times, met with some people and hung out, went to the Opry, and that kind of stuff. I made the decision – you've got to be present to win, so I packed it up and moved out here, and it's been great. It's been the best decision I ever made." – Luke Combs
"I think the defining moment in my career is the day that I moved to Nashville – September 1, 2001. That's the biggest step to getting here is making that move. Anything that happens, the wonderful opportunities that happen to you, can't happen until you make that move." – Luke Bryan
"I was writing and playing in California for 11 years before I moved to Nashville." – Brett Young
"My favorite thing about Nashville is the parks." – Ann Patchett
"I have this friend who has a theory that lots of towns have energies. And, for instance, certain places in Alabama have bad ones because they were built on reservations or built on cemeteries or something. But Nashville has a really gravitational, magnetic pull." – Caitlin Rose
"I'd definitely love to play in Nashville again. That would be really good." – Roy Ayers
"I wanted to live in Nashville. I wanted to sing country." – Ronnie Milsap
"Nashville is only a couple of hours from New York, and people just move at a slower pace there – and they don't care who you are or what you do." – Dakota Johnson
"It's good to get out there and kind of move the body around a little bit, play some hockey, enjoy Nashville as a city and spend some time with family and friends." – Patrick Kane
"I was born in Nashville, Tenn., but I have lived in a number of places. In 1937, I moved to Baltimore, Md., where I attended junior high and high school. I lived there for five years before leaving for college." – Nancy Roman
"I didn't move to Nashville with any inkling or dreams of getting a record deal. I didn't have those stars in my eyes. I just wanted to take a break, relax, and figure out songwriting." – Maren Morris
Funny Nashville Quotes
"If you can't play guitar and sing in Nashville, you might as well just be a construction worker." – Patrick Carney
You might also like: Seattle quotes
"Because Olivia Newton-John wasn't from Nashville, they didn't like her winning our awards. I've got no complaints." – Loretta Lynn
"My oldest daughter got married, she had a wedding in Hawaii and a reception in Nashville, and in between, I had a Cup date in Dauphin, Manitoba." – Barry Trotz
"The best compliment I ever had is, one day I was in Nashville, some disc jockey said, Hey, that sounds like a Tom T. Hall song. Up until then, there hadn't been any such thing." – Tom T. Hall
"In Nashville, if people don't like someone, they say, 'I don't really like him,' then add, 'bless his heart.' In Hollywood, they kind of leave that last part off." – Brad Paisley
"I think Nashville could use some better shopping!" – Carrie Underwood
"When I started out, I was what they called corny. After a week in Nashville, they were calling me hillbilly." – Vera Lynn
Nashville Captions for Instagram
Meet me down in Nashville
Finding my country roots in Nashville
Music City never sleeps
Living the Nashville life
In a Nashville state of mind
Fueled by coffee and country music
It's a Nashville thing, you wouldn't understand
Just a Nashville girl living in a whiskey world
Nashville is the place and that's where I want to be
Dreams are made in Nashville
I'd rather be in Nashville
Nash Vegas
Get your honky tonk on
I love you all the way to Nashville and back
If lost, return to Nashville
Quotes About Nashville's Culture and History
"Nashville was totally different than I ever dreamed. I had only seen the music business on television and been to a couple of concerts. I had no clue." – Faith Hill
"My tour manager, I met him at Boot Barn. He was selling me a pair of boots… and he said, 'I moved to Nashville to be a tour manager, and I need work right now,' and I said, 'Man, I don't even have a tour manager. So you can tour-manage me.'" – Luke Combs
"When you're talking about the genre country music, it used to be called Country & Western music. It plays a pretty big role in that pantheon of country music. That's the whole reason why those guys in Nashville started wearing cowboy hats and boots back in the day. That didn't come from the South, that came from the West." – Colter Wall
"Man, I live in Nashville. I know how good other songwriters and singers are around here. There's a wealth of talent in this town, not to mention the people who shoot in for a week or two to try their hand on lower Broad or the other venues around town." – Jamey Johnson
'The thing about Nashville that's amazing is everyone plays… so you don't meet up for a drink, you meet up for a pick. It's an incredibly creative town, just bubbling with energy." – Winston Marshall
"Growing up on Franklin Road in Nashville, I had everyone from Johnny Cash to Fats Domino swinging by my house to talk with my mom about my dad. So I had some pretty diverse influences, and I think that shows in my music." – Hank Williams Jr.
"When you look around right now, Nashville is kind of going through another changing of guard; you're watching the Martina McBrides and the Faith Hills and all of them that have been the big stars for the last however many years, and the next generation is coming in: Miranda Lambert, Carrie Underwood, those girls." – Callie Khouri
"Nashville, I think, for me, personally, would be where I want to live and work. L.A. is a whole other world and has a whole other vibe to it, so I would like to come out here for work for a couple of months, but L.A. is just not really my scene, per se." – Caleb Johnson
"I think it took me a while to convince Nashville that what I do is genuine and my heart's in the right place, and I love country music." – Keith Urban
"When I was growing up in rural Alabama, it was impossible for me to register to vote. I didn't become a registered voter until I moved to Tennessee, to Nashville, as a student." – John Lewis
"I live on eight acres out in the country in Nashville, and it gets creepy and foggy. It's the best atmosphere to write songs." – Tiffany Darwish
"Nashville is one of the greatest places for the best songwriters in the world. It's been fantastic to live there and to raise our family there. It's a great town." – Faith Hill
"Now that I'm in 'Nashville,' the thing that I'm loving the most is co-writing. You walk into the room and you shake hands with someone you've never met before and you walk out four hours later and you've got this thing… sharing ideas and everything, it's almost magical, like a miracle." – Chip Esten
"I come from this really small town near Nashville, Tennessee, where everything was la-di-da and normal." – Miley Cyrus
"I knew what I wanted to be, but I didn't know exactly how to get there. I thought you move to Nashville, you sing downtown, and someone discovers you, and you become a country music star. I had no idea." – Tyler Farr
"I don't think any of us ever trusted Nashville. When you're in that town you know everybody is talking about everybody else. Everybody is wishing for the other guy to fail." – Martie Maguire
"One of the magical things about Nashville is just how many incredibly talented people are here and the way they support each other." – Callie Khouri
"I had never heard much about Nashville before coming out here, and that's why it's so surprising because I'm the biggest enthusiast on the city of Nashville now. I'm looking for a place out here to live." – Garrett Hedlund
"I don't know if Nashville will ever be ousted as the Music City. But I also think that here, over the last few years, Georgia has definitely kind of risen to the top as far as the crop of young artists coming out of this area that are kind of making waves, you know?" – Jason Aldean
"Nashville feels like a big little town to me. It's got lots of culture and lots of interesting things to do and lots of interesting people. At the same time, it feels very small and tight-knit and very close. Everyone feels like they know each other." – Ricky Schroder
"When I went to Memphis and Mississippi and Nashville, I learnt the blues is a whole way of life. I don't really have the blues, but I can appreciate the honesty and the simplicity of it." – Gin Wigmore
"I grew up in Nashville in a white suburb. We lived next to a Klan member. We didn't see hoods, but my dad knew that guy was a Grand Dragon." – Dee Rees
Tom is a travel addict who first left England to spend a year Down Under. Not satisfied with this, he then went to New Zealand, about as far away from home as he could get. He is now planning his next adventures in Europe and Canada while maintaining this blog. Check out the about me page to learn more!