These Chicago Quotes will tell you all you need to know about the city and why it's such an incredible destination.
Chicago is one of the quintessential American cities and is a must-visit if you're in the city. These quotes about Chicago will give you an idea of what the city is like and why it's such a famous and popular destination.
We've included some famous Chicago quotes that reference the city's fascinating culture and past. While there are also some Chicago captions for Instagram you can use to complement your photos.
If you want to discover why Chicago is such a great place to visit, then the following list will give you an idea of why!
Best Chicago Quotes
"Eventually, I think Chicago will be the most beautiful great city left in the world." – Frank Lloyd Wright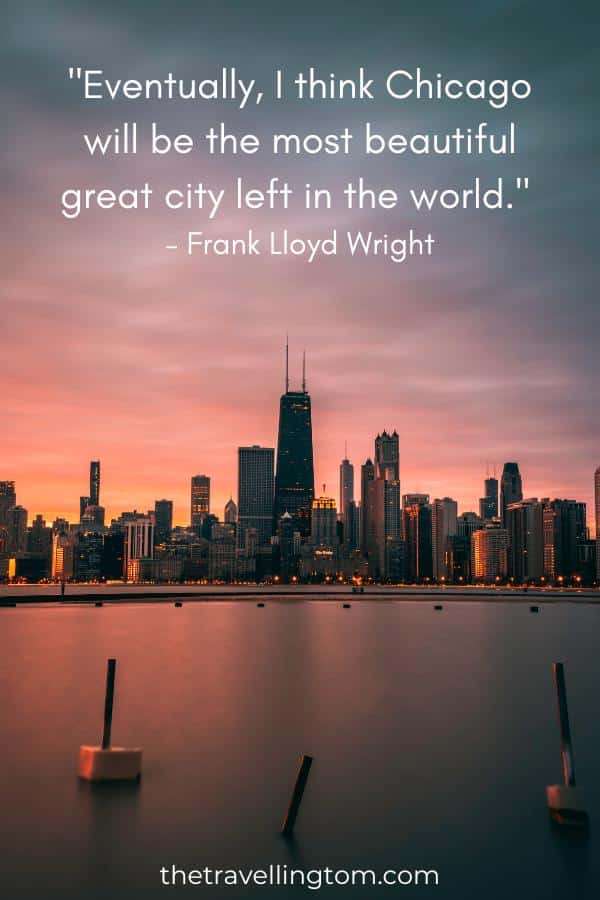 "I'm impressed with the people from Chicago. Hollywood is hype, New York is talk, Chicago is work." – Michael Douglas
"Chicago's one of the rare places where architecture is more visible." – Frank Gehry
"Chicago is my hometown and will always have a special place in my heart." – Kenneth Choi
"Chicago will give you a chance. The sporting spirit is the spirit of Chicago." – Lincoln Steffens
"Chicago is a beautiful city with a wonderful skyline." – Santiago Calatrava
"I love Chicago." – Abigail Breslin
"It really wasn't about picking Chicago. I feel like Chicago picked me." – Alex Weisman
"Part of what I like about living in Chicago is it's not easy. The breath of the city, the everyday challenge of it, is good. It forces you to grow and push yourself." – Jamila Woods
"I wrote my first novel and my second novel in Chicago. It was the place where I became a writer. It's my favorite city." – John Green
"Chicago's neighborhoods have always been this city's greatest strength." – Jane Byrne
"L.A. just doesn't seem real to me. Chicago does. My real friends are there. It's home." – Chris O'Donnell
"Chicago is incredibly gracious. People here have so much pride." – Giuliana Rancic
"Chicago is everything to me." – Patrick Beverley
"Chicago is a world-class city filled with amazing people with big ideas." – W. Kamau Bell
"If there's one thing about Chicago, we take care of our own." – Harper Reed
"I think Chicago's a great city. Like New York, it's full of energy." – Lidia Bastianich
Chicago Travel Quotes
"Chicago seems a big city instead of merely a large place." – A. J. Liebling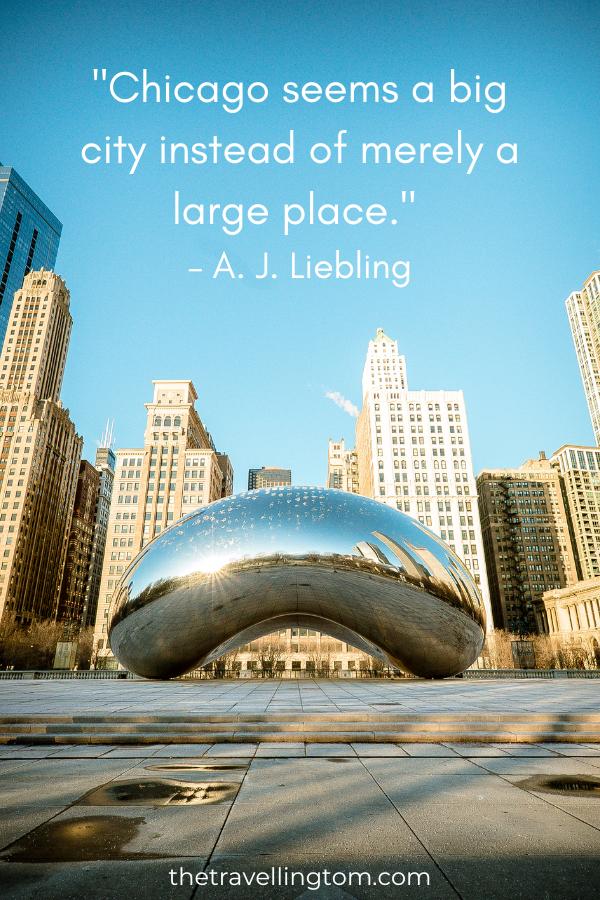 "I have struck a city – a real city – and they call it Chicago… I urgently desire never to see it again. It is inhabited by savages." – Rudyard Kipling
"My first day in Chicago, September 4, 1983. I set foot in this city, and just walking down the street, it was like roots, like the motherland. I knew I belonged here." – Oprah Winfrey
"The thing about Chicago is that it really isn't like any other place. The architecture and the layout of the city are the best. I'm from the Midwest, and consider myself a Midwesterner. I feel most at home there. I love California. I have great friends in California. I just have always considered Illinois to be home." – Vince Vaughn
"I lived in Chicago for a few years and got a sense of – kind of that broad-shouldered, windy, um, stern, Midwestern, warm-slash-passive aggressive, wonderful – every adjective I can think of, very cold." – Amy Poehler
"I will argue with anyone in New York: we have the best pizza in Chicago and the best blues." – Michael T. Weiss
"The only place I've ever been where people were as proud about their city as people are in Chicago is Florence, Italy, where I lived for three years." – Ivo Daalder
"Chicago's like Melbourne – there's a city center, there's public transport, and there's more of a cultural scene." – Jesse Spencer
"Chicago is seriously my favorite city in the country. People have roots here, which is nice. When you go to Los Angeles, no one is actually from Los Angeles." – Bill Rancic
"Chicago is a city of neighborhoods, and I love that. It's cool to have different foods from all over the world within a stone's throw of my house." – Bill Rayless
"I love Chicago. It's one of my favorite cities, hands down." – Nadia Ali
"I love Chicago – absolutely love Chicago. I mean, I'd much rather go to Chicago and do a play or a musical than New York, honestly. Because just probably for reasons that are obvious to you. It's just a little bit – it's a nicer, easier city." – Megan Mulally
---
You might also like:
---
Funny Chicago Quotes
"You know what they say about Chicago. If you don't like the weather, wait fifteen minutes." – Ralph Kiner
"It's wonderful to be here in the great state of Chicago." – Dan Quayle
"Sharks are as tough as those football fans who take their shirts off during games in Chicago in January, only more intelligent." – Dave Barry
"I was asked to come to Chicago because Chicago is one of our fifty-two states." – Raque Welch
"I didn't realize it was October until I saw the Chicago Cubs choking." – Jay Leno
"I miss everything about Chicago, except January and February." – Gary Cole
"Our daughter was born in Chicago, and she's already showing it. The temperature has to be approaching zero for her to wear a hat." – Aleksander Hemon
"Hell has been described as a pocket edition of Chicago." – Ashley Montagu
"You feel like an ant contemplating Chicago." – Robert Fulghum
"I like everything that is wrong about Chicago." – Brian Azzarello
Chicago Captions For Instagram
Let's go, Chicago
Meet me in Chicago
I can't say no to Chicago
Live, love, Chicago
Either you love Chicago or you are wrong
Wandering the Windy City
Windswept with Wanderlust in Chicago
You can leave Chicago, but it will never leave you
Having a Fields day in Chicago
Follow your heart to Chicago
P.S. I love Chicago
Glorious Chicago
Enchanted by the bright lights of Chicago
Quotes About Chicago's Culture and History
"Chicago is an October sort of city even in spring." – Nelson Algren
"We are a city that is a sanctuary city. We have immigrants from all over the world who call Chicago their home. They'll continue to do that, and we're going to continue to make sure that this is truly a welcoming community for those immigrants and we want them to come to the city of Chicago." – Lori Lightfoot
"I grew up with six brothers, and I'm from Chicago, so princesses and Barbie dolls were not around the house. It was more like sports and comic books, so getting to work for Marvel is like my version of being able to be a princess." – Chloe Bennet
"The Great Migration changed American history not just for the migrants but for all of us. It made possible American cultural milestones like the Harlem Renaissance, Chicago blues, and Motown, just to name a few." – William Barr
"I like pizza and I like cheeseburgers a lot and I like Chicago food a lot." – Jake Johnson
"In Chicago, you have an absence of strong family units, and that absence gets filled by gangs. You have a failure in the school system, after-school programs, and other social programs to help keep kids off the streets. Amnesty International speaks to that in some way, by keeping these issues in the forefront." – Lupe Fiasco
"I grew up north of Chicago, not far from where the Schwinn bicycle plant used to be, and was conscious of the fact that these beautiful, everlasting bikes were made just down the road." – Dave Eggers
"Being Irish was a big thing for me, particularly growing up in Chicago." – Lara Flynn Boyle
"Years ago, children helped my brother search for his lost ball at Jackson Park Golf Course in Chicago – and even offered to sell it back to him on the next tee. That entrepreneurial spirit, on the site of the 1893 World's Fair – which introduced Cracker Jacks to the United States – exemplifies America, to say nothing of American public golf." – Steve Rushin
"Chicago gave me more music than any other city in America." – Dave Grohl
"It was Chicago with its World's Fair which vivified the national desire for civic beauty." – Daniel Burnham
"I love Chicago. I wouldn't be where I am now, and I certainly wouldn't have the confidence that I hope that I project, if I'd not lived in Chicago." – Tamron Hall
"The only way to clean up Chicago is to get rid of Capone." – Michael T. Flynn
"Chicago is one of the greatest places when it comes to sports. It kind of reminds me of my hometown in Split. It doesn't matter how bad the soccer team is, everybody worships the soccer, the players and the games." – Toni Kukoc
"I'm from Chicago and it's a huge influence on me." – Jeff Garlin
"I know I'm being biased about Chicago, but I think Chicago got the most talented people in the world." – Lil Rel Howery
"Chicago is many things to many people, and to me, it is a place where you can write." – Susan Glaspell
"Music is so important. Because in Chicago it's up to us to tell the stories nobody else will." – Polo G