If you're looking for New Zealand quotes, then you've come to the right place.
These quotes about New Zealand will provide you with the inspiration you need to visit what I think is the most beautiful country in the world.
I lived in New Zealand for a year and got to travel around the country and experience just how beautiful it is. I don't remember visiting one place and thinking it wasn't amazing, which says a lot!
From Christchurch to Auckland and Queenstown to Wanaka, there are so many amazing places to visit. That's without mentioning Milford Sound, Arthur's Pass and many other great natural beauty spots too.
These New Zealand quotations will give you a picture of what the country is like and why you should consider visiting. If these quotes don't do the trick then I don't know what will!
Table of Contents
Best New Zealand Quotes
"I love working in New Zealand. It's just the most beautiful country I've ever been to." – Grant Bowler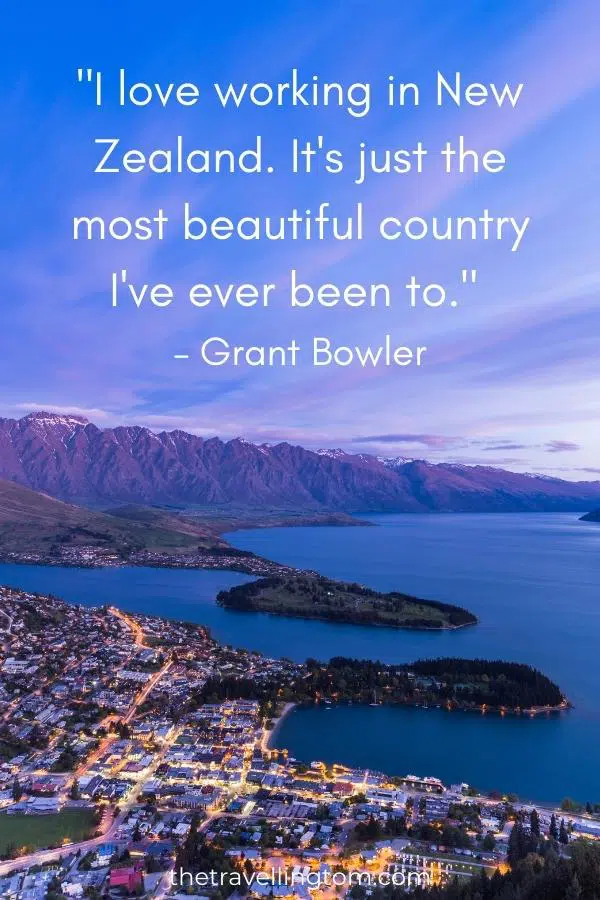 "God bless America. God save the Queen. God defend New Zealand and thank Christ for Australia." – Russell Crowe
"New Zealand is not a small country but a large village." – Peter Jackson
"It's a great challenge to come from little New Zealand and beat the odds in Hollywood." – Martin Henderson
"New Zealand is a pretty no-nonsense place to work, like Australia. I mean it doesn't falter to anyone." – Dustin Clare
"I'm from Canada, and New Zealand feels like you took all the best bits of Canada and squished them onto a tiny island like Hawaii. I was absolutely blown away by the beauty of the South Island." – Evangeline Lilly
"There's a real purity in New Zealand that doesn't exist in the states. It's actually not an easy thing to find in our world anymore. It's a unique place because it is so far away from the rest of the world. There is a sense of isolation and also being protected." – Elijah Wood
"I feel that New Zealand is my second home." – Luke Evans
"I've been to New Zealand before, many times. And of course it has a significance to me because I do have something that's very special in New Zealand. I have '10 Guitars,' which is a very popular song, and I understand it's like the second national anthem over there." – Engelbert Humperdinck
"New Zealand is a place where you can get well." – James Nesbitt
"I had a good time shooting in New Zealand. I almost bought a home there while I was there, because I loved it so much." – Josh Hartnett
"I would have thought there's no greater country to watch rugby than New Zealand." – Jamie Bamber
"I'm a Kiwi. I'm from a beach suburb called Takapuna, which is on the north shore of Auckland in New Zealand." – Lorde
"New Zealand is my favorite country to visit." – Tom Curren
"I've had a quiet fascination with New Zealand for most of my life." – Richard Dean Anderson
"Living in New Zealand, it's like a different world – it is a different world. It's very, very cool." – Luke Evans
"New Zealand is weird. I mean, it does not seem of this earth, not to me. It really is like something made up." – Peter Heller
"New Zealand is such a down-to-earth place." – Emilia Hickstead
"Every time we go to New Zealand, it gets harder to leave. Everyone's always treated us like we're at home." – Benji Madden
"I mean New Zealand has a beautiful energy about the place. You're surrounded by the water." – Jihae
"Every time we visit my sister Karen in New Zealand I spend the next two months Googling properties and dreaming of escaping the British winter." – Tess Daly
"New Zealand is breathtaking." – Edith Bowman
New Zealand Travel Quotes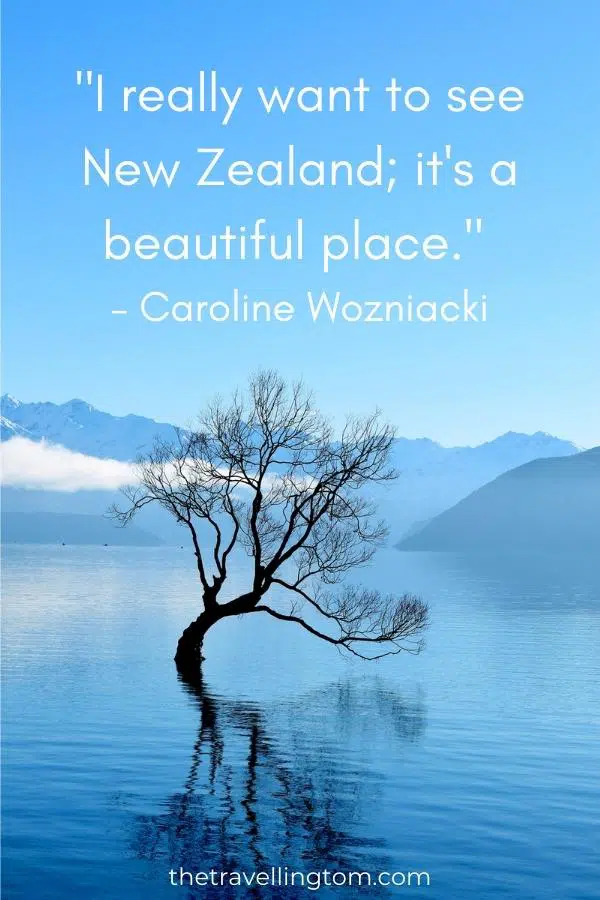 "I really want to see New Zealand; it's a beautiful place." – Caroline Wozniacki
"I was in New Zealand and met this girl. Her sister dared me to bungee jump, so I did! It was a spur-of-the-moment decision – I wanted to impress the girl, and it worked! We were in a relationship after that." – Theo James
"I think it's nice to have New Zealand as a base for me… it's this little island on the bottom of the Earth. It's this nice, quiet place." – Benee
"Everywhere you turn in New Zealand, there's something exciting to do. It's the gem of the world. It's so far away from the madness, and so you get that element. It was just stunning." – Wes Bentley
"I moved to New Zealand from Winnipeg when I was almost five. I hated it. It was to a city in the south of New Zealand called Invercargill and there was constant rain. There was a depressing sensation in the air." – Daniel Gillies
"I'd move to Los Angeles if New Zealand and Australia were swallowed up by a tidal wave, if there was a bubonic plague in England and if the continent of Africa disappeared from some Martian attack." – Russell Crowe
"I'd love to visit South America, especially Argentina, as I'm a winemaker myself. They do a fantastic malbec, so it would be a dream to sample their grapes. New Zealand would be great, too. I'm a golfer, so it would combine both my loves." – Kyle MacLachlan
"I really enjoyed working on the 2009 film, 'Aliens in the Attic,' because it was shot in New Zealand and I got to visit there for the first time." – Kevin Nealon
"From space, the earth appears predominantly blue; the clouds are brilliant white. Surprisingly, you don't see much green, although Ireland looks green, and so do Scandinavia and New Zealand. The deserts are brick red and really stand out." – Helen Sharman
"Lake Taupo is on the north island of New Zealand and in the countryside. I absolutely fell in love with it." – Juan Pablo Galavis
"I remember thinking when I was younger – we used to take holidays to Spain and France, and I just thought I was never going to get further than Spain or France. I really didn't when I was younger. And then I started auditioning for 'Narnia,' and the first thing when I got the part was go straight to New Zealand, halfway around the world." – William Moseley
"I grew up on the South Island of New Zealand, in a city chosen and beloved by my parents for its proximity to the mountains – Christchurch is two hours distant from the worn saddle of Arthur's Pass, the mountain village that was and is my father's spiritual touchstone, his chapel and cathedral in the wild." – Eleanor Cotton
"I always like to look for adventure when I go away. I have gone on several horse adventures with my wife – from Guangxi we went up to the High Tibetan region. We also went along the Hurunui River on horseback in the South Island of New Zealand." – Antony Gormley
"Actually, parts of New Zealand remind me of Suffolk. There's not many flat bits, but just the atmosphere there. There's a kind of a core tranquility about it, a kind of assuredness that this is fairly close to approaching the perfect way to be." – Bernard Hill
"I've only been to New Zealand once, about 1989. It was incredibly beautiful, kind of like the ideal of where I live in New England – all that and then some – but I can't say I was there long enough to get any very clear idea." – P.J. O'Rourke
"One place that I looked at a lot from space and which looks alluring is New Zealand, especially the North Island. It's a big broad valley with a river flowing through it, and you can see the wine-making dryness of the land." – Chris Hadfield
"New Zealand was one of the most beautiful countries to drive through for the scenery and the vast scale of the place." – Louise Nurding
"My favorite parts about 'The Battle of Five Armies' were the moments where you could clearly see that we were looking at New Zealand. That it wasn't done in post, it wasn't CGI, it was the beautiful, incredible creation of Mother Nature in all of her splendor." – Evangeline Lilly
"Being in New Zealand, which is incredibly beautiful – I think it's paradise – it's just the perfect place. Everything about it I love, and I would love to live there." – Wes Bentley
"I love New Zealand and don't get to come there much. The south coast of Australia and New Zealand have a similar vibration, and a lot of the music comes from this kind of space." – Xavier Rudd
Funny New Zealand Quotes
"If you're making films in New Zealand, you can't avoid the landscape. It's certainly more handsome than I am." – Sam Neill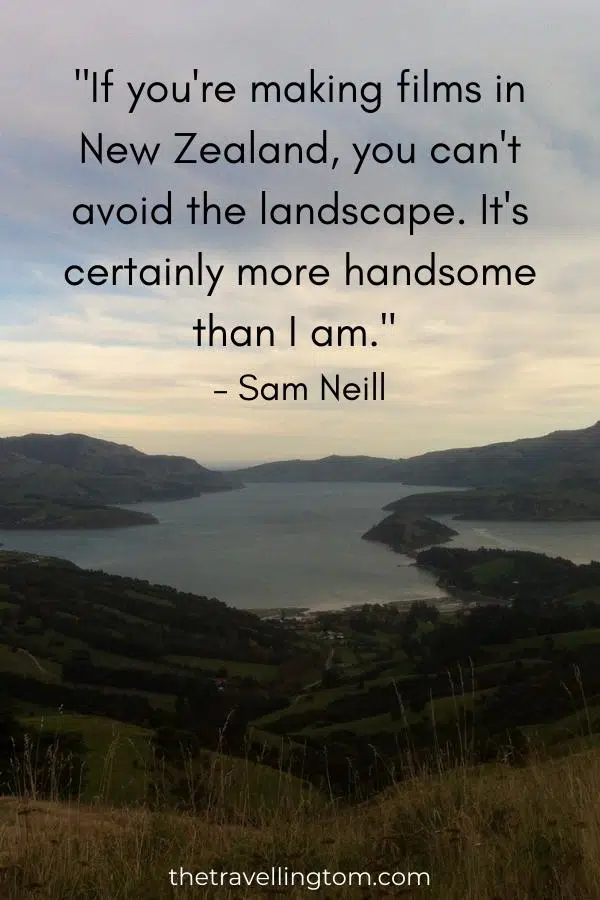 "New Zealand is a country of thirty thousand million sheep, three million of whom think they are human." – Barry Humphries
"I myself prefer my New Zealand eggs for breakfast." – Queen Elizabeth II
"If the people of New Zealand want to be part of our world, I believe they should hop off their islands, and push 'em closer." – Lewis Black
"I've never been to New Zealand before. But one of my role models, Xena, the warrior princess, comes from there." – Madeleine Albright
"As soon as I got off the plane in L.A [from New Zealand], I heard they'd cast the 'Lord of the Rings' trilogy and that it was all being shot in New Zealand! That was pretty ironic." – Martin Henderson
"New Zealand has better food – sorry, America." – Steven Adams
"That was the big effect Lord of the Rings had on me. It was discovering New Zealand. And even more precious were the people- not at all like the Australians." – Ian McKellen
"I got to dress up in funny clothes and run around New Zealand with a bow and arrow for 18 months, how bad could that be?" – Orlando Bloom
"People in New Zealand go out of their way to not be impressed by things." – Melanie Lynskey
"Certainly, when I left New Zealand, there was no career there as a comedian. I was doing more live gigs than anyone, and I was maybe doing three a week. Even then, it would often be the same people in the audience, going, 'I saw you on Tuesday, mate!'" – Rhys Darby
New Zealand Instagram Captions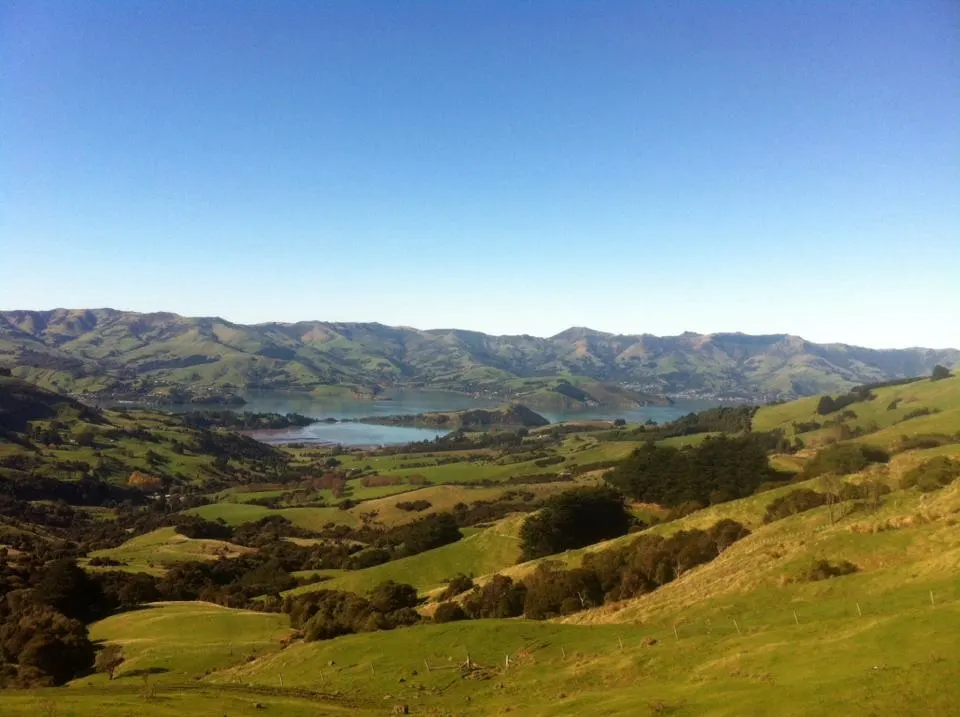 Sweet as bro
Churrrr bro
"Turn your face toward the sun and the shadows will fall behind you."
Waikikamukau
Kia ora be well
"To rest on human support is unreliable, to rest on the Earth is sure."
Got my jandals, togs, and stubbies; I'm ready for the beach
"As man disappears from sight, the land remains."
"One canoe which we are all in with no exception."
Quotes About New Zealand's Culture and History
"Coming from New Zealand, all the music I listen to is not made by New Zealanders. People never come to New Zealand to play a show because it's in the middle of nowhere." – Lorde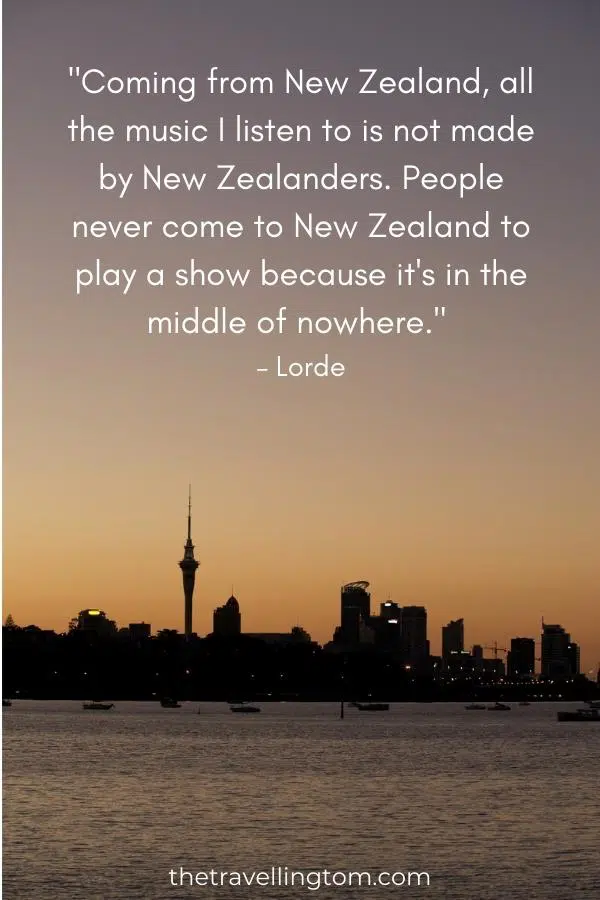 "We've got a thing called the 'tall puppy syndrome' in New Zealand, where if anyone is doing really well, it's quite common to try and bring them down – like, cut them down and say, 'You've been to the moon? So what? I mean, plenty of people have been to the moon.'" – Taika Waititi
"I hope that basketball gains momentum and kids understand that you can actually make a living from it. Not just the N.B.A. You can get a scholarship, a free degree – like, no student loan you have to pay off. That's huge in life. Once they realize that in New Zealand, I hope they get inspired." – Steven Adams
"Honestly, Americans are more open-minded and have the patience and the time for new types of music. In Australia and New Zealand, you must earn your place." – Gin Wigmore
"We all have to remember that New Zealand is built on these kind of people who are rebels and renegades, people doing it their own way, fighting for freedom, and braving the elements. I think it's cool to celebrate that." – Taika Waititi
"I played to the biggest audience I've ever played to in my life in New Zealand. I couldn't see the end of the crowd. I understand it was over 200,000 people in a park somewhere." – Engelbert Humperdinck
"I have a massive Samoan family. And the Samoan culture has always played a massive part of my life. I've got hundreds of family on my dad's side that live in Samoa and in New Zealand. I've just been surrounded by the culture ever since I was a kid." – KJ Apa
"When we shot 'The Lord of the Rings,' we had special permission to film in wild areas of New Zealand that could be accessed only by helicopter. They would drop us off and we would work all day, and they'd pick us up and take us out again." – Viggo Mortensen
"I'm a proud New Zealander, and I represent Paralympics New Zealand. I love what I do, and I do it because I love it. The passion is unbelievable in every race I do. I have the ambition to change things outside the pool, too." – Sophie Pascoe
"Canada, the United Kingdom, the United States, Australia, and New Zealand have stood together in the long struggle for freedom for decades. We have a responsibility to the people of Hong Kong to support them as they struggle to maintain the freedom that was guaranteed to them by Beijing in 1984." – Erin O'Toole
"I grew up in the New Zealand countryside. We didn't have television until I was 14, so sing-alongs were our only entertainment." – Kiri Te Kanawa
"I'd love to hang out with sheep farmers in New Zealand for a week." – Brad Leone
"I moved from New Zealand to Melbourne when I was 17. I'd planned to go to university to study French, but I was offered a contract to write and record an album that was too good to pass up. Looking back now I think that was pretty young but, at the time, I was ready to have an adventure." – Kimbra
"As a kid in New Zealand, you play cricket in summer and rugby in winter. I played cricket and hockey. Not rugby. I wasn't brawny enough for it. Or silly enough, perhaps." – Glenn Turner
"I always think about the settlers who moved to New Zealand in the 1800s. They hadn't even been to the place before. They just packed their bags and shipped over knowing they'd never see their family again or be able to speak to them – they'd maybe get a letter if they were lucky." – Rose McIver
"I get inspired in certain places. You have to write in places like Amsterdam or Paris or New Zealand, when you're standing on a yacht, looking out at the middle of the ocean." – Action Bronson
"We will work hard to ensure New Zealand is once again a world leader, a country we can all be proud of. We said we could do this; we will do this." – Jacinda Ardren
---
Thanks for reading my collection of the best New Zealand quotes! Hopefully, they have sparked your curiosity and inspired you to visit the country.
Do you have any other quotes about New Zealand? If you do, leave them in the comments below. Let me know if you've been to New Zealand and what you think. I'm interested to see what your opinion of the country is!
Tom is a travel addict who first left England to spend a year Down Under. Not satisfied with this, he then went to New Zealand, about as far away from home as he could get. He is now planning his next adventures in Europe and Canada while maintaining this blog. Check out the about me page to learn more!