If you're looking for some great Melbourne quotes, then you've come to the right place.
I've collected some of the best quotes about Melbourne that will inspire you to visit this incredible Australian city. I spent four months living in Melbourne and loved every second of it.
One of the great things about visiting Melbourne is that there's so much to do. You can go to the beach, explore the incredible museums and cultural sights and take in a variety of sporting events too.
Then, you have excellent destinations on your doorstep, such as the Great Ocean Road and Yarra Valley, should you be visiting for a long time.
Table of Contents
Best Melbourne Quotes
Whether you spend 3 days in Melbourne or longer, you won't be short of places to see.
Melbourne is a fantastic and lively city that is a hive of activity. There's always something going on and the vibe in the city is amazing.
Plus, there are some truly great places to visit like the hipster suburb of Brunswick and Federation Square that will leave you breathless!
Here are some of the best Melbourne quotes that reflect the beauty of the city!
"Melbourne is the kind of town that really makes you consider the question 'Is there life after death?" – Bette Midler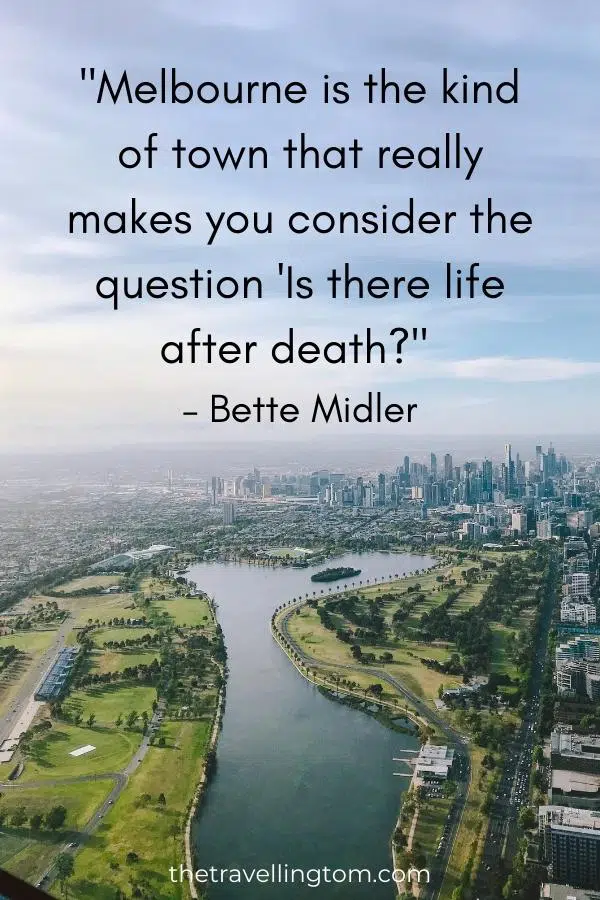 "In Edna, I created a satiric portrait of my hometown of Melbourne, a large provincial English city paradoxically in far Southeast Asia. She's a theatrical figure, related to vaudeville in some respects. She inhabits a world in which there are comparatively few female exponents of comedy." – Barry Humphries
"I guess I've been fortunate in having an ongoing film career while being based in Melbourne. I'm happy to commute. A day on a plane. Come on. It's easy." – Geoffrey Rush
"I love coming home to Melbourne. The first thing I do is have a coffee. It's just so much better here than anywhere else. It's better than in Italy and I travel a lot. I crave it." – Curtis Stone
"I'm still very much plugging away. But if I can build my career, I'll do it like Eric Bana. He has a family; he has his roots. He still loves Melbourne. He's a great role model to have." – Nathan Phillips
"I like the fact that Melbourne always seems to support their chefs and promote them in ways I find really admirable." – Anthony Bourdain
"Melbourne is a great city and one of the favorite places on tour for many players." – Kiki Bertens
"Melbourne is wonderfully altered since I last saw it. There are some very fair buildings in it now, and things are a little cheaper than they used to be." – William John Wills
"Melbourne is very sophisticated and edgy – we wear a lot of black. Things are lightening up a little bit, but truly, everything looks good in black." – Jessica Hart
"Melbourne City is an awesome city. You can get everything: You can get open air. You can get city life. You can get cafes and bars. I started comedy here; I lived here for 10 years. I went to university here. This is my home ground." – Ronny Chieng
"I think Melbourne is by far and away the most interesting place in Australia, and I thought if I ever wrote a novel or crime novel of any kind, I had to set it here." – Peter Temple
"I've always been in love with Melbourne. When I was 12, I was taken into the city by my grandmother to go to the ballet for the first time." – Kerry Greenwood
Melbourne Travel Quotes
No matter how long you're in Melbourne, you won't be short of things to do.
With so many day trips from Melbourne you can do, even if you've been in the city for a while, there's plenty to see outside of it!
Some of these travel quotes about Melbourne will give you a flavour of what the city and its surrounds are like.
"I'm an Australian – I grew up in Melbourne and Sydney – but as a kid you don't learn much about the Kimberley." – John Torode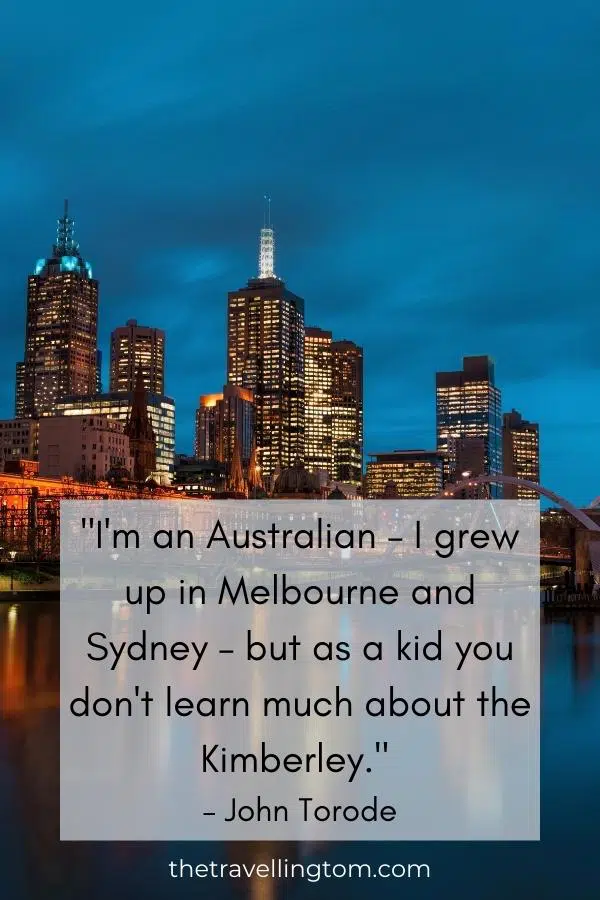 "My earliest memories were on the cattle stations up in the Outback. And then we moved back to Melbourne and then back out there and then back again. Probably my most vivid memories were up there in Bulman with crocodiles and buffalo." – Chris Hemsworth
"I'm Australian, so I love the stores near Crowne Plaza Melbourne, on the banks of the Yarra River." – Jason Day
"I grew up close to Melbourne, about two hours outside, on Phillip Island. It's really small; it's kind of a little summer beach town." – Liam Hemsworth
"Melbourne is where the Crown story started. It's a testament to the vision and work of Lloyd Williams and Jeff Kennett – our resort helped transform Melbourne and put the city on the map for international tourists." – James Packer
"Australia is one of the few places that I can think of where the cities, at least those I've been to, seem to have strikingly different characters and visual textures. To an American like me, there's basically Melbourne, Sydney and Brisbane and the rest is all bush." – Michael Bierut
"I definitely love Australia. I've been to Sydney and Melbourne a couple of times, and I love those places." – Taylor Lautner
"The great thing about coming to Melbourne is that people talk about Sydney being the food capital but Melbourne is a lot more; it has that residential feel, a feeling of homeliness. When you go to restaurants, it's known as a creative, artistic city. That's what you get with the food." – Ainsley Harriott
"I have visited Australia several times, and I always try to make a point of going to Melbourne because it's almost my favorite city there, Melbourne and Sydney. But I shouldn't say that because I haven't been everywhere-and I'm very fond of Perth too!" – Jackie Collins
"One afternoon when I was 9, my dad told me I'd be skipping school the next day. Then we drove 12 hours from Melbourne to Sydney for the Centenary Test, a once-in-a-lifetime commemorative cricket match. It was great fun – especially for a kid who was a massive sports fan." – Hugh Jackman
"Chicago's like Melbourne – there's a city center, there's public transport, and there's more of a cultural scene." – Jesse Spencer
"When I was 23, I went backpacking around Australia for three months. I saved up a few grand, quit my job and flew to Sydney, then went to Melbourne and up the East Coast, which was an incredible experience. I remember running out of money and getting my mum to send me a few hundred quid, which helped me get by." – Olly Murs
"I love cities. New York, Montreal, London, Amsterdam, Tokyo, Hong Kong, Singapore, Sydney, Melbourne, Toronto, L.A… but, I do choose to live in Vancouver. It's home." – Stewart Butterfield
Funny Melbourne Quotes
"Melbourne is my type of city, much more so than Sydney." – Morris Gleitzman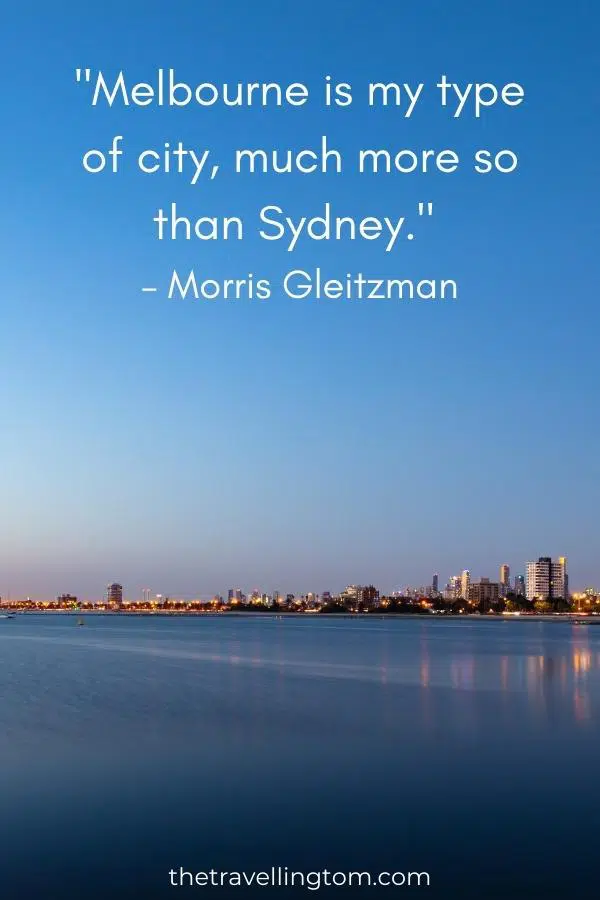 "I remember a moment when the Prince went back to his old school, Grammar School in Melbourne, and slightly to his horror his old music teacher produced a cello." – Anthony Holden
"Our very first gig in Melbourne was a confrontation." – Santiago Durango
"Melbourne has great eateries and you can go birdwatching." – Bill Bailey
"One of the stock Sydney jokes is of the census-taker who enquires: 'How many children have you, ma'am?' 'Two living and three in Melbourne.'" – Elspeth Huxley
Melbourne Instagram Captions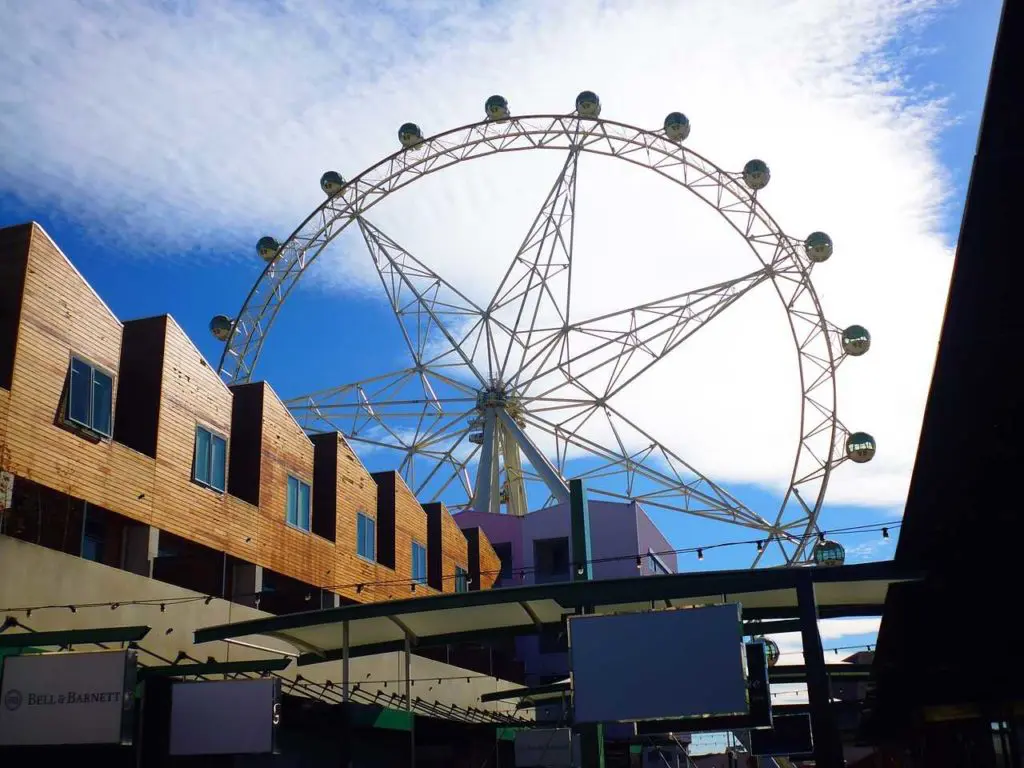 Home is where the heart is, and the heart is in Melbourne
I followed my heart, and it led me to Melbourne
Take me back to Melbourne
G'Day Melbourne
I was Melbourne for this
Living for adventure in Melbourne
Take me back to Melbourne
Magnificient Melbourne
People never forget two things: their first love and their first day in Melbourne
The Melbourne identity
Quotes About Melbourne's Culture and History
There are so many things to do in Melbourne, it's hard to list them all. But some of the most interesting relate to the city' past, which is fascinating.
You can visit the Immigration Museum and learn about the wealth of nationalities that made the city their home. Then, you can also head to the Old Melbourne Gaol and see where the outlaw Ned Kelly spent his final days.
This is what makes Melbourne such a great place. The amount of stuff to see and do and the quotes below reflect that!
"I really miss Melbourne food; Melbourne is very snobbish about their cafe culture, and I feel like I've become a snob, too." – Angourie Rice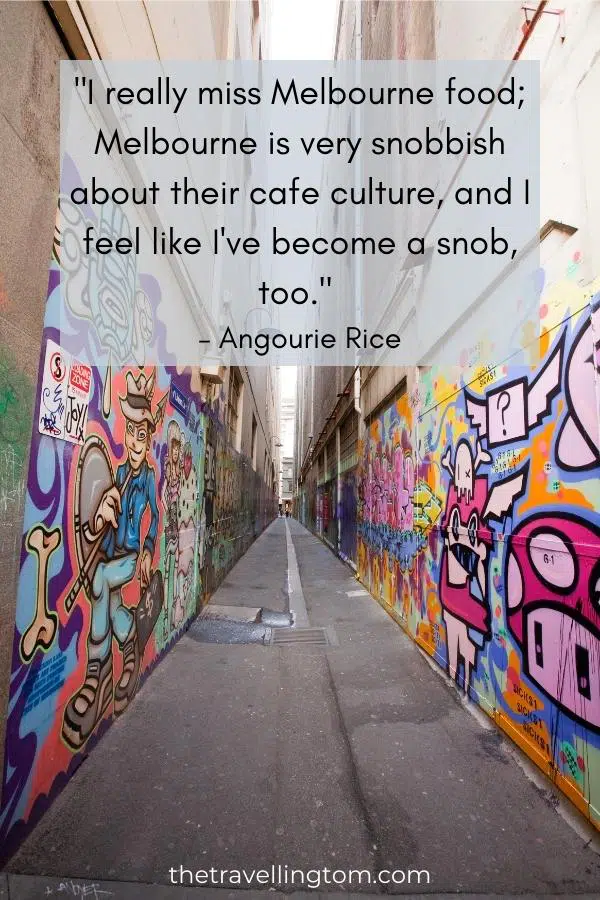 "It's not all about strength, there is so much more involved, getting the horse into a rhythm, getting the horse to try for you, it's being patient and I'm so glad to win Melbourne Cup and hopefully, it will help female jockeys from now on to get more of a go." – Michelle Payne
"My old songs used to take place in Gothenburg; then, when I lived in Melbourne, the songs just naturally took place more in Melbourne." – Jens Lekman
"There are wonderful things happening all around the world. From Nova Scotia to Kerala, Bristol to Melbourne, and even in the Philippines, zero waste is on the agenda. I think what's particularly inspiring is when communities don't wait to be told what to do but just go ahead and do it." – Jeremy Irons
"In my adolescence, I think I felt very outcast; I felt lonely. I felt great loneliness, and sometimes I wouldn't partake in Christmas, and I would go off and wander in the streets of Melbourne." – Michael Leunig
"And always Melbourne, Melbourne, Melbourne, over and over the same photo in glaring greens and reds, of a tram, huffy, blunderous, manoeuvring itself with pole akimbo round the tight corner where Bourke Street enters Spring." – Helen Garner
"I would love to do well one last time in Melbourne and my dream would be to win Wimbledon and play in the London Olympics." – Kim Clijsters
"I moved from New Zealand to Melbourne when I was 17. I'd planned to go to university to study French, but I was offered a contract to write and record an album that was too good to pass up. Looking back now I think that was pretty young but, at the time, I was ready to have an adventure." – Kimbra
"I'm happy to go into Melbourne, one of my favourite tournaments there." – Kei Nishikori
"Melbourne is a fantastic place to work, but it's not the centre of the world." – Patricia Piccinini
"I don't look to celebrities for style anymore because I've learned the chain of command. They are being dressed by a stylist who's getting inspiration from a 16-year-old kid running the streets of Melbourne, Australia. Once I learned that chain of command, I just started taking it to the streets." – Lizzo
"Israel is not the safest place in the world for Jews. Melbourne in Australia is better. Teaneck, New Jersey, is safer." – Naftali Bennett
"I came from the outer suburbs of Melbourne, so you do learn how to survive in that environment." – Ben Mendelsohn
"On Melbourne summer mornings the green trams go rolling in stately progress down tunnels thick with leaves: the bright air carries along the avenue their patient chime, the chattering of their wheels." – Helen Garner
"I find it easier to write in the winter in Melbourne. When the weather is good you want to go out for a walk, ride a bike, go to a cafe or something. When it's raining, when it's a miserable day, I just sit down at my desk and get some work done." – Adrian McKinty
"There are young children out there in our state, that could be Olympic champions at 2032 to think that Melbourne has hosted an Olympics, Sydney has hosted an Olympics, and now Queensland has that once-in-a-lifetime opportunity, we've got to give it everything we've got." – Anastasia Palaszczuk
---
Thanks for reading my collection of the best Melbourne quotes! Hopefully, you've enjoyed reading and are now considering a trip to this incredible city in Victoria, Australia.
Do you have any other quotes about Melbourne? If you do, leave them in the comments below. Let me know if you've been to Melbourne and what you think. I'm interested to see what your opinion of the city is!
Tom is a travel addict who first left England to spend a year Down Under. Not satisfied with this, he then went to New Zealand, about as far away from home as he could get. He is now planning his next adventures in Europe and Canada while maintaining this blog. Check out the about me page to learn more!